I will show you my exact process for bringing a meal to a friend in need, as well as tons of tips for WHAT to bring (and HOW to bring it), with ideas and suggestions sourced from hundreds of different families. You can do this! Be the human who does this! You can build community and warmth with one simple meal. Find my favorite menu plans on the sister post, 12 Meals to Take to a Friend in Need.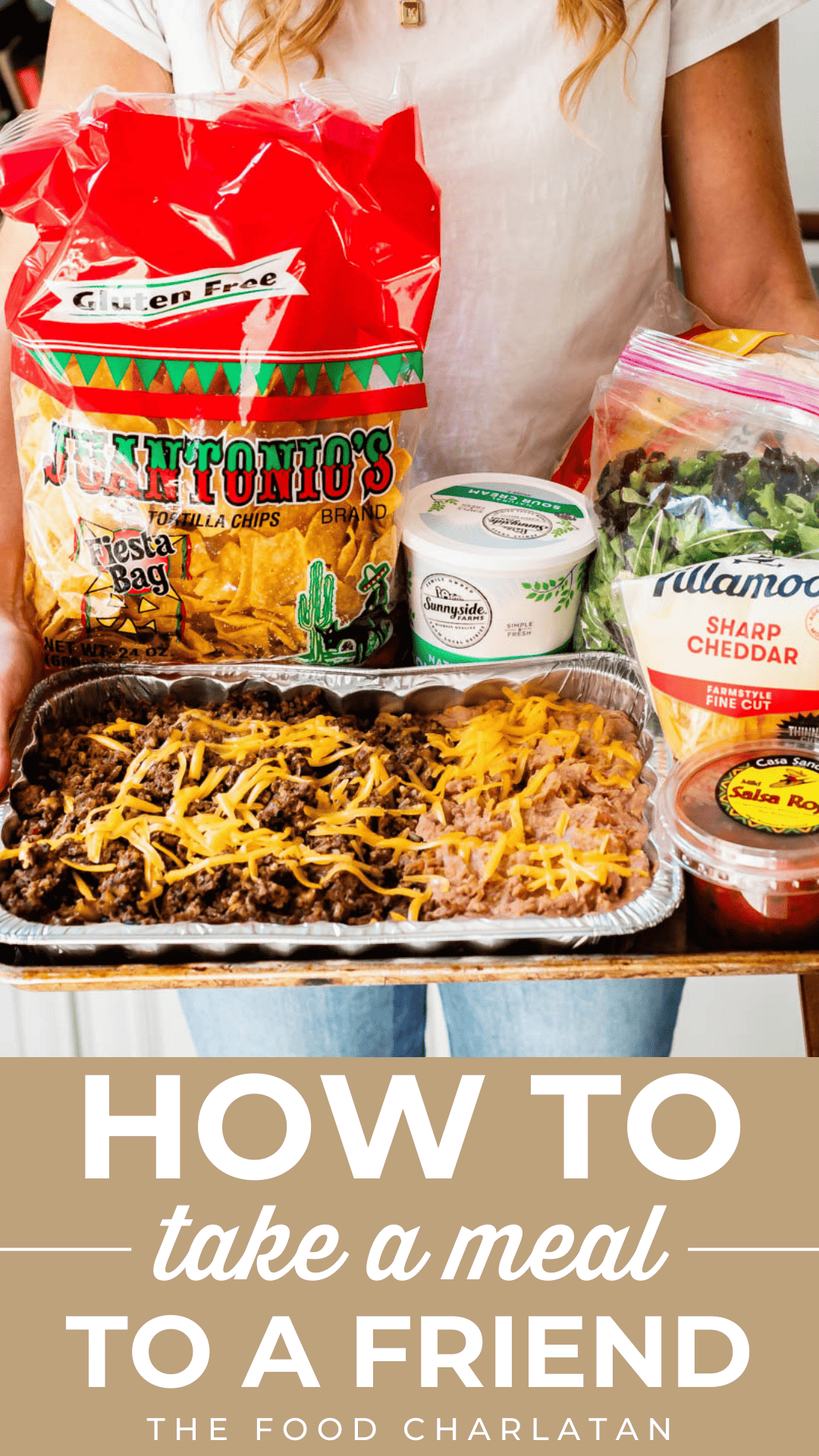 Table of Contents
I have been a food blogger for nearly 12 years now, and it is really funny to hear some of the things people assume I'm good at. Such as:
Cake decorating. Just because I photograph my dinner and post it on the internet does NOT mean I can bust out a fancy looking cake; If you ask me to make a princess themed cake for your daughter, she WILL cry at her birthday party.
Family photography. NOPE, unless you happen to be an inanimate object carefully placed in perfect lighting, I cannot take pictures of you. (It would be the mom of the family crying that time. "What have you done.")
But I will tell you one thing I HAVE figured out over the years: refining the process of bringing a meal to a friend who needs it most. Food is my love language, and I'm always trying to foist it on other people to prove it. I LOVE YOU HERE'S SOME TACOS is usually how it goes.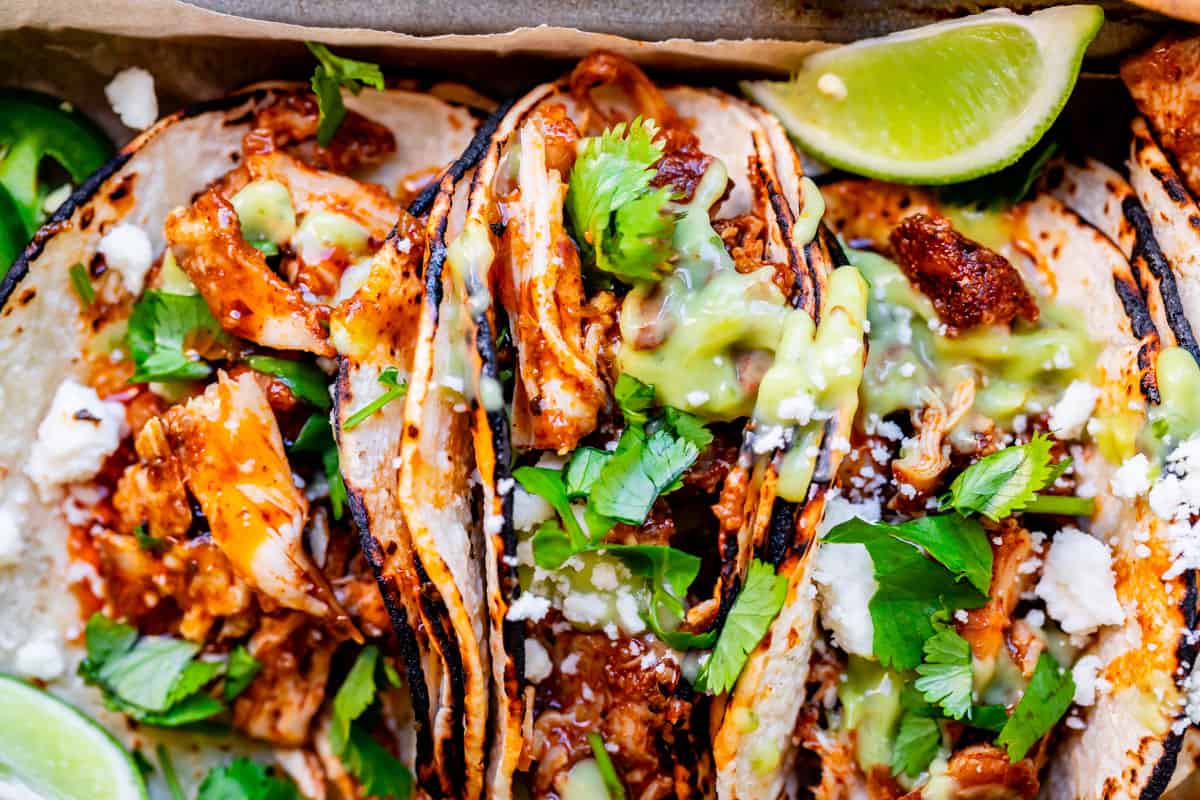 Tips for how to bring a meal to a friend in need is one of my top requested posts from friends and family. I'm finally putting it together, with the help of my sister Laura and my best friend Sarah, who cook and bake even more than I do!
We scoured different resources and polled tons of different groups to see what they are bringing to friends when disaster (or surgery, or a baby, or the flu) strikes. What we've compiled here is the result of hundreds of responses. We've condensed and categorized it to make it easier to get through. A lot of the advice is similar; there are a few standard tricks of the trade that you should know.
One of the main reasons that I wanted to create this post was so that I'd have a big list at my fingertips every time I'm taking a friend a meal! (Turns out most of my posts are completely self-serving, ha) I hope this is as helpful for you as it will be for me!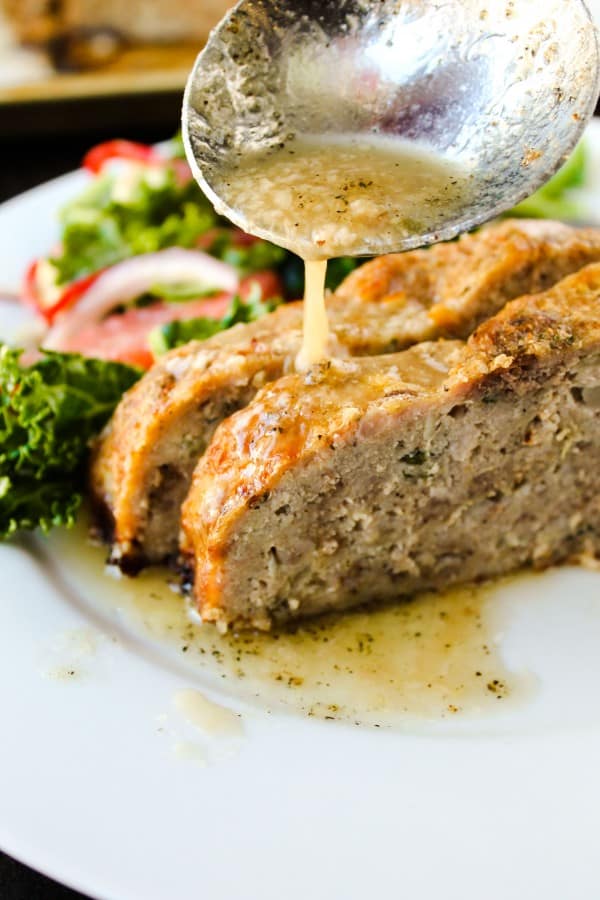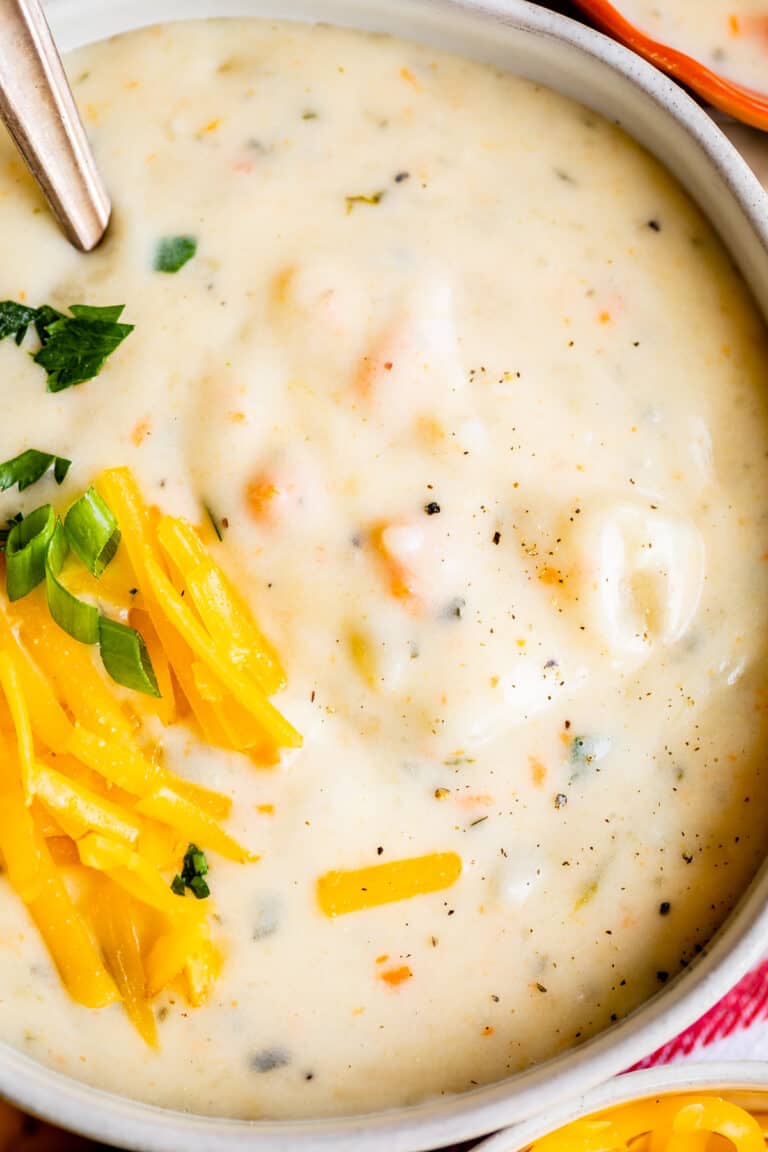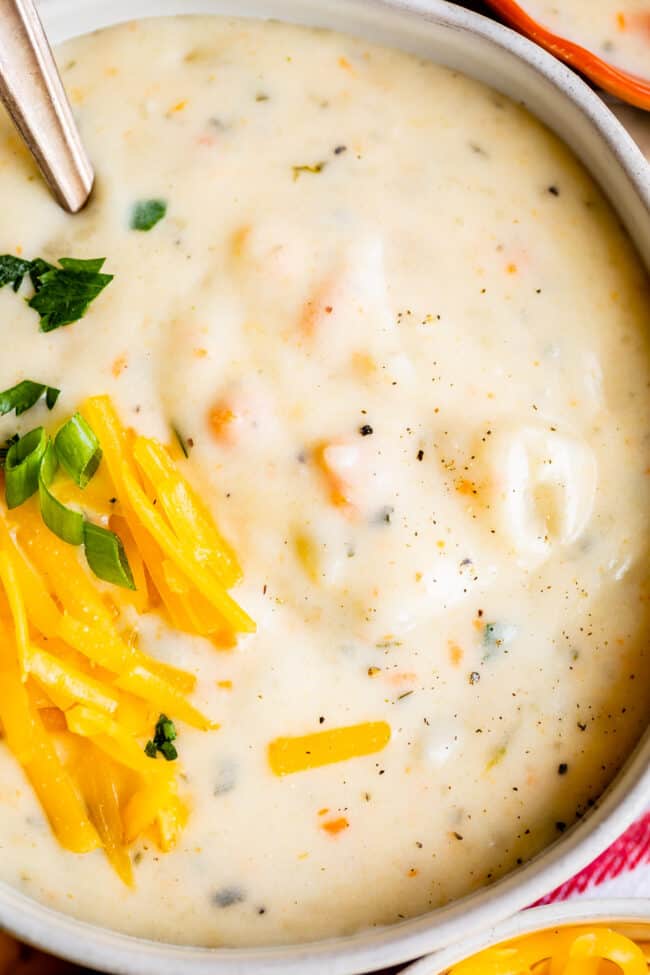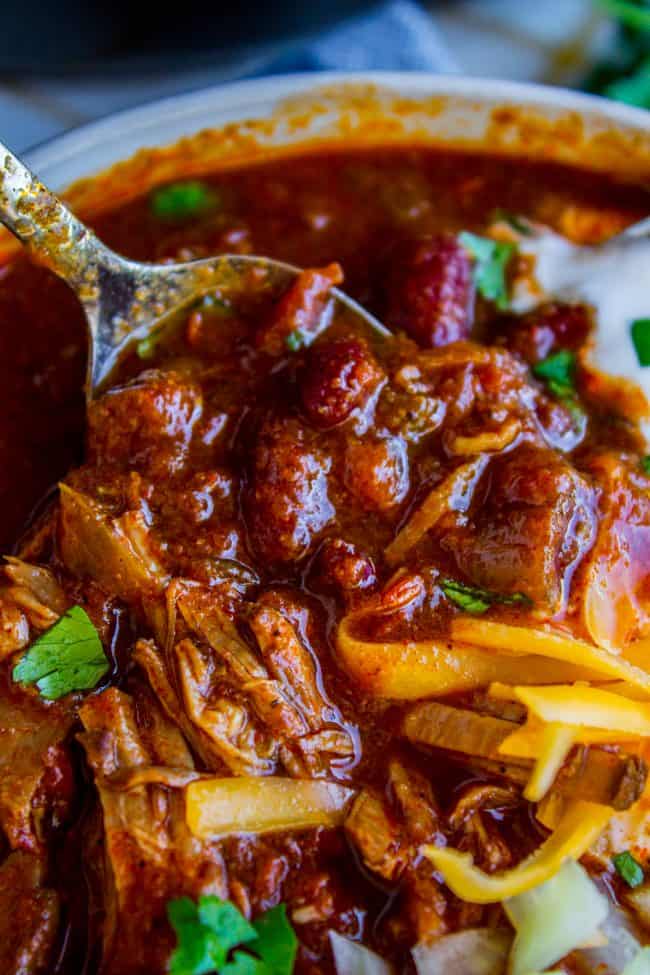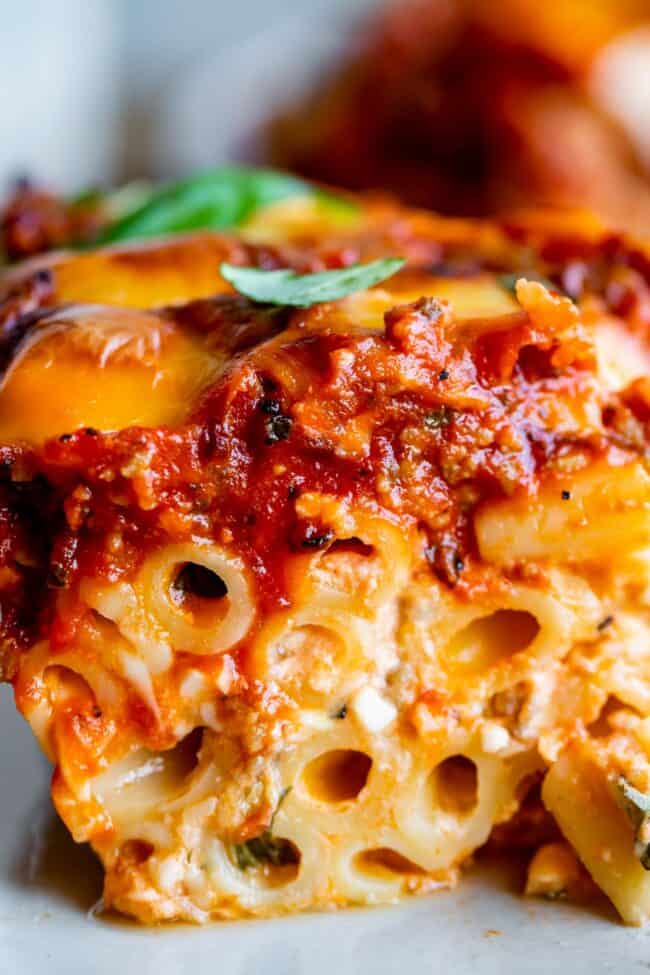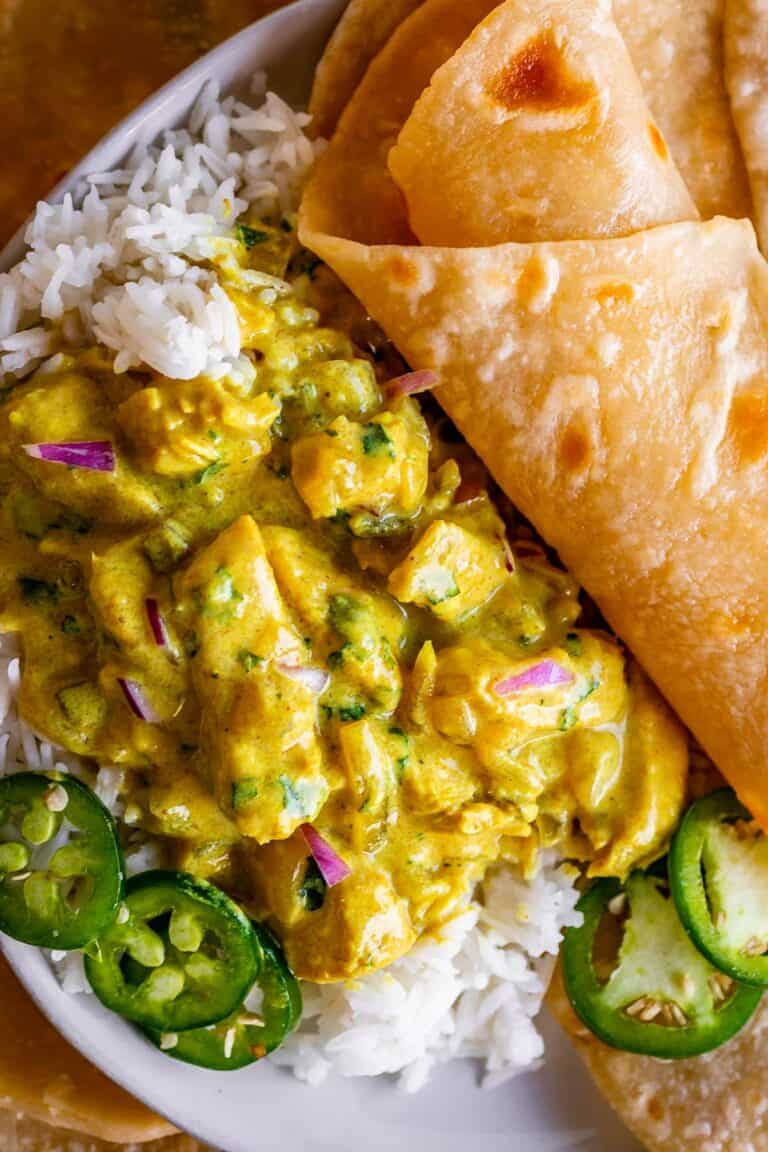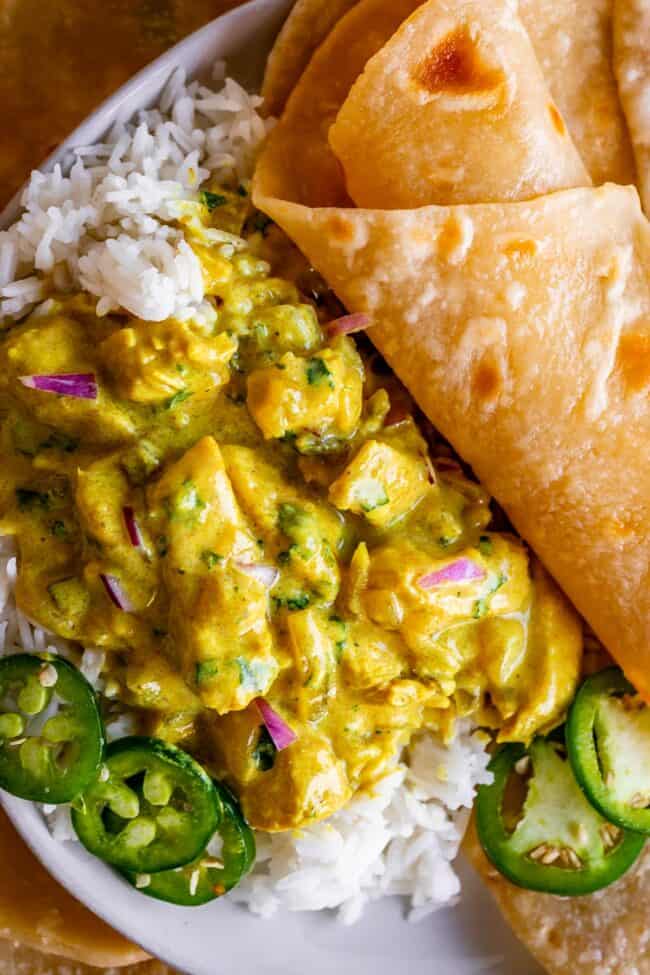 Meal ideas to take to a friend
Next is to actually make a choice for what food to make. These are real suggestions from people we know. Skim through and see what resonates with you!
My sister Laura always makes a big chopped salad. This is a great FRESH option for someone who just does not have the capacity to chop vegetables right now (Heck I lack that capacity on some totally normal days!) She buys a big bag of greens and then chops up and stores in different ziplocks or old sour cream tubs: cubed cheddar, chopped cooked chicken, crumbled bacon, boiled eggs, chopped apples, sliced avocado, cherry tomatoes, sliced cucumbers, thawed corn, and a bag of fried onions or candied pecans from the store. The adults can turn it into a big salad and the kids can eat one item at a time, charcuterie style. She also includes store bought or homemade Honey Mustard dressing. Throw in some garlic bread and fruit and you are good to go!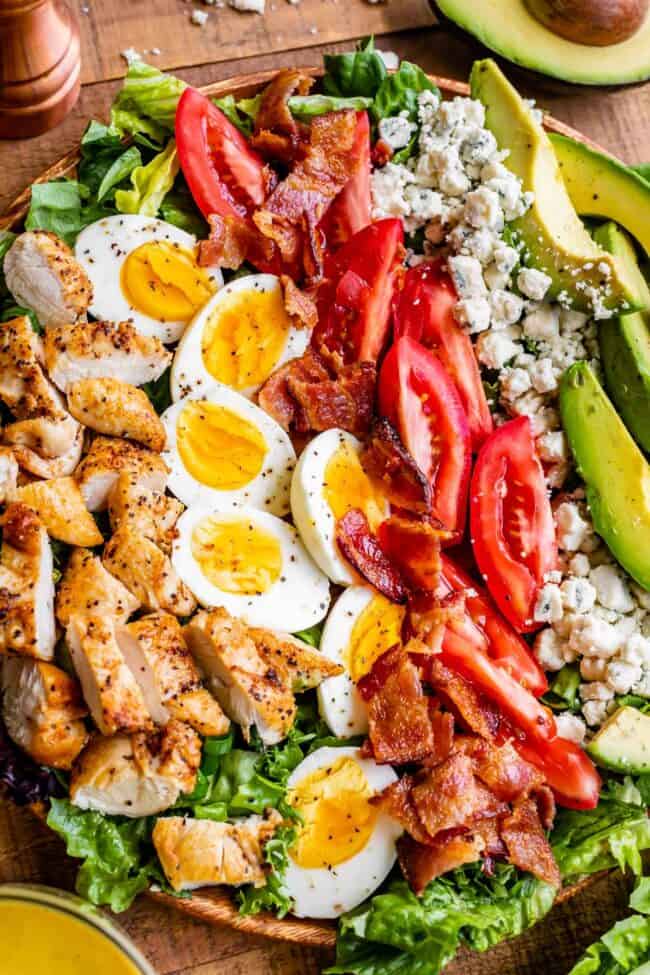 "I usually bring a Pasta bake and a dessert, usually cookies in foil containers. I'll put a sticky note on the casserole with reheating directions. When I was on bed rest, someone brought me a homemade pizza that I loved, mainly because it followed three days of spaghetti! So I never take spaghetti. Although who doesn't love Spaghetti?"
"With my second baby, someone brought me an entire Lasagna made from scratch (but the Costco one was good too), bagged salad and dessert. Someone else brought homemade tacos. And someone else brought two dishes of Enchiladas. One to eat now and one frozen to eat later. Those were some of my favorite things!"
"I always make muffins for the morning. Then I bring either a Ham and macaroni casserole or Mediterranean quinoa salad. Then a veggie tray, and if I have time chocolate chip cookies."
"Tater Tot casserole. "It's easy for kids and adults and I always bring it cooked but not heated up so the person can either freeze it or reheat at their convenience."
"I usually bring some sort of casserole that can just be warmed up in the oven, and then some sides. Last one I did was a Mexican pasta skillet with chips and salsa and refried beans. I also make muffins and/or cut up fruit (easy to grab and eat). If there are older siblings, I bring a big brother or sister gift (just something small but makes them feel special). I loved getting anything home cooked after our babies were born."
"Pasta salad is a terrific meal option on hot summer days."
"Homemade Chicken and Dumplings in a crockpot with bread was my favorite! Delicious comfort food with plenty of leftovers. I also really loved when my mother-in-law brought deli meat, cheese, bread and fresh fruit washed and cut up. So convenient to have on hand."
"My friend brought me seven meatloaves. It was the best because for 7 weeks one night a week I had a go-to easy dinner in the freezer."
"Chicken and rice or Poppyseed chicken, tacos and all the fixings, Pulled pork sandwiches with buns or Mini cheddar meatloaves, or soup if it's fall/winter. I always bring some fruit and a dessert and will usually bring a bagged salad and maybe a bag of frozen veggies that can be cooked in the bag, either that or a bag of raw carrots. For dessert I usually bring homemade cookies or bars."
"Meatball subs with side salad and cookie bars. I have the buns sliced. Meatballs in marinara in a microwaveable container. Provolone cheese is sliced and in a baggie. I make 8×8 pans of cookie bars using disposable foil pans. The side salads I usually put in one of those disposable bowls with lids — lettuce, any chopped veggies on top, croutons (or other crunchy bits) in a ziplock bag on top of veggies."
"BBQ chicken sandwiches with pasta salad and cookie bars. Make sure buns are sliced and BBQ chicken is in a disposable microwavable container."
"Our favorite is Taco bar. Everything for tacos plus refried beans, guacamole, chips, white queso dip."
"Our go-to is usually Chicken cordon bleu casserole with rice. It's what someone brought us after having a baby and it was so good! Everyone has loved it and asked for the recipe. I usually throw in some fresh fruit on the side, and some kind of veggies I think the kids will like."
"Someone brought me a hibachi meal (grilled chicken, shrimp, veggies) with rice then a side of salad and fruits. I absolutely loved it. They packed the fruits in a zip lock bag, the meal served hot in a disposable serving foil tray, and salad in a plastic container."
"Tomato soup and paninis (ready to be grilled). I have even taken my panini press and they make the prepared sandwiches themselves. Always a hit!! Put the prepared sandwiches in wax paper since they are buttery."
"I usually make Thai style fried rice with ham and lots of veggies. I'll often add spring rolls that they can heat up, too. Sometimes I'll add an Asian salad mix that they can make whenever they want."
"One time, some brought us a heaping amount of Hawaiian haystacks with accompanying toppings and it was delicious! And lasted for several meals, which I really appreciated."
"My favorite thing to take is Chicken pot pie with fried apples and homemade bread if I have time, plus some kind of dessert like chocolate chip cookies or cupcakes. As soon as it comes out of the oven, I leave right away to deliver the meal and it's always hot and ready to eat as soon as it's delivered."
"I just made my friend a Fajita kit and put it in a disposable metal tray with a lid! Cooked up chicken, peppers and onions and bagged lettuce, salsa, cheese, Guac, sour cream and tortillas!"
"Burrito bowls with all the fixings and fresh baked cookies. Some variation of this: rice (cilantro lime or plain), protein (seasoned chicken, steak or shrimp), sides (black beans, peppers & onion, corn, etc.), and toppings (salsa, guac, fresh jalapeños). Can add chips and dip or queso."
"I had a meal train a few years ago. One of my most favorite meals someone brought was Roasted chicken with za'atar spices, quinoa, and some grilled veggies, and then she had ideas on what to do with the leftovers which she also added extras. So we had the meal the first night and the second day we shredded some chicken and chopped the veggies and added the Tzatziki sauce and rolled it up in to wraps, and then we did the leftover quinoa and the rest of the chicken mixed with the bagged salad."
My friend Ashley says, "I often take chimichangas or Taquitos, because they are family friendly. If I know they are receiving lots of meals then I take them uncooked in a gallon ziplock bag (with cooking instructions) to put in their fridge or freezer and cook when needed. That way it spreads out the meals that come in. I always give fruit and salad in disposable tupperwares. And of course dessert too. I'll usually add salsa and a bag of chips."
My friend Danielle says, "There's no wrong way to bring a meal to someone. Never suppress a generous thought! When I have the bandwidth, some of my go-to meals are Lasagna Soup, Zuppa Toscana with salad, fruit and bread. In summer months grilled Soyaki chicken with rice, fruit and a salad. I don't always do dessert, probably because every time I'm postpartum I'm ready to shed the weight. I've also done a Pot Roast with mashed Potatoes. Sometimes I text them three options and let them pick, and sometimes Costco to the rescue with pre-made food if I don't have the bandwidth."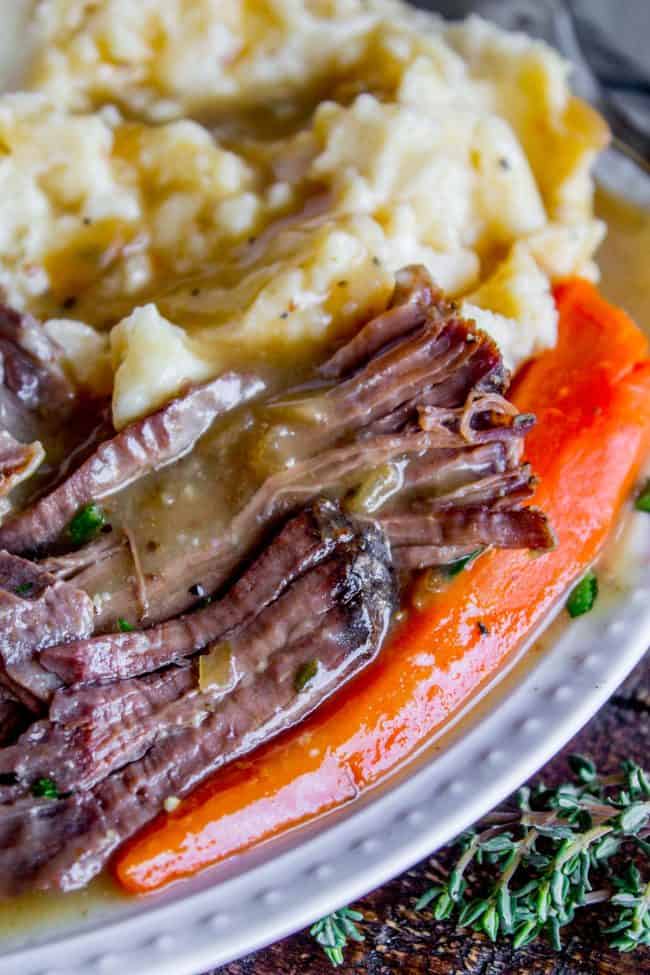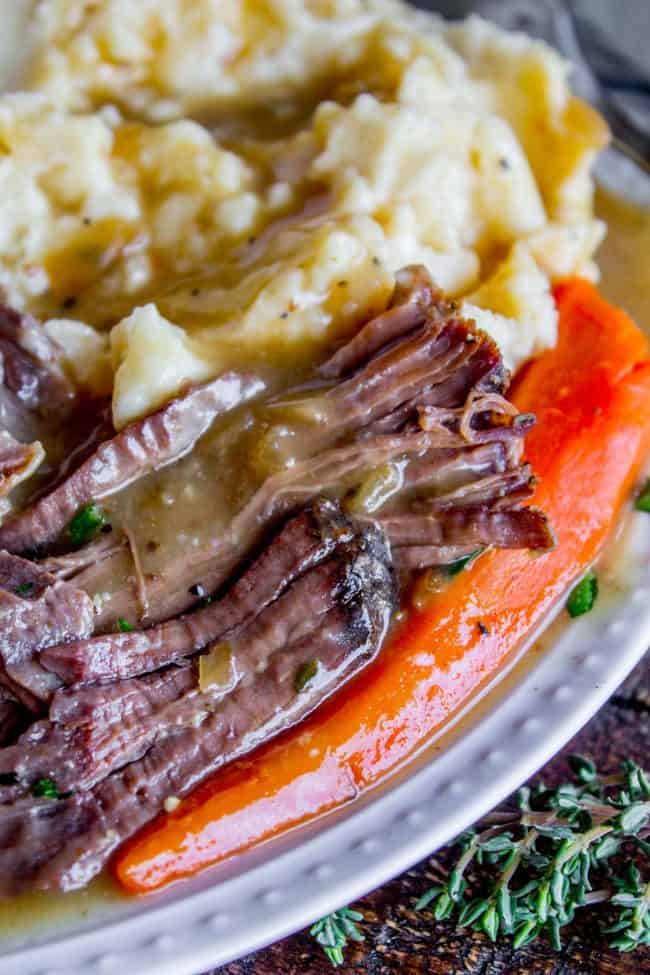 Food bloggers who bring meals
I have a lot of friends who are food bloggers, and as fellow food-obsessed people, they are pretty expert when it comes to bringing in dinner for someone. I asked for their TOP recipe they bring, here's what they shared: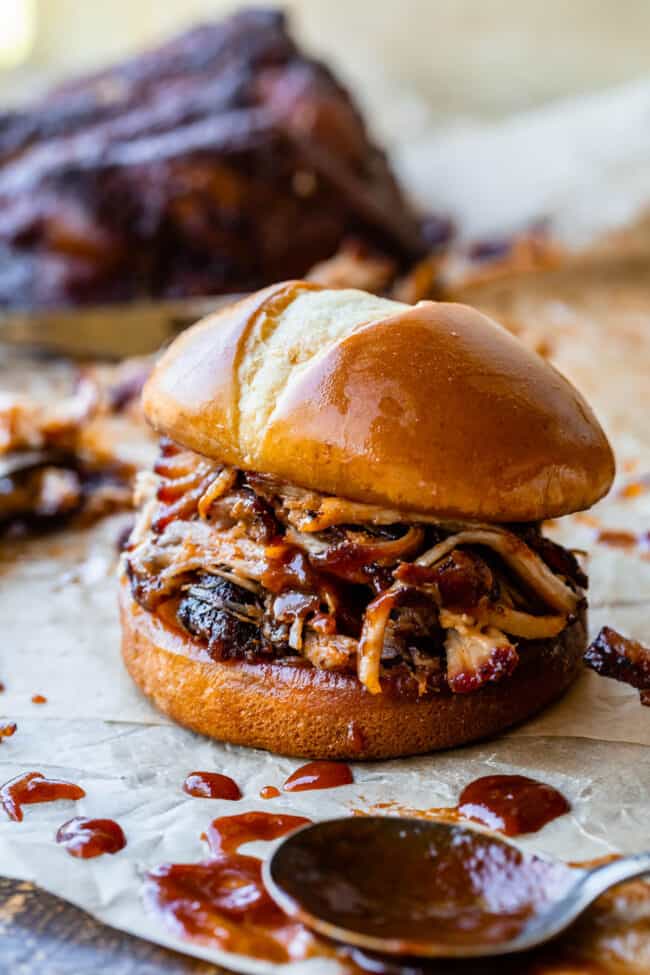 Snack ideas for when your friend has a baby
Having a newborn SERIOUSLY screws up your eating habits (not to mention sleep). Suddenly it's 3AM and you're searching the fridge for something you can eat with one hand because you're starving and your howling infant is in the other arm. Here's what our friends loved!
"After one of my babies, a friend brought a bunch of healthy, quick grab snacks, on top of the dinner she brought over. It was fresh cut veggies and fruit, as well as some cubed cheese and turkey if I remember right. It was such a FANTASTIC help in those early days of baby time because I could grab a handful of something to sustain me while I was (constantly) breastfeeding. I've done this a few times for people!"
Make some meal prep lunch meals for mom in addition to/in lieu of a dinner. Just portion them into 4-5 disposable containers for her to have ready throughout the week. This is a great way to take care of moms so they can care for their family."
"For a new baby – my friend brought me homemade granola and it was surprisingly amazing to nibble on while nursing, in those early days when you're tied to the nursing chair all day everyday it was the perfect thing to keep there. She also brought me scones! Can't remember a single meal I ate in the first couple weeks but definitely remember my nursing snacking station."
"I've made mini muffins and other snacky stuff for girlfriends because I am a big snacker and it's easier to eat that all day then prepare and settle in for a meal."
"When I had my first, my friend made me puppy chow and my sister brought me a ton of cut-up fruit with fruit dip. Both were AMAZING to have when I had no energy to cook and wanted all the snacks!"
"I really loved when my mother-in-law brought deli meat, cheese, bread, and fresh fruit washed and cut up. So convenient to have on hand!"
"One of my go-to's is to get them a big bag of groceries instead of doing a dinner meal. I get stuff for simple breakfasts, lunches, and/or snacks (deli meats, cheeses, bread, hummus, baby carrots, etc) – people often cover dinner but forget about the other meals that can be hard to make for yourself when you're dealing with a new baby or grief or healing from surgery, etc."