Easy Cheesy Asparagus Tortellini Bake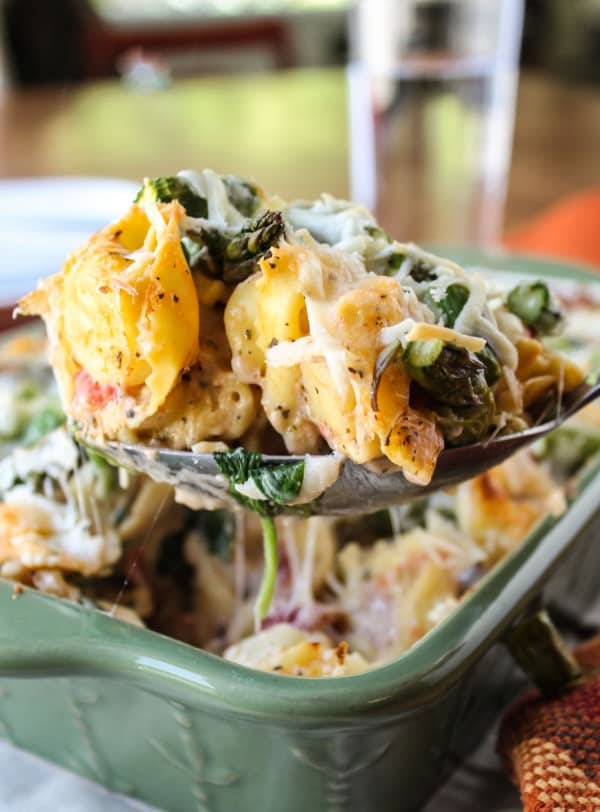 A friend of mine had a baby recently, so today I dropped off this casserole. Yes, really, this very one. "Sorry about the missing piece, I had to take a picture of it." Nothing says I love you quite like offering up half-eaten food.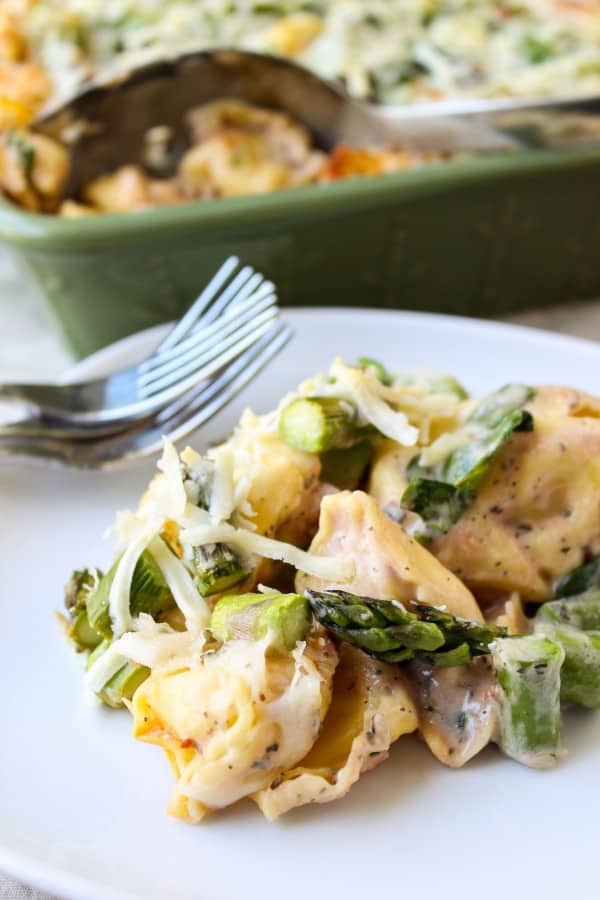 The salad I brought her had also been photographed (coming soon!).  She's coming out with an ebook soon, "The Dangers of Having a Food Blogger Friend and Other Tips For Dealing With Super Awkward People." I'll let you know when it's up for sale. I swear guys I just get classier by the minute.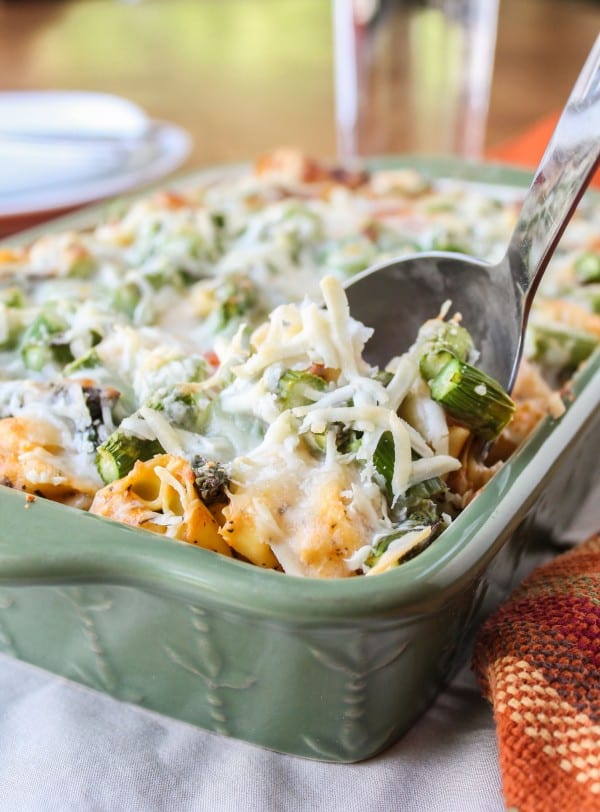 Welcome to your next 45 minute no-brainer meal. Only 15 minutes of prep time, by the way, and that's if you're slow. I mean, you don't even have to boil the tortellini first. I love these meals that you can just crank out, you know?
It is definitely going up on my Get Dinner Done Pinterest board. I love stuffed shells and French onion soup, but sometimes my mind decides to shut down at 5pm, and that's where this Easy Cheesy Asparagus Tortellini Bake comes in. I like it because all you do is dump a bunch of stuff in a bowl, mix it, then bake in a dish. Thaaaaaat's it. When you find a recipe this easy that also tastes fabulous, then you know you've won.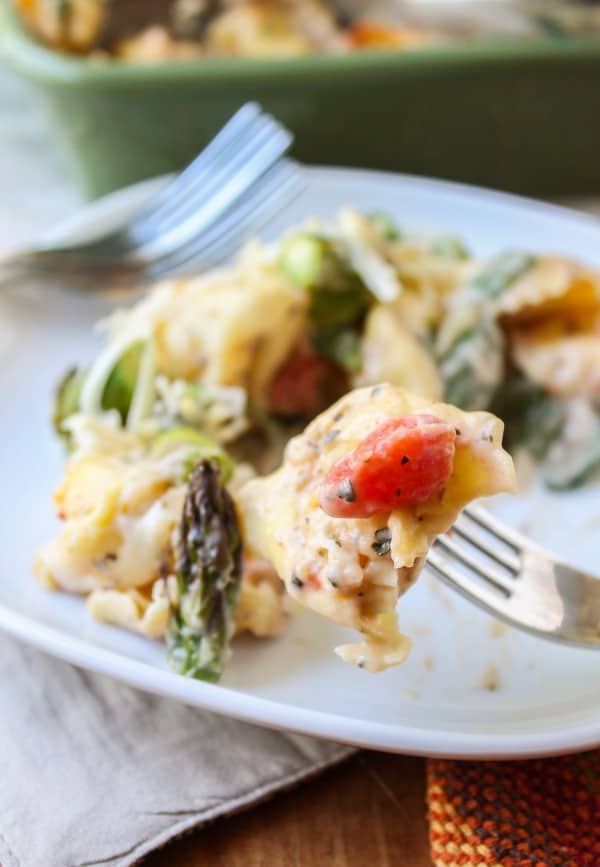 The only thing you have to chop is the asparagus, which really doesn't take long. The asparagus in this casserole is firm; it is not blanched or roasted before baking. I like it that way, I prefer a little resistance in my asparagus, but if that's not your thing I've included blanching instructions on the notes to the recipe. It will only take an extra couple minutes.
Don't forget to enter my Treatsie giveaway going on right now! Free stuff! Woot!
Do you guys give up? Or are you thirsty for more?
Facebook | Pinterest | Instagram | Twitter


print
Did you make this recipe?
Leave a review »
Easy Cheesy Asparagus Tortellini Bake
Serves 6
adjust servings
Ingredients
1

(15-oz) jar Alfredo sauce

1

(15-oz) can diced tomatoes, drained

1

cup baby spinach, packed

2

cups mozzarella, divided

1

tablespoon basil

1/4

teaspoon crushed red pepper

dash salt

1

(24 ounce) package refrigerated cheese tortellini, uncooked

1

pound asparagus, trimmed and chopped

1/4

cup Parmesan cheese, or another 1/4 cup mozzarella
Instructions
Preheat oven to 350 F.
In a large bowl, add the Alfredo sauce, drained tomatoes, spinach, 1 cup of the mozzarella cheese, basil, crushed red pepper, and a few shakes of salt. Stir together with a rubber spatula.
Add the uncooked tortellini and use the spatula to break them apart. Stir it all together so that each tortellini is covered in sauce.
Pour the mixture into a 2-quart casserole dish. Snap off the woody ends of the asparagus, discard, and chop the rest into bite-size pieces.*
Layer the asparagus on top of the tortellini. Sprinkle another 1 cup of mozzarella over the top, then sprinkle the 1/4 cup Parmesan.
Bake in the middle rack of the preheated oven for about 30 minutes. If the edges are looking brown but the cheese in the center isn't browning, broil it for 1 minute.
Let stand for 5-10 minutes, then serve. (With a big salad and breadsticks! Yum)
by The Food Charlatan

If you make this recipe,
share it on Instagram
 using the hashtag
#TheFoodCharlatan
so I can see it!
Source: The Food Charlatan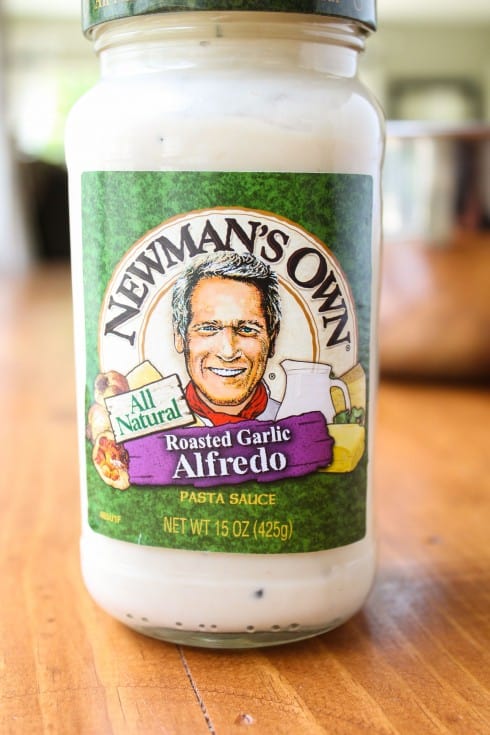 Any kind of Alfredo sauce will do. I used good ol' Newman's.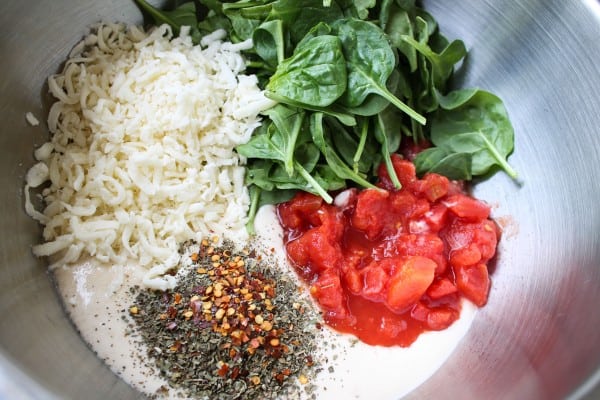 Dump and stir!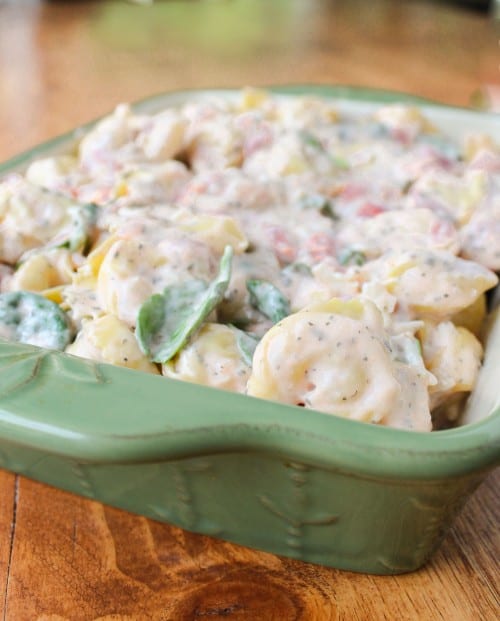 Add in the tortellini. I used half of one of those double Costco packs, which was 1 1/2 pounds. I know at the normal grocery store they sell them in 20 oz packs though, and I think that would still work just fine. Maybe increase your spinach a little to make up for it.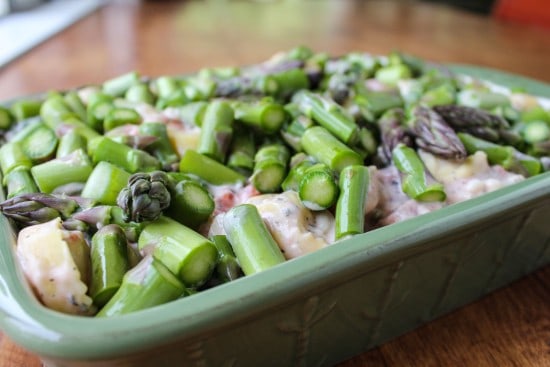 Throw some asparagus on top. Blanch it first if you want it soft.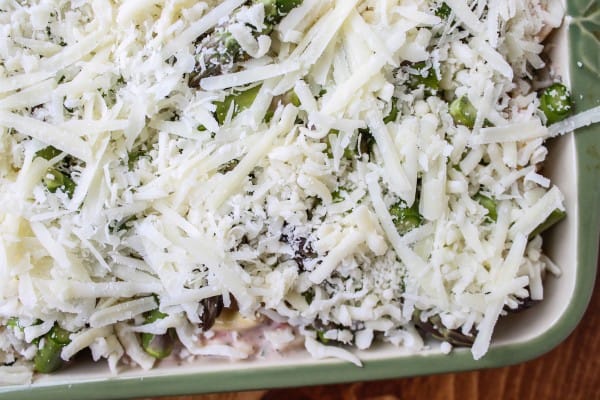 And of course cheese.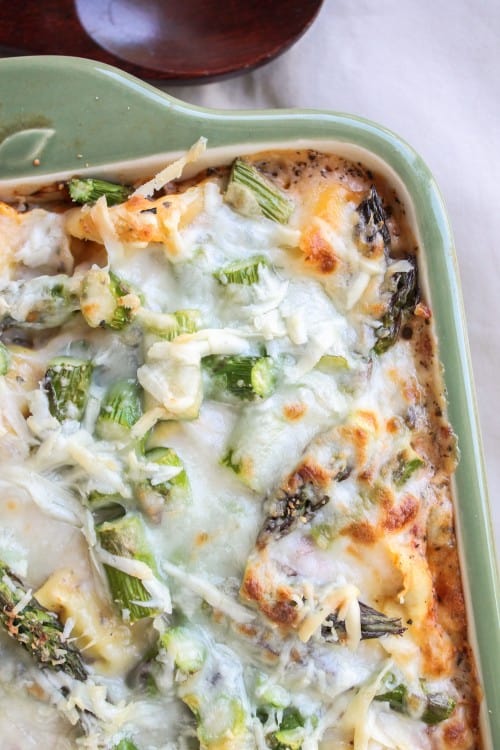 Voila!
We are a participant in the Amazon Services LLC Associates Program, an affiliate advertising program designed to provide a means for us to earn fees by linking to Amazon.com and affiliated sites.