These soft and chewy Sugar Cookie Bars are the stuff of dreams!! Adapted from my all time favorite soft sugar cookie recipe, these bars have a secret ingredient that make them supremely chewy. The thick layer of buttercream frosting on top makes them irresistible!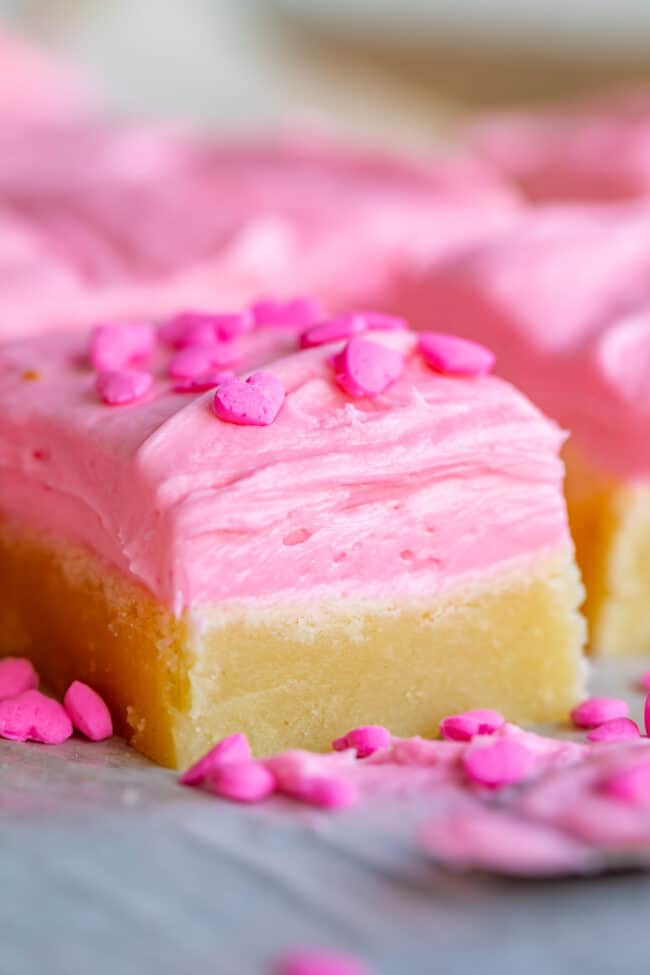 Our neighbor's little daughter was over playing today, and during a quiet moment she came up to me and asked, "Did you fix the baby?"
I guess she thought my 7-week-old newborn was broken because of all the crying. The peace and quiet sure is nice, right? Wouldn't it be great if we could just give him new batteries or fiddle with a screwdriver to fix him up and make all that noise stop?? It would be so much easier than breastfeeding!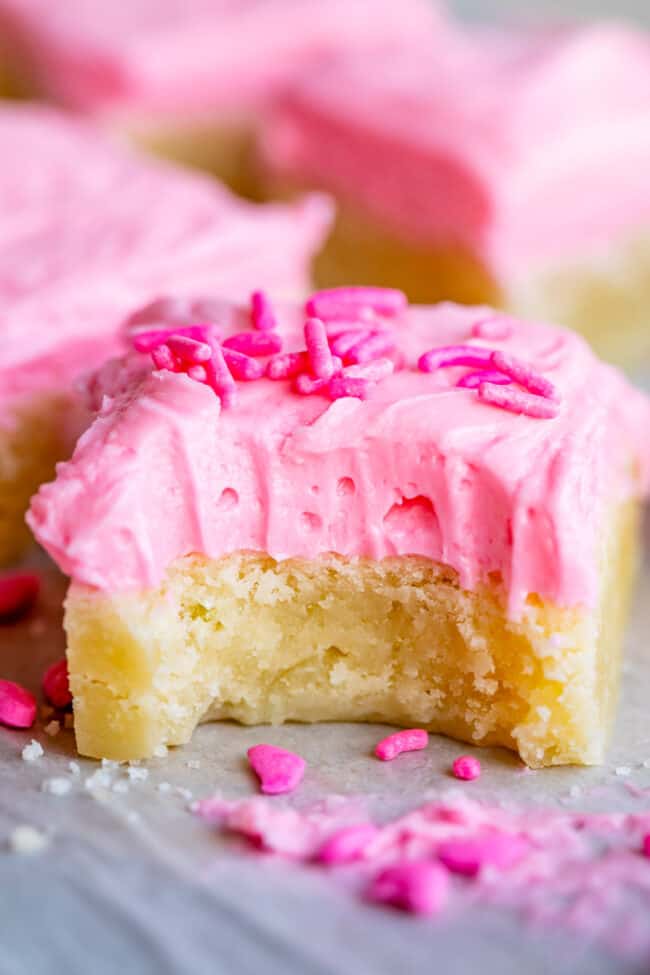 Speaking of breastfeeding, a few hours later our daughter Valentine was bragging to Eric, "Sometimes my mom lets me breastfeed!"
"Oh really? What do you breastfeed with?" She said, "A bottle of course!" Proper baby-feeding terminology is a bit much to ask a 3-year-old, I guess.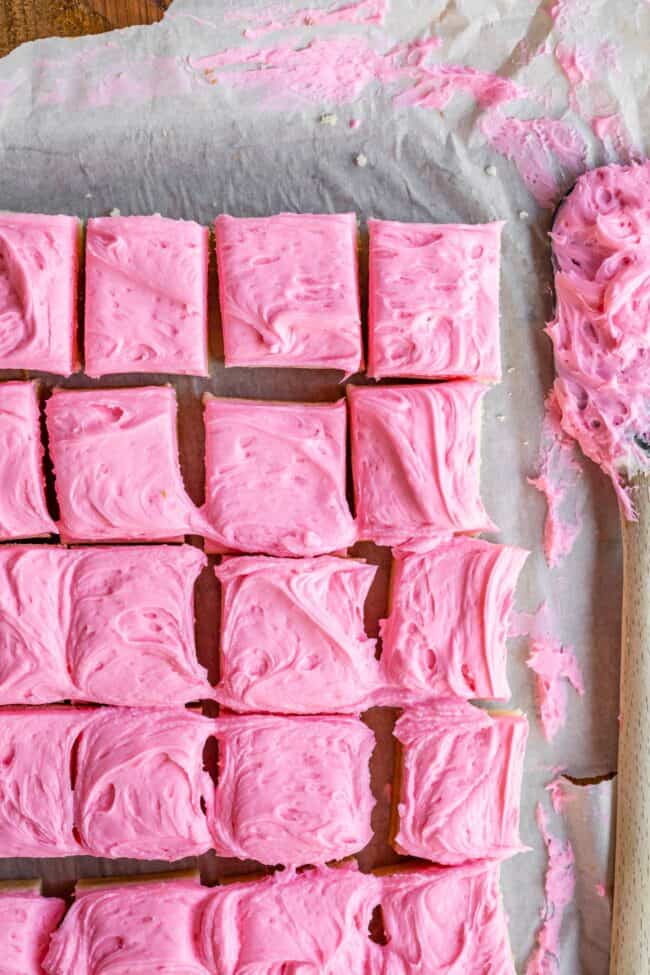 Well, love is in the air my friends! Valentine's Day festivities are in full swing over here. Not only do we have a daughter named Valentine (who was born in November), we have a different daughter who's birthday is near Valentine's Day. We did this because we like to confuse everyone. Just kidding! It's just the way it all worked out! Charlotte and Valentine were the two girl names we picked out before we were even married.
But because we have a birthday party to organize on top of all the valentines and treats to arrange for class parties, things get pretty crazy around here this time of year!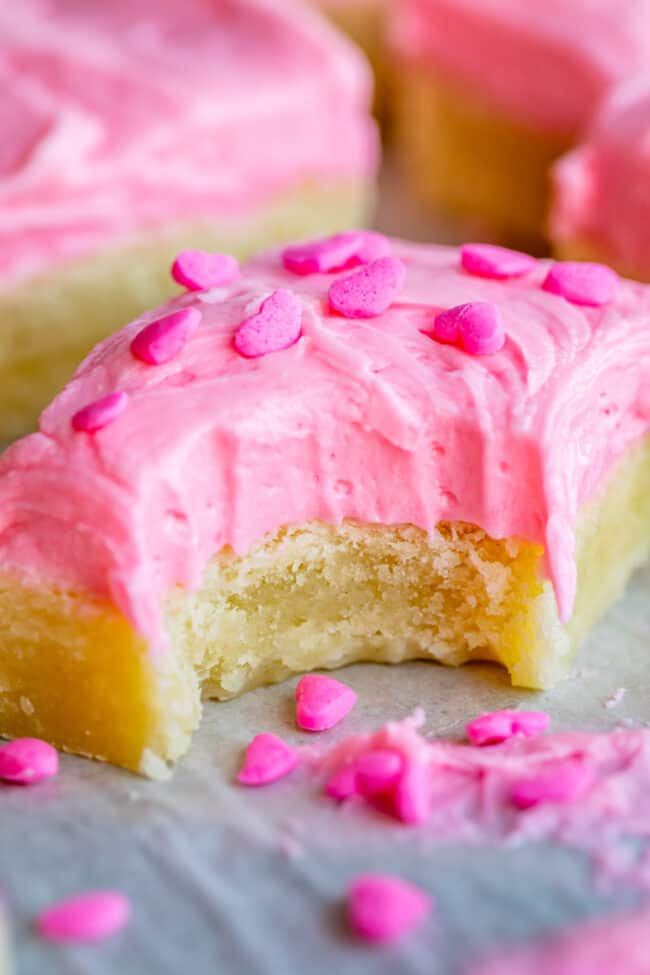 Sugar Cookie Bars forever
One of my favorite treats to make around Valentine's Day are sugar cookie bars. Everyone loves a soft and chewy sugar cookie, and bars are soooo much easier than rolling and cutting sugar cookies.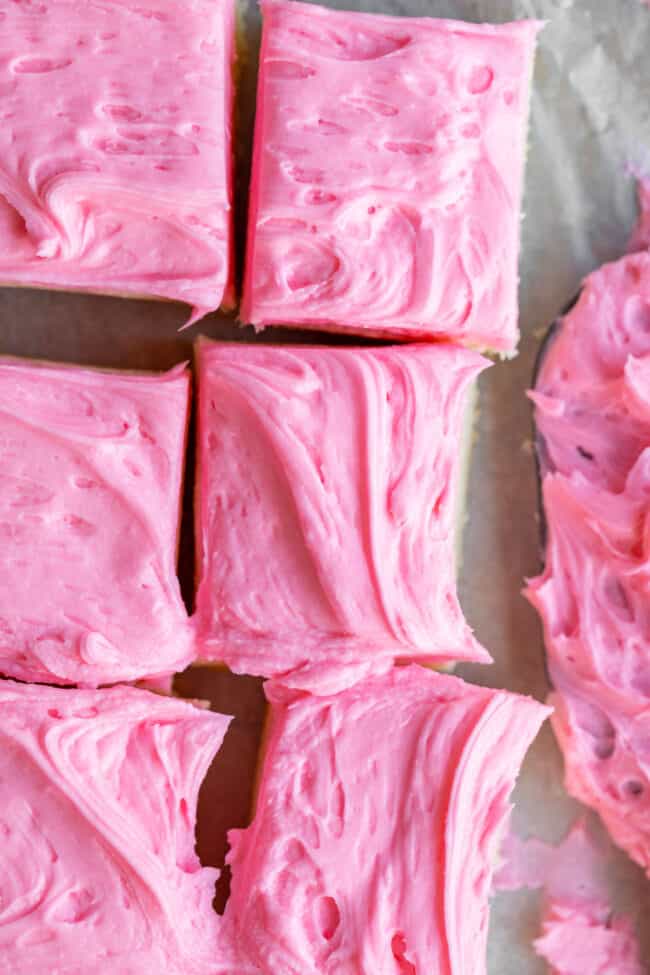 Don't get me wrong, I LOVE a good sugar cookie. There is just something extra special about a pretty individual cookie covered in buttercream, just for you. But sometimes, convenience wins, especially when you've got a crowd to feed!
How to Make Sugar Cookie Bars
These sugar cookie bars are adapted from my famous recipe, The Softest Sugar Cookies of Your Life. It's no lie my friends. They are the softest, thickest, dreamiest sugar cookies you will ever eat. Check out over 100 reviews on the post! They hold their shape perfectly for cutting out.
The secret is in the cream cheese. It doesn't go in the frosting! It replaces some of the butter usually called for in the sugar cookies. The cream cheese makes the final baked cookie supremely chewy and moist.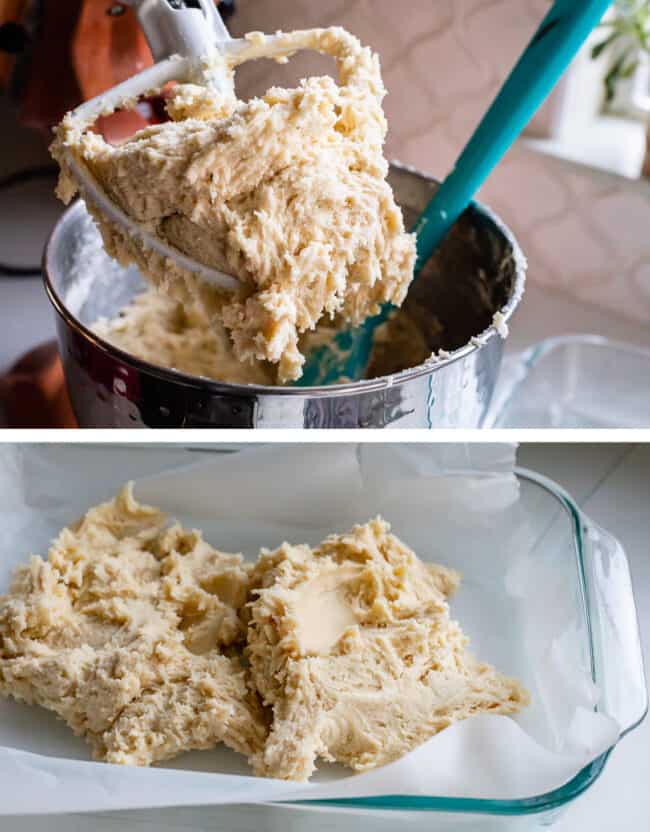 It took me three tests to adapt the cookies into bars, but I finally got it! The first couple times they came out too cakey, but third time's the charm. This is the perfect ratio of ingredients to get that soft, thick, chewy, and fudgy texture that you want in a sugar cookie bar. Cream cheese ftw.
All it takes is mixing up a few ingredients into a simple sugar cookie dough. Butter, cream cheese, sugar, egg, vanilla, the usual suspects. We also add a bit of almond extract to get that perfect sugar cookie flavor. Then flour, salt, and cornstarch to make the texture extra soft.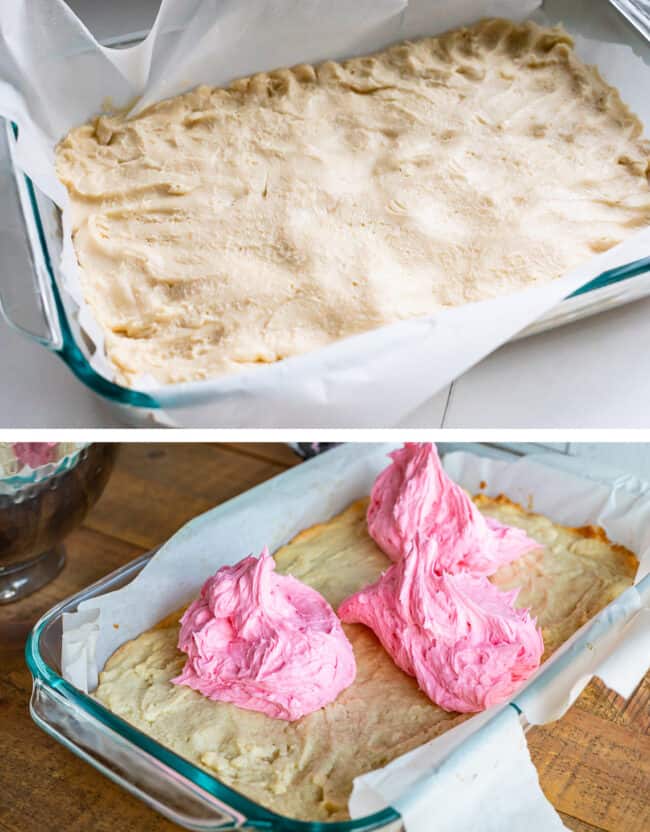 Then press it all in the pan and bake it up! It doesn't take long at all, less than half an hour. You do have to wait for them to cool completely before frosting (I always stick it in the freezer. Impatient much?), but it's a lot faster than making sugar cookies where you have to chill the dough!
Top off the bars with a batch of The Best Buttercream for Sugar Cookies and you're golden. This is my favorite buttercream, forever and always. It has not only vanilla, but also a bit of almond and coconut extract. It's the best combo!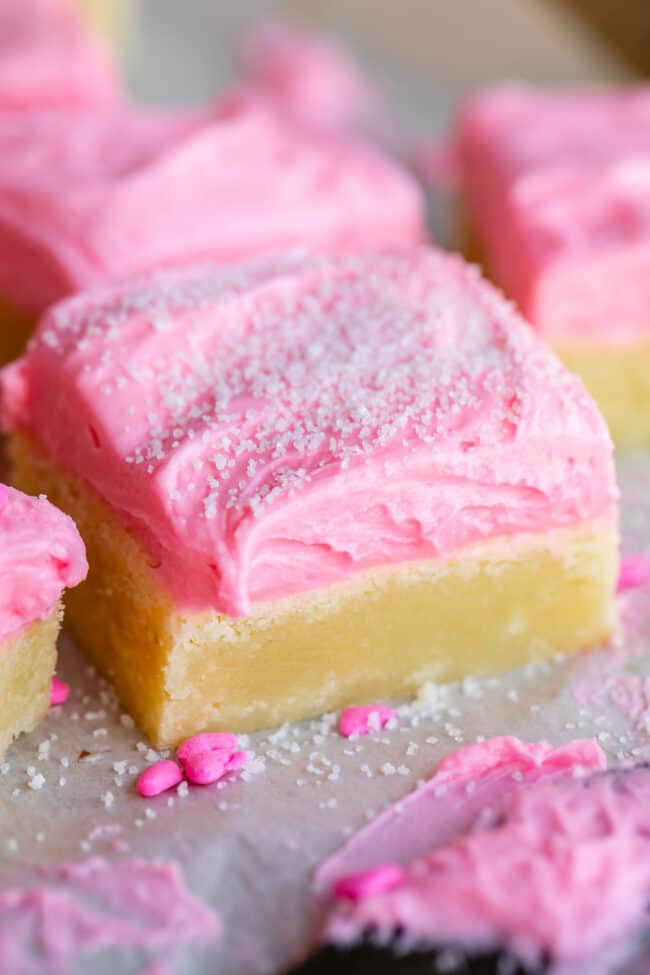 Sprinkles are fun and all. But what I REALLY love to sprinkle on my sugar cookie bars is this stuff called Heavenly Coconut Sugar from King Arthur Flour. I just looked and I don't think they carry it anymore! I was going to link it for you. I'm so sad! Come on KAF, bring it back! (I promise though, these sugar cookie bars are plenty delicious without it.)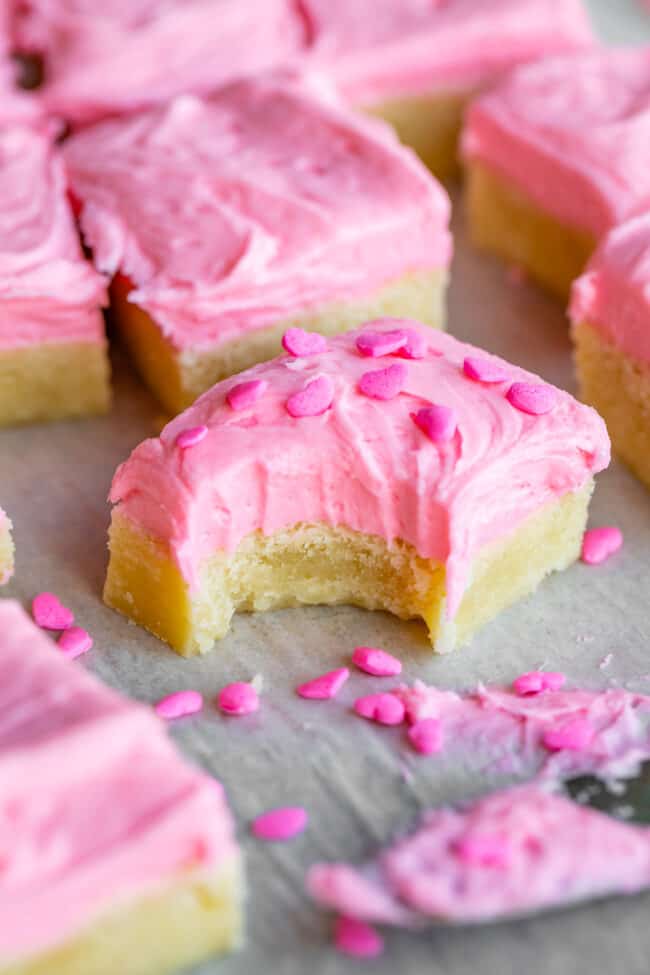 My neighbor Alex came over to chat while I was on my front porch photographing these bars. I asked him if he wanted one and he said no. "What is it, cake?" No, I said, they're sugar cookie bars with frosting on top. And then he was like, never mind, I'll take one. Ha! No one can resist a sugar cookie!
Enjoy your Valentine's Day everyone! Make these sugar cookie bars for someone you love (even if it's yourself!)
More Cookie Bars you are going to love!
Facebook | Pinterest | Instagram

Soft and Chewy Sugar Cookie Bars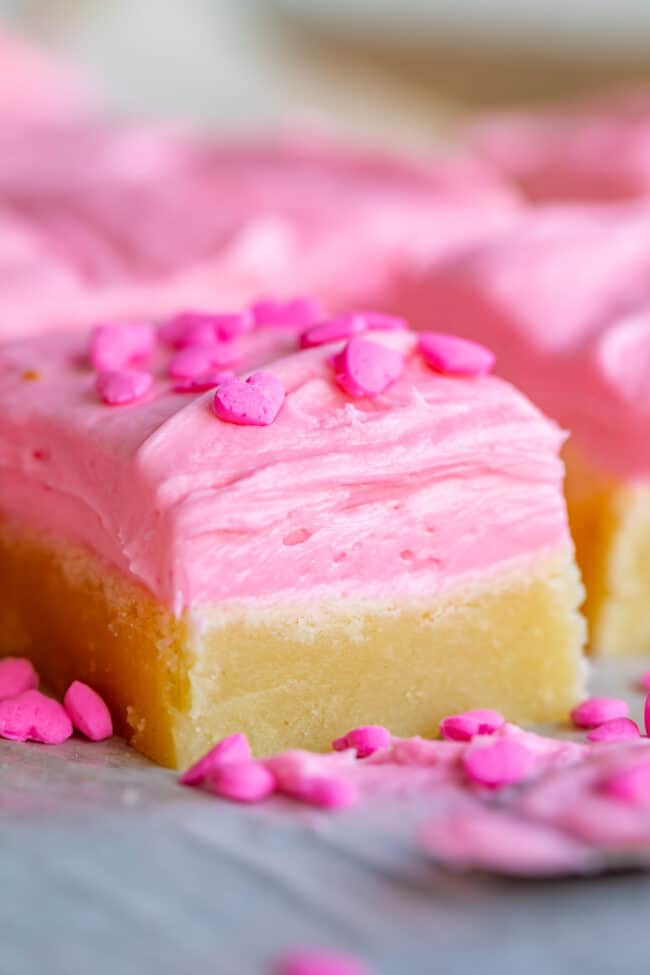 These soft and chewy Sugar Cookie Bars are the stuff of dreams!! Adapted from my all time favorite soft sugar cookie recipe, these bars have a secret ingredient that make them supremely chewy. The thick layer of buttercream frosting on top makes them irresistible!
Ingredients
3/4

cup

salted butter

,

softened (1 and 1/2 sticks)

4

ounces

cream cheese

,

softened

1 & 1/2

cups

granulated sugar

1

large

egg

1

teaspoon

vanilla

1 & 3/4

teaspoons

almond extract

1

teaspoon

salt

2 & 3/4

cups

all purpose flour

,

spooned and leveled

1

tablespoon

cornstarch
Instructions
Preheat your oven to 350 degrees F. Line a

9×13 inch glass pan

with parchment paper or foil, to make it easy to lift the bars out of the pan and slice. (Foil needs to be sprayed with nonstick spray) Or you can grease the pan directly with nonstick spray.

In a large bowl or stand mixer, beat 3/4 cup butter on medium speed until it is soft and fluffy, 1-2 minutes, scraping down the sides at least once.

Add the softened 4 ounces of cream cheese and continue to beat for 1 minute, until well incorporated.

Add 1 and 1/2 cups sugar and beat well, 1-2 minutes, until fluffy. Scrape down the sides.

Add 1 egg, 1 teaspoon vanilla, and 1 and 3/4 teaspoon almond extract. Beat well. Scrape the sides and bottom of the bowl with a spatula.

This is my spatula

that I love and use for every baking project.

Add 1 teaspoon salt, 2 and 3/4 cup flour, and 1 tablespoon cornstarch. Beat until just barely combined, scraping the sides and bottom again. Do not stir too much or you will make your dough tough.

Transfer the dough to the prepared pan. Get your hands a little wet (shake off excess water) and press the dough evenly into the pan. (You can also grease your hands if you prefer.)

Bake at 350 for about 25-30 minutes. Every oven is different, keep an eye on it. The bars are done when there are just a few golden spots on the edges, and the center is no longer shiny. It's very important not to over bake sugar cookie bars, or they will not be soft and chewy. (They will become dry and crumbly.) When a toothpick comes out of the center with no dough on it, they are done. If you are baking in a metal pan, it will bake a couple minutes faster.

Let the bars cool completely on

a wire rack

. Do not frost while warm.

To slice into clean bars as shown in the photos, slice off about an inch from all four edges, then slice into bars, cleaning your knife before making each cut.
Nutrition
Serving:
1
bar
|
Calories:
380
kcal
|
Carbohydrates:
56
g
|
Protein:
3
g
|
Fat:
16
g
|
Saturated Fat:
8
g
|
Polyunsaturated Fat:
3
g
|
Monounsaturated Fat:
4
g
|
Trans Fat:
1
g
|
Cholesterol:
42
mg
|
Sodium:
302
mg
|
Potassium:
51
mg
|
Fiber:
1
g
|
Sugar:
37
g
|
Vitamin A:
378
IU
|
Calcium:
16
mg
|
Iron:
1
mg