Is there anything more comforting than homemade Chicken Noodle Soup? Carrots, onions, celery…the smell is enough to bring you back. This recipe uses dark and white meat from a rotisserie chicken, and homemade noodles (or you can totally use store-bought). It's nostalgia in a bowl! Originally posted October 2, 2017.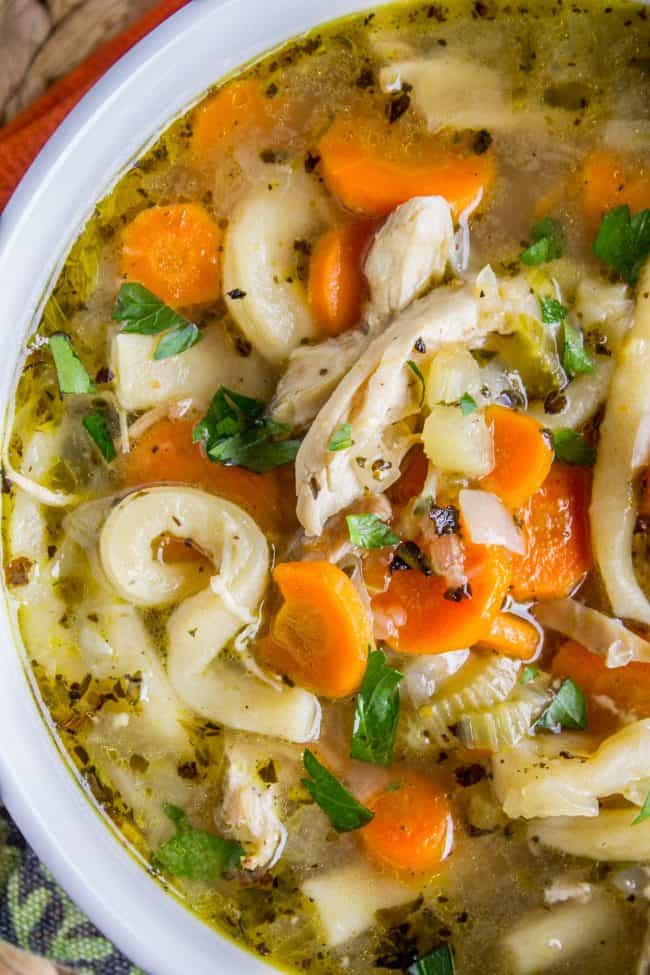 Table of Contents
I'm pretty sure my dad is the last human on planet Earth to not have a smart phone. We keep losing him. We've been on vacation together with my brother all week in D.C. and Richmond, which has been sooo much fun (follow along on my Instagram stories!) We will be in a museum or whatever, wander off in different directions, and then realize Dad is not with us. No big deal right? We'll just text him that we are by the such-and-such exhibit…oh wait.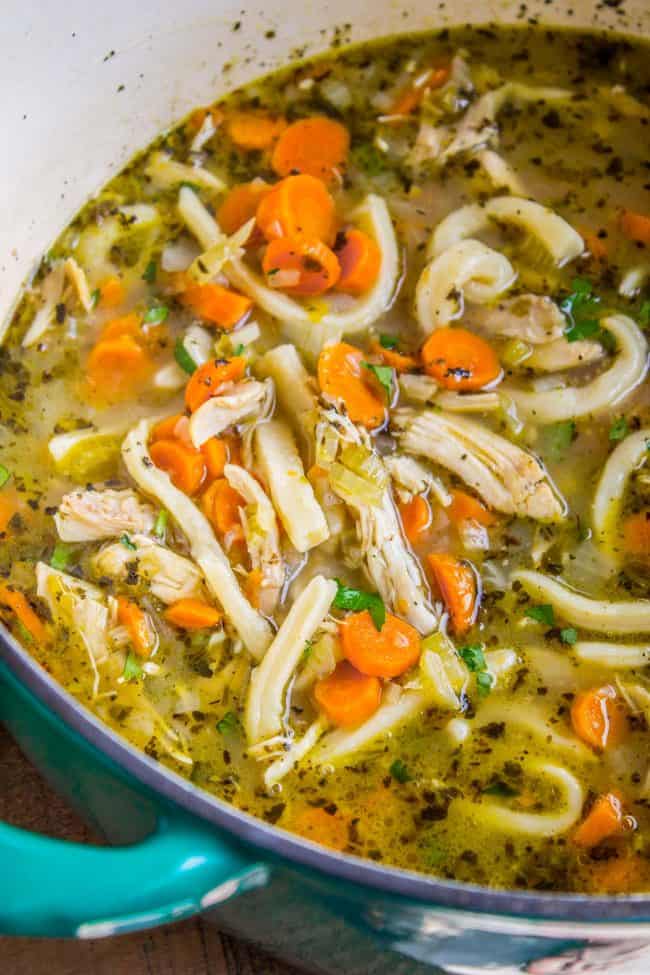 He also doesn't have a pocket encyclopedia, map, or the-entire-internet in his pocket. He's always borrowing my mom's phone to look stuff up. We were driving around looking for a gas station one night, and Dad asks Mom to look for a 711 so we can stop. A couple minutes later he's like, did you find one? And she's like, "OH, you meant look it up on the phone. I've just been keeping my eyes peeled." She was looking out the window like a HAWK.
(I'm making fun of my mom here, but I shouldn't be, because one time someone told me they needed something off my desktop, and I started looking around on top of the desk instead of handing them the computer. For real.)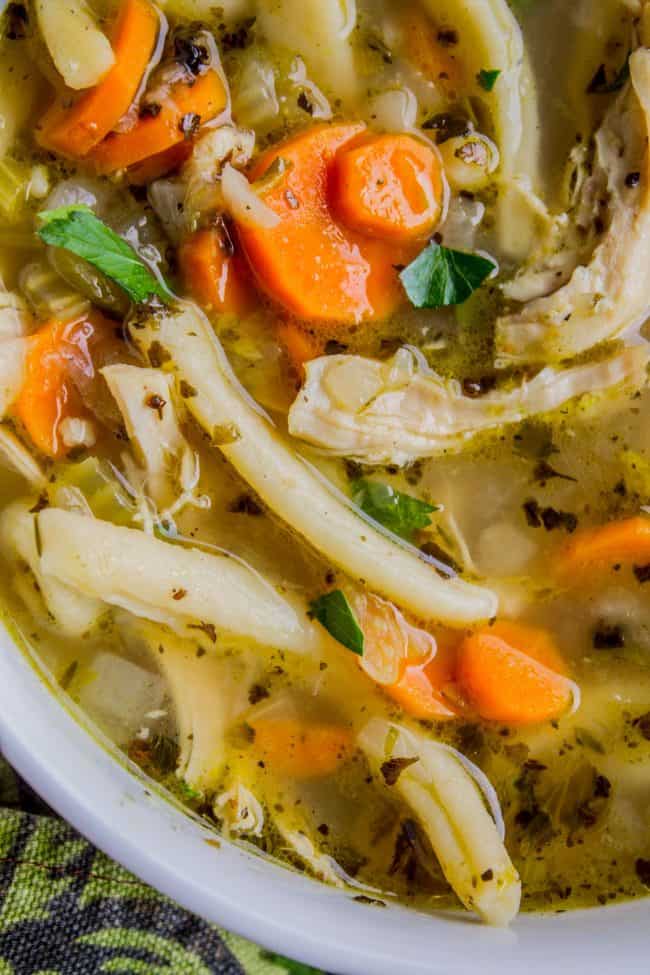 This Homemade Chicken Noodle Soup Recipe is good for the soul
Welcome to October my friends, it's finally SOUP SEASON! The best time of the year! I love soup and could probably eat it every day. I'm lucky that I married Eric, who has a healthy respect for soup in spite of being a man. (Did you know that some guys consider soup to be "girl food??" True story. Click on that link and scroll all the way down to read the comment from my friend Cindy about how she tries to present soup as "watered down casserole" to get her husband to eat it.)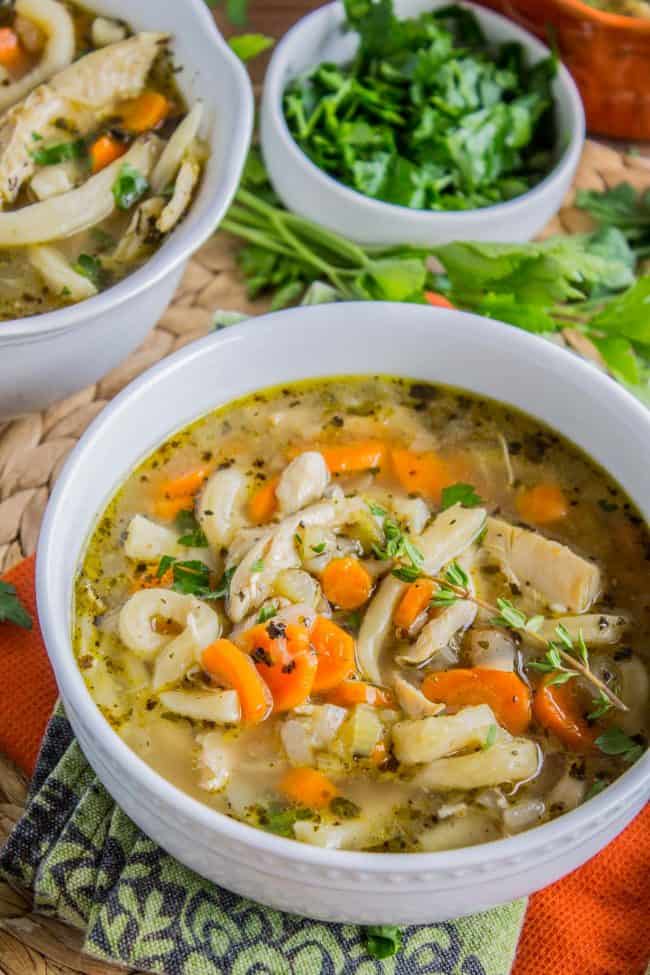 Today's recipe does not resemble watered-down-casserole in any way, in case you were worried. So far I'm doing a terrible job selling this soup.
Why this is the BEST Homemade Chicken Noodle Soup Recipe
I would truly be a charlatan if I said this was THE. BEST. EVER. There are so many ways to make chicken noodle soup and I'm not turning up my nose at them! But I love this soup so much, and here's why:
It's done in just over an hour…that sore throat isn't going to wait.
We're making surprisingly easy homemade noodles (with an option to do store bought).
It starts with a rotisserie chicken, which is often cheaper than cooking your own (and a million times easier than cooking your own).
It has tons of flavor from celery, onion, garlic, carrots, and a few basic seasonings you already have in your pantry.
We're keeping it classic here: all the nostalgia (with a lot less of the work).
Homemade Chicken Noodle Soup ingredients
Here's a quick shopping list to help you gather your ingredients. See the recipe card below for the full ingredients and instructions!
Flour
Kosher salt
Egg
Milk
Butter
Onion
Celery
Carrots
Garlic
Better than Bouillon Chicken Base (or your preferred chicken broth)
Thyme (fresh or dried)
Dried basil
Dried oregano
Poultry seasoning
Rotisserie chicken (meat and bones)
Fresh parsley (to garnish)
Store bought egg noodles (2 cups – only if you're not making the homemade option!)
Chicken noodle soup seasoning
Head to the spice rack and grab some classics: thyme, basil, oregano, and poultry seasoning. These guys are great at enhancing the natural flavor of the chicken. I also strongly encourage you to use Chicken Better than Bouillon for your chicken broth. It's far superior to canned chicken broth and less expensive than a fancy carton. Plus, it's always in my fridge. I like to finish this soup with fresh parsley, both for flavor and because it looks pretty.
What are the best noodles for chicken noodle soup that don't get soggy?
Homemade of course!! And they're really not hard at all. But if you don't have time or lack noodle confidence, you want to buy egg noodles. Wide, spiral, thin, any are fine, but don't buy normal pasta. It doesn't have the same texture. And ANY noodles will eventually get soggy in your soup if they're boiled to death or left in the fridge for a week. Note that we're cooking them for less than 10 minutes. Pull one out and taste it. I prefer noodles that still have a little "bite" to them on day 1, so that I'm not eating soggy noodles on day 2.
How to make Chicken Noodle Soup with Homemade Noodles
How to make homemade noodles for chicken noodle soup
But do I even need to sell the quintessential Chicken Noodle?? Yes, yes I do, because THE NOODLES, GUYS. They're gonna change your life, or at least your level of respect for Chicken Noodle Soup. Sure, they take a few extra minutes to make, but you just can't beat the flavor. It really takes the soup from average to excellent. Of course you don't have to make the noodles; the pantry variety will work great too, I use them all the time. It still turns out amazing.



Stir together flour and salt with some egg and milk, knead a couple minutes, roll it out, cut, and voila. You can even make these ahead of time and freeze for the next time you need some soup or stroganoff in your life.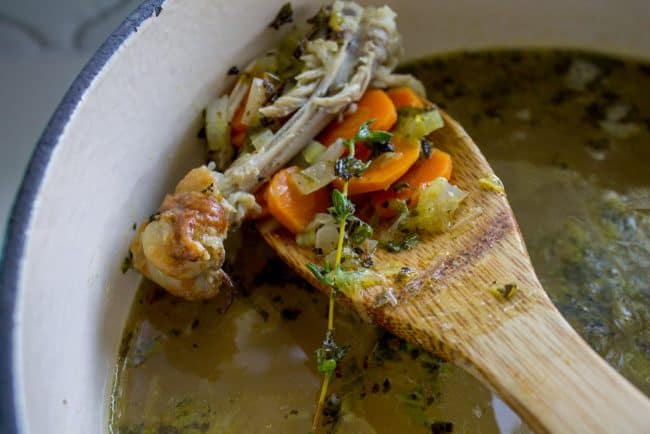 One of the secrets/shortcuts is to use a rotisserie chicken, and to add a few of the bones from the chicken. This way you don't have to deal with cooking the chicken, but you still get ALL the flavor.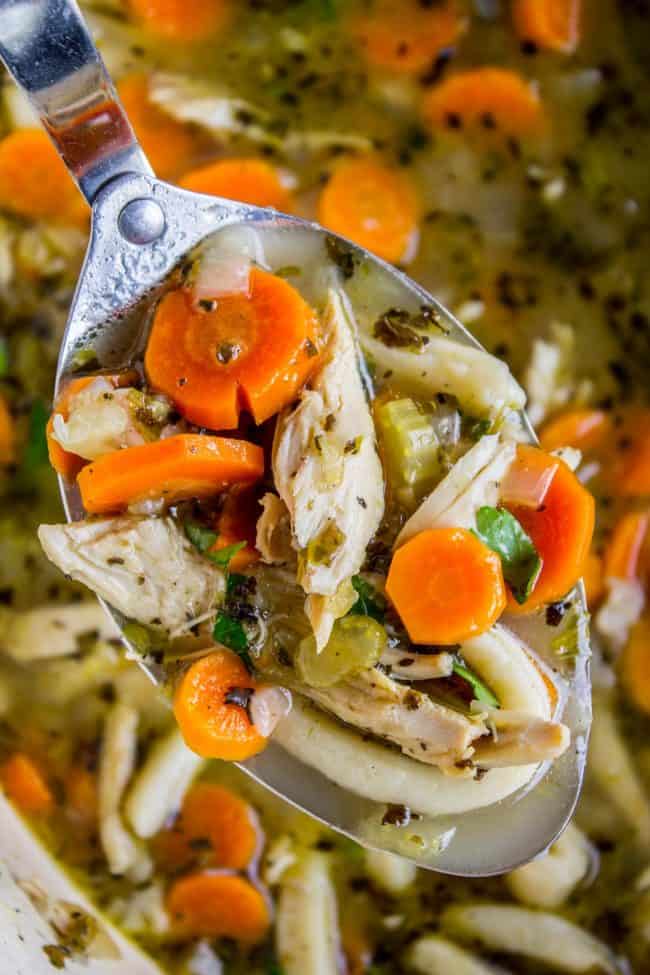 This is basically the homemade chicken noodle soup recipe that your grandma made. Once you smell it, you will remember. Also turns out, it's really easy. Sorry to destroy your legacy, grandma!
Homemade Chicken Noodle Soup Recipe tips
Cut the veggies the way YOU like them. Some people prefer carrots and celery so teeny tiny, others would rather have a nice bite-size piece. It's your soup, you do you!
Use those rotisserie chicken bones! I know we usually just throw them out, but you don't want to throw out FLAVOR. Simmer them in your broth for maximum hearty, healthy soup goodness.
Want to be ready to make this soup anytime? Chop up a rotisserie chicken and store the bones and meat in separate ziplock bags in the freezer. Onions, celery, and carrots can also be chopped and frozen, ready to pull out when you need them.
Make your noodles ahead of time for even faster soup. After drying them for a couple hours, just throw them in a ziplock and pop them in the freezer.
How to serve Chicken Noodle Soup with Homemade Noodles
I love serving this soup with a big loaf of Quick and Easy French Bread. It only takes an hour, so you can make it at the same time you're making your soup.
If you want to stretch it out and serve more people, or just have a fancier dinner, you can make a salad to go with it, like this Apple Gorgonzola Salad, or my no-chop (seriously!!) Green Salad with Feta and Beets.
Storing Homemade Chicken Noodle Soup with Egg Noodles
Put your leftover soup in the fridge. It'll stay good for 3-5 days. Make sure that you cool your soup to room temperature before refrigerating it! If you just stick the whole pot of hot soup in the fridge, it's going to stay at a dangerously warm temperature for a long time and bacteria are going to grow like crazy. I don't recommend freezing this soup if you've added the noodles because they'll get mushy. If you do want to have chicken noodle soup in the freezer, leave the noodles out. When you're ready to eat it, defrost the soup, bring it to a simmer, and cook the noodles as you usually would.
Homemade Chicken Noodle Soup FAQs
Can I put uncooked noodles in my chicken soup?
Yes. And you should. Cooking the noodles IN the soup means that they're absorbing the lovely, delicious chicken broth you've been seasoning, instead of just plain water. Don't put them in until the rest of your soup is done–otherwise you'll end up overcooking them and they'll get soggy.
How do you add depth of flavor to chicken soup?
This is where someone (not me) will tell you that you need to be making your own stock from chicken bones. Homemade stock is definitely delicious but we're not doing that today. Congratulate yourself for making homemade soup instead of opening a can of Campbell's! This chicken soup still has so much flavor from the onions, celery, and garlic, the herbs and spices, and the high quality chicken broth base. Plus, we may be grabbing a rotisserie chicken, but we're simmering the bones with the broth. Maximum flavor, minimum effort.
You will love these other soups! Hooray for soup season!
Facebook | Pinterest | Instagram

Chicken Noodle Soup with Egg Noodles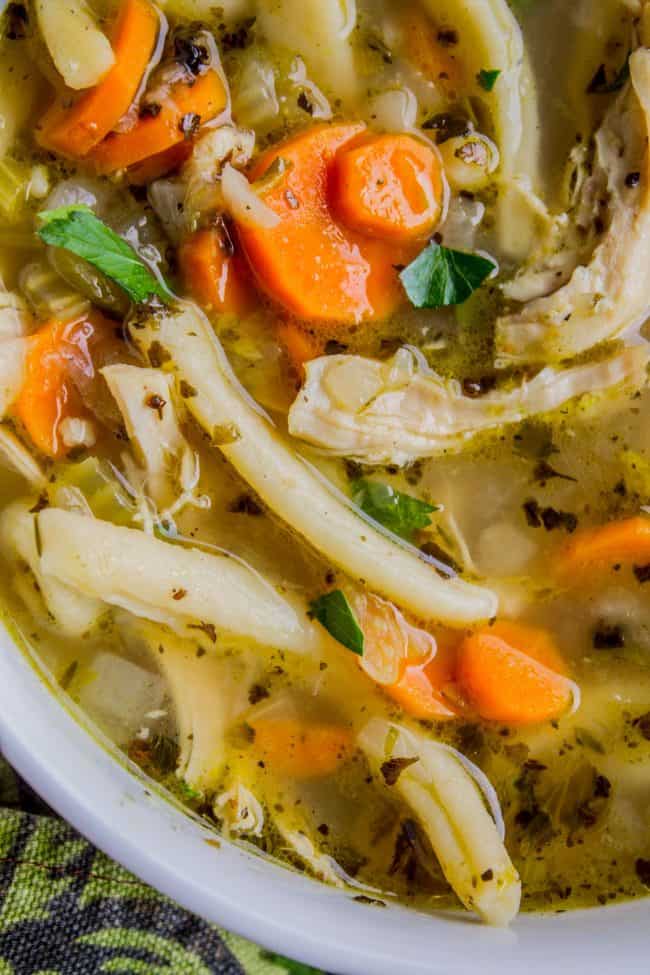 Is there anything more comforting than Chicken Noodle Soup? Carrots, onions, celery…the smell is enough to bring you back. This recipe uses dark and white meat from a rotisserie chicken, and homemade egg noodles (or you can totally use store-bought). It's nostalgia in a bowl!
Ingredients
For the noodles
1 & 1/4

cups

flour

,

spooned and leveled

1/4

teaspoon

kosher salt

1

large

egg

1/4

cup

milk

2

teaspoon

butter

,

softened
For the soup
3

tablespoons

butter

1

large

onion

,

chopped

1 & 1/2

cups

celery

,

chopped small

6-7

medium

carrots

,

chopped (2 cups, or even a little more)*

1 & 1/2

teaspoons

kosher salt

2

cloves

garlic

,

crushed and minced

10

cups

water

3

tablespoons

Chicken Bouillon

2-3

thyme sprigs

,

or 1/4 teaspoon dried thyme

1

teaspoon

basil

1

teaspoon

oregano

1/2

teaspoon

poultry seasoning

3-4

cups

shredded rotisserie chicken

4-6

bones from the rotisserie chicken

salt and pepper

,

to taste

fresh chopped parsley

,

to garnish
Instructions
For the noodles:
In a large bowl or stand mixer, stir together the flour and 1/4 teaspoon salt.

In a small bowl beat the egg and milk together with a fork.

Add the liquid to the flour. Add a couple teaspoons of softened butter. (I just grabbed a spoonful from my butter dish on the counter, it doesn't have to be exact.)

Combine with a wooden spoon until it has come together, then switch to the dough hook. (Or turn it out onto a flour-dusted surface and knead with your hands.

Knead for about 5 minutes.

Cover and let rest for 5 minutes.

Use a rolling pin to roll the dough into a rectangle that is 1/8 inch thick. You want it to be pretty thin because the noodles puff up a bit in the soup.

Use a pizza cutter to slice the dough into thin strips. You want them to be about 2-3 inches long and 1/4 or 1/2 inch wide. You can of course make them any shape you want! You want them to be uniform is size though, so that they cook evenly.

Separate the noodles so they are not touching and can dry out.

Let the noodles dry for anywhere between 1/2 hour and 2 hours.** This really depends on how hungry you are. I waited about 30-45 minutes before losing patience and throwing them in the soup, though I'm sure some chef somewhere is reading this shaking his head.
For the soup:
In a large stock pot with a wide bottom, heat 3 tablespoons butter over medium heat until melted.

When it is hot, add the chopped onions, celery, and carrots. Season with 1 and 1/2 teaspoons salt.

Saute for about 10 minutes, stirring occasionally.

Add the minced garlic and saute for 1 more minute, until it becomes fragrant. At this point feel free to exit your home, wait a moment, and reenter. You will be so darn proud of the aroma that greets you.

Add 10 cups of water and turn the heat up to high. Stir in 3 tablespoons of

chicken base

.

Add fresh thyme sprigs, or if you don't have any, dried thyme.

Add basil, oregano, and poultry seasoning.

Add the chicken and chicken bones. The amount of chicken that you add is totally up to you, and the nice thing about precooked chicken is that you can add more later if it doesn't seem like enough. The bones are added for flavor. Don't skip this step! It's part of what gives this chicken soup so much flavor.

When the mixture comes to a boil, lower to a simmer and cook partially covered for 10 minutes or until the carrots are completely tender.

Turn the heat to high again and bring up to a boil.

Add the homemade noodles. If you are using store bought pantry noodles, add 2 cups.

Lower to medium heat and cook, stirring occasionally, until the noodles are al dente. This will be in 6-8 minutes for homemade noodles, and more like 8-9 minutes for store bought noodles.

Remove the thyme sprigs and chicken bones.

Season with additional salt and fresh cracked pepper.

Garnish each bowl with fresh parsley.
Notes
*I might be a carrot fanatic when it comes to soup.
**You can also let these noodles dry out completely, at least 2 hours, and then store them in a ziplock in the freezer! Then they are ready to go whenever you need them. No need to thaw before freezing, just open the bag and dump frozen noodles into whatever soup needs noodling.
Nutrition
Serving:
1
serving
|
Calories:
535
kcal
|
Carbohydrates:
23
g
|
Protein:
60
g
|
Fat:
23
g
|
Saturated Fat:
8
g
|
Polyunsaturated Fat:
1
g
|
Monounsaturated Fat:
2
g
|
Trans Fat:
1
g
|
Cholesterol:
232
mg
|
Sodium:
1358
mg
|
Potassium:
273
mg
|
Fiber:
3
g
|
Sugar:
4
g
|
Vitamin A:
7957
IU
|
Vitamin C:
5
mg
|
Calcium:
61
mg
|
Iron:
1
mg