Roasted Butternut Squash Soup
This Roasted Butternut Squash Soup recipe is an easy, healthy, warm dinner that will support your crusade against Jack Frost. Make your roasted butternut squash in the oven, because chopping is hard and scooping is fun. Then blend it up with some apples, onions, and sage.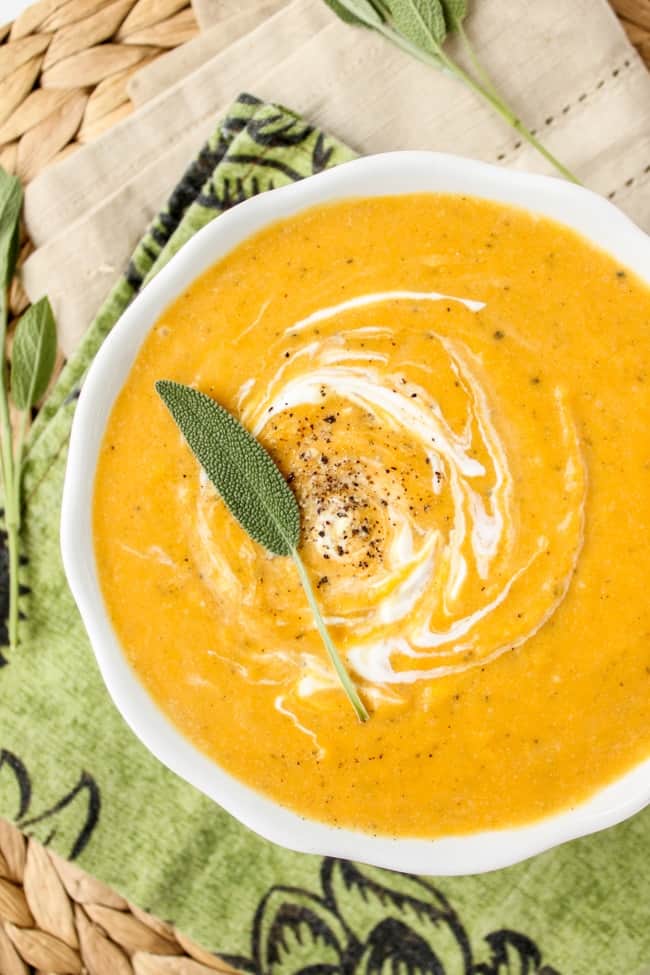 Originally posted January 13, 2015
We had a dumpling-making party the other night with some friends, and I got to try out my friend Kate's chain-mail glove:
She asked for a chef's knife for Christmas a while back, and got this instead. A chain-mail glove, to protect your fingers from nicks, cuts, and probably the apocalypse. She didn't get the knife until the next Christmas. Because, priorities.
Kate is a violinist, and her husband is afraid she will actually chop off her fingers. Which, in his defense, are a pretty solid asset when it comes to fiddling. Now her fingers are safe. And now she can get into all the bar fights she wants, because even brass knuckles got nothin' on this chain-mail.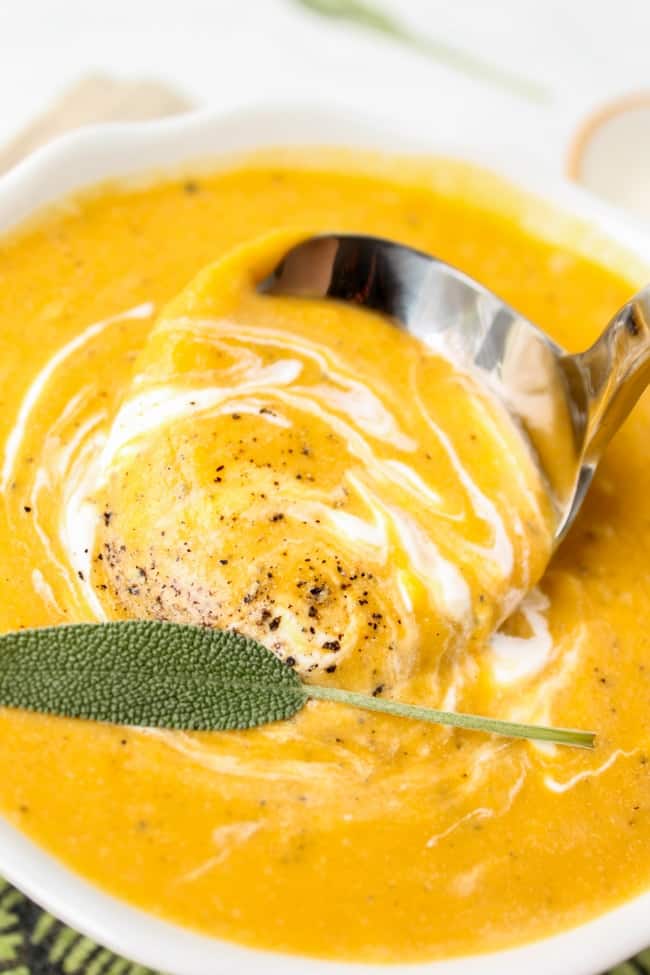 The benefits of roasted butternut squash
Have you ever chopped a raw butternut squash? Having a metal glove on for that job is not a bad idea. Those babies are tough to get through. But I have good news! You only have to chop the squash in half for this recipe, no dicing or slicing. Just roasting and toasting. ("No more rhymes now, I mean it!" "Anybody want a peanut?")

Butter, salt, pepper. Don't skimp on any of them. My life's mantra.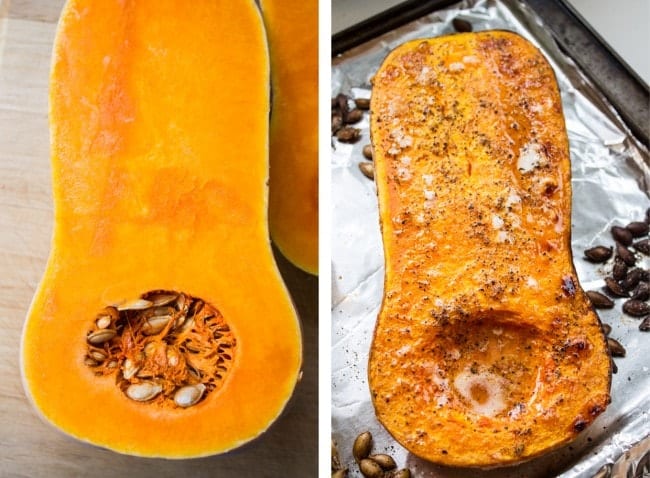 How to make Roasted Butternut Squash Soup
Roasting does something magical to butternut squash. It brings out all it's good qualities. When you combine those good qualities with a healthy dose of apple, onion, and sage (fresh or dried), you get a perfect 1-hour weeknight meal. This soup is perfect for freezing if you have leftovers. Serve with crusty bread and salad. We actually ate this with leftover Bacon Ricotta Crostini, which I highly recommend!
P.S. Don't try to toast butternut squash seeds on the same pan that you roast it on…they will burn. See exhibit A above. Doh!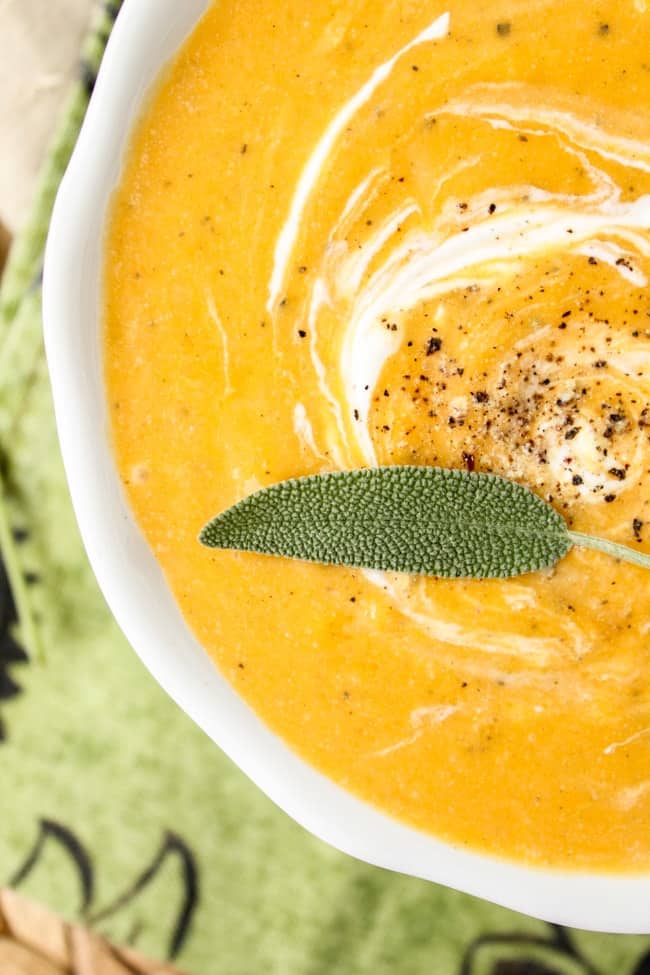 Two years ago: Ham and Cheese Dip
Four years ago: Pistachio-Pear Cucumber Salad
Six years ago: My Favorite French Bread
Follow along!
Facebook | Pinterest | Instagram | Twitter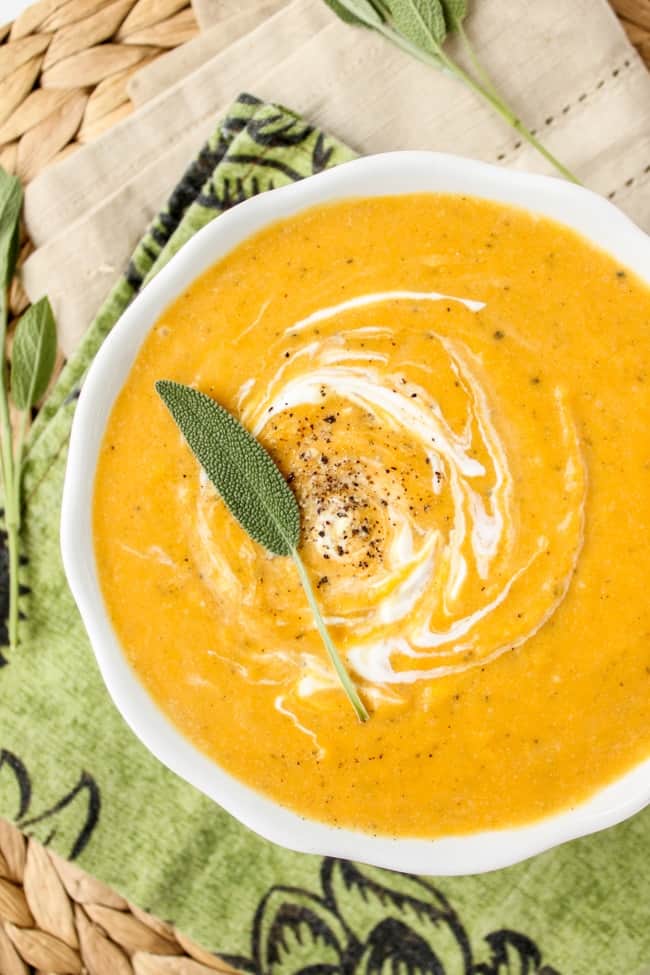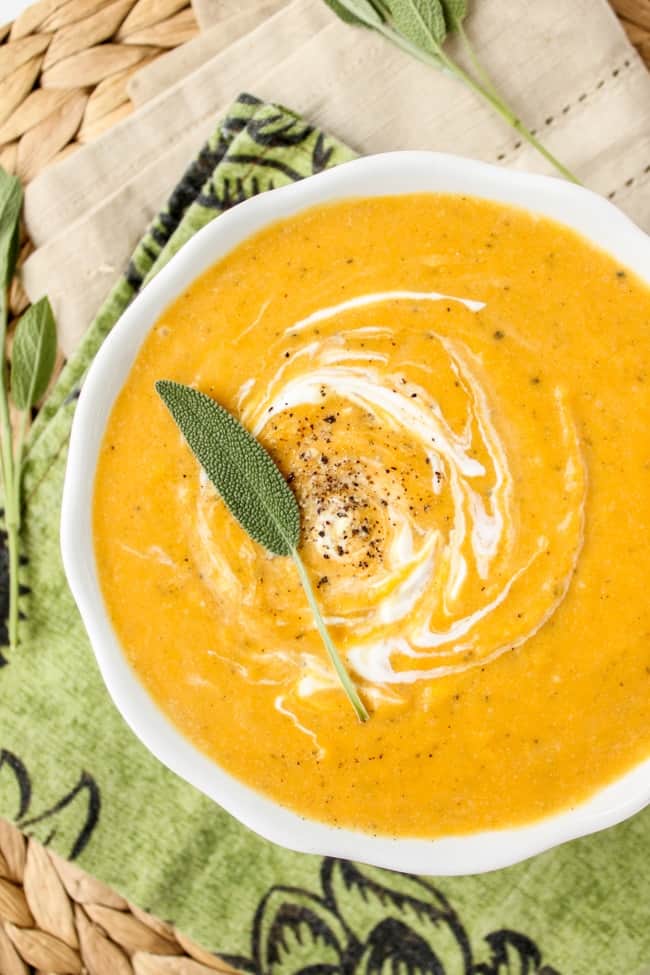 print
Did you make this recipe?
Leave a review »
Roasted Butternut Squash Soup
Serves 6-8
adjust servings
Ingredients
1

large butternut squash, or 2 small (4 lbs total)

1

tablespoon butter, melted

2

Granny Smith apples, peeled, cored, and chopped

1

large onion, chopped

1

tablespoon butter

8

fresh sage leaves (minced), or 1-2 tablespoons dried sage

3

cups vegetable or chicken broth

2

cups water

1

and 1/2 teaspoons salt, or more to taste

1/4

teaspoon black pepper, or to taste

1/3

cup cream

1/2

cup roasted pepitas (pumpkin seeds), to garnish
Instructions
Preheat the oven to 425 degrees F.
Line a baking sheet with aluminum foil.
Cut the butternut squash in half, starting at the top and working your way down. See this post for a tutorial on chopping butternut squash. (For this recipe, we are only cutting it in half.)
Place the squash cut-side-up on the lined baking sheet. Brush with 1 tablespoon melted butter, making sure to coat all the flesh. Season very generously with salt and pepper.
Roast the squash in the preheated oven for about 50-60 minutes, or until it is tender. A knife inserted in the flesh should slide through easily. Remove from the oven and set aside.
Meanwhile, chop the apples and onion.
In a large pot or Dutch oven, melt the other 1 tablespoon butter over medium heat. When it is hot, add the apples and the onions. Stir in the chopped sage or dried sage (I've tried both, tastes great either way). Add salt and pepper to taste (in addition to what's called for on the ingredient list.)
Cook over medium heat until softened, about 7-10 minutes. If the squash is not done, turn off the heat and set aside.
Use a spoon to scoop the flesh of the butternut squash into the pot with the apples and onions. Throw away the skins.
Add the broth, water, 1 and 1/2 teaspoons salt, and 1/4 teaspoon pepper.
Bring to a boil over medium-high heat.
Reduce the heat to medium low and simmer for 15-20 minutes, using a spoon to break up any large pieces of squash.
Turn off the heat and stir in the cream.
Blend the soup using an immersion blender. If you don't have one, transfer the soup in batches (at least 2) to a regular blender. Open the spout top and cover with a kitchen towel before blending to allow the steam to escape. (If you don't, you will end up with boiling hot soup all over your kitchen.) Return the soup to the pot and heat up again, if necessary.
Garnish with pepitas and a drizzle of cream, if desired.
by The Food Charlatan

If you make this recipe,
share it on Instagram
 using the hashtag
#TheFoodCharlatan
so I can see it!
More easy and healthy soups:
Red Pepper Soup with Black Bean "Meatballs:"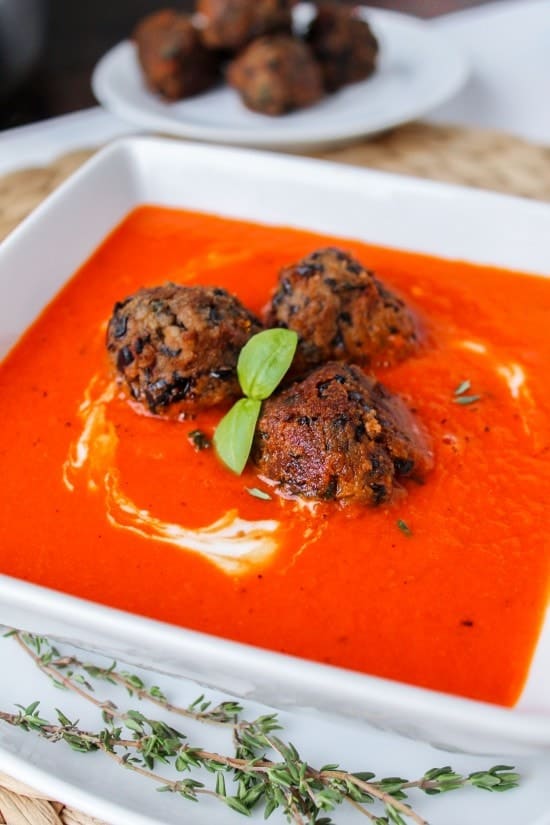 Kale, Chicken, and White Bean Soup with Parmesan Shavings: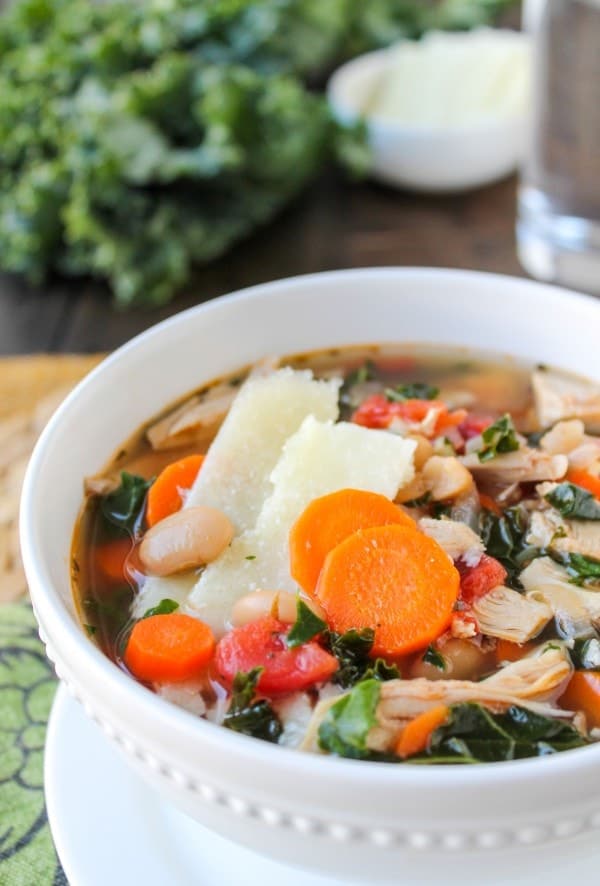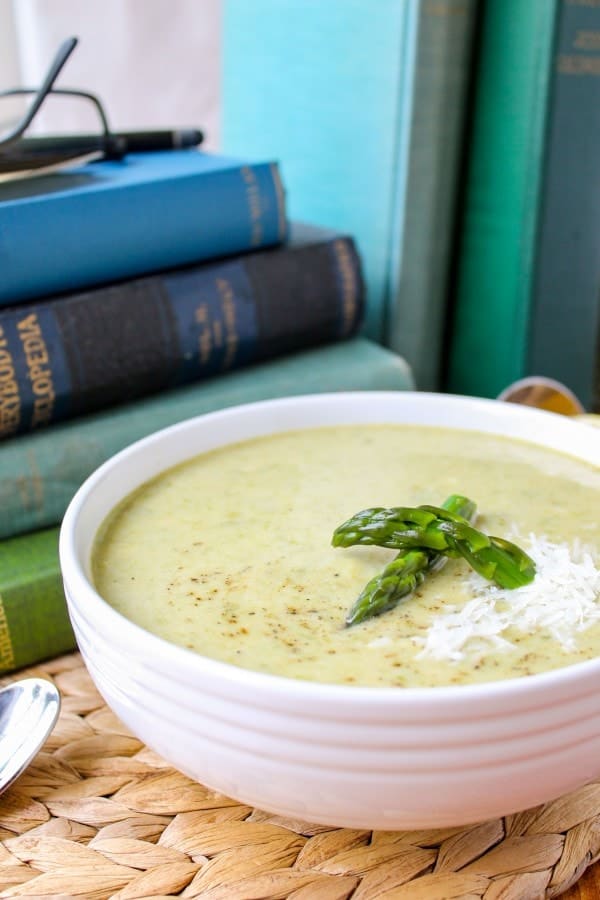 More soup please!
Curried Butternut Squash Soup w Whipped Coconut Cream from Heather's French Press
Carrot Soup with Ginger and Brown Sugar from The Salty Side Dish
Easy Healthy Butternut Squash Soup from Creme de la Crumb
Thai Butternut Squash, Sweet Potato, Carrot Soup from Carlsbad Cravings
Creamy Roasted Tomato Basil Soup from Cafe Delites
We are a participant in the Amazon Services LLC Associates Program, an affiliate advertising program designed to provide a means for us to earn fees by linking to Amazon.com and affiliated sites.