Tomato Basil Summer Veggie Casserole
This easy and healthy casserole is a great way to use up all those vegetables from your garden. It feeds a crowd and tastes amazing! Perfect meatless dinner for a summer night.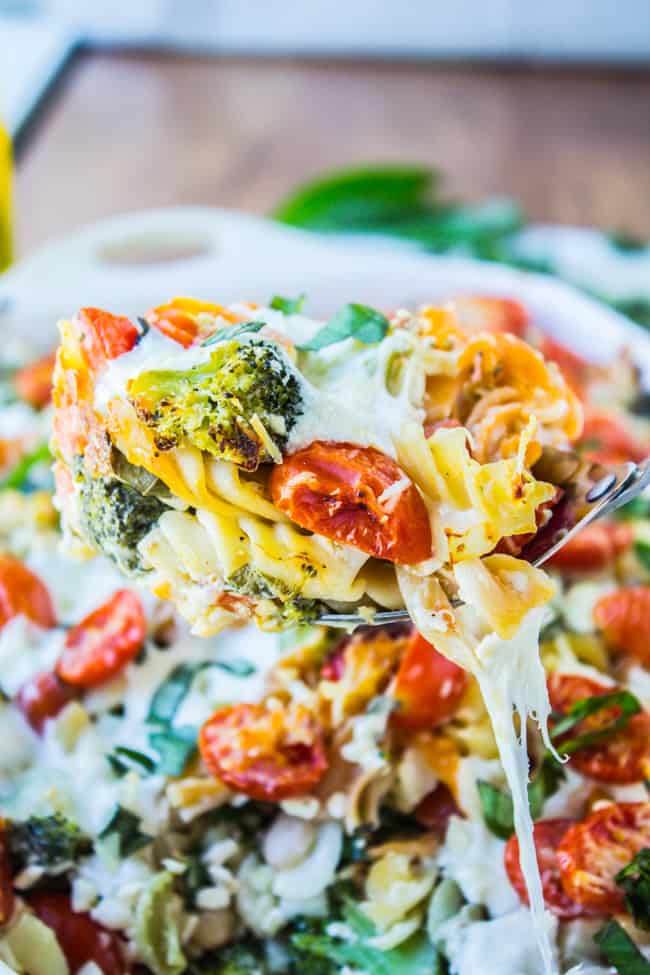 You want to know the best way to get killer tomatoes from your garden? Go on vacation for 3 and 1/2 weeks and ask your green-thumb neighbor to water for you. It's pretty much a no-fail situation.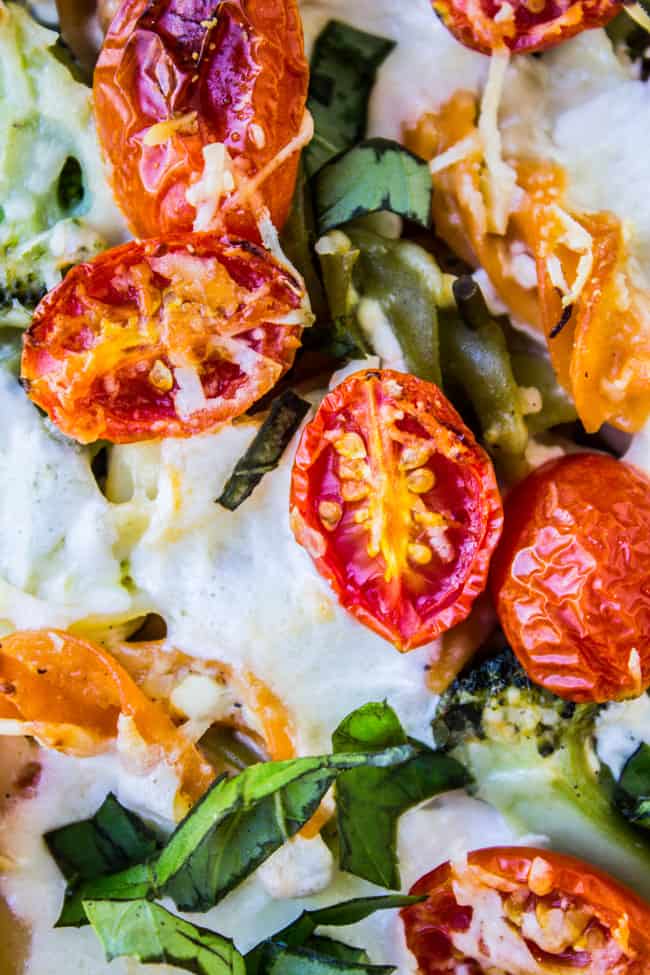 I guess I shouldn't be giving the neighbors all the credit, because Eric has been in charge of our garden this summer, and it's his baby. He comes home every day from work and dutifully waters the plants with the kids. He even taught Charlotte to do it by herself. It's just kind of funny leaving on vacation and then coming home to HUGE lush plants that are dropping tomatoes like it's hot.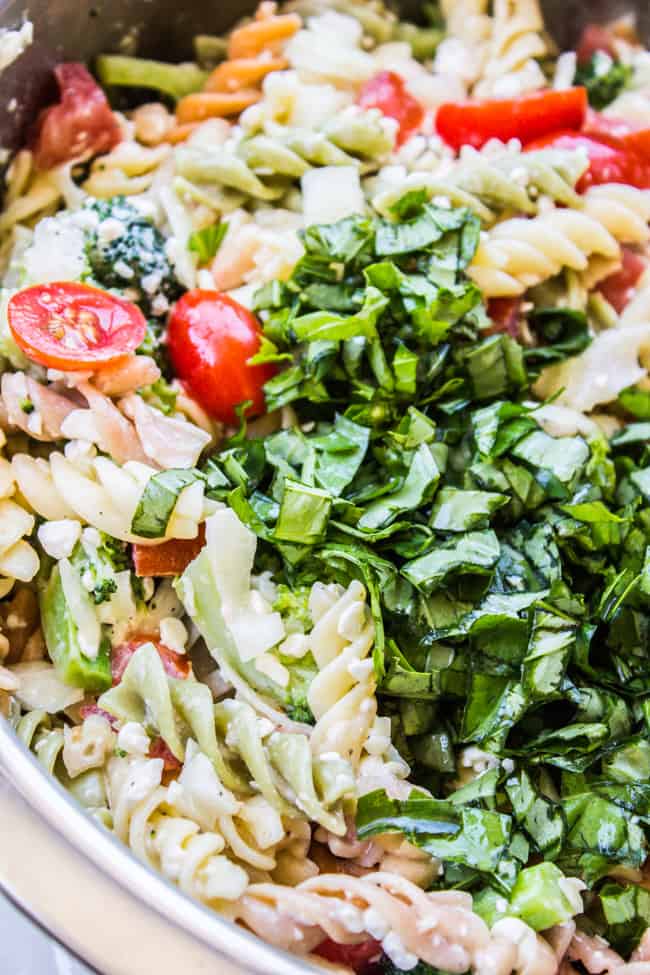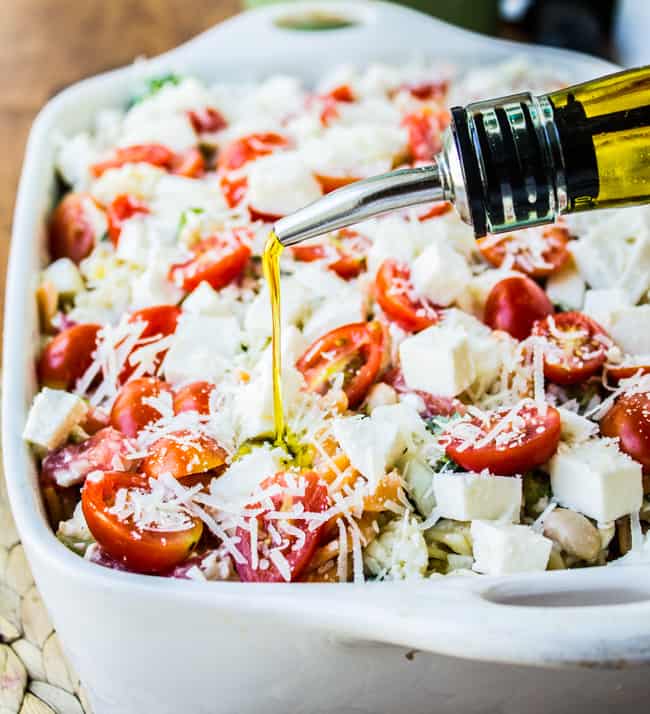 Also, can we talk about my lack of faith. I came home and even after seeing the plants bought 8-10 romas at the grocery store out of habit. They are still hanging out somewhere in my veggie drawer. Oooops.
Guess I have another excuse to make this casserole again! I was looking up vegetarian casserole recipes that I could freeze for a friend I was making dinner for, and stumbled across this gem. It's easy, meatless, and packed with tons of summer veggies that you may or may not have a million of right now. I used broccoli, but I've also tried it with raw zucchini, so if you have a ton of that right now, this is a perfect way to use it up.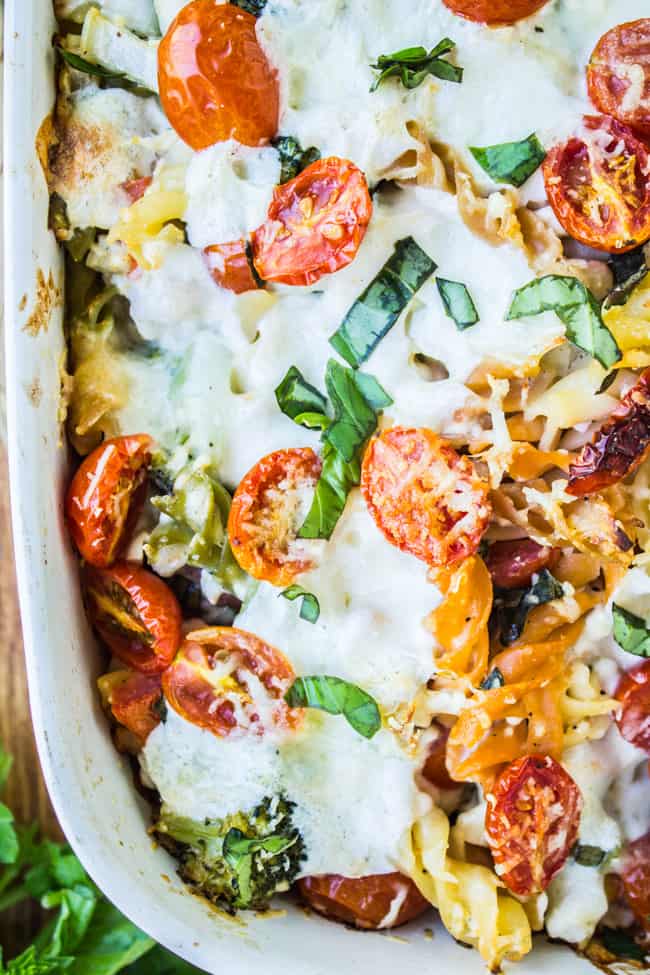 One last thing, I almost used regular ol' mozzarella for the top, because using fresh mozzarella and then baking it seems like a waste. But it was SO good! I want to try it on the next lasagna I make. Yum.
Do you guys give up? Or are you thirsty for more?
Facebook | Pinterest | Instagram | Twitter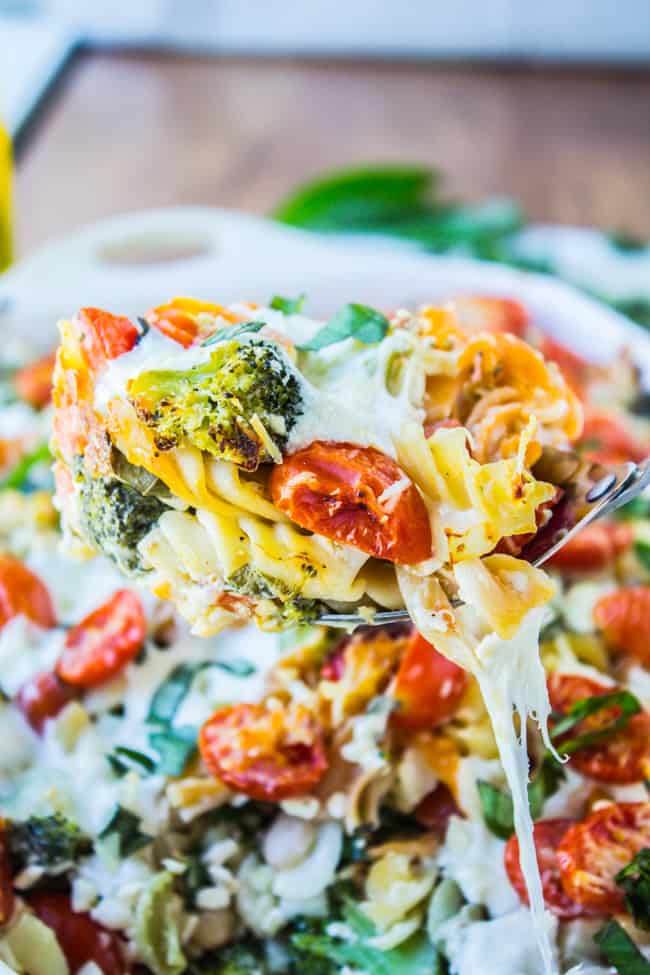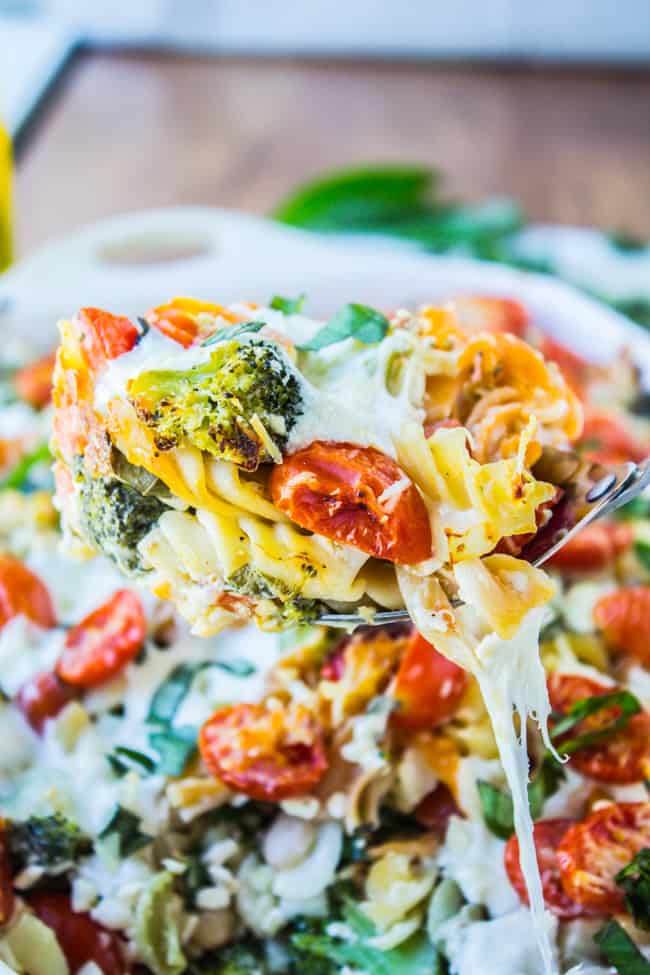 print
Did you make this recipe?
Leave a review »
Tomato Basil Summer Veggie Casserole
Serves 8-10
adjust servings
Ingredients
1

(16 ounce) container cottage cheese

3

large eggs

1

lemon, juiced (about 1/4 cup)

1/2

cup grated Parmesan

2

teaspoons salt

1

teaspoon black pepper

1

pound broccoli (2 crowns) (or you can use frozen florets. Thaw them first.)*

12

ounces rotini pasta (I used the multicolored kind)

1

large ripe tomato, chopped**

1

dry pint cherry tomatoes, divided

1

medium onion, chopped

2-3

garlic cloves, minced

1

(15 ounce can) white beans, drained

1/2

cup chopped basil leaves

1

cup shredded mozzarella

8

ounces fresh mozzarella, chopped

1/4

cup Parmesan

olive oil

1/4

cup fresh basil leaves, chopped (for garnish)
Instructions
In a very large bowl, stir together cottage cheese, eggs, lemon juice, 1/2 cup Parmesan cheese, salt, and pepper.
Bring about 2 quarts of water to a boil in a 3-quart pot. Add about a tablespoon of salt.
While it's heating up, cut your broccoli into similar-sized florets.
When the water is boiling, add the broccoli then immediately cover with a lid. Keep the heat on high. Set a timer for 3 minutes, then use a slotted spoon (don't drain!) to remove the broccoli to the bowl with the cottage cheese.
Bring the remaining water back up to a boil. Add the pasta and cook according to package directions until al dente. Drain in a colander, then add the noodles to the bowl and stir.
Add the chopped tomato to the bowl. Slice the cherry tomatoes in half, and reserve about a cup for the top of the casserole. Throw the rest in the bowl.
Add the chopped onions and garlic to the bowl. If you don't love raw onions/garlic, you can saute them in a little oil for a few minutes before adding them to the bowl. They won't become completely cooked in the oven, so be aware.
Add the white beans, 1/2 cup basil, and 1 cup of shredded mozzarella. Stir well.
Grease a deep 9x13 inch casserole dish and preheat your oven to 375 degrees F.
Pour the mixture into the dish. Top with the remaining cherry tomato halves. Sprinkle with the chopped fresh mozzarella. Sprinkle with 1/4 up Parmesan. Drizzle the dish with a bit of olive oil, just a tablespoon or 2.
Bake at 375 for about 35 minutes, or until the cheese is golden brown. When it's done baking, immediately sprinkle with fresh chopped basil. Serves a crowd!
by The Food Charlatan

If you make this recipe,
share it on Instagram
 using the hashtag
#TheFoodCharlatan
so I can see it!
Source: adapted from
The Kitchn

Easy Cheesy Asparagus Tortellini Bake: (you could try this with zucchini in place of the asparagus, that would be good)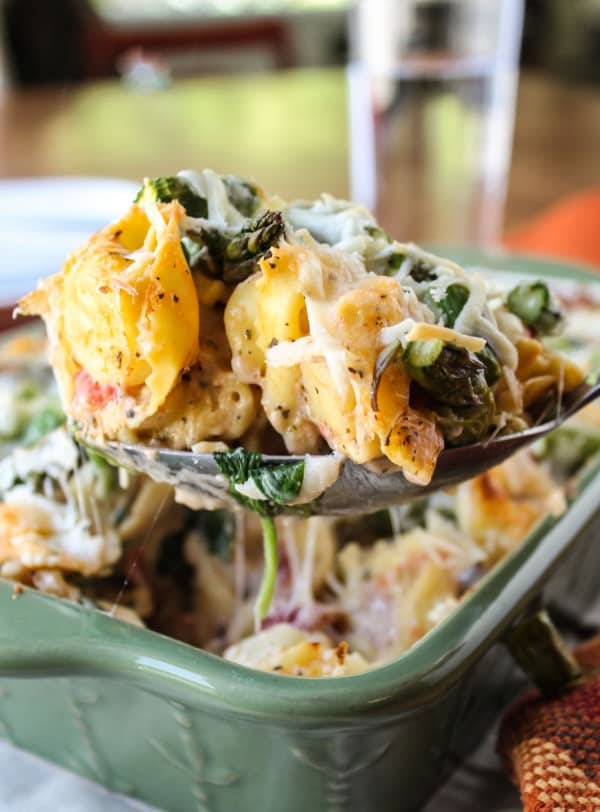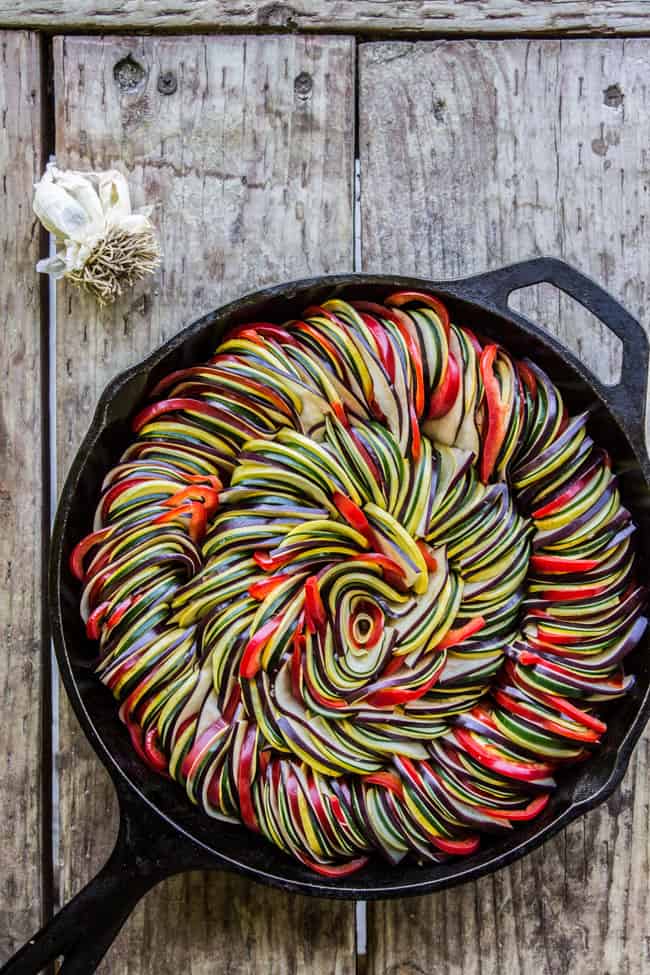 Poblano, Corn, and Zucchini Lasagna: << this is soooo good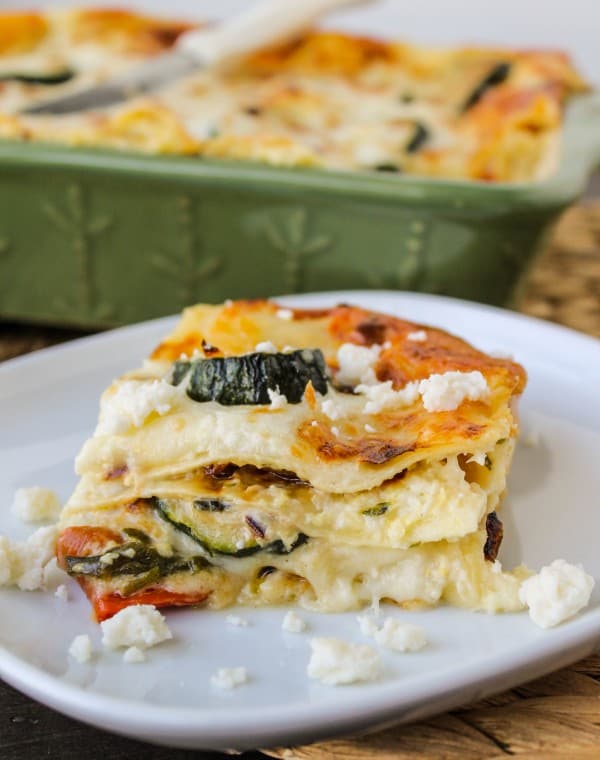 We are a participant in the Amazon Services LLC Associates Program, an affiliate advertising program designed to provide a means for us to earn fees by linking to Amazon.com and affiliated sites.