Learn how to make ULTRA crispy chicken parmesan! We've all been to a chain restaurant that served us a soggy excuse for this classic dish. Now you can make this easy recipe at home! Fried chicken cutlets are breaded with panko and topped with marinara and cheese, then broiled to perfection. Originally posted September 17, 2020.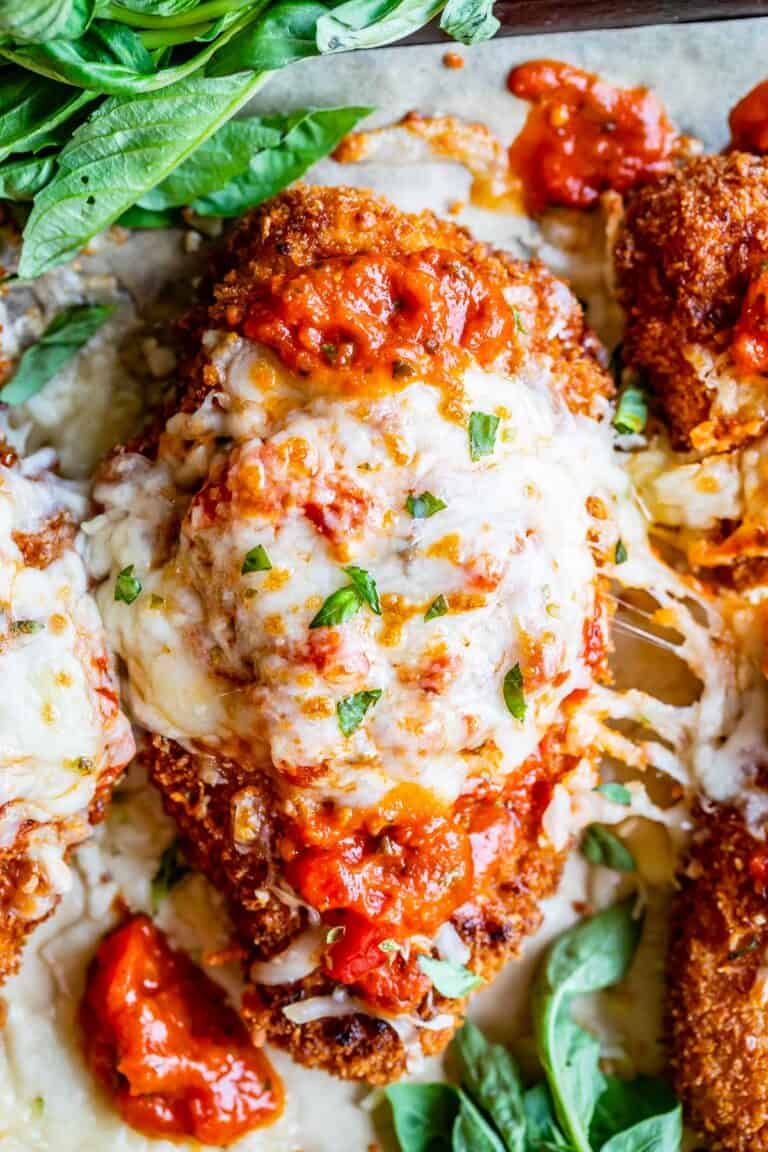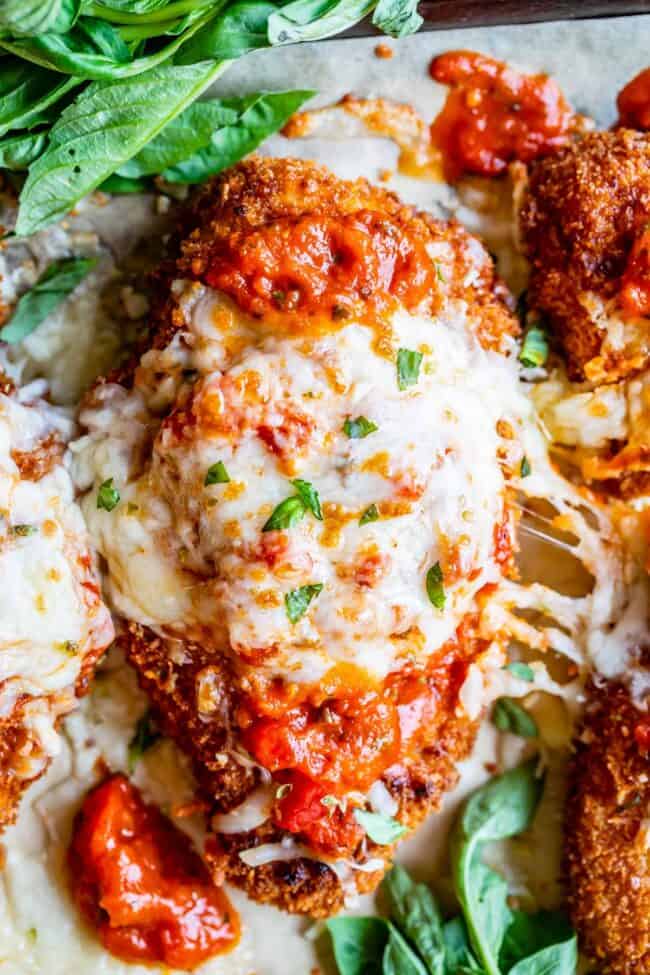 Crispy Parmesan Chicken
Over the summer Eric and I went to see the original Transformers movie at the drive in, which I hadn't seen in years. At one point there is a group of military guys out in the desert who get attacked by alien transformers and have to fight them. One of the military guys wore a shirt that had huge bold letters: USAF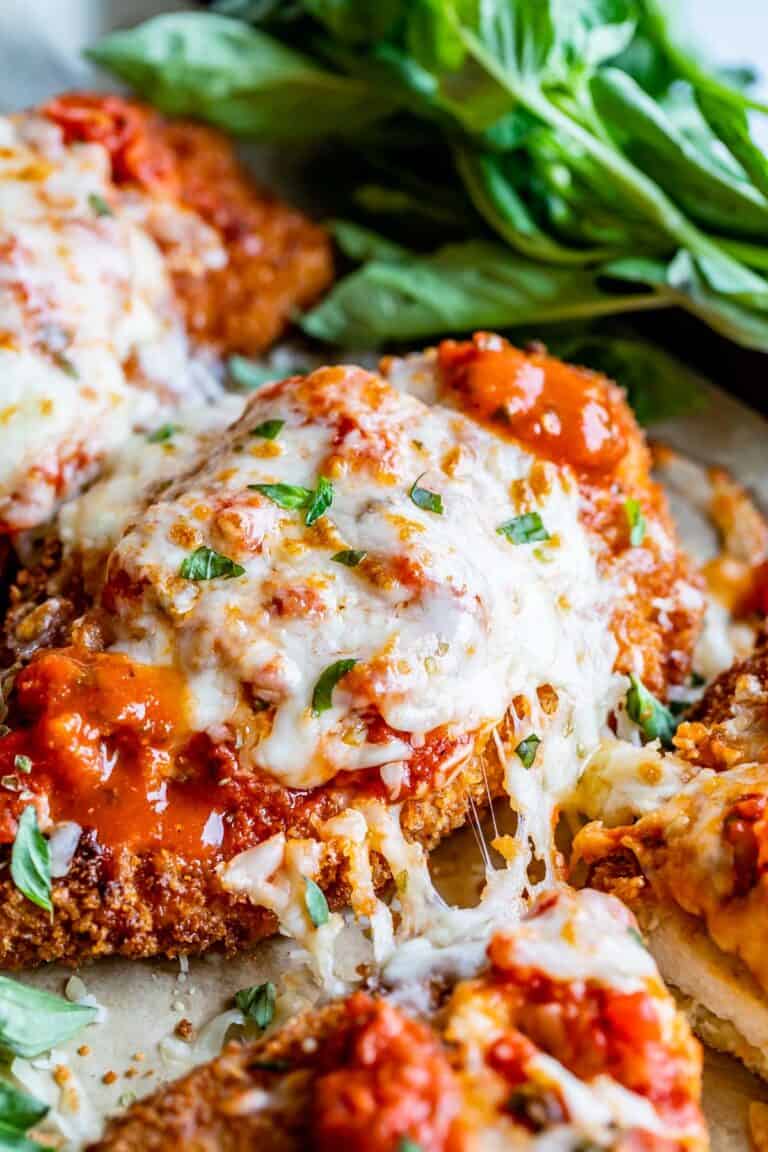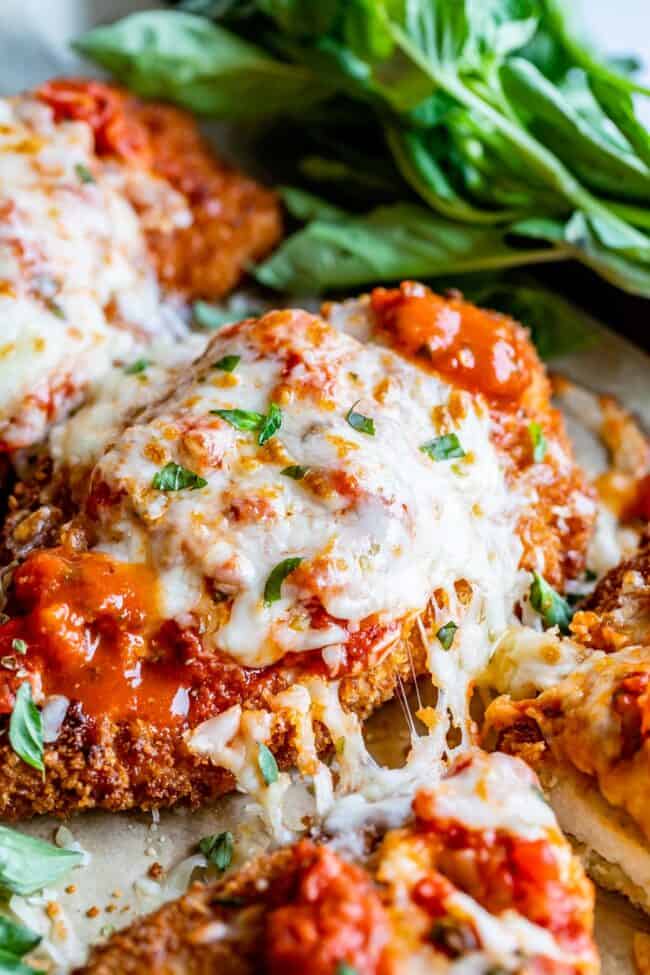 For a split second I was super excited that this T-shirt existed and was already envisioning finding one I could buy for myself. I thought the shirt said, "US, af". As in, really really US, using a naughty slang acronym. I thought it was like a millennial version of a patriotic shirt.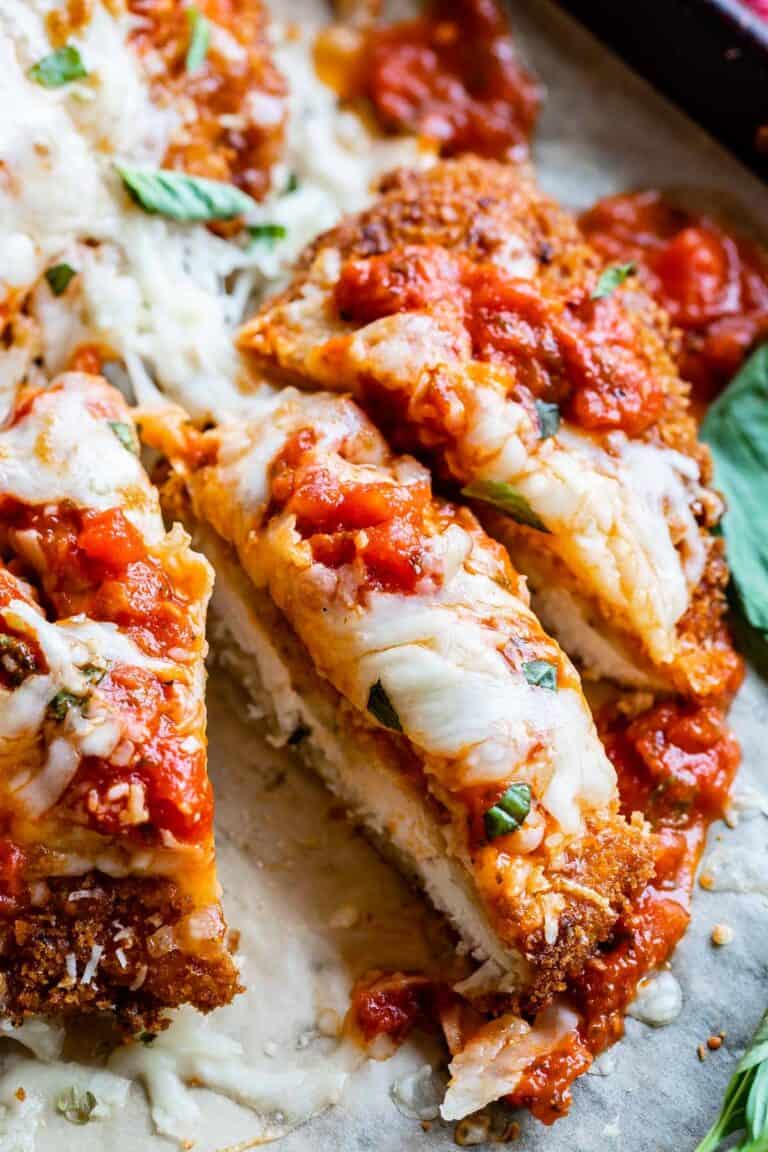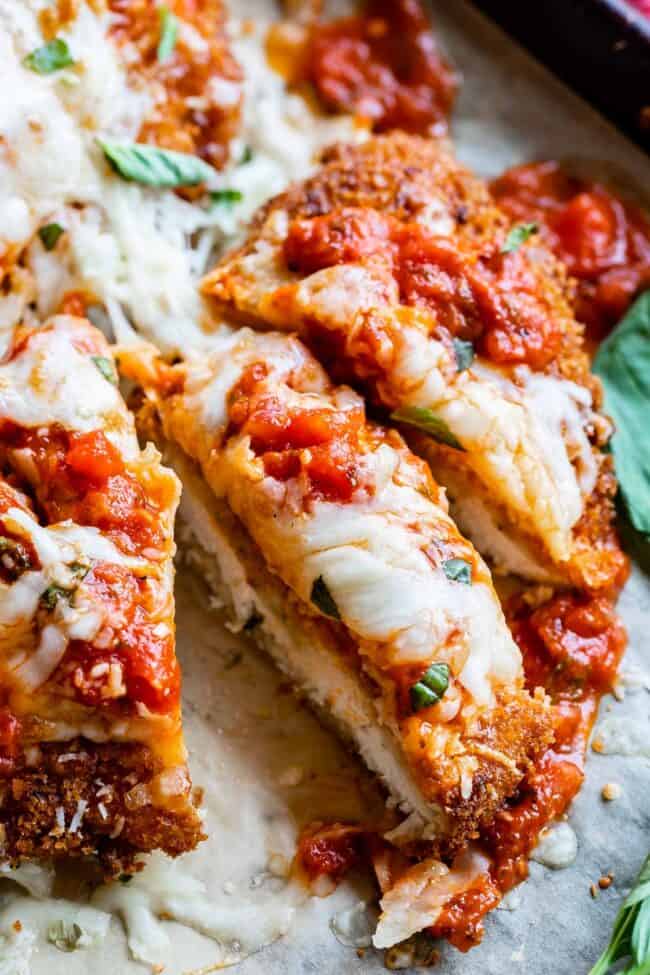 Then I realized it stood for US Air Force. Ha!! Joke's on me. Heeeere's your sign, Karen.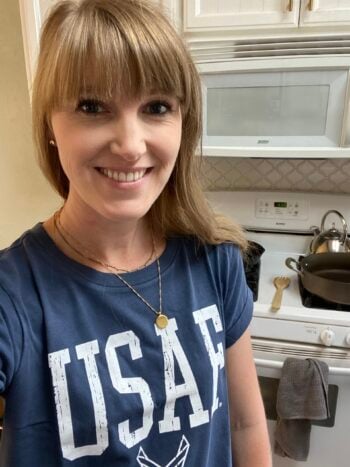 But wait, there's more. I told my best friend Sarah this story, whose husband is actually in the Air Force. She got me this shirt for my birthday, it literally arrived in the mail as I started writing this post out. I'm thinking I probably should start a business selling USAF shirts to Air Force non-affiliates. (or maybe US, af 😂) Let's make this a thing, guys. I am such a dork!!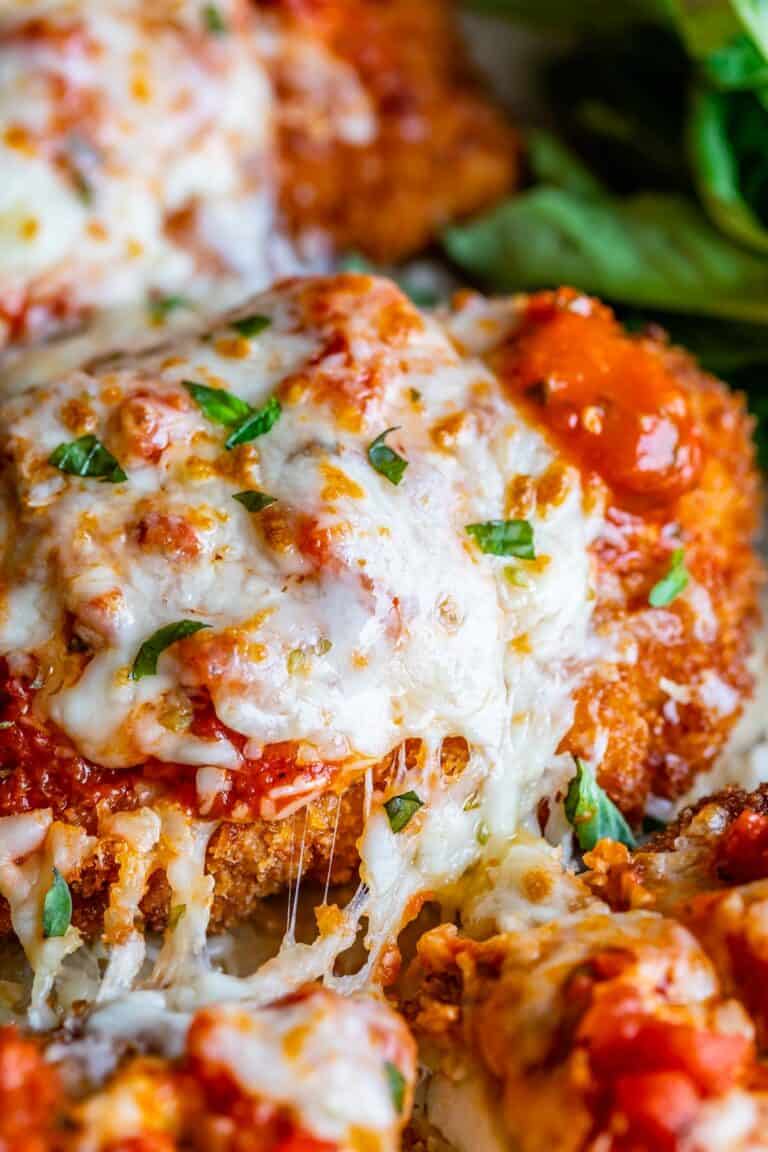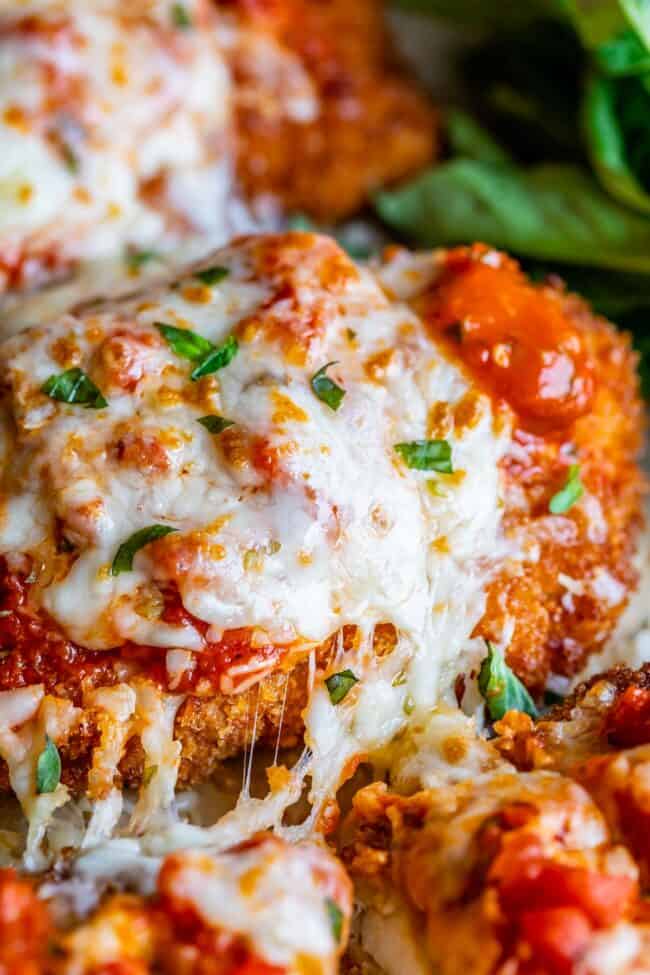 In addition to completely misreading T-shirts, lately I have been obsessed with Olive-Garden-type food. It started with this Chicken Fettuccine Alfredo, then just the other day I asked Charlotte to make these Olive Garden breadsticks for dinner, and now here I am making chicken parmesan. What can I say, Americanized Italian food is the best kind of comfort!
What is the difference between Chicken Parmesan and Chicken Parmigiana?
Apparently there is no difference at all between calling it Chicken Parmesan and Parmigiana! Both names refer to the same dish, one of which might make you feel a little more fancy pants. If you are a waiter trying to impress guests, definitely go with Parmigiana. But let's go deep on the really important question here: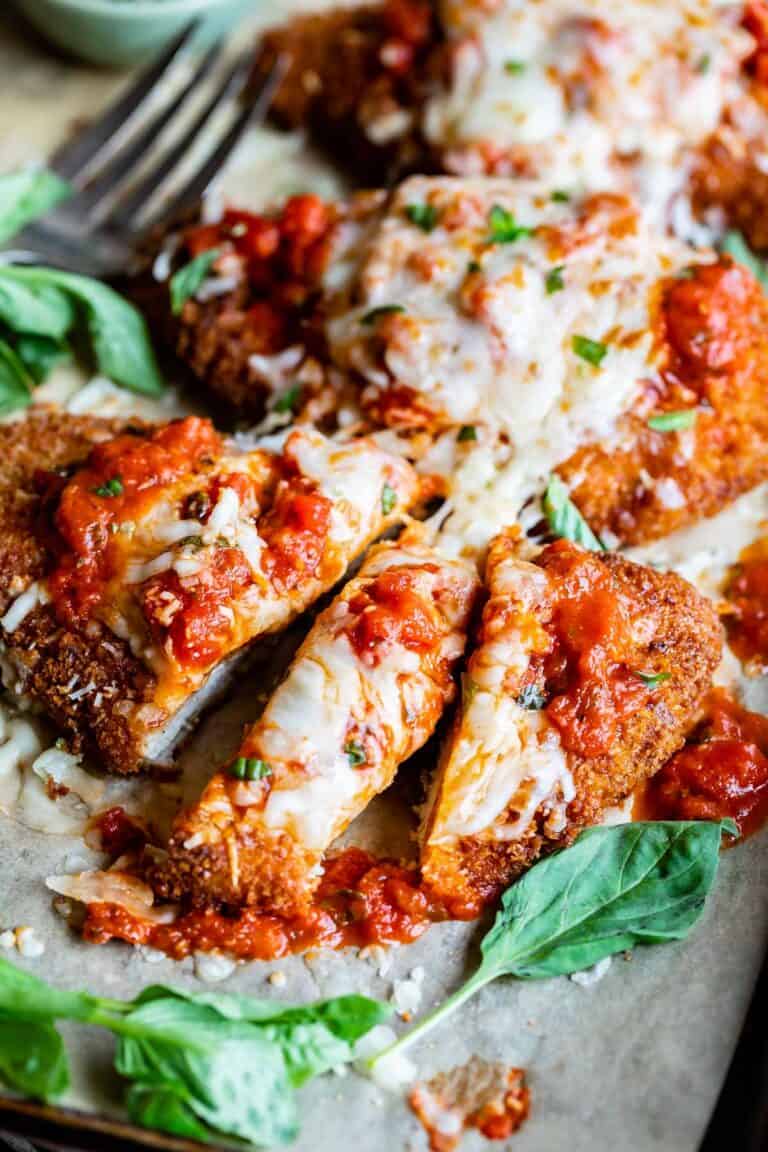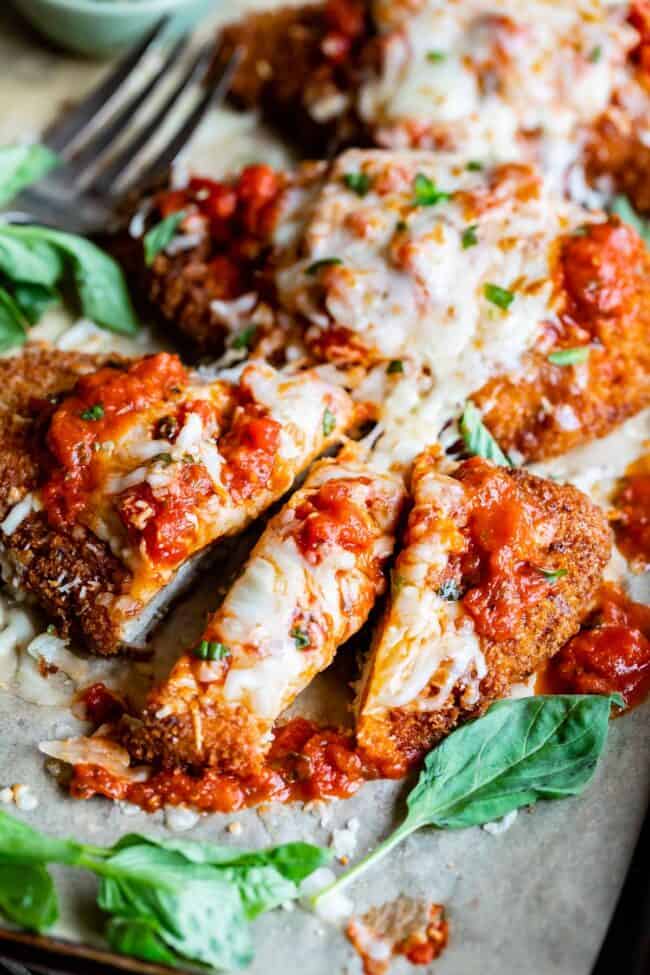 Why is it called Chicken Parm if it's made with mozzarella?
What gives, amiright?? Shouldn't it be called Chicken Mozzarelliana? The name likely comes from a place, not the cheese. The city of Parma may well be where this dish originated, although no one really knows for sure. So although the word parmigiano means 'parmesan cheese' in Italian, the word parmigiana (see the a at the end?) likely means "from Parma." So the dish title might just mean "Chicken from Parma." Eventually, people must have gotten mixed up about the a and the o.
Super easy language lesson, right? Now you're ready to travel internationally! As long as you do nothing but order food, which is a distinct possibility in Italy. At least, that's all I would want to do if I were on vacation there!
Chicken Parmesan Recipe Ingredients
Here's your grocery list! Pretty simple!
Chicken breasts
Eggs
Buttermilk. Cheater buttermilk is okay, see notes.
Garlic powder
Kosher salt
Pepper
Flour
Cornstarch
Oregano
Cayenne pepper
Panko bread crumbs
Vegetable oil, or any high smoke point oil
1 jar good-quality marinara sauce
Petite diced tomatoes
Dried basil
Fresh basil, optional
Spaghetti or other long pasta
Parmesan cheese
Mozzarella cheese
How to make Chicken Parmesan
There are a lot of crap recipes for chicken parmesan out there. Sorry to be blunt, Internet, but you need to work on that. Lightly breaded chicken sizzled in a tiny bit of oil and then BAKED in a swimming-pool's worth of sauce, so that it ends up rubbery and soggy all at the same time? Um, where are my gloriously crispy chicken edges? Where, Internet???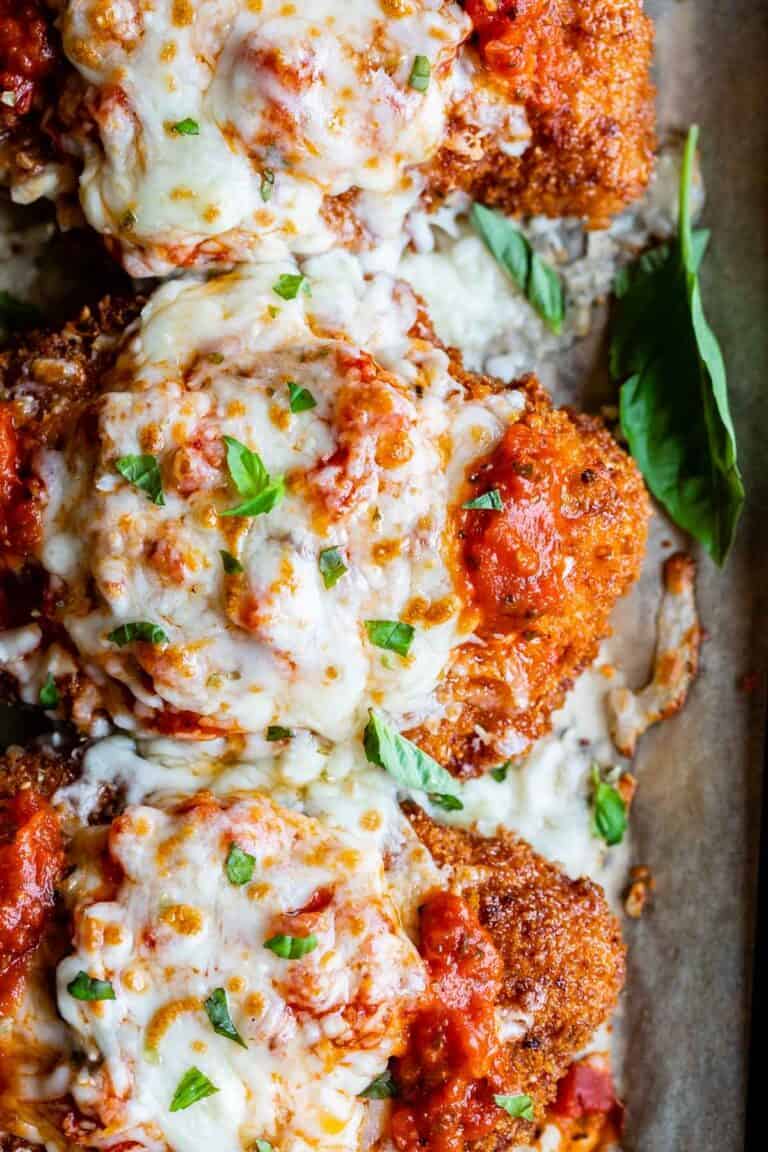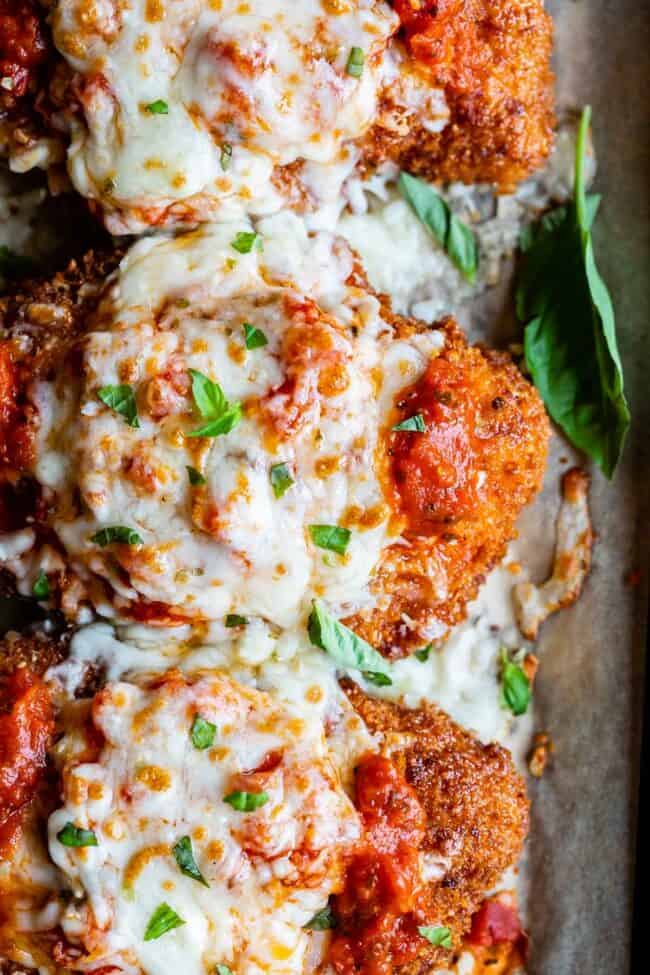 How do you keep Chicken Parmesan from getting soggy?
This recipe is the real deal. We are taking the time to fry, yes actually fry, our chicken cutlets. This is the only way to ensure that this chicken parmesan is ULTRA CRISPY. Say no to the sog, just say no. (Apparently sog is not a word. I feel like it should be. Maybe it is in Europe?) ("I know you can be overwhelmed, and I know you can be underwhelmed, but can you ever just be…whelmed?" This phrase might win for most overly quoted quote on my blog.)




Anyway. This isn't just any fry job. I had a number of flops before I landed on this method. I basically just did a bunch of research on fried chicken and then applied it to chicken parmesan. Because guess what guys: chicken parmesan is just Italian-spiced fried chicken with some cheese on top, served with sauce. AND IT'S AMAZING.


(My brother happened to be over the night I made this chicken parmesan, and he was nice enough to do the dishes. He saw the two pie pans in the sink and was indignant. "How is it possible that you made and ate TWO pies today and I didn't know about it??" I had to explain that I used the pie plates for the chicken, one for flour and one for panko. If someone made two pies and didn't tell me about it I would be spittin fire too.)


How do you keep breading on Chicken Parmesan?
The secret to ultra crispy chicken parmesan lies in the breading. Anytime you are frying chicken, here is the order of events: marinate chicken in buttermilk/egg mixture, dip in seasoned flour and cornstarch, then egg mixture again, then breadcrumbs. Panko breadcrumbs, if you know what's good for you. You have to double dip in the egg mixture to ensure that the flour stays on, then again so that the panko stays on. If you do it this way, I promise, that breading isn't going anywhere.


But wait, cornstarch? Yes, cornstarch. When combined with flour, it prevents gluten development, making the flour coating crispier. It is the ingredient you need to achieve a ridiculous amount of crunch!


Lots of recipes add seasoning to the panko. Or parmesan to the breading mixture. This just results in burned edges, in my experience. Get the fried chicken cutlet just right (with lots of seasoning from the marinade and the flour layer) and your chicken will be flavorful, juicy, and have those perfectly golden crispy edges.


Then once you have your perfectly crispy chicken, top it with sauce and cheese and broil it in the oven until the cheese reaches melty perfection.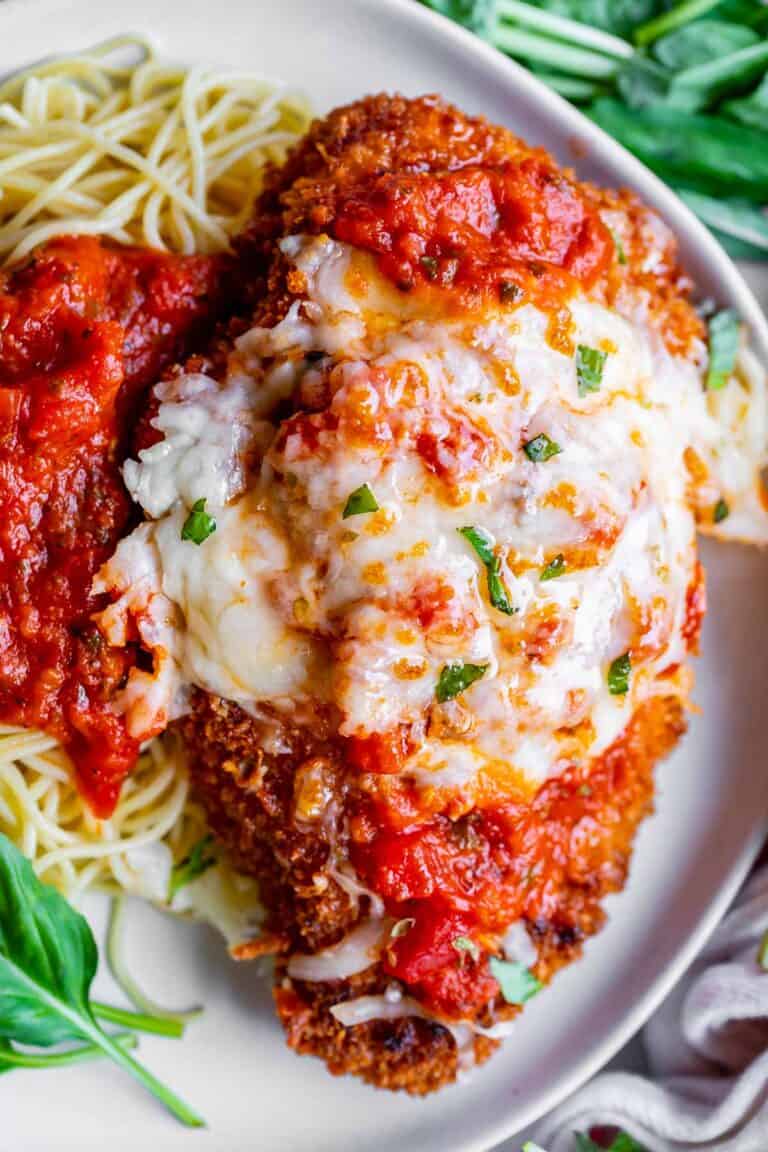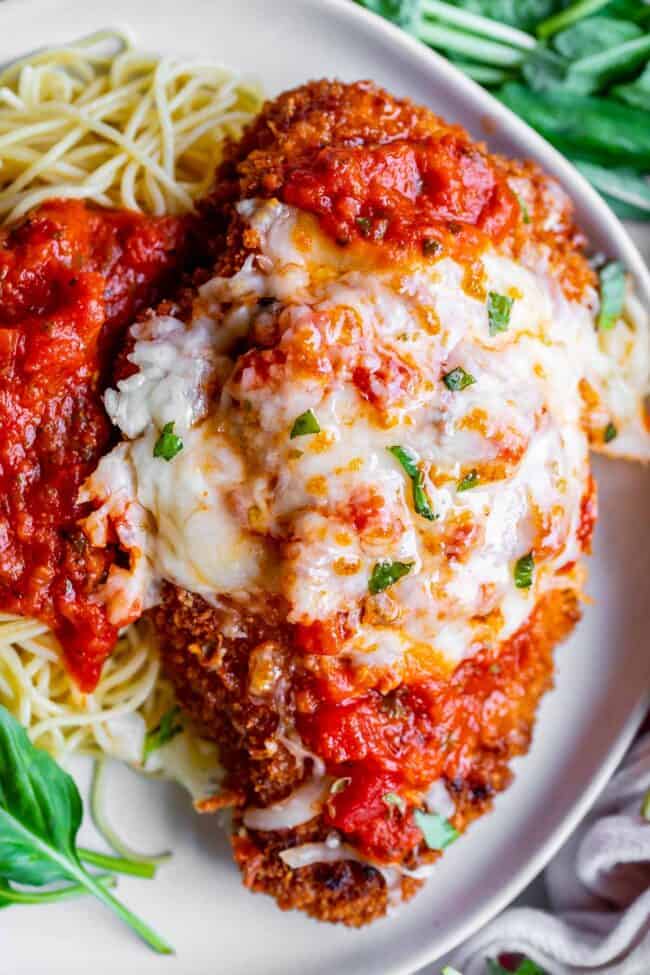 How long can you keep Chicken Parmesan in the fridge?
Chicken parm makes for some fantastic leftovers. It will keep in the fridge for 3-4 days. Store the sauce separately to keep the chicken crispy. Reheat the chicken on a pan in the oven at 350 degrees F for 10-20 minutes until heated through. Heat sauce separately and voila! Good as new. If you use the microwave, your chicken won't be crispy anymore, though it will still be delicious. Slap that goodness on an Italian hoagie and die and go to sandwich heaven.
What to serve with Chicken Parm
Chicken parm isn't chicken parm without the noodles and sauce. Spaghetti, Angel hair, linguine, whatever you want. I chose to serve a doctored jar of marinara sauce for this dish, because we're going to so much trouble to fry the chicken and it's really the star of the show anyway. If you want to make your own homemade marinara, more power to you. Or, if you want to go the other direction, serve just a jar or two of un-doctored sauce. Guests will be left so speechless by your crispy fried chicken that they won't even notice.
Serve up the cheesy chicken situation with pasta and sauce. Don't add the sauce until you plate it, so as to maintain crisp chicken parmesan integrity.
As for side dishes, you really don't need much beyond a big green salad. The Best Garlic Bread of Your Life would of course be amazing, or some Olive Garden breadsticks or One Hour French Bread to mop up all the sauce!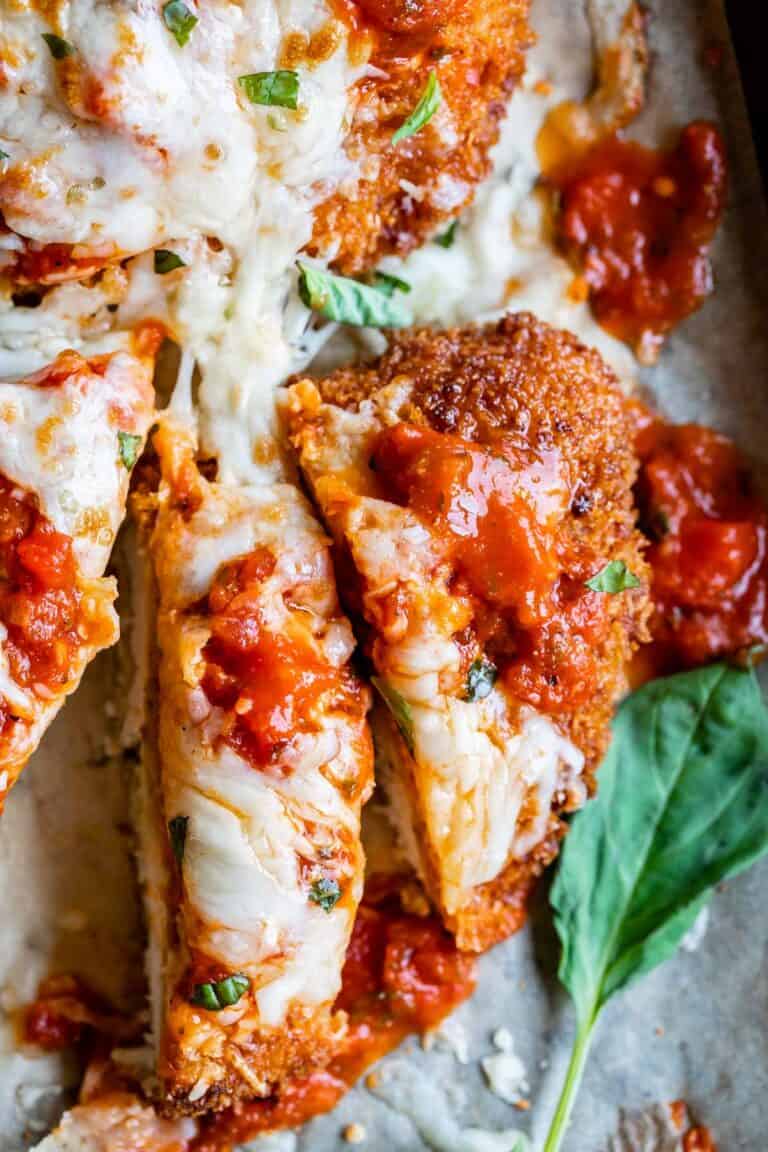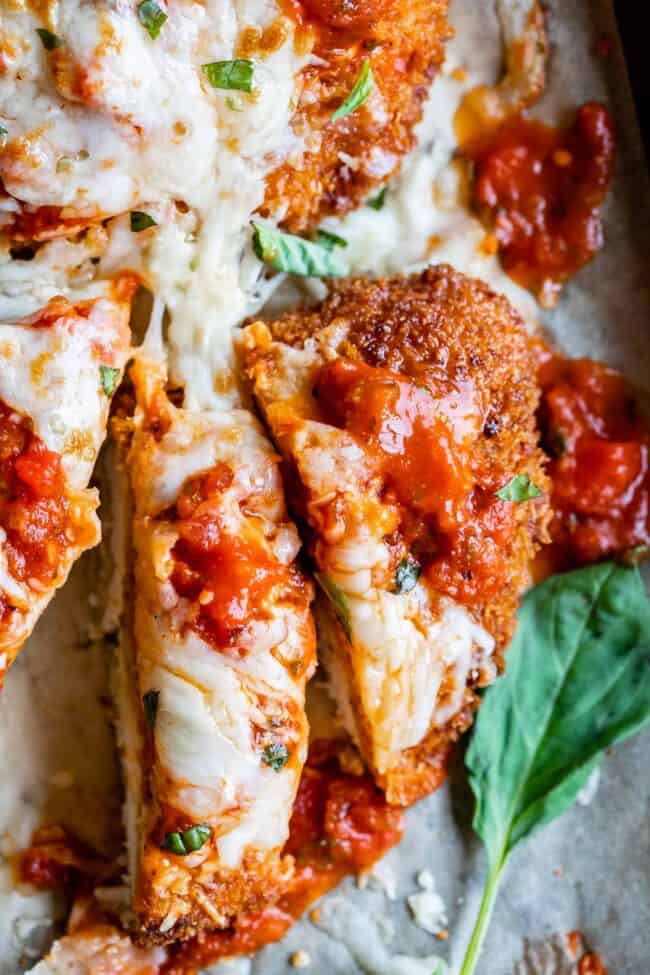 More easy chicken dinners you will love!
Facebook | Pinterest | Instagram

Chicken Parmesan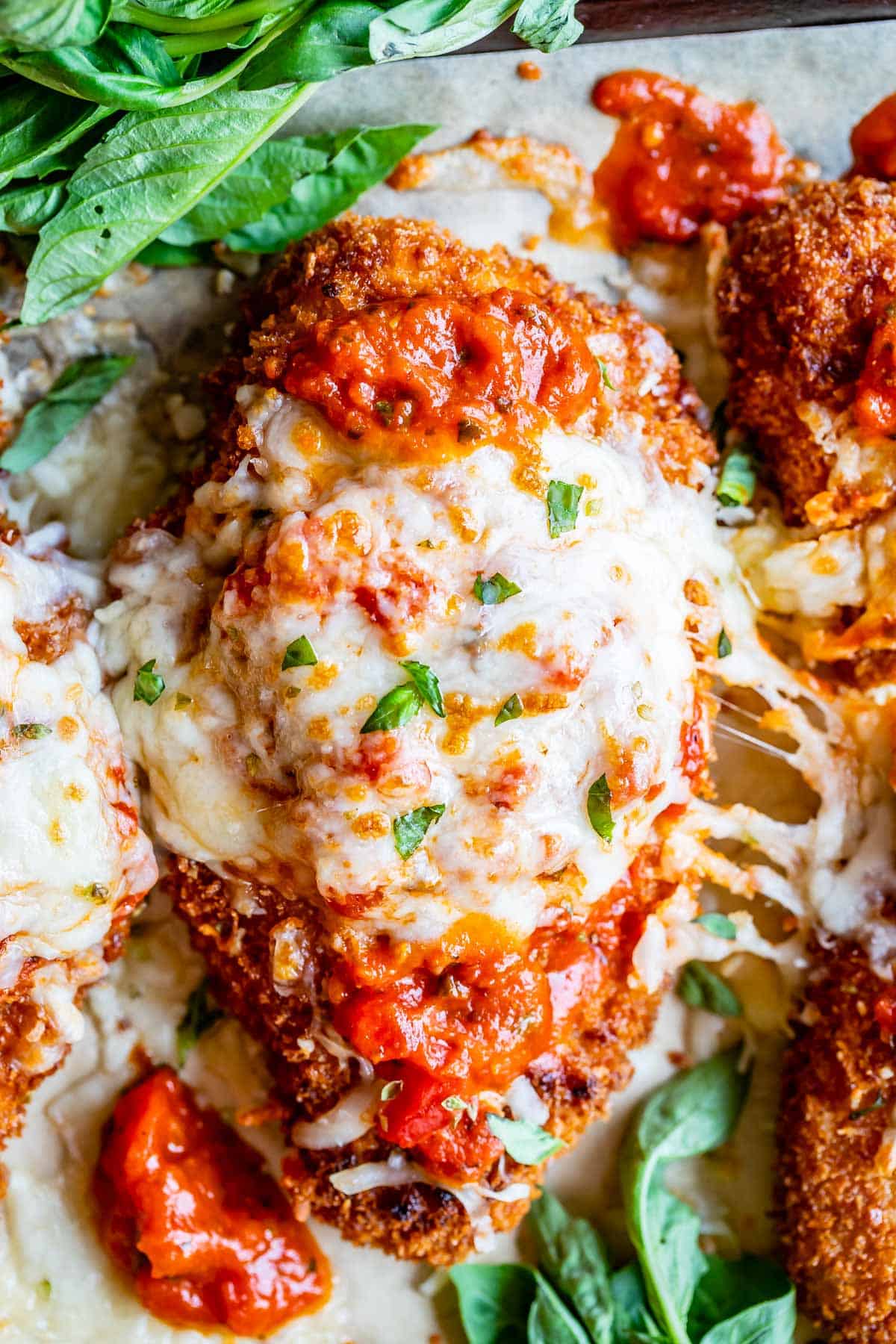 Learn how to make ULTRA crispy chicken parmesan! We've all been to a chain restaurant that served us a soggy excuse for this classic dish. Now you can make this easy recipe at home! Fried chicken cutlets are breaded with panko and topped with marinara and cheese, then broiled to perfection.
Ingredients
For the egg mixture
2

large

chicken breasts

,

sliced thinly in half

2

large

eggs

1/2

cup

buttermilk*

1/2

teaspoon

garlic powder

1

teaspoon

kosher salt

1/2

teaspoon

pepper
For the flour dredge
3/4

cup

flour

1/4

cup

cornstarch

1

tablespoon

kosher salt,

yes really

1/2

teaspoon

pepper

2

teaspoons

oregano

1/2

teaspoon

garlic powder

1/4

teaspoon

cayenne pepper
For the breading
1 & 1/2

cups

Panko bread crumbs
For frying
1

inch

of vegetable oil

,

or any high smoke point oil
For the sauce
1 (24-oz)

jar

good quality marinara sauce

1

(14-oz can)

petite diced tomatoes

1

teaspoon

kosher salt

2

teaspoons

oregano

1/2

teaspoon

garlic powder

1

teaspoon

dried basil

2-4

tablespoons

fresh basil

,

chopped (optional)
For the pasta
large pot of water

1

tablespoon

salt

12

ounces

spaghetti or other long pasta
To top chicken
1/4

cup

parmesan cheese

,

shredded

1/2

cup

mozzarella cheese

,

shredded
Instructions
Prepare the chicken. Use a sharp knife to slice each chicken breast in half horizontally, to create a thin cutlet. Start at the thick edge of the chicken breast. See photos. You should end up with 4 thin pieces of chicken that are the same shape as a chicken breast, just thinner.

In a small bowl, combine 1/2 teaspoon garlic powder, 1 teaspoon salt, and 1/2 teaspoon pepper. Sprinkle it over the chicken and rub it onto all the edges.

In a medium bowl, whisk together 2 eggs and 1/2 cup buttermilk.*

Add the chicken to the egg mixture and let marinate for about 15-30 minutes, or up to 24 hours. If you are in a hurry, at least let it marinate while you prep everything.

While the chicken is getting all juicy in the marinade,

prepare your dredging station

. Get two shallow bowls or

pie plates

. In one bowl, add 3/4 cup flour, 1/4 cup cornstarch, 1 tablespoon kosher salt (it sounds like a lot but trust me), 1/2 teaspoon pepper, 2 teaspoons oregano, 1/2 teaspoon garlic powder, and 1/4 teaspoon cayenne pepper (this adds flavor, not heat). In the other bowl, add 1 and 1/2 cups

panko bread crumbs

.

Meanwhile, heat the oil over medium heat in a high sided skillet. How much you need depends on how large your pan is. I used a 12 inch high sided skillet, and 1 inch of oil was at least 4-5 cups. You will need less oil in a smaller pan. Heat the oil over medium heat until a thermometer reads 400 degrees F. It will take at least 15 minutes.

Bread the chicken. The basic order is egg, flour, egg, panko. Pick up one piece of chicken from the egg mixture and let it drip off. Place it in the bowl with the seasoned flour and turn it over several times to make sure it's entirely coated. Then place the floured chicken BACK into the egg mixture and coat thoroughly. Lift it out to drip, then add to the plate with the panko bread crumbs. Press the breadcrumbs into the chicken and make sure it's really well coated.

Repeat with the remaining cutlets. You can begin frying right away if your oil is at 400 degrees, or if you are still waiting, let the breaded chicken sit in the fridge or freezer while you wait. This will help the breading adhere to the chicken.

Fry the chicken cutlets. When your thermomete

r reaches 400 degrees F, it's ready. Carefully place the breaded chicken in the oil. (You need at least an inch or two of space in between chicken pieces, so you may have to do this in batches.) Set a timer for 2 minutes, until the bottom is a light golden brown. Use tongs to flip the chicken and fry for another 2 minutes. When the other side is golden brown, remove the chicken to a wire rack set over a baking sheet so that it stays crispy. Wait a few minutes in between batches to make sure your oil temperature gets back up to 400 degrees. If you are still finishing up the sauce, place the fried chicken in the oven on the "keep warm" setting (170 degrees F) while you finish.

Meanwhile, make the sauce.**

In a medium pot add a 24-ounce jar of marinara sauce (I love the

Rao's brand

). Add a can of petite diced tomatoes, 1 teaspoon kosher salt, 2 teaspoons oregano, 1/2 teaspoon garlic powder, 1 teaspoon dried basil, and 2-4 tablespoons chopped fresh basil, if you have it. Heat this mixture over medium heat until bubbly. Keep warm.

Make the pasta. Bring a large pot of water to a boil over high heat. Add 1 tablespoon salt. When it is boiling, add 12 ounces of spaghetti or other pasta. Boil and stir according to package directions, usually about 8-10 minutes, until al dente. Drain, drizzle with oil, and stir to coat so that the noodles don't stick to each other. Keep warm until ready to serve.

To broil the chicken and cheese: Place the fried chicken in a broil-safe casserole dish or a baking sheet.Top with a generous spoonful of the sauce, but not so much that it covers all the edges. You want the edges to stay crispy. We worked so hard for it!

In a small bowl combine 1/4 cup Parmesan cheese and 1/2 cup mozzarella cheese. Top each spoonful of sauce with the cheese. Add extra cheese if you like!

Place your oven rack as high as it will go. Broil the chicken under high heat for 2-5 minutes, checking the chicken every 1 minute. DO NOT WALK AWAY. You don't want to light your masterpiece on fire! Broilers are no joke, so be careful.

Remove from the broiler and garnish with fresh basil. Serve with pasta and sauce. If I'm plating each serving, I like to put the pasta on the plate first, then top with sauce, then place the chicken on top. Then pass the remaining sauce at the table in case people want more.
Notes
*Cheater buttermilk is okay. Add about 1 teaspoon lemon juice or vinegar to 1/2 cup milk, stir and let sit 5 minutes. Then use in recipe like normal.
**If you are short on time, just use 2 of your favorite jars of marinara sauce. You will probably have a little leftover.
Nutrition
Serving:
1
g
|
Calories:
855
kcal
|
Carbohydrates:
126
g
|
Protein:
54
g
|
Fat:
14
g
|
Saturated Fat:
6
g
|
Polyunsaturated Fat:
2
g
|
Monounsaturated Fat:
4
g
|
Trans Fat:
1
g
|
Cholesterol:
184
mg
|
Sodium:
6236
mg
|
Potassium:
1691
mg
|
Fiber:
10
g
|
Sugar:
17
g
|
Vitamin A:
1463
IU
|
Vitamin C:
23
mg
|
Calcium:
364
mg
|
Iron:
9
mg