Best Pancake Recipe I've Ever Made
EUREKA! The Best Pancakes Ever. Guys, I'm not even kidding when I say I've been looking for this buttermilk pancake recipe for my entire life. They are fluffy, crispy on the edges, tender in the middle, and completely stackable. The search is over!!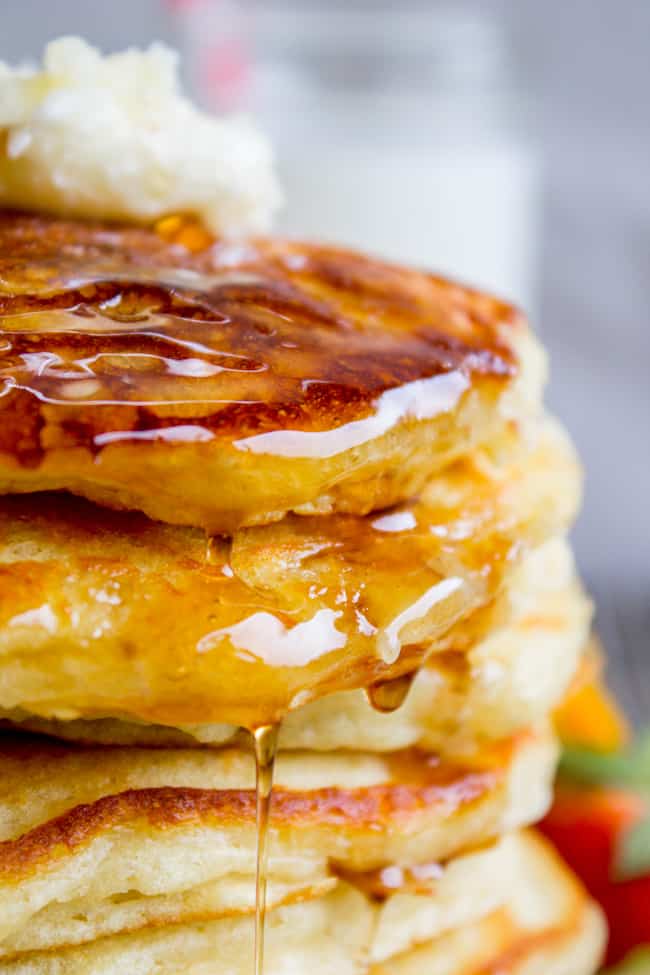 Originally posted March 10, 2016
Other people have late-night pizza cravings; I have late night pancake cravings. Seriously, I am the one going to IHOP at 10pm because I need to get myself a stack. I love pancakes like a fat kid loves cake. You want to know the sad part?
I'm TERRIBLE at making pancakes. Seriously, I have tried a dozen recipes probably. No matter what I do they always turn out rubbery or flat or gummy (ugh. that's the worst) or just plain flavorless. I am a chronic over-beater, it's an addiction. I have some great specialty pancake recipes (Like these Gingerbread Pancakes with Lemon Syrup or these Banana Macadamia Pancakes with Coconut Syrup), but I had yet to find a good everyday recipe for when I want straight up, no fuss, buttermilk heaven.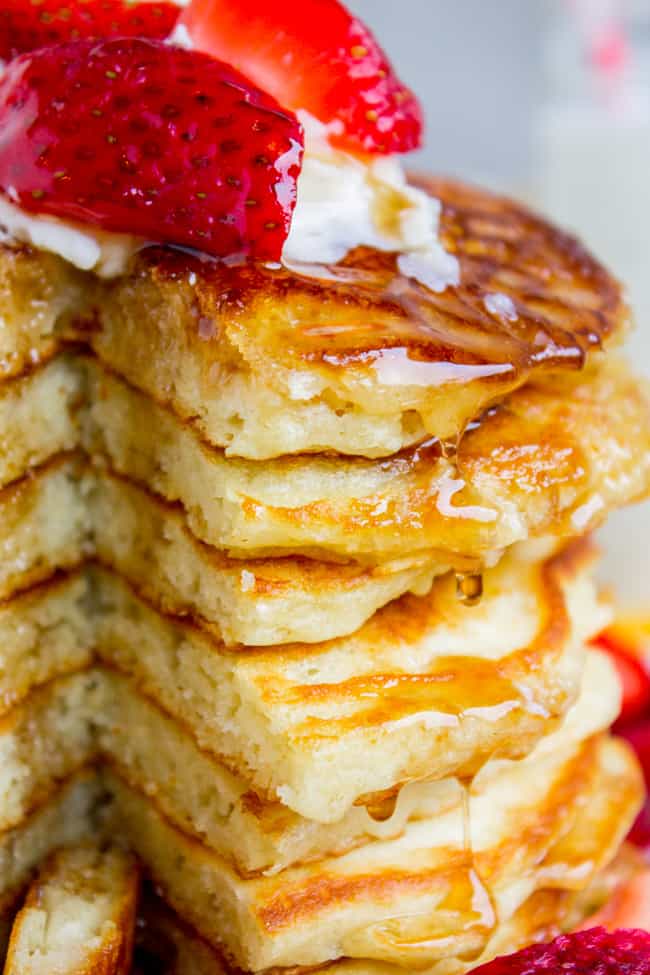 A few weeks ago my friend Courtney over at Neighborfood posted her Top 15 Favorite Family Recipes. I have a special place in my heart for Courtney because she was one of the first bloggers to start reading The Food Charlatan, back when it was just me myself and my computer. She introduced me to our food blogging community. Plus her blog is totally amazing. Check out these Lemon Rosemary Melting Potatoes she just posted. What?? I'm nabbing that recipe next Courtney!!!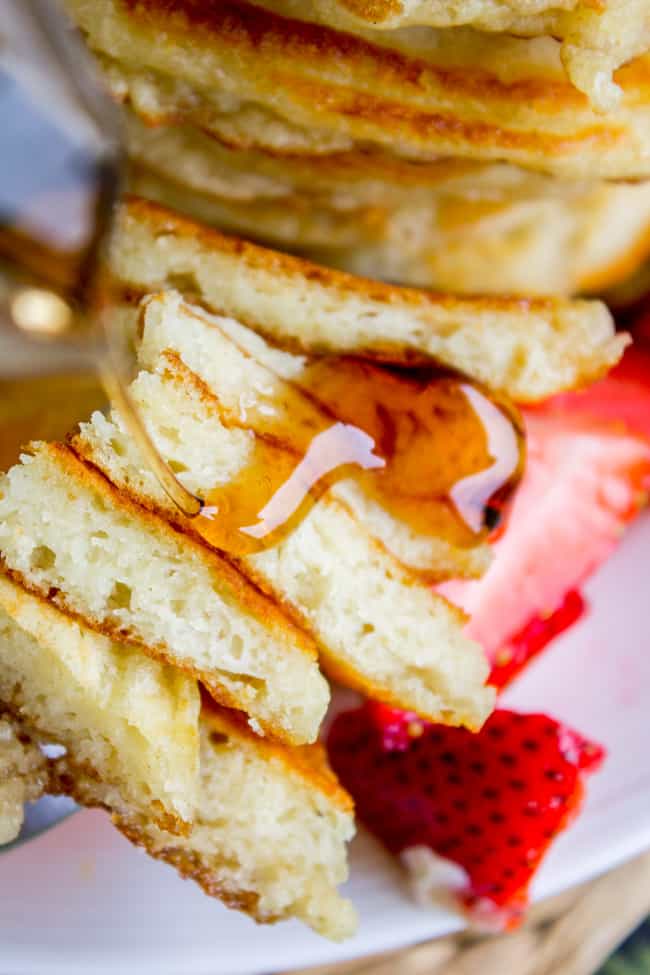 Anyway, back to her Top 15 post. The first recipe on the list was for these Fluffy Buttermilk Pancakes. I decided to give them a go because every time someone tells me they have a favorite pancake recipe I try it…but then I usually mess them up. Don't get me wrong, the recipes are fine. I'm just a terrible pancake maker (and an even worse pancake flipper, but that's a whole other story.)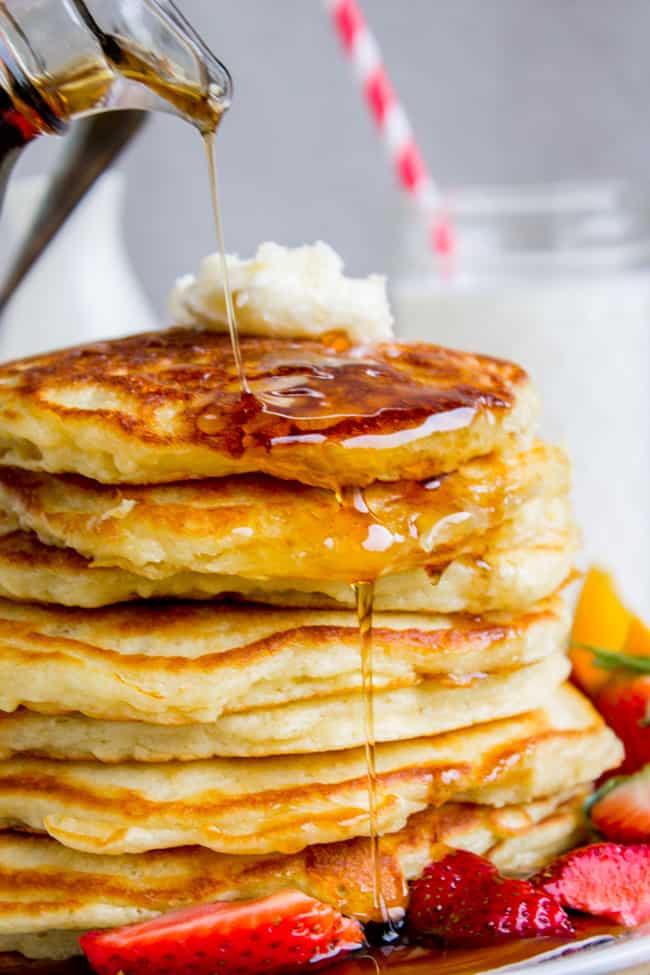 Anyway. So I tried Courtney's recipe. AND THEY WERE AMAZING. I thought it had to be a fluke (I'm a pancake charlatan, after all) so I made them again. AMAZING. I made them a 3rd time to do this photo shoot and do you see that stack? I ate all of it.
Okay I'm totally lying, the kids and I all shared it (what else are you going to do with a giant stack of pancakes totally soaked in syrup from all the pour shots I tried to get? Life's tough.)
How to make the Best Pancakes
Want to know the secret to this recipe?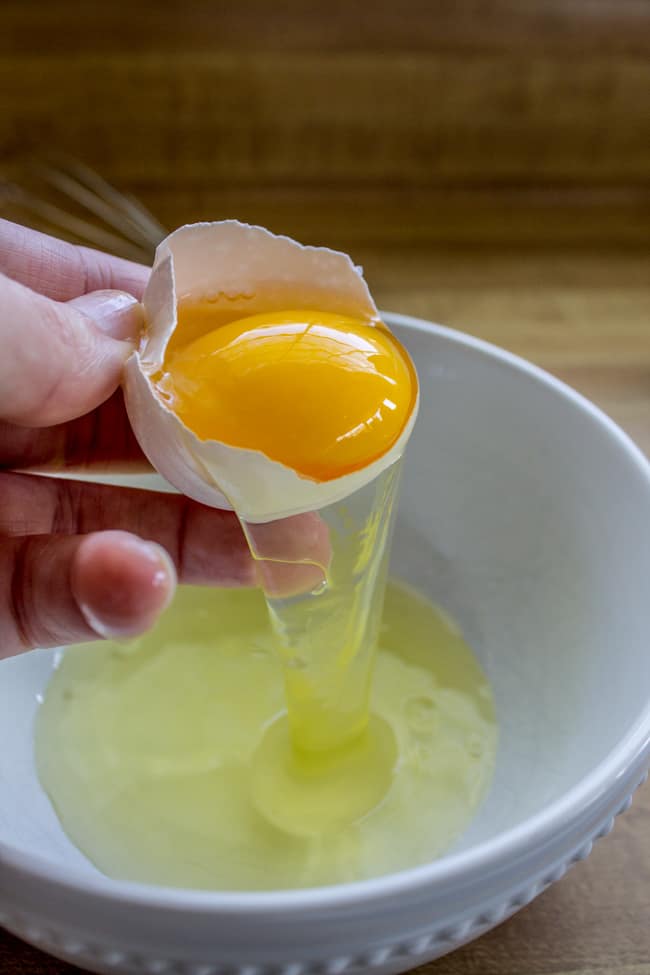 A separated egg. You don't have to whip the egg whites or anything, just beat them with a fork for a few seconds. Something about beating in the egg yolks first makes this recipe amazing.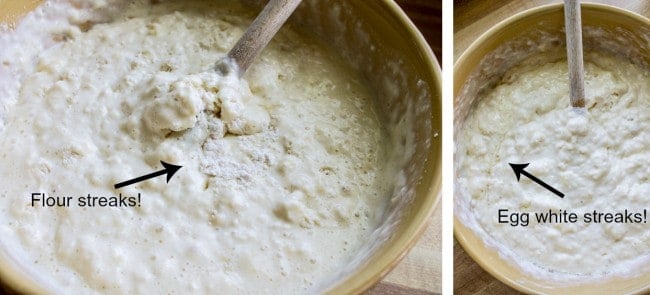 How to get crispy edges on your Pancakes
Can I tell you the other little secret about this recipe?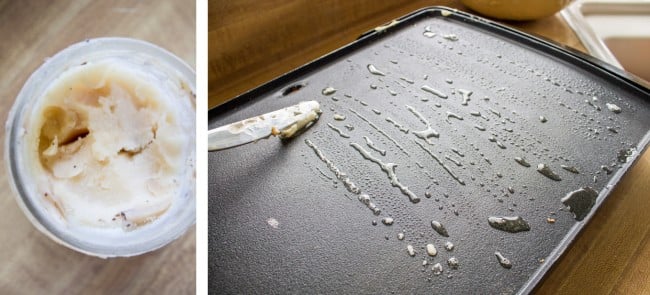 That's right. I'm busting out the BACON GREASE. I got the bacon-grease-for-pancake-frying tip from my mother-in-law. If you are not the kind of person who has a little jar of bacon grease in your fridge at all times (seriously, who ARE you?), then the solution is obvious. Make some bacon. Then use a pastry brush to get the grease onto your griddle. If you really don't want to bother, butter will work fine, but I'm telling you, the bacon grease adds a hint of flavor (but not overpowering–they taste like pancakes, not bacon) and the BEST crispy edges. Mmm. And what are pancakes without a side of bacon anyway?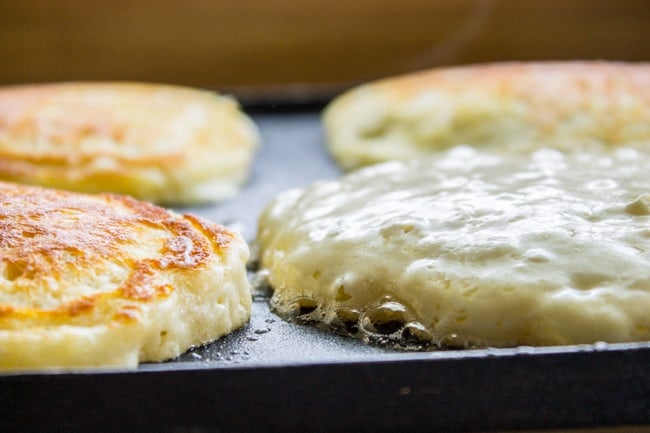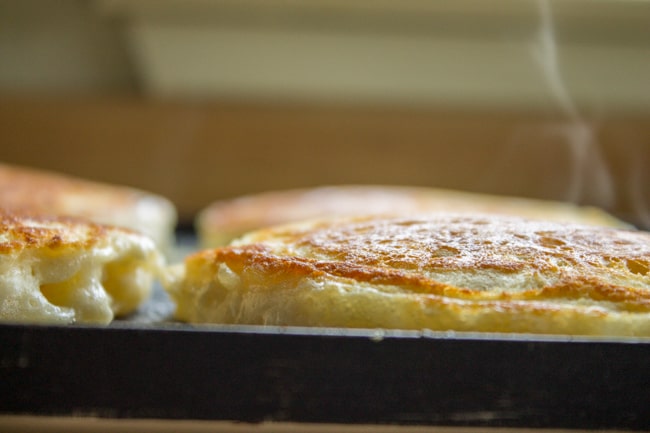 Here's my photo set up. My stack looks like it's about to fall!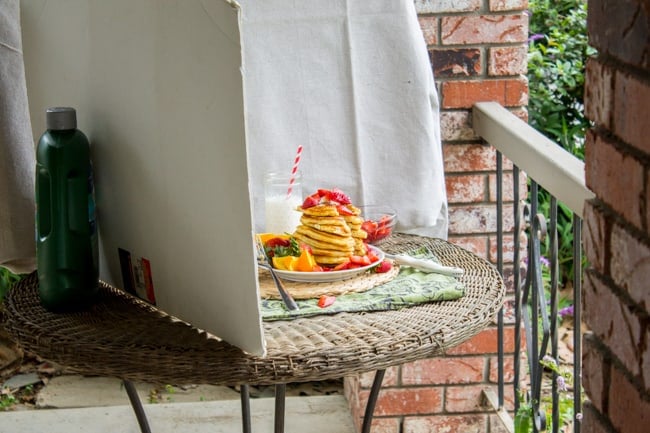 There are so many ways to love pancakes!!
More amazing sweet breakfast recipes:
Pancake Recipe - The Best I've Ever Made
I've finally found the Best Pancakes Ever. They are fluffy, crispy on the edges, tender in the middle, and completely stackable. The search is over!
Ingredients
1/2

cup

butter

,

1 stick, melted and cooled

2 & 1/2

cups

flour

,

spooned and leveled

1/4

cup

white sugar

1

teaspoon

salt

2

teaspoons

baking soda

2

teaspoons

baking powder

2

cups

buttermilk

1/2

cup

milk

,

I used whole milk

2

eggs

,

separated

bacon grease

,

for frying (butter works too)
Instructions
Heat your oven to 170 degrees F, sometimes called the "keep warm" setting.

Get out 3 bowls: large, medium, and small.

Add the butter to the large bowl and microwave until it is melted. Set aside to cool a little bit.

In the medium bowl, whisk together flour, sugar, salt, baking soda, and baking powder.

Add the buttermilk and milk to the melted butter.

Separate the eggs: add the whites to the small bowl and the yolks to the wet ingredients in the large bowl. Whisk in the yolks.

Use a small whisk of fork to beat the egg whites a little bit, just 20 seconds or so until they start getting a little bubbly. It will help them fold in evenly.

Add the buttermilk mixture to the dry ingredients and stir roughly with a wooden spoon. Don't overdo it! Just barely combine it. There should still be streaks for flour. See photos.

Beat the egg whites a little then add them to the batter. Fold in gently. It's okay if there are still streaks of egg white.

Heat a griddle or large frying pan over medium heat.

When it is hot, smear a little bacon grease over the griddle.

Scoop the batter using a half cup measurement.

When bubbles on top start to pop, flip the pancakes. They should be a nice golden brown.

Continue cooking for another 2-3 minutes until they are golden on both sides.

Remove the pancakes to a cooking rack and keep warm in the oven that you turned on.

Repeat with the remaining batter.

Serve with lots of butter and syrup. And peanut butter. What, am I the only one??
Notes
I have never tried substituting the buttermilk in this recipe with a milk/vinegar mixture. I don't think you would get the same results. The best part about buttermilk is how THICK it is, and you're not going to get that from souring your own milk. (I mean don't get me wrong, you will still have pancakes at the end of the day, they just might not be the BEST pancakes.)
Nutrition
Serving:
1
pancake
,
Calories:
147
kcal
,
Carbohydrates:
18
g
,
Protein:
4
g
,
Fat:
7
g
,
Saturated Fat:
4
g
,
Polyunsaturated Fat:
1
g
,
Monounsaturated Fat:
2
g
,
Trans Fat:
1
g
,
Cholesterol:
35
mg
,
Sodium:
381
mg
,
Potassium:
72
mg
,
Fiber:
1
g
,
Sugar:
4
g
,
Vitamin A:
239
IU
,
Calcium:
71
mg
,
Iron:
1
mg
We are a participant in the Amazon Services LLC Associates Program, an affiliate advertising program designed to provide a means for us to earn fees by linking to Amazon.com and affiliated sites.