Are you excited for the 4th of July? Eric and I are getting ready for some classic ribs and homemade ice cream. And of course fireworks in the backyard. Setting off fireworks always reminds me of one 4th of July when I was a teenager. I taught swimming lessons at a public pool that summer. I would go days at a time without showering because I was in the pool so much, and apparently thought that getting wet and drying off just one more time everyday would drive me to insanity. My hair actually started to get crusty, no joke.
I had to work a full 12 hour shift that 4th of July, and my coworkers and I were trying to jazz up our boring day of yelling at kids to stop running. So one of my coworkers decided it would be a really good idea to set off fireworks in the bathroom. Nothing crazy happened, but with the fire department literally across the street from the pool, I am definitely glad they were not paying attention to the smoke rising 100 yards from their station. I bet there are still scorch marks on the floor of that boys bathroom.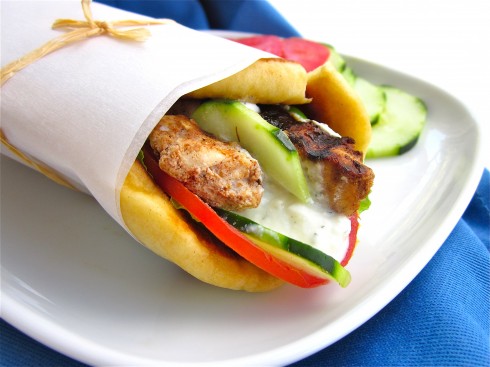 Have you guys had Chicken Shawarma? I've never ordered it in a restaurant, but this homemade version is dang good. It's got the sweet and tangy Greek spices paired with crunchy cucumber and tomato…yum. The marinade is the best part. I'm convinced that Greek yogurt makes everything better. Maybe it's just Greekness that ameliorates everything.
I think I would make a good Greek. I love that part on My Big Fat Greek Wedding when the girl tells her family that her boyfriend doesn't eat meat, and after a shocked silence her aunt says That's okay, I make you lamb. These sound like my kind of people.
Chicken Shawarma

Source: Budget Bytes
For the chicken:
1.25 lbs chicken breasts
1/2 cup plain yogurt
1 tablespoon minced garlic
1 tablespoon lemon juice
1/2 teaspoon cinnamon
1/2 teaspoon dried oregano
1/2 teaspoon salt
1/4 teaspoon ground nutmeg
1/4 teaspoon ground cloves
Yogurt Sauce:
1 cup plain Greek yogurt (or one 7 ounce container)
1/4 teaspoon minced garlic (or to taste)
1/4 teaspoon dried dill (or to taste)
1/4 teaspoon salt (or to taste)
4 pitas, naans, or flatbreads
1/2 head romaine lettuce
1 medium cucumber, sliced thin
2 medium roma tomatoes, sliced thin
In a small bowl, combine the ingredients for the marinade (yogurt, lemon juice, garlic, cinnamon, oregano, salt, nutmeg, and cloves). Add chicken to the marinade, coat well, cover and refrigerate for 4-24 hours. If desired, slice the chicken into strips before marinating to maximize the flavor.
Prepare the yogurt sauce for the sandwiches. Open a 7 oz. container of plain greek yogurt (or put about 1 cup in a bowl) and stir in the garlic, dill, and salt. Refrigerate until ready to use. The longer it sits the better.
After marinating the chicken, grill until cooked through (a George Foreman works great).
Prepare the vegetables for the sandwich. Chop, rinse, and drain the lettuce in a colander. Wash and slice the cucumber and tomato.
Build the chicken shawarma sandwiches. Spread the yogurt sauce on your flat bread, top with the chicken and vegetables. Roll the sandwich closed. You can wrap the sandwich in foil to help it stay closed as you eat.