Did you make this recipe in Home Ec?? It's been around awhile, and with good reason because holy cow you dip the entire muffin in butter and then roll it all in cinnamon sugar. According to Betty Crocker, they are called French Breakfast Puffs. (…I think somebody in their test kitchen was feelin' fancy!)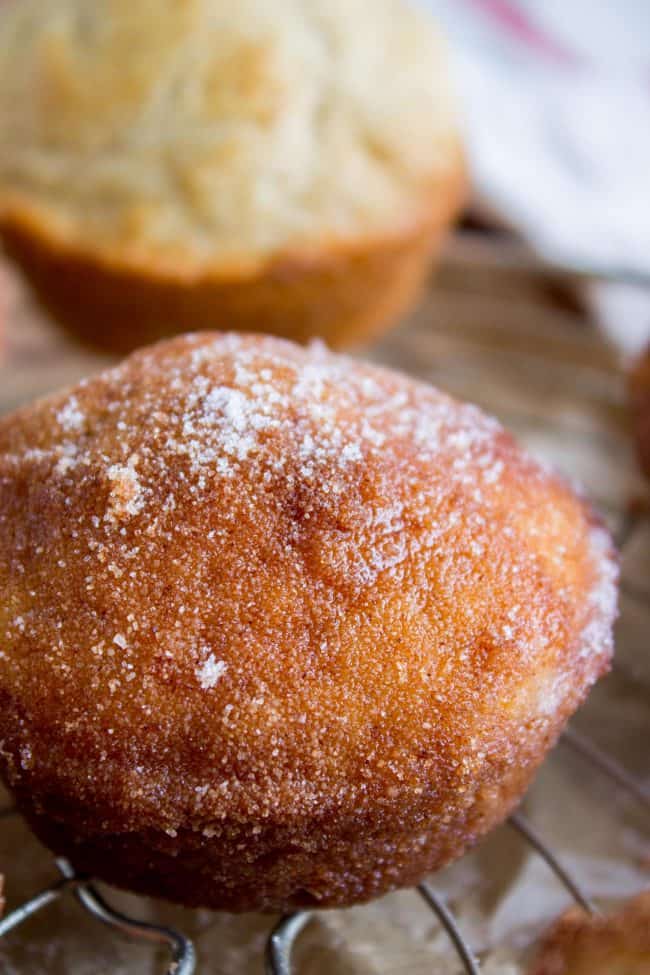 Today was a butter-on-the-couch day. Except this time it wasn't butter on the couch (that was actually my sister's kid). Today was a milk-seeping-under-the-computer day (not to be confused with the lotion-smeared-on-the-computer incident.)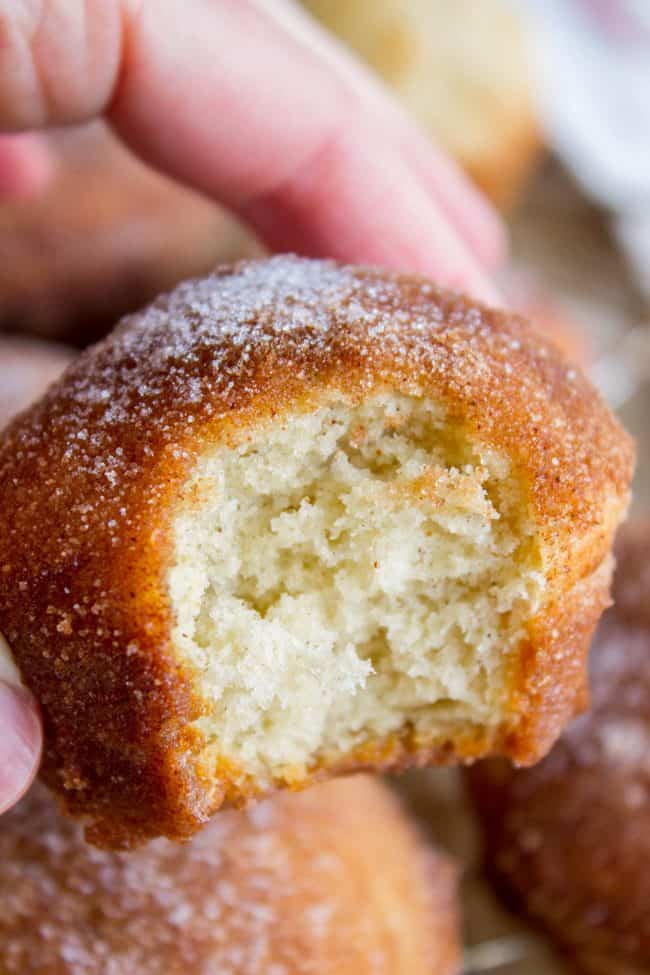 Of course I'm referring to the things our children do (or destroy) that we have to clean up, when we would rather be doing something else. Such is motherhood! Somehow it's all worth it! This morning as I finally finished putting on my mascara and left the bathroom, I realized it was 10am. Midmorning, and barely dressed! What did I do all morning?? Oh yeah, mopped up spilled milk. (This milk was less spilled, and more artistically spread about, I would say. A true joy!)
My BFF Sarah had another good one a while back:
"Sometimes I stare at my to do list and wonder how I got nothing done, and then I remember: it's because I didn't put "clean jello out of dollhouse" on it."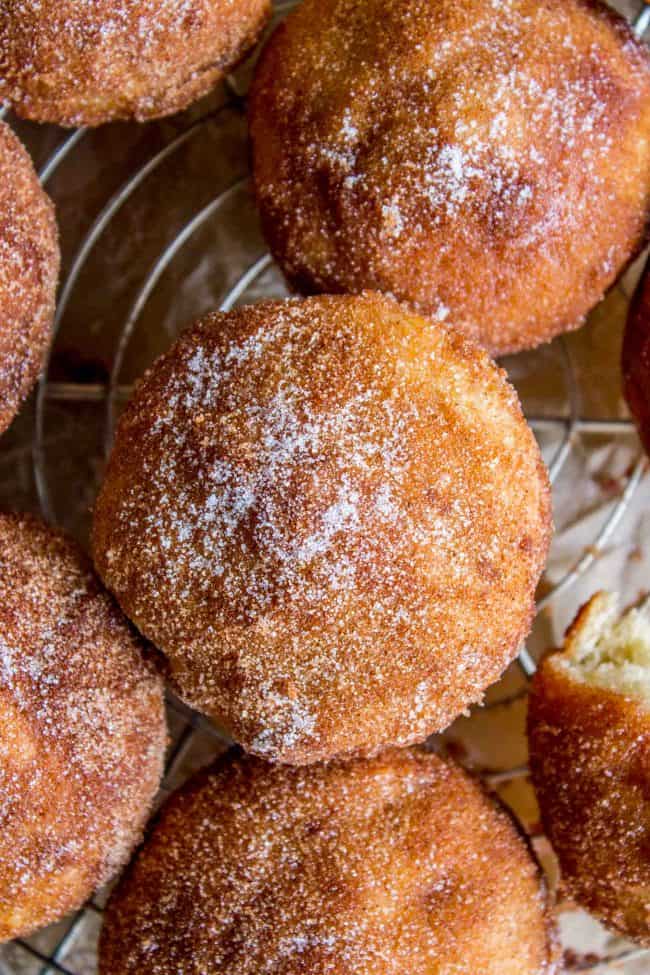 Raise your hand if you've tried these muffins!! The first time I had them was in college when Sarah would make them all the time.  It's an absolute classic (that I had never had before!) If you go to the original Betty Crocker recipe, you can read comments from ladies talking about how they made this in Home Ec back in the 70s. It's been around a while!
They are called French Breakfast Puffs but I don't really know why. They're basically Snickerdoodle muffins. I imagine some cook in the Betty Crocker test kitchen feeling like 'muffin' was too common a word for these delightful things–"I know, I'll call them a puff! A French puff, even!" Oh so fancy.
Honestly, these taste like doughnut holes but with none of the work (read: no frying). Because you are dipping the entire muffin in butter, it creates this delightful little crust, made even crunchier because of the cinnamon-sugar coating. It really does imitate that blessed outer-edge-of-the-donut-crackle. I've never made these as mini muffins before, but have heard that it's delicious. I bet it would make them even more perfectly pop-able. The recipe as written makes 10 muffins; I imagine you could get 20-24 mini muffins out of one batch.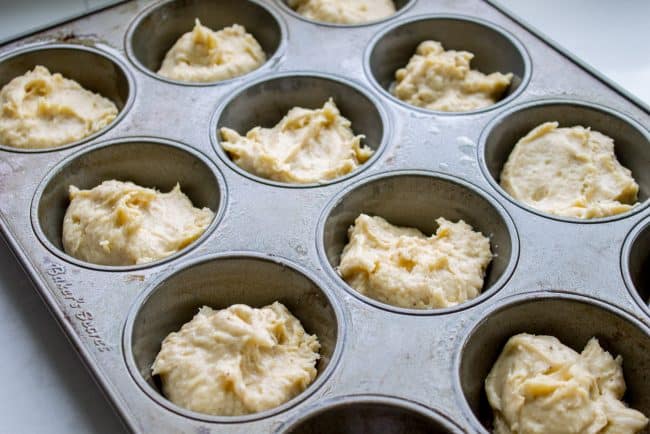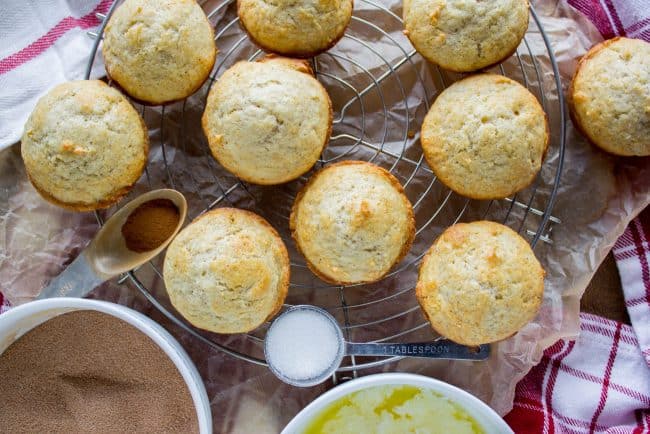 There is nothing fussy about this recipe. It comes together dangerously fast. I did change up the original a bit. Instead of shortening, I used butter, and I doubled the nutmeg because I love the stuff. I used ground nutmeg, but if you have fresh nutmeg that would be amazing! You might want to add a bit less than 1/2 teaspoon if using fresh. (Unless you are like a mega nutmeg person.)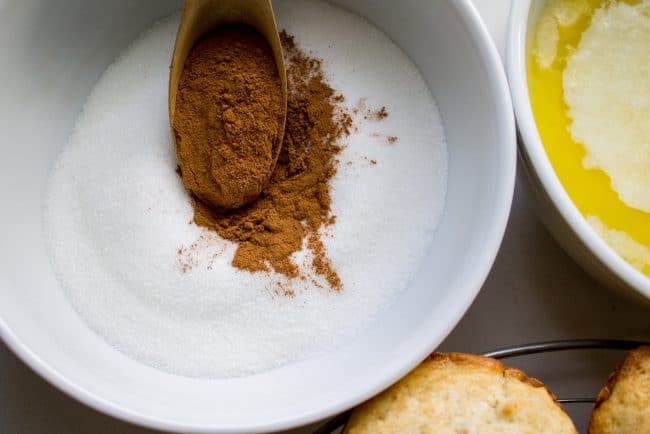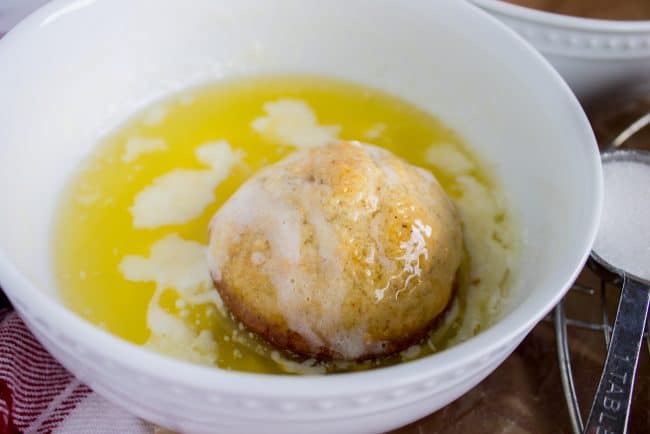 Later this week I am heading to a blogging conference at the Googleplex! That's Google headquarters. (I know, what? Like, they aren't all just working at home in their jammies?) My husband Eric visited Facebook headquarters for work one time, and found out that all the food is free. Like, all of it. Sign me up for that, dude. (Google? Free food pls?)
P.S. Some exciting changes are coming to The Food Charlatan soon! I cannot WAIT to share! It will be several more weeks but stay tuned for updates and sneak peaks!
Facebook | Pinterest | Instagram | Twitter
One year ago: Chewy Brown Sugar Snickerdoodle Blondies
Two years ago: Gruyere-Crisped Potatoes Au Gratin
Six years ago: Gnocchi with Carrot and Zucchini Red Sauce

Snickerdoodle Muffins (French Breakfast Puffs)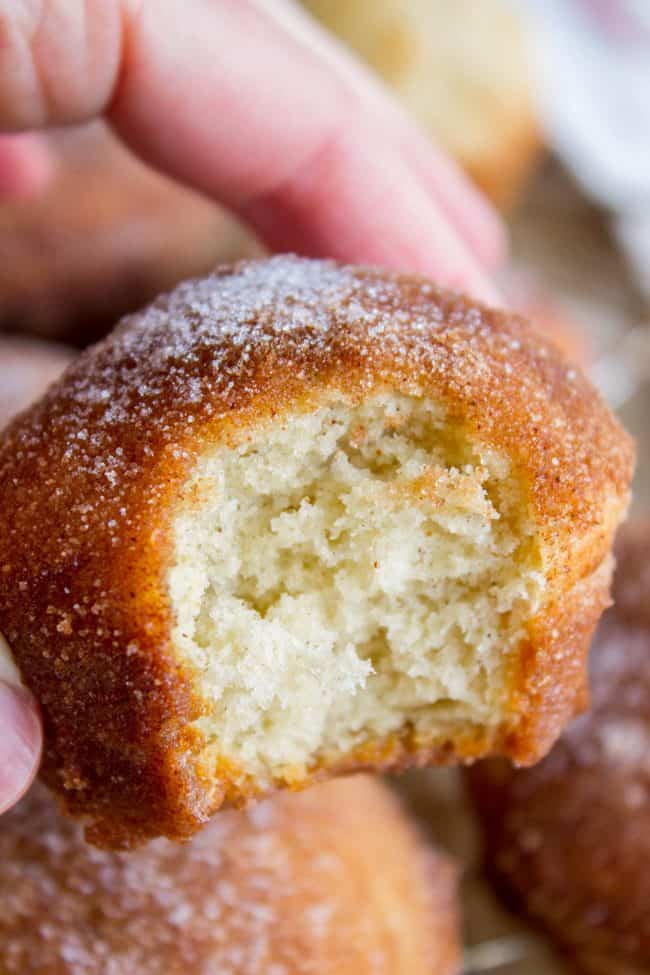 Did you make these muffins in Home Ec?? It's been around awhile, and with good reason because holy cow you dip the entire muffin in butter and then roll it in cinnamon sugar. According to Betty Crocker, they are called French Breakfast Puffs. (I think somebody in their test kitchen was feelin' fancy)
Ingredients
For the muffins
1/3

cup

butter

,

softened

1/2

cup

granulated sugar

1

large

egg

1

cup

all purpose flour

1 & 1/2

teaspoons

baking powder

1/2

teaspoon

salt

1/2

teaspoon

nutmeg

,

use fresh if you have it!

1/2

cup

milk

1/2

cup

all purpose flour
For dipping
1/2

cup

butter

,

melted (1 stick)

1/2

cup

granulated sugar

2-3

teaspoons

cinnamon
Instructions
Preheat the oven to 350 degrees F.

Grease a muffin tin with butter or nonstick spray (we're making 10 muffins)

In a large bowl or stand mixer, beat 1/3 cup butter until smooth. (I use the measurement on the wrapper to see where 1/3 cup is.)

Beat in 1/2 cup sugar until fluffy.

Add 1 egg and beat until smooth.

Add 1 cup flour, baking powder, salt, and nutmeg, but don't stir. Use a small spoon to stir the dry ingredients together, and then gently beat the dry ingredients into the wet.

Before the flour is fully incorporated, add the milk. Beat until almost incorporated.

Add the 1/2 cup of flour. Beat very gently (or use a spoon) to mix until everything has just barely come together.

Use a spoon or small measuring cup to divide the batter between 10 greased muffin tins.

Bake the muffins on the center rack for about 20-23 minutes. The tops of the muffins will just barely start to be golden when they are done. You can also insert a toothpick into the center of a muffin, and if it comes out dry, then they are done.

When the muffins have cooled for a couple minutes, use a knife to release the muffins from the pan. Remove to a cooling rack.

Melt 1/2 cup butter in a small bowl. In another small bowl, stir together 1/2 cup sugar and 2-3 teaspoons cinnamon (to taste).

When the muffins are cool enough to handle but still hot, dip each one in the butter (all of it! Top and bottom!) and then roll it in the cinnamon sugar. Some people say you should just dip the tops of the muffins. Those people are wrong.

Eat hot! Share!
Notes
You can totally make these in a mini muffin pan. I would guess it would make between 20-24 mini muffins. You will have to take a guess on the baking time, it will definitely be less time, start with 10 minutes. They are done when they are golden on top.
Source: I adapted this from Betty Crocker.
Nutrition
Serving:
1
muffin
|
Calories:
298
kcal
|
Carbohydrates:
35
g
|
Protein:
3
g
|
Fat:
16
g
|
Saturated Fat:
10
g
|
Polyunsaturated Fat:
1
g
|
Monounsaturated Fat:
4
g
|
Trans Fat:
1
g
|
Cholesterol:
60
mg
|
Sodium:
328
mg
|
Potassium:
50
mg
|
Fiber:
1
g
|
Sugar:
21
g
|
Vitamin A:
521
IU
|
Vitamin C:
1
mg
|
Calcium:
64
mg
|
Iron:
1
mg
More muffin recipes to love!
Blueberry Buttermilk Pancake Muffins with Maple Syrup  <<why don't we always drizzle syrup on our muffins?? I mean…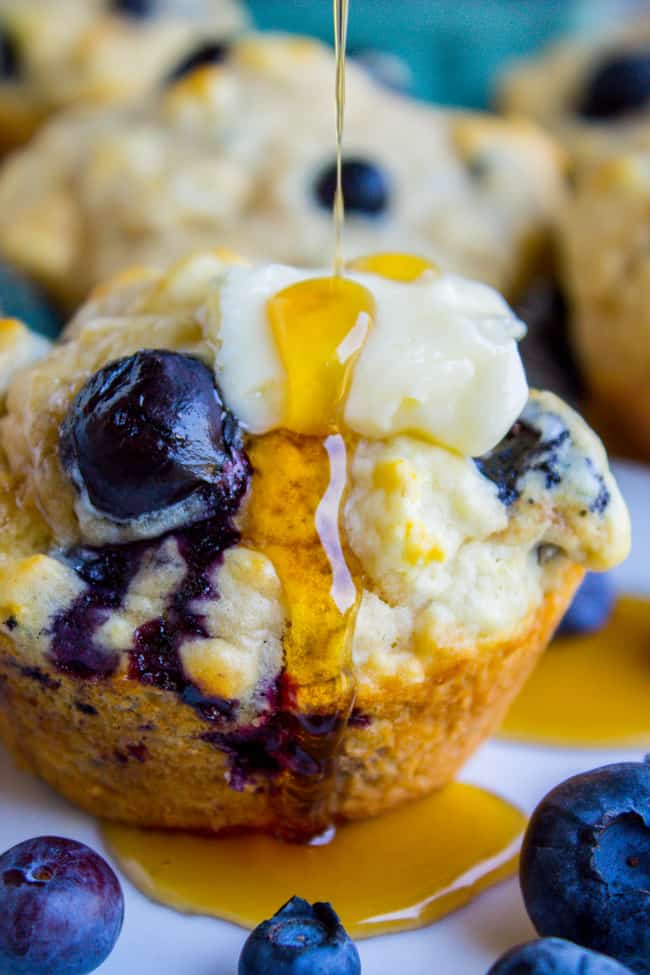 Raspberry Lemon Glazed Muffins << these are perfect for spring!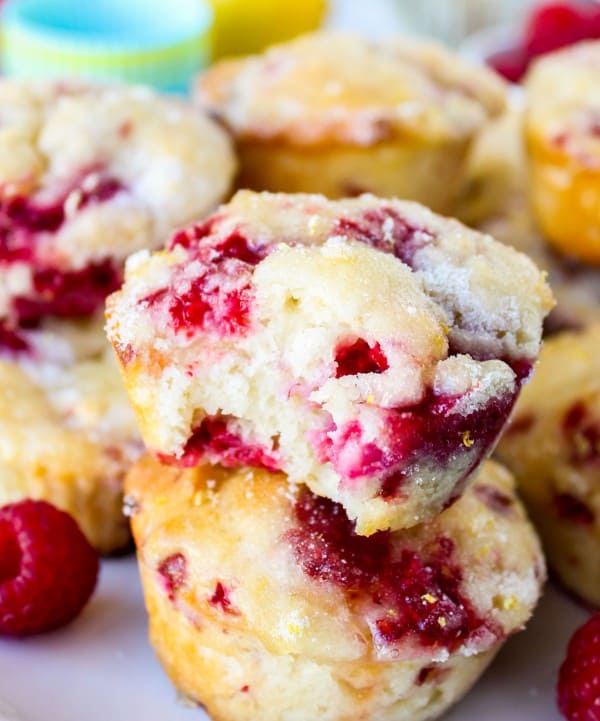 Pumpkin Cream Cheese Muffins << These are such a popular recipe!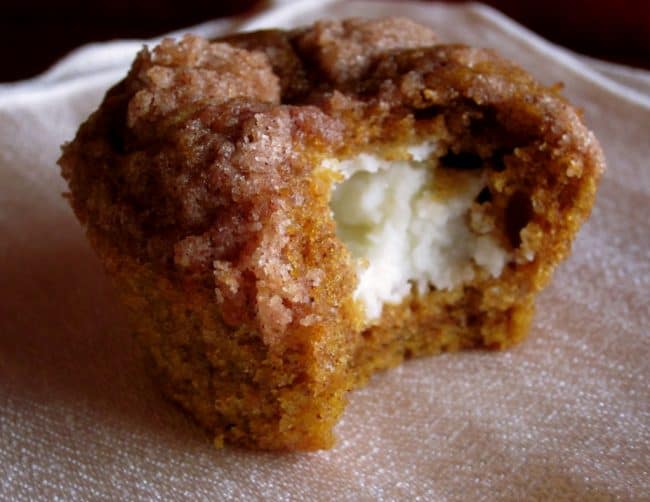 Other recipes for "French" Breakfast Puffs!
French Breakfast Puffs from The Pioneer Woman
Cinnamon Brown Butter Breakfast Puffs from Smitten Kitchen <<neeeed to try this with browned butter!
French Breakfast Puffs from 365 Days of Baking