Beef Barley Soup (Slow Cooker)
This soup is lovingly simmered on the stove or in the crock pot to produce the richest Beef Barley Soup I've ever tasted. Shredded carrots and potatoes give it fabulous, thick texture.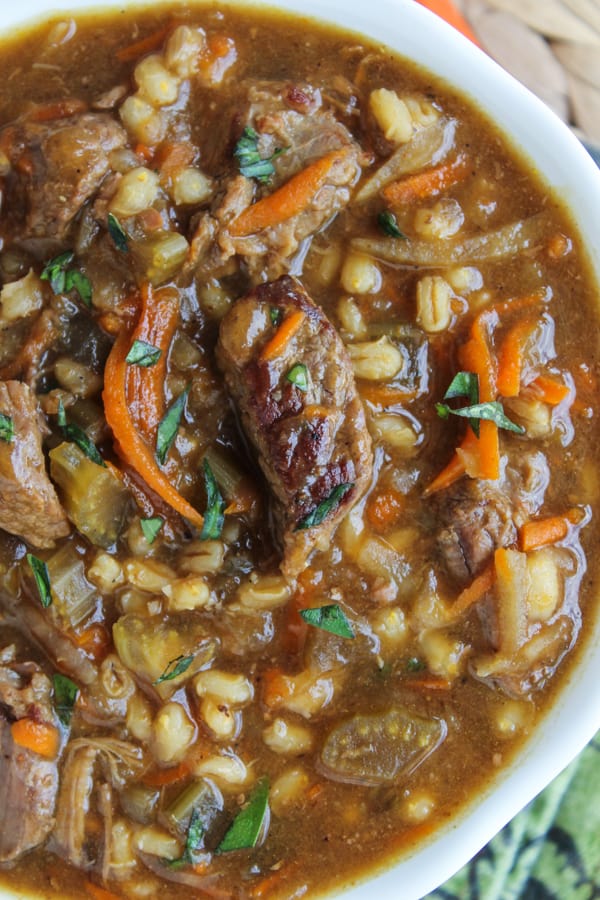 I still remember the first time I walked into Eric's parent's house. I mean, of course I remember it, Eric and I were practically engaged before I met his family, so you know, no pressure. Hi, I'm going to be here FOREVER, hope you don't hate me. (We were married 5 months later.)
The reason I remember walking through the door so vividly is because of the delicious smell. Soup. The soup to end all soups.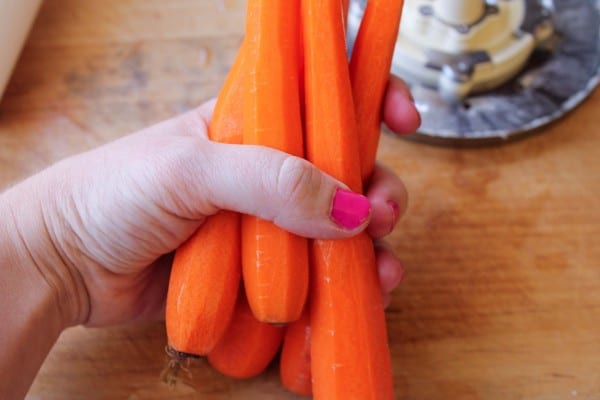 My mother-in-law Kris is one of the best cooks I know. I'm addicted to recipes (part of the reason I started this blog–it's a catalogue my friends, plain and simple) but she is a true cook, adding ingredients by gut instinct rather than what some imposing recipe says. (I do that sometimes…and sometimes I have to throw dinner in the trash.)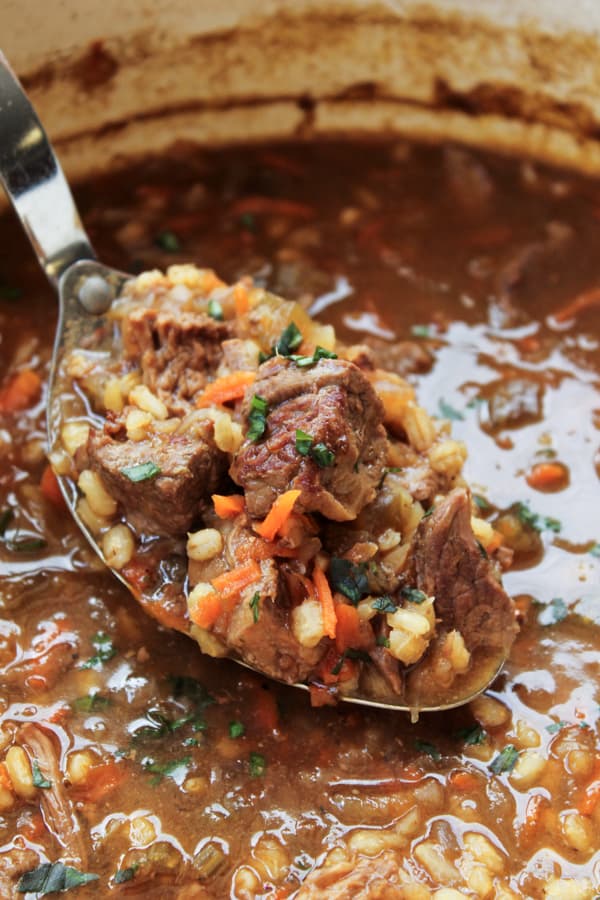 Her Beef Barley Soup is literally the definition of comfort food for me. It reminds me of being in her cozy kitchen in Montana, with snow fluttering outside that somehow makes you feel warmer, and this aromatic soup simmering on the stove, with the cats nosing around to see what the smell is.
You should have heard me try to finagle this recipe out of her. She sent me an email with the basic recipe but I still had to text her 7 times and call her twice. It worked, because the soup tastes exactly like hers. Which is to say, it tastes just like home.
The shredded carrots and potatoes are part of the reason this soup is so fabulous. It gives it great texture, on top of the barley. This was my first time buying barley. I had to ask where it was after checking by the oats and then the flour. (It was by the dry rice and beans. Here's the kind of barley you're looking for.) (Update! I tried this with quick pearl barley in December 2016. It worked awesome and was done in half the time.)
I call this a lazy-day soup. Make it on a rainy day at home when your most exciting task is laundry. It will make you feel all warm and nostalgic, I promise. Or, if you want to eat this on a weekday, throw it in the crock pot and add the barley when you get home.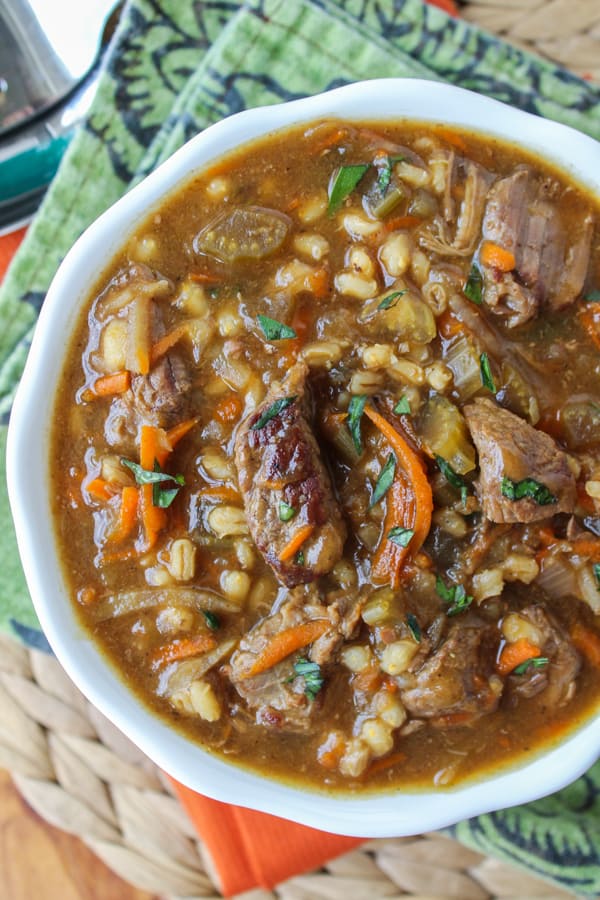 Well guys, if all goes according to plan, this is the last time I will hit publish with this blog design. I'm so excited to show you guys! I feel like I just got a new wardrobe. Soon I will make you all sit in the living room while I model all my new outfits. Just in time for a very special occasion coming up this Saturday…stay tuned!
Do you guys give up? Or are you thirsty for more?
Facebook | Pinterest | Instagram | Twitter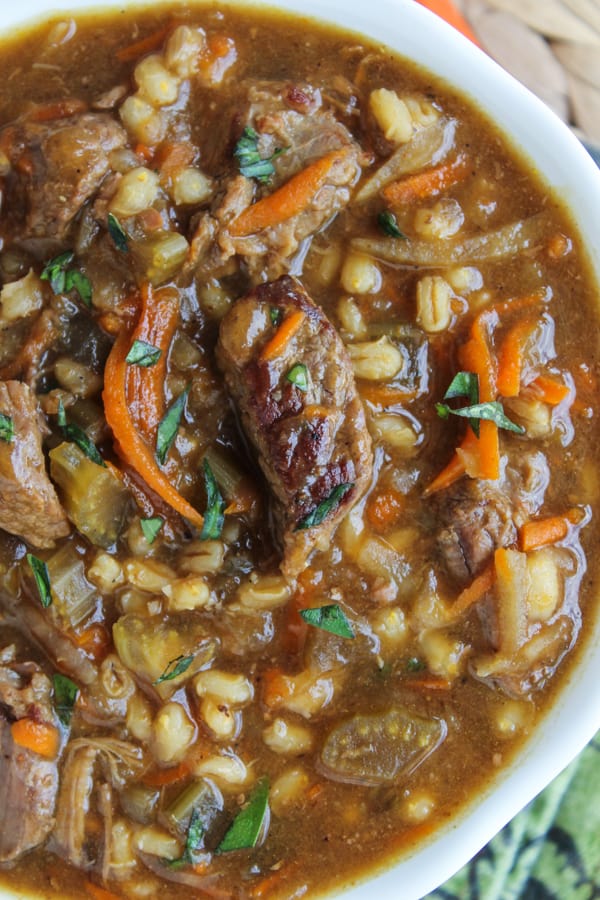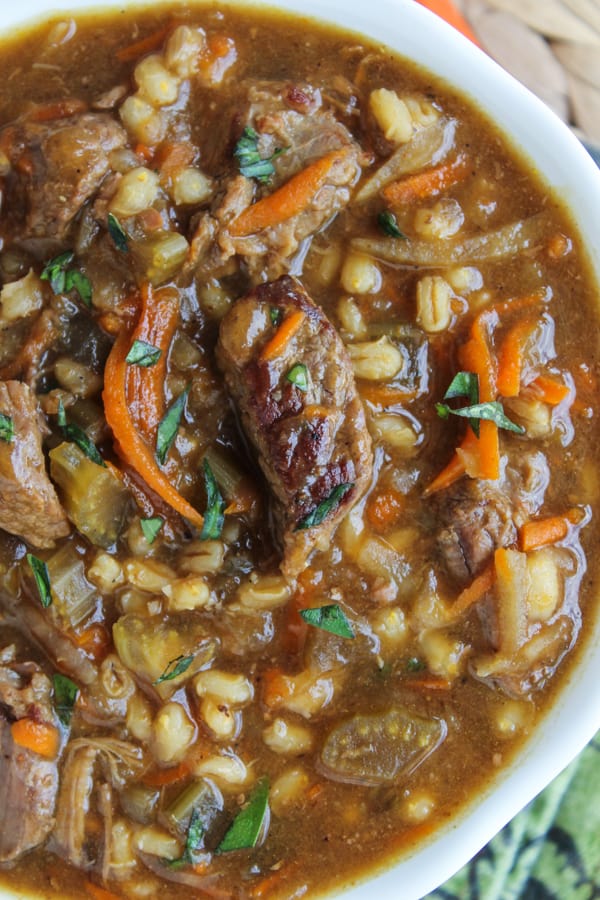 print
Did you make this recipe?
Leave a review »
Beef Barley Soup
Serves 8
adjust servings
Ingredients
2

pounds stew meat (nicely marbled beef chunks)

salt and pepper

2

tablespoons oil

10

cups water

3

mounded tablespoons good quality beef base*

3

stalks celery (about 2 cups), chopped

2

onions, chopped

5

cloves garlic, minced

1

large potato, peeled and shredded, about 2 cups

3-4

large carrots, peeled and shredded, about 2 cups

1

cup pearl barley*** rinsed
Instructions
Generously salt and pepper the beef. In a large stockpot, heat the oil over medium-high heat.
When it is very hot, add about 1/3 of the meat. Brown for about 1-2 minutes, then turn to brown the other side. Remove to a plate when it is browned on all sides.
Repeat with remaining meat in 2 more batches. (If you add it all at once it will steam the meat instead of browning it--not what you want.)
When all the meat is browned, add all the meat back to the pot with 10 cups of water. Add 3 healthy tablespoons beef stock concentrate.
Add the chopped celery, onions, and garlic. Bring to a boil, then turn the heat to medium-low. Simmer for about 2 hours with the lid on.
When the meat is tender and you can break it apart easily with a wooden spoon, add the shredded potato and carrots. Bring to a boil, then continue to simmer on low for another 30-45 minutes, or until the carrots are tender.
Add 1 cup of barley. Bring to a boil, then reduce to low. Cook for another half hour, or until barley is tender and the soup tastes...like home.
Slow cooker instructions:
In a large pan, brown the meat according to the instructions. Remove the browned meat to a large crockpot.
Add 2 cups of the water to the pan and bring to a boil. Stir up all the browned bits. Add this and the remaining 8 cups of water to the crock pot.
Add the beef base, celery, onions, and garlic to the slow cooker and stir.
Cook on low for about 6 hours. Add the potatoes and carrots and cook for another hour.
Add the barley and simmer for another hour or so, until it is tender.
by The Food Charlatan

If you make this recipe,
share it on Instagram
 using the hashtag
#TheFoodCharlatan
so I can see it!
Source: This one is from Nana, Kris' mom.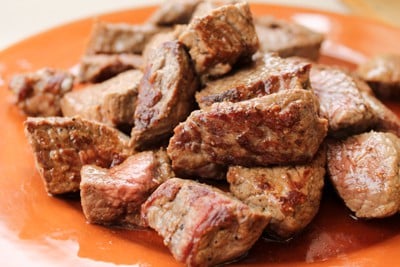 Don't forget to brown the meat. Gives it tons of flavor.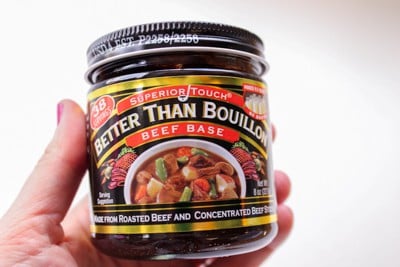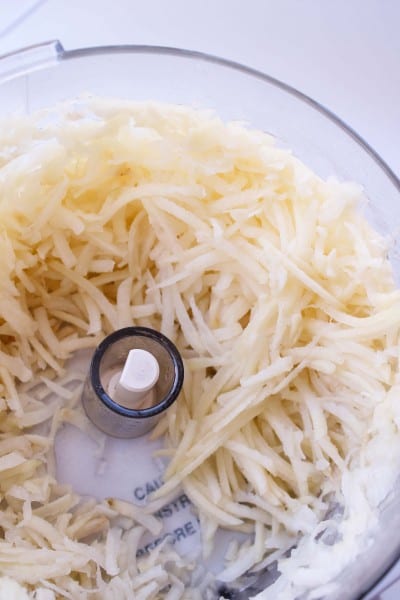 I'm telling you guys. Shredded potatoes/carrots is where it's at. Use a food processor if you have one, but if not a normal cheese grater will do.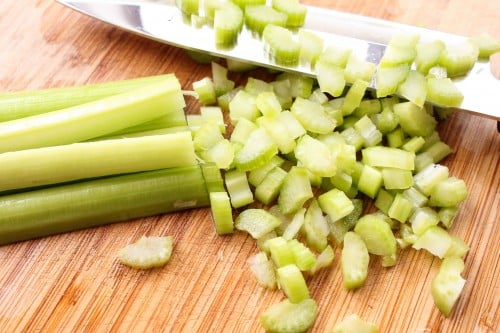 I don't like huge pieces of celery, so this is how I chop mine.
Other soups you'll probably like:
Cheeseburger Soup: (45 minutes)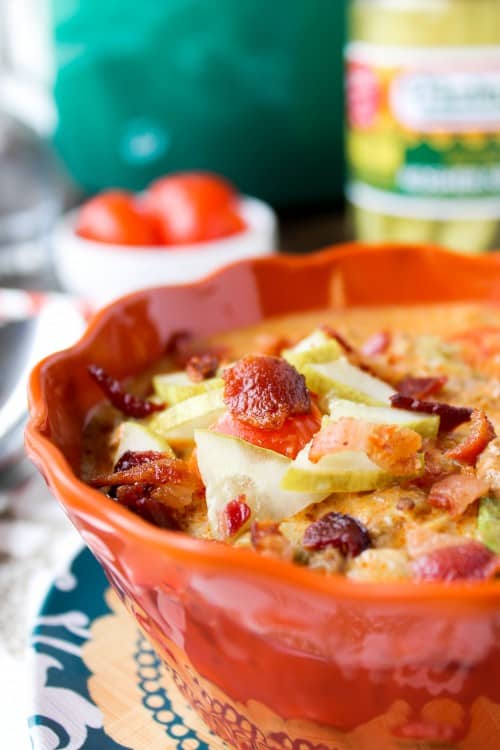 Cream Cheese Chicken Chili: (Slow cooker)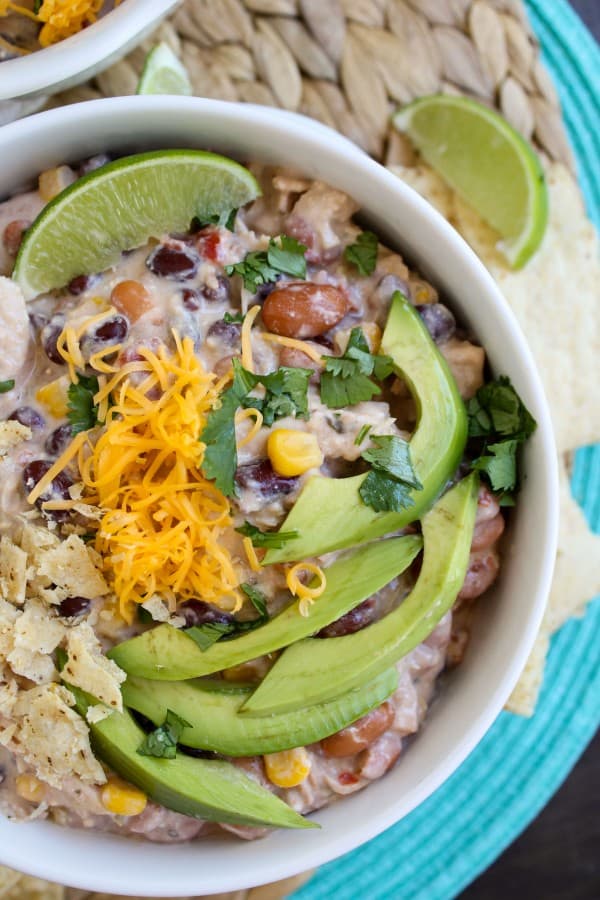 Easy Cheddar Cauliflower Soup: (45 minutes)
More soup from friends:
Slow Cooker Enchilada Soup from Weary Chef
Easy Chicken and Dumpling Soup from Melanie Makes
Tortellini Cheddar Cheese Soup from Simply Gloria
This post contains affiliate links.
We are a participant in the Amazon Services LLC Associates Program, an affiliate advertising program designed to provide a means for us to earn fees by linking to Amazon.com and affiliated sites.