Easy Slow Cooker Chicken Stroganoff
This recipe for Slow Cooker Chicken Stroganoff is a huge crowd pleaser and SO easy to put together! Who can say no to creamy noodles and chicken? You can either use a can of cream of chicken soup or use the simple homemade sauce recipe I've included. This is one of my favorite meals to bring to new moms!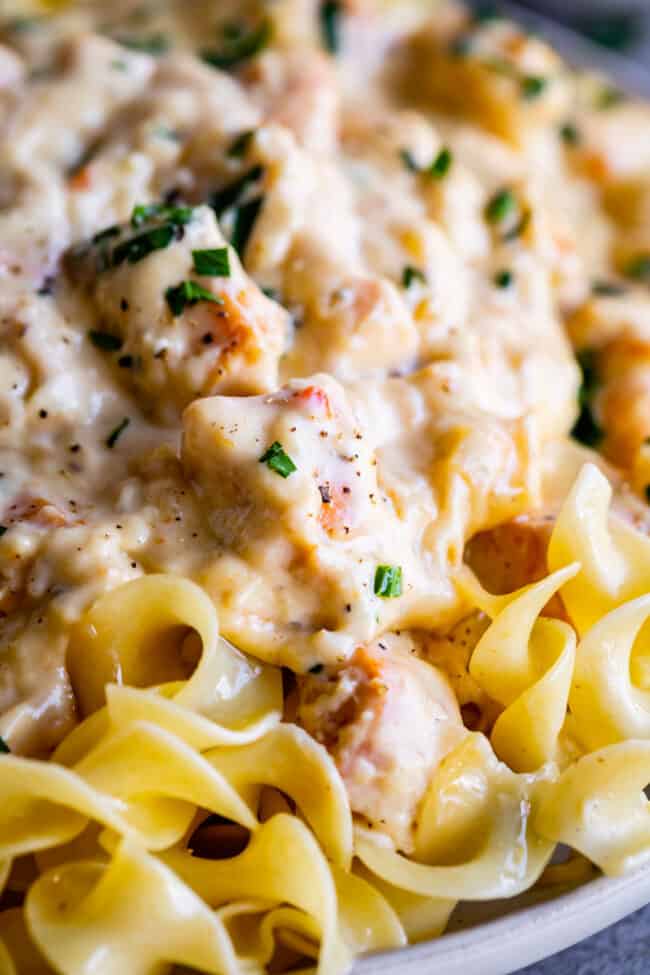 The other day I fed the kids dinner (this Chicken Stroganoff!) right before soccer practice, then told them to go put on their cleats and shinguards. I walked into their room 5 minutes later to find them lounging around reading books.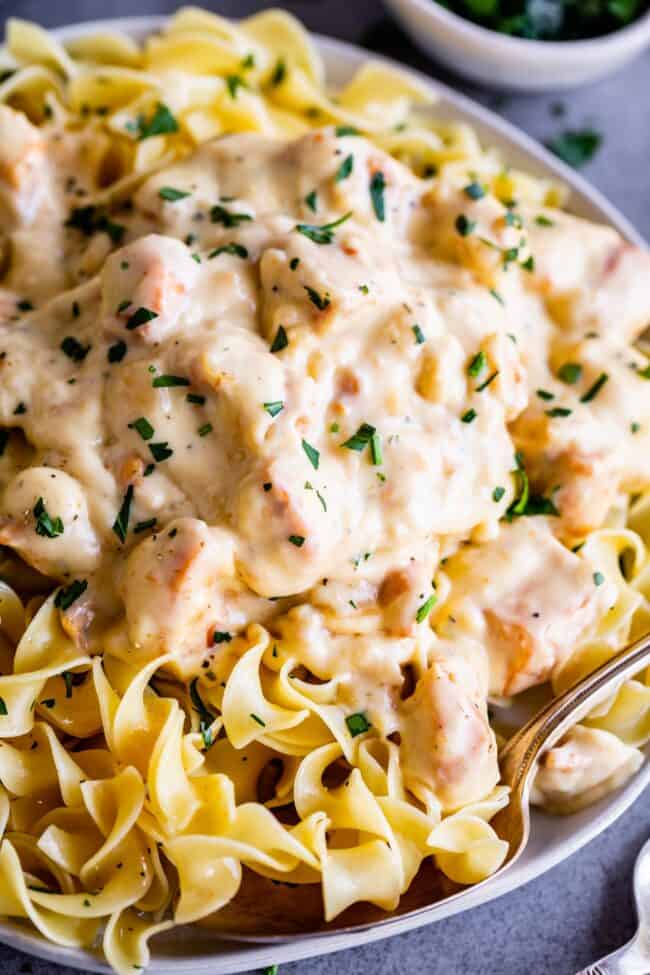 I totally lost it. We were already running late, and there is just something so demoralizing about your kids completely ignoring you. Everyone eventually got their stuff together and off to soccer we went.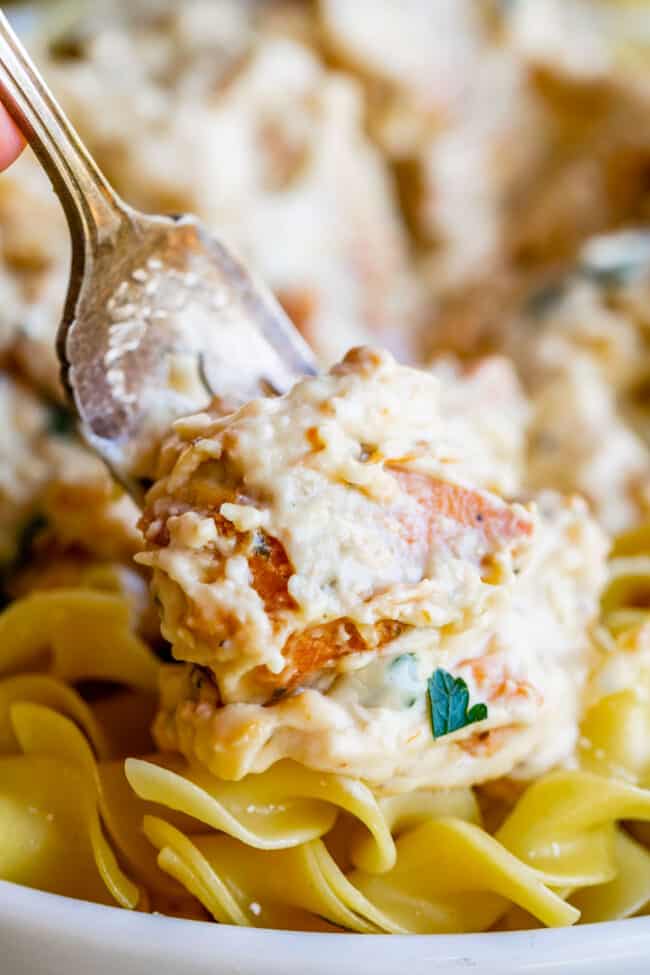 Later I asked 6-year-old Truman why he hadn't gotten ready. He said, "Well, I forgot that you asked us to get our soccer things on, and it felt like the time of day when you ask us to go get ready for bed…"
He saw my eyes widen and the steam start erupting from my ears and started to backtrack, but it was too late. The kid had just admitted that it's on his daily schedule to loaf around when I say bedtime. JUSTICE WILL BE HAD!!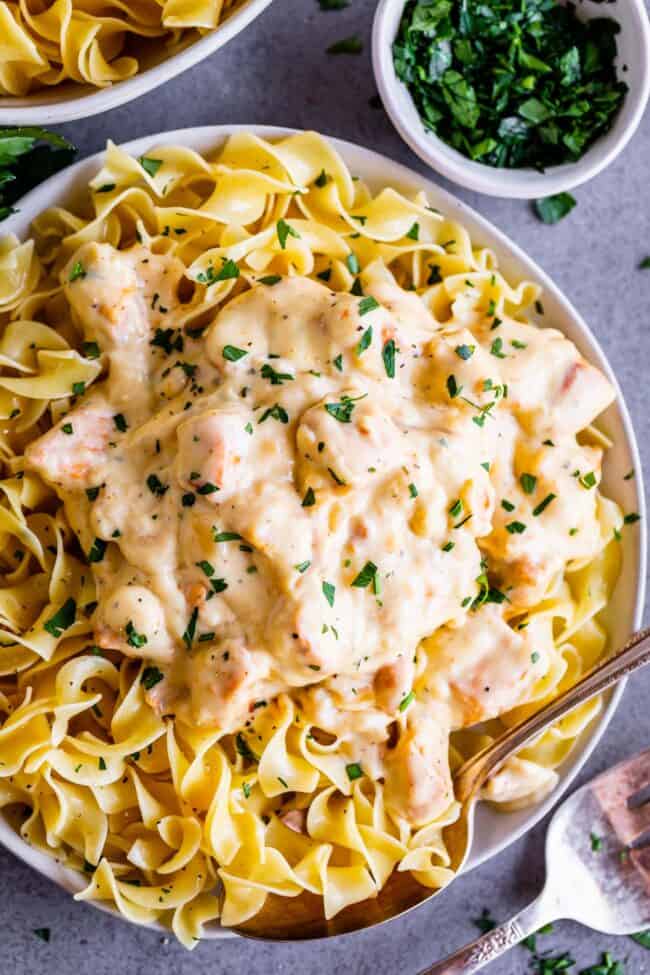 Later that night I told Eric the story, and enough time had passed that we laughed about it. But for scripture study, Eric opened up to Ephesians 6:1 and made each of the kids repeat the verse out loud: "Children, obey your parents in the Lord: for this is right." I'm sure this will do the trick, right? Right??
How to make Chicken Stroganoff
Have you ever made chicken stroganoff before? It's a classic crowd pleaser of a recipe, and SOOO easy to put together. It's one of those recipes I have been making forever, since the early days of our marriage. I've never gotten around to putting it on the blog because it's just in my head. You can always have the ingredients for this meal on hand (in the pantry/chicken in the freezer) so it's great for when you haven't gone shopping in a while. You can even add the chicken to the crock pot frozen.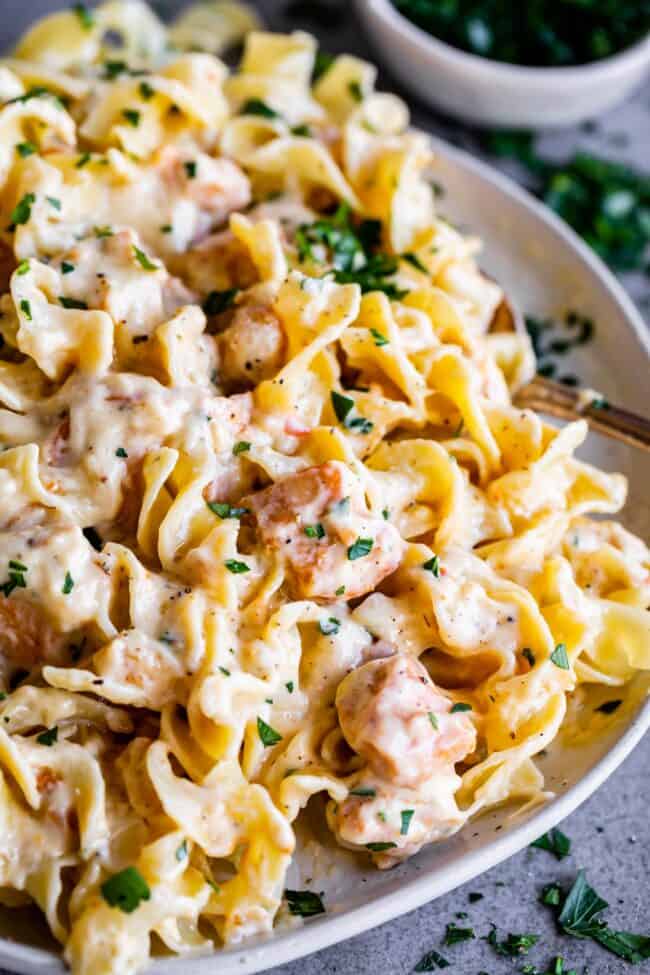 First, you toss half an onion, some chicken, seasonings, butter, and splash of white wine (optional but tasty. I use cooking wine.)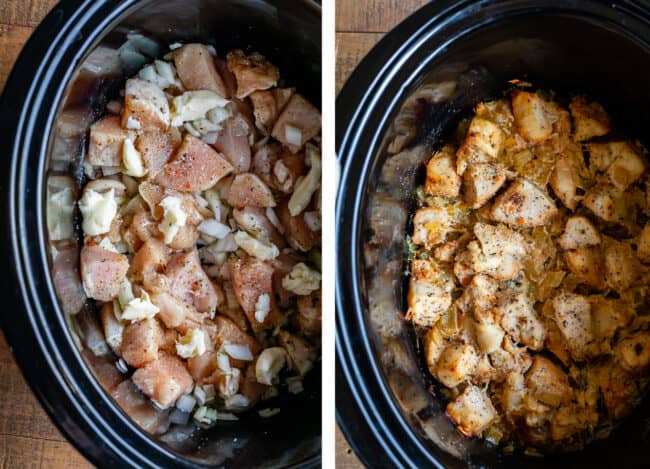 Resist the temptation to add extra liquid to the chicken in the beginning! If you are new at braising meat in the slow cooker, it can seem a little crazy to add such a small amount of liquid. But I'm telling you: the lack of liquid is what gives the chicken that roasty toasty flavor. Sometimes chicken cooked in the slow cooker can come out tasting pasty and rubbery (because it's basically been boiled to death). But this chicken comes out browned on the edges and oh-so-tender. It's the same method I use for the chicken in my Slow Cooker Chicken Tikka Masala.
Cream of Chicken Soup or Homemade White Sauce?

You have the option in this recipe to use a can of cream of chicken soup, or make this easy white sauce. It takes about 7-8 minutes, tops. I even used the kind of garlic that comes in the jar, so no chopping. It tastes great and you know what all the ingredients are.
I have nothing against canned soup, I think it tastes delicious! I just know there are so many people who prefer not to use it, so I thought I would provide this option. But honestly, sometimes another dirty skillet and 7 minutes of stirring is not something you have time for, and you just need to open a  can and be done with it! I've been there! No one is judging you. You do you, and use whatever version you like. They taste VERY similar. I bet you couldn't tell in a taste test.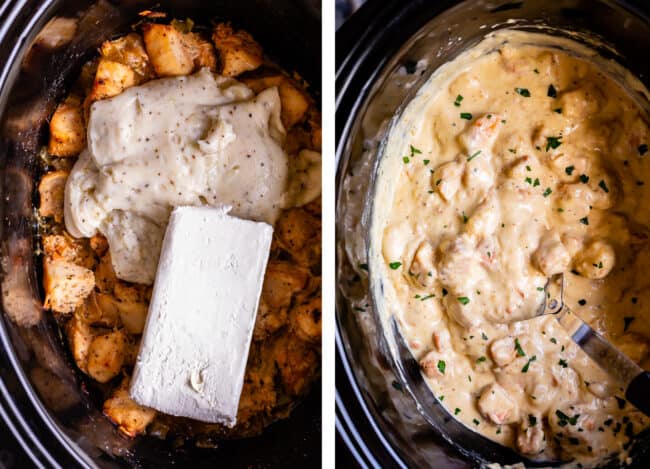 Once the chicken is cooked, add the can of soup (OR homemade white sauce) and a block of cream cheese. Stir it up and voila! Dinner DONE. Toss it with some noodles and you're good to go.
Slow Cooker Chicken Stroganoff is one of my favorite meals to bring to new moms. It's super easy to put together, easy to double if you want to feed your own family the same meal, and to top it off it's very kid friendly. So if you are bringing a meal to a family with toddlers and young kids, you are giving mama the gift of not having to fight with her kids about eating dinner. Butter the noodles well and leave them separate from the sauce for the kids who aren't at all adventurous, but I promise the ones who try it will love it. And if they won't take a bite, more for mom and dad!
More easy chicken dinners you are going to love!
Grandma Georgia's Slow Cooker Chicken and Dumplings << one of my favorite meals ever from my dear grandma who has passed on.
Pan Seared Chicken in Lemon Basil Cream Sauce << this is super easy and has tons of flavor!
Easy Baked Pesto Chicken << 4 ingredient dinners for the WIN.
30 Minute Pesto Penne with Chicken and Cherry Tomatoes << my friend Melissa gave me this recipe, it's her go-to meal for bringing a meal to a family in need!
Chicken, Mushroom, and Cream Cheese Stuffed Rolls << a classic from my mom! Love these!
Slow Cooker Basil Chicken in Coconut Curry Sauce << one of the top recipes on my site with good reason!
Teriyaki Chicken Rice Bowls (Slow Cooker) << this is another great no-brainer dinner.
Slow Cooker Chicken Cacciatore from FoodieCrush
Cheesy Crock Pot Chicken and Rice from Real Housemoms
Slow Cooker Honey Garlic Chicken from Family Food on the Table
Facebook | Pinterest | Instagram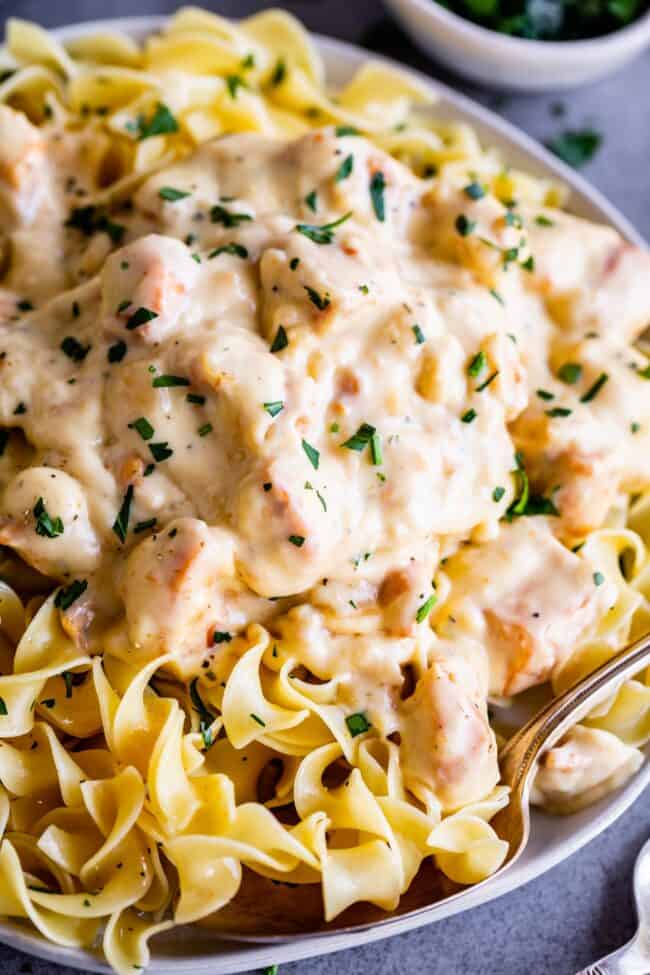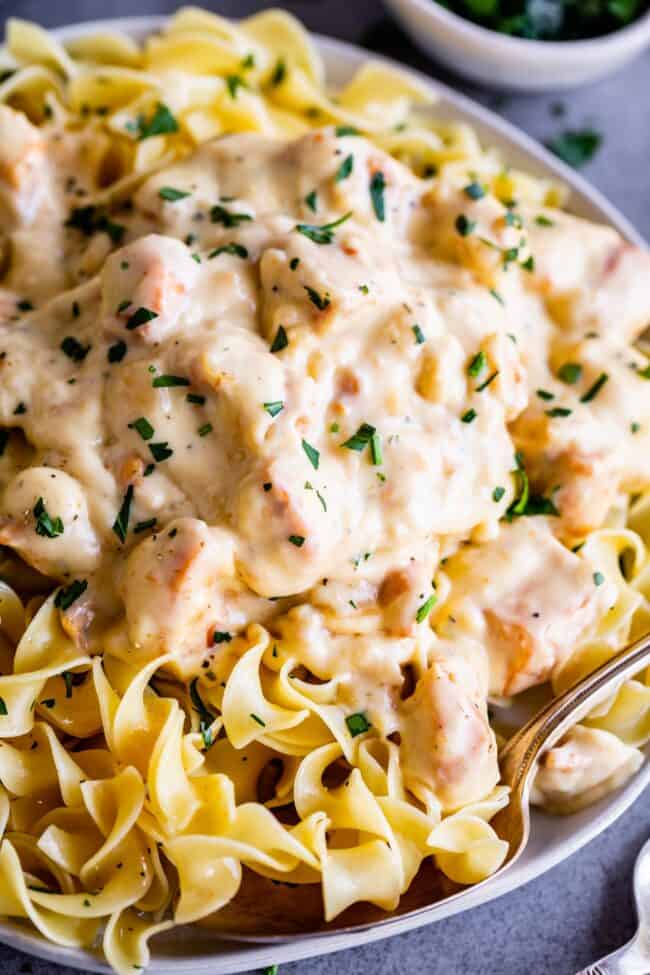 print
Did you make this recipe?
Leave a review »
Slow Cooker Chicken Stroganoff
4-5
adjust servings
This recipe for Slow Cooker Chicken Stroganoff is a huge crowd pleaser and SO easy to put together! Who can say no to creamy noodles and chicken? You can either use a can of cream of chicken soup or use the simple homemade sauce recipe I've included. This is one of my favorite meals to bring to new moms.
Ingredients
For the chicken
1

and 1/2 pounds chicken breasts (about 3)

1/2

onion, chopped

1

(.7 ounce) Italian salad dressing mix

2

tablespoons white wine (optional)

2

tablespoons butter, chopped into pieces

1

(8 ounce) package cream cheese
For the white sauce* (see note)
1/4

cup (1/2 stick) butter

2

cloves garlic, minced

1/4

cup flour

1/2

cup chicken broth

1/2

cup milk

1

teaspoon kosher salt

1/2

teaspoon black pepper

12

ounces egg noodles, cooked (to serve with)

chopped parsley, optional (to garnish)

sour cream, to garnish (optional)
Instructions
Chop the chicken into bite-size pieces and place in the slow cooker.
Add 1/2 an onion, chopped.
Sprinkle the dry Italian salad dressing mix over the chicken and onions. Rub the seasoning in with your hands.
Add 2 tablespoons white wine, off to the side so that you don't wash all the seasoning off. (I used cooking wine. You can skip the wine entirely if you want, but I do like the depth of flavor it adds. There's no need to replace it with anything, not even water. I promise. Just don't skip the butter.)
Sprinkle the chopped butter on top of the chicken.
Put the lid on the slow cooker and cook on high heat for about 3 hours, or on low heat for about 4-5 hours.
When the chicken is cooked and tender, open the lid and add a package of cream cheese. Put the lid back on.
Make the white sauce. (OR you can skip the homemade sauce and add a 10-ounce can of cream of chicken soup to the crock pot at this point.)
In a medium skillet, melt 1/4 cup butter over medium heat.
Add 2 cloves of minced garlic and saute for 1 minute or until fragrant.
Whisk in 1/4 cup flour until a paste forms.
Slowly (slowly) add in 1/2 cup chicken broth while whisking constantly.
Add the milk slowly, whisking the whole time.
When the sauce has come together, remove from heat and add 1 teaspoon kosher salt and 1/2 teaspoon black pepper.
Add the white sauce to the crock pot. If the cream cheese is softened, you can use a wooden spoon to gently stir it all together (try not to break up the chicken too much). If the cream cheese is not smooth, put the lid back on and let it heat up for another 10-15 minutes.
Meanwhile, cook the egg noodles according to package instructions.
Serve the chicken over the hot noodles and garnish with parsley, if desired. You can also serve it with rice, mashed potatoes, polenta, etc. Sometimes I like to garnish servings with a bit of sour cream, especially if you are eating leftovers on day 2 or 3 and the sauce has dried out somewhat.
by The Food Charlatan

If you make this recipe,
share it on Instagram
 using the hashtag
#TheFoodCharlatan
so I can see it!
We are a participant in the Amazon Services LLC Associates Program, an affiliate advertising program designed to provide a means for us to earn fees by linking to Amazon.com and affiliated sites.