This super easy broccoli pasta recipe is a quick meal for a busy night! The veggies keep it healthy, and the garlic, lemon, and red pepper make it extra tasty, making it one of my favorite quick pasta dishes. Originally published December 9, 2015.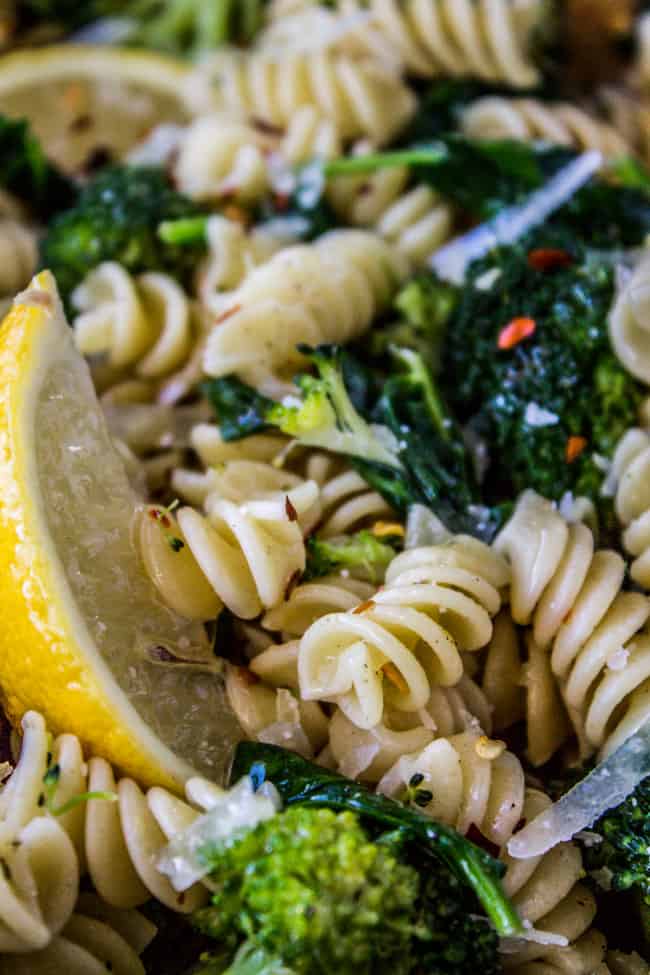 You know when you are on the phone with someone and you have to climb stairs and pretend like you are not totally winded? I always fail miserably. I get almost to the top of the stairs sounding totally normal, and then suddenly I interrupt whatever they are telling me, (GASP) "Sorry, (deep breath), I'm climbing the (puff puff) stairs and I think I'm (wheeze) going to die."
So a couple weeks ago I decided that I need to start some kind of exercise regime so that I don't die from climbing stairs before I'm even 30.
So I did some yoga for the first time ever after some recommendations from my girl Sarah over at Broma Bakery. (She is all about the yoga. Check out them abs.) And I loved it! I did an hour and twenty minutes the first day and vowed to do it every day for the rest of my life. I told my whole family. "I'm a yoga person now! I love it!"
The next day I did an hour. The next day I did 45 minutes.
Last night my dad asked how the daily yoga was going. My brother chimed in, "I watched her do some yoga yesterday…for 45 seconds."
45 minutes…45 seconds…who's counting really?
And seriously who's got time for yoga when there are Christmas cookies to be eaten.
I don't know about you but all of my free time in December is dedicated to baking, which means I'm usually too tired to feed my family actual dinner. Ain't nobody got time for extravagant dinners when there are presents to wrap and stockings to stuff and Christmas PJs to lounge in. (Let's be real.)
That's where this one-pot meal (with vegetables to boot) swoops in to the rescue and keeps me from eating Christmas cookies for breakfast, lunch, and dinner. After all, if you haven't got your health, you haven't got anything (Princess Bride anyone??).
Pasta and Broccoli Boiled Together!
Yep, you read that right. None of this boil the pasta in one pot, boil the broccoli in another. Just throw it all in together. Perfectly al dente pasta and deliciously tender broccoli cooked together, tossed in a salty, lemony, garlicky, slightly spicy cheese sauce.
Oh, and it's also ready in 20 minutes flat.
Does it get any better than that?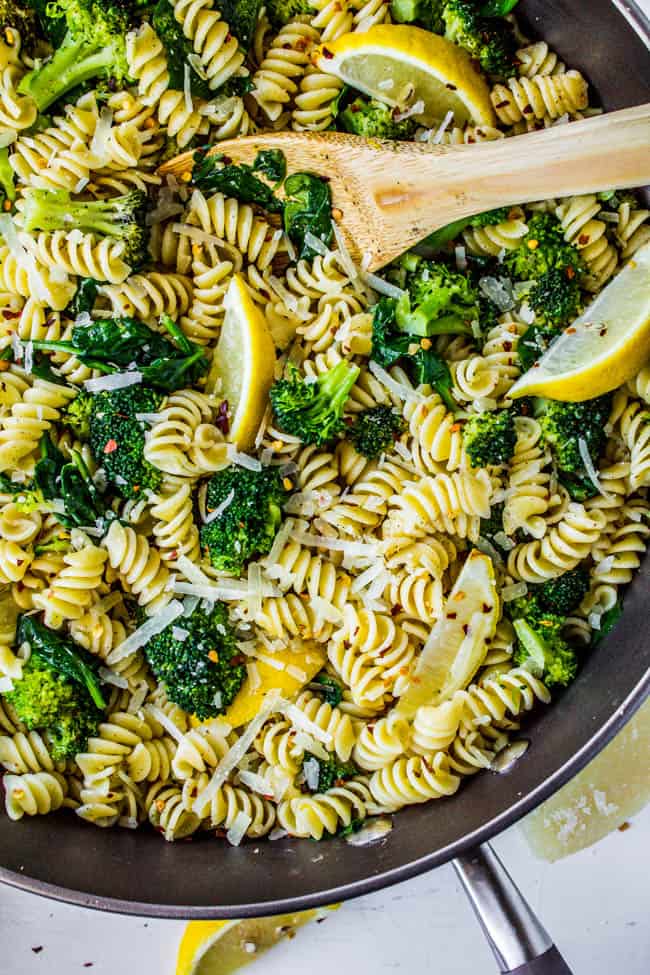 Ingredients for Broccoli Lemon Pasta
This one-pot broccoli lemon pasta is loaded with fresh and flavorful ingredients! Here's what you'll need. Full recipe can be found in the recipe card down below.
Water
Salt
Broccoli
Rotini pasta
Spinach
Butter
Lemon
Garlic
Crushed red pepper
Parmesan
Olive oil
Salt and pepper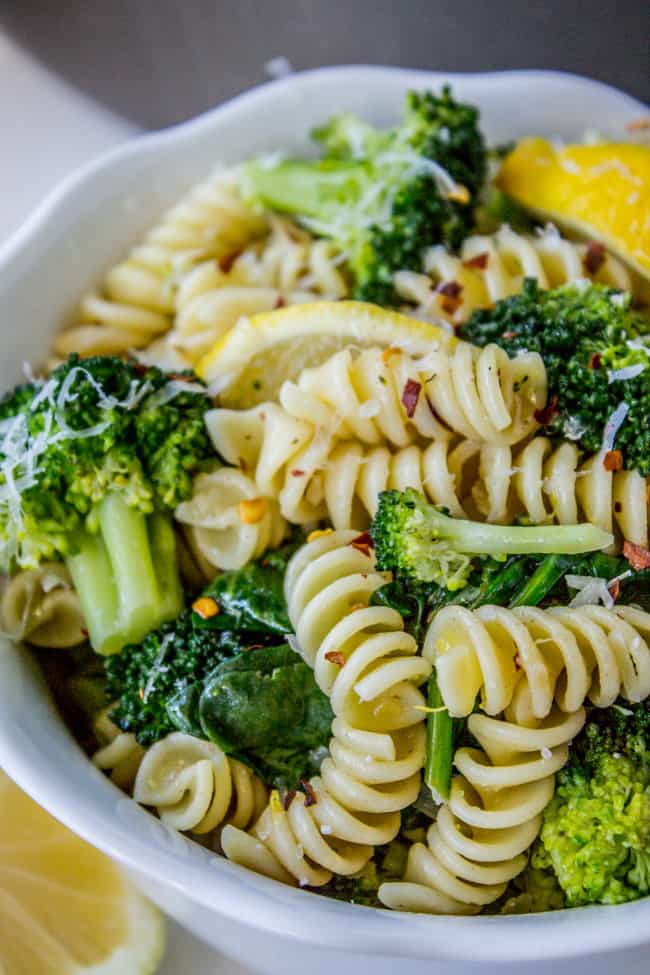 How to make easy pasta recipes
This is the best kind of recipe, because it's so basic that you can literally swap in whatever you have on hand. It's just rotini, broccoli, spinach, and a simple lemon-butter-garlic sauce. No broccoli? Use asparagus! No rotini? Use spaghetti! No lemons? Use another acid like red wine vinegar (make sure you taste as you go!)
If you do use a lemon though, I highly recommend zesting with a microplane grater (here's the one I have). It will take you 30 seconds and amps up the flavor a ton. It's my favorite kitchen tool!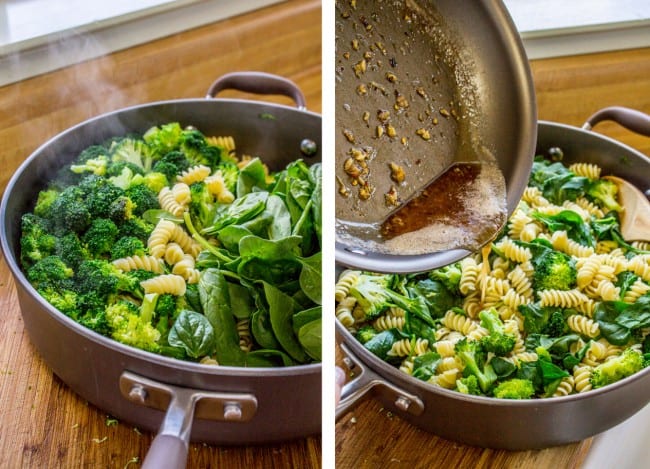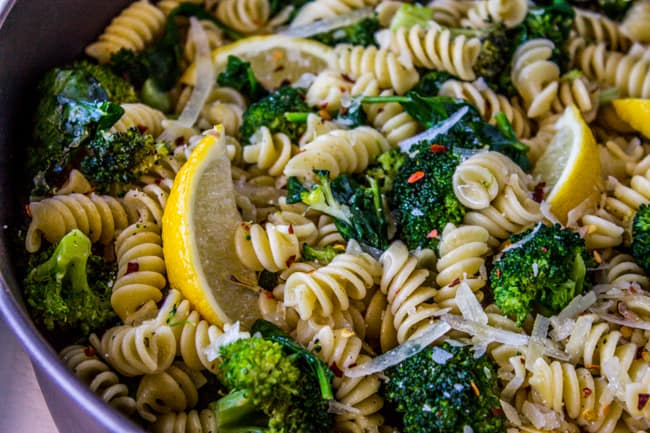 Do you guys have these Analon pans? They are awesome. I took the top left picture so that you could see the part where it says "Metal Utensil Safe." (And so you could see me taking the photo. HIII!!) How many pans have you ruined because you used a metal spoon on it? Soooo many. I love this!
Variations for Pasta with Broccoli
Use another pasta. Pretty much any pasta shape will work! Just make sure it requires around the same cooking time as the rotini would (about 7 minutes), so it cooks at the same rate as the broccoli.
Add a protein. Bulk up the pasta with cooked chicken, chopped bacon, sausage, or even chickpeas to keep it vegetarian.
Make it cheesier. Love cheesy pasta? Add more cheese! Feta or mozzarella would be delicious, but let your cheese-loving heart guide you.
Add veggies. Give your meal even more color and flavor with zucchini, mushrooms, bell peppers, red onion, asparagus, you name it. These vegetables don't do well boiling, so toss in some already cooked leftovers, or roast, saute, or grill before stirring them in with the parmesan.
Make it creamy. Mix in a splash of heavy cream or half-and-half along with the lemon butter if you're craving something decadent.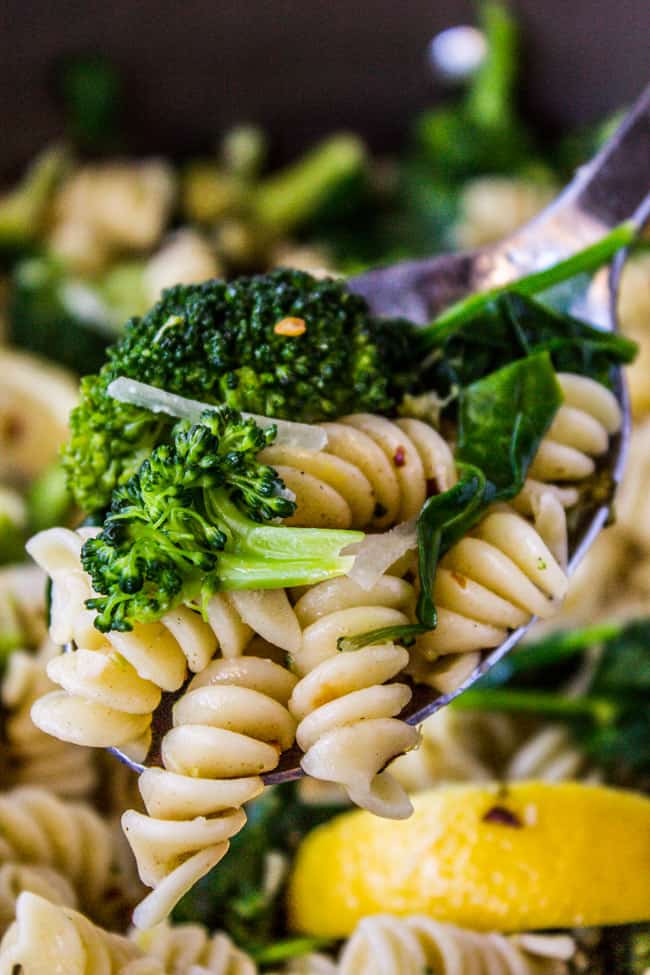 Storing, Freezing, and Reheating Broccoli and Pasta
Leftover pasta with broccoli will last in an airtight container in the fridge for 3-4 days. You can also freeze it for up to 3 months, but keep in mind the texture won't be quite the same.
To reheat, thaw in the fridge if frozen, then warm on low on the stove or in the microwave until heated through. Adding a splash of chicken or vegetable broth when heating will help preserve the texture. No mushy pasta!
What goes with broccoli pasta?
This pasta and broccoli is a full meal on its own, but you can definitely add homemade bread or rolls (no one will complain, I promise) or serve an appetizer if you're feeling fancy. Here are a few of my favorite appetizers and breads:
Other easy dinner recipes to love:
Facebook | Pinterest | Instagram

Lemon Broccoli Pasta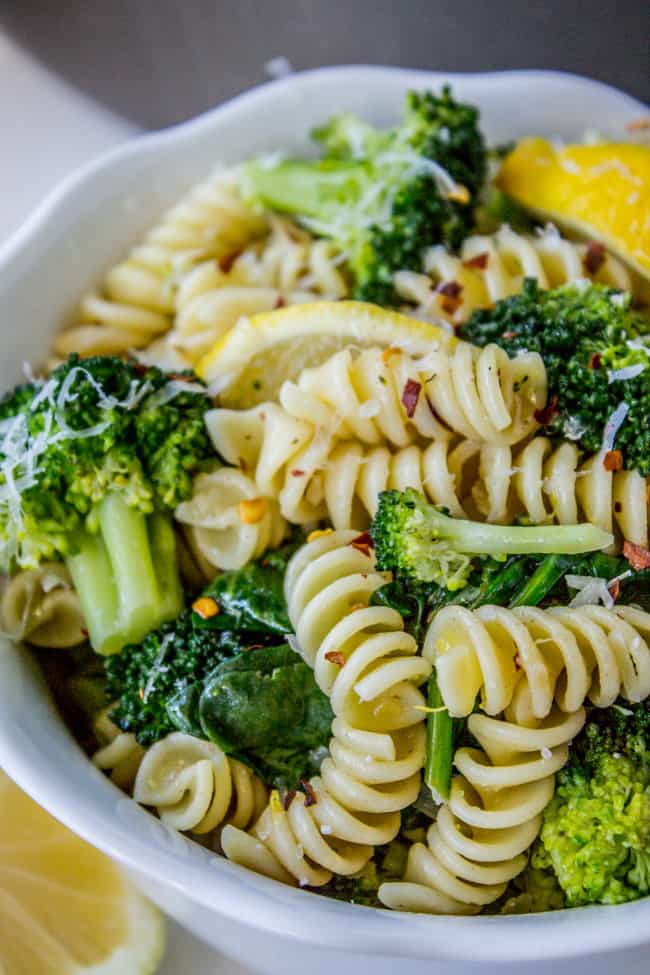 This super easy broccoli pasta recipe is a quick meal for a busy night! The veggies keep it healthy, and the garlic, lemon, and red pepper make it extra tasty making it one of my favorite quick pasta dishes.
Ingredients
3

quarts

water

1

tablespoon

salt

1 & 1/2

pounds

broccoli

,

fresh

1

pound

rotini pasta

3-4

cups

spinach

4

tablespoons

butter

1

large

lemon

,

zested and juiced

2

cloves

garlic

,

crushed and minced

1/4

teaspoons

crushed red pepper

1

cup

Parmesan

,

fresh, plus more to garnish

olive oil

,

to garnish

salt and pepper

,

to taste

lemon wedges

,

fresh, to garnish
Instructions
In a large skillet or pot, bring the salt and water to a boil.

While you wait, prep your broccoli by trimming the stems and cutting the florets into similar sized pieces (I like mine bite-size.)

Add the rotini and boil on high for 4 minutes. Add the broccoli, cover, and set a timer for 3 minutes (Leave the burner on high enough to keep a rolling boil).

When the timer goes off, turn off the heat and drain the pasta using a lid or colander. Return to the pan and stir in the spinach.

Sprinkle with lemon zest. Let it sit for a few minutes so the spinach wilts.

Meanwhile, in a small skillet melt the 4 tablespoons butter over medium heat. (I let mine get brown, because that's just how I roll, but that's not necessary).

Add the minced garlic and crushed red pepper and saute for about 1 minute, until fragrant.

Turn off the heat and add 2-3 tablespoons fresh lemon juice. Add the lemon butter to the pasta and stir.

Stir in 1 cup fresh parmesan cheese. Add a drizzle of olive oil and season with salt and pepper to taste.

Garnish with more cheese, fresh lemon wedges, and eat hot!
Notes
Recipe adapted from my brother Nathan, who got the recipe from a girl he went on a date with a long time ago.
Nutrition
Calories:
462
kcal
|
Carbohydrates:
67
g
|
Protein:
20
g
|
Fat:
14
g
|
Saturated Fat:
8
g
|
Polyunsaturated Fat:
1
g
|
Monounsaturated Fat:
3
g
|
Trans Fat:
1
g
|
Cholesterol:
31
mg
|
Sodium:
1576
mg
|
Potassium:
659
mg
|
Fiber:
6
g
|
Sugar:
5
g
|
Vitamin A:
2505
IU
|
Vitamin C:
115
mg
|
Calcium:
305
mg
|
Iron:
3
mg
This is a sponsored conversation written by me on behalf of Anolon. The opinions and text are all mine!