Skinny Oatmeal Chocolate Chip Cookies
These healthier oatmeal chocolate chip cookies have NO sugar, NO white flour, and only 2 tablespoons of butter in the whole batch! They are the perfect way to satisfy your mad chocolate cravings when you are supposed to be losing holiday pounds.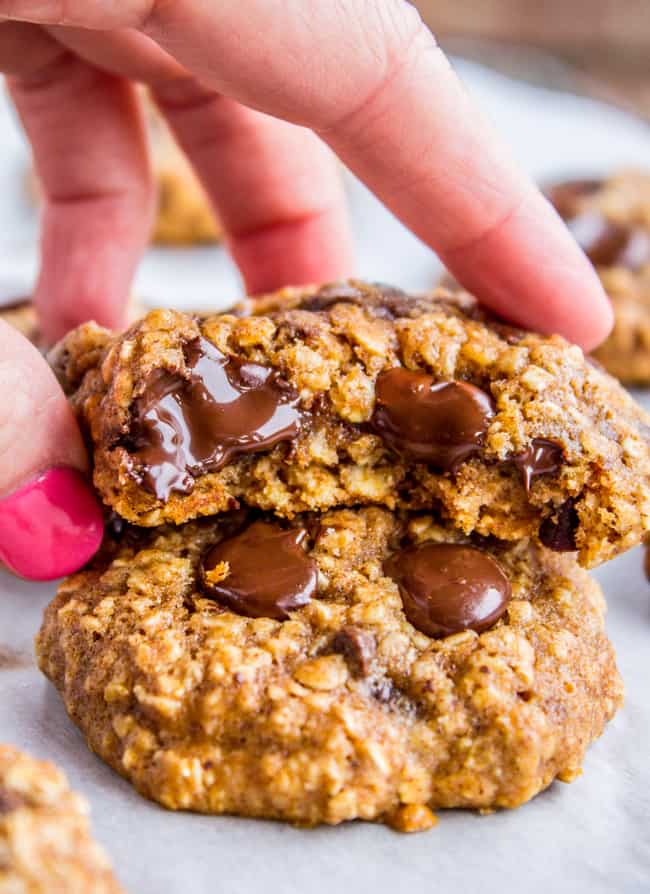 I saw this bumper sticker today: "How's my driving?   Shoot me a text." HA!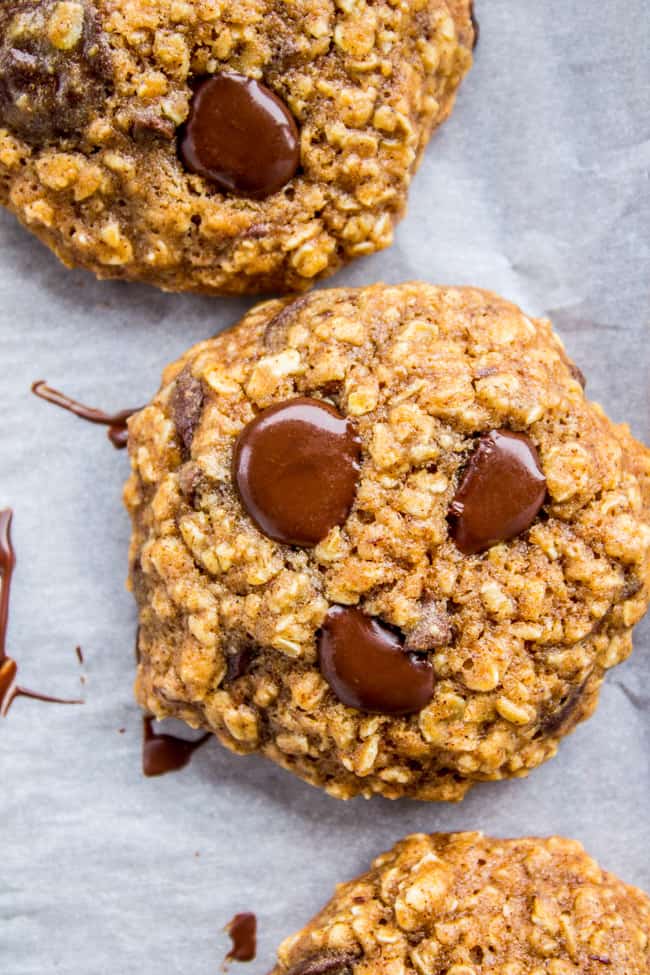 So my best friend Sarah announced on Facebook yesterday that she had just spent 4 hours creating the "Daniel Craig in Casino Royale 6 Week Meal Plan" as requested by her husband, and if anyone wanted a copy they could shoot her an email. (Click HERE if you want to see it! Thanks Sarah!) It is exactly what it sounds like: 40 days of meals similar to what Daniel Craig ate while training to be James Bond.
Eric and I were talking later and he was wondering if he should do it. I said no, I prefer soft bellies actually (mine included, most importantly). And I also said, "Daniel Craig is like 65 and not cute. Like a grandpa. But with abs. It's disturbing."
And he said, "You're just wrong, Karen. Daniel Craig is legitimately hot."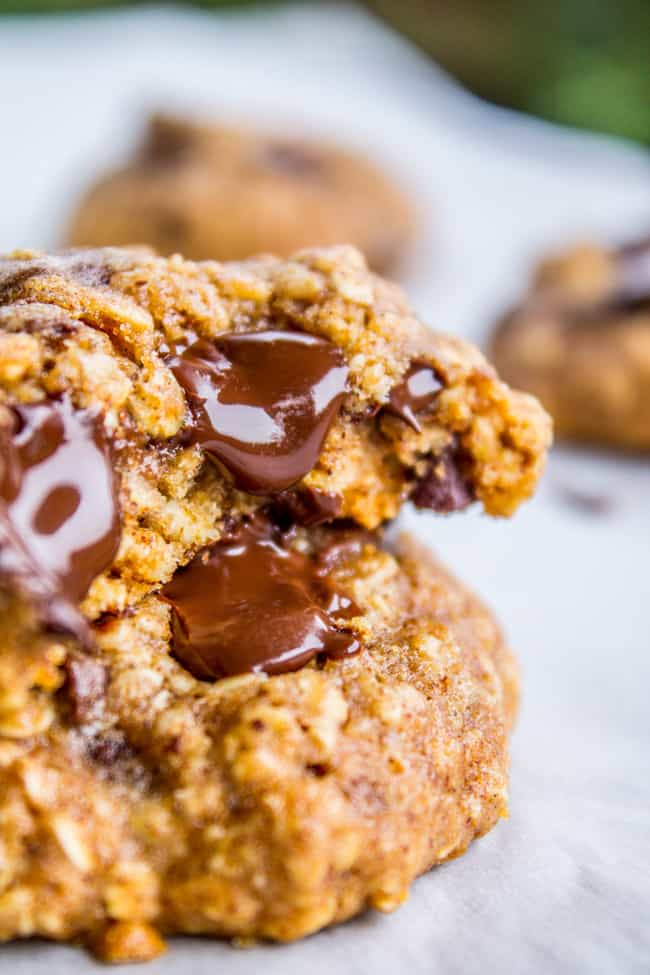 Well there you go, Daniel Craig. You win today. I think my husband has a man-crush on you.
But really, am I the only one?? Pierce Brosnan made a much sexier James Bond if you ask me.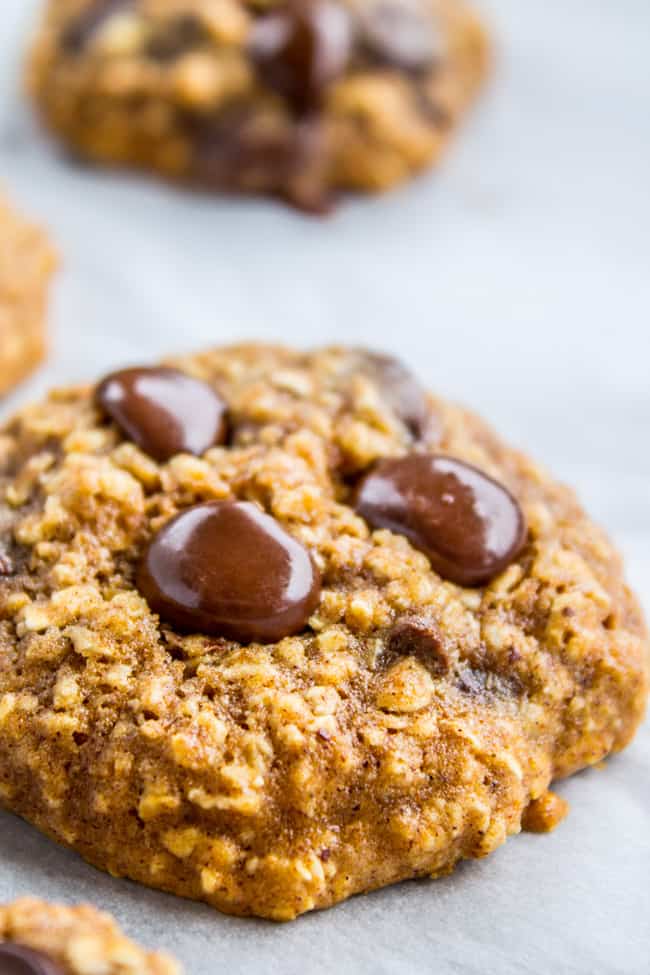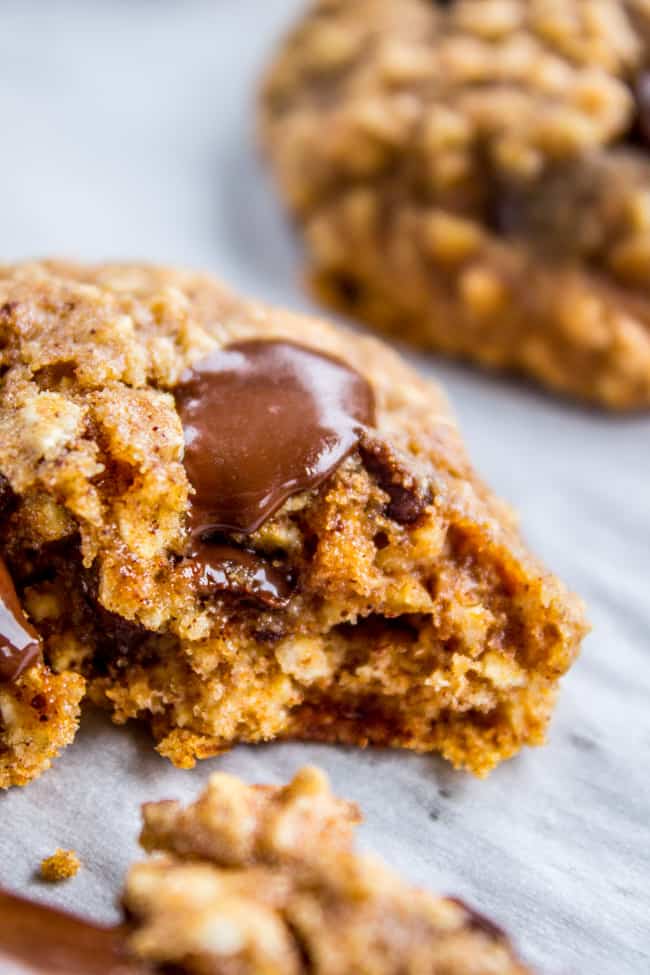 Are you following a diet or any kind of meal plan this January? I had plans. But I also just ate 2 cookies, so…
But at least they were healthy-ish ones! My friend Amy from Amy's Healthy Baking wrote a book all about Healthier Chocolate Treats and this is one of her recipes. How cool is that?? She is so talented. Her blog is all about healthy baking. (Check out these Healthy Soft Chocolate Chip Cookies. They look amazing!)
And there is even more chocolate in the book. In every recipe actually! My kind of cookbook.
These Skinny Oatmeal Chocolate Chip Cookies are perfect for January! (Or anyone who's trying to look like Daniel Craig…) They are moist and lightly spiced with cinnamon. Amy bakes hers with agave, but I didn't have any so I subbed honey. It changed the flavor of course, but I like it! Gave it another dimension. The other thing I love about this recipe is that it only makes 15 cookies–or 12 if you are a dough fanatic like me–so you don't have leftovers lying around for days (like when I make my Favorite Chocolate Chip Cookies.)
If you love healthy baking definitely check out Amy's book. It has over 50 tried and true recipes!
If you make these cookies, snap a photo and tag #thefoodcharlatan on social. Remember to tag #HealthierChocolateTreats too so that Amy can see it! I'm sure she would love that!
Facebook | Pinterest | Instagram | Twitter
Other Amazing Recipes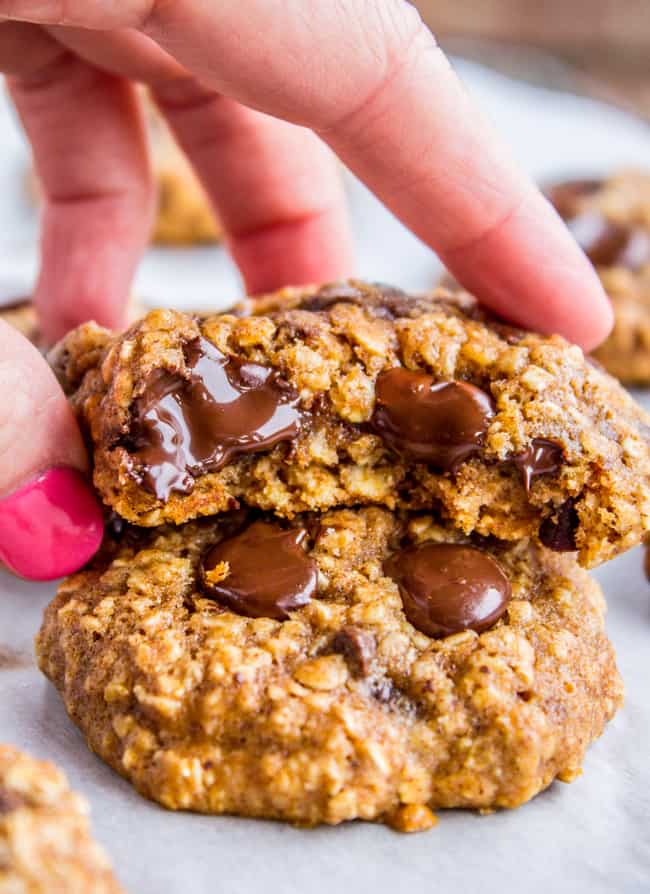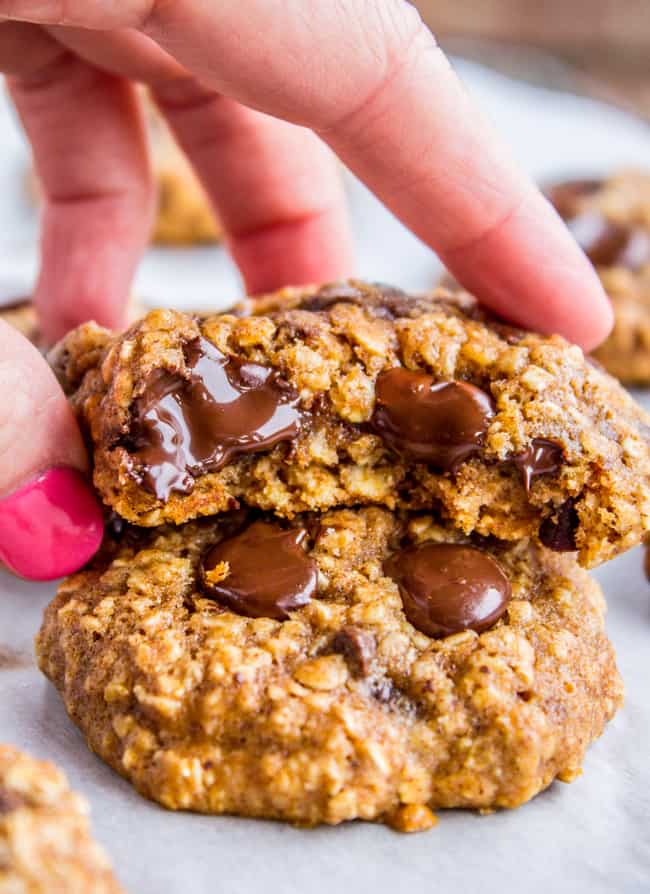 print
Did you make this recipe?
Leave a review »
Skinny Oatmeal Chocolate Chip Cookies
Makes 12-15 cookies
adjust servings
Ingredients
1

cup quick oats

3/4

cup whole wheat flour, spooned and leveled

1

and 1/2 teaspoons baking powder

1

and 1/2 teaspoons cinnamon

scant 1/2 teaspoon kosher salt

2

tablespoons butter, melted and cooled

1

teaspoon vanilla

1

large egg

1/2

cup honey

about 1/2 to 3/4 cup dark chocolate chips, divided
Instructions
Preheat oven to 325 degrees F. Line a large baking sheet with parchment paper or a silpat.
Pull out 2 medium bowls, one for dry ingredients, one for wet.
In one bowl, whisk together the oats, flour, baking powder, cinnamon, and salt.
Melt the butter in the other bowl. You don't have to melt it all the way, if there are a couple lumps it's okay. Let cool slightly.
Whisk in the vanilla, then the egg. Whisk in the honey.
Add the wet ingredients to the dry ingredients and use a wooden spoon to stir until it has just come together (don't overdo it).
Save out about half of the chocolate chips. Use a sharp knife to roughly chop the remaining chocolate, then fold it into the dough.
Refrigerate the dough for about 30 minutes, or freeze for about 15 minutes.
Use your hands to shape the dough into roughly 15 cookies (or 12 if you eat a lot of dough like me...)
Place on the prepared baking sheet about 2 inches apart.
Bake in the preheated oven for about 12-13 minutes, or until they have just started to brown on the edges.
Once you remove them from the oven, immediately press the remaining chocolate chips into the tops of the cookies.
Let cool on the pan for a few minutes before removing to a cooling rack.
Drink with lots of milk!
by The Food Charlatan

If you make this recipe,
share it on Instagram
 using the hashtag
#TheFoodCharlatan
so I can see it!
Source: slightly adapted from Amy's book Healthier Chocolate Treats
Here are some other cookie recipes you will love no doubt!
Skinny Texas Cowboy Cookies << these cookies also have very little butter and no white flour! They have lots of fun mix-ins!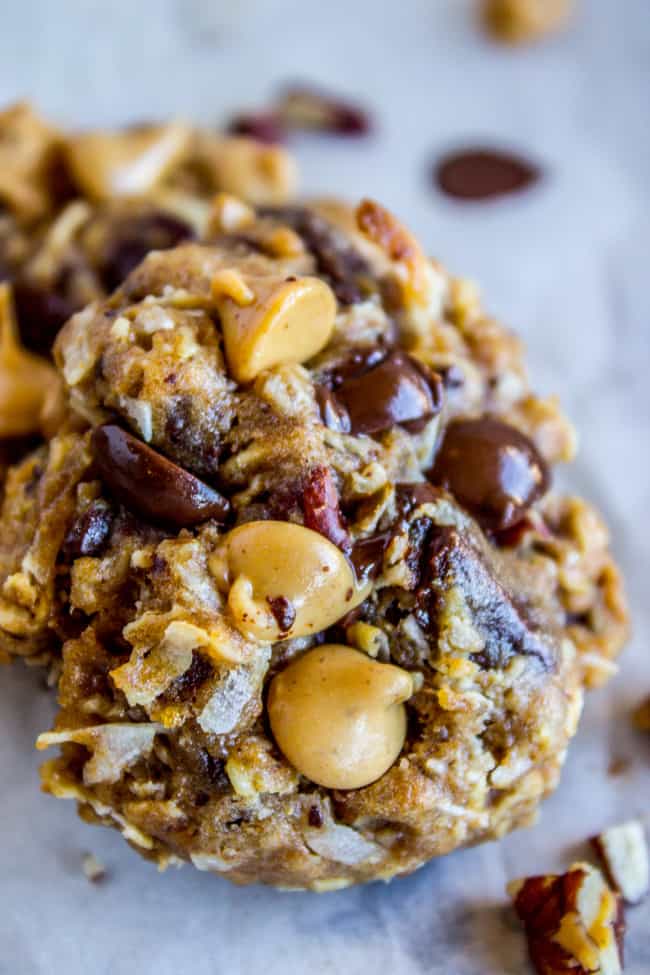 Mint Chocolate Chip Cookies <<one of the top recipes on my blog!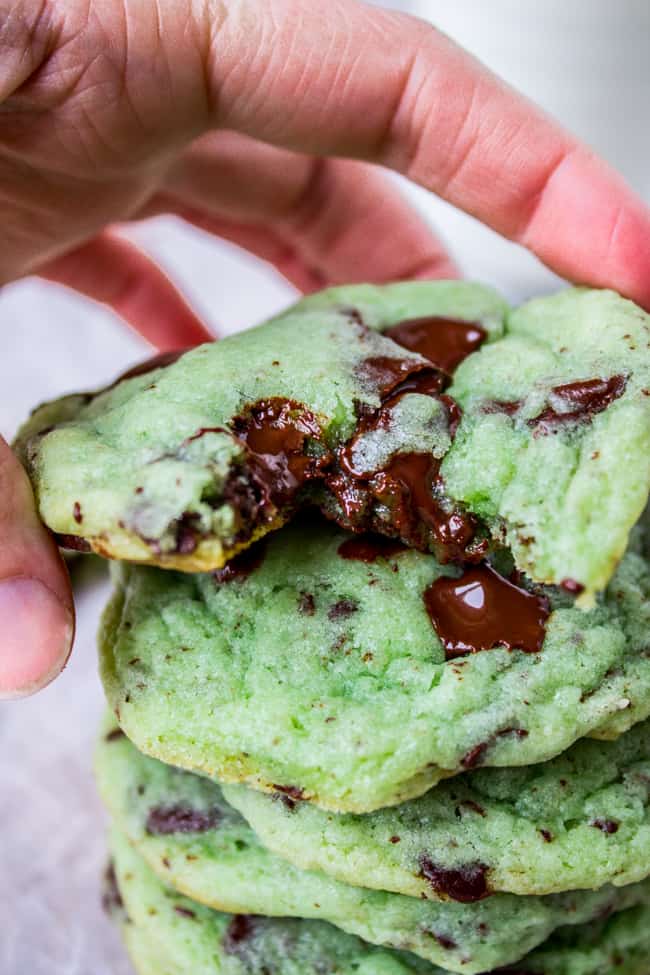 Edible Egg-Free Brown Butter Cookie Dough: <<< why bother baking when all you want is dough sometimes.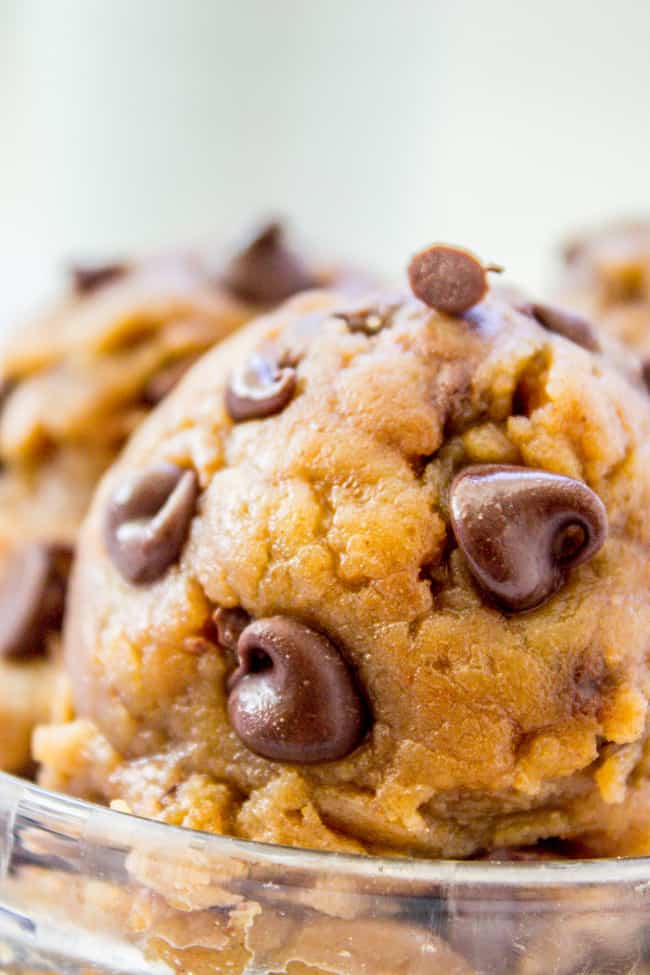 Coconut Frosted Sugar Cookies with Strawberry Hearts: << these are perfectly cute for Valentine's Day!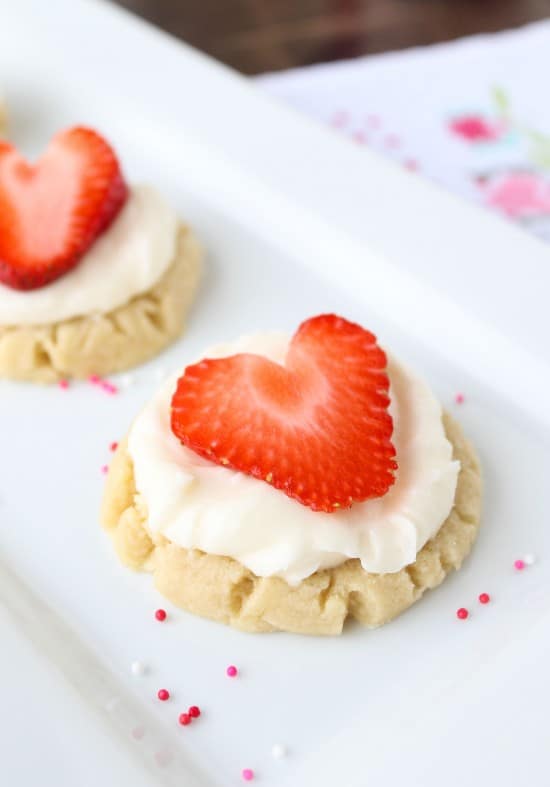 More healthy baked treats from my girls!
Best-Ever Healthy Chocolate Chip Cookies from Chelsea's Messy Apron
Heart Healthier Chocolate Oatmeal Cookies from Crazy fro Crust
Healthy Chocolate Chip Cookie Cake from Food Faith Fitness
We are a participant in the Amazon Services LLC Associates Program, an affiliate advertising program designed to provide a means for us to earn fees by linking to Amazon.com and affiliated sites.