How to Make Cauliflower Rice
Does Cauliflower Rice taste just like rice? Of course not! Don't be silly. But I promise it IS delicious, and is a great low carb substitute for any recipe you want to serve "over rice" when you are trying to cut calories. I will show you how to make cauliflower rice, it's actually super easy.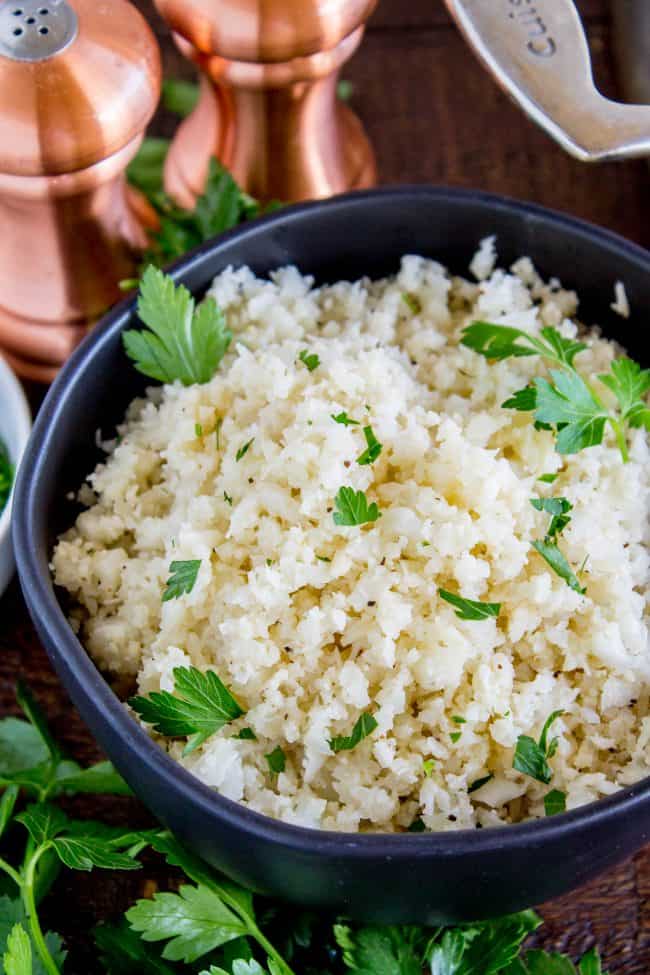 Has anyone found a way to incorporate twinkle lights into their every day, non-holiday decor? I'm struggling over here guys. I run into the putting-away-the-twinkle-lights-blues every January, and have done some serious research in the past on how to decorate with twinkle lights year round. I mean, without making my living room look like a freshman dorm. Last year I almost made this twinkle lights glitter canvas to brighten up my mantle.
What do you do to get past the January blues? Sometimes January feels like all the fun is over and I'm just left with a mountain sized to do list and a feeling like I should be on a diet, when really I don't want to be and I'm still eating leftover cookies for breakfast dessert. (Come on, I can't be the only one who has breakfast dessert?)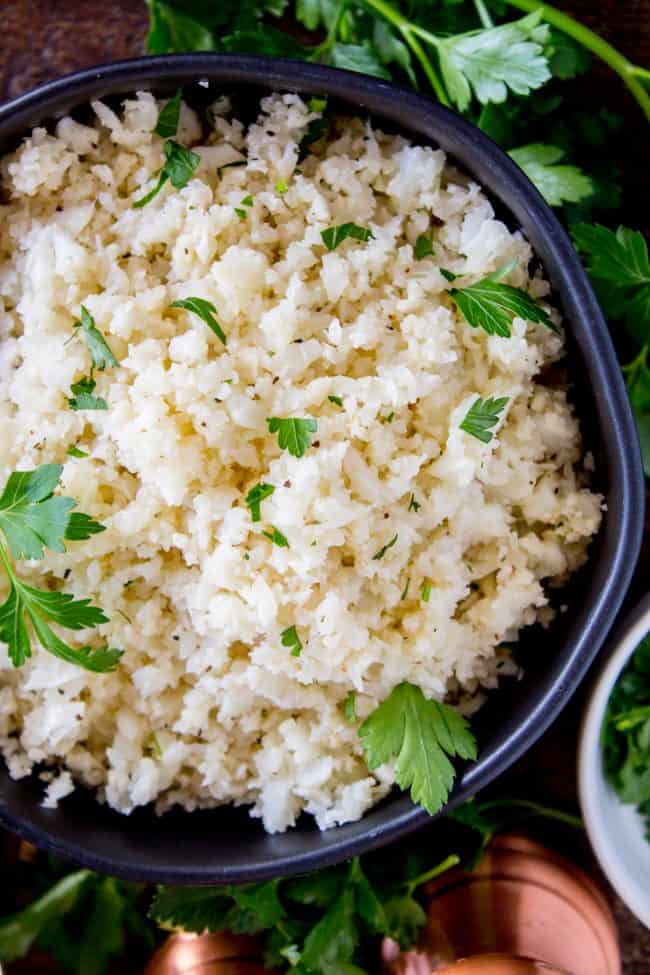 A few of the bloggers I follow on Instagram have mentioned that getting organized and deep cleaning is the best way to get past the January slump. Are you into that? Maybe I should try it. Eric and I just watched the first episode of the new Netflix series with Marie Kondo, the Magic of Tidying Up lady. It was pretty fun watching her whip people's houses into shape with her simple methods! But can I just say, so far it's a lot more fun watching other people get organized on TV than actually getting organized myself. Ha! Marie Kondo, come to my house!
What is cauliflower rice
Have you started any sort of diet now that the holidays are over? I'm not on a diet, per se, but I am back to my usual dinnertime recipes which are usually pretty low-carb; protein and vegetable focused. Cauliflower rice is a STAPLE side dish in our house, and I figured it was time to show you how to make cauliflower rice for yourself!
Cauliflower rice is basically just cauliflower that is chopped up really tiny and then sautéed in some butter or oil.  Don't get mad at me when you make this and realize it tastes like cauliflower! I'm not going to mislead you. But I promise, cauliflower rice is really quite delicious. My kids are used to it by now and will eat it with the same enthusiasm that they eat rice.
How to make cauliflower rice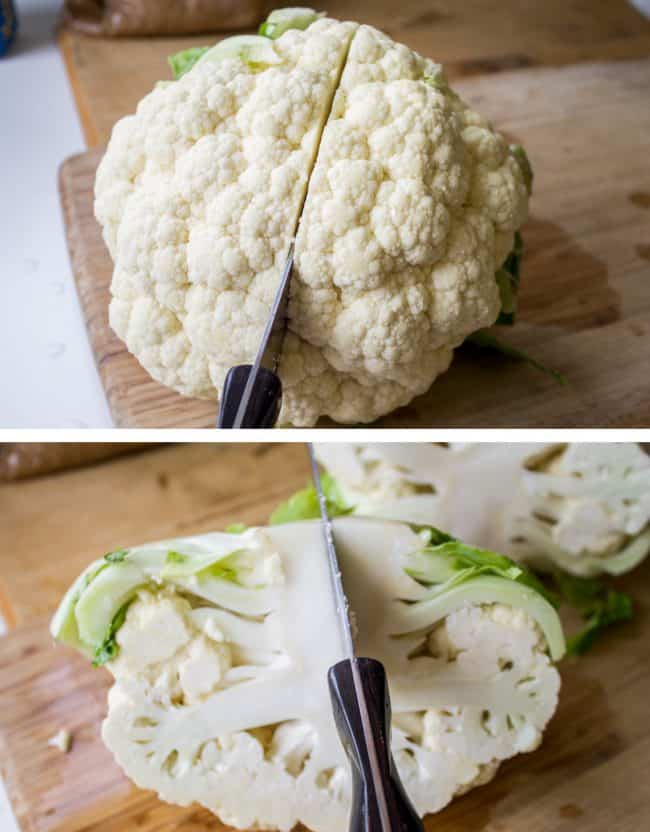 First you have to chop up the cauliflower really small. You can do this in the food processor or blender, which is absolutely the easiest and fastest way to get the job done. You can also just chop it up really tiny with a knife, which would take a while, or you can use a box grater (a cheese grater) to grate the cauliflower into rice-sized pieces.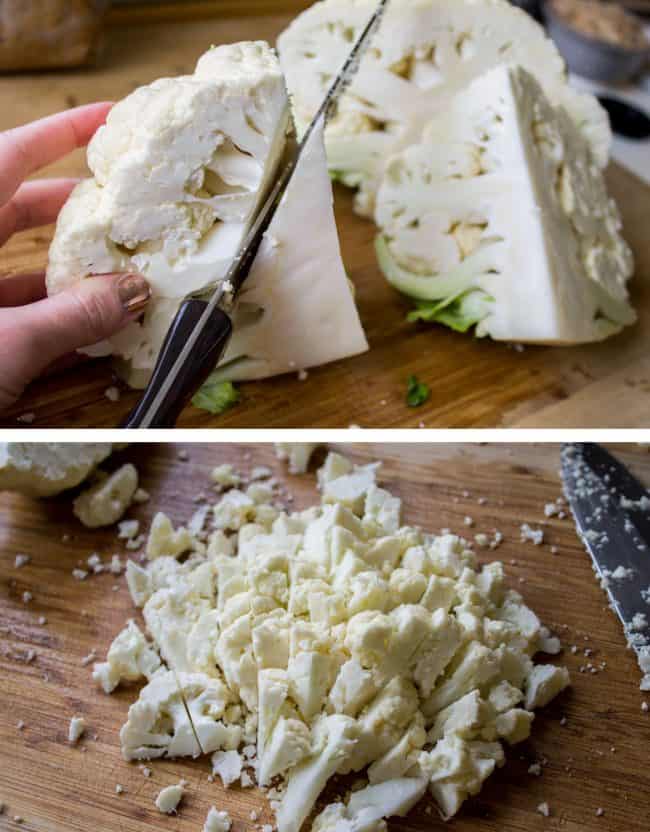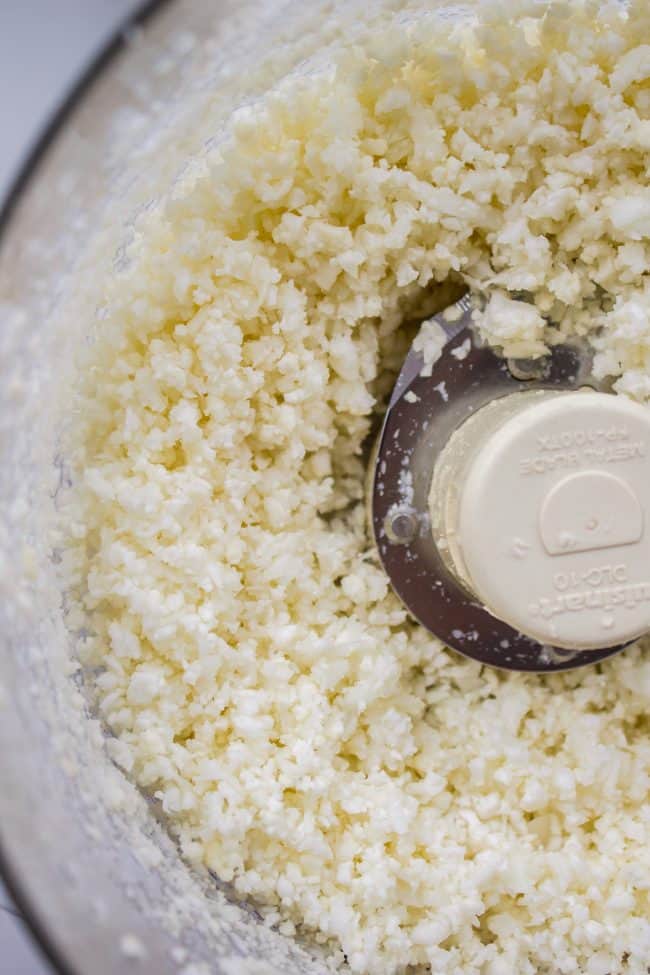 Once the cauliflower is riced, you just saute it in a fat of your choice (oil or butter) until it's crisp-tender, seasoning however you please. Today's recipe uses salt, pepper, garlic powder and onion powder. Pretty basic.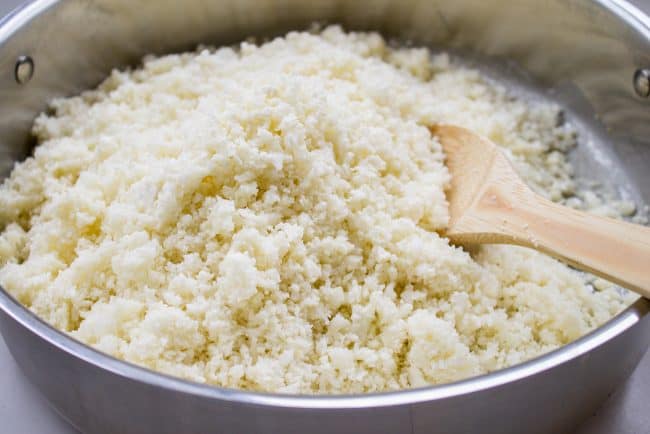 Cauliflower Rice recipes
I have several cauliflower rice recipes on my blog that go beyond the basics of butter, salt, and pepper.
This Asian Cauliflower Rice Recipe uses sweet chili sauce and pairs perfectly with any kind of Asian protein or curry. I'm partial to serving it with this Asian Pork Tenderloin with Ginger Glaze.
Indian Spiced Cauliflower Rice is bright yellow from the turmeric. I love all the spices in this one. It goes great with Chicken Tikka Masala!
Cauliflower Rice Skillet with Zucchini and Kielbasa is a stand alone dish that has kielbasa sausage and zucchini. It's so delicious!
Spanish Cauliflower Rice (To Eat with Mexican Food) is a perfect side for Aunt Shirley's Creamy Enchiladas, these Traditional Tejano Pinto Beans, or my favorite, my brother-in-law's grandmother's recipe for Traditional Tejano Carne Guisada.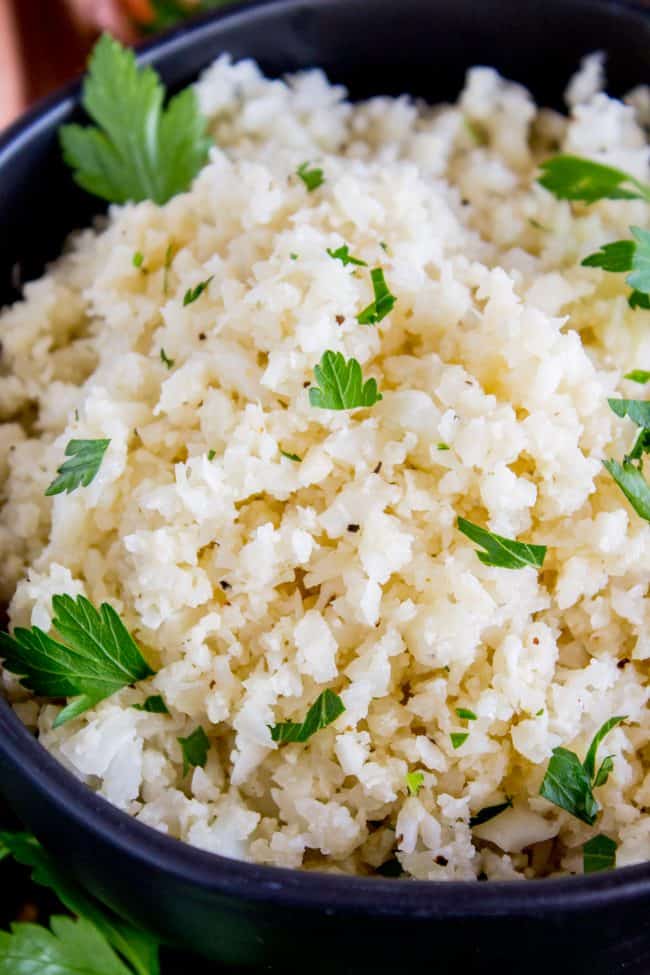 Recipes to make with cauliflower rice
My favorite things to eat with cauliflower rice include any type of curry or main dish meat: beef, pork, chicken, whatever. You can basically substitute cauliflower rice for any recipe that says "serve over rice," or any entree that you would traditionally pair with mashed potatoes.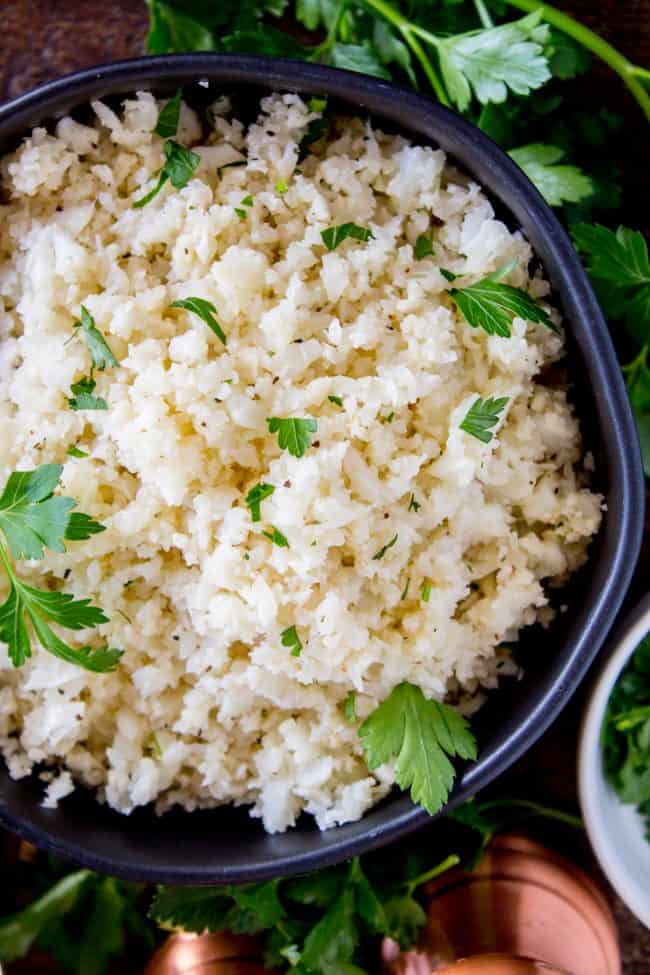 It's even better when there is some sort of sauce or glaze that will end up soaking into your cauliflower rice, mmm. Here are some of my favorite recipes to make with cauliflower rice:
Slow Cooker Basil Chicken in Coconut Curry Sauce
Easy Fall-Apart Pot Roast with Carrots (Slow Cooker)
Honey Balsamic Slow Cooker Pork Ribs
Asian Pork Tenderloin with Ginger Glaze (Slow Cooker)
Grilled Chicken with Spicy Honey Bacon Glaze
Pan Seared Chicken and Broccolini in Creamy Mustard Sauce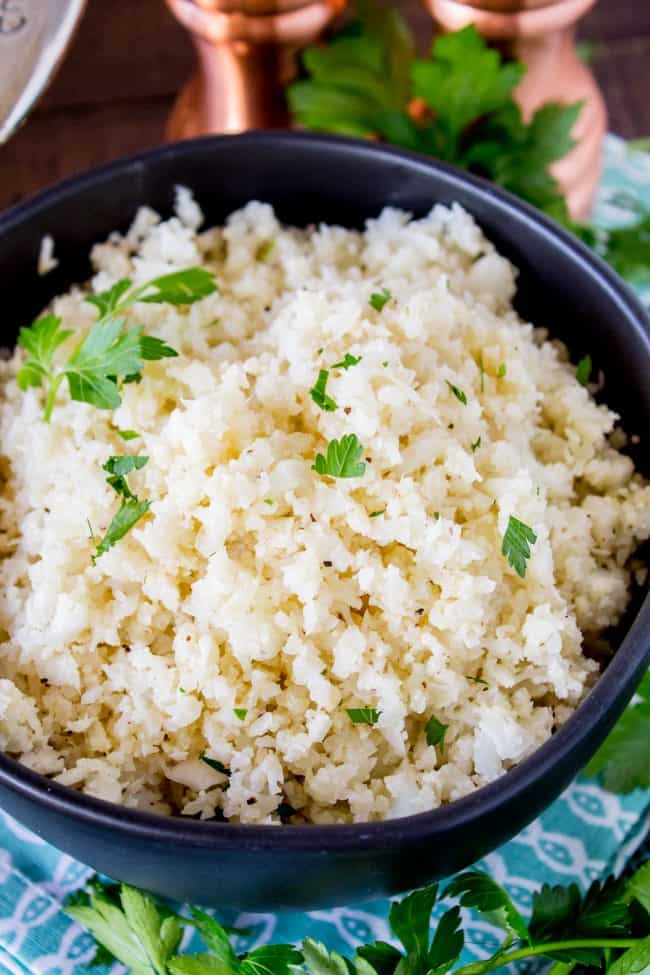 If you have never tried making cauliflower rice before, I encourage you to give it a try! It's a much healthier option than rice on a random weeknight. Like I said, my kids eat it, so we probably have it at least once a week. I rarely do a grocery store strip these days without grabbing a cauliflower. It's a staple! Let me know what you think when you try it!
(I just hit publish on this post and re-read it for typos. I'm leaving the "grocery store strip" because I mean come on, how exciting would THAT be??)
Facebook | Pinterest | Instagram
Two years ago: Slow Cooker Risotto with Italian Sausage and Butternut Squash
Four years ago: Kale, Chicken, and White Bean Soup with Parmesan Shavings
Five years ago: Lasagna Soup
How to Make Cauliflower Rice
Does Cauliflower Rice taste just like rice? Of course not! Don't be silly. But I promise it IS delicious, and is a great low carb substitute for any recipe you want to serve "over rice" when you are trying to cut calories. I will show you how to make cauliflower rice, it's actually super easy.

Ingredients
1

large

head of cauliflower

4

tablespoons

butter OR olive oil

,

butter tastes better

1

teaspoon

salt

,

or more to taste

1/4

teaspoon

pepper

,

or to taste

1

teaspoon

garlic powder

1/4

teaspoon

onion powder

parsley

,

to garnish
Instructions
Wash your head of cauliflower well.

Slice the cauliflower in half down the center, so that you are splitting the stem in half too (see photos). Split each half in half again, right down through the stem. Use your knife to slice at an angle to remove the stem entirely from each quarter.

Food processor instructions: Chop the cauliflower into 1 to 2 inch pieces. You don't need to bother keeping the florets intact, you're just going to pulverize them anyway.

Add about 1/3 of the chopped cauliflower to

a food processor

OR

a blender

(but use a food processor if you have it, it will chop more evenly). Pulse in 1 second intervals, until the cauliflower is chopped into pieces about the size of grains of rice. Don't go too crazy. You don't want to accidentally puree your cauliflower! If you are using a blender, you may need to use a spatula to scrape down the sides and pulse again. If the cauliflower gets pretty evenly riced, but there are still a couple big chunks, take the chunks out, chop them a bit smaller, and add it to the next batch.

Remove the cauliflower rice to a large bowl. Repeat with the remaining batches of chopped cauliflower. (If you add too much cauliflower to the machine at once, it will not rice evenly.)

How to rice cauliflower with a box grater:

After removing the stem, grate the cauliflower using the biggest holes on

your box grater

. It will make a mess and you will get cauliflower bits on the floor. Embrace it! Grab the broom! If you don't have a box grater, you could also just use a knife to chop up the cauliflower into rice-sized pieces.

Once all of your cauliflower has been riced, heat a large skillet over medium heat. Add 4 tablespoons of butter. You can use oil if you like; I prefer the taste of butter. If you are watching your calories, you could definitely get away with adding less oil or butter, even down to 1-2 tablespoons. But, um, butter is delicious and I like to be able to taste it.

Once the butter is melted and bubbly, add the cauliflower rice.

Season with 1 teaspoon salt, 1/4 teaspoon pepper, 1 teaspoon garlic powder, and 1/4 teaspoon onion powder. You can use any seasonings and any amount that you want. Remember, some cauliflowers are huge and some are tiny, so use your best judgment when seasoning.

Sauté for about 5-10 minutes, stirring often with a wooden spoon. How long you cook it really depends on how much cauliflower you have. Taste it; the "grains" should be crisp-tender, just like any sautéed vegetable. If you cook it too long, it will get mushy.

Remove from heat and serve immediately! See above the recipe for lots of ideas for what to serve this with.
Nutrition
Serving:
1
g
,
Calories:
156
kcal
,
Carbohydrates:
11
g
,
Protein:
4
g
,
Fat:
12
g
,
Saturated Fat:
2
g
,
Polyunsaturated Fat:
3
g
,
Monounsaturated Fat:
6
g
,
Sodium:
777
mg
,
Potassium:
646
mg
,
Fiber:
4
g
,
Sugar:
4
g
,
Vitamin A:
501
IU
,
Vitamin C:
101
mg
,
Calcium:
52
mg
,
Iron:
1
mg
More Recipes to make with Cauliflower Rice!
Cauliflower Rice Skillet with Zucchini and Kielbasa << this is a great low carb meal!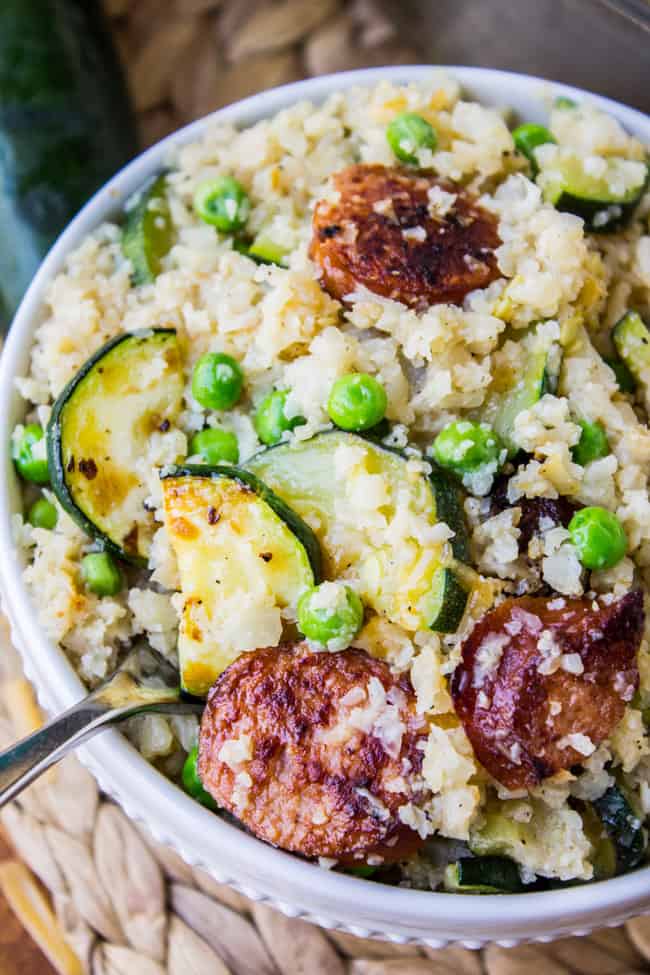 Slow Cooker Basil Chicken in Coconut Curry Sauce << This is one of the most popular recipes on my blog! I almost always serve it with cauliflower rice.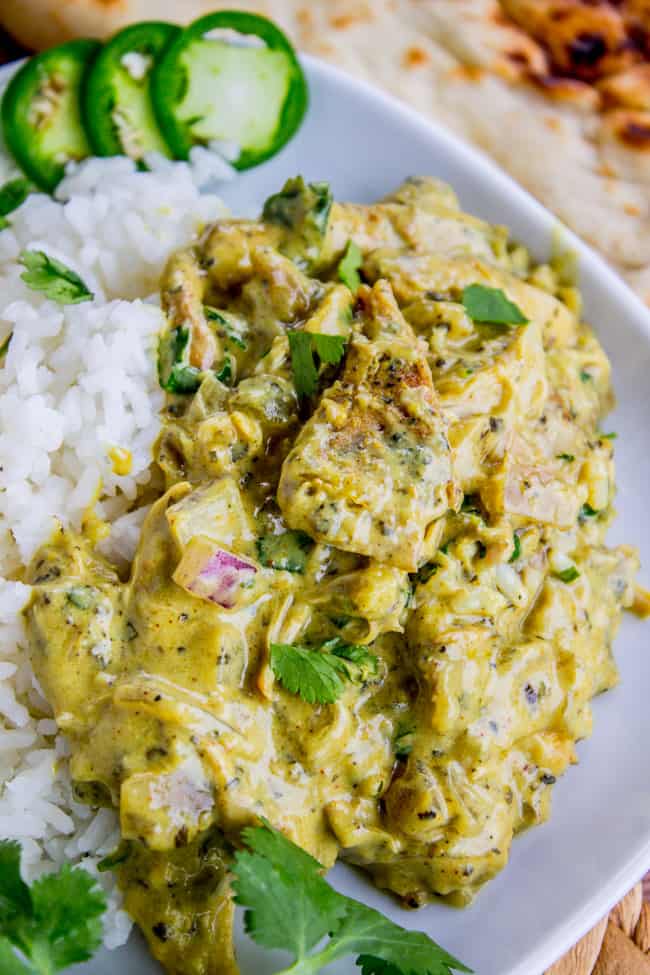 Brown Sugar Balsamic Pork Tenderloin << this recipe is killer. It's great for company!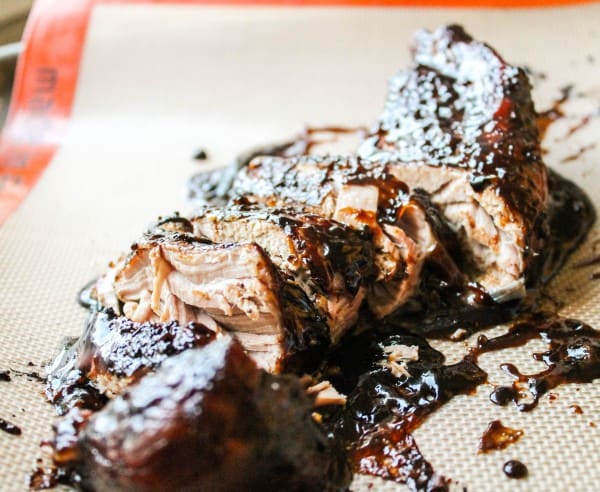 Recipes from friends to pair with Cauliflower Rice
Coconut Chicken Thai Curry from Tastes Lovely << I'm making this for dinner this week!
Chickpea Curry in the Slow Cooker from A Spicy Perspective
Sweet and Spicy Glazed Pork Tenderloin from Tidy Mom
We are a participant in the Amazon Services LLC Associates Program, an affiliate advertising program designed to provide a means for us to earn fees by linking to Amazon.com and affiliated sites.