Sausage, Potato, and Kale Soup
Sometimes I think schools should be required to teach a course on American produce items.  It would have been more useful for me than, say, Algebra 2 was.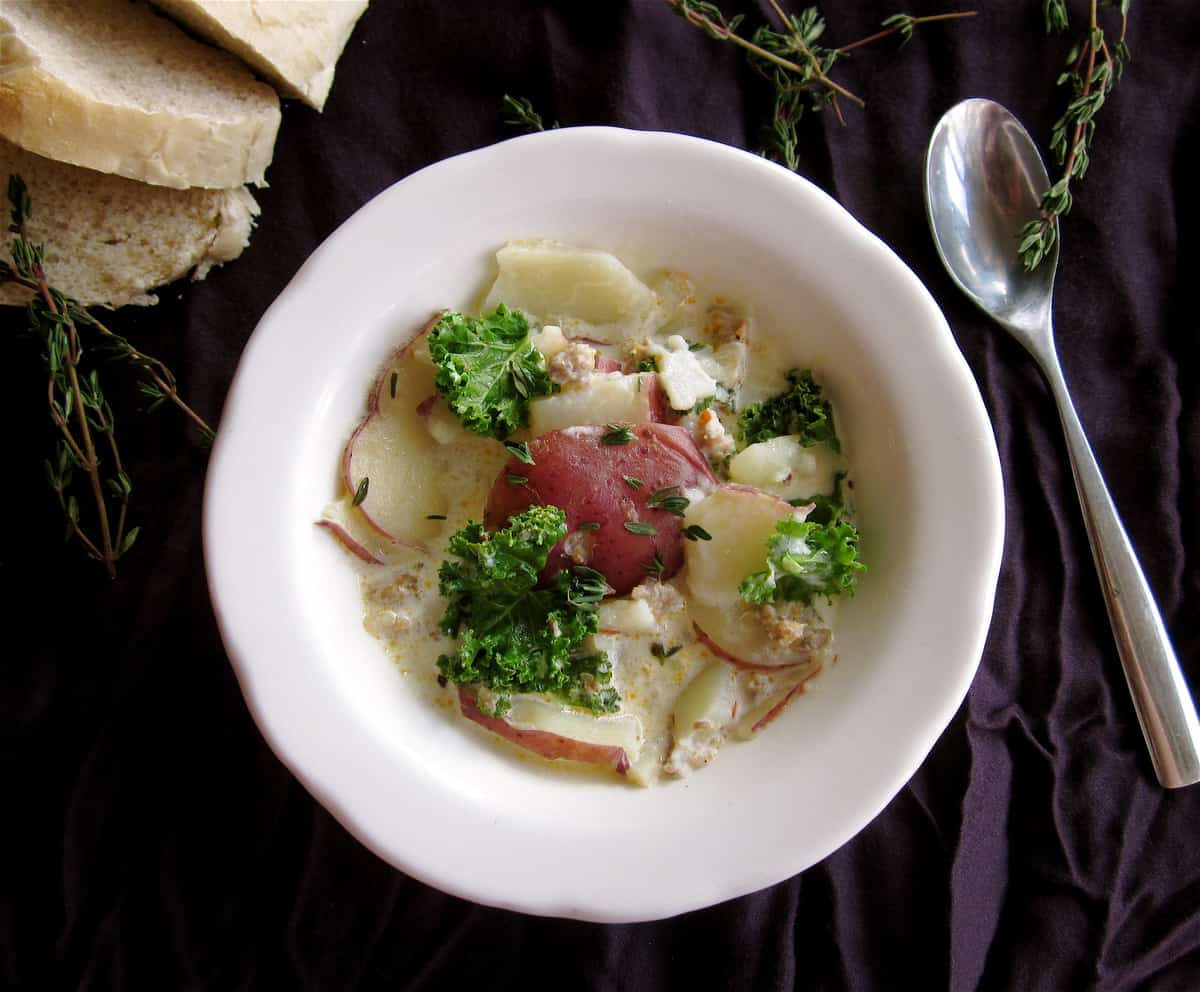 I had never bought kale before I made this soup.  I went to the store, picked up 2 bunches of the green leafy things marked Kale, and went to the checkout.  The cashier held them up: Turnips, right?  Uh, nope, it's kale.  No, these are turnips.
(I thought turnips were purple and bulbous.  Am I basing this entirely on a magnet that my mom had on her fridge for years that depicted a fat little purple guy saying Turnip your nose at fat! Yes.)
So I went back to the produce section to obtain the correct green leaves.  I asked a bystander if she knew which one was kale, since they were obviously mislabeled.  She looked around and told me that they must be out of kale because it wasn't there.  When I asked her what it looks like, she said that kale is crinkly and dark green, and that they use it as a garnish on serving plates sometimes.  I smiled and thought to myself, No, that's parsley. You're an idiot.
Looking back, this is extremely harsh because obviously I have issues when it comes to getting the right produce.  And I really had to repent when last night at Eric's work Christmas party, I saw, garnishing the carrots and cherry tomatoes on the vegetable tray, you got it, kale.
I think this might be the best soup I have ever eaten.  (I will probably be eating my words next week when I post my other recent awesome-soup find though.)  It is a knock off of Olive Garden's Zuppa Toscana.
It's delicious because it's basically sausage drenched in straight cream, with a little green kale to make you feel good about yourself.  This fact, however, could not convince my 5-year-old niece to eat it.  We told her, This is pretty much like eating melted ice cream.  You do like ice cream, don't you?  She wasn't buying it.  I'm not complaining. More leftovers for me.
Sausage, Potato, and Kale Soup
Source: The Pioneer Woman
2 bunches kale, picked over, cleaned, and torn into bite sized pieces
12 whole red potatos, sliced thin (into a coin shape)
1 whole onion, chopped
1-1/2 pound Italian sausage*
1/2 teaspoon red pepper flakes (more to taste)
2 cups low sodium chicken broth (or chicken bullion)
2 cups whole milk
4 cups half-and-half
splash of heavy cream
fresh or dried oregano
black pepper to taste
Prepare the kale and set it aside.
In a medium pot boil sliced potatoes until tender. Drain and set aside.
In a large pot, crumble and brown the Italian sausage. Drain as much as the fat as you can. Stir in the red pepper flakes, oregano, chicken broth, milk, and half-and-half. Simmer for 30 minutes.
Give it a taste and adjust seasonings as needed. Add the potatoes, a splash of heavy cream for richness, then stir in the kale. Simmer an additional 10-15 minutes, then serve.
*I used 1 pound of hot Italian sausage and a half pound of regular.  This was all my soup needed heat-wise, so I left out the red and black pepper.
We are a participant in the Amazon Services LLC Associates Program, an affiliate advertising program designed to provide a means for us to earn fees by linking to Amazon.com and affiliated sites.