Zuppa Toscana Recipe (Potato, Sausage, Kale Soup)
Zuppa Toscana is a rich and creamy, soul-satisfying soup made with Italian sausage, potatoes, and hearty kale. It's a copycat recipe of the famous soup at Olive Garden. I could eat this stuff for days!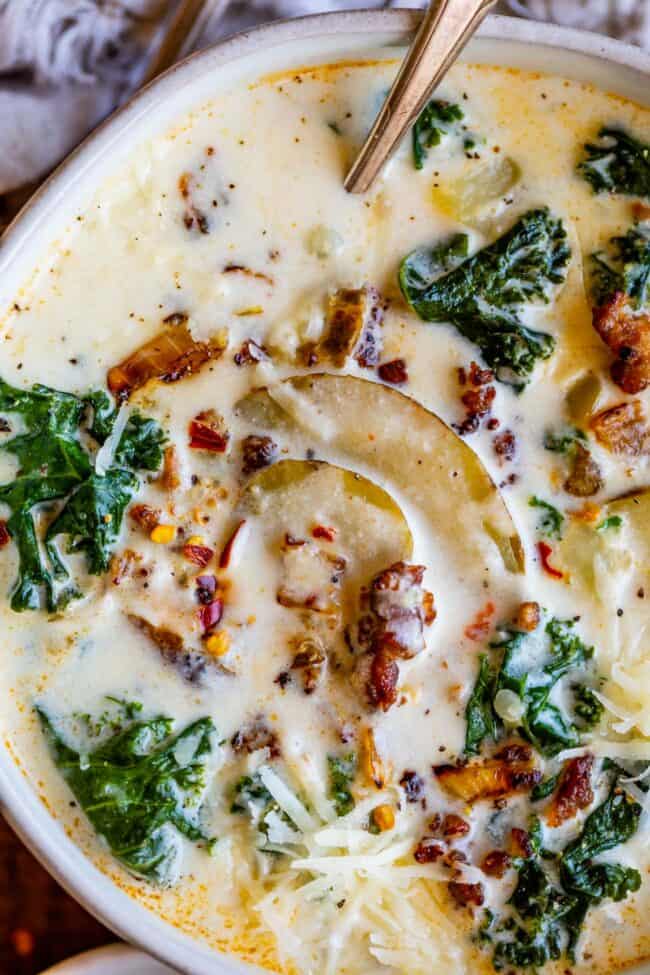 Zuppa Toscana Olive Garden Copycat
Originally posted on December 14, 2011.
Have you ever tried the Zuppa Toscana soup at Olive Garden? I love to go there for lunch and get their bottomless soup and breadsticks deal (technically I think this is called the "soup and salad deal" but let's be real, I'm here for the bread and creamy soup.)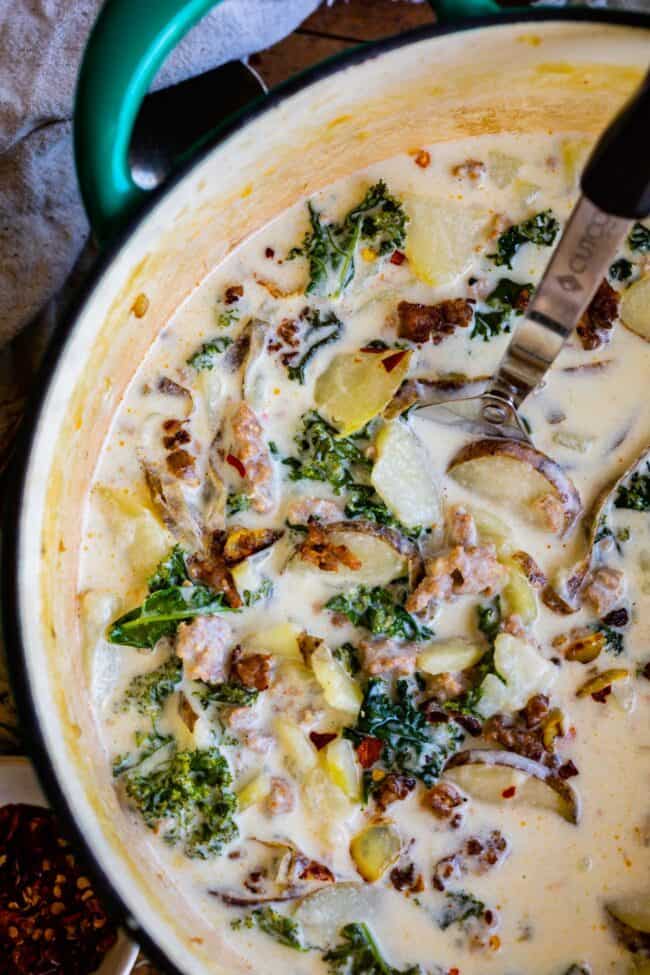 I posted a version of this recipe on the blog back in 2011, and still love to make it on cold winter nights. It's a family favorite and a huge crowd pleaser.
I'm including a story I told about trying to find kale at the grocery store and failing miserably (I was 24 and knew a lot less things back then; I would say that it's because the kale revolution hadn't really taken hold yet, but the truth is that I was just even more of a charlatan back then than I am now.) Here's a much younger Karen:
Sometimes I think schools should be required to teach a course on American produce items.  It would have been more useful for me than, say, Algebra 2 was.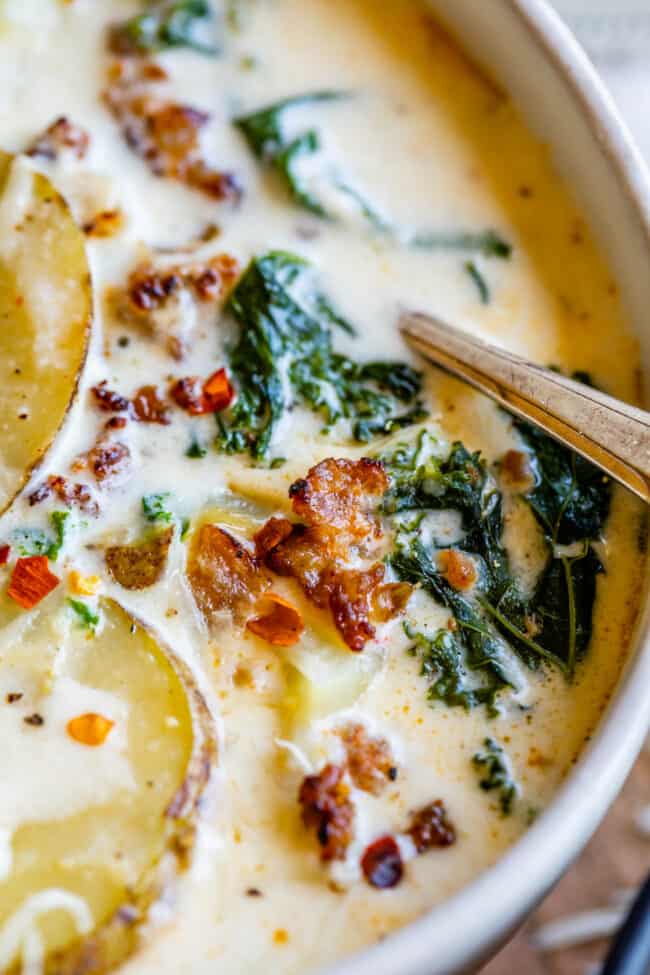 I had never bought kale before I made this soup.  I went to the store, picked up 2 bunches of the green leafy things marked Kale, and went to the checkout.  The cashier held them up: Turnips, right?  "Uh, nope, it's kale."  No, these are turnips, she said.
(I thought turnips were purple and bulbous.  Am I basing this entirely on a magnet that my mom had on her fridge for years that depicted a fat little purple guy saying, Turnip your nose at fat! Yes.)
So I went back to the produce section to obtain the correct green leaves.  I asked a bystander if she knew which one was kale, since they were obviously mislabeled.  She looked around and told me that they must be out of kale because it wasn't there.  When I asked her what it looks like, she said that kale is crinkly and dark green, and that they use it as a garnish on serving plates sometimes.  I smiled and thought to myself, No, that's parsley. You're an idiot.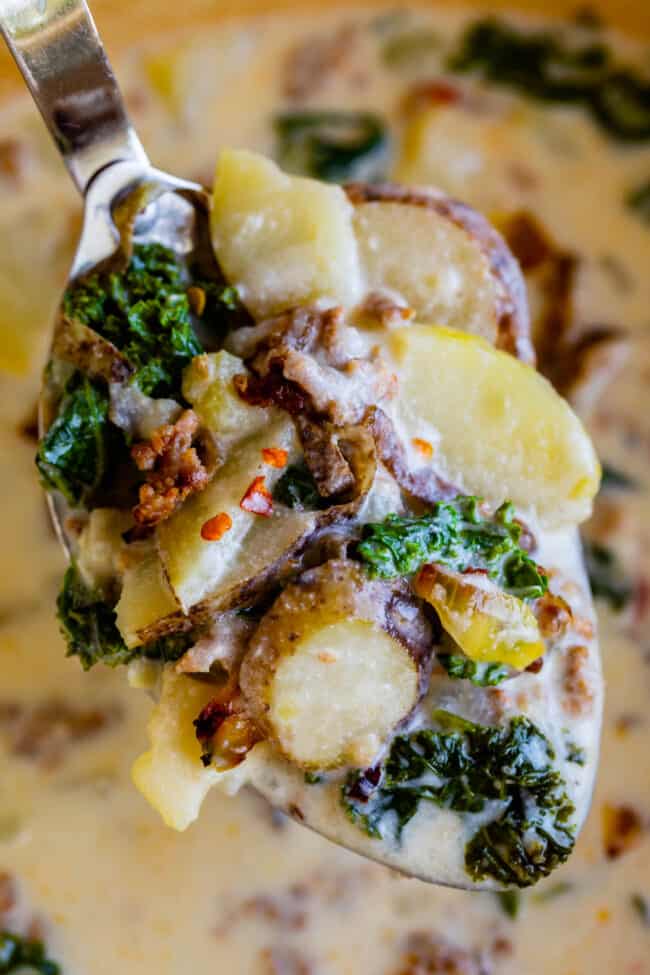 Looking back, this is extremely harsh because obviously I have issues when it comes to getting the right produce.  And I really had to repent when last night at Eric's work Christmas party, I saw, garnishing the carrots and cherry tomatoes on the vegetable tray, you got it: kale.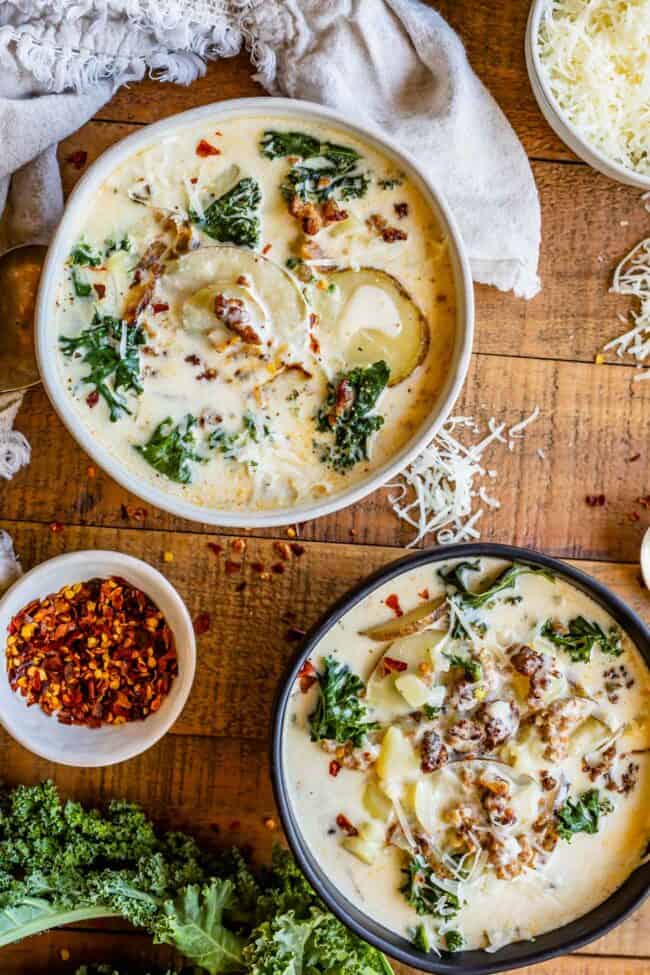 I think this might be the best soup I have ever eaten.  (I will probably be eating my words next week when I post my other recent awesome-soup find though.)  This is a knock off of Olive Garden's Zuppa Toscana.
It's delicious because it's basically sausage drenched in straight cream, with a little green kale to make you feel good about yourself.  This fact, however, could not convince my 5-year-old niece to eat it.  We told her, This is pretty much like eating melted ice cream.  You do like ice cream, don't you?  She wasn't buying it.  I'm not complaining. More leftovers for me.
Back to Karen from 2019:
If you are not a kale person, consider this soup your best opportunity for having a fabulous kale experience. Now you even have tips for how to find it at the grocery store!
How to make this Zuppa Toscana Soup Recipe
Zuppa Toscana is actually really easy to make, and it's all done in one pot!

Start with some onions, garlic, and Italian sausage. I like to use mild sausage and adjust the heat with red pepper flakes, but feel free to use hot sausage (or do a combo of both.) Here's how I drain my sausage: line a bowl with foil, tilt the pot to the side, and use a ladle to spoon out the grease.

Use a food processor to slice all the potatoes, they cut it to the perfect size. You can just use a knife if you don't have it one. Add it to the pot after the broth and cook til tender.

Chop or tear your kale into bite size pieces. Make sure you cut out all the thick ribbing, nobody wants to chew through a thick stem. Use 1 big bunch of kale, or about 5 cups.
You're going to feel so trendy and healthy adding all these magical superpower greens to your soup. Be sure to use your "Kale yeah!" tote bag today.
Except then you cancel out the kale magic by adding a pint of cream. No regrets. Yolo people.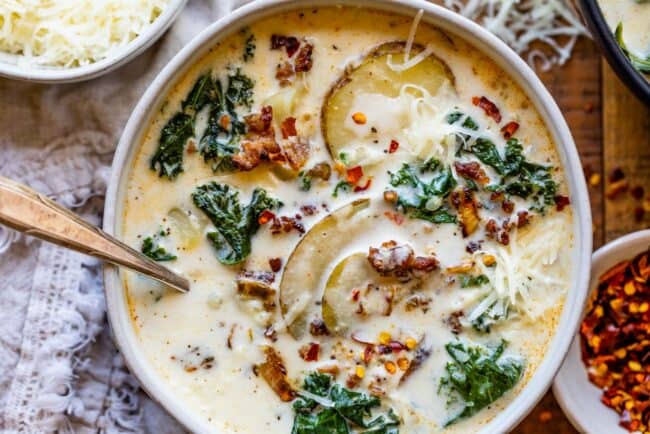 Here's an original photo from when I posted this back in 2011: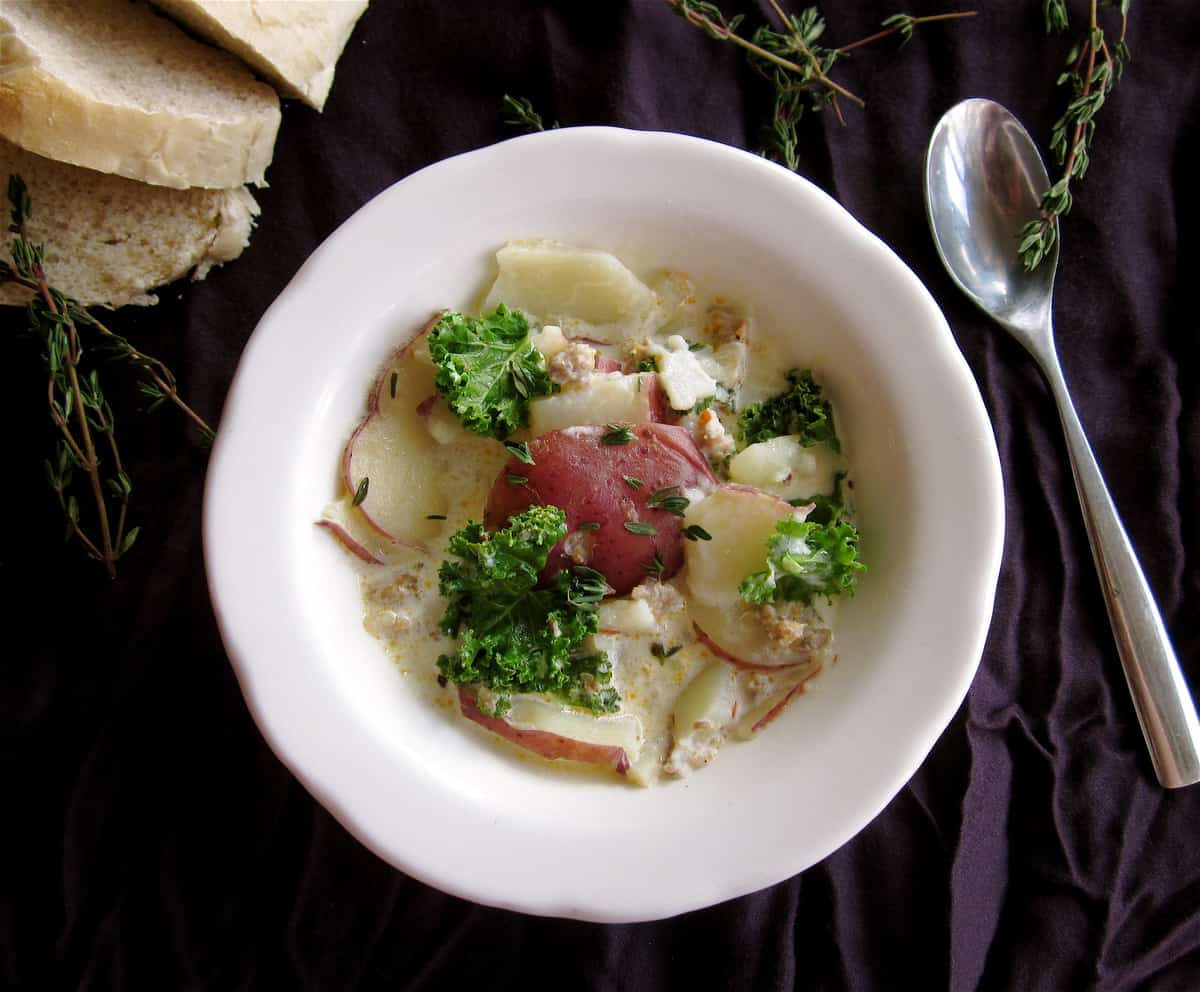 Oh dear.
More hearty soups you are going to love!
Facebook | Pinterest | Instagram
Olive Garden Zuppa Toscana Copycat Recipe
Zuppa Toscana is a rich and creamy, soul-satisfying soup made with Italian sausage, potatoes, and hearty kale. It's a copycat recipe of the famous soup at Olive Garden. I could eat this stuff for days!
Ingredients
1 & 1/2

pounds Italian sausage

,

(I like mild)

1

large onion

,

chopped

1/4 to 1/2

teaspoon

crushed red pepper

2

teaspoons

kosher salt

4

cloves

garlic

,

smashed and minced

2

tablespoons

flour

4

cups

chicken broth

3

cups

whole milk

2

pounds

russet potatoes

,

sliced

1

large bunch kale

,

about 5 cups

2

cups

heavy cream

1/2

cup

Parmesan cheese

,

shredded

Salt and pepper to taste

more shredded Parmesan

,

to garnish
Instructions
In a large soup pot, add 1 and 1/2 pounds sausage over medium high heat. You can use mild sausage or a combination of hot and mild.

Add 1 large onion, chopped. Use a wooden spoon to crumble the sausage.

Add 2 teaspoons kosher salt and 1/4 to 1/2 teaspoon crushed red pepper (remember you can always add more later). Continue sautéing for about 7-10 minutes, until the sausage is thoroughly cooked.

Add 4 cloves of minced garlic. Sauté for one more minute, until garlic is fragrant.

Turn off the heat and drain the grease from the soup pot. There are lots of ways to do this, but I usually tilt the pot to one side and ladle the grease out into a foil-lined bowl (then refrigerate the grease and toss in the garbage).

Turn the heat back on to medium high and stir in 2 tablespoons flour.

Once the flour is incorporated, slowly add 4 cups of chicken broth while stirring. You want the flour to thicken the broth, not get clumpy, so go slow.

Slowly add 3 cups of whole milk while stirring.

Scrub your potatoes well to get rid of the dirt, then use a sharp knife or food processor to slice the potatoes into 1/4 inch thick coins.

Add the potatoes to the pot. Turn the heat down to medium and bring to a low boil.

Once the soup is at a low simmer, continue simmering for about 20 minutes, until the potatoes are tender.

Meanwhile, prep the kale. Wash it well and use a sharp knife to cut out the thick stems all the way up the leaf. Tear or cut the kale into bite size pieces.

When the potatoes are tender, add the kale to the soup.

Add two cups of cream and stir very gently. You don't want to demolish all of your nice tender potatoes. Just move your spoon around enough so that all the kale is mostly covered with liquid.

Turn the heat to low and let cook for another 15 minutes, until the kale is wilted.

Gently stir in 1/2 cup Parmesan cheese.

Serve with fresh shredded Parmesan cheese and a few grinds of black pepper.
Nutrition
Serving:
1
cup
,
Calories:
560
kcal
,
Carbohydrates:
26
g
,
Protein:
18
g
,
Fat:
43
g
,
Saturated Fat:
21
g
,
Polyunsaturated Fat:
4
g
,
Monounsaturated Fat:
16
g
,
Cholesterol:
128
mg
,
Sodium:
1447
mg
,
Potassium:
856
mg
,
Fiber:
2
g
,
Sugar:
5
g
,
Vitamin A:
2174
IU
,
Vitamin C:
30
mg
,
Calcium:
228
mg
,
Iron:
2
mg
We are a participant in the Amazon Services LLC Associates Program, an affiliate advertising program designed to provide a means for us to earn fees by linking to Amazon.com and affiliated sites.