Mom's Marshmallow Fluff Fudge
This no-fuss marshmallow fluff fudge recipe is for chocolate purists! It is smooth, creamy, and decadent, and you can't have just one piece!
Mom's Marshmallow Creme Fudge
For some families, Christmas goodies means cinnamon rolls. For some it's toffee and candy. Eric's family does cookies. My family growing up did this: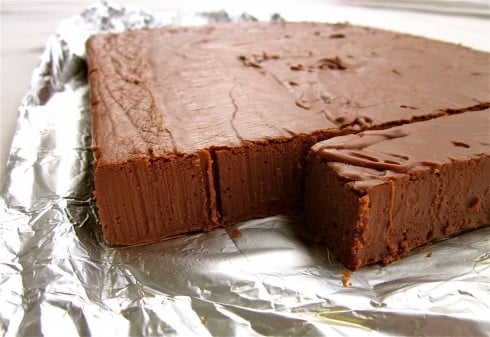 Boom. Straight up, no messing around chocolate fudge. And by no messing around I mean no nuts, no peanut butter, no peppermint, no swirls, no fuss. Just pure semi-sweet, melt in your mouth goodness. (I have nothing against fudge-embellishments. But sometimes you just can't beat the classic.)
How to Make a Fudge Recipe with Marshmallow Fluff
We made it every year. We would all hover over the stirrer (usually my mom) making sure they didn't mess anything up. (Our faith is inspiring.) Then as she poured the completed fudge into the pan we would all make non-subtle comments about making sure not to do a too-good job scraping (so that we could attack the pan with our fingers of course). She always poured a little bit into a small bowl, presumably so that it would set up faster for us. We never waited though. My sister Nikki has been known to consume an entire batch of this fudge in a 12 hour period.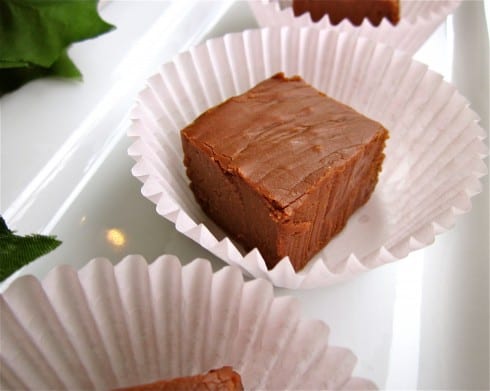 Most of the time we would give it away to friends and neighbors, which is of course a very effective way to spread Christmas cheer. One time it backfired on us though. We brought a plate of fudge for some friends and left it on the doorstep, figuring they would be home in a few hours. They came back from vacation a week later with an entire colony of ants on their porch. Nothing says Merry Christmas quite like a pest infestation.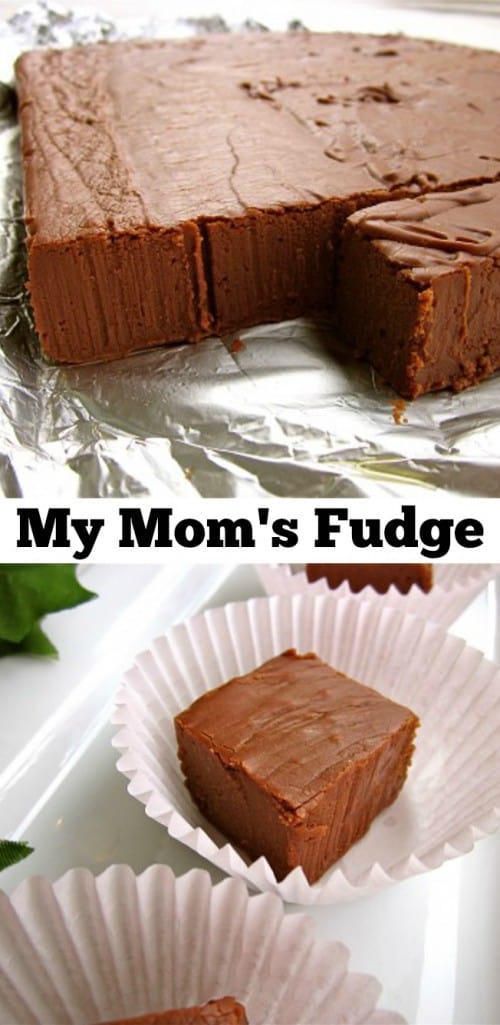 But don't think about that. Just think about dreamy, creamy, not-too-soft yet not-too-dry, non-crunchy, beautiful fudge. And go make this right now because it seriously takes like 15 minutes.
One year ago: Chicken Noodle Soup with Homemade Noodles
Two years ago: Apple Custard Pie with Cinnamon Streusel
Three years ago: Caramely Almond Butter Bars
Originally published December 12, 2012
My Mom's Fudge
This no-fuss marshmallow fluff fudge recipe is for chocolate purists! It is smooth, creamy, and decadent, and you can't have just one piece!
Ingredients
2 & 1/2

cups

white granulated sugar

3/4

cup

butter

,

(1 and 1/2 sticks)

2/3

cup

evaporated milk

12

ounce

package (high quality) semi-sweet chocolate chips

,

2 cups

7

ounce

jar marshmallow cream

,

also called marshmallow fluff

1

teaspoon

vanilla
Instructions
Line an 8 or 9 inch square pan with aluminum foil or parchment paper. Coat with nonstick spray. Set aside.

In a 3 quart HEAVY saucepan over high heat, combine sugar, butter, and evaporated milk. Use a wooden spoon to stir slowly until butter melts, scraping sides of pan to get all the sugar crystals.

Bring to a full rolling boil, stirring constantly with a long wooden spoon. Once it starts boiling, set a timer for 5 minutes and turn the heat down to medium so that you don't burn your fingers off--it should be boiling the full 5 minutes. Stir constantly.

When the timer goes off, remove from heat and add chocolate chips. Stir until all chips are melted and mixture is smooth. Add marshmallow creme and beat with a wooden spoon until well blended. Add vanilla and mix well. Immediately pour into the prepared pan.

Let cool to room temperature. (Good luck with that.)

Slice and serve! Store on the counter covered.
Notes
This recipe is easy to double, just use a 9x13 pan.
Microwave your marshmallow creme for 10 seconds to make it easier to scrape out. (Be sure to remove all traces of foil from the safety seal.)
UPDATE 2020: My sister Laura left a comment  with some detailed notes that are so useful. I'm pasting it here because this is EXACTLY how I make my fudge! As soon as I get a chance I will update the actual recipe with these details, hopefully before the Christmas rush when everybody and their mom makes this fudge :) This recipe is in dire need of a photo reshoot, and I've been putting off updating the whole post with better details until I can get the photos up too. So thanks to Laura for taking the time!!
"I'm surprised how many people commenting have had issues with this fudge. I've made this recipe probably almost 100 times – seriously. I make it and sell it as a fundraiser to buy presents for those angel tags at Christmas every year. The only time it's failed is when I chose to try it with lower quality choc chips and I couldn't get them to melt all the way (sad tear!). Luckily that was for a personal event and even that tasted fine, it just had a few small chunks. In fact someone asked me if I made mini chocolate chip fudge and I just said yes. Ha!
Here are my tips to ensure it comes out perfect every time. First, have everything completely ready to go before you start. All items measured out, 8×8 ready to go (I line with parchment), lid and seal off the marshmallow creme. I weigh my chocolate chips to get the exact amount. (Side note, I prefer about 7 oz semi sweet and 5 oz dark but the method doesn't change if you use all semi sweet.) Put your marshmallow creme in the microwave to have it ready. (important! make sure ALL the foil seal is completely off!!)
Use a heavy pan. If it is thin on the bottom, your fudge will turn out crappy. Just being straight up honest here. Start with melting the butter over medium heat. Once it's mostly melted, pour the sugar into the center of the pan as carefully as you can so as not to get any sugar crystals on the side of the pan. I stir super gently in the center of the pan, drawing the butter in from the edges until it's mostly incorporated. Then add the evap milk and turn up to med high heat. Avoid touching the sides as much as possible.
Stir gently until it comes to a FULL rolling boil. Bubbles on edges is not enough. It must be boiling enough that when you stir it there are still big bubbles in the center, they won't go away. If you stir and the boil dies down a bit, it's not ready. Once it's so hot it's crazy boiling even when you stir, turn it down so it doesn't boil over (to med) and start your timer for 5 minutes. Stir constantly. If the boil isn't constant or starts to die a bit, you turned it too low and need to turn it back up. You will probably sweat and your hand may feel like it's on fire at times, but that's fudge making for you. Worth it!!
Be ready the last few seconds before the timer goes off. All the next few things happen very quickly and you'll want to move fast. As soon as it sounds, turn off the burner, move the pan to the cool burner next to it and immediately dump in the choc chips. Start the microwave to soften the creme to make it easier to spoon out. You'll have to watch it until you know your microwave. It's ready when it puffs up over the opening a bit (mine is about 15 seconds). While the microwave runs, carefully but quickly stir the chocolate chips into the boiled mixture. I actually start stirring with my left hand and turn on my microwave with my right because they're close and I can. As soon as it's smooth, take out the marshmallow creme and stir it in til mostly incorporated, then add vanilla and stir til everything is even in color and all is mixed in.
So, just to review. Timer goes off and very quickly with as few pauses as possible you: turn off burner, move pan over, dump in chips, start microwave, stir in chips, take out creme, stir in, add vanilla, stir in.
Pour immediately into prepared pan. It needs to set for several hours before it is ready to be lifted out and cut, otherwise it will crack when you move it. If you're leaving it in the pan you can cut into while it's warm, it just will be soft set instead of firm.
One other thing to note, as I mentioned earlier, is quality of ingredients. Use real butter, I prefer Costco brand. Use full fat evaporated milk. Measure your sugar precisely. Don't use walmart brand chips, those are the worst! I prefer Ghirardelli, personally. I prefer the kraft jet-puffed marshmallow creme, but that's more for ease of opening than how it affects the fudge, I've used generic brand with good results.
If you've read my essay, you're to be admired. Ha. I really do hope it helps though, because this fudge is the bomb.com. Happy fudge making!!"
Nutrition
Serving:
1
g
,
Calories:
299
kcal
,
Carbohydrates:
43
g
,
Protein:
2
g
,
Fat:
14
g
,
Saturated Fat:
9
g
,
Polyunsaturated Fat:
1
g
,
Monounsaturated Fat:
4
g
,
Trans Fat:
1
g
,
Cholesterol:
22
mg
,
Sodium:
72
mg
,
Potassium:
125
mg
,
Fiber:
1
g
,
Sugar:
38
g
,
Vitamin A:
242
IU
,
Vitamin C:
1
mg
,
Calcium:
35
mg
,
Iron:
1
mg
You will love these other desserts!
Nana's Famous Fudge Brownies << ALL THE FUDGE guys. These brownies are simply amazing.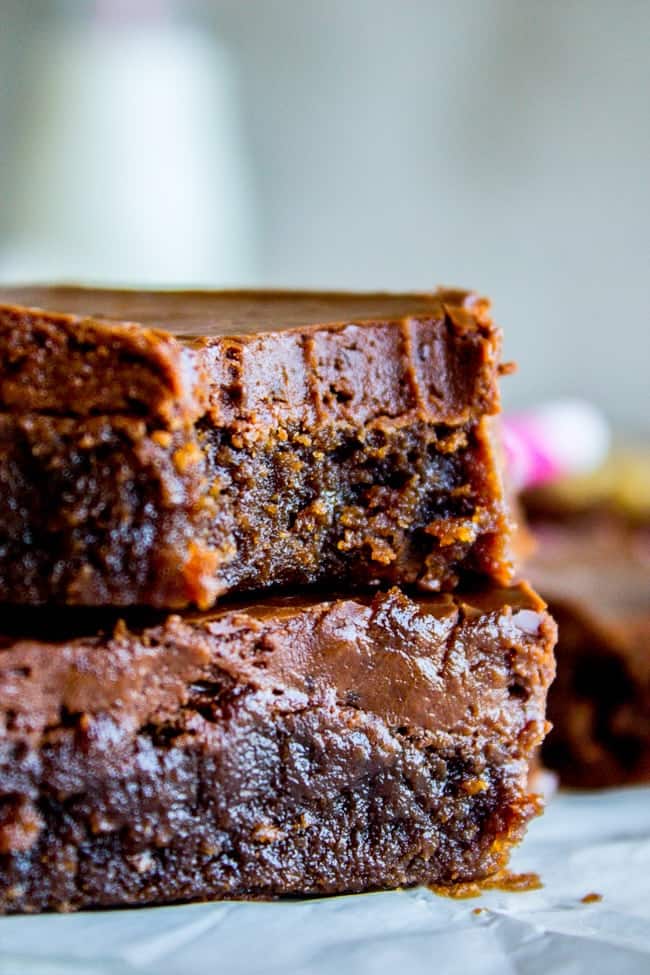 Caramel Nougat Pecan Roll << this recipe is more work than fudge, but soooo worth it!!!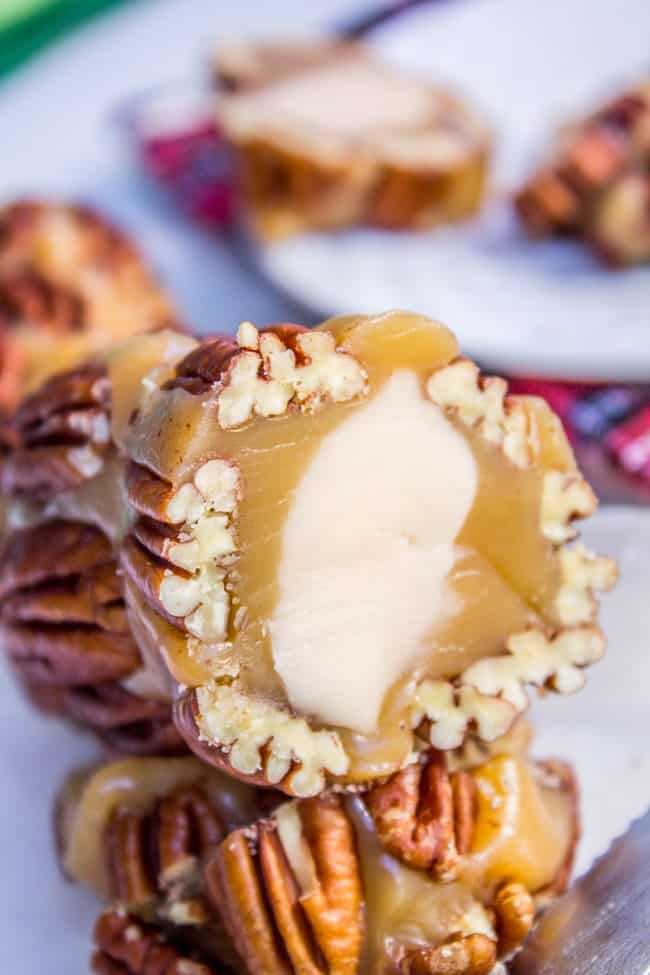 Cinnamon Honey Butter << this is another great neighbor or host gift! sooo easy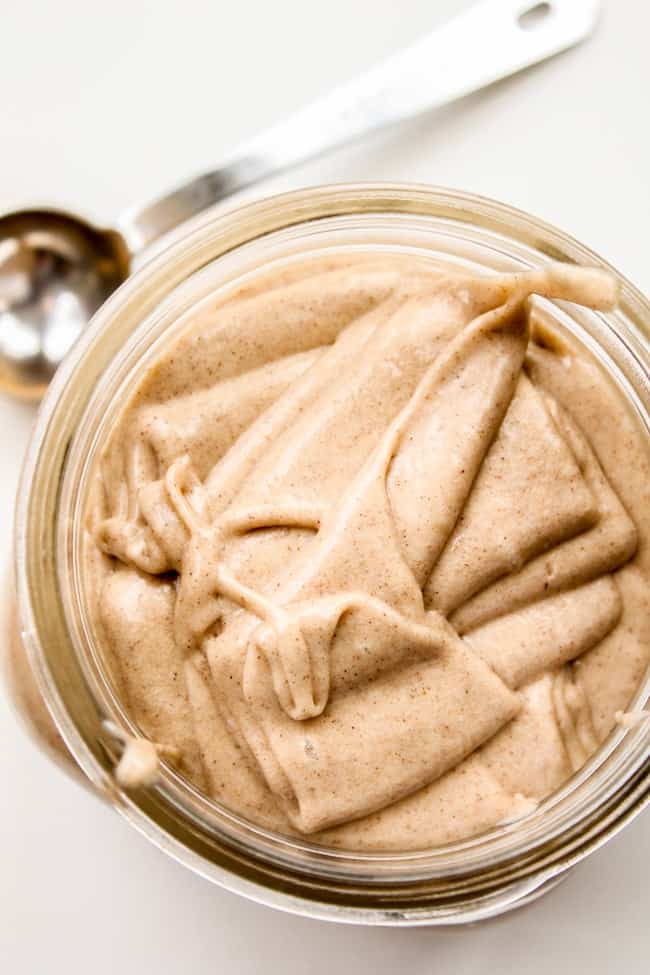 Caramel Pecan Thumbprint Cookies: These are a Christmas classic!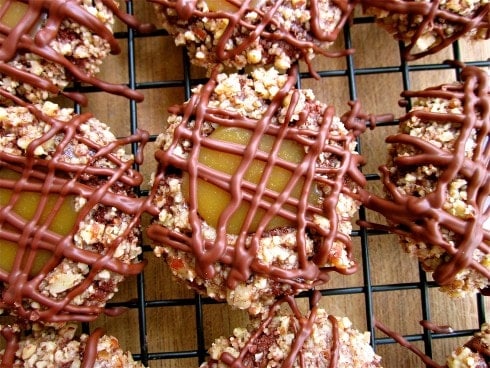 Here's another great Christmas recipe you will love: Candy Cane Brownie Trifle! It's a HUGE reader favorite! And personal favorite of mine, I've been making it for years: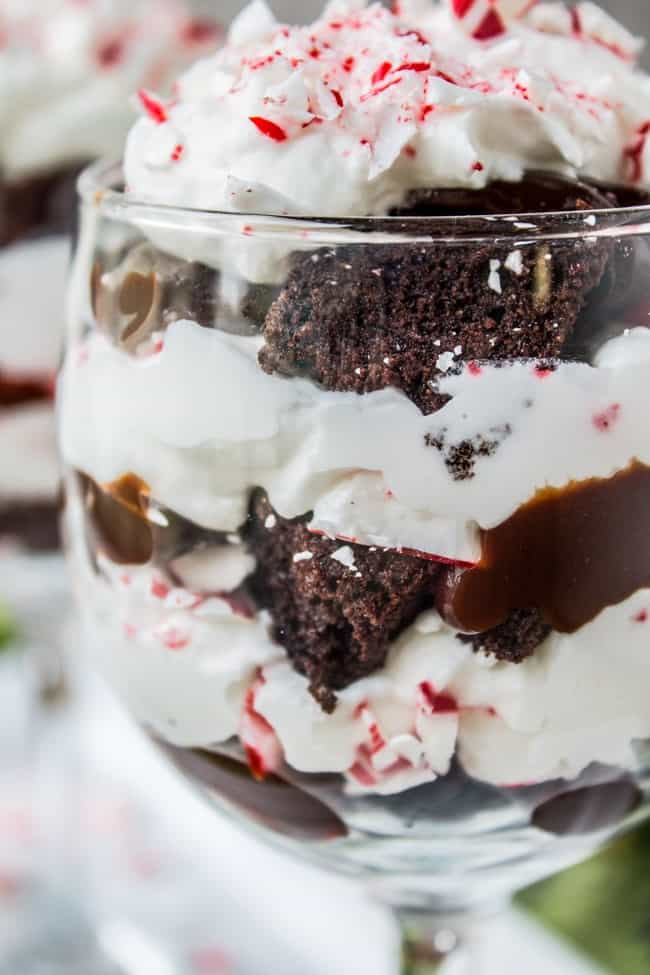 We are a participant in the Amazon Services LLC Associates Program, an affiliate advertising program designed to provide a means for us to earn fees by linking to Amazon.com and affiliated sites.