These Baked Veggie Eggs Cups are the perfect way to get some protein in for breakfast! So tasty and make-ahead friendly.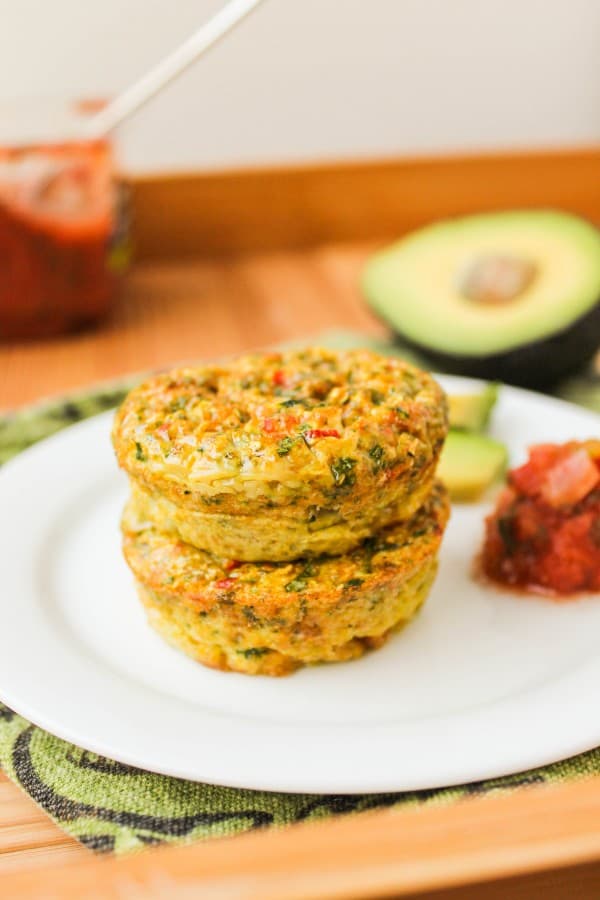 The other day I reached into my fridge and pulled out a brand new gallon of milk, only to open it and find out that it had gone sour. The whooooooole gallon.
We are milk people. (Charlotte is obsessed, but that's understandable, she's 2.) I always buy 2 gallons of milk when I am at the store. Always. No reason to check if we need it, because we always do. We need milk for cereal, tall glasses of milk after eating these, (and these!) milk for the kid's oatmeal every morning. Milk. It does a body good, people.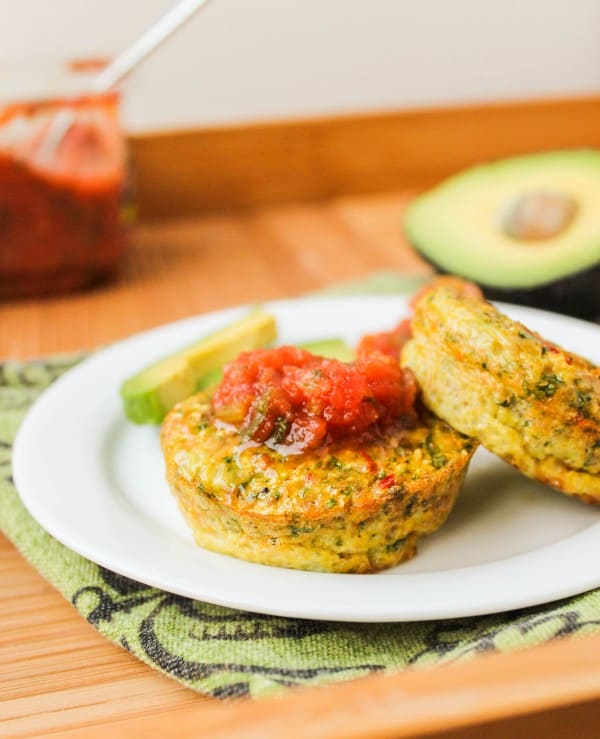 Buuuuuuuut, here's the thing. Eric and I don't eat cereal for breakfast anymore. I know WHAT?? (This alone explains our sour milk issue.) Eric drinks a protein smoothie every morning (did I tell you he's lost 20 pounds? 20! I didn't even know he had that many to lose!) I read a book about processed foods this summer that somehow convinced me that eating cereal for breakfast is just about the same as eating cookies for breakfast. I tried that for a while, but then started to think that maybe something else would be a little more healthy.
Which meant that what really happened was that I usually didn't eat breakfast out of sheer laziness. Nothing is easier than cereal and milk. Which meant that I usually exploded in a whirlwind of hungry grumpiness around 10:30.
I wanted something that I could make ahead and have in the freezer. I like eggs, and they are relatively quick, but sometimes mornings are so rushed that the idea of dirtying one more frying pan just sends me to the pantry for another chocolate chip. (Don't judge me okay. At least I'm not eating cookies for breakfast anymore.)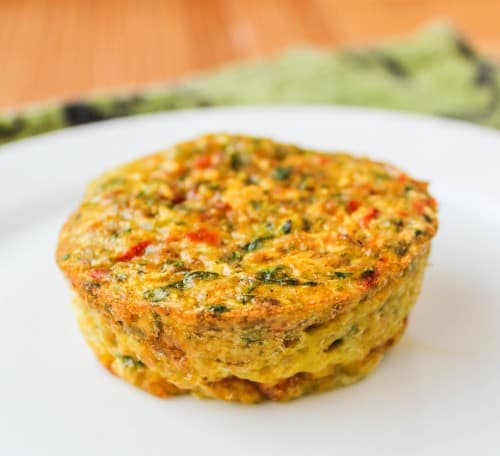 Enter these baked veggie egg cups. Protein! Veggies! Freezable! Microwaveable! Easy! Tiny! Cute! Delicious! They may not look like much, but when they've got all this awesomeness going for them, you can overlook aesthetics.
Does it get any better than that? I think not. All you have to do is throw some veggies in a food processor, whisk some eggs together, combine and bake. They are so good. I made them in the afternoon so that I could freeze them for breakfasts, but they were so tempting that we decided to eat them for dinner. I love eating them with salsa and some avocado, but they are good all by themselves too. The best part of this recipe is it's versatility. You can use pretty much any veggie that you have lying around.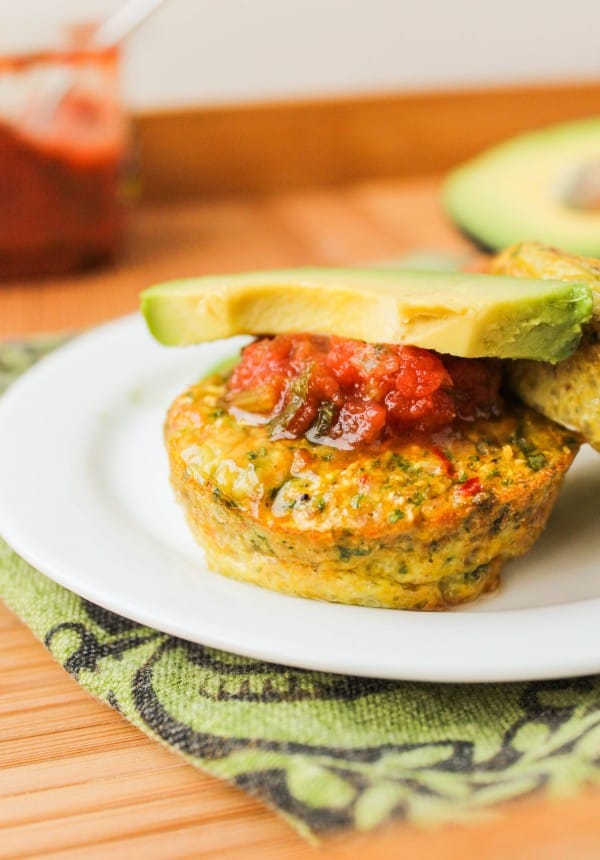 I hope having a healthy  breakfast helps you recover from all the sugar highs you are going to come crashing down from when you sneak copious amounts of your kid's Halloween candy. Yeah, I know you.

Baked Veggie Egg Cups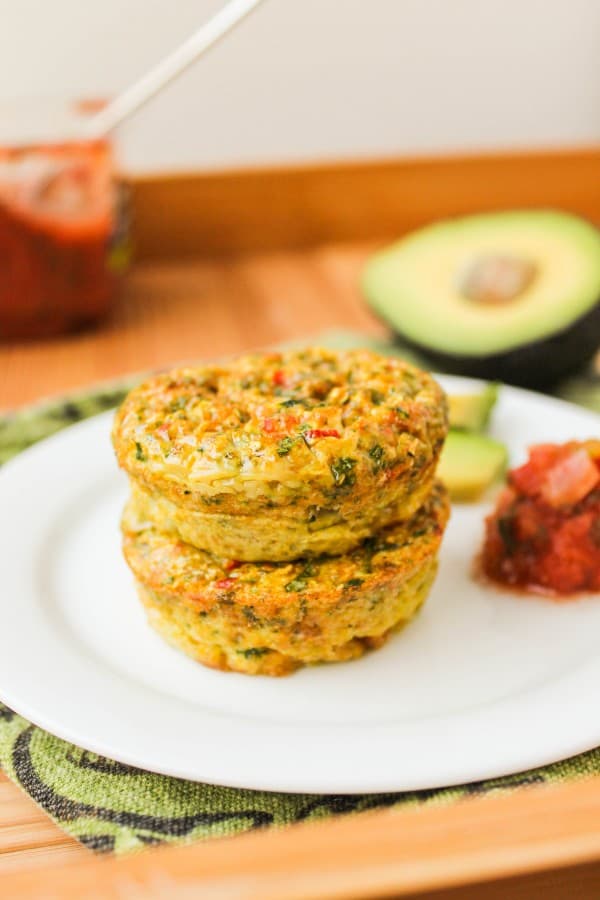 These Baked Veggie Eggs Cups are the perfect way to get some protein in for breakfast! So tasty and make-ahead friendly. 
Ingredients
10

eggs

,

or up to 12

1

green onion

,

cut into 3 inch segments

2

small

zucchini

,

chopped into 1-inch segments

1/2

12-oz jar

roasted red peppers

,

6 ounces, drained

1/2

14-oz package

kielbasa

,

7 ounces, cut into 1-inch slices*

2

cups

spinach

,

about 3 handfuls

1

teaspoon

salt

1/2

teaspoon

pepper
Instructions
Preheat oven to 350.

Grease two muffin tins with a great deal of nonstick spray, oil, butter, etc. (To make this paleo, use coconut oil.) Set aside.

Whisk all the eggs in a big bowl, or beat it with the whisk attachment.

Add the green onion segments, zucchini slices, red peppers, and sausage to your food processor and pulse in 1 second intervals until the ingredients are finely chopped but NOT smooth. If it is not chopping evenly, spoon out the chopped food and finish pulsing the rest. Add all of this mixture to the eggs.

Add the spinach into the processor and finely chop. Add this to the eggs as well. Add the salt and pepper. Combine with a whisk. Using a 1/4 measuring cup, fill the muffin tins. Bake for 20-25 minutes or until the middle is set. Don't overcook! The egg cups will shrink down significantly once you take them out of the oven. As long as the center is set when you take them out, you can rest assured that they are baked all the way.

If you are freezing these, wait for them to cool, then wrap them individually in plastic wrap and put them all in a ziplock bag. Seal and freeze. When you want to eat one, unwrap it, discard the plastic, and place on a folded paper towel on a plate in the microwave. Heat for about 1-2 minutes, or until the center is warm. Don't overdo it or you will get rubbery eggs. Garnish with salsa and avocado and enjoy!
Notes
*You can use any type of cooked sausage that you want. The original recipe calls for 6-8 slices of bacon, which would also be awesome.
Source: Everyday Paleo
Nutrition
Serving:
1
egg cup
|
Calories:
76
kcal
|
Carbohydrates:
1
g
|
Protein:
5
g
|
Fat:
6
g
|
Saturated Fat:
2
g
|
Polyunsaturated Fat:
1
g
|
Monounsaturated Fat:
2
g
|
Trans Fat:
1
g
|
Cholesterol:
99
mg
|
Sodium:
394
mg
|
Potassium:
129
mg
|
Fiber:
1
g
|
Sugar:
1
g
|
Vitamin A:
527
IU
|
Vitamin C:
8
mg
|
Calcium:
25
mg
|
Iron:
1
mg