This Slow Cooker Coconut Curry Chicken is one of the best curries I've ever had! The sauce starts with the coconut milk with jalapeño and red onion. It's not too spicy, but has tons of flavor! Originally posted February 16, 2016.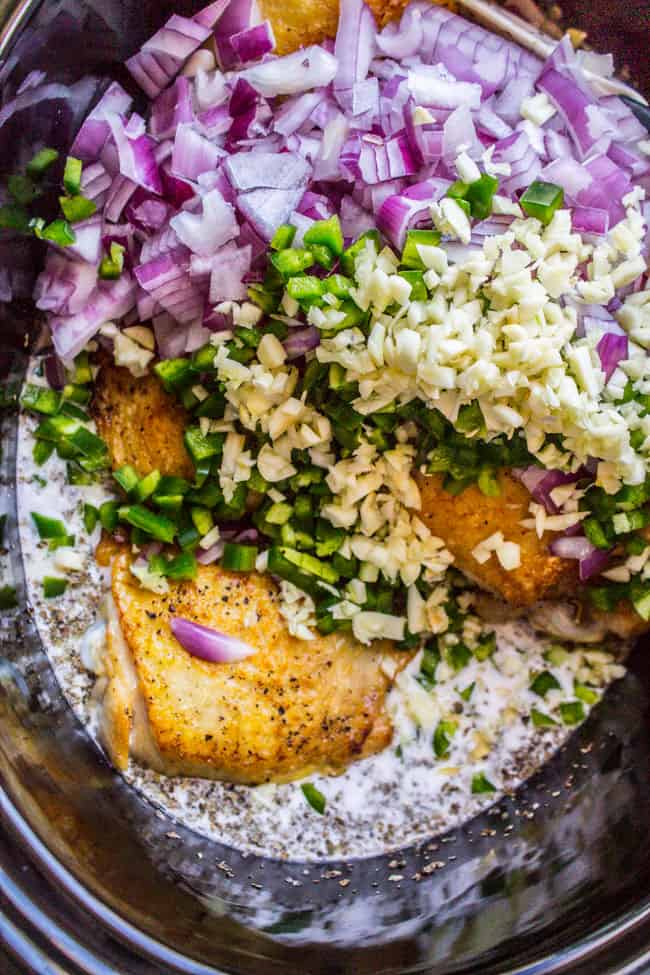 Table of Contents
We ripped out our carpet this week and are in the middle of getting new (laminate) wood floors. Originally I wanted to put the wood in our kitchen, dining, and family room, because they are all connected.
But then we ripped out the OLD laminate in the kitchen to reveal this awesome linoleum underneath. I love it so much! I think I'm going to keep it and do the new wood everywhere else. What do you think? Isn't it super cute?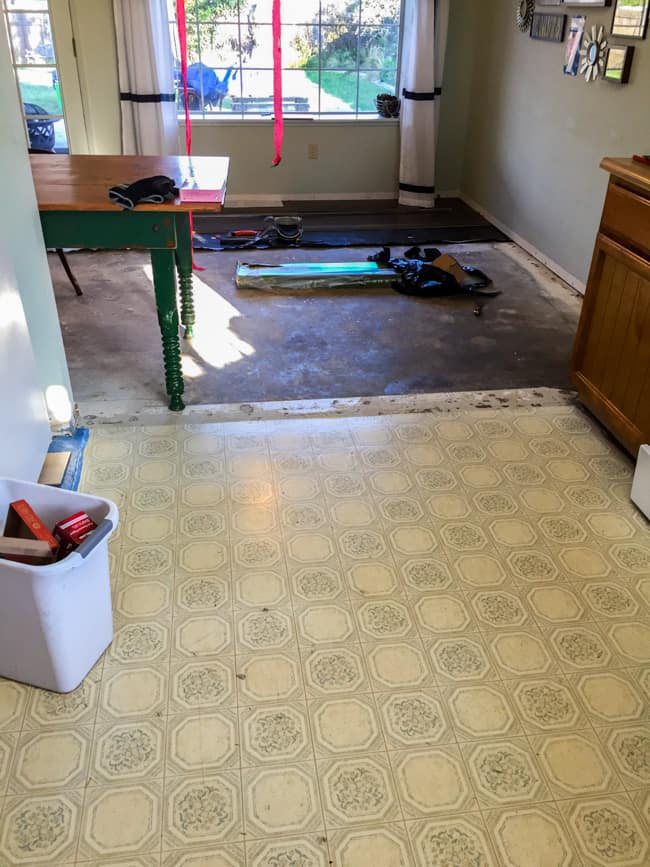 Oh my gosh, calm down, I'M JOKING. I texted this to my brother Nathan earlier today and he politely texted back, "I love the wood! Are you doing linoleum in the kitchen, or wood?" And then I told him I was joking and he said, "I was very careful how I phrased that."
This gross linoleum kind of makes me nostalgic though. We had a VERY similar pattern in my kitchen growing up, only ours was, no joke, BRIGHT yellow and orange. Classic. (my parents bought their house in 1980 I think.) Did you grow up with linoleum like this??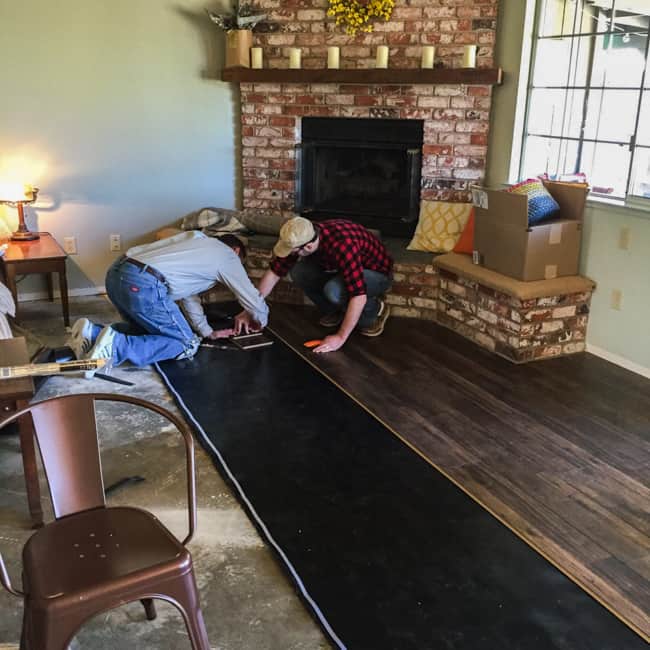 Here's how it's going. Eric's parents came all the way from Montana to help us. (And by help us, I mean basically do most of it…we owe you big time!) Also you will notice who won the great Should We Paint Our Fireplace White debate…at least for now.)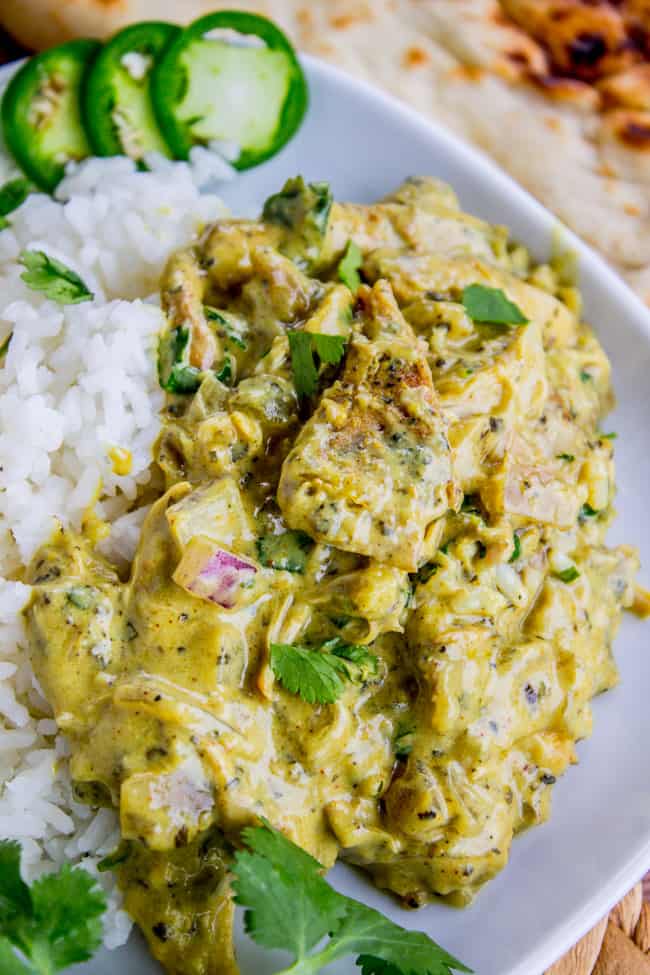 You'll absolutely love this Crockpot Curry Chicken
This recipe is a classic from the blog that I changed up to go in the slow cooker. It worked out beautifully! The original is here: Basil Chicken in Coconut Curry Sauce. It's a huge crowd pleaser. The sweetness from the coconut and the earthy tones from the yellow curry balance each other perfectly. But you have to marinate it and stand over the stove for a while, and lately I have been all about the setting-and-forgetting-it. Enter our trusty slow cooker!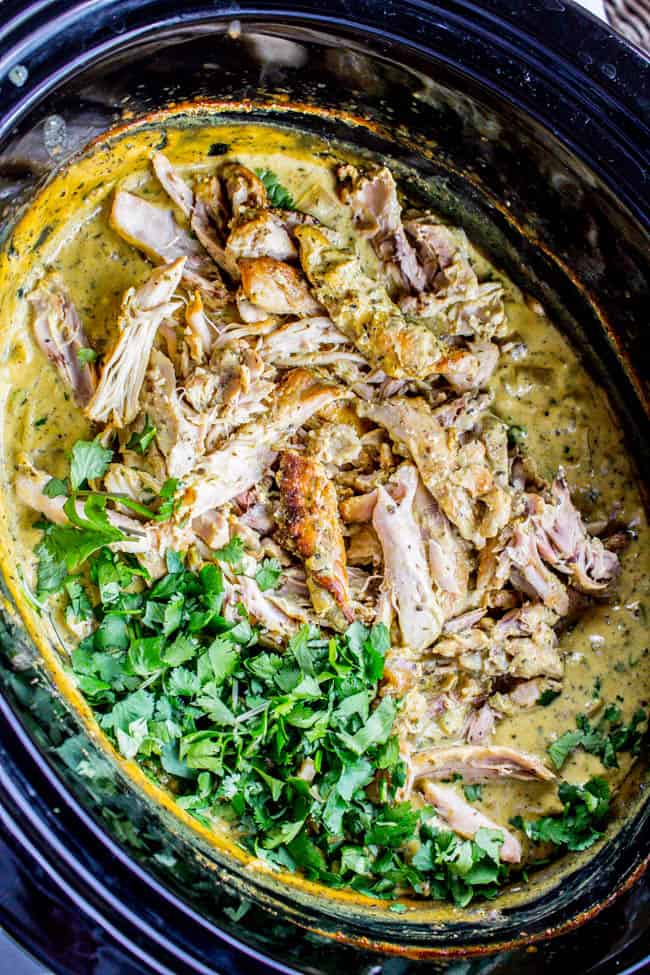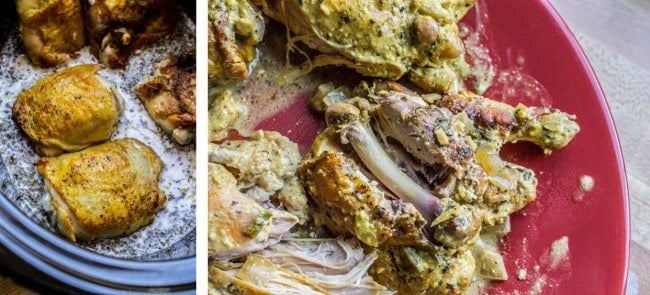 Chicken Coconut Curry Recipe Ingredients
This recipe uses bone-in, skin-on chicken thighs that you sear on the stove before slow cooking. By the time they are done cooking, they are falling off the bone, and the caramelized flavor from the searing step has transformed the meat into something simply amazing. You could absolutely use chicken breasts in this recipe, but the meat won't be quite as flavorful. You just can't replace that dark meat.
Here's a quick shopping list to help you gather your ingredients. See the recipe card below for the full ingredients and instructions!
Chicken thighs (bone-in and skin-on)
Salt and pepper
Oil
Coconut milk (canned, regular or lite)
Dried basil leaves
Yellow curry powder
Chili powder
Red onion
Garlic
Jalapeños
Cornstarch
Fresh ginger
Fresh cilantro
How to Make Coconut Curry Crock Pot Version
This delicious crockpot curry chicken takes just 15 minutes to prep! Here's a basic overview (full instructions in the recipe card below).
Prep the chicken by removing the skin using your fingers or a serrated knife. Season with salt and pepper.
Heat a skillet to medium-high heat, then add in oil. Once hot, add half of the chicken thighs. Let the chicken brown for a couple of minutes on each side, then transfer to a plate and repeat with the remaining chicken thighs.
Combine coconut milk, basil, salt, pepper, yellow curry, chili powder, red onion, garlic, and jalapeño in the crockpot. Add in the chicken.
Cover and cook on high for 4-5 hours or on low for 6-8 hours.
Remove the chicken and add the ginger to the sauce. In a separate bowl, combine the cornstarch and water, then stir into the crockpot.
Shred the chicken, then return it to the crock pot and stir. Cover and cook again for 10 minutes, then serve.
How to serve Chicken Coconut Curry
One more thing: No curry is complete without naan. Bring on the naan! Here's my favorite recipe for Homemade Naan Bread. You can't go wrong. Make this soon! Crockpot curry ftw!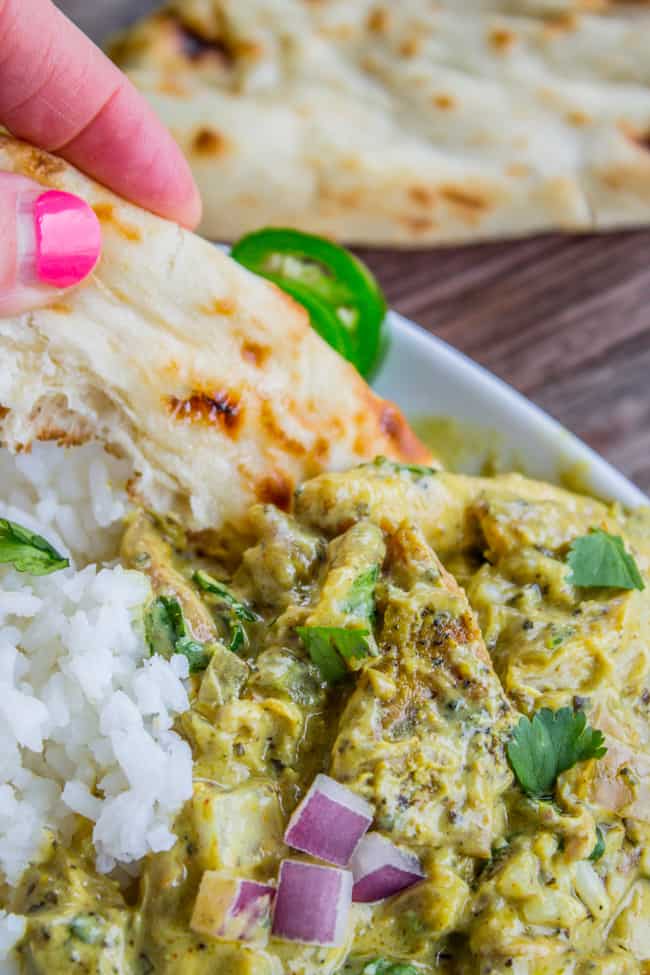 If you make this curry, snap a photo and share on Instagram using #TheFoodCharlatan! I'd love to see it!
P.S. Here's a trusty Crock Pot if you don't have one. And this is the brand of skillet I use.
Storing Coconut Curry Chicken
Leftover chicken coconut curry will last in the fridge for 3-4 days. It can also be stored in the freezer for up to 3 months.
When you're ready to use it, thaw it overnight in the fridge (if frozen), then warm it on low on the stove until heated through. Microwaving is also totally fine and you will get no judgment from me.
Chicken Coconut Curry Recipe FAQ
Why should I add coconut milk to a curry?
Coconut milk is the perfect addition to curry. It creates a rich and creamy sauce and its mild sweetness contrasts beautifully with the spices.
What is coconut curry sauce made of?
Coconut curry sauce is made of a base of canned coconut milk that's seasoned basil, chili powder, yellow curry powder, garlic, and ginger. This recipe also includes red onion and jalapeño for even more flavor and spice.
How do you thicken coconut curry?
Meet my friend the cornstarch slurry. He's not a looker, and at first glance he may remind you of Oobleck, but this humble mixture of cornstarch and water works perfectly to create a thick, creamy sauce.
What does coconut curry sauce taste like?
Coconut curry is an amazing blend of flavors. It has the classic spices of many other Indian or Thai curries, but with a slightly sweeter and milder flavor thanks to the coconut milk. It's mostly savory and is only made more complex and creamy with the coconut milk, not overpoweringly sweet at all.
Is curry with coconut milk healthy?
Coconut curry is definitely a healthier alternative to curries made with heavy cream (lots fewer calories, for starters). This recipe is also packed with lean protein from the chicken and some tasty veggies.
What does coconut milk do to curry?
Coconut milk adds a subtle sweetness to spicy curry, tempering the heat while adding a creamy, complex flavor of its own. If you've never tried it, let me share this whole new world with you. (I've come so far! I can't go back to where I used to be!)
At what stage do you add coconut milk to a curry?
In stovetop coconut curry recipes, the coconut milk is added later in the process so it doesn't separate. Since we're making this recipe in the crock pot, there's no real need to worry about it. The milk heats up at a slow enough rate that the texture stays just right. Just mix everything in, cover it up, and let the crock pot work its magic.
Facebook | Pinterest | Instagram

Coconut Curry Chicken Crock Pot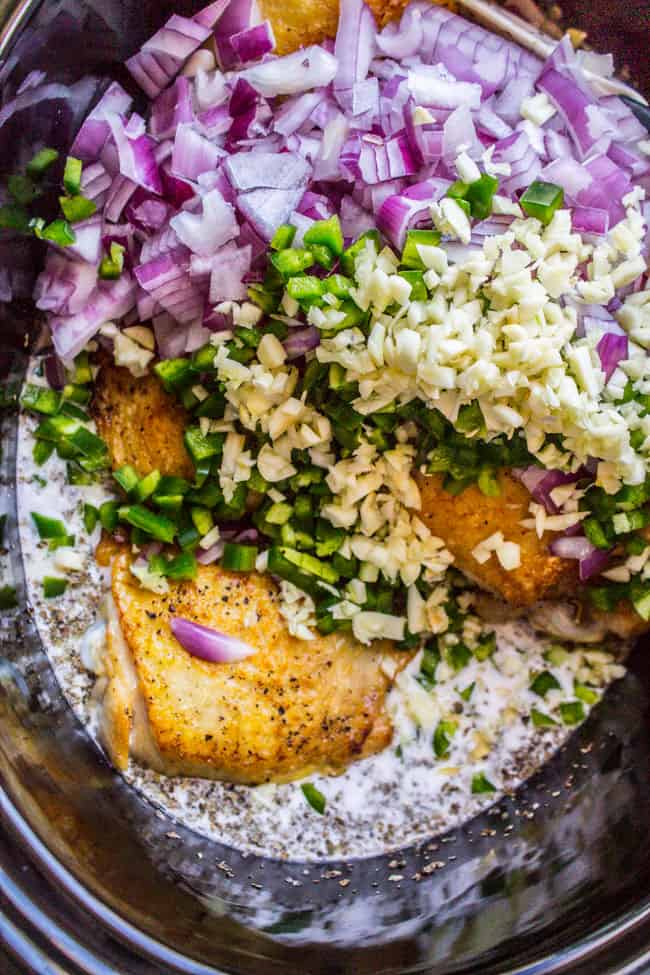 This Slow Cooker Coconut Curry Chicken is one of the best curries I've ever had! It's not too spicy, but has tons of flavor!
Ingredients
6

bone-in skin-on chicken thighs

,

skin removed* (about 2 and 1/2 pounds)

salt and pepper

1

teaspoon

oil

2

13.5-oz cans

coconut milk

,

(lite coconut milk is great too)

2

tablespoons

dried basil leaves

2

teaspoons

salt

3/4

teaspoon

pepper

1 & 1/2

tablespoons

yellow curry powder

1/2

teaspoon

chili powder

,

or 3/4 teaspoon

1

large

red onion

,

chopped

8

cloves

garlic

,

minced

2

jalapenos

,

seeded and finely chopped

1

tablespoon

cornstarch

1

tablespoon

water

,

COLD

1

teaspoon

fresh ginger

,

grated or minced

1/3 to 1/2

cup

fresh cilantro

,

chopped
Instructions
Remove the skin from the chicken using your fingers and a serrated knife. Salt and pepper each thigh.

Heat a large skillet to medium-high heat. Add 1 teaspoon oil (or you can use nonstick spray).

When the oil is hot, add 3 chicken thighs. Don't put them too close together, you want to avoid steaming.

Cook for about 2 minutes, until nicely browned on the bottom. Then flip the chicken over to brown the other side for about 1-2 minutes.

Remove the chicken to a plate.

Repeat searing process with the other 3 chicken thighs. If there is still enough grease in the pan then you don't need to add more oil.

Meanwhile, in a crock pot combine coconut milk, basil, 2 teaspoons salt, 3/4 teaspoon pepper, yellow curry, and chili powder (to taste). Stir to combine.

Add the chopped red onions, garlic, and jalapenos.

Add the browned chicken and stir to combine.

Cook on high for 4-5 hours, or on low for 6-8 hours.

Remove the chicken from the slow cooker and transfer to a plate or cutting board. Let cool for a couple minutes.

Add the ginger to the slow cooker.

In a small bowl, combine cornstarch and 1 tablespoon COLD water. Stir until it's not lumpy. Add this to the crock pot and stir.

Shred the chicken, removing the bones and any tough bits. It should just be falling apart.

Return the meat to the slow cooker and stir. Return the lid and cook for another 10 minutes.

Season with salt and pepper to taste. Stir in the cilantro.

Serve with rice, cauliflower rice, or naan.
Notes
*I know the photos show that I seared the meat with the skin on. I tried it both ways and liked it better with the skin removed, but only got photos with the skin on.
You can replace the thighs in this recipe with chicken breasts. Use about 1 and 1/2 to 2 pounds. (Chicken breasts are less fatty and won't reduce as much while cooking, so you need less meat to start with.)
Nutrition
Serving:
1
cup
|
Calories:
348
kcal
|
Carbohydrates:
6
g
|
Protein:
24
g
|
Fat:
25
g
|
Saturated Fat:
7
g
|
Polyunsaturated Fat:
5
g
|
Monounsaturated Fat:
10
g
|
Trans Fat:
1
g
|
Cholesterol:
142
mg
|
Sodium:
890
mg
|
Potassium:
399
mg
|
Fiber:
1
g
|
Sugar:
1
g
|
Vitamin A:
239
IU
|
Vitamin C:
8
mg
|
Calcium:
57
mg
|
Iron:
2
mg