Easy Cheesy Ravioli Lasagna
This is a hearty no-brainer dinner to make on busy back-to-school nights. You don't even have to cook the ravioli, just throw it in frozen. It's a total crowd-pleaser! And a great make-ahead meal too.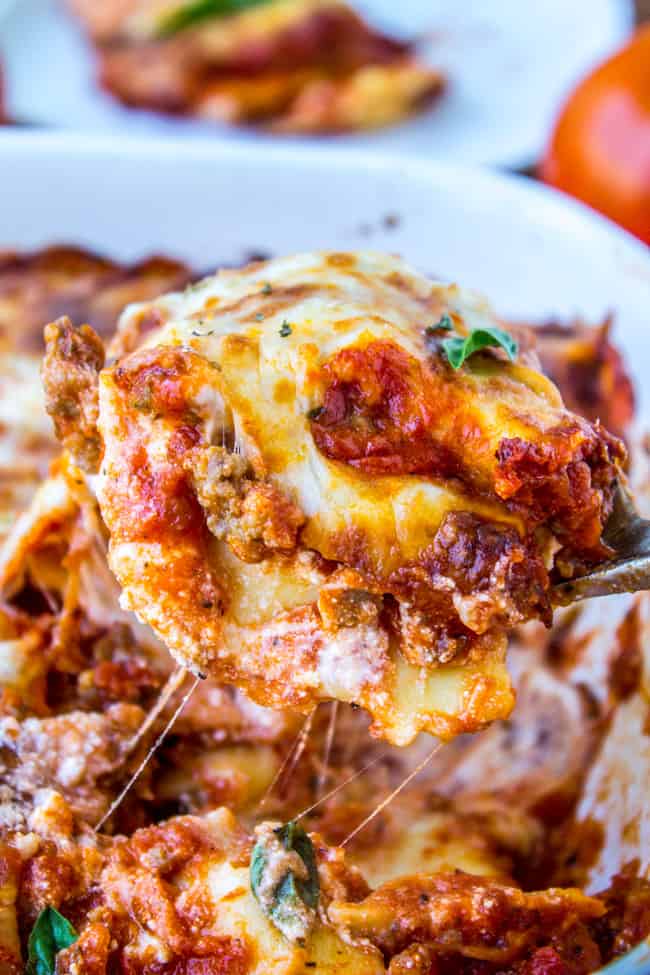 Today I went to Charlotte's preschool registration. The teacher had emailed us requesting that we bring 2 photos of Charlotte, I assume to put up on the wall in their classroom.
So last night I carefully went through all of the lovely family photos we had taken last year, and picked the two where Charlotte looked the most adorable. I sent them off to Eric, and he was in charge of ordering the pictures at Walgreens. But when I went to pick them up this morning, this is what I found: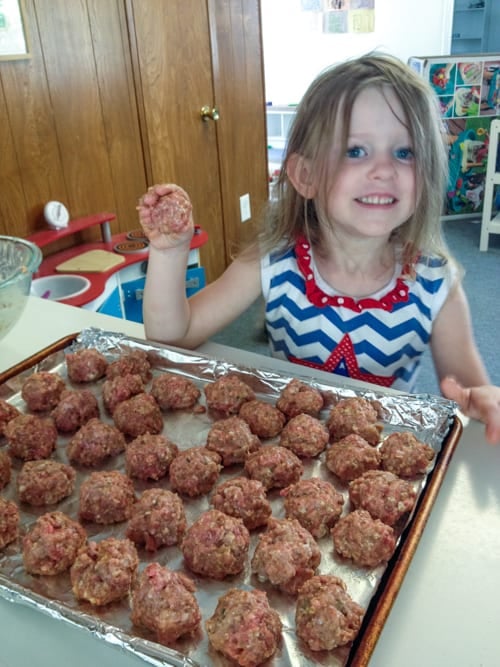 MEATBALLS. Raw meatballs. Eric apparently thought that this picture had a lot more character than the professional ones. Well it certainly does, along with a blurry face and a hairdo that makes Charlotte looks like a street urchin. Oh, and don't worry that half the photo is RAW MEATBALLS. Handing this picture to the teacher is like handing them a guarantee that this one will be The Problem Child, because their parents are freaky weird.
Also, her first nickname will be Meatball Girl. Every preschooler's dream.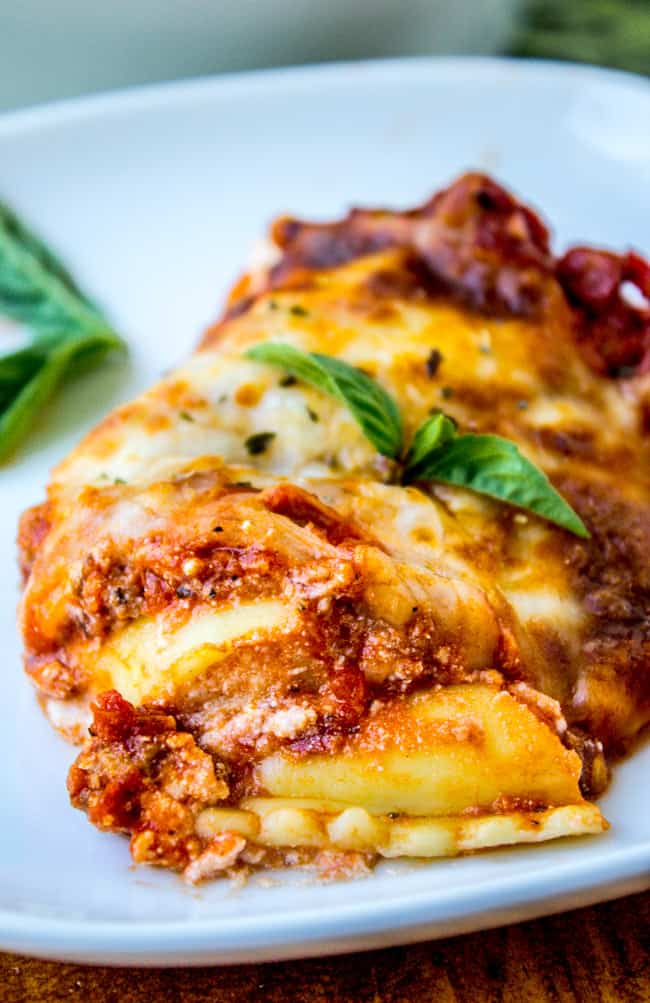 Well even if Charlotte's earliest school years are now haunted with meatball memories, at least she will get this for dinner. It's not so bad having freaky weird parents when you get Ravioli Lasagna. Kind of rounds things out.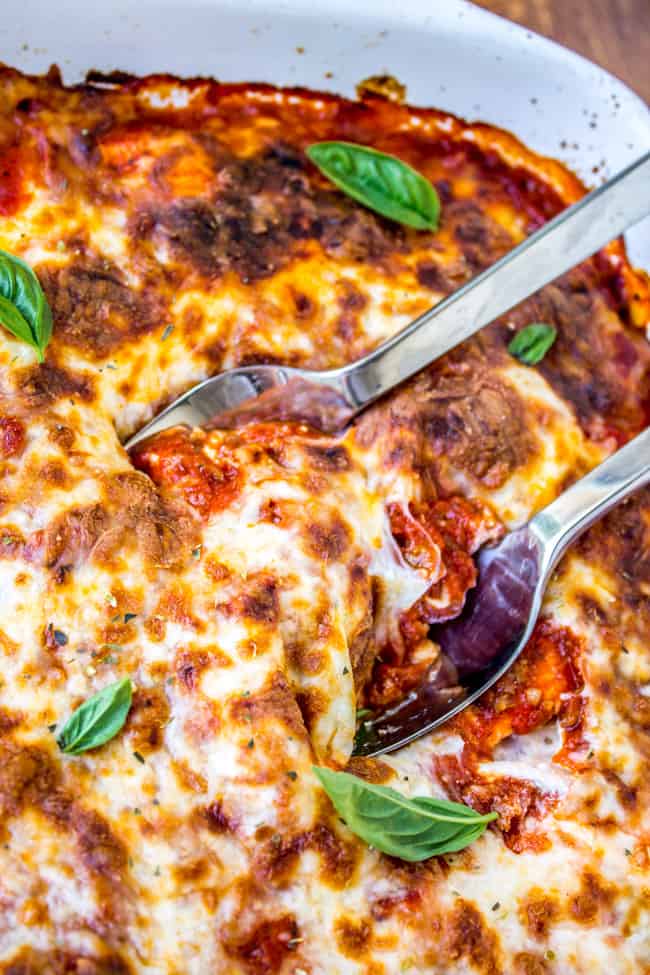 This recipe is a classic in Eric's family, his mom made it all the time growing up. It has 4 parts: sauce, frozen ravioli, ricotta, and cheese. It's super easy to put together. I decided to skip boiling the ravioli, just to see what would happen. Here's the text I sent my mother- and sisters-law: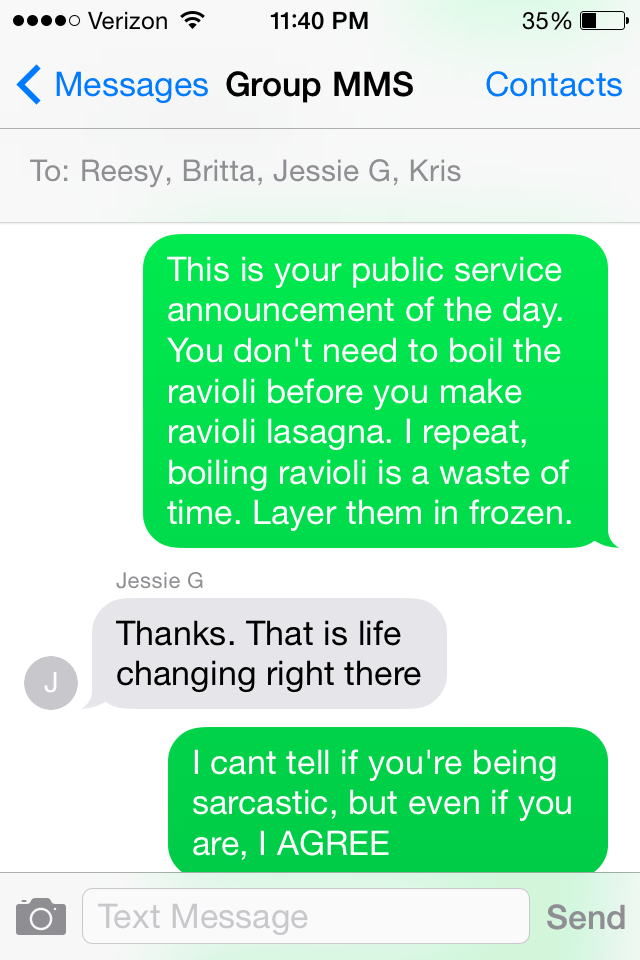 And for the record, Jessie wasn't being sarcastic. It really is that life-changing. Boiling ravioli adds at least 10 minutes to your dinner prep, and that is 10 minutes that you could be vacuuming, or filing your nails, or Pinteresting. (I'll take option 3 please.)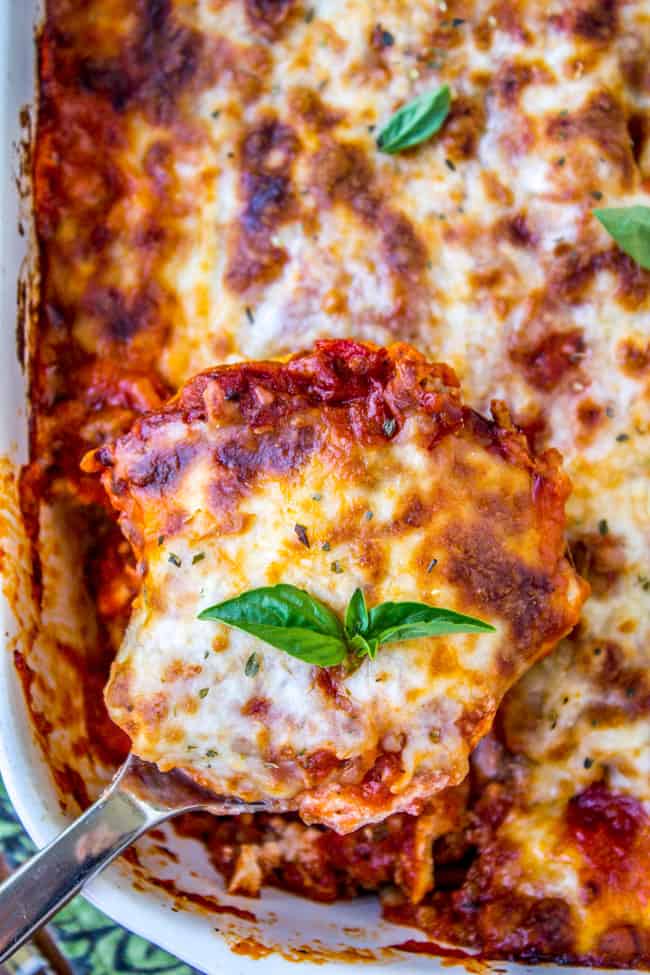 You can make this lasagna as easy or extensive as you want it to be. You can add sausage to the sauce, or leave it out. You can layer sliced zucchini or other squash, if you have it around. You can jazz up the ricotta with an egg or spices. Pretty much any way you make it, it's going to be amazing! Love no-fail recipes like this.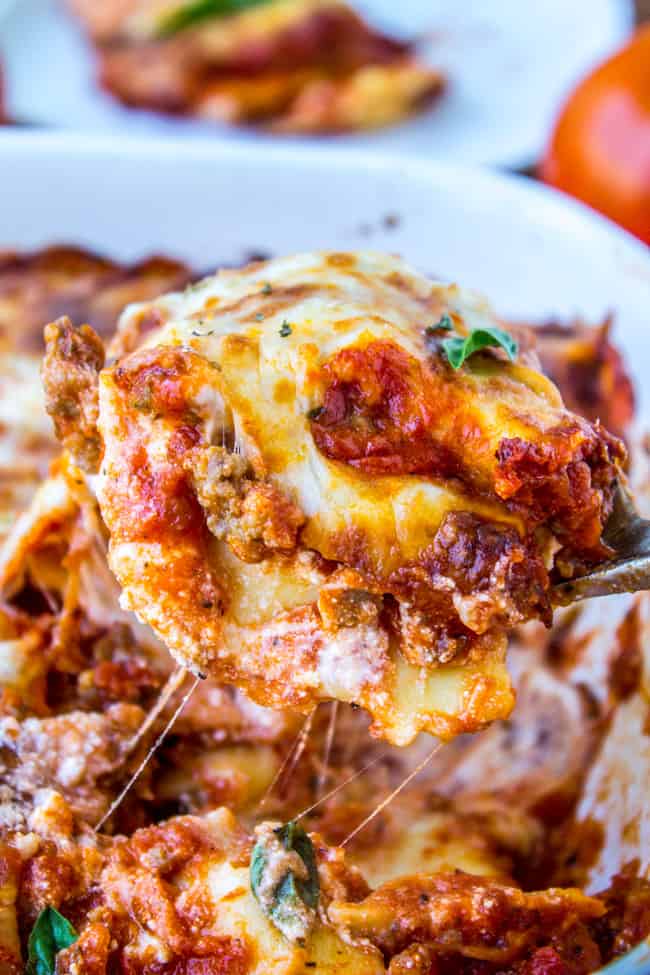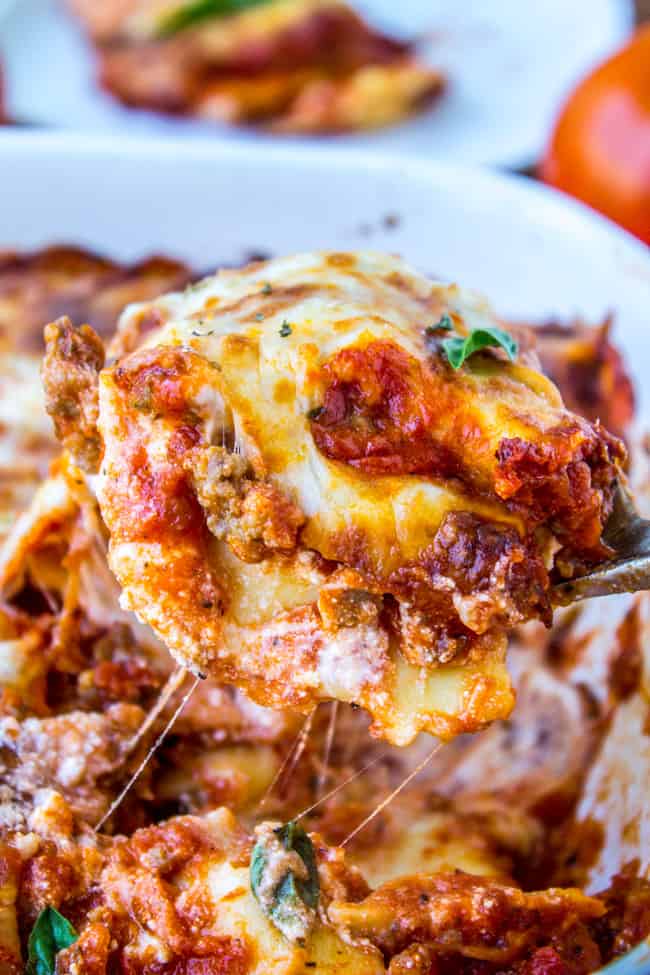 print
Did you make this recipe?
Leave a review »
Easy Ravioli Lasagna
Serves 6-10
adjust servings
Ingredients
1

pound Italian sausage

1

jar marinara sauce

1 14-ounce

can crushed tomatoes

1

tablespoon Italian seasoning

20-25

ounces ravioli, fresh or frozen

15

ounces ricotta cheese

2-3

cups shredded mozzarella

fresh basil, to garnish, optional
Instructions
In a large skillet, cook and crumble the sausage over medium heat. Drain well.
Add the marinara sauce and crushed tomatoes. Add Italian seasoning.
Preheat the oven to 350 degrees F. Grease the edges of a 9x13 inch casserole dish.
Spoon about a half cup of the sauce into the pan and spread it all around the bottom.
Layer half of the ravioli on top in a single layer.
Spread half of the ricotta over the top of the ravioli (do your best, it doesn't need to be perfect).
Top with half of the remaining sauce.
Sprinkle with about 1 cup of mozzarella.
Repeat the layers: all the remaining ravioli, ricotta, sauce, and another cup or more of mozzarella.
Bake at 350 for about 30-40 minutes, or until bubbly and golden brown. You can broil it for the last minute if you love crispy cheese on top.
Garnish with fresh basil and dig in!
by The Food Charlatan

If you make this recipe,
share it on Instagram
 using the hashtag
#TheFoodCharlatan
so I can see it!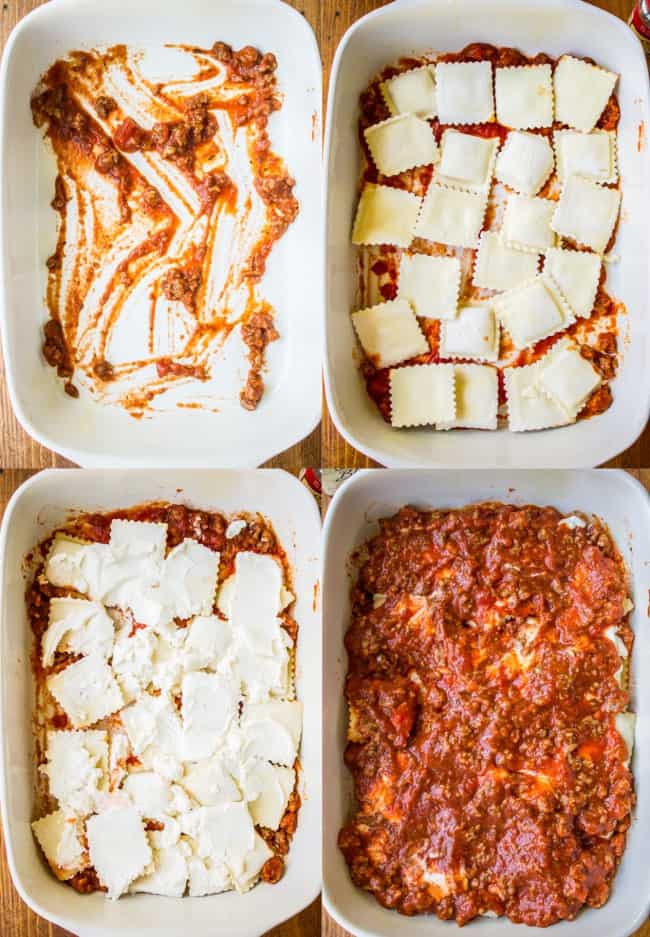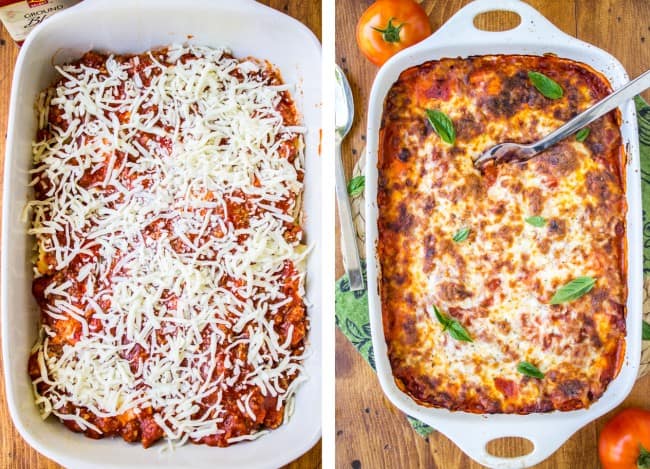 You will love these other great back-to-school dinners!
Easy Cheesy Asparagus Tortellini Bake: this one's quick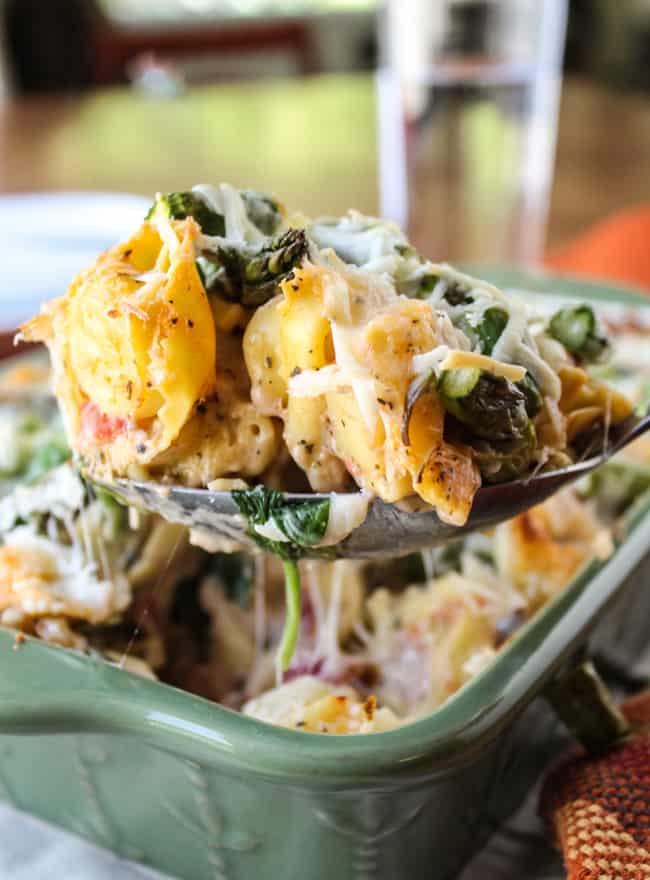 This Baked Ziti is one of my favorite casseroles of all time!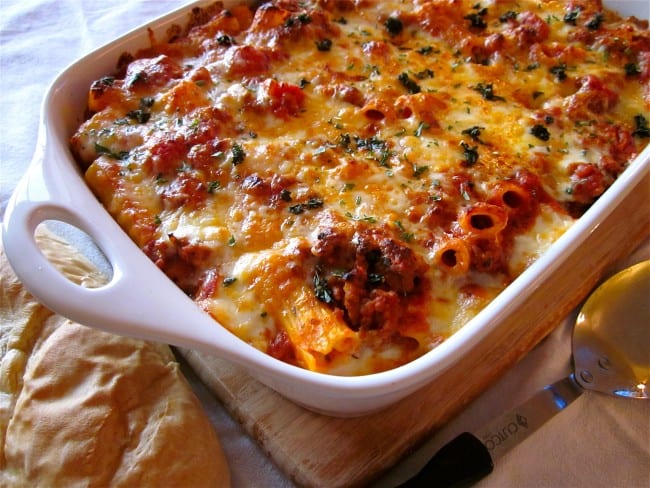 Here's another quick dinner–Chicken Parmesan Pot Pie. Just one skillet!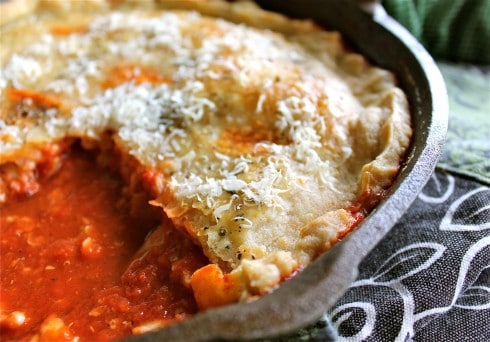 Other great back-to school casseroles:
Chicken and Dumpling Casserole from Chef in Training
Italian Sausage Casserole from Dinners, Dishes and Desserts
Cheesy Ravioli and Italian Sausage Skillet from The Comfort of Cooking
We are a participant in the Amazon Services LLC Associates Program, an affiliate advertising program designed to provide a means for us to earn fees by linking to Amazon.com and affiliated sites.