These deliciously crispy chicken flautas are so satisfying! What's not to love about seasoned chicken breast rolled up in little tortillas and fried? Top them with pico de gallo, sour cream, and queso fresco for an unforgettable Mexican feast.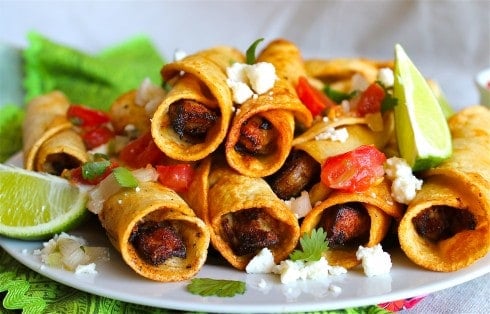 Originally posted May 3, 2013
Eric and I just realized that we've been giving Charlotte way too much fluoride. For like a year. We're supposed to give her a drop…not a dropper full. Parents of the Year Award right here. (I swear there are no instructions on the bottle. The pharmacist just happened to mention it this time.) I wasn't too worried about it until I looked up "fluoride overdose" and the first hit's list of symptoms said, "Abdominal pain…abnormal taste…heart attacks…" No big deal, right? You can use this as evidence in court if Charlotte drops dead anytime soon.
(Update: 6 years later Charlotte is alive and well! Though at 8 years old she's starting to develop a bit of an attitude. Do you think we can blame that on the flouride??)
Chicken Flautas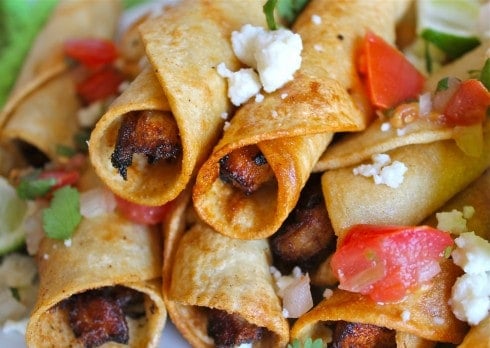 Don't you love it when you deep fry food and then get to smell it in your hair the rest of the day? I just love smelling like a taco truck. Let's be honest, it's pretty much always worth dealing with a cloud of oil floating in your vicinity when the perks include doughnuts or churros or these Chicken Flautas. I wear my fried food smell like a badge of honor.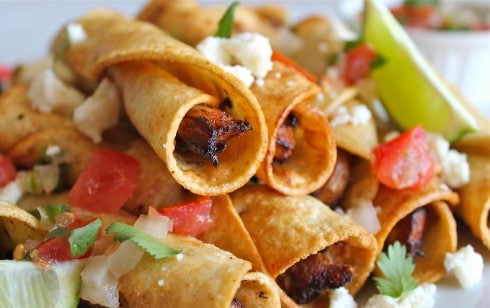 But what is a flauta? It's Spanish for flute and these little treats are long, round, and thin just like the musical instrument. I like that name because it makes me think that these small little crispy taquitos are light and airy like flute music rather than fried in oil. Yes, I just keep thinking "light, sweet flute music" as I down my eighth flauta in a row.
How to make Flautas
I made these for Eric's birthday last week. And again yesterday. Because sometimes one batch of deep fried deliciousness isn't enough for one week. Eric used to live in Mexico and got to eat food like this every day. He was so happy I made this I thought he was going to cry into his pico de gallo.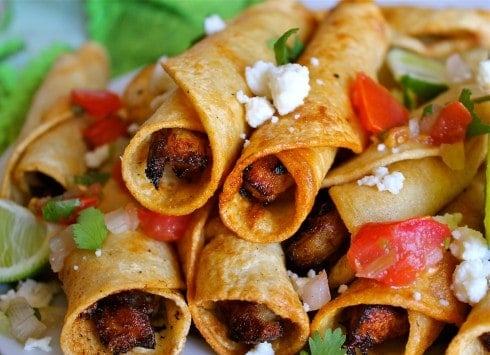 The great thing about this flautas recipe is that the construction is simple and you use a toothpick to keep from making a mess. The key is to not overstuff the tortillas with the filling. But definitely feel free to overdo the toppings!
Eat these! Then go work out!!
Other great Mexican recipes!
Mexican Street Corn Dip (Elote) <<Another favorite of Eric's that reminds him of his days in Mexico
Traditional Tejano Carne Guisada (Braised Beef for Tacos) <<One of my to recipes of all time!
Traditional Tejano Pinto Beans (Slow Cooker) <<Pairs perfectly with the carne guisada above. These beans are a personal favorite!
Mexican Shredded Beef Baked Taquitos from Taste and Tell
Mexican Shrimp from Well Plated
Mexican Stuffed Peppers from Spend With Pennies

Chicken Flautas (Taquitos)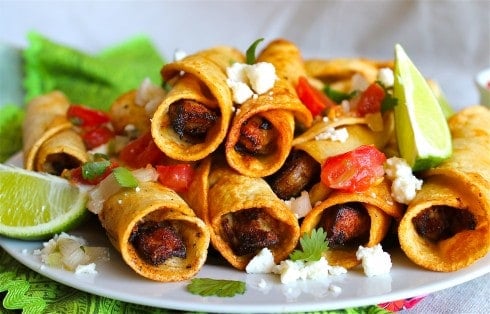 The great thing about this flautas recipe is that the construction is simple and you use a toothpick to keep from making a mess! Tasty and simple to make.
Ingredients
1

tablespoon

vegetable oil

1

onion

2

garlic cloves

3

cups

chicken

,

cooked and shredded (I used a rotisserie)

4

ounces

queso fresco cheese or feta

,

crumbled

12

corn tortillas

2

tbsp

oil

,

for frying (enough to get 1 inch in your pan)

salt and pepper
For the Pico de Gallo
3

tomatoes

,

chopped

1/2

small onion

,

finely chopped

2

jalapenos

,

seeded and finely chopped

chopped cilantro to taste

1/2

Lime

,

Juiced

salt to taste
Other Topping Ideas
additional queso fresco

avocado

guacamole

sour cream
Instructions
Start by making the Pico de Gallo. In a medium bowl combine the tomatoes, onion, jalapenos, and cilantro. Add the lime juice, then salt to taste. Set aside.

Now for the filling: Chop the onion finely and crush and mince the garlic. Heat the tablespoon of oil in a skillet until it starts to shimmer. Add the onion and sauté for about 5 minutes or until translucent. Add the garlic and cook for 30 seconds or until fragrant. Add the shredded chicken and salt and pepper to taste. When the chicken is warm, remove from heat and stir in the queso fresco.

Soften the tortillas 3 or 4 at a time on a plate covered in plastic wrap in the microwave. Start with 15-30 seconds. You want them to be pliable enough that they don't crack when rolled. Take one tortilla at a time (keep the rest covered!) and place a large spoonful of the chicken filling down the center. Roll tightly to make a neat cylinder and secure with a toothpick. (Stick the toothpick in directly adjacent to the flauta, then poke it back out.) Immediately cover the roll with plastic wrap to prevent the tortilla from drying out and splitting. Fill and roll the remaining tortillas.

Pour oil into a high-sided pan to a depth of 1 inch. Heat on medium or medium low until a small cube of bread, when added to the oil, rises to the surface and bubbles at the edges before turning golden. Add the flautas a few at a time and fry for 2-3 minutes until golden, turning with tongs as necessary. Drain on paper towels, then serve at once.
Nutrition
Serving:
1
flauta
|
Calories:
444
kcal
|
Carbohydrates:
45
g
|
Protein:
19
g
|
Fat:
22
g
|
Saturated Fat:
6
g
|
Polyunsaturated Fat:
5
g
|
Monounsaturated Fat:
9
g
|
Trans Fat:
1
g
|
Cholesterol:
50
mg
|
Sodium:
283
mg
|
Potassium:
569
mg
|
Fiber:
7
g
|
Sugar:
6
g
|
Vitamin A:
1136
IU
|
Vitamin C:
28
mg
|
Calcium:
253
mg
|
Iron:
2
mg