Have you ever tried making a Greek Tzatziki sauce recipe? Creamy Greek yogurt is combined with cool cucumbers and spiced with garlic, dill, and lemon. It is simple, fresh, and healthy. I paired it with toasted pita bread to make a fabulous New Year's Eve appetizer!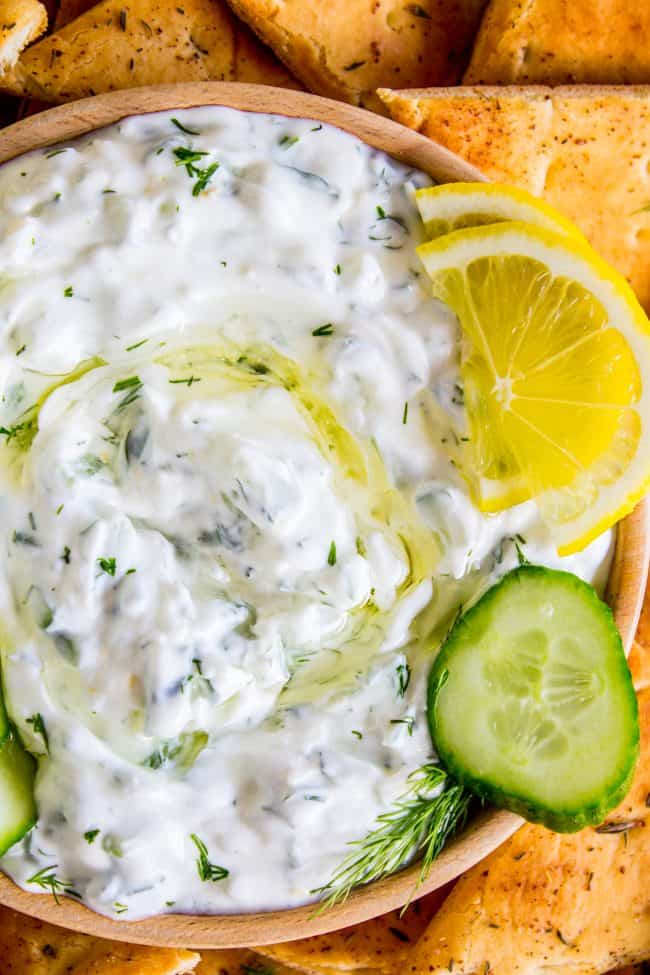 Last week I had just arrived at my brother Eric's house for the holidays, and had a couple work items to take care of. I still had to send out an email to all you lovely subscribers to let you know about The Fluffiest Homemade Cinnamon Rolls of Your Life. Every time I publish a recipe, I immediately send an email to all my subscribers to tell them about my new post. (Are you a subscriber? I love you! Muah!)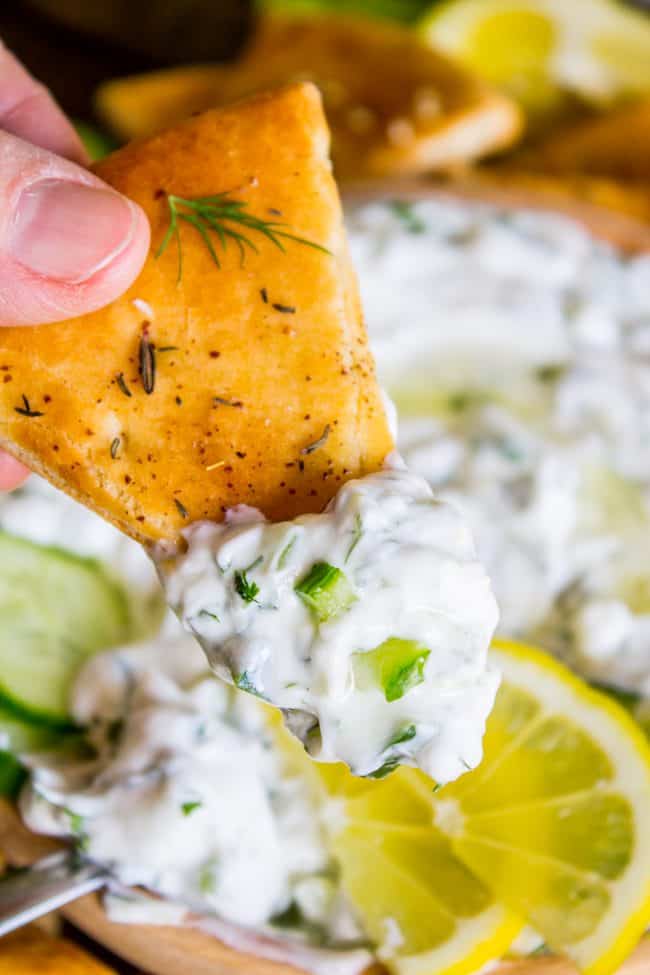 So I pulled out my computer and got to work, and my brother told me that my emails trick him every time. "What do you mean!?"
He told me that when he sees the teaser on the subject line that says, "Hi there Eric –" he always clicks to open the email, because he thinks that it's a special email just for him from his baby sister, and not a mass email from his baby sister to him and 40,000 other people all at once.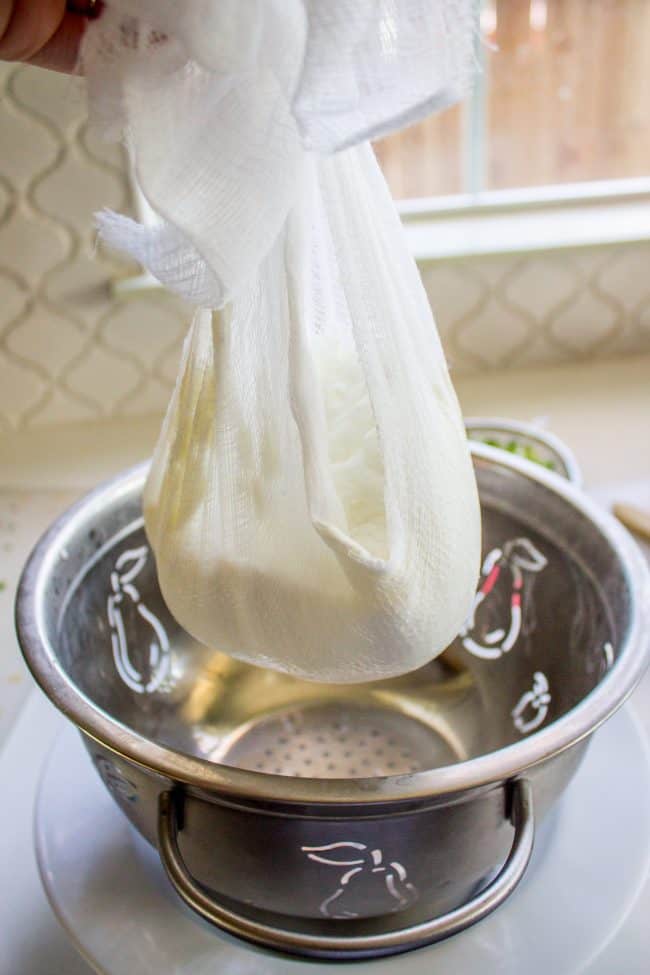 I had just hit send on the cinnamon rolls email, and I told him that I was sending him a Super Special Email just for him. (A total lie.) He texted me from work later, "Dangit! You got me again. I really thought it was from you and not a blog email." Mwahaha, sorry bro. I don't know why this cracks me up so much.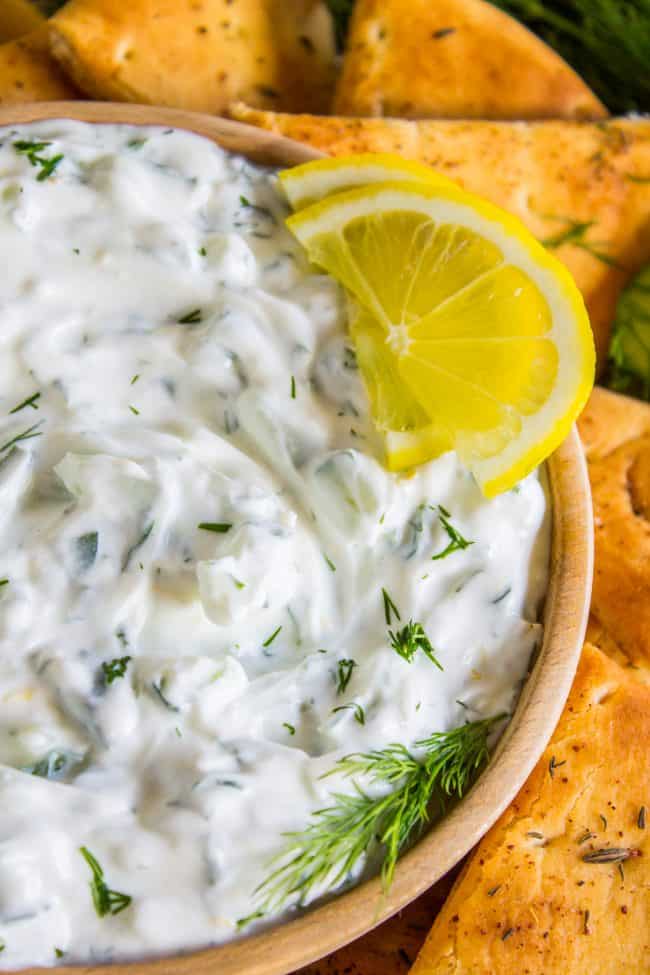 Who's ready for 2019? I don't know about you, but not only am I ready to shut the door on 2018, I'm ready to punch it in the face. 2019 is going to be awesome though. Who's with me?? I started reading The Power of Positive Thinking this week, which has some real gems in it. Like this: "Our happiness depends on the habit of mind we cultivate." Have you read it? I love the messages of visualizing success and victory. It really does work. (See how positive I'm being??) So, here's to a killer 2019.
But first we have to party like it's 2018 on New Year's Eve. Did you get asked to bring an appetizer? I know there are hundreds of dips out there that you could bring. But here's why you should bring Tzatziki:
What is tzatziki dip?
Tzatziki sauce is a dip or appetizer made of thick yogurt, cucumbers, lemon, and garlic. It's common all over the Mediterranean, and with good reason!
It's super easy
It's healthy
It's FRESH. It's December and we're all drowning in chocolate and caramel and peppermint, don't lie, I know you. Cool cucumbers and tangy garlic will solve all your sugar high blues.
Tzatziki Sauce Ingredients
Here's everything you need! Full recipe below!
2 cups plain Greek Yogurt
Cheesecloth
1 English cucumber
Kosher salt
1 clove garlic
1 small lemon
Fresh dill
Olive oil
Black pepper
6 slices pita bread
Za'atar spice. A flavorful Mediterranean blend that is SO good.

How to make Tzatziki Sauce
The secret to successful tzatziki sauce is to reduce the water. Preparing your cucumbers correctly is key to that. You can see in the photos a couple of steps in this process. First is slicing the cucumbers in half the long way so you can use a spoon to scrape out the tender inner portion and leave the crisp outer remainder for chopping.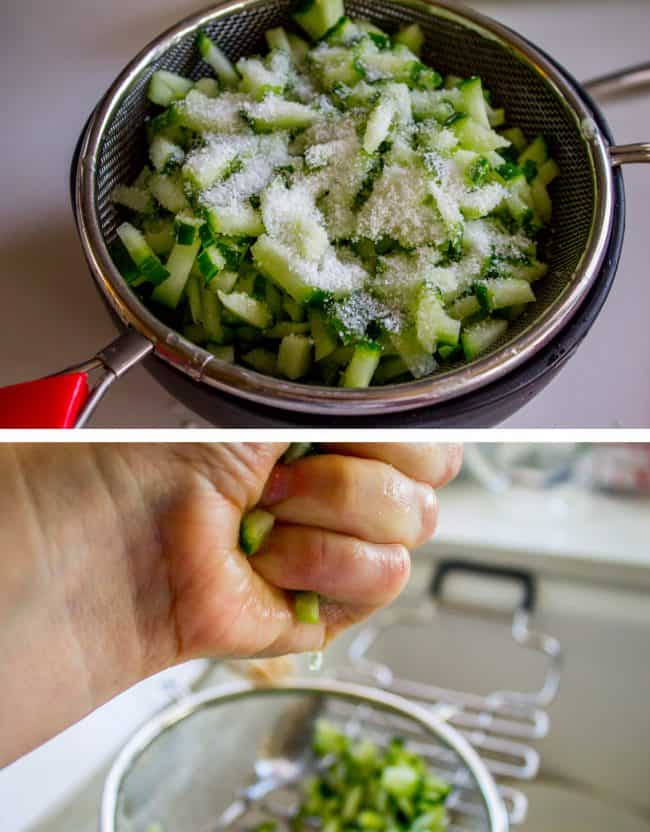 Tips for the best Tzatziki Recipe
Once you've chopped the cucumbers I put them in a strainer with salt and then actually take handfuls and squeeze out the water. This may seem labor intensive, but it makes all the difference! You want this sauce to be dreamy creamy, not watery.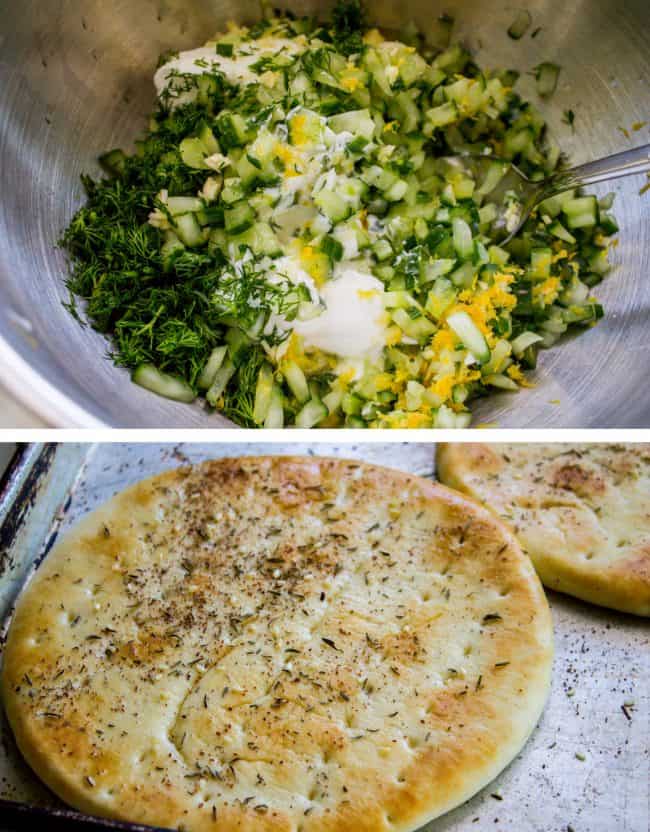 Toasted Za'atar Pita
I am quite partial to serving this with toasted pita bread that has been rubbed with olive oil, sprinkled with za'atar seasoning, and toasted for a few minutes in the oven. Have you ever tried za'atar seasoning? It's a warm Middle Eastern seasoning blend that includes thyme, cumin, coriander, sesame seeds, and sumac. It's so delicious and adds the perfect zing, taking simple pita bread to the next level.
You can also serve this with fresh vegetables like carrots, celery, cucumbers, sweet peppers, etc. It would make a much more interesting centerpiece to your vegetable tray than boring ol' ranch!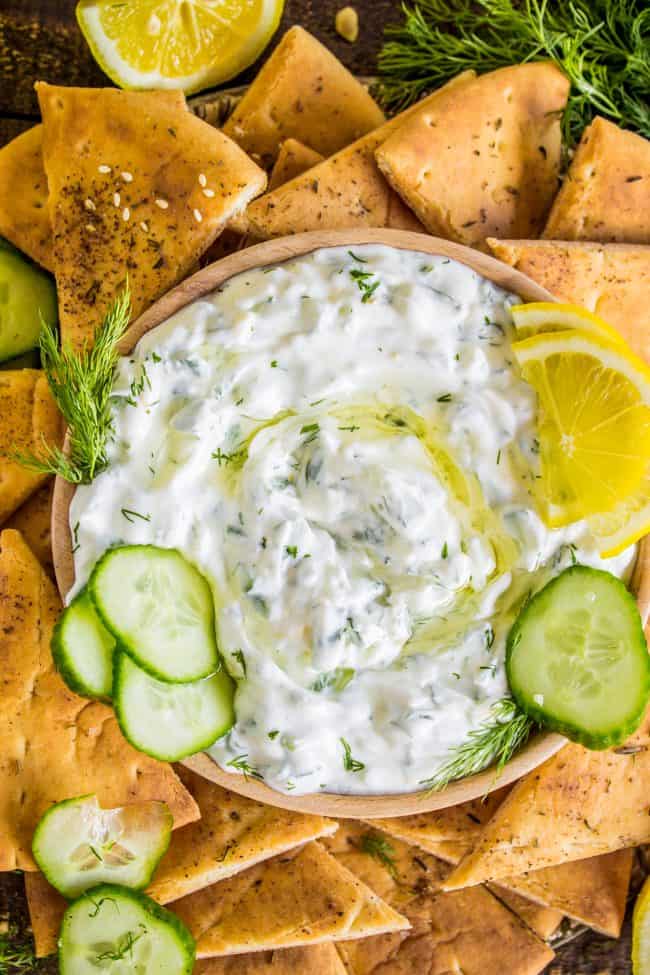 How long does tzatziki last in the fridge?
It's yogurt-based, so it's got a decently long life. When sealed well, it'll last in the fridge up to 2 weeks. Follow your nose, always!
Tzatziki Sauce Recipe FAQs
Does tzatziki contain dairy?
Yes. Now if you happen to be eating tzatziki sauce in an actual mediterranean country, you're probably eating yogurt made from goat milk. Goat milk is still dairy, of course, but some people find it to be easier on the stomach. In the US, tzatziki sauce is usually made from cow's milk, specifically greek yogurt.
Can I eat tzatziki sauce by itself?
It's still a free country right?? You can dive into tzatziki with nothing but a spoon, but I feel like it's best as a compliment to something else. I like to use it as an impromptu salad dressing, to top chicken or fish, or to jazz up a sandwich.
Can you buy tzatziki sauce in the grocery store?
Yes, but it's not going to be as delicious as making it at home. Check the ingredients. 10 bucks says they are using oil as one of the main ingredients, not yogurt. If you are really pressed for time, buy it from the store but then come home and doctor it up by adding more garlic, fresh lemon juice, fresh dill, or extra cucumbers (taste it first of course!)
What is tzatziki seasoning?
Tzatziki seasoning is meant to be blended with yogurt for a cheater tzatziki sauce. It's going to be something dried, like pepper, powdered garlic, and mint or dill. It's not really comparable to the real deal because you can't powder cucumbers. (Can you??? someone please prove me wrong) Of course fresh is best!
What is a substitute for tzatziki sauce?
Lots of options here. Hummus, greek yogurt, sour cream, ranch dressing. Sprinkle on some garlic or dried dill if you have any!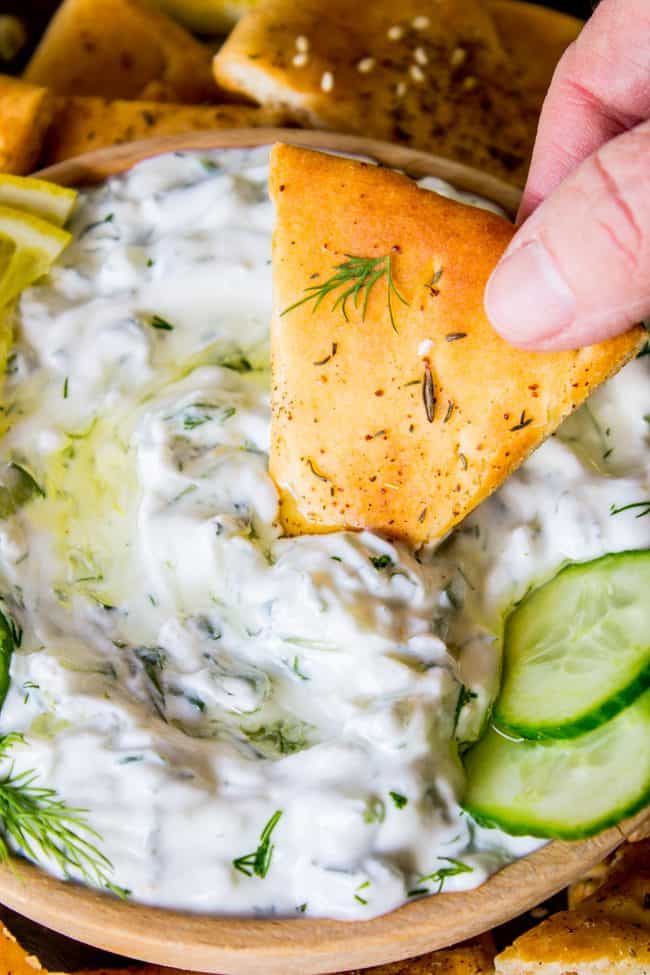 Is tzatziki sauce unhealthy?
No, it's actually pretty good for you! Tzatziki sauce is low in carbs and fat. All things in moderation of course. The nice thing about tzatziki is that it pairs well with vegetables so it basically invites healthy eating. You always hear about how healthy the Mediterranean diet is for a reason.
Is tzatziki sauce Keto friendly?
Yes to Keto! Go ahead and indulge in it the way you would greek yogurt, and be sure to count those net carbs. Tzatziki sauce is a great option for adding that little bit of flavor and texture you need for your other Keto foods.
Now you are a Tzatziki expert! Be sure to check out my new Instant Pot recipe for Gyro Style Shredded Beef. It pairs marvelously with this tzatziki sauce! Hooray for a healthy January! Before that I will be posting my Top 10 Recipes of 2018 of course, because that's always fun to see, right? Any guesses on what the top recipe was??
What do you eat Tzatziki Sauce with? Delicious Greek-style food!
More easy appetizer ideas you are going to love!
Facebook | Pinterest | Instagram

Tzatziki Sauce Recipe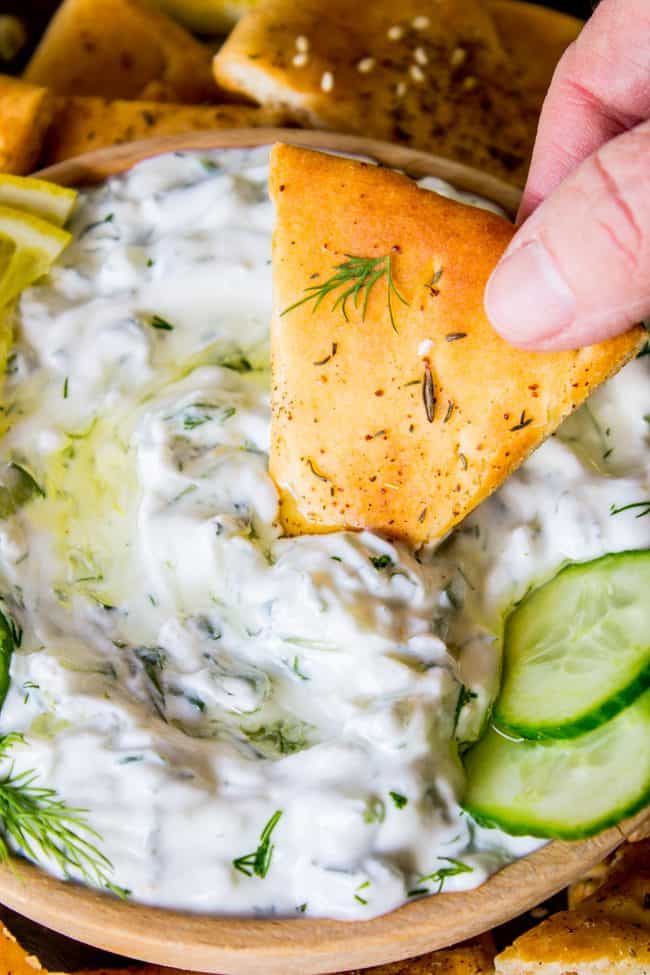 Have you ever tried making a Greek Tzatziki sauce recipe? Creamy Greek yogurt is combined with cool cucumbers and spiced with garlic, dill, and lemon. It is simple, fresh, and healthy. I paired it with toasted pita bread to make a fabulous New Year's Eve appetizer!

Ingredients
For the tzatziki
2

cups

plain Greek Yogurt

cheesecloth

,

for draining yogurt, optional

1

English cucumber

,

diced small

1

teaspoon

kosher salt,

for cucumbers

1

clove

garlic

,

smashed and minced

zest from 1 lemon

juice from 1 small lemon

,

about 2 tablespoons

2

tablespoons

fresh dill

1/2

teaspoon

kosher salt,

or more to taste

1

tablespoon

olive oil

,

plus more for drizzling

black pepper to taste
For the Za'atar Pita bread
6

slices

pita bread

1-2

tablespoons

olive oil

,

for brushing pita

za'atar spice blend

,

to taste
Instructions
If you would like to strain the yogurt to make a thicker tzatziki (which is more traditional), add 2 cups plain Greek yogurt to a large rectangle of

cheesecloth

. Strain the yogurt over a bowl for about a half hour to an hour. I placed the cheesecloth over a colander and then set the whole thing over a bowl, and left it in the fridge.

Meanwhile, slice the cucumber lengthwise, scrape out the center with a spoon, then dice. You can also grate it if that sounds easier to you, but I prefer to dice small. (see photos). Add the cucumber to a mesh strainer and set over a bowl. Sprinkle with 1 teaspoon salt and stir to combine. Let sit for 30 minutes to 1 hour.

Use your hands to squeeze the salted cucumber over the sink. (don't rinse it ) Try to get out as much liquid as possible.

(If you are in a hurry, skip straining the yogurt and skip salting the cucumber. You should still squeeze the cucumber and get out as much of the liquid as you can. Stir the cucumber into the yogurt. Add a little more salt to the mixture, according to taste. Your tzatziki will not be as thick, but it will still be delicious.)

Add 1 clove minced garlic, zest from 1 lemon, and juice from 1 lemon (2 tablespoons, or up to 3 tablespoons to taste).

Add 2 tablespoons fresh dill, 1/2 teaspoon salt (or to taste), 1 tablespoon olive oil, and a few grinds of black pepper.

Stir it all together. Chill for about an hour before serving, if you have time. (It will still be good even if there's no time for this.) Store covered in the fridge. The bite of the garlic will decrease the longer you refrigerate it. It will keep in the fridge for up to a week.

Make the Za'atar Pita: while the completed tzatziki is chilling, prepare the pita. Preheat your oven to 350 degrees F. Line a baking sheet with pita bread. Brush the top of each pita with a small amount of olive oil, just enough to coat. Sprinkle the top with a few shakes of Za'atar seasoning, to taste.

Bake at 350 for about 5-8 minutes, until the pita is slightly crisp on the edges but still tender in the middle.

Serve with the tzatziki sauce.
Nutrition
Serving:
1
g
|
Calories:
550
kcal
|
Carbohydrates:
79
g
|
Protein:
27
g
|
Fat:
14
g
|
Saturated Fat:
3
g
|
Polyunsaturated Fat:
2
g
|
Monounsaturated Fat:
7
g
|
Cholesterol:
9
mg
|
Sodium:
1871
mg
|
Potassium:
326
mg
|
Fiber:
4
g
|
Sugar:
8
g
|
Vitamin A:
220
IU
|
Vitamin C:
14
mg
|
Calcium:
305
mg
|
Iron:
2
mg
Originally posted December 29, 2018.