Literally The Best Mac and Cheese I've Ever Had
This is the Best Mac and Cheese recipe ever! I'm not kidding guys.When I put this in my mouth the first time, I literally stopped to shout hallelujah. Okay not really, but I'm telling you it is SO CREAMY AND SO CHEESY and so worth it.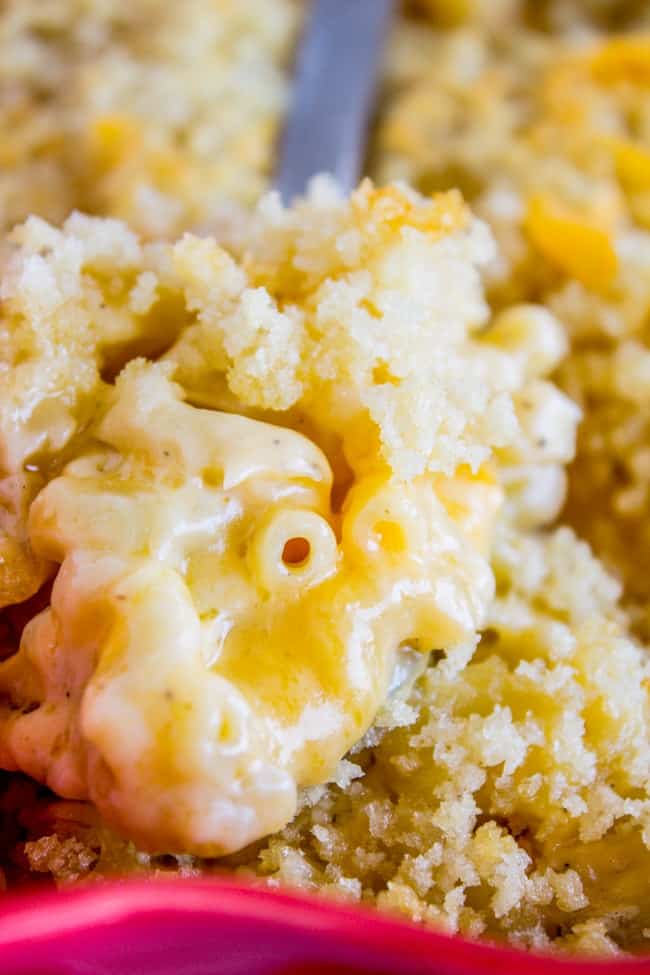 Originally published August 24, 2016
Homemade mac and cheese contest!
I take my food photographs on the porch for the best light. My neighbor Tyrone is always coming over to see what I've made (and hoping for a taste of course). He came over when I was taking pictures of this Mac and Cheese and said, "Oh, I make the BEST mac and cheese."
I said "No, Tyrone. This Mac and Cheese is better than yours."
And that's how this happened: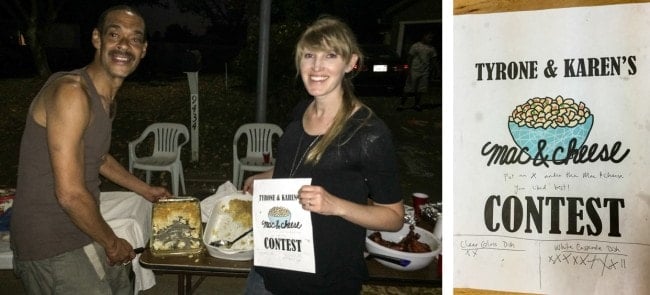 Here we are at our block party last weekend. I was like, Tyrone, if you seriously think your mac and cheese is better than mine, then we need to put this to a vote. So we each brought a pan to the block party and made people pick which one they liked better. Despite an entire week of trash-talking me, I DESTROYED HIM. See those 2 X's for his mac and cheese? One was a pity vote from me.
The recipe is from my awesome friend Hannah. One night I stayed home sick (first trimester blues) on a night that the Young Women at church were having an activity (Hannah and I are their counselors). They made this homemade mac and cheese and doorbell ditched me a big bowl of it.
Eric brought it to me and when I smelled it I almost lost my lunch. But then the next day I was in the mood for it (being pregnant is SO WEIRD). I tried it and could not believe how amazing it was. I had never had baked mac and cheese like this!
How to make the best mac and cheese recipe… ever!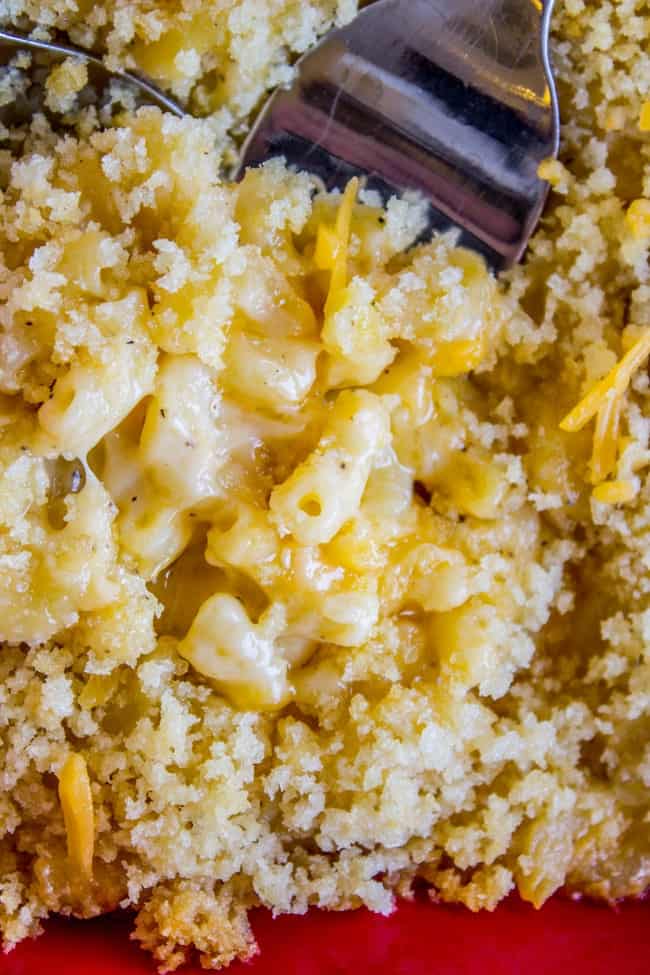 Want to know the secret? The recipe calls for a half pound of cheese to be layered in between the saucy noodles. See this cheese stretch? HALF A POUND GUYS: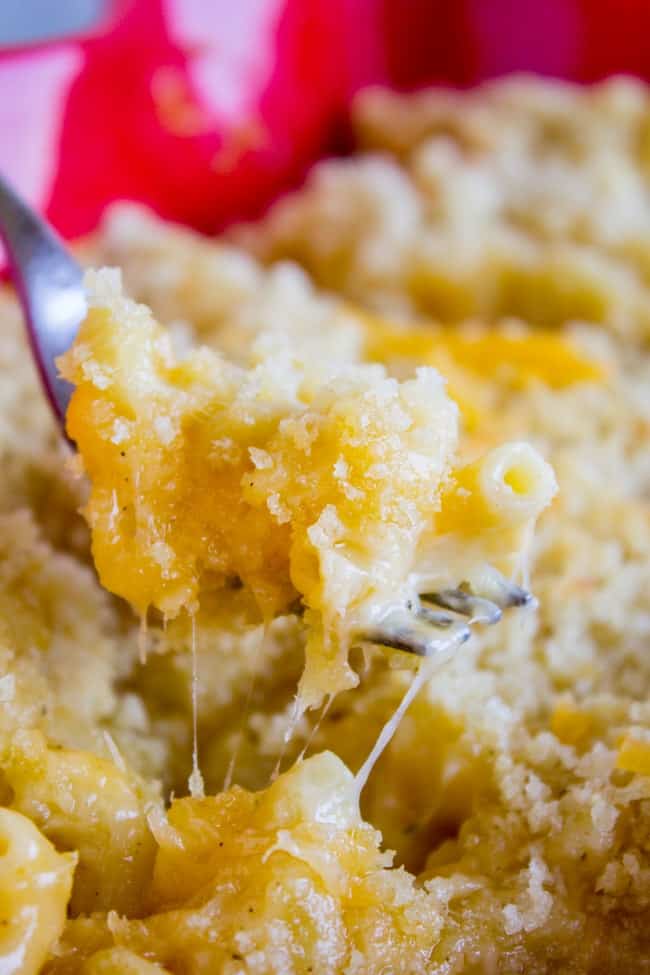 I went to a restaurant a while back and had the mac and cheese. Here's how they described it on their menu:
Mac & Cheese $8
bacon / hella cheese / bread crumbs
I'm a mac and cheese purist, so you won't find any bacon in this recipe, but when Hannah told me that there was a half pound of cheese layered in the center, I definitely thought of this menu description. It's perfectly appropriate. ALL THE CHEESE.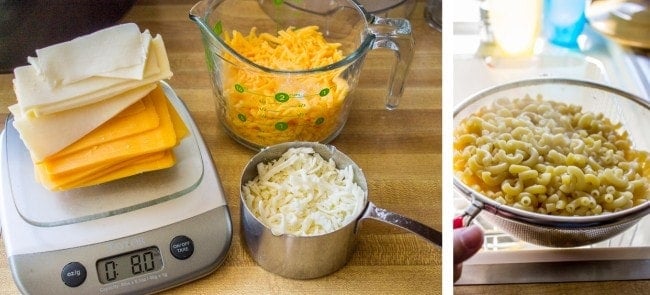 Oh and just in case you thought this wasn't decadent enough, it calls for CREAM in place of some of the regular milk. We may be dying young, my fellow Americans, but we will die happy. Fat and so, so happy.
Facebook | Pinterest | Instagram | Twitter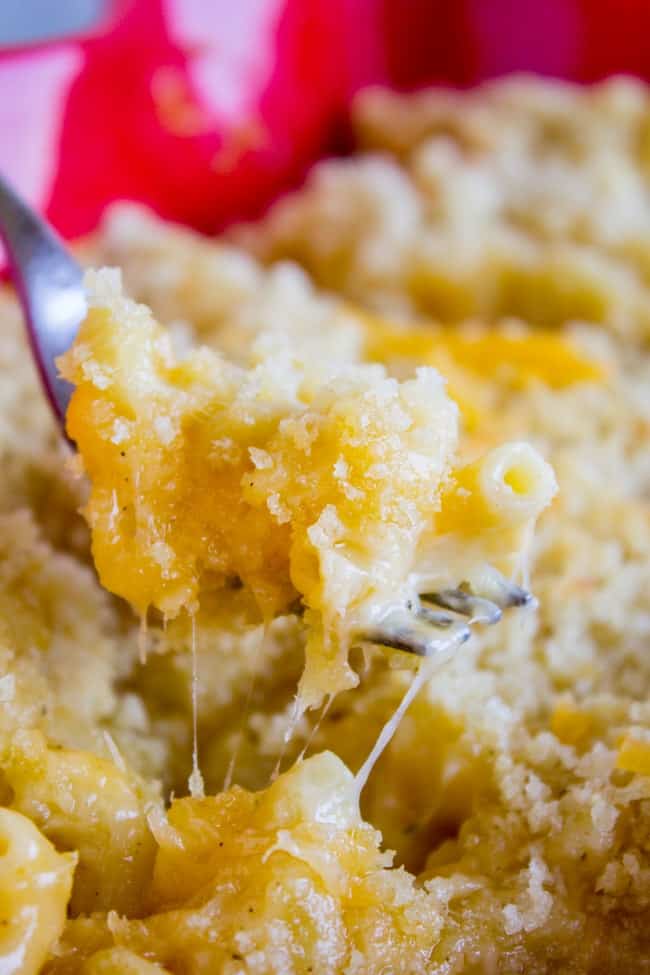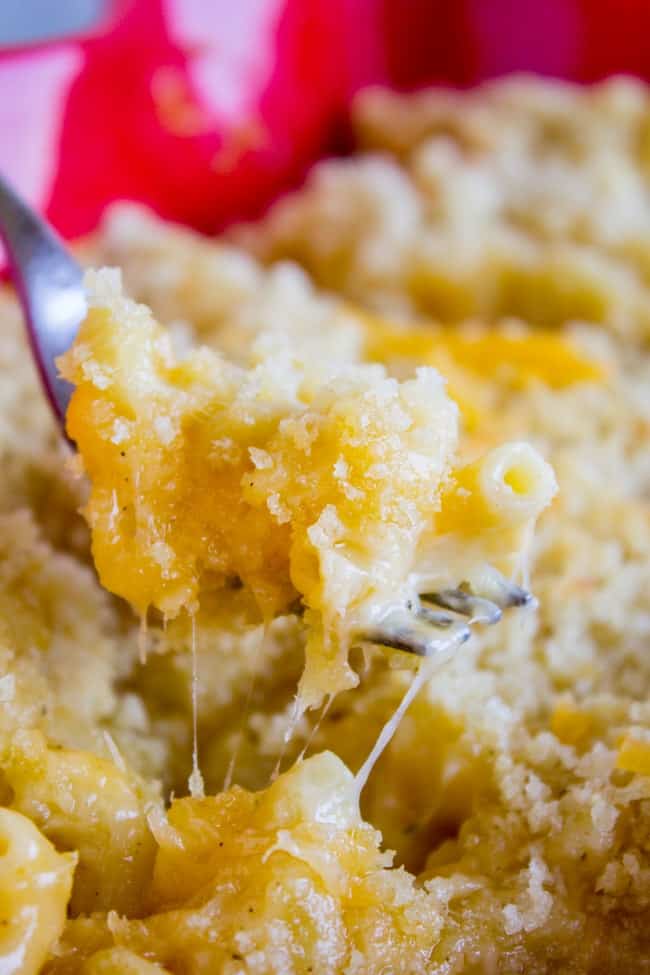 print
Did you make this recipe?
Leave a review »
Literally The Best Mac and Cheese I've Ever Had
Serves 6 (makes 1 8x8 pan)
adjust servings
Ingredients
2

and 1/4 cups dry elbow macaroni

1/4

cup (half stick) butter

1/4

cup flour

1/3

cup heavy cream*

2/3

cup milk*

1

teaspoon salt

1/2

teaspoon pepper

2/3

cup shredded mozzarella cheese

1

and 1/3 cup shredded SHARP cheddar cheese

1/2

pound cheese cut into slices**
For the crumb topping
Instructions
Preheat your oven to 350 degrees F. Grease an 8x8 pan (or any 2 quart casserole dish) with butter or nonstick spray.
In a 3 quart pot, boil the macaroni according to package instructions. Omit any salt or fat called for. (Trust me there's enough in this recipe) Should take 6-8 minutes or so. Drain and return to the pot. (If your cheese sauce is not close to being ready, add 1-2 teaspoons oil so your pasta doesn't stick.)
Meanwhile in another smallish pot, melt 1/4 cup butter. Once it is hot, whisk in the flour. Cook 1 minute whisking, until it is bubbly.
Slowly stir in the cream and milk. Stir the whole time until it is thick. Add salt and pepper and stir 1 more minute.
Remove from heat and gradually stir in the shredded mozzarella and cheddar. If it is not melting, put it back on the burner over very low heat, stirring until the cheese is incorporated.
Stir the cheese sauce into the cooked macaroni. It's pretty thick.
Pour half of the mac and cheese into the prepared casserole dish.
Add the 1/2 pound layer of cheese slices. YES DO ALL OF IT.
Pour the other half of the mac and cheese on top and spread.
In a small bowl, melt 1/4 cup butter. Stir in the bread crumbs. Spread the mixture on top of the mac and cheese.
Bake for 20-25 minutes at 350. The top should be turning golden brown and the mac and cheese should be bubbly.
by The Food Charlatan

If you make this recipe,
share it on Instagram
 using the hashtag
#TheFoodCharlatan
so I can see it!
Source: This recipe is from my girl Hannah. Thanks for sharing Hannah!!
Homemade Macaroni and Cheese << this is a classic recipe from my mother-in-law.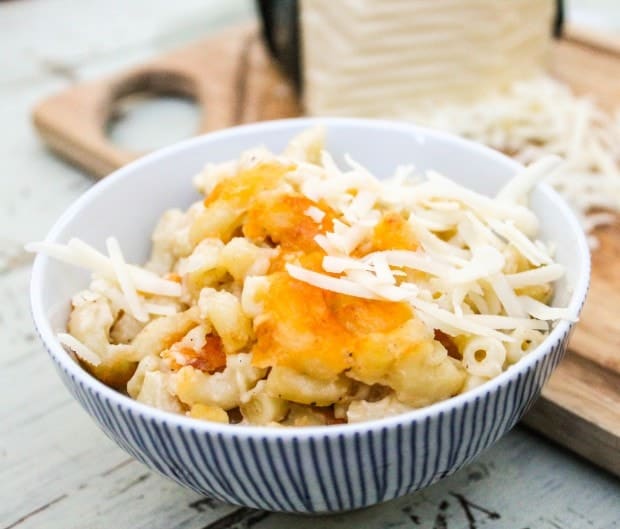 Ham Mac and Cheese Soup << this is such a crowd pleaser!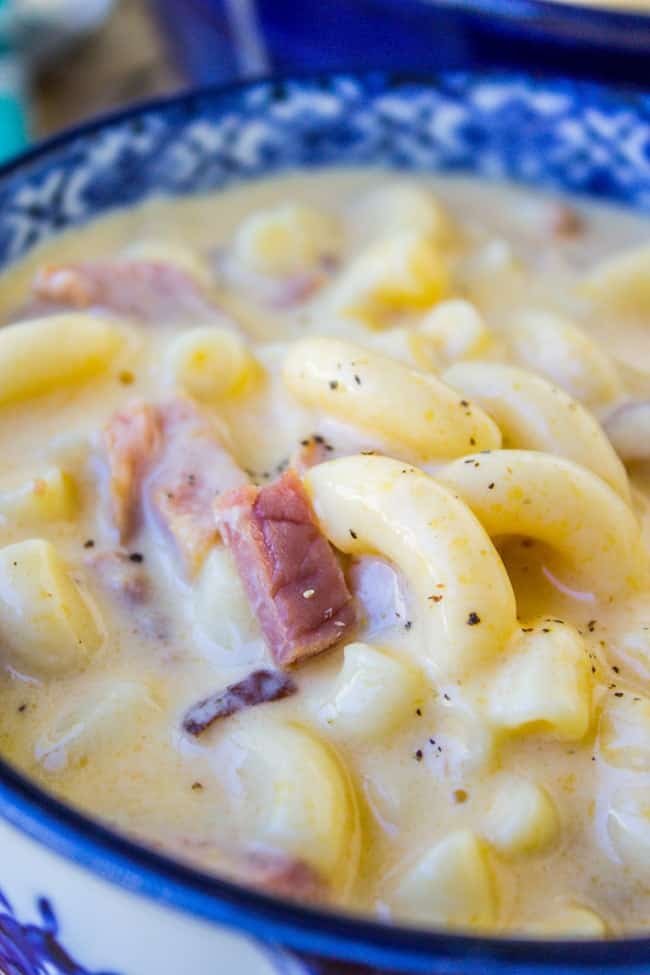 Mac and Cheese with Caramelized Onions and Broccoli << a liiiittle healthier than average.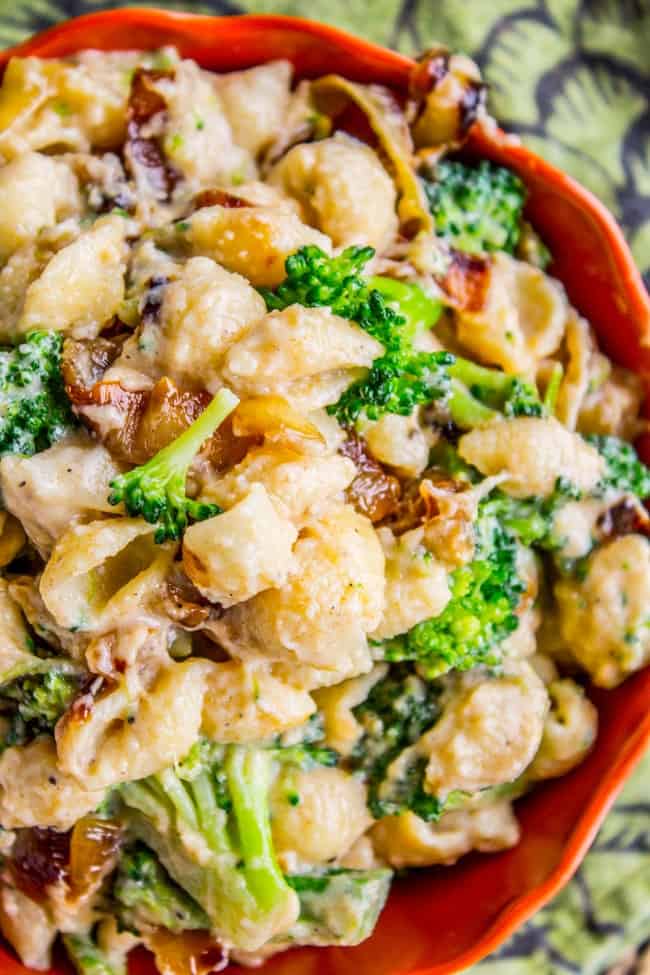 We are a participant in the Amazon Services LLC Associates Program, an affiliate advertising program designed to provide a means for us to earn fees by linking to Amazon.com and affiliated sites.