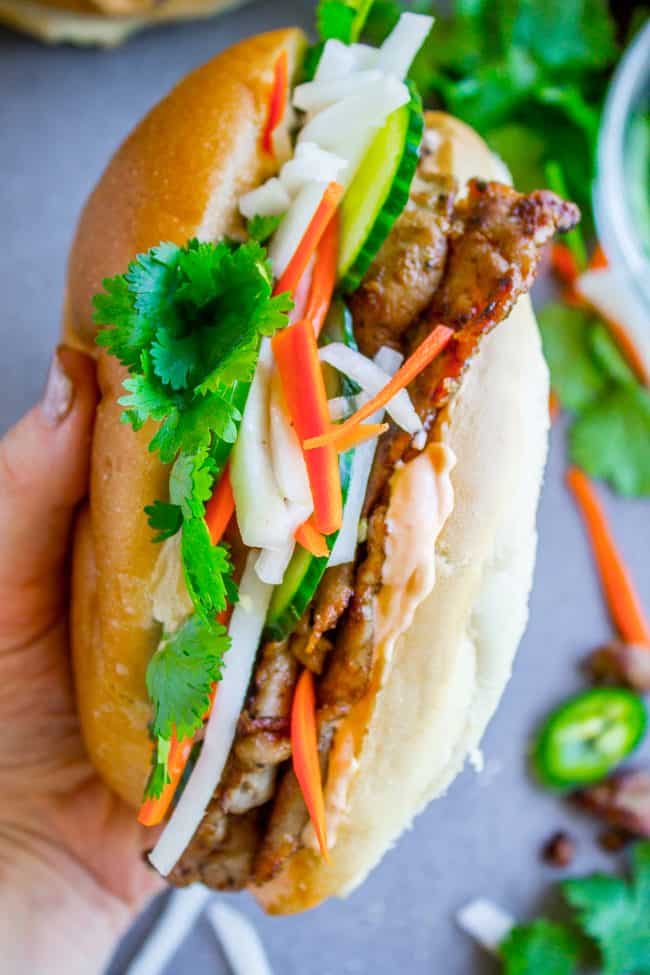 This traditional Vietnamese Banh Mi Sandwich will blow your mind! A mini soft baguette, smeared with sriracha mayo, topped with thinly sliced marinated pork, pickled veggies, and tons of cilantro. It's heaven! 
This morning I went to Safeway at 6:45am. Never in my life have I set foot in a grocery store so early, but it was kind of nice! No crowds, and employees everywhere asking me if they could help me find anything. YES! please help me, where is the daikon because I'm making BANH MIIIII!!
(I forgot to mention that my pleasant early morning Safeway jaunt ended with me driving halfway home before realizing that I didn't have my phone. I drove all the way back and found it in the cart right where I left it. Doh! Maybe it was a little TOO early in the morning.)
But back to the Banh Mi's. Have you heard of them? Have you had one? The time is now! Just look at this!
How to make a Banh Mi sandwich
Start with a soft (not crunchy!) mini baguette. Hero/hoagie rolls will work but it's even better if you can find Bolilo rolls. They are Mexican rolls used to make tortas, and I found them in the bakery section at Safeway. Whatever roll you use, make sure it's not so crunchy that it will scrape the roof of your mouth, who wants that?