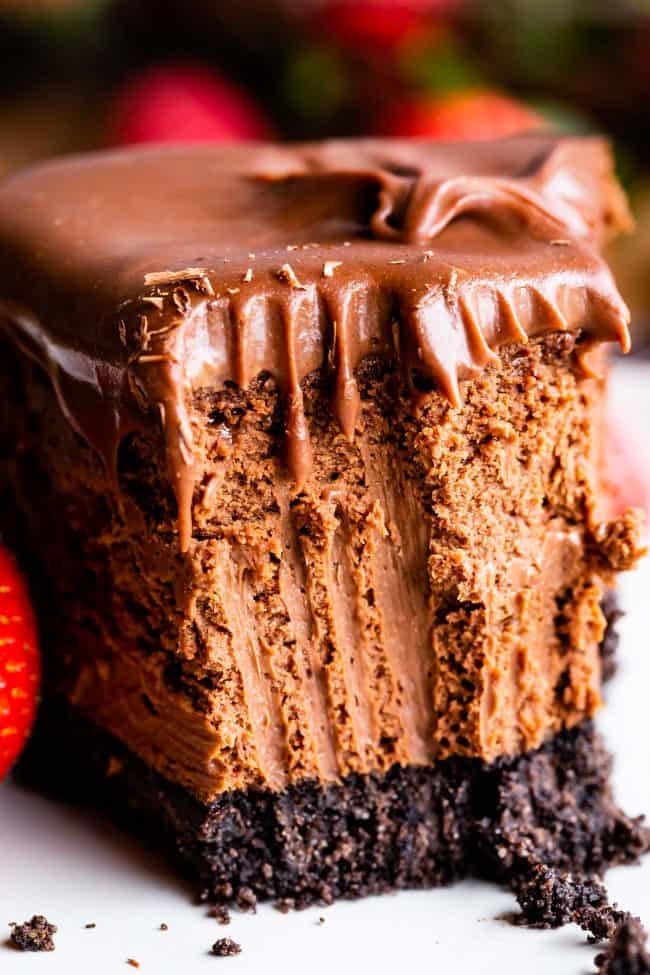 This silky smooth chocolate cheesecake may be the most decadent dessert you ever eat! The texture is perfection. A half inch of Oreo crust and a thick layer of creamy ganache means this is the last chocolate cheesecake recipe you will ever need! 
We visited Eric's hometown this weekend, it's a tiny place up in Montana called Sidney. At a family dinner, Eric's Great Uncle Hubert came and sat down next to me on the couch. "Now Karen, can you show me how to get on this Blob of yours that I keep hearing about?"
I laughed so hard and told him that it's actually called a blog. "Well, I was 3/4 right," he said. Ha! Touché, Hubert, touché!
Maybe we should just start calling it a blob. That's what you'll turn into eventually, I suppose, if you eat this chocolate cheesecake too many days in a row! I mean just kidding, chocolate cheesecake is totally a healthy choice that you should make today.
We were up in Montana for Eric's grandmother's funeral. It is sad but nice to be with the family. Nana was having a very hard time, and we are glad she's not in pain anymore. She was the sweetest, spunkiest lady. It was fun to spend the weekend talking about her. Nana shared so many of her amazing recipes with us, and I've added several to the blob, like Nana's Famous Fudge Brownies, Homemade Peppermint Ice Cream, Beef Barley Soup, Nana's Fall-Off-the-Bone Ribs and "Barb"-ecue Sauce (Nana's name is Barbara).
Nothing brings family together quite like the food we make for each other, does it?