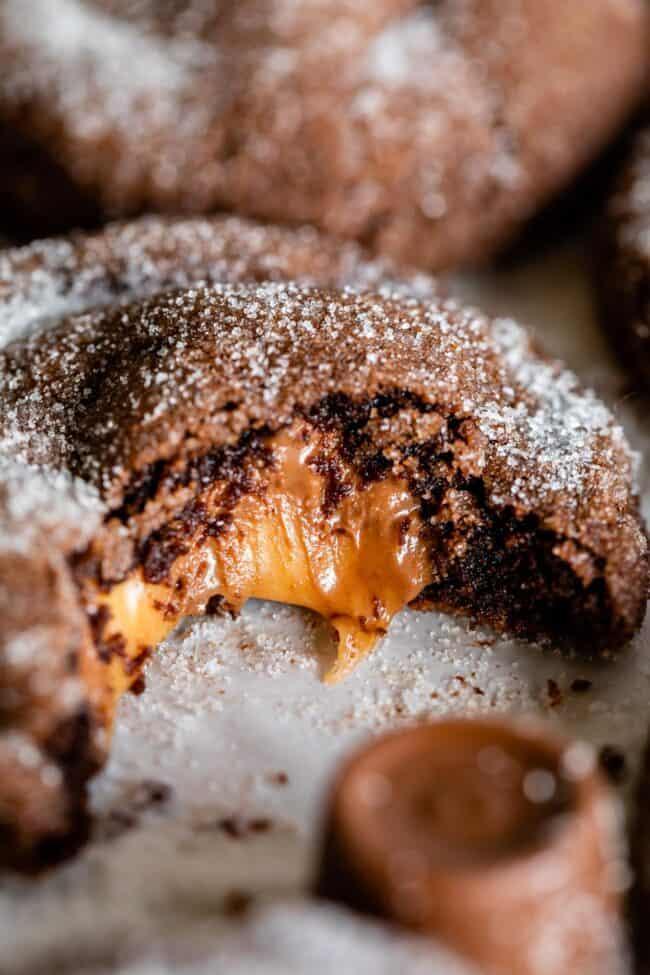 The very BEST Homemade Rolo Cookies recipe! No cake mix here, my friends. I have nothing against cake mix but we can make a better cookie than that, can't we? Yes. Yes we can. Tons of cocoa and butter make an ultra fudgy cookie with a surprise caramel center! No one can resist these! 
The other day Truman was having fun making a paper airplane zoom around the room. At one point it landed on the floor next to where I was sitting, and he said, "Mom, can you get that for me?"
I was confused. "What, like, you want me to pick it up for you?" He was standing 2 feet away. "Yeah."
And that's when I exploded. "NO I CAN'T PICK IT UP FOR YOU, DO YOU NOT EVEN REMEMBER THAT I'M 9 MONTHS PREGNANT, ANYTHING THAT FALLS ON THE GROUND IS DEAD TO ME!!"
Hi, welcome to my house these days, where I will yell at you for asking me to do small favors. Poor kid's going to be traumatized. I actually have big fears about what my kid's early childhood memories will be. Truman's only 6, is his first memory going to be about his mom losing it over a paper airplane?? Noo! I'm a nice mom most of the time! Just not when I'm pregnant!
2 weeks to go you guys, and then I will stop complaining about this nonstop. Also PS the baby countdown is the same as the Christmas countdown, so you've got 2 weeks left to get your shopping done! Hop to it!!
But until then, I'm baking ALLLL the cookies. I just make a huge double batch of everything and freeze the rest for later. You've never seen baking like a 9 month pregnant nesting food blogger. We've already made Butter Pecan Cookies, Gingersnaps, Spritz (hopefully updating that post soon), Cardamoms, Chocolate Chunk Gingerbread Cookies, and these AMAZING Rolo cookies.