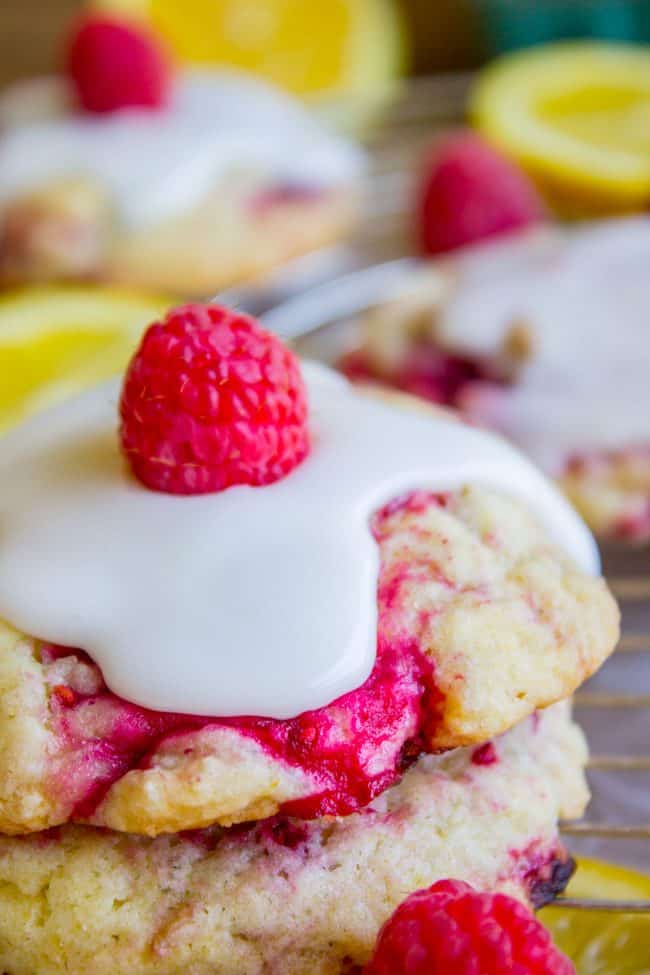 These Fresh Raspberry Lemon Cookies are absolutely bursting with flavor! It's like summer in the shape of a cookie. There are fresh (frozen) raspberries in the dough, and fresh lemon juice and zest. The glaze puts them over the top!
I cannot even tell you how many batches of Raspberry Lemon Cookies I have made over the past month. Sooo many. These were definitely a labor of love! My dedication to all things raspberry and lemon is strong.
In one of my tests, I tried using lemon extract instead of fresh lemon juice. I really don't use lemon extract that much, but I had two jars of it in my cupboard: one from a couple years ago when Nielsen Massey sent me a box of different products when I was working with them on a sponsored post (I ended up using vanilla to make these Slow Cooker Brown Butter Carrots), and the other from just a couple months ago when I went to a blogging conference (Nielsen-Massey provided some products in the swag bags.)
So naturally I used the older one, because my mom taught me to be frugal and responsible and all that. I measured it out and dumped it in, and as I'm mixing up the dough, I think to myself, huh, lemon extract smells kinda weird I guess. Oh well, it must be the alcohol, I'm sure it will bake off in the oven.