This recipe gets you from zero to chewy chocolate chip cookies in 30 minutes with normal ingredients. They are soft in the middle, perfectly crisp on the edge, and have an ultra chewy center. There is a secret that is going to change your life; you are never going to look at warm cookies the same way again!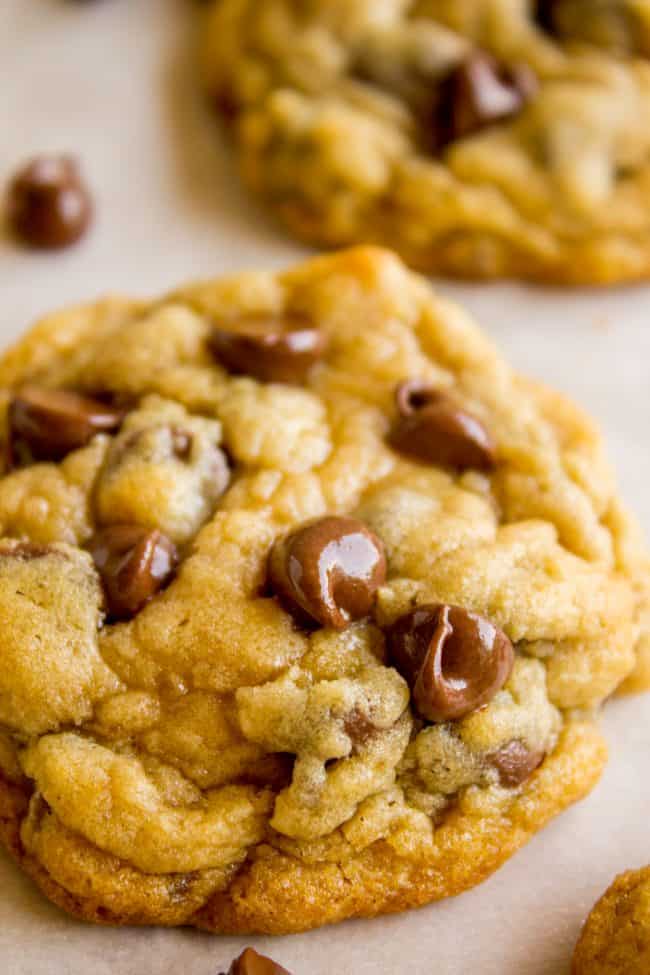 It turns out that when people come to my blog and use the search box, the most commonly typed word is "cookies." You guys know what you want. I'm here to deliver! Even though I'm a food blogger, and am supposed to be adventurous and trying new things, at the end of the day all I really want are chewy chocolate chip cookies and a tall glass of milk, make that whole milk thank you very much.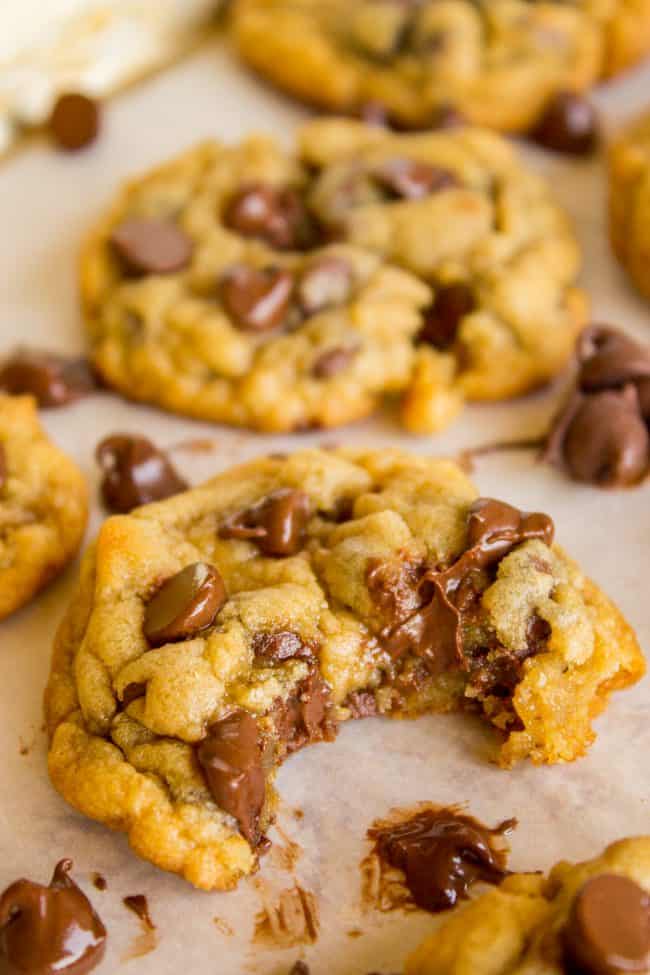 Every other month I host a super casual dinner with my extended family who live nearby. My cousins and aunts and uncles come over for hot dogs and chatting. Last month my cousin Emily brought a giant plate of super chewy chocolate chip cookies, much to the delight of tiny nieces and nephews everywhere. (What do you call the children of your cousins?? Never mind, I don't even care. We're all cousins and aunts and uncles in my book.)
Anyway, Emily's cookies were legit. Like, legiiiit. Tons of buttery flavor, soft, mounded, CHEWY center, and delightfully crisp on the edges to provide sturdiness and flavor, without being hard or dry.
Her cookies were too gorgeous and tall and puffy in the middle to not have a trick. I asked her, did you use half shortening? "No, they are all butter." Oh you must have chilled them then. "No, I baked them right away, I don't have time for chilling!"
I looked at the cookies again. They were not flat. At all. They were nice and tall and mounded in the middle. Flat cookies are the worst, and I always take at LEAST 20 minutes to freeze or refrigerate my dough to avoid it. Or use half Crisco/half butter. This is the only life I have ever known, you guys, and I bake a LOT of cookies. Then Emily explained her magical secret for perfect chewy chocolate chip cookies.
How to make Chewy Chocolate Chip Cookies in 30 minutes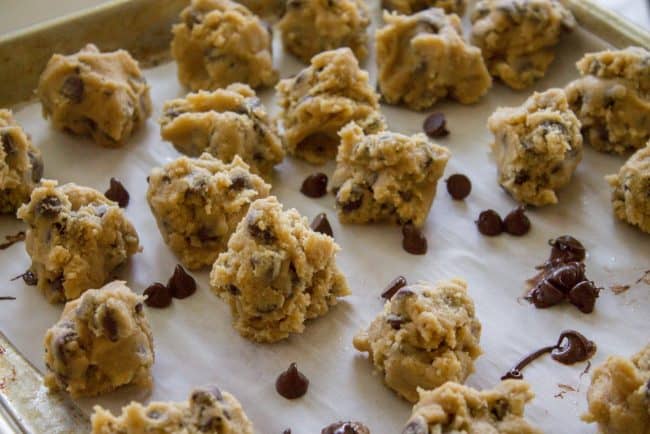 It's not a special ingredient, but rather a technique. When the cookies have just barely come out of the oven, are looking a little pale and sad, and have that domed shape that threatens to cool into a hard, too-crispy-edged hockey puck of a cookie, there's something that must be done. Observe: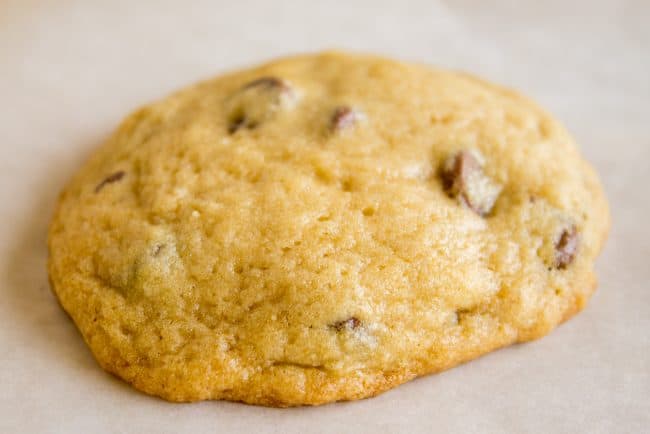 This is a cookie immediately after coming out of the oven. I bet you've baked cookies that looked just like this. As they cool, the center falls and becomes flat. The centers are not as tall (meaning they won't be as chewy and fudgy) and the edges get crispier than I want them to be.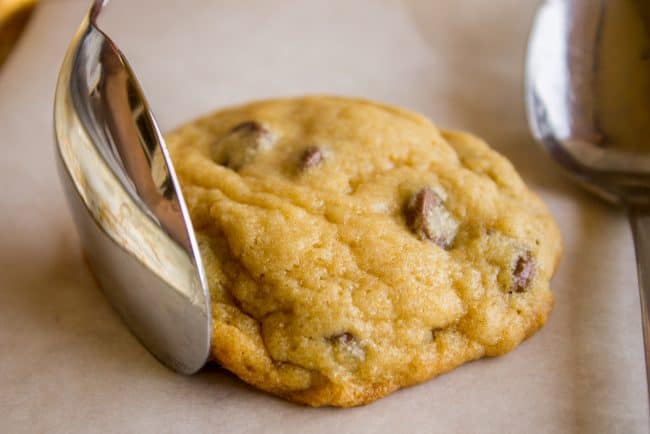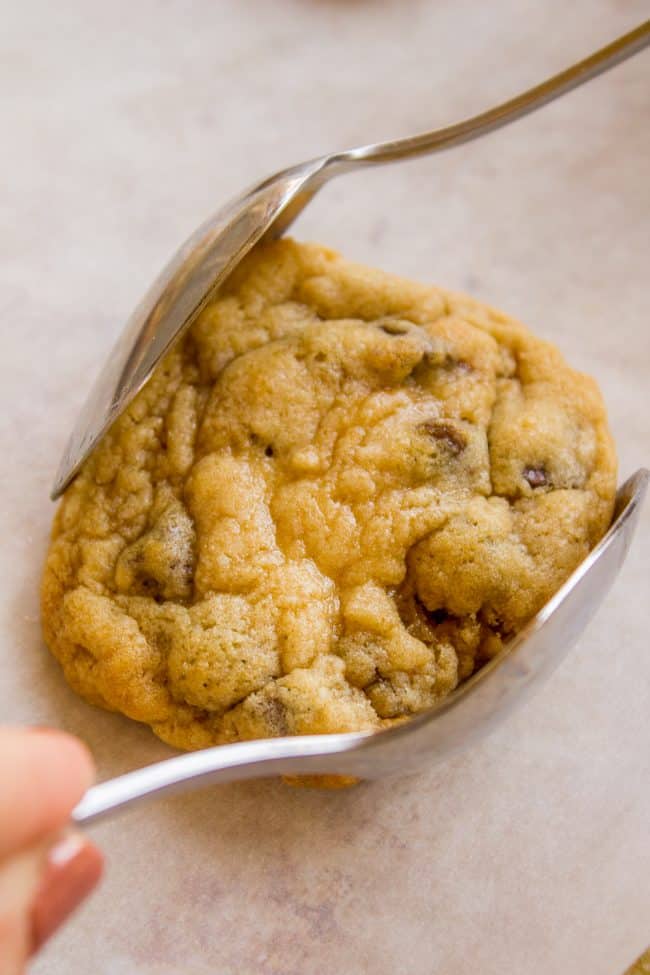 Spoons are where the magic is at. Smooooooosh.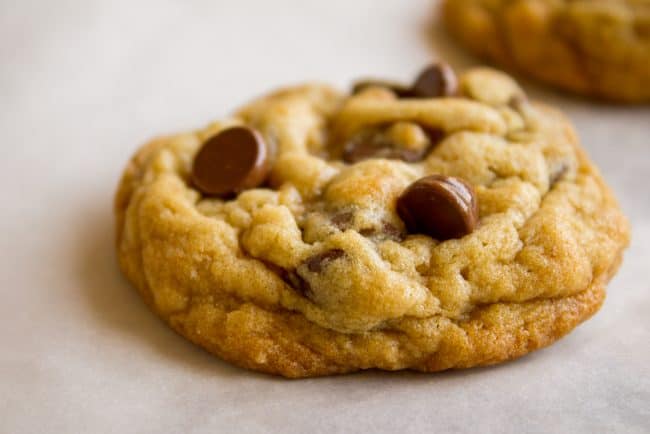 This is the same cookie. I swear! Look at how much more appetizing the edges look when you give them a little lift with the spoon.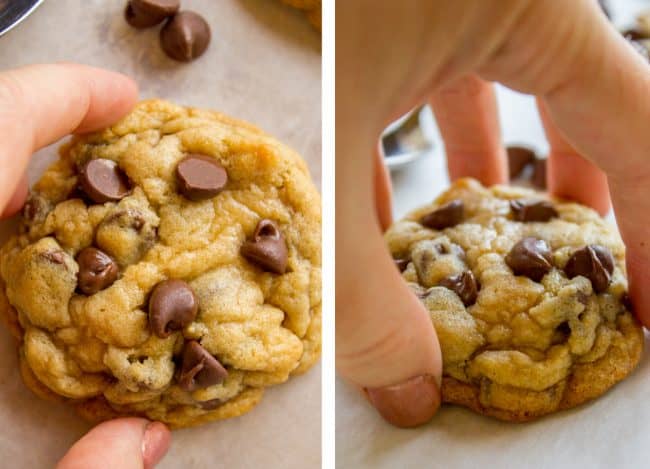 Add a few chocolate chip cookies on top to make them extra pretty and extra chocolate-y. I used my fingers to squish the cookie together a bit more. Once those golden edges have cooled and firmed, you will not be able to mold the cookie anymore; it will just break. You really have to do it right out of the oven.
When Emily mentioned the spoon trick, we moved from casually chatting in the kitchen to me sitting her down and taking notes while I  made her meticulously go through every step of her cookie making process. (I'm afraid poor Emily probably felt like she was being interrogated. I'm used to people giving me recipes and forgetting to tell me half of the techniques they use to make it. I'm looking at you, Kris.)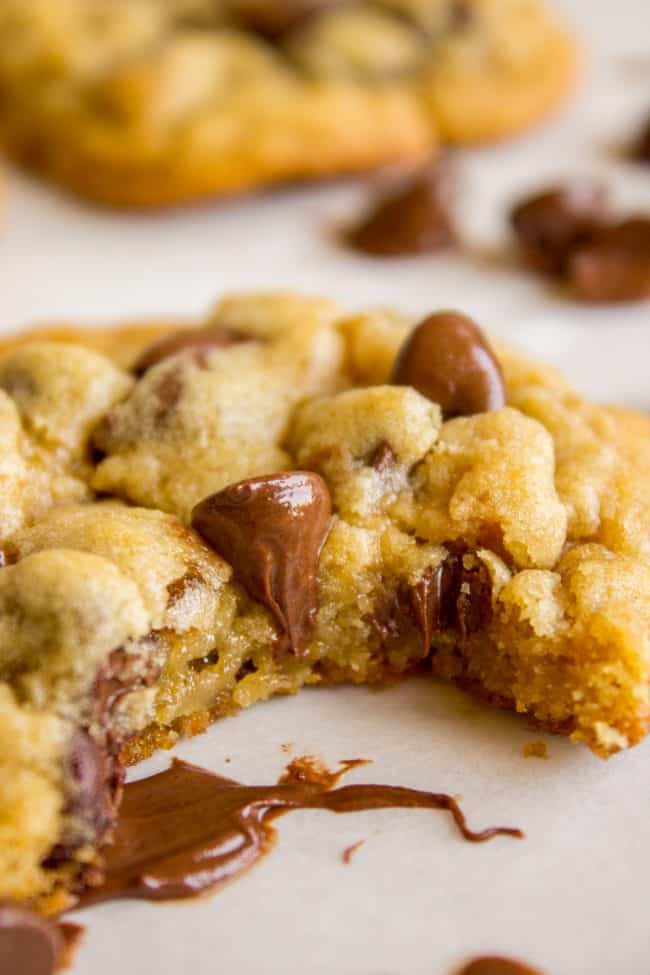 All butter, 2 eggs beaten in one at a time, light brown sugar, no chilling, bake at 350 for 11 minutes. Mysteriously mundane and unspecial. Sounds like every cookie recipe ever.
But once out of the oven, she told me to gently shove together each cookie with two spoons until they have that delightfully mounded look, the telltale sign of a rich and chewy cookie center. I kept taking bites into the center of her cookies and showing her the center. "You don't get this fudgy gooey center without chilling or Crisco! This is amazing!! Life changing!"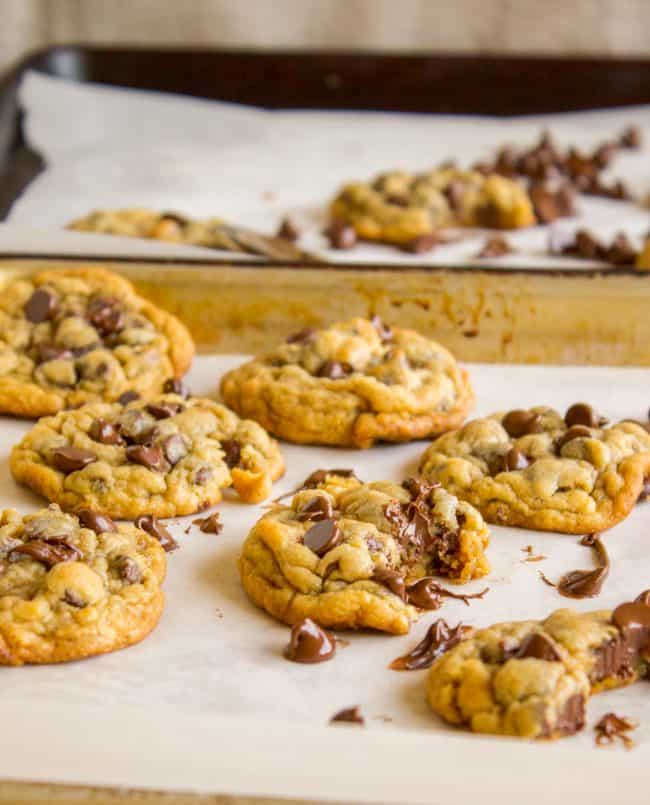 (Here's a bit of my photo set up. I make such a huge mess when I shoot cookies! There are always like 10 cookies with one bite taken out; me trying to get a good shot. I'm the worst.)
I should have known that Emily would have an amazing chewy chocolate chip cookies recipe. She's an amazing baker. She is the source of these Caramel Nougat Pecan Rolls, after all, which is to this day my FAVORITE candy to make at Christmas. Seriously, try it, it is so good.
You could of course apply this spoon method to any cookie recipe ever. Like I said, Emily's recipe is very basic: no cornstarch, no special chocolate, no fancy sea salt, just butter and sugar and flour. I guarantee you that I will be using the spoon trick on basically every cookie I make from now on!
Facebook | Pinterest | Instagram
One year ago: Braised Beef and Green Bean Stew (Lebanese Lubee)
Four years ago: Bacon Blue Cheese Stuffed Mushrooms with Hot Sauce
Six years ago: Brown Butter Pumpkin Cupcakes with Maple Pecan Frosting << legit.

30 Minute Chewy Chocolate Chip Cookies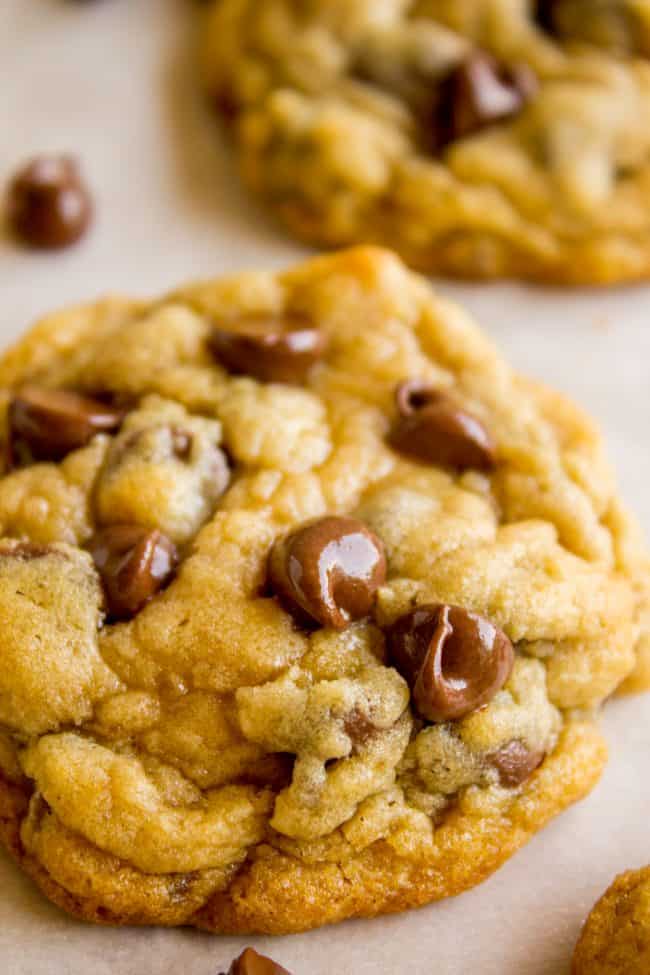 This recipe gets you from zero to chewy chocolate chip cookies in less than 30 minutes with normal ingredients. They are soft in the middle, perfectly crisp on the edge, and have an ultra chewy center. There is a secret that is going to change your life; you are never going to look at warm cookies the same way again!

Ingredients
1

cup

salted butter

,

2 sticks

1

cup

light brown sugar

,

packed

1/2

cup

white sugar

1

teaspoon

vanilla extract

2

large

eggs

3

cup

flour

,

spooned and leveled

1 & 1/2

teaspoons

baking soda

3/4

teaspoon

salt

2

cups

semi sweet chocolate chips
Instructions
Preheat your oven to 350 degrees F.

In a large bowl or stand mixer, beat the butter until fluffy, remembering to scrape the sides. If you have a stand mixer, start with cold butter and just beat and scrape the sides until it's creamy. If you are using an electric mixer, let your butter soften on the counter for at least a few minutes. (Or live dangerously and put it in the microwave for one minute on power level ONE. I do this all the time. Who remembers to soften butter?? Not this girl.)

Once your butter is creamy, add the brown sugar and white sugar. Beat well until fluffy, at least 1 minute. Scrape the sides halfway through.

Add the vanilla and one egg. Beat well. Add the next egg. Beat, scraping the sides.

Add the flour but don't mix it in yet. (Make sure you spoon it into the measuring cup and level it off!)

Use a small spoon to stir the baking soda and salt into the flour.

Turn the mixer on low and beat until there are still a couple streaks of white flour. You want to stop mixing as soon as the flour is mostly incorporated.

Add the chocolate chips and mix until just barely combined. Don't over mix or you will get tough cookies!

Use your hands, an ice cream scoop, or a medium cookie scoop to shape cookie dough. See photo. I made mine about the size of a golf ball. I put 12 on one baking sheet, make there there is about 2 inches of space between each one. (Don't pay attention to the photo of the raw cookie dough so close together up there; I was prepping them to go in the freezer. That is the size you want to shape the cookies though.) 

Bake at 350 for about 9 minutes. Depending on your oven and how big you shaped your cookies, you might need to bake for as long as 11 minutes, but you want to take the cookies out of the oven when they are VERY pale on top and have just barely started browning on the edges. See photos.

Immediately after you take them out of the oven (seriously, don't wait) use two spoons to gently push each cookie together. I just used two regular spoons, the kind you eat cereal with. Push the cookie together so that it comes up a bit in the middle, that's how you're going to get a soft, thick center. If you wait even just a minute after taking them out of the oven, the brown edges will start to crisp up, and you won't be able to shape the cookies. Work your spoons all the way around the edges so that your cookie is a nice circle shape. Work quickly to shape all the cookies before they crisp on the edges.

Press more chocolate chips into the top of each cookie, if you want. (Who doesn't want that??)

Let the cookies cool on the pan for several minutes. They will continue cooking on the hot pan, even after you take them out of the oven.

Remove to a cooling rack after the cookies have set. Dip in milk and let all your cookie dreams come true!
Notes
You can make this dough ahead of time and freeze for later. Shape the dough into balls, seal in a ziplock, and freeze for up to 3 months. No need to thaw before baking; put them frozen into a preheated oven and add 2-3 minutes to the bake time. Once the dough has been chilled or frozen, there is not as much need to use spoons to smoosh them together, although you can if you want.
Nutrition
Serving:
1
cookie
|
Calories:
170
kcal
|
Carbohydrates:
21
g
|
Protein:
2
g
|
Fat:
9
g
|
Saturated Fat:
5
g
|
Polyunsaturated Fat:
1
g
|
Monounsaturated Fat:
2
g
|
Trans Fat:
1
g
|
Cholesterol:
23
mg
|
Sodium:
138
mg
|
Potassium:
77
mg
|
Fiber:
1
g
|
Sugar:
12
g
|
Vitamin A:
168
IU
|
Calcium:
15
mg
|
Iron:
1
mg
There are never enough chocolate chip cookie recipes. Never!!
Brown Butter Chocolate Chip Cookies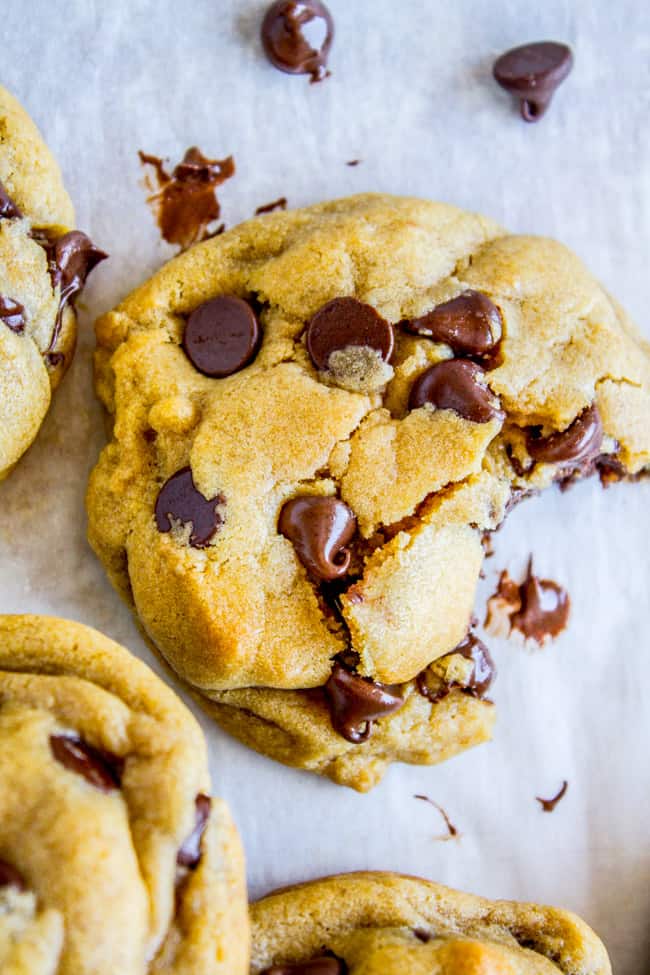 The Best Chocolate Chip Cookies I've Ever Made << this recipe has a few unusual ingredients and it's so good!!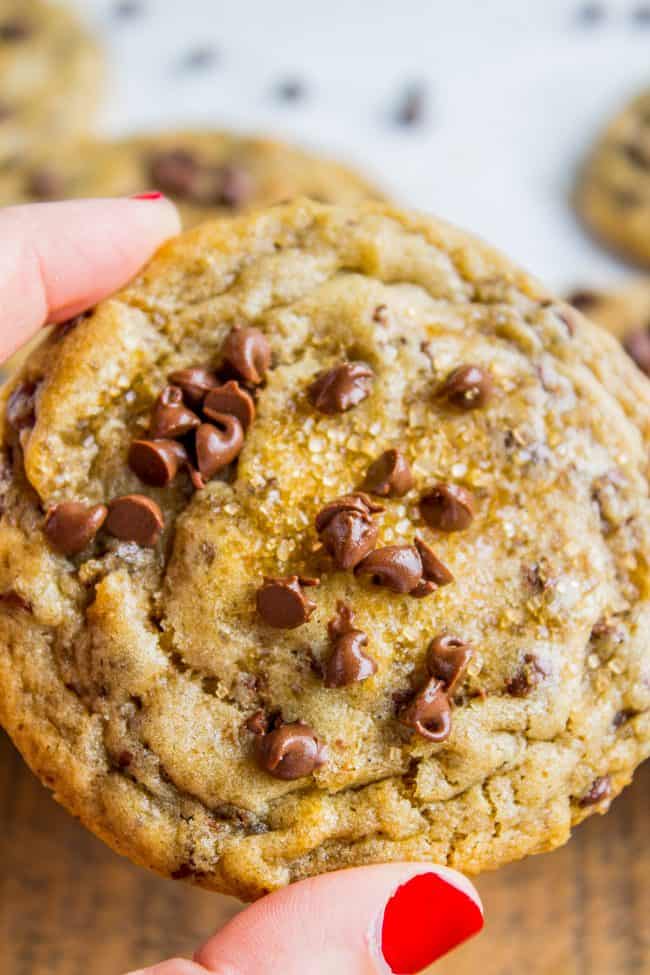 The Best Bakery-Style Double Chocolate Chip Cookies << You are seriously going to LOVE these.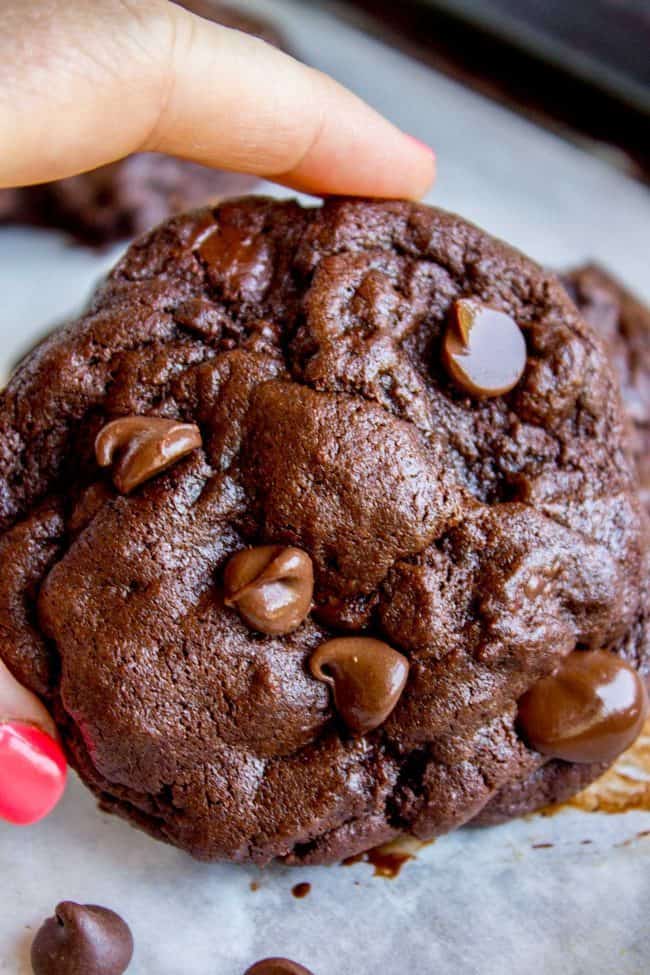 Mint Chocolate Chip Cookies << one of the TOP recipes on my blog!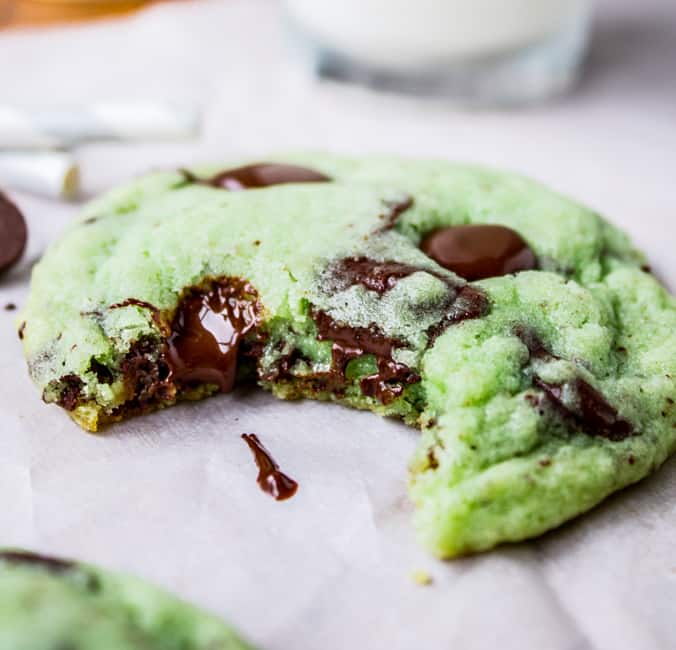 More chocolate chip cookie ideas from friends!
Coconut Pecan Chocolate Chip Oatmeal Cookies from The Baker Mama
Red Velvet Chocolate Chip Cookies from Give Recipe
Orange-Chocolate Chip Cookies from Taste and Tell