This Sesame Noodles recipe is my new favorite summer dinner! And guys it's SO EASY. The sesame peanut sauce is blended up in no time and absolutely to-die-for. Swirl it in with some fresh cold spaghetti noodles and dinner is done! I added a thousand vegetables to make it a whole meal. I could put this sauce on anything!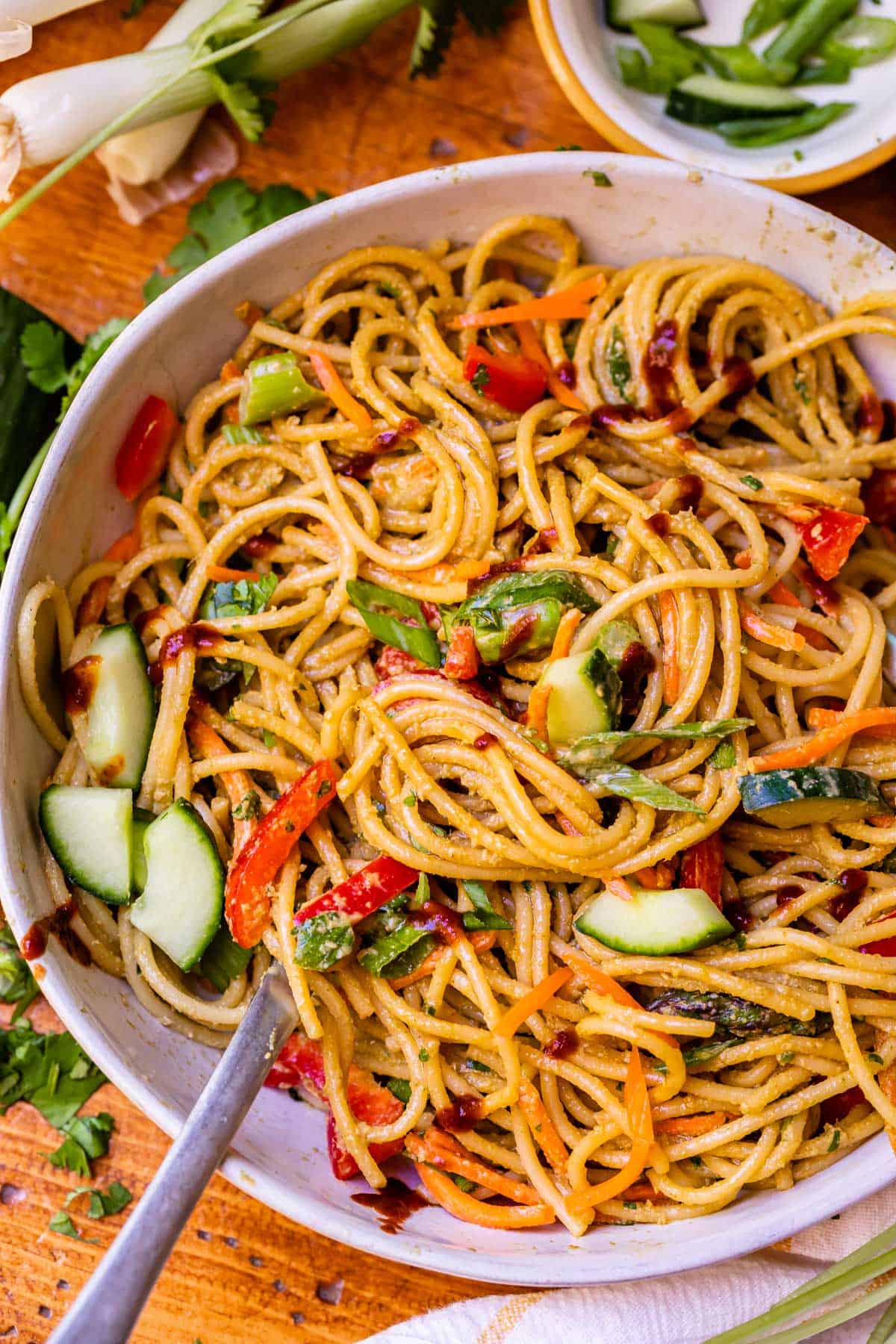 Table of Contents
You know how sometimes you can't remember a word? You're busy doing something, your brain is somewhere else, and suddenly a simple "Pass the salt" is reduced to "Pass me the (grunts and points.)" My sister Nikki was famous for this at our family dinner table growing up. She had an elaborate set of snaps and gestures that we all became proficient at responding to.
This happened to Eric the other day. He was trying to ask Charlotte, our 12-year-old, to put a Tupperware back in the fridge, but instead he kept saying, "Put that..thing in..there." Charlotte began mocking him mercilessly.
Eric, playfully: That is not nice!
Charlotte: It's not mean. It's just a thing!
Eric: It's either nice or it's not nice.
Charlotte: It's a media-core thing.
Eric: what??
Charlotte, confidently: Media-core.
Eric: Are you trying to say "mediocre"??
We were dying laughing. Oh how the tables have turned!
This is what happens when you have kids who love to read. They learn vocabulary that they've never heard pronounced out loud.
Kind of like when I was her age and pronounced it "ren-des-vus" instead of rendezvous. Or how I thought the word "arrogant" was actually "Aggorant" for years and years, like well into my teens. I guess it runs in the family!?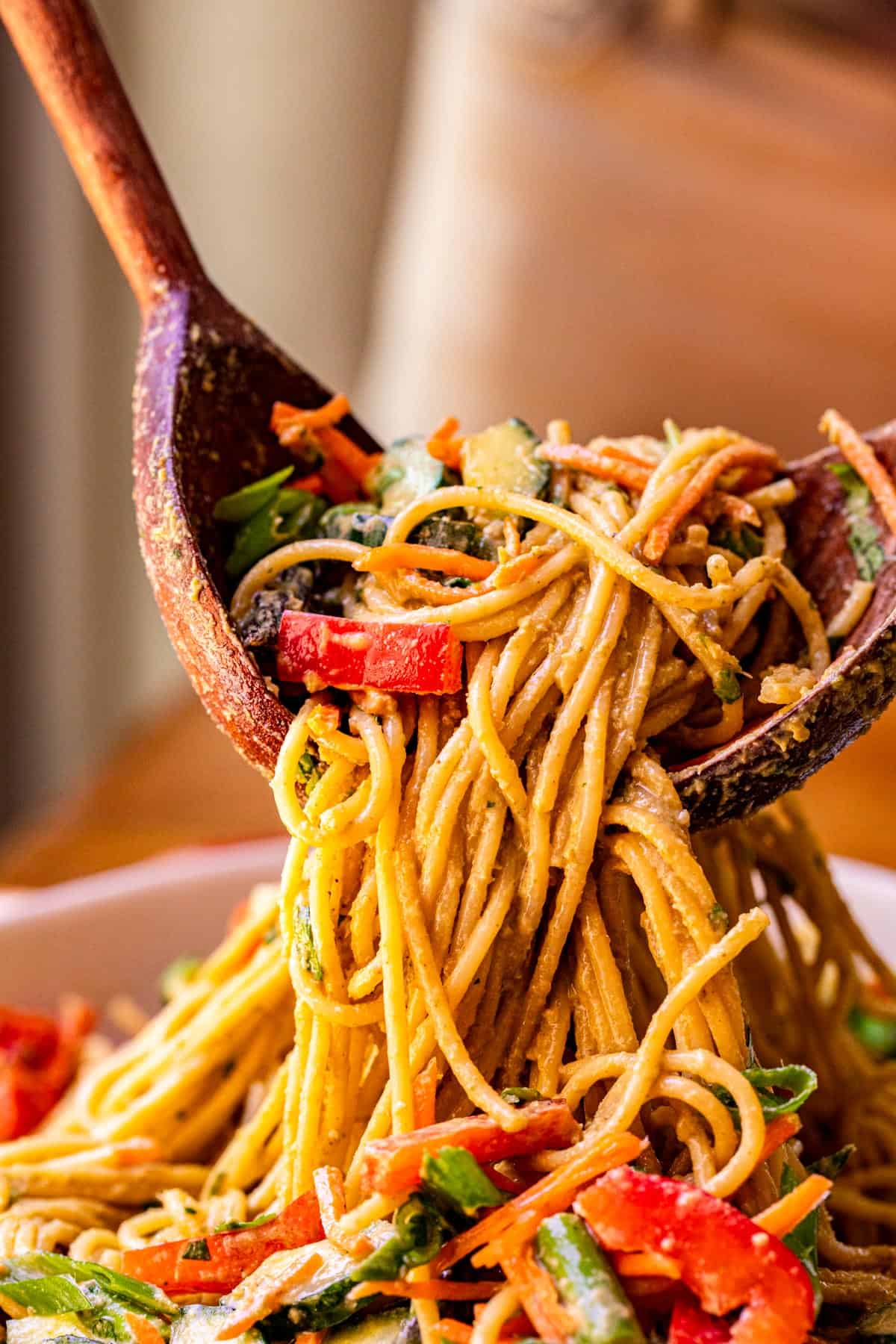 How is everyone's summer kicking off?? Our kids are soo excited to be done with school and I'm sooo excited not to have to be out the door by 8am for a while! We have a few fun road trips planned for this summer, and Taco Tuesdays are back on track, but other than that I'm ready for lazy days by the pool and EASY DINNERS PLEASE. Preferably cold ones, if I can manage it.
Enter these Sesame noodles! Have you tried these??
Sesame Noodles
I had never actually made Sesame noodles before I saw this recipe. I was thumbing through America's Test Kitchen's Plant Based Cookbook, and it caught my eye. An easy no-cook sauce that you blend up, plus cold noodles and whatever raw vegetables you want.
Easy? Check.
Cold? Check.
Veggies included so that I don't even have to scrap together a side dish to feel like a half decent mom? WIN.
This is a DELICIOUS meal that all my kids vacuumed up. Eric and I didn't eat anything else until it was gone. Cold noodles means it might be just a little too easy to snag a bite from the fridge every time you pass through the kitchen, ha!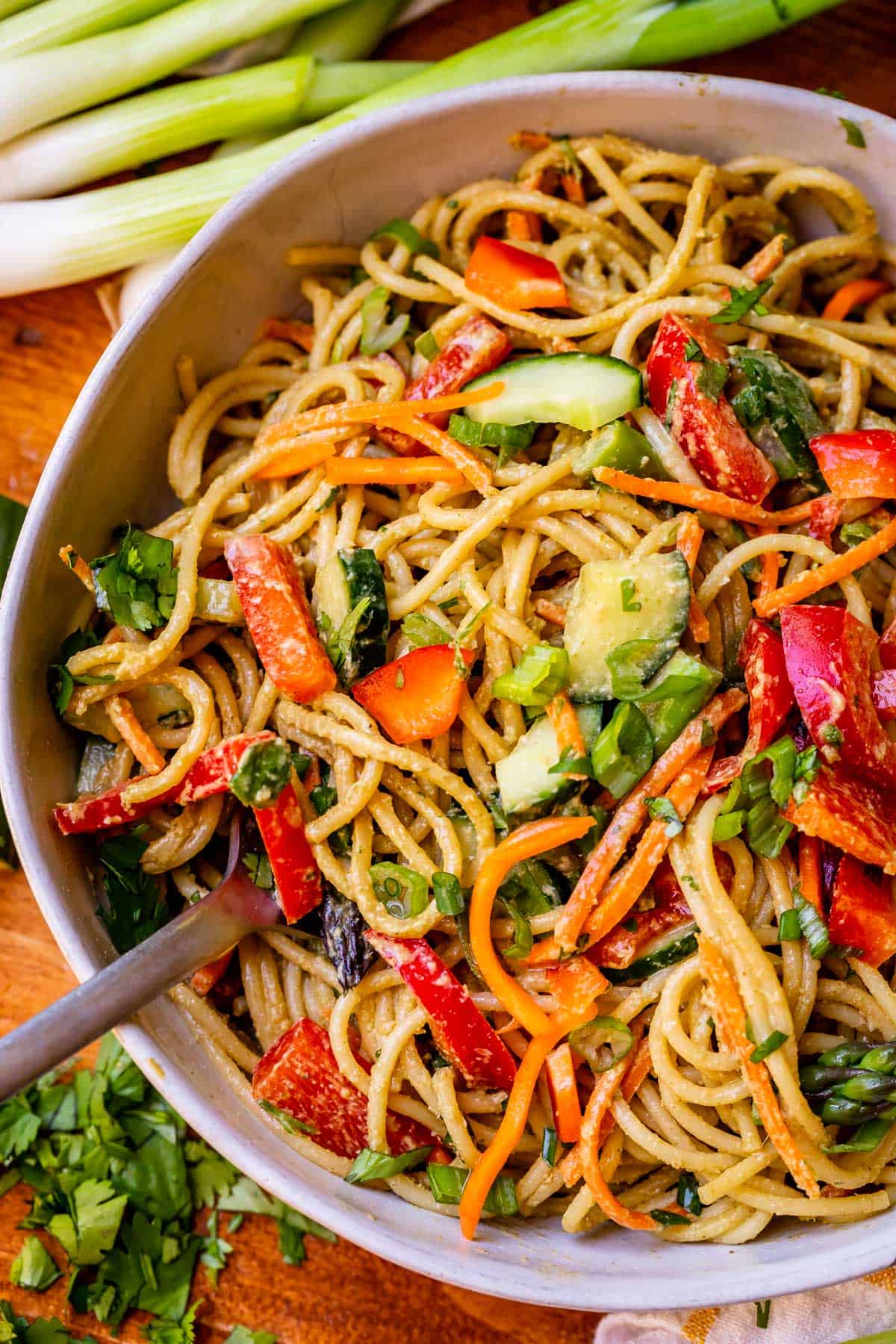 What are sesame noodles?
Sesame noodles are of Chinese or Taiwanese origin, but as per usual have had their own spin put on them here in the states. Most versions include wheat noodles (we're using regular ol spaghetti) and a sauce made with sesame seeds, soy sauce, and peanuts. Then it's topped with some green onions and more sesame seeds and thaaat's it. Carby, saucy heaven. I like to add a bunch of veggies in just for fun, but it's not normally a thing. (other than green onions.)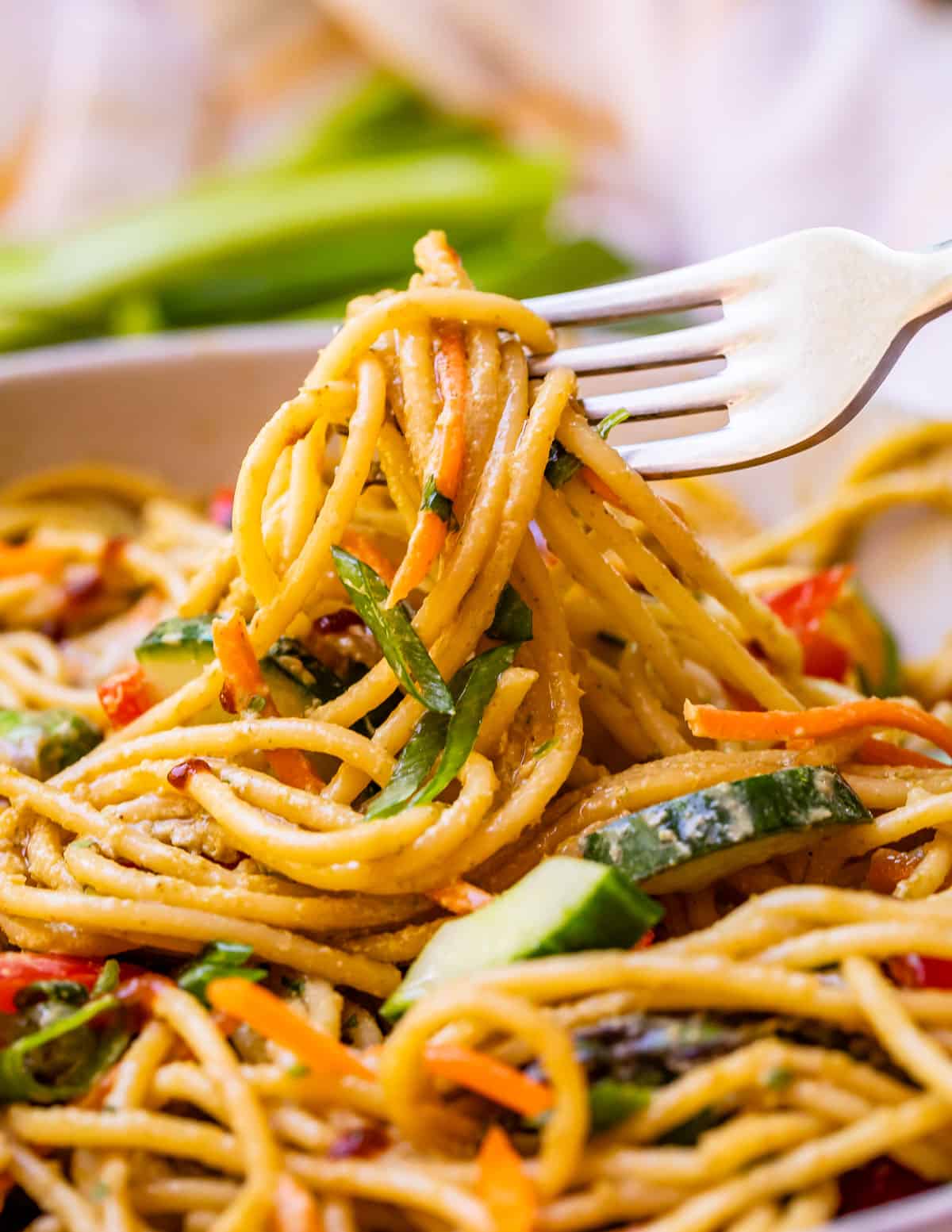 The Saaaaauce
Let's talk sauce. I'm telling you guys, this sauce is unbeatable. And you can do SO many things with it!
Turn it into salad dressing: add water or a bit more vinegar to thin it out.
Dip veggies in it, would be a real contender with Homemade Ranch.
Serve this with zucchini noodles instead of spaghetti
Add protein (pan-seared chicken, shrimp, etc) to make it a full blown dinner. See more ideas below on how to bougie up this simple meal!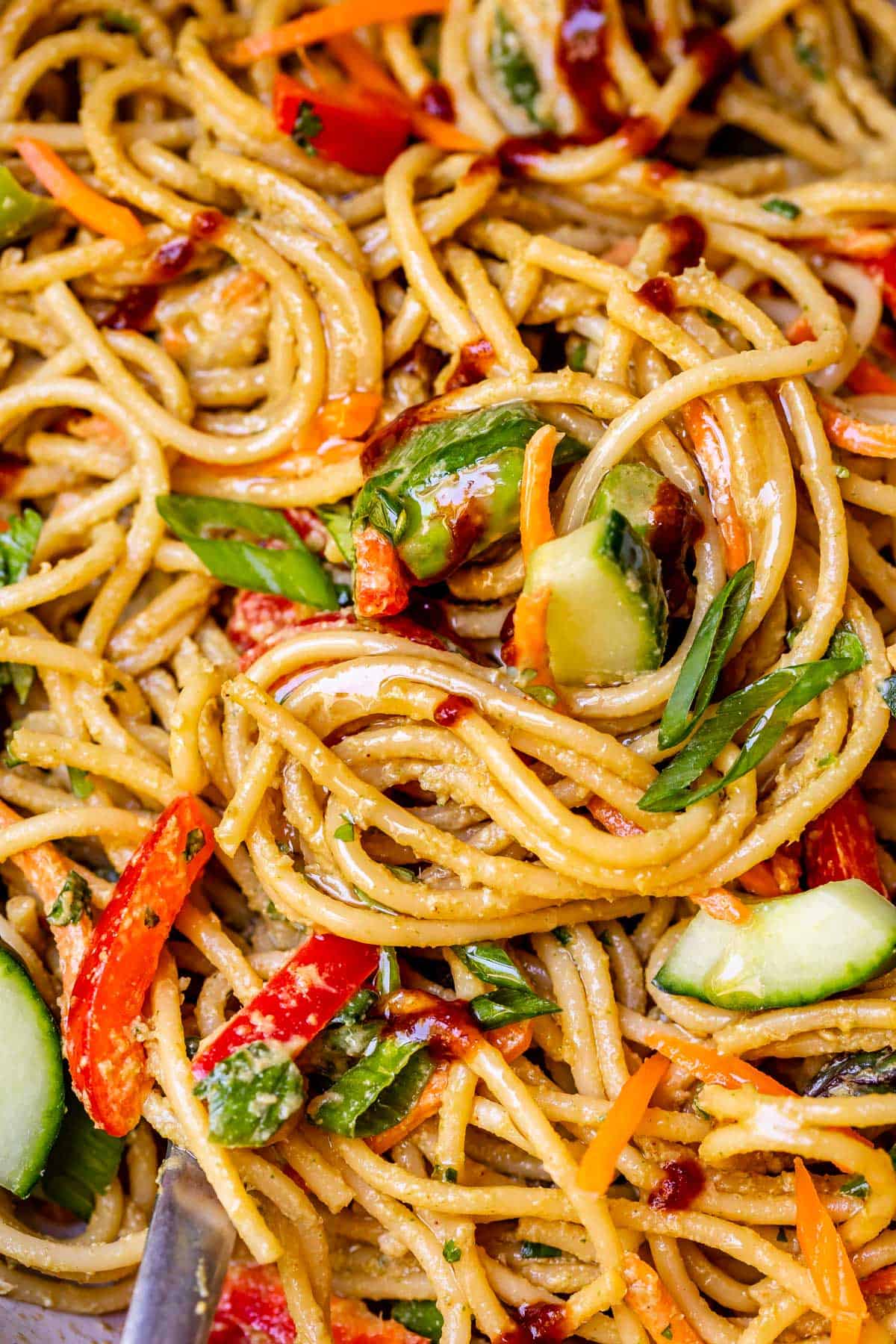 Sesame noodles ingredients
Here's a quick shopping list of what you'll need to make sesame noodles. Please note that the veggies are TOTALLY optional, and easily mixed and matched with what you like or have on hand. Full ingredient amounts and instructions are below in the recipe card.
kosher salt
spaghetti noodles
sesame oil
soy sauce
rice vinegar
peanut butter
toasted sesame seeds
brown sugar
sriracha
ginger
garlic
green onions
cilantro (optional)
cucumber (optional)
red bell pepper (optional)
shredded carrots (optional)
other veggies as desired (optional)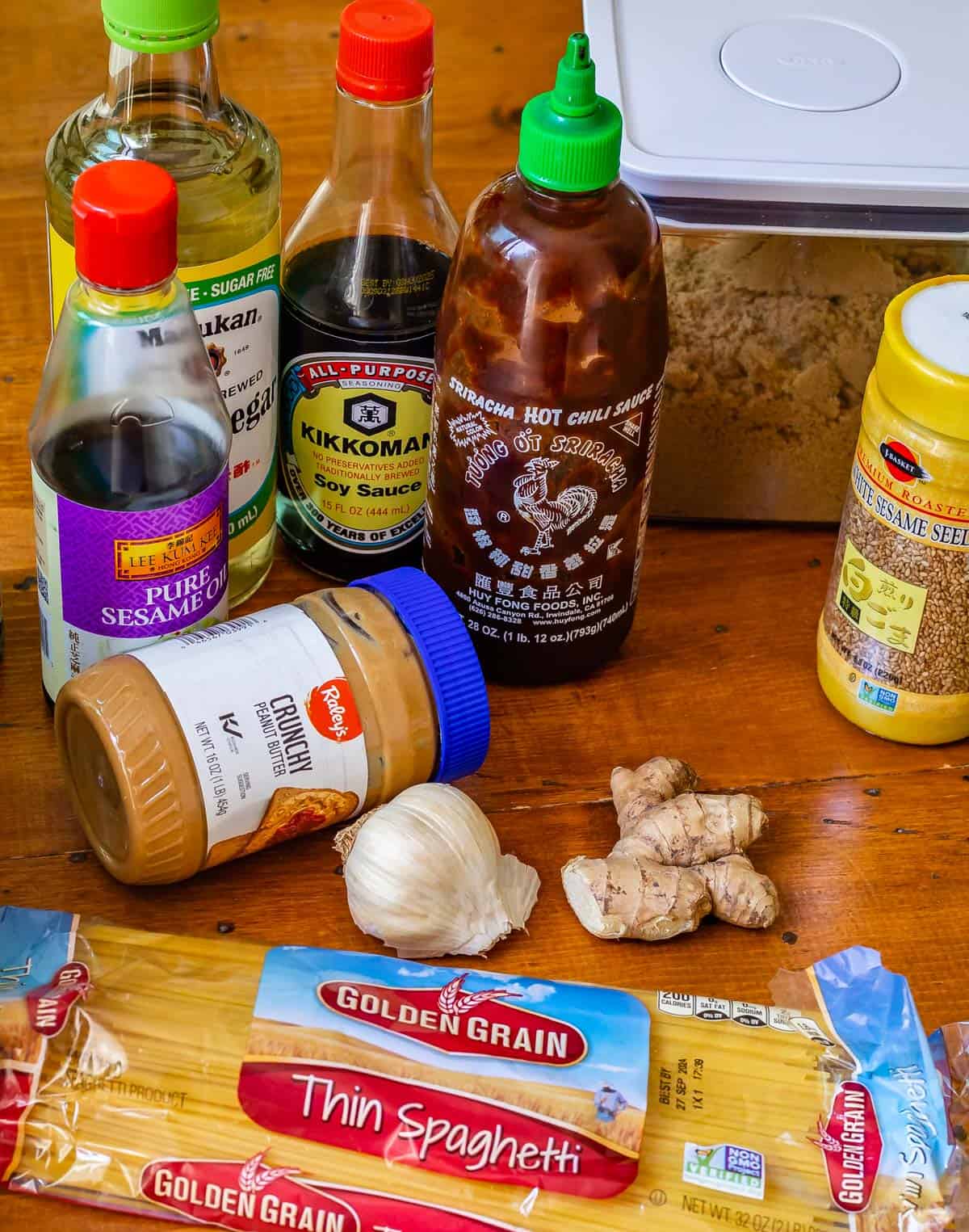 How to make Sesame Noodles
It seriously could not be any easier to make this dinner, guys.
Start out by making the sauce.
It's as easy as dumping ingredients in the blender, but first we have to peel our ginger. OR DO WE?? My sister Laura casually mentioned the other day that she never peels her ginger anymore, the skin is soft and she just gives it a good scrub and tosses it in. MIND BLOWN.
Well. I don't know if I'm at that level of cool yet. Maybe I'm just a scaredy cat. I peeled: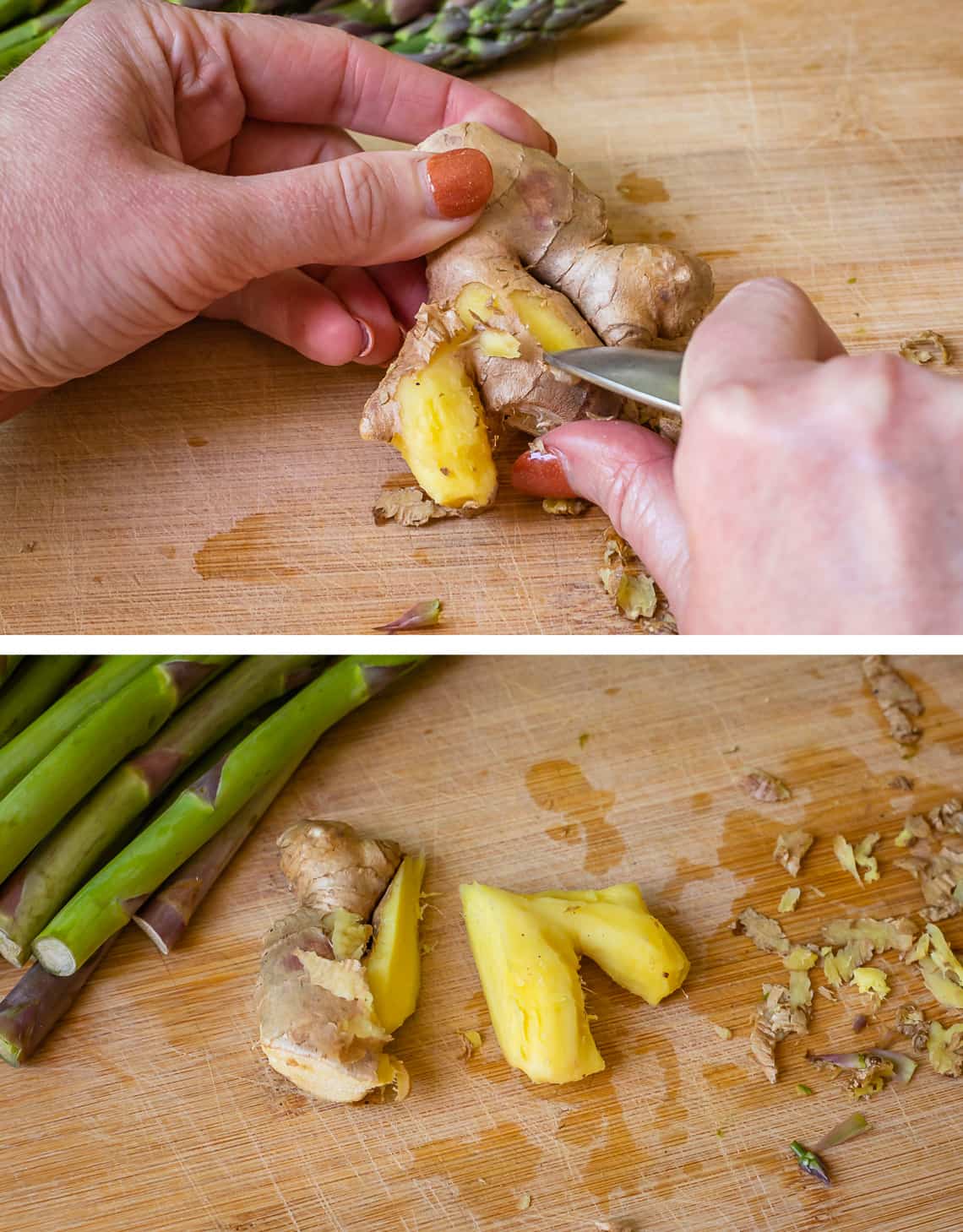 Put that peeler away and use a regular spoon to get the skin off. So much easier.
Now smash up some garlic.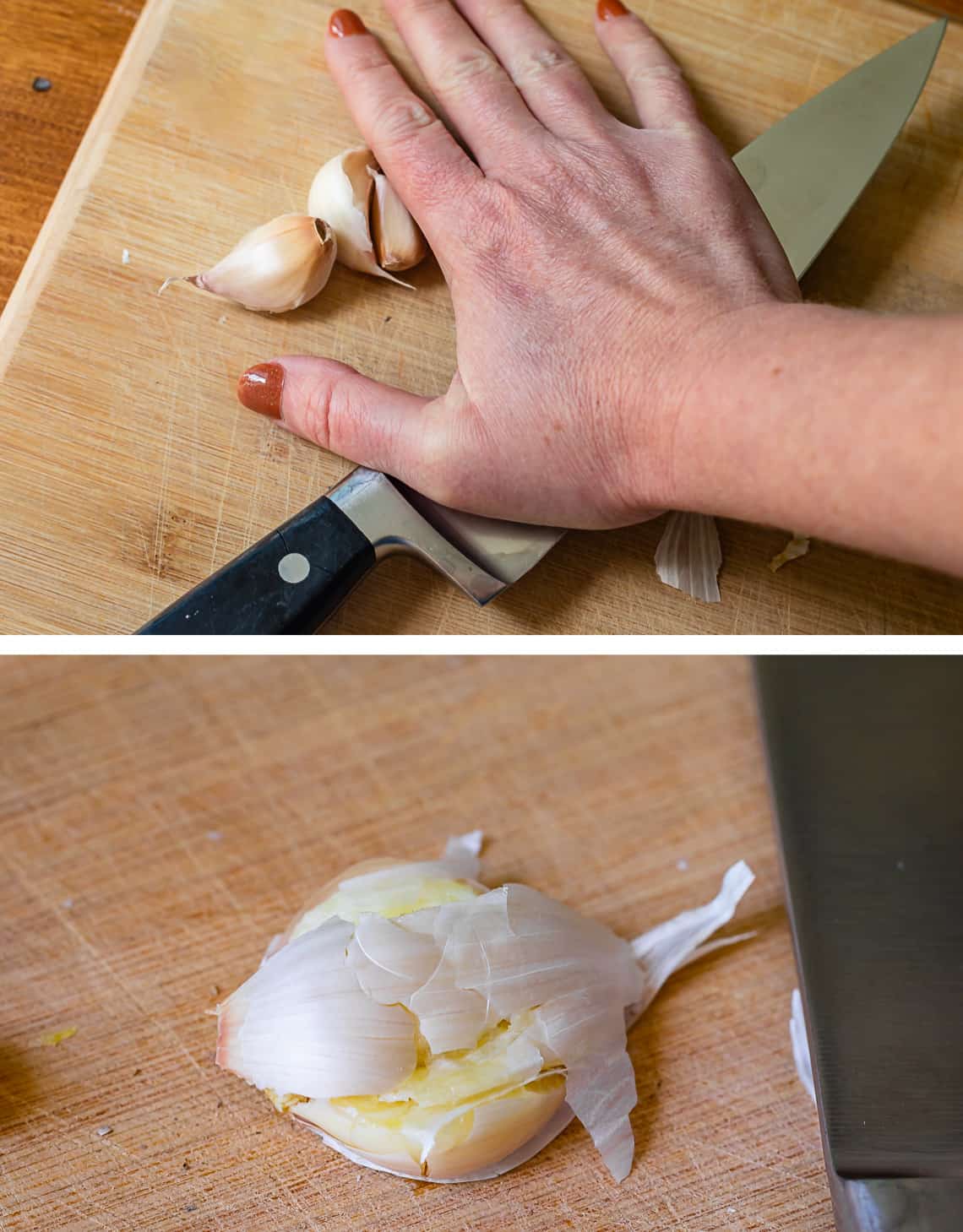 Peel and toss it in the blender with all the other ingredients for the sauce. Yes, yes, I know this is a food processor, but I promise a blender works better. Learn from my mistakes!!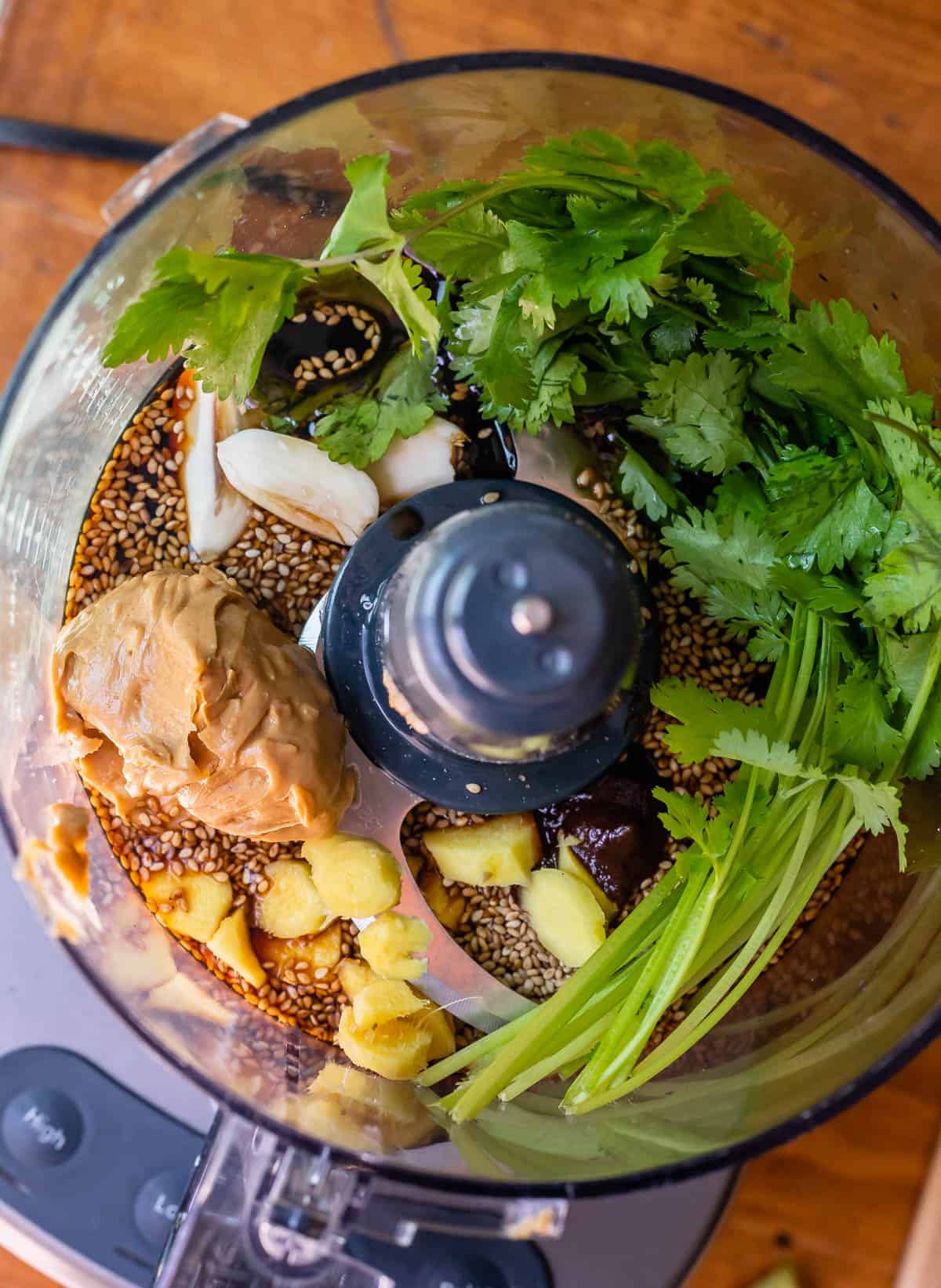 Cilantro is not a traditional ingredient in sesame noodles sauce, you can leave it out if you want. (Especially if you didn't get "the gene.") But I love the extra dimension it adds! You don't need a ton, just a few sprigs.
Meanwhile, boil your spaghetti (or udon) noodles according to the package. I decided to add a handful of asparagus to the pasta as it finished boiling, totally optional.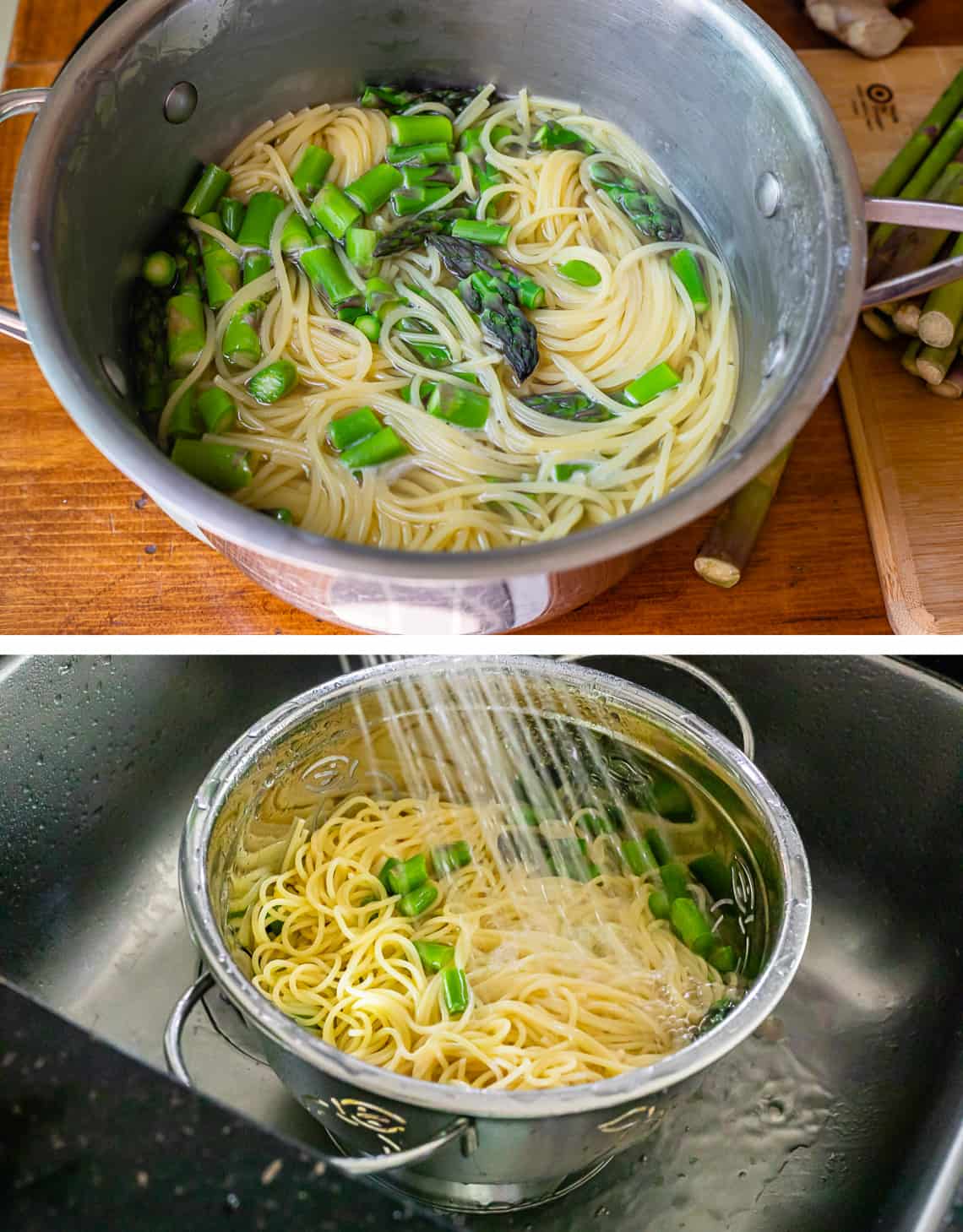 Drain it right away and dump it in a colander. Then douse it with cold water. This is the fun part! Toss the noodles around with your fingers until they are cold. This also helps remove extra starch from the noodles, which helps keep your sauce from getting too gloopy. A technical term.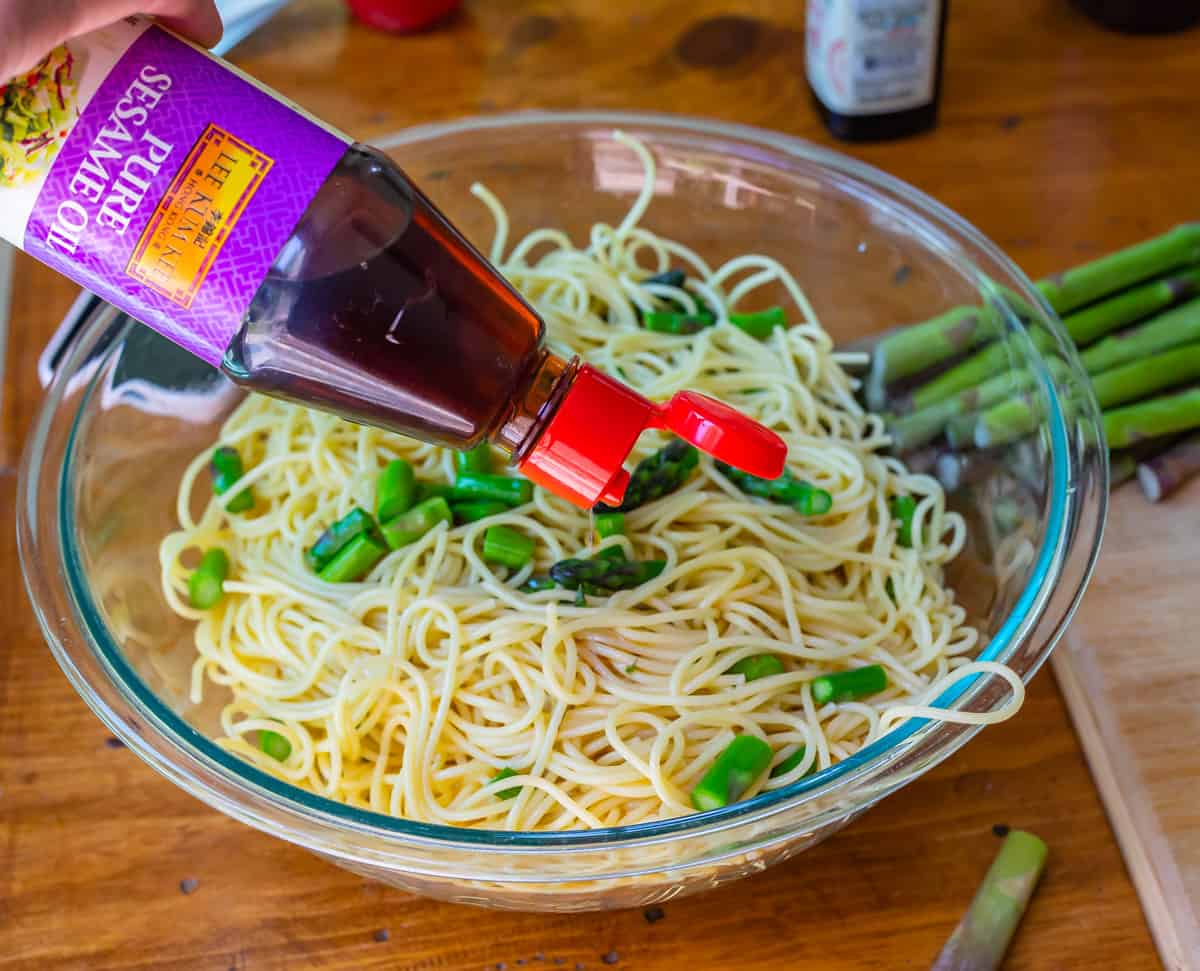 Add a lil sesame oil to the noodles once you've drained them well. This adds amazing flavor (sesame forever) and keeps the noodles from sticking to each other.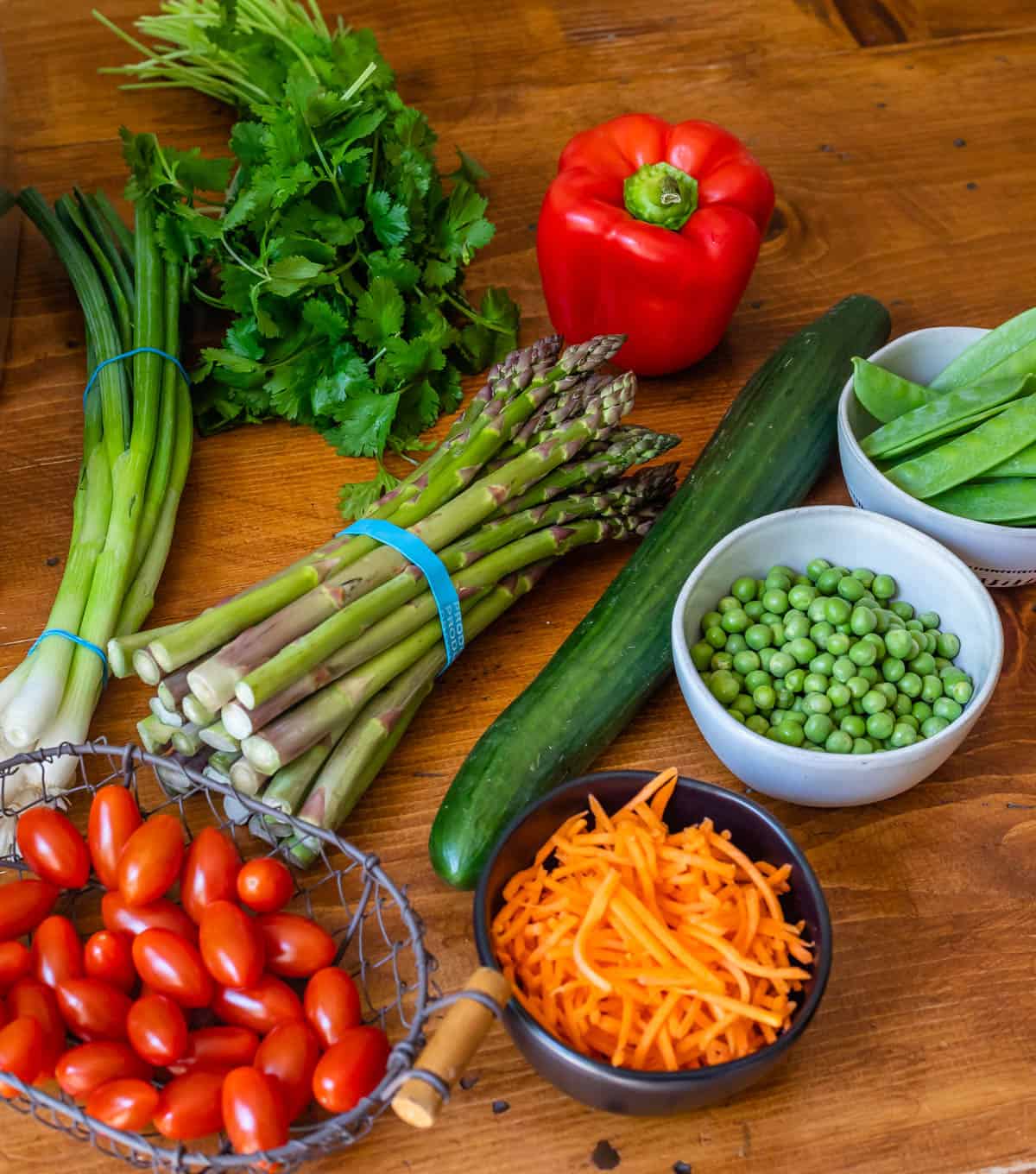 You can stop here and just add the sauce and green onions. Or you could add a bunch of veggies!
I didn't add all these veggies in, but this gives you a visual of what you might want to try: any veggie that you can eat raw, or that you would want to serve on a veggie tray. Tomatoes, corn, cauliflower, radish, really anything goes here.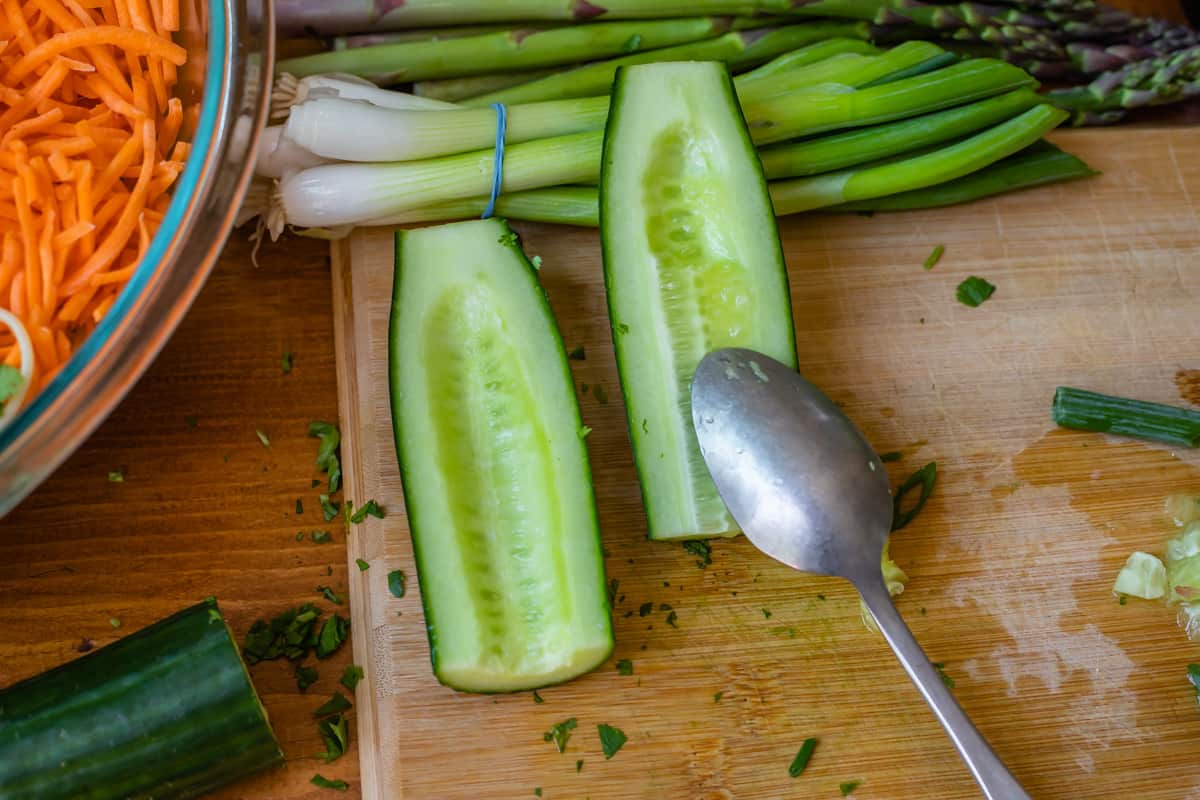 Be sure to get the soft centers out of the cucumbers.
Do you know how to chop bell peppers? I learned this a few years ago, so much easier than slicing it in half first!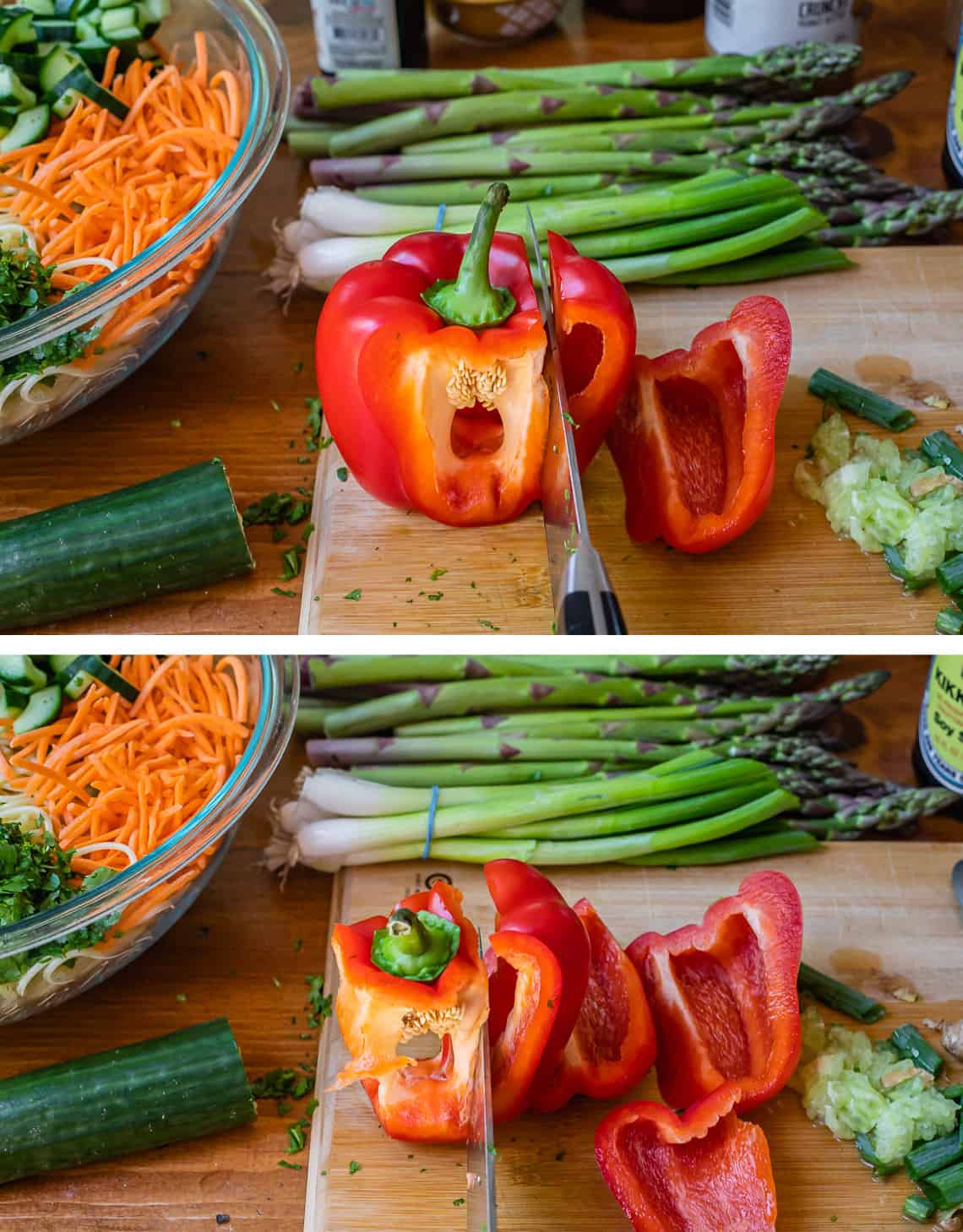 Once you've got all your veggies prepped, it's time to put it all together.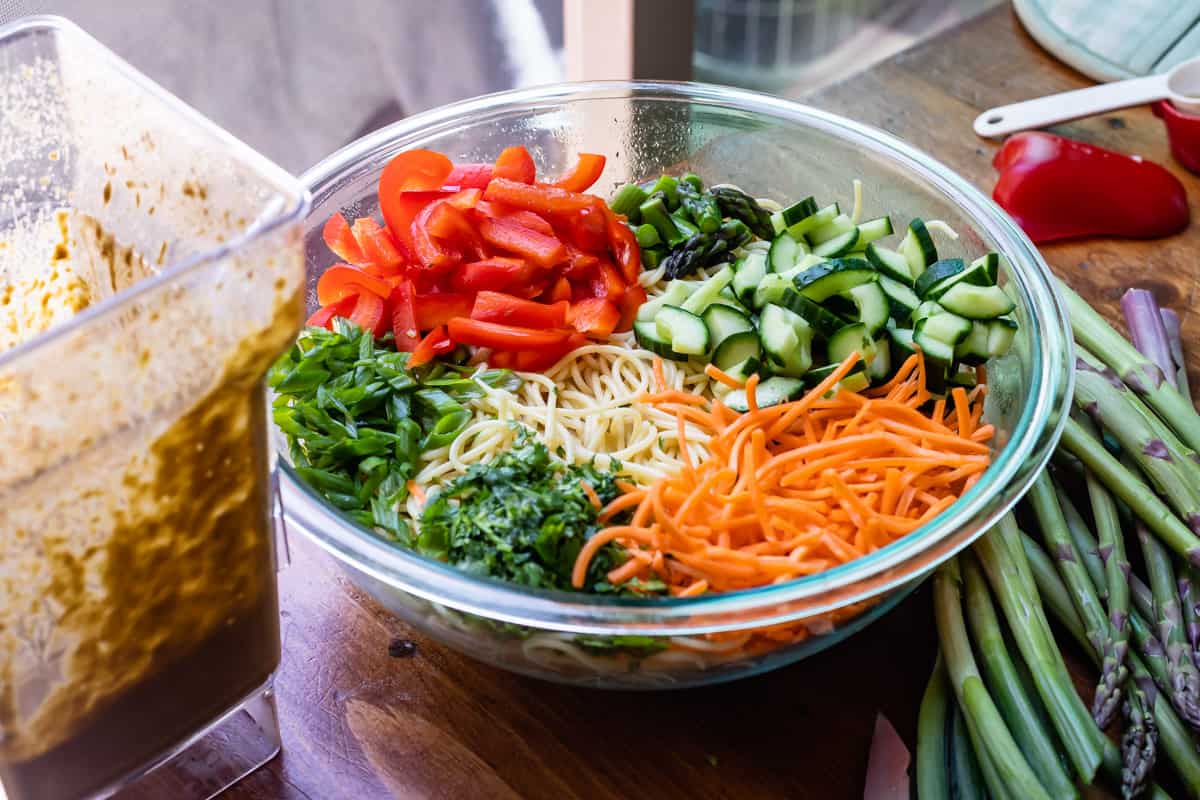 Mix it all together with the sauce. Snag a bite! It's so good!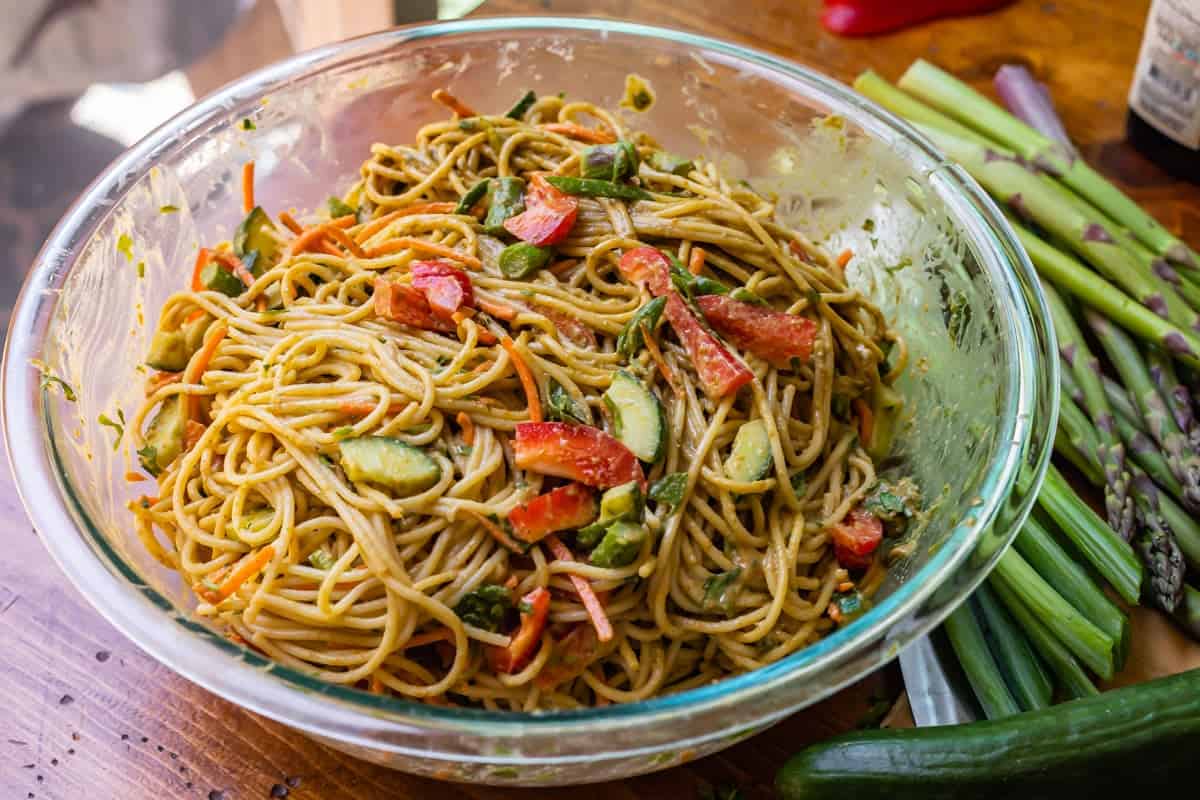 And thaaaat's it. Store leftovers in the fridge and you've got lunch for days!
How to turn Sesame Noodles into a hearty main dish
Top with a poached egg
Pair with crispy tofu. The details end here because I've never even made tofu at home, only had it in restaurants! I know, the shame! But it sounds like such a good combo right?
Chicken. Rotisserie chicken stirred into the noodles, or pan seared chicken breast/thigh on the side. Double the sauce for dipping!
Shrimp. Toss it in with the noodles, how delicious would that be.
Fish sticks. Don't knock it. Buy Gorton's brand! Super high quality and delicious. Double the sauce for the noodles and dip your fish sticks in it.
Serve these sesame noodles as a side dish to these PF Chang's Lettuce Wraps. What a dreamy summer dinner that would be!
Change out the spaghetti noodles for penne, farfalle, or corkscrew noodles, and serve this as a pasta salad for a summer cookout.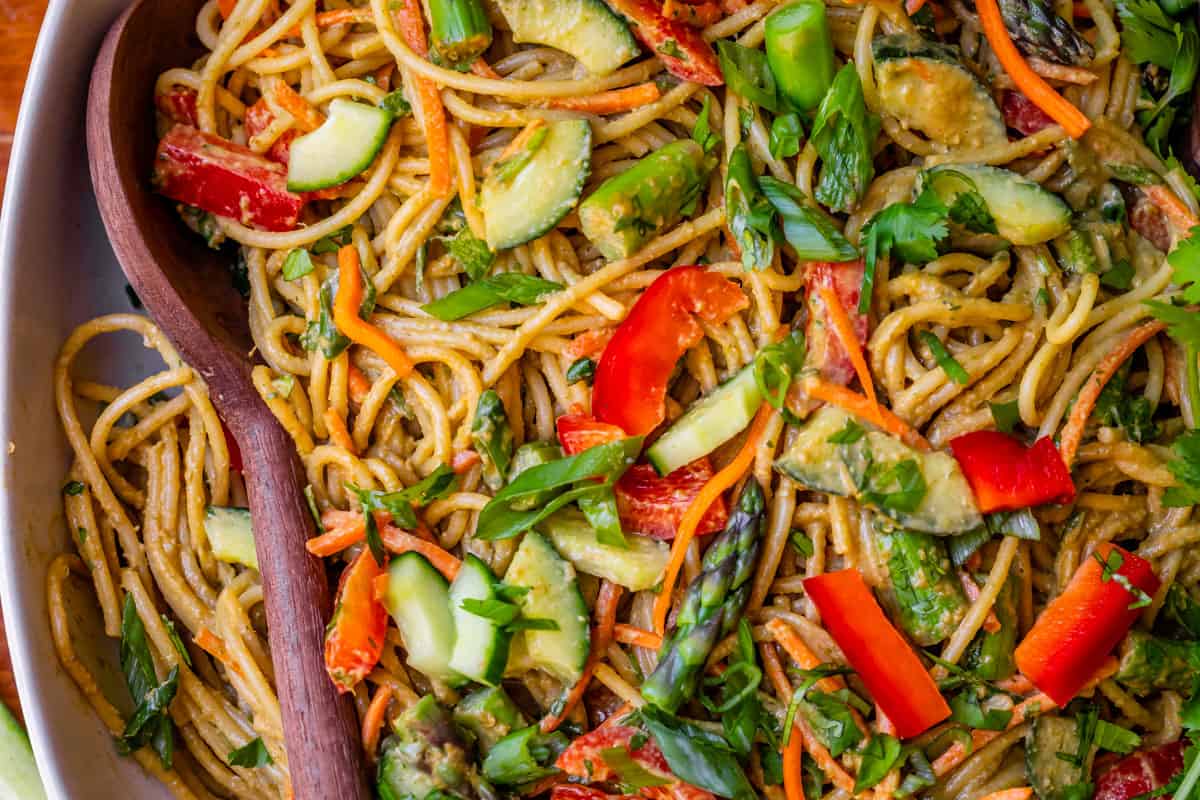 What side dishes to serve with sesame noodles
What to serve as a main (sesame noodles as a side)
If you prefer to have something a little more hearty for your main dish, sesame noodles work great as a side dish – with or without the added vegetables!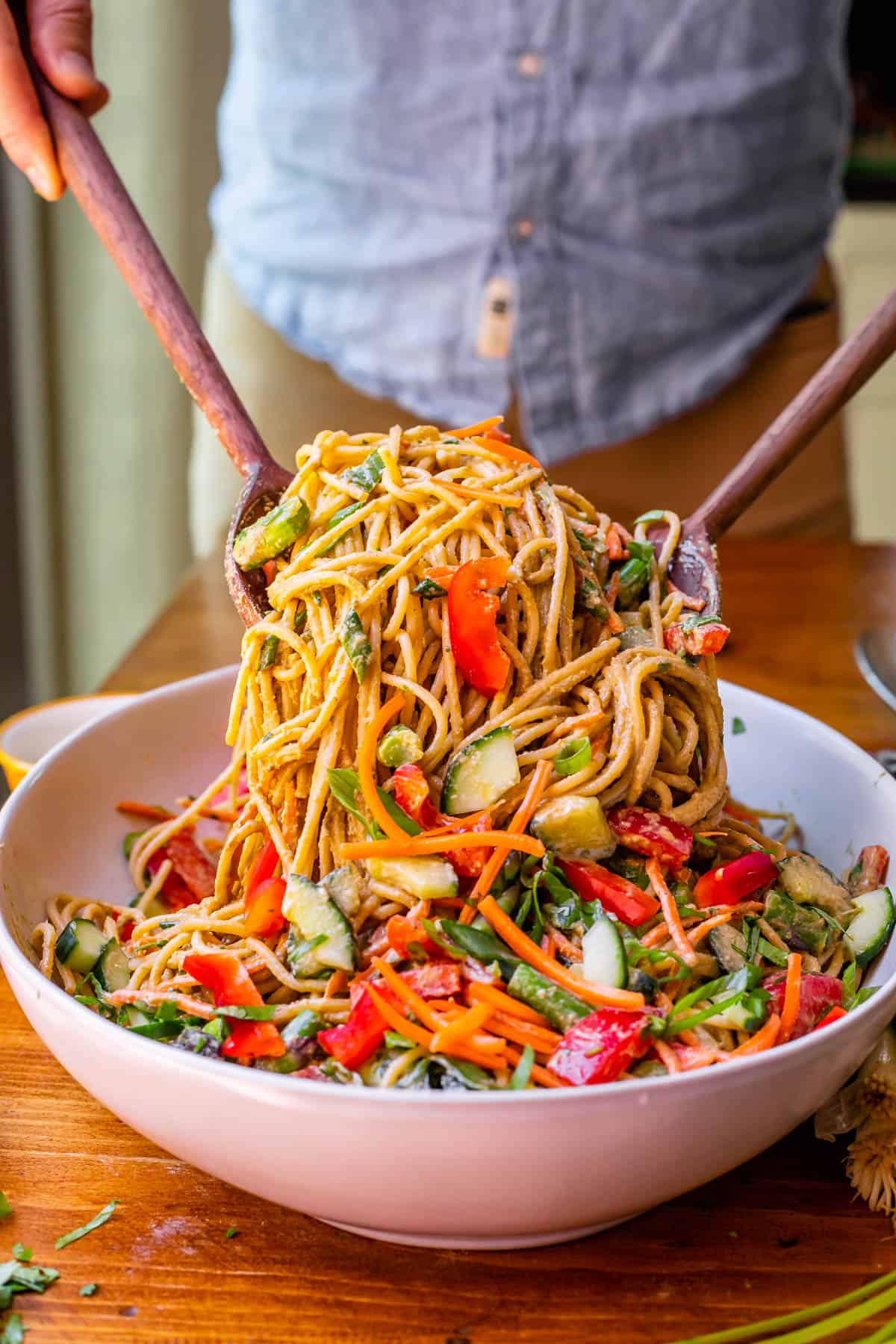 How to store leftovers
Sesame noodles can go straight into a tupperware with a lid that seals and into the refrigerator. They will last for 4-6 days, depending on the vegetables you choose. Just keep an eye on it and eat it before they get mushy. No warming up needed!
Can you freeze sesame noodles?
Hard pass. Freezing this combo of pasta and veggies is a recipe for disaster. If you don't add any vegetables or only cooked vegetables to your noodles, then I would say you can freeze leftovers, but the texture is a bit more squishy than fresh cooked. Freeze in a freezer safe ziplock bag and then thaw overnight in the refrigerator. Don't freeze the noodles if you added fresh vegetables! They will not survive the freezing and thawing process and you will end up with a mushy mess! If you have leftover sauce and want to freeze that for future noodles, that will work fine. Freeze and thaw as described above.
what are sesame noodles made of?
Sesame noodles is the name of a dish made from ramen or thin spaghetti noodles, a savory garlic sesame peanut sauce, and topped with sesame seeds. At times (these times😂), vegetables or meat can be added but the original recipe is just the noodles.
How to make sesame noodles?
It's as simple as cooking your noodles, blending your sauce, and mixing them together! In this recipe we're using spaghetti noodles, a simple garlic peanut sesame sauce, and adding lots of veggies. Check out the recipe card below or the step by step instructions above for full details.
are sesame noodles good for you?
I think they can be! It depends on the type of diet you follow more than anything. If you eat a low carb lifestyle, this should probably not be your daily lunch, unless you adapt it to use noodles that are low carb. (Try zoodles!) For most people though, some noodles with lots and lots of vegetables is a very light and healthy main dish, or even side dish.
do sesame noodles have carbs?
They sure do! This recipe is mostly pasta, and pasta is heavy on the carbs. If you want something low carb, lower your portion size, or replace the noodles with zoodles!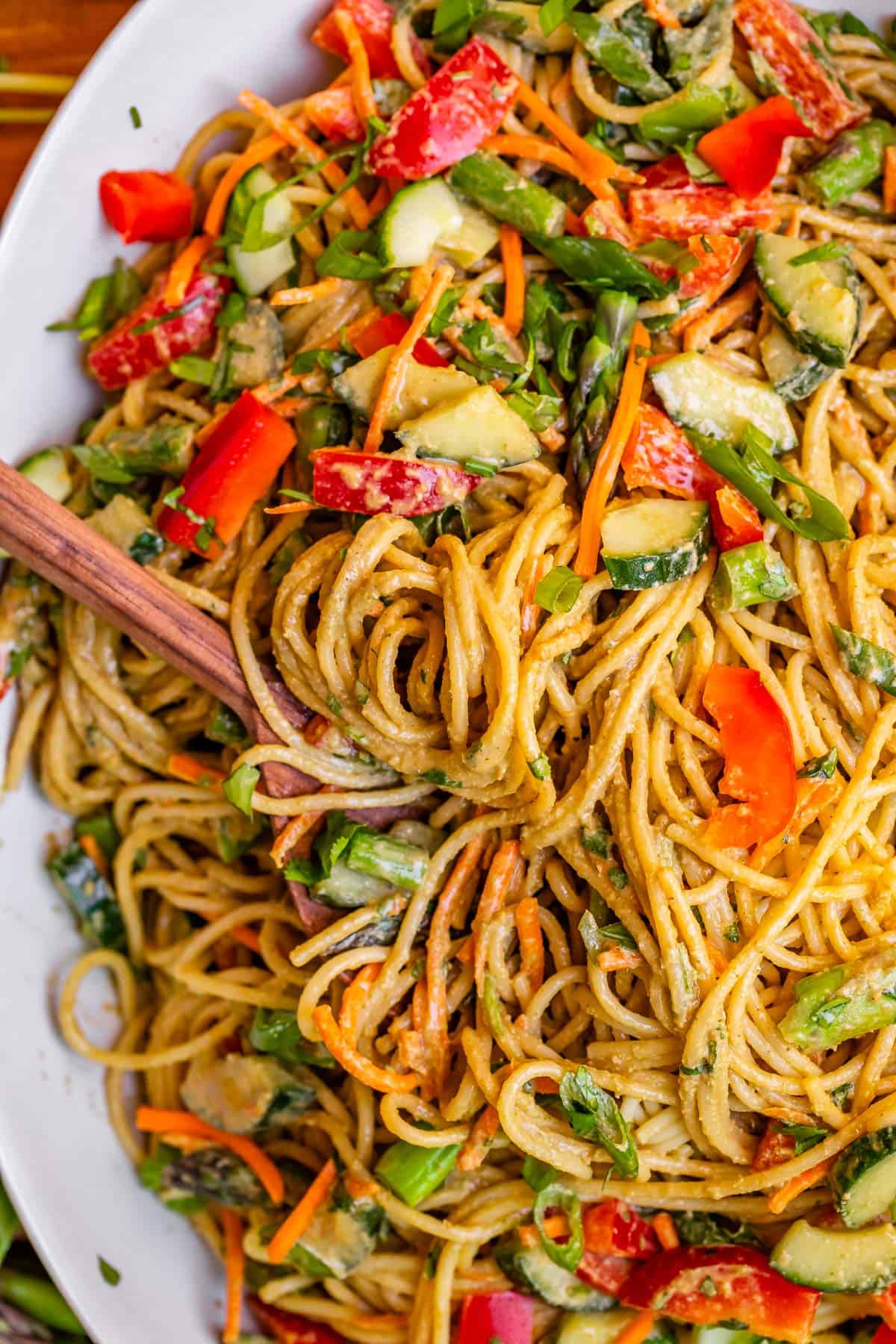 More amazing quick & easy summer dinners
Facebook | Pinterest | Instagram

Easy Sesame Noodles with Spring Veggies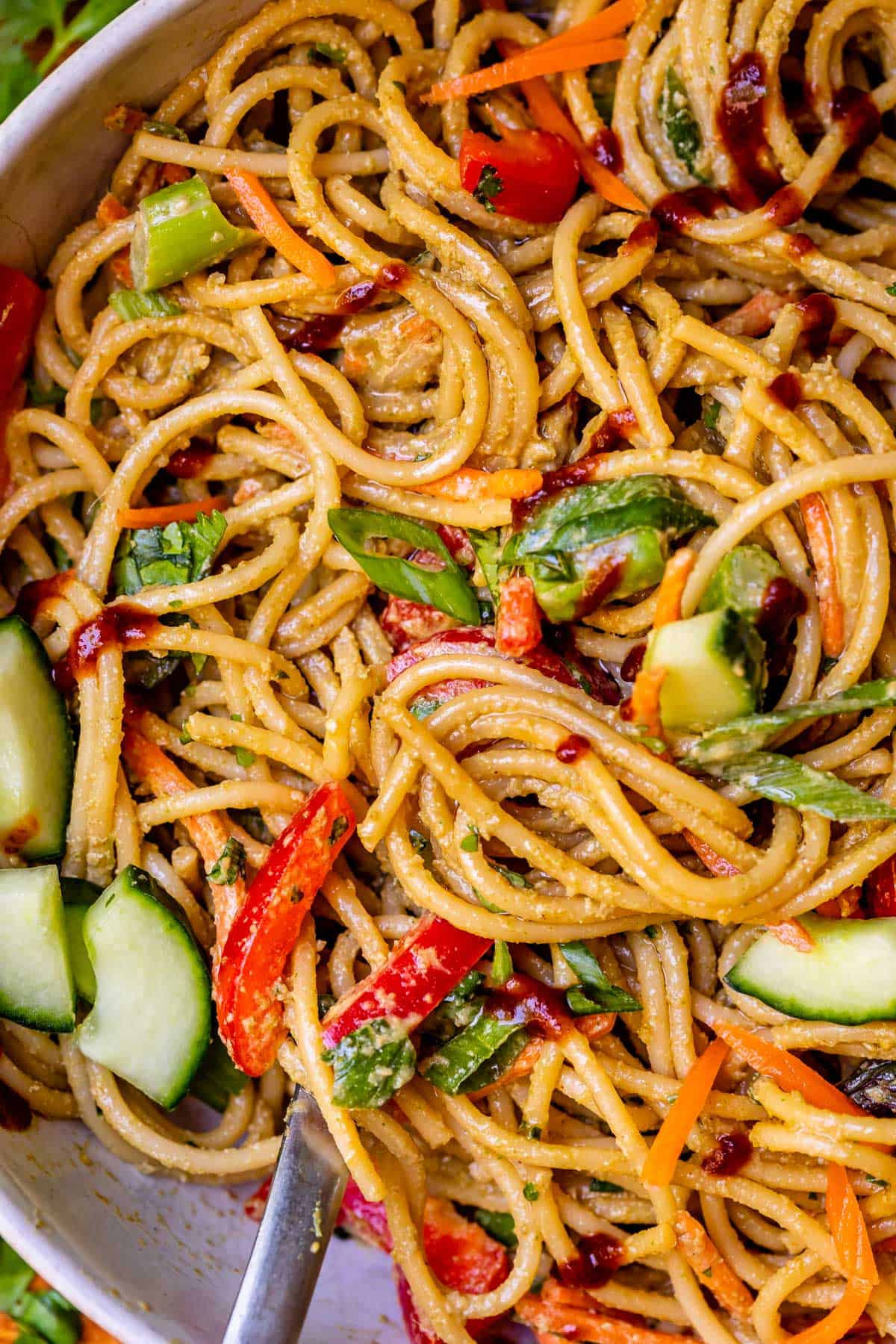 Ingredients
water

for boiling

2

tablespoons

kosher salt,

for boiling the water, don't add this to your sauce!

1

pound

dry spaghetti noodles

,

or any kind of pasta

1

cup

asparagus

,

chopped (optional)

2

tablespoons

sesame oil

,

for coating the cooked noodles
For the sesame sauce
1/3

cup

soy sauce

1

tablespoon

sesame oil

3

tablespoons

rice vinegar

1/4

cup

peanut butter

,

chunky or smooth (NOT natural)

3

tablespoons

toasted sesame seeds

,

check the Asian section for pre-toasted seeds

2

tablespoons

brown sugar

,

packed

1

knob

ginger

,

about 2 inches, roughly chopped

3

cloves

garlic

,

smashed and peeled

1

teaspoon

Sriracha hot sauce

,

or more to taste

1/4

bunch

cilantro

,

optional

1-2

tablespoons

water

,

to thin the sauce
Raw vegetables, add as many or as few as you like
1

English cucumber

,

halved and seeds removed

1

red bell pepper

,

chopped into bite size pieces

1

cup

shredded carrots

,

I used pre-shredded, or you can shred about 3 small carrots

1/2

cup

green onions

,

chopped

1/3

cup

chopped cilantro

,

optional

more veggies

,

if you want, see note for ideas

chopped cilantro

,

to garnish

chopped green onion

,

to garnish

sesame seeds

,

to garnish

additional sesame oil

,

to garnish
Instructions
Cook the noodles. Set a large pot of water over high heat. I used a 3 quart pot (which is annoyingly small for long noodles, actually, but it gets the job done if you shove them in and stir a lot.) Season the water with 2 tablespoons kosher salt; it should taste like the ocean.

When the water boils, add 1 pound spaghetti noodles, or any kind of noodle. Stir occasionally so they don't stick. Set a timer for 5 minutes.

Meanwhile, prep your asparagus if you're using it. (Every vegetable in this recipe is optional and interchangeable.) Snap off the wood ends. Chop into bite size pieces. You need about 1 cup chopped asparagus.

After 5 minutes, add the chopped asparagus to the pot with the noodles and continue to boil for about 2 minutes.

When the noodles are al dente, (about 7-8 minute total boil time, seriously watch it, don't let them get all soft! It's okay if you feel like your asparagus is still too crisp. It's not.) Remove the pot from the heat and strain through a colander set in the sink. Rinse the pasta and asparagus with cold water for a minute or so. Toss the noodles around with your hands to 1)cool everything off, 2)stop the cooking process, and 3)remove starch (which keeps our sauce smoother). Keep going until your noodles are cold.

Shake the colander to get out as much water as you can, then transfer to a large serving bowl. Drizzle with 2 tablespoons sesame oil and toss to coat all the noodles. Set aside.

Make the sauce. In a blender, add all the ingredients listed for the sauce: 1/3 cup soy sauce, 1 tablespoon sesame oil, 3 tablespoons rice vinegar, 1/4 cup peanut butter, 3 tablespoons toasted sesame seeds, 2 tablespoons brown sugar, 1 knob ginger, 3 cloves garlic, 1 teaspoon Sriracha hot sauce, a generous handful of cilantro sprigs, and start with 1 tablespoon water. Blend for 1-2 minutes until the sauce is completely smooth. Add another tablespoon or two of water if it seems too thick.

Prep veggies. What vegetables you include in this meal are entirely up to you, and you can leave them out entirely if you want. I say the more veggies the better. I've included a list of no-cook vegetables that I think would be delicious. For the meal I made in the photos, here's what to do:

Chop the ends off the English cucumber. Slice in half lengthwise. Use a spoon to scrape out the centers, the watery seedy part. See photos. Then slice each halve in half again lengthwise, then chop into bite size pieces. Add to the bowl of noodles.

Slice the red bell pepper (see photos for slicing tips), then chop the slices into thirds. Add to the noodle bowl.

Add 1 cup shredded carrots. If you need to shred them yourself, peel first, then shred on a box grater. You will need about 3 small carrots. Add to the noodle bowl.

Chop about 1/2 cup green onions, I kept mine in a bunch and started from the green end, cutting on a bias. Add to the bowl.

Chop about 1/3 cup cilantro and add to the bowl.

Add all the sauce from the blender, and stir to coat all the noodles and vegetables. Tongs are handy here to get everything distributed.

Dish the pasta and veggies into bowls or plates, and garnish with extra cilantro, green onions, and a sprinkle of sesame seeds. Drizzle each serving with a little sesame oil. Dig in!
Notes
If you add a TON of veggies, or plan to serve this with a protein, you might want to double the sauce! Never a bad idea, any leftovers will save well in the fridge and you can dip veggies in it later, or use if for another meal. See post for lots of ideas!
Other veggies you could include:

peas (thawed from frozen), sugar snap peas, snow peas, halved cherry tomatoes, broccoli, chopped kale, cauliflower, spinach, celery, corn, thin-sliced radish, mushrooms.
Nutrition
Calories:
485
kcal
|
Carbohydrates:
72
g
|
Protein:
16
g
|
Fat:
16
g
|
Saturated Fat:
3
g
|
Polyunsaturated Fat:
6
g
|
Monounsaturated Fat:
6
g
|
Sodium:
3135
mg
|
Potassium:
550
mg
|
Fiber:
6
g
|
Sugar:
11
g
|
Vitamin A:
4618
IU
|
Vitamin C:
32
mg
|
Calcium:
100
mg
|
Iron:
3
mg