1770 House Meatloaf with Garlic Sauce
This Ina Garten Meatloaf recipe is the best I've ever had. It's tender, moist, and flavorful. The delectable garlic meatloaf sauce makes it extra fancy and tasty. Pure comfort food.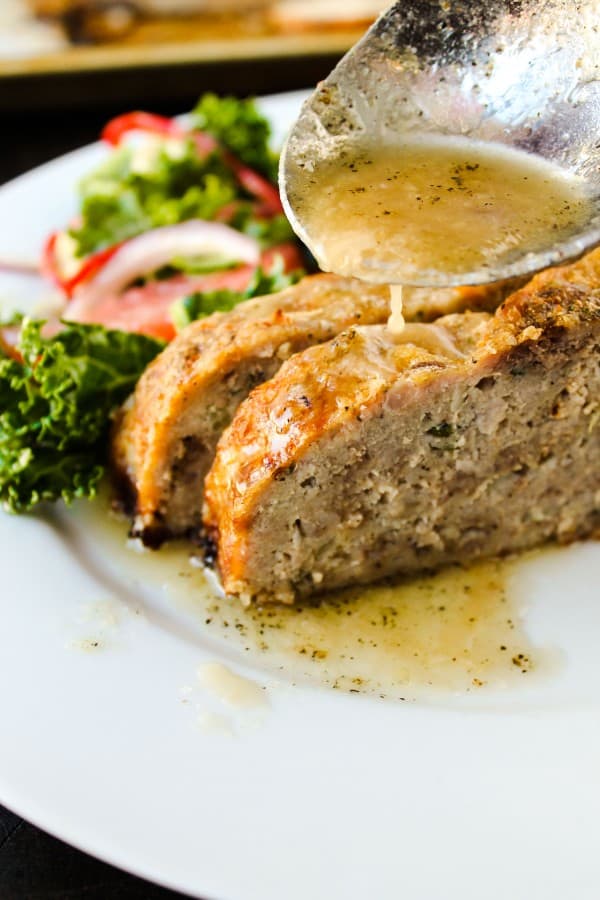 Originally posted February 21, 2014
One time in college my best friend/roommate Sarah and I each came back from Christmas break with the exact same pair of polka-dot rain boots from Target. Same color. Same size.
I'm in Texas visiting her this week, and it took us about 30 seconds of being together to realize that we have the exact same turquoise and purple iPhone case. The exact. same. one.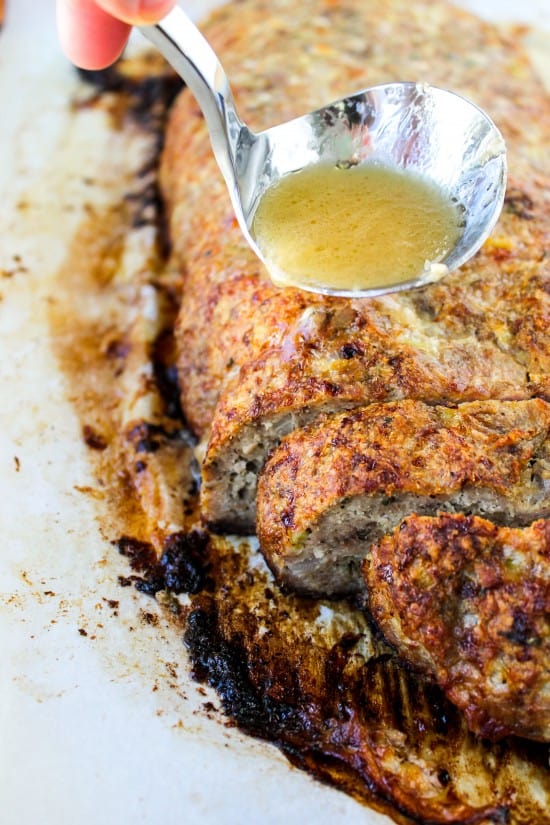 We are pretty much kindred spirits. The only drawback is that now her 4-year-old son thinks my phone is hers, and steals it when I'm not looking to take a thousand selfies every day.
Eric is back home slaving away while I take a girl's trip to visit my best friend and sister. And by girl's trip I mean all of the children are involved, so it's not really one of those. We went to Walmart today with all 5 of our kids. We bought limes and diapers. It took 2 hours.
I'm not complaining though. It's easier to dodge People of Walmart photographers if you're in a group.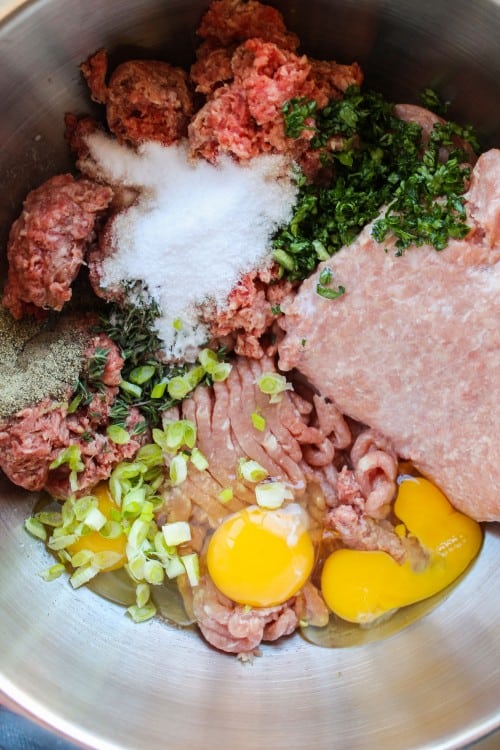 I woke up on my birthday last year majorly missing my sister Laura, who lives in Dallas. I've never visited, so I asked for tickets to see her for Christmas, and here we are. My friend Sarah also lives in Texas (7 hours away) and I thought it would be a great idea to rent a car one way to see her too. This was before I remembered how much I LOVE taking road trips with small children, so extra bonus for me!
Really though, we're having so much fun. Time and space got nothin on kindred spirits.
How to make this amazing Ina Garten Meatloaf
Meatloaf. I mean, other than bread, pretty much anything that has the word "loaf" in it is going to have a hard time sounding appetizing and winning beauty contests. Calling it "1770 House Meatloaf" definitely adds a little pizazz, so thanks for that Ina. Yes, this is a Barefoot Contessa recipe, so of course it is the best meatloaf I've ever had. It's tender, moist, and flavorful. Pure comfort food.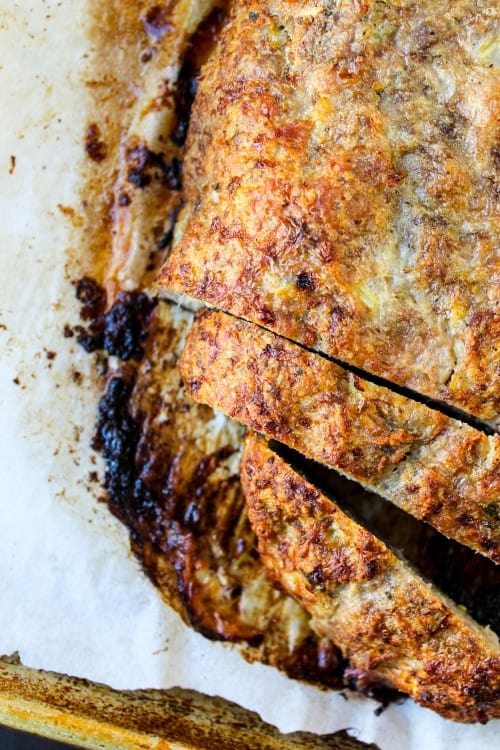 My mom used to make people guess what was in her meatloaf, because she was always just throwing in whatever was in the fridge. You know, just in case meatloaf wasn't adventurous enough for you already.
But this recipe is pretty basic. The fresh herbs and garlic sauce take it to a whole new level. Plus it's HUGE, so it's great for feeding a crowd. Or you could freeze half for a later meal.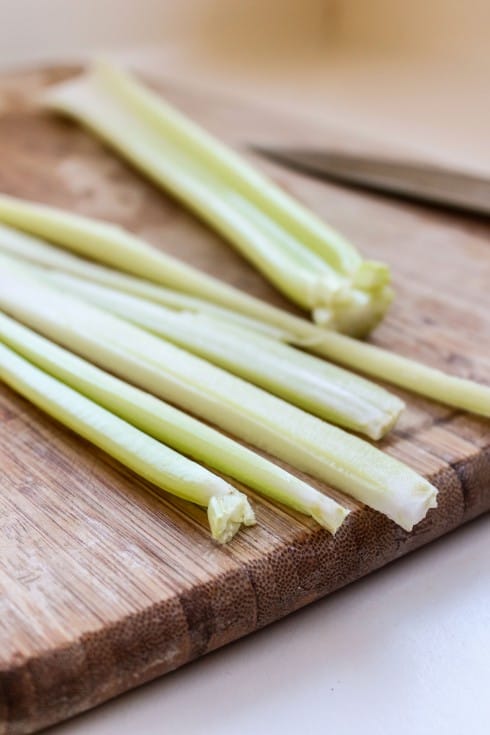 Slice your celery the thin way before you chop it to get the small dice you need.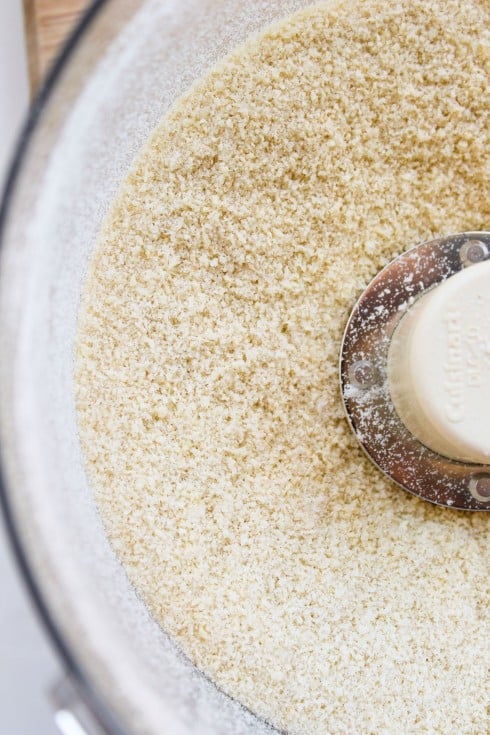 You want your bread crumbs to look like this. I like Panko bread crumbs.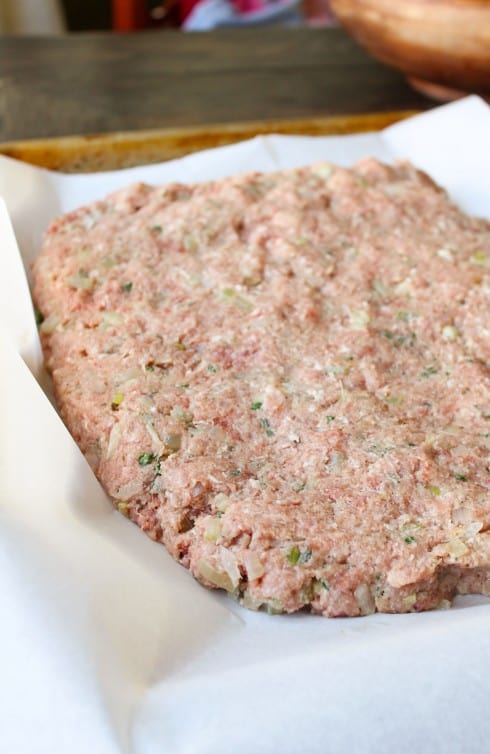 Pat it into a rectangle…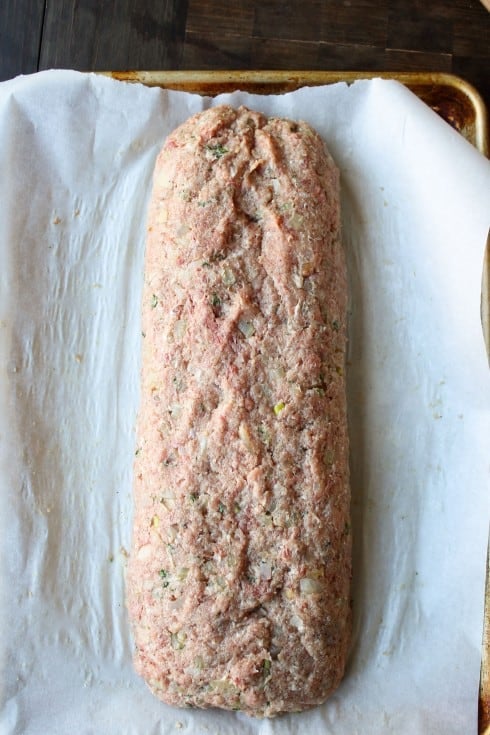 Then mold it into a cylinder to prevent air pockets.
Making the garlic meatloaf sauce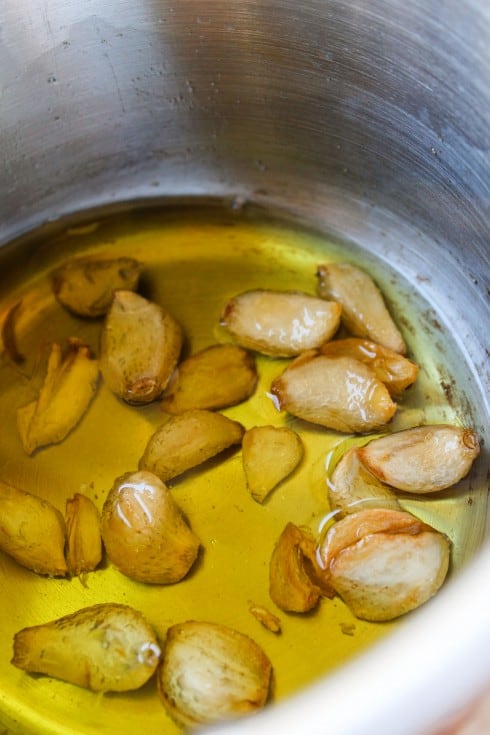 Why have I never thought of making gravy to go with meatloaf? So much better than sugary ketchup. (Let's not get confused here: I love ketchup. But I do prefer savory sauces with meat.) And this is not even gravy. It's garlic sauce. 10 cloves of garlic? Enough said. It's an Ina Garten meatloaf, alright.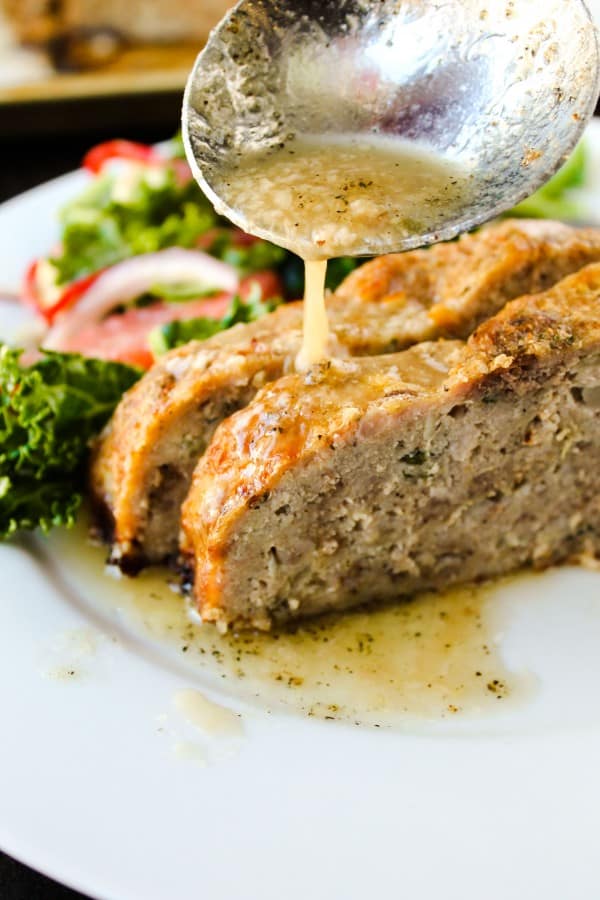 If you really want to pull out all the stops, make this meatloaf with Aunt Shirley's Famous Creamy Mashed Potatoes. Meatloaf and potatoes, there's no greater combo, right? You could also do these 3 Ingredient Roasted Potatoes with Crunchy Onions. And how about a Green Salad with Feta and Beets to go with it? Yum.
Facebook | Pinterest | Instagram
More recipes to love!
1770 House Meatloaf with Garlic Sauce
This Ina Garten Meatloaf recipe is the best I've ever had. It's tender, moist, and flavorful. The delectable garlic meatloaf sauce makes it extra fancy and tasty. Pure comfort food.
Ingredients
For the meatloaf:
2

tablespoons

olive oil

2

cups

onion

,

chopped (1 large)

1 & 1/2

cups

celery

,

small-diced (2 stalks)

1

pound

ground beef

1

pound

ground veal

1

pound

ground pork

1

tablespoon

parsley

,

fresh, chopped

1

tablespoon

thyme

,

fresh, chopped

1

tablespoon

chives

,

chopped, or green onions

3

large

eggs

2/3

cup

whole milk

2

tablespoons

kosher salt

1

tablespoon

black pepper

,

freshly ground

2 & 1/2

cups

panko bread crumbs
For the Garlic Sauce:
3/4

cup

olive oil

10

cloves

garlic

,

peeled

2

cup

chicken stock

3

tablespoons

butter

1/2

teaspoon

kosher salt

1/4

teaspoon

black pepper

,

freshly ground
Instructions
For the meatloaf:
Preheat the oven to 350 degrees.

In your largest saute pan, heat the 2 tablespoons olive oil. When it is hot add the onion and celery. Cook for 5-8 minutes until the onion is soft but not brown. Remove from heat and set aside.

In a large bowl, add ground beef, veal, pork, parsley, thyme, chives, eggs, milk, salt and pepper.

Blend the panko bread crumbs in a food processor until they are finely ground, then add that to the bowl with the meat. Add the onion and celery mixture.

Combine the meat with your hands. This is the best way to mix meatloaf so that it doesn't get tough. Don't overdo it.

Cover a large sheet pan with parchment paper. Use your hands to pat the meat into a flat rectangle. Then push the sides in to make a cylinder about 15 inches by 6 inches (spreading it out first prevents air pockets).

Bake at 350 for 40 to 50 minutes, or use a meat thermometer to find out when it has reached 155-160 degrees F.

Remove from the oven and let rest for a few minutes before slicing. Serve with garlic sauce.
For the Garlic Sauce:
While the meatloaf is cooking, combine the oil and garlic in a small saucepan . Bring the oil to a boil, then lower the heat to low. Simmer for 10-15 minutes, until the garlic is a light golden brown. Don't burn it! Watch carefully. Strain out the oil and save it for another use (I used it for oven roasted potatoes).

In the same saucepan (with the garlic still in it), add the chicken stock and butter. Bring to a boil. Lower the heat but continue to boil for 35-40 minutes, until it is slightly thicker. Use a fork to smash the garlic in the pan. Add the salt and pepper.

Ladle the warm sauce over each serving of hot meatloaf.
Notes
You do not have to use veal for this recipe to be awesome. Instead use 1 and 1/2 pounds each pork and beef.
Nutrition
Serving:
1
slice
,
Calories:
523
kcal
,
Carbohydrates:
15
g
,
Protein:
26
g
,
Fat:
40
g
,
Saturated Fat:
12
g
,
Polyunsaturated Fat:
4
g
,
Monounsaturated Fat:
21
g
,
Trans Fat:
1
g
,
Cholesterol:
142
mg
,
Sodium:
1547
mg
,
Potassium:
528
mg
,
Fiber:
2
g
,
Sugar:
4
g
,
Vitamin A:
308
IU
,
Vitamin C:
5
mg
,
Calcium:
87
mg
,
Iron:
3
mg
We are a participant in the Amazon Services LLC Associates Program, an affiliate advertising program designed to provide a means for us to earn fees by linking to Amazon.com and affiliated sites.