This Classic Shepherd's Pie Recipe is gravy-soaked beefy goodness, with peas and carrots, covered with 5 pounds of potatoes. Because there are NEVER ENOUGH MASHED POTATOES. The best Shepherd's Pie, done right my friends.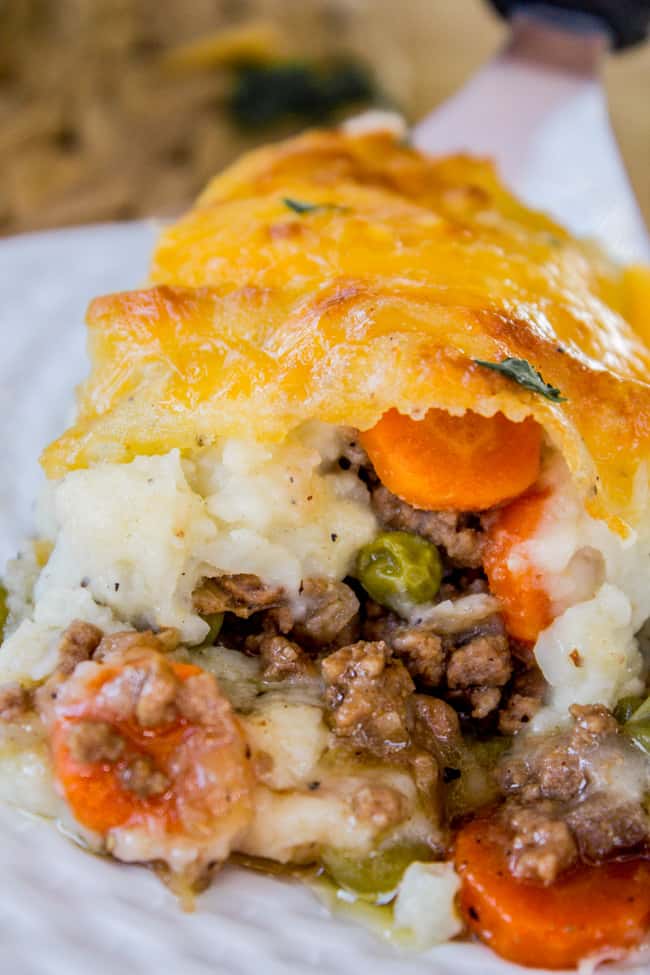 Originally published February 23, 2016.
Have you ever taught a kid to roller skate before? Turns out I am literally the worst person in the world for this job. (Where is my parenting manual?? I know I'm going to need it come 6th grade math, too. Don't judge me.) This about sums it up: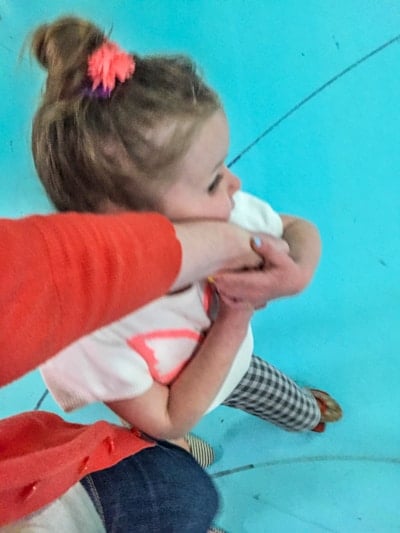 Here's Charlotte and I at her cousin's birthday party at the skating rink. You will note that I am most certainly not wearing roller skates. If I had, we would BOTH be sprawled out under the disco lights.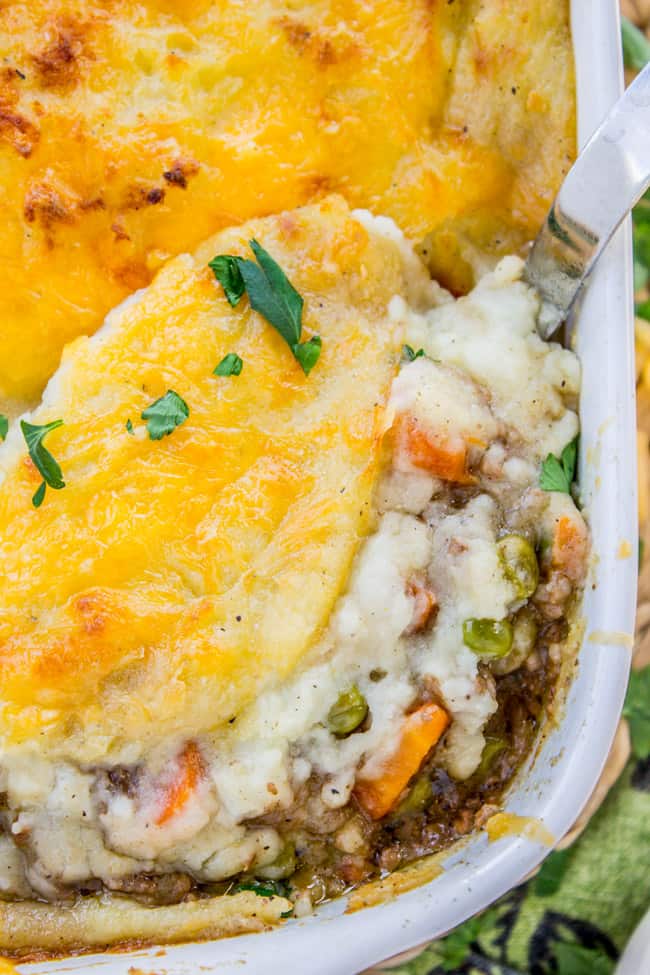 "Stand straight. Lean into it. Glide your skates OUTward. Hold tight. Don't slip! Find your balance."
Seriously, "find your balance?" "glide outward"? SHE'S FIVE. It's like I'm giving yoga instructions to a puppy. No wonder she's holding on for dear life in that photo. I may as well be telling her to do the crow pose.
I was laughing, but that's because I only had one kid at the party. You should have seen the mom's trying to drag 2 or even 3 kids along. Note: a 5-year-old wielding a roller-skate-clad foot is a danger to innocent feet everywhere.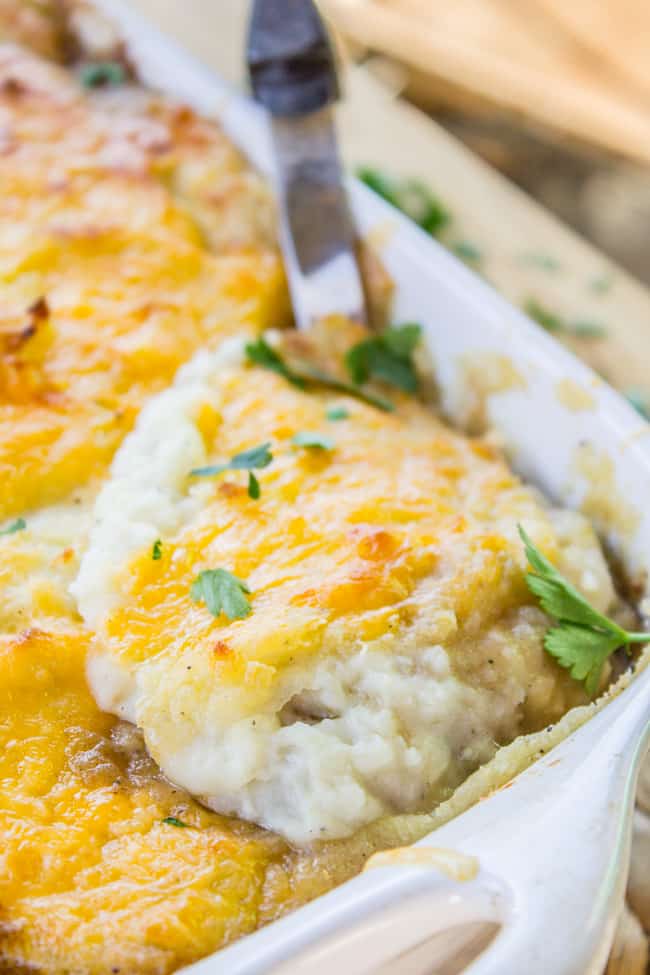 Now Charlotte is asking for her own pair of roller skates. I am now preemptively collecting donations for her body cast. And for my pair of steel-toed shoes.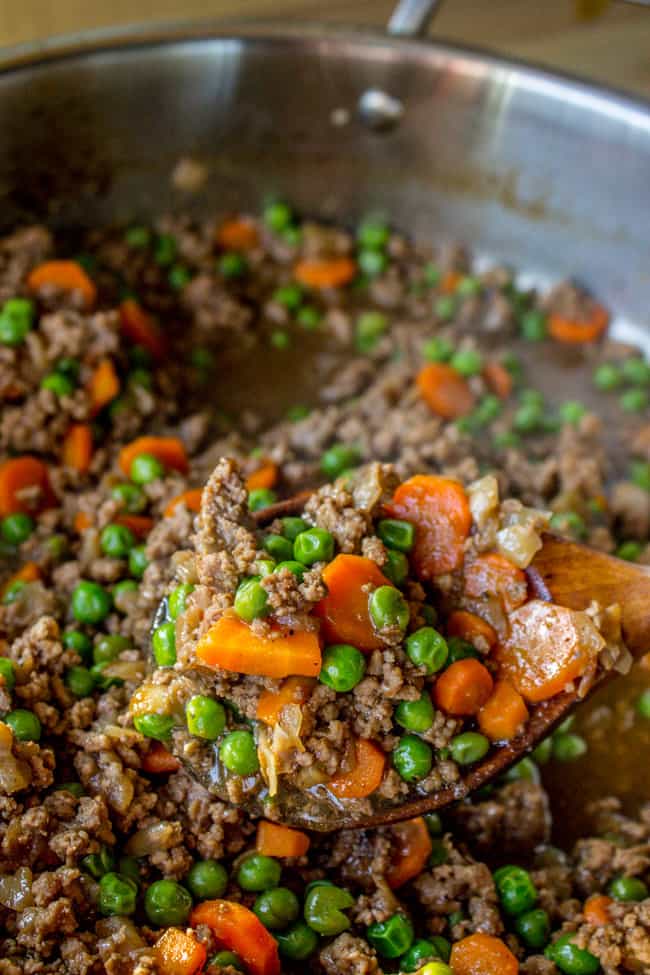 Best Shepherd's Pie Recipe
Do you love Shepherd's Pie as much as I do? We didn't have the traditional version growing up. My mom made "Meat and Potato Stuff." No, I'm not kidding. (We also had "Chicken and Broccoli Stuff." Bless your heart Mom.) Meat and Potato Stuff had tomato sauce and was basically Sloppy Joe Casserole. (Which explains why I was not into it. Sloppy Joes are gross. Slop sloppy joes…slop, sloppy joes.)
THIS Shepherd's Pie however, is anything but sloppy. You make a flavorful gravy with beef broth and ground beef, add some peas and carrots, and cover it up with All The Potatoes. In my opinion, the greatest fault of most Shepherd's Pies is a serious lack of creamy potato-y goodness. It's all meat, tiny potatoes. Not gonna cut it for this mashed potato freak. 5 pounds definitely does the trick though!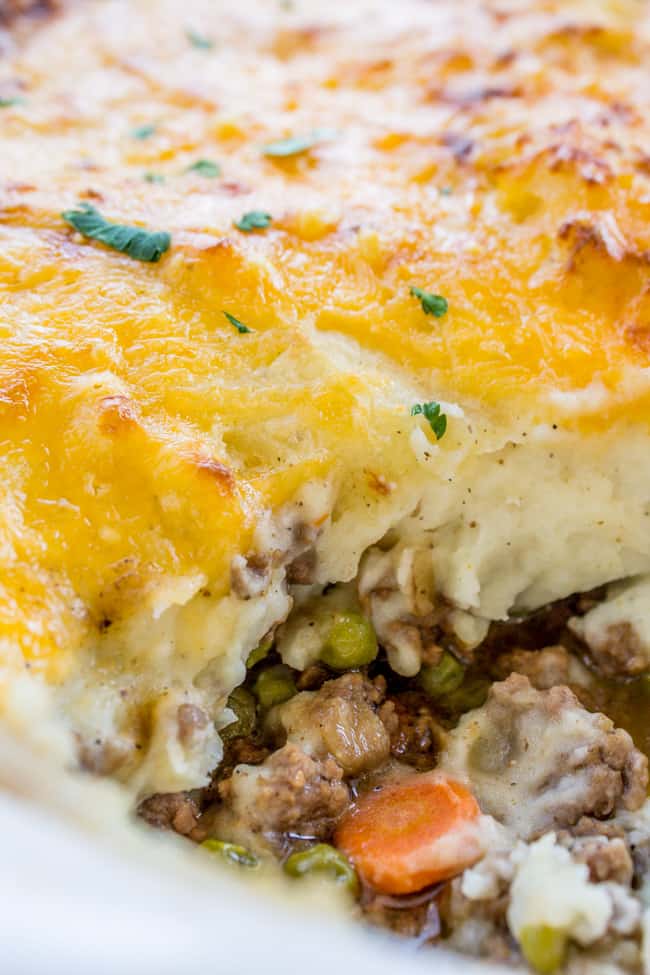 Top it off with some cheddar cheese that you broil for a few minutes to make it extra crispy. Mm-mm. Invite the neighbors because this casserole feeds a small army!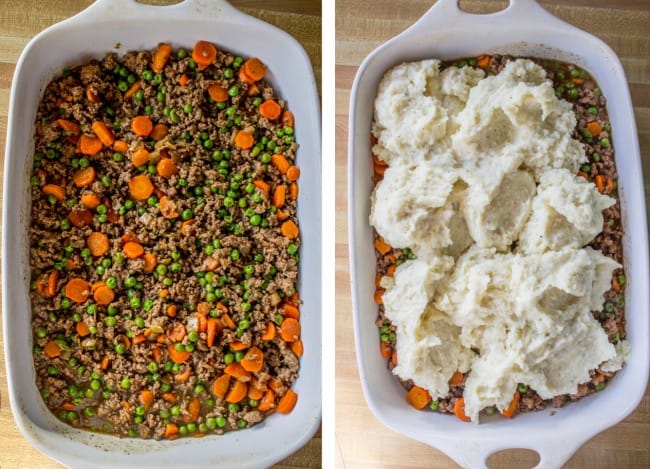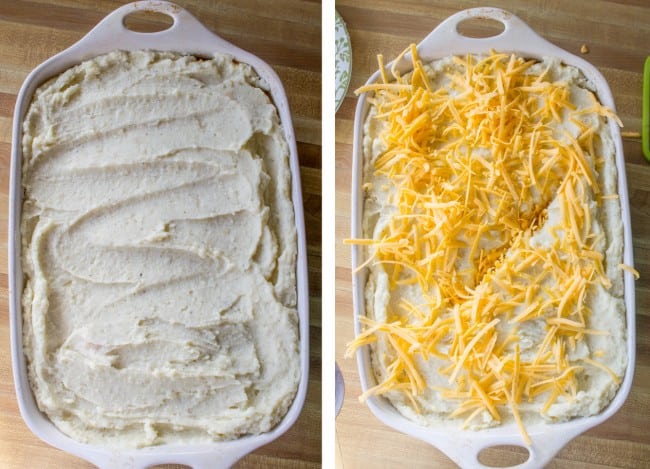 Try not to drop your plate of shredded cheese on top.
If you make this Shepherd's Pie, snap a photo and tag #TheFoodCharlatan on Instagram! I love seeing what you're making! Here's a link to a pin where over 150 people have tried this recipe and shared their review. Check it out!
Facebook | Pinterest | Instagram | Twitter
One year ago: Texas Cowboy Cookies
Four years ago: Grilled Pork Tenderloin with Peanut-Lime Sauce
Six years ago: Quick Lunch Wraps with Cream Cheese and Avocado

Shepherd's Pie with Ground Beef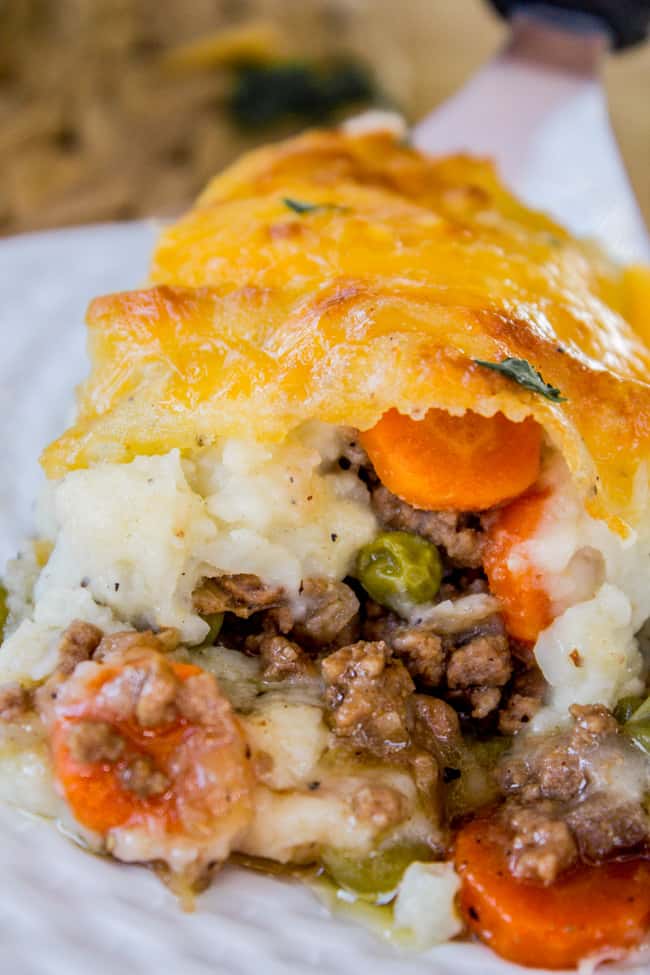 This Classic Shepherd's Pie Recipe is gravy-soaked beefy goodness, with peas and carrots, covered with 5 pounds of potatoes. Never enough mashed potatoes!
Ingredients
For the mashed potatoes:
5

pounds

potatoes

,

peeled and chopped into 1 or 2 inch pieces

1/2

cup

salted butter

,

1 stick

1/2

cup

sour cream

1/3

cup

milk

,

or to taste

1

teaspoon

salt

1/2

teaspoon

pepper

1/2

teaspoon

seasoning salt

1/4

teaspoon

garlic powder

1/4

teaspoon

onion powder
For the beef mixture:
4

tablespoons

salted butter

,

1/2 stick

1

medium onion

,

chopped (about 2 cups)

4-5

medium carrots

,

(about 1 and 1/2 to 2 cups)

1 & 1/2

cups

frozen peas

1 & 1/2

pounds

ground ground beef

1 & 1/2

cups

beef broth

,

*

1

tablespoon

cornstarch

1 & 1/2

teaspoons

Worcestershire sauce

1

teaspoon

Better Than Bouillon paste*

,

see note

1 & 1/2

teaspoons

salt

,

or to taste

1/2

teaspoon

pepper

,

or to taste

1

cup

shredded cheddar cheese
Instructions
Fill a large stock pot with plenty of water. Add the chopped potatoes and make sure the water covers them.

Bring to a boil, covered, over high heat. Reduce the heat to medium and continue boiling for about 20-25 minutes, until the potatoes are fork tender.

Drain the potatoes and return to the pot.

Add 1/2 cup butter. Mash with a potato masher or mixer until they are as smooth as you like them.

Stir in sour cream, milk, 1 teaspoon salt, 1/2 teaspoon pepper, seasoning salt, garlic powder, and onion powder. All seasonings are to taste. Cover and set aside.

In a large skillet, melt 4 tablespoons butter over medium heat.

Add the onions and carrots. Saute for about 8 minutes, until the carrots are tender.

Add the ground beef and cook and crumble until no longer pink, about 5-6 minutes.

Drain the fat.

Add the frozen peas.

In a small bowl, stir together beef broth* and cornstarch.

Add this mixture to the meat, as well as the Worcestershire sauce.

Cook over high heat for about 5 minutes, or until the mixture boils and the sauce has thickened. Cook and reduce until it has reached a consistency you like.

Season with salt and pepper. Taste it and see how you like it! Add other seasonings if you want.

Preheat your oven to 350 degrees F.

Pour the meat mixture into a deep 9x13 inch casserole dish.

Top with the mashed potatoes and spread evenly.

Top with cheddar cheese.

Bake at 350 for about 30 minutes, or until bubbly. (You could do 375 if you are in a hurry. Check it at 20 minutes.)

Broil on the top rack for about 2 minutes if you are obsessed with crunchy brown cheese like my family is. Don't walk away!!

Now invite over the neighbors. Because this pie feeds a crowd!
Notes
*I'm a little obsessed with Better Than Bouillon. I use 1 teaspoon of the stuff per cup of water to equal however many cups of broth I need. (so for this recipe, 1 and 1/2 cups water + 1 and 1/2 teaspoons paste.) I tried this the second time with 1 and 1/2 cups beef broth from a box, but I still added one teaspoon of Better than Bouillon. It just adds so much flavor!
All of the seasonings in the mashed potatoes are totally according to taste, of course! If it doesn't taste like you want to eat 12 more bites when you taste it, add more salt :)
Nutrition
Serving:
1
cup
|
Calories:
726
kcal
|
Carbohydrates:
60
g
|
Protein:
27
g
|
Fat:
43
g
|
Saturated Fat:
22
g
|
Polyunsaturated Fat:
2
g
|
Monounsaturated Fat:
14
g
|
Trans Fat:
2
g
|
Cholesterol:
129
mg
|
Sodium:
1405
mg
|
Potassium:
1699
mg
|
Fiber:
9
g
|
Sugar:
7
g
|
Vitamin A:
6089
IU
|
Vitamin C:
70
mg
|
Calcium:
210
mg
|
Iron:
5
mg
More casseroles to love!
Easy Cheesy Ravioli Lasagna << family classic right here! Too easy.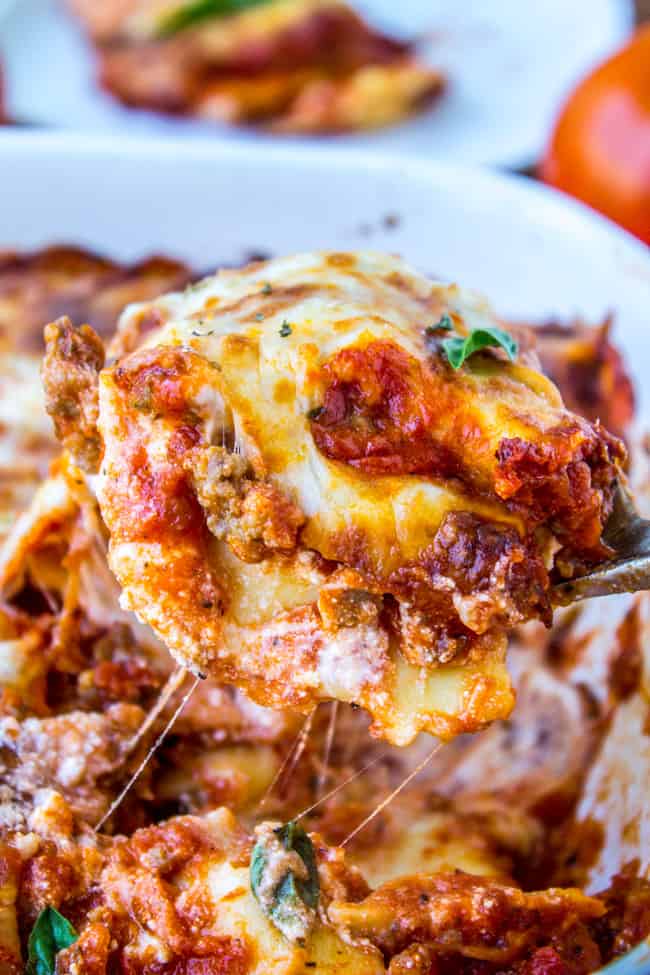 Easy Cheesy Asparagus Tortellini Bake: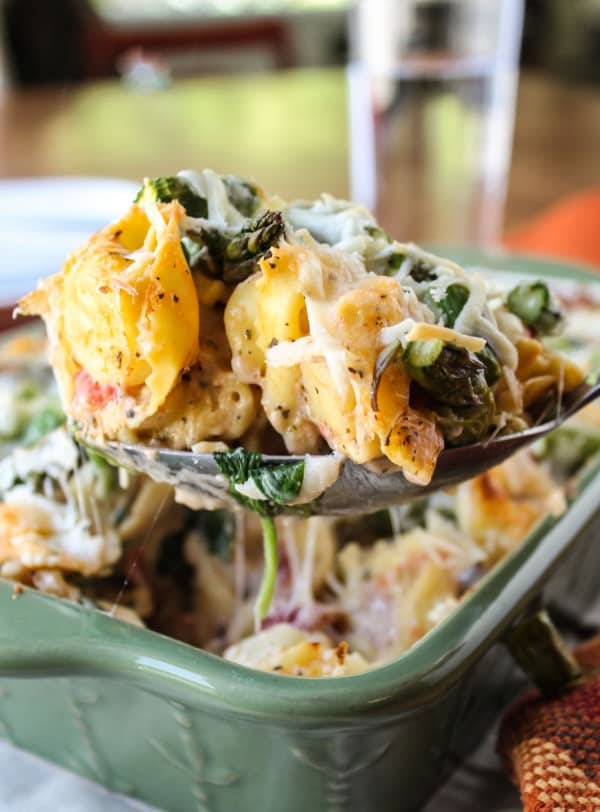 Chicken and Broccoli Stuff << my mom's recipe!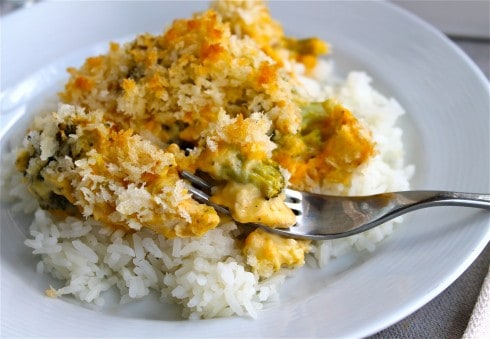 Chicken Crepes << another one from my mom. It's soooooo good.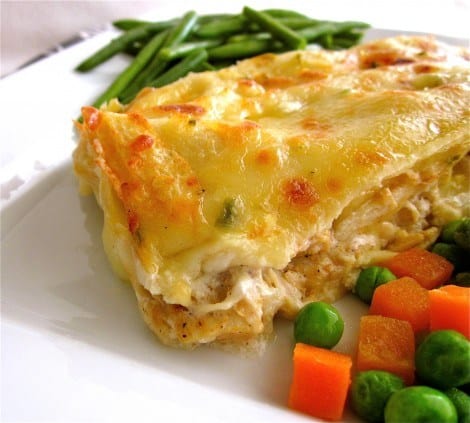 More Shepherd's Pie from friends!
Easy Shepherd's Pie from Simply Recipes << this is the recipe that inspired my version. Elise's blog is so amazing!
Vegetarian Shepherd's Pie from Budget Bytes << I'm trying this version next!
Shepherd's Pie from Life in the Lofthouse