Classic Double Crust Chicken Pot Pie
The BEST recipe for Chicken Pot Pie! Carrots, peas, and rotisserie chicken (or use leftover turkey from Thanksgiving!) come together in a deliciously flavorful gravy. All wrapped up in a buttery, flaky chicken pot pie crust! If you've only tried frozen pot pies from the store…please, I'm begging you, make this.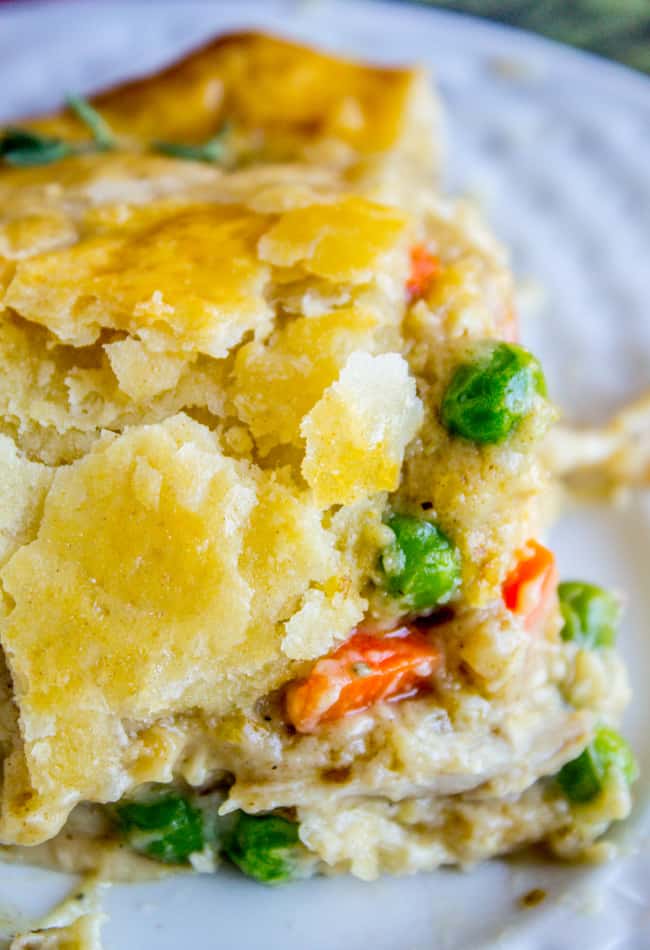 Originally posted November 22, 2016
Eric's grandpa is 86 years old and still gets up and goes to work every day. No, I'm not kidding. He had surgery last week. ON HIS BRAIN. He went back to work a couple days ago.
He owns the hardware and furniture store in the little town where Eric grew up, Sidney Montana. (Where are all my Sidney folks??) He doesn't do it alone of course; it's a family business that's been around 100 years.
So I get this text a few weeks ago from Kris, my mother-in-law (who also owns the store) with this picture: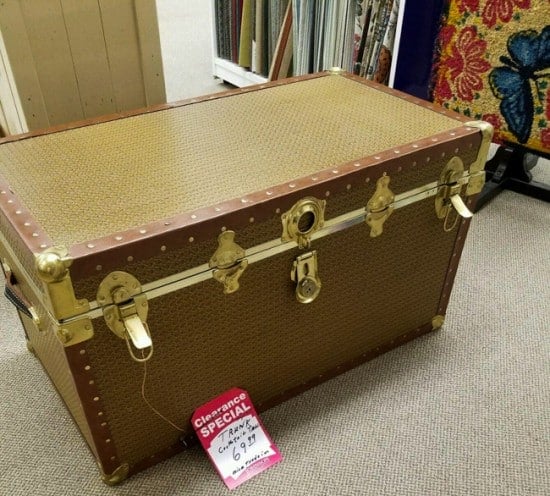 "Bumpa keeps bringing in stuff from his house and trying to sell it!" The tag says, "Trunk Cocktail Table, nice trade in." Trade-in! As if!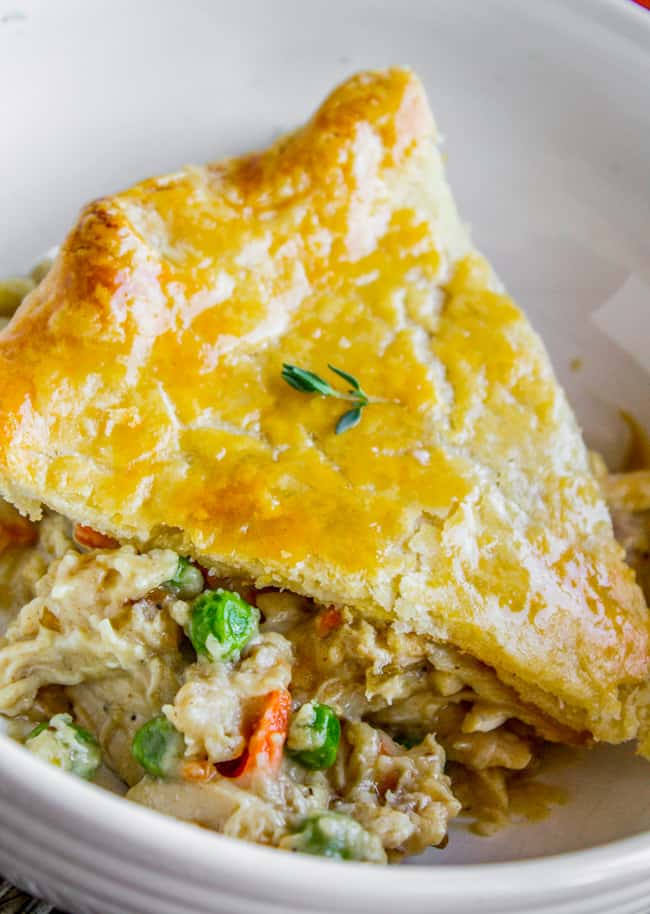 Kris and the rest of the family always have to keep their eyes open for random junk that Bumpa will try to sell in the store so that they can take it off the shelves before anyone sees it. (The trunk was actually a great idea since they are so trendy right now, it sold in just a couple days.)
But one time he tried to sell a shoe horn. Another time he tried to sell an outdoor temperature gauge that had been hanging in his backyard for 40 years. The girls who work the front counter wrapped it up and gave it to him for Christmas. Someday on his tombstone they'll write, "Paul: Father, Husband, and The Best Darn Salesman in Richland County."
How to make chicken pot pie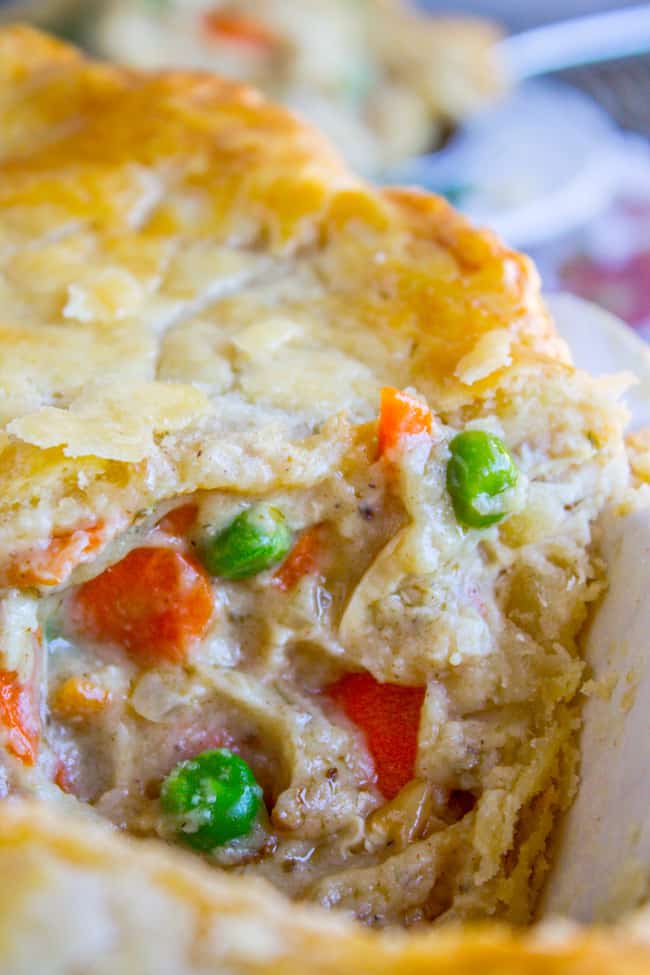 I have been trying to share this chicken pot pie recipe on my blog for years. I've made it SO many times and it is a huge family favorite. (Isn't chicken pot pie everyone's favorite?) But every time I try to shoot it for the blog something goes wrong–I over bake it, or the photos are washed out, etc.
Today I almost dropped my phone directly on top of the pie while holding it with my shoulder, chatting with my sister and trying to take overhead photos. (When am I going to learn that multitasking is not the path to success for me?? It is usually the path to tripping and dropping things.)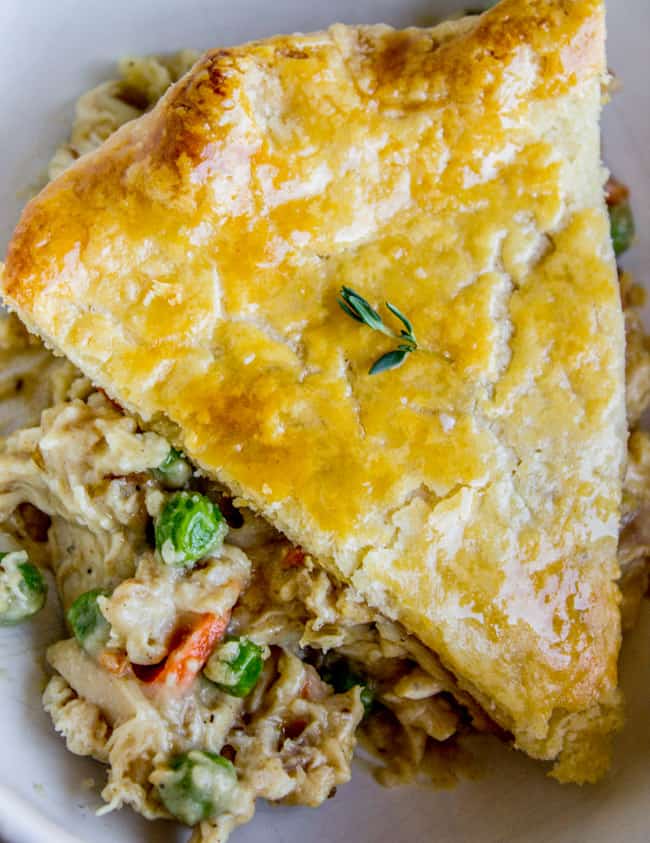 How to make a delicious, flaky chicken pot pie crust
This pot pie is amazing. It starts with the most gorgeous tender and flaky crust you can imagine. The crust recipe has half an egg in it, which is kind of annoying, but it makes the dough really workable and tender. Plus for this recipe, we are going to use the other half to brush the top of the pie.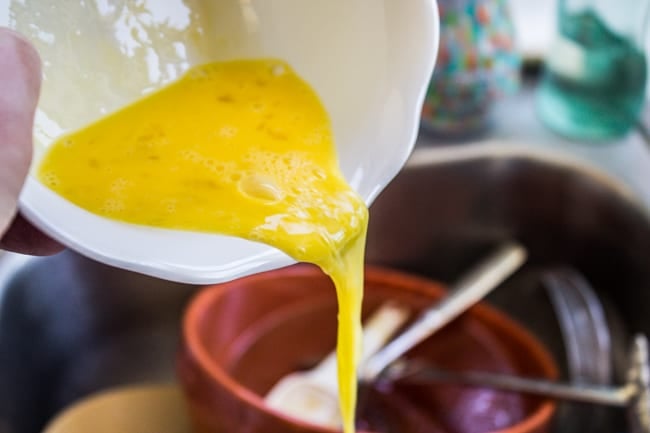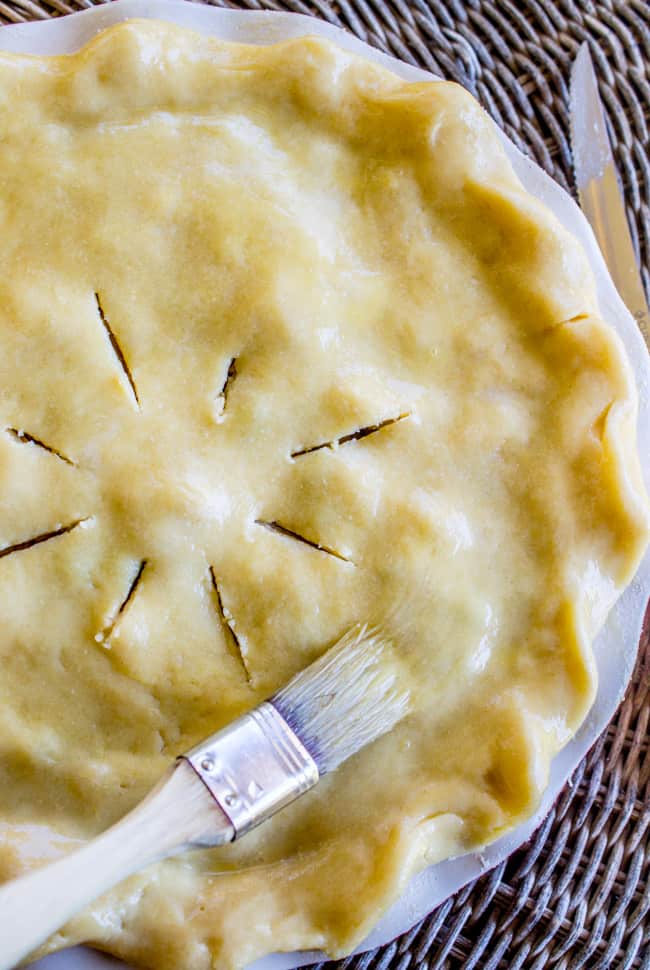 Making the filling
I know I just went on about the crust, but the filling! Oh the filling. Juicy dark and white meat from a rotisserie chicken and veggies sauteed in butter. The sauce is amazing.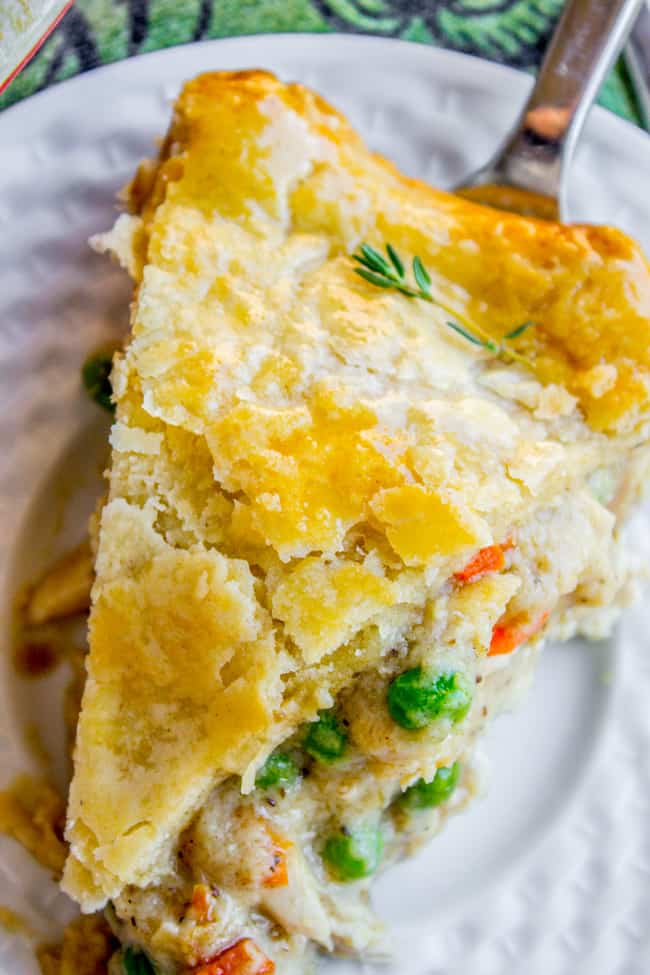 I seriously can't think of anything more comforting than chicken pot pie. It's my favorite! If you have leftover turkey on Thanksgiving, you could use that instead of the chicken.
Happy Thanksgiving everyone! Check out my Thanksgiving board on Pinterest if you need more menu ideas.
Facebook | Pinterest | Instagram | Twitter
One year ago: Thin Mint Mint Cookies
Three years ago: Reuben-Stuffed Twice Baked Potatoes
Five years ago: Deep Dish Buttermilk Pancake
My Favorite Chicken Pot Pie
The BEST recipe for Chicken Pot Pie! Carrots, peas, and rotisserie chicken (or use leftover turkey from Thanksgiving!) come together in a deliciously flavorful gravy. All wrapped up in a buttery, flaky chicken pot pie crust! If you've only tried frozen pot pies from the store...please, I'm begging you, make this. 
Ingredients
For the pie crust:
1/4

cup

water

,

very cold

2

cups

flour

1

tablespoon

sugar

1

teaspoon

salt

1/2

cup

salted butter

,

1 stick, cold

6

tablespoons

butter-flavored shortening

1

egg

,

beaten and DIVIDED
For the filling:
1/2

cup

onion

,

chopped

1

cup

carrots

,

chopped

1/2

cup

celery

,

chopped

1/2

cup

butter

,

1 stick

1/2

cup

flour

2 & 1/2

cups

chicken broth

1

cup

milk

3/4

teaspoon

salt

1/2

teaspoon

pepper

1/4

teaspoon

celery seed

,

to taste

1

sprig

thyme

,

fresh, or 1/4 teaspoon dried thyme, optional

1

pound

rotisserie chicken

,

shredded, about 4 cups

1

cup

frozen peas
Instructions
Measure out 1/4 cup water into a glass measuring cup and stick it in the freezer.

In a large bowl, whisk together 2 cups flour, sugar, and 1 teaspoon salt.

Use a pastry cutter or fork to cut in the butter and shortening. Cut until it looks like coarse crumbs. Don't overdo it! You want pea-size pieces of butter.

In a small bowl beat one egg. Pour half of the egg (you can just eyeball it) into another small bowl and save it for brushing the top of the pie.

Add the 1/4 cup water in the freezer to the half beaten egg.

Beat it together, then add it to the shortening mixture. Stir until it is just coming together, then use your hands to knead it once or twice (only to make it come together). Divide the dough in half.

Generously sprinkle flour onto a sheet of parchment paper or a pastry cloth (or right on the counter) Roll the dough with a rolling pin, using as much flour as you need so that it doesn't stick. Invert the parchment paper onto a deep 9-inch pie pan and gently peel off the paper. (Or transfer it the way that sounds easiest to you. I often loosely roll the dough onto my rolling pin and then unroll it into the pie plate.) Stick the pie plate in the fridge if you have room.

Roll out the remaining dough and set aside.

Preheat your oven to 425 degrees F.

Chop the onion, carrots, and celery.

In a large skillet, melt 1/2 cup butter over medium heat. When it is hot, add the onions, carrots, and celery. Saute, stirring occasionally until veggies are soft, about 5-7 minutes.

Make the roux. Tilt the pan* to one side so the butter pools. Add the flour to the butter (try to keep the veggies separate to avoid flour lumps) and whisk together.

Still tilting the pan, gradually (this means not all at once!) pour in the chicken broth and milk. Heat should still be on medium. Whisk together, still avoiding the veggies so that you don't have to deal with flour lumps. When all the lumps are gone, stir in the veggies.

Add 3/4 teaspoon salt, pepper, celery seed, and the sprig of thyme, if you're using it.

Cook the sauce for a couple minutes until it thickens a bit.

Add the chicken and peas and stir. Remove from heat. Remove the thyme stem.

Pour the mixture into the pie shell.

Top with the other pie shell. Fold the top pie shell underneath the bottom so that it is sealed, then crimp however you like.

Brush the top of the pie and the crust with the remaining half beaten egg. Use a sharp knife to make several slits in the top of the pie so that it can vent.

Bake at 425 for 15 minutes. If you are worried that the pie will spill over, place it on a baking sheet.

After 15 minutes, cover the crust of your pie so it doesn't get too brown.**

Continue baking for another 12-15 minutes, until the crust is golden brown all over.

Remove from the oven, let stand 10-15 minutes, then devour.
Notes
*Tilting the pan to make the roux is a work-around. It's probably not the right way to do it but it works for me. If it sounds complicated, just remove the veggies to a plate, then return them when the white sauce is done.
**If you don't don't have a pie crust cover, take a pie-size square of aluminum foil, fold it into quarters, and cut out the middle so that when you open it you have a circle. Place over the pie crust.
Nutrition
Serving:
1
serving
,
Calories:
325
kcal
,
Carbohydrates:
28
g
,
Protein:
4
g
,
Fat:
22
g
,
Saturated Fat:
10
g
,
Polyunsaturated Fat:
3
g
,
Monounsaturated Fat:
7
g
,
Trans Fat:
2
g
,
Cholesterol:
51
mg
,
Sodium:
413
mg
,
Potassium:
110
mg
,
Fiber:
1
g
,
Sugar:
3
g
,
Vitamin A:
3057
IU
,
Vitamin C:
2
mg
,
Calcium:
19
mg
,
Iron:
2
mg
More comfort food!
Mini Chicken Pot Pies (Quick and Easy!) << no lie.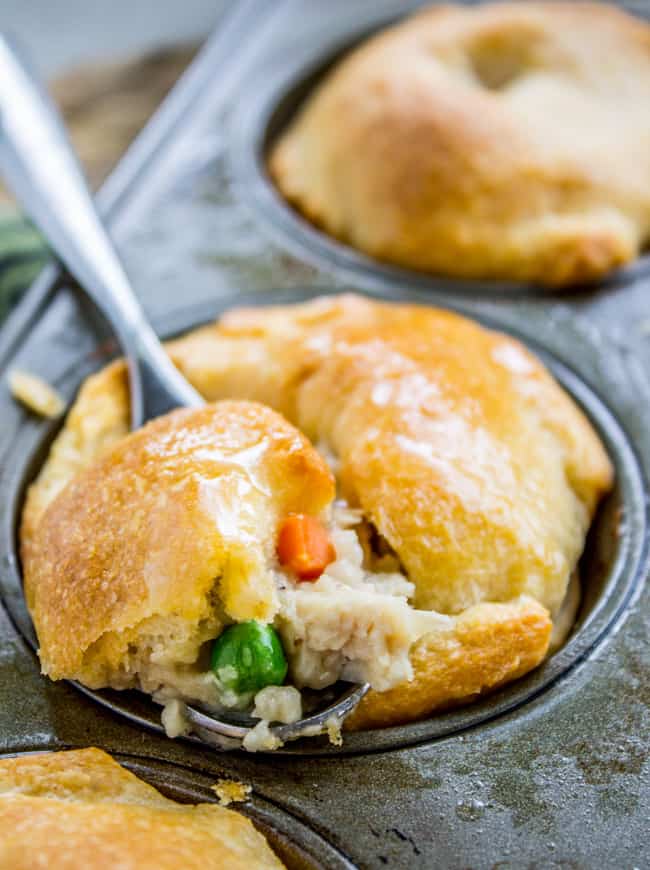 One Skillet Chicken Pot Pie << this is basically the same filling, but it's way faster because you only need on skillet and one pie crust.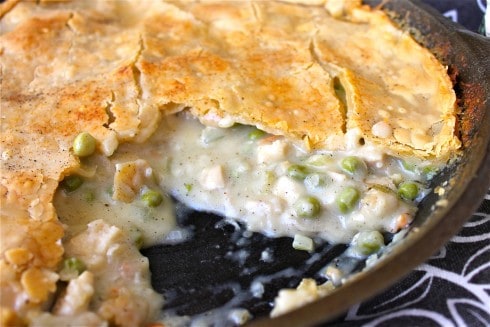 Classic Shepherd's Pie with Crispy Cheddar Topping << ultimate comfort food.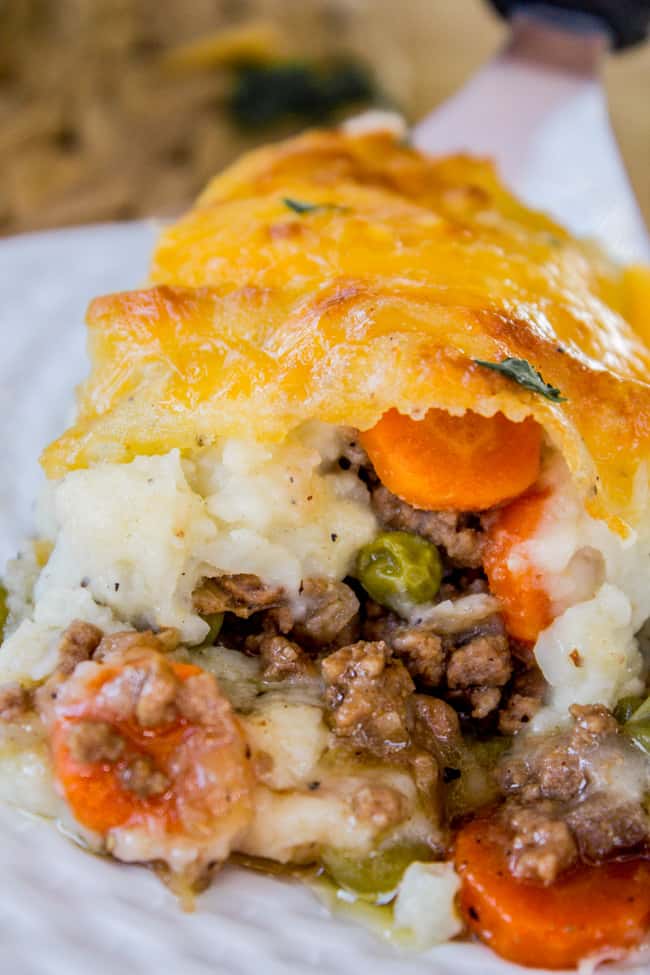 Chicken Parmesan Pot Pie << super easy.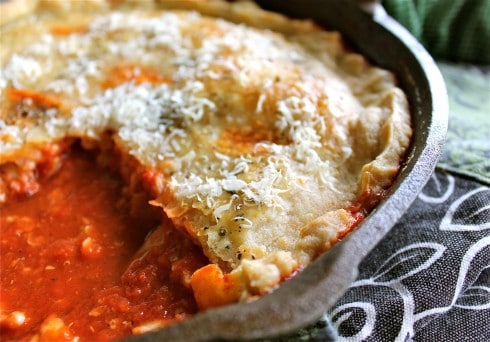 More pot pie goodness!
Chicken Pot Pie with Chestnut Biscuits from Snixy Kitchen
Mushroom Bourguignonne Pot Pie from Oh My Veggies
Bubble Up Chicken Pot Pie Casserole from Emily Bites
We are a participant in the Amazon Services LLC Associates Program, an affiliate advertising program designed to provide a means for us to earn fees by linking to Amazon.com and affiliated sites.