These easy baked meatballs are perfect for making ahead and freezing! They are no-chop, homemade, and very easy to adapt. Skip the overpriced frozen ones at the store! Originally posted October 21, 2014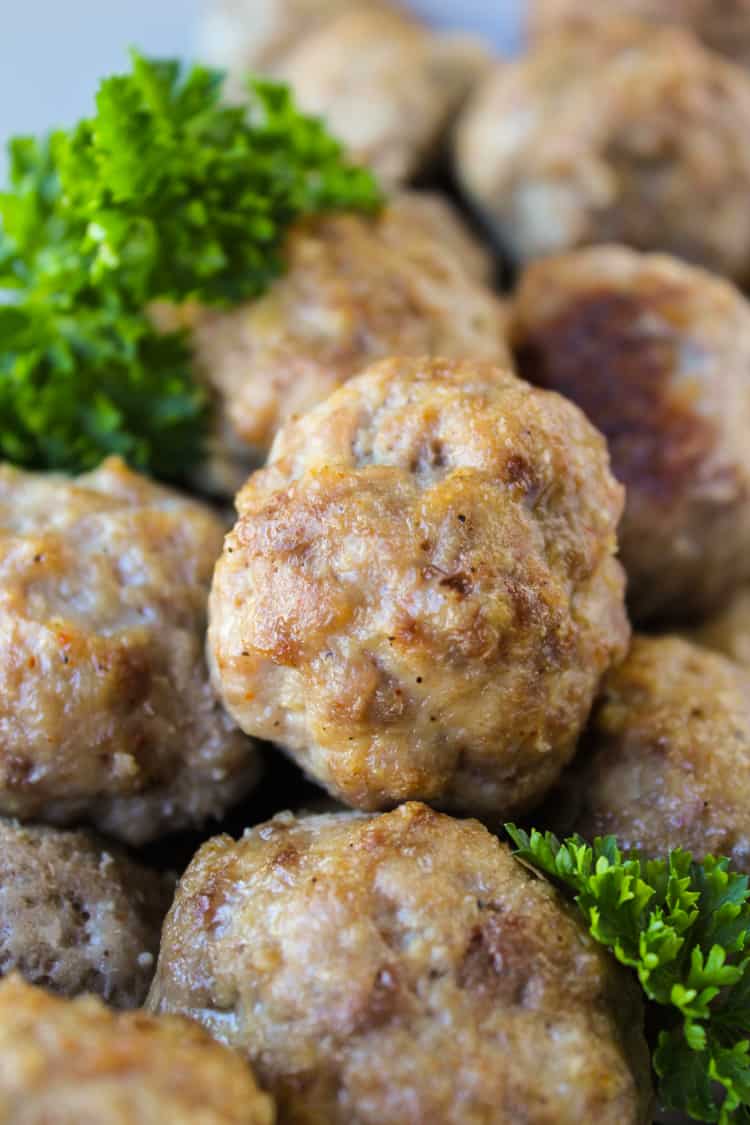 One time when I was a kid we were having a family gathering and my mom bought root beer. We never had soda in my house growing up, so it was a special treat. I filled my glass to the brim and carried it carefully to the table where everyone was sitting. I settled into my chair…and then knocked the glass over, soaking myself and half the table. I started laughing, which soon morphed into maniacal laugh-sobs, and then I burst into tears.
For years I remembered that as one of the strangest moments of my life, where my brain could not decide between laughing and crying. Now this happens to me all the time.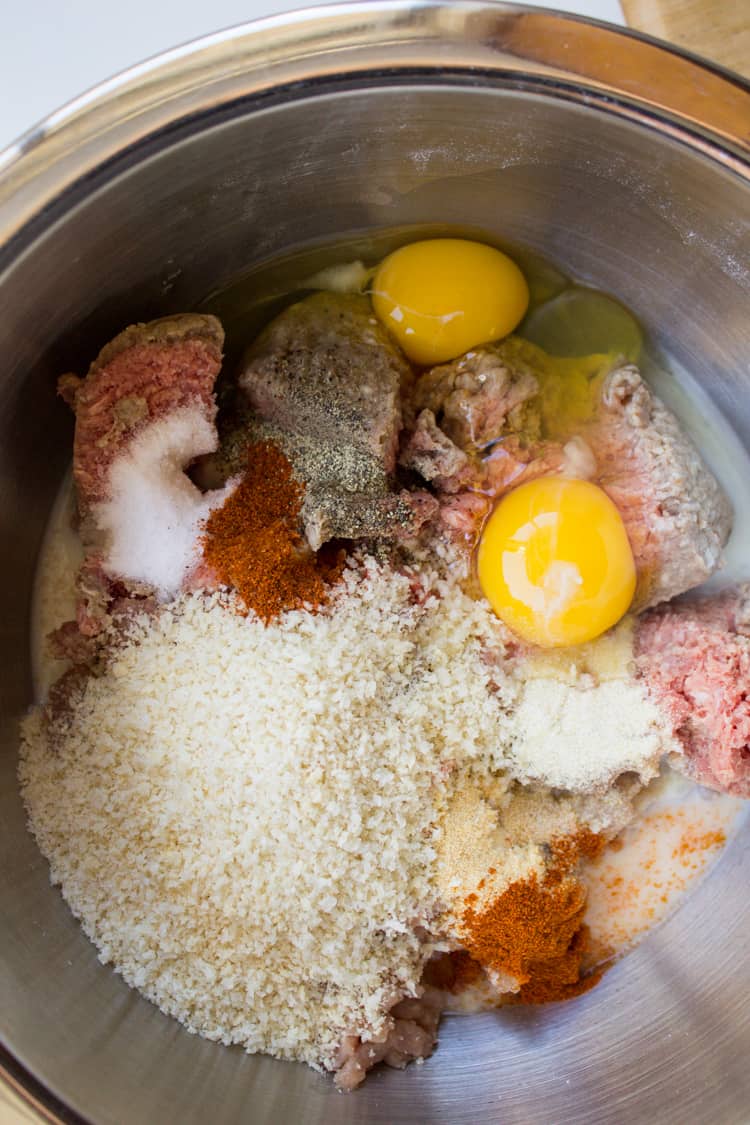 The other day Charlotte was sitting on one of our barstools and I looked up just in time to see her shocked face as both she and the stool sailed to the floor, practically in slow motion. She burst into tears, of course, and I held her, both of us shaking, her with sobs, me with laughter. I had to keep covering my face so she wouldn't see. It was funny, okay! In moments like that, as a mom, your emotions dictate laughter or tears anyway, so I take the easy way out.
Lest you think me heartless, let me just say I'm not the only one. I was too late to the hospital to get any drugs when Truman was born, and Eric said later that my primal screaming was so TV-like that he had to keep looking away so that I wouldn't see him laughing. True story. It's a good thing I didn't see him, otherwise he might be missing a limb. I wouldn't even feel bad. Women can't be held responsible for any maiming they inflict during labor.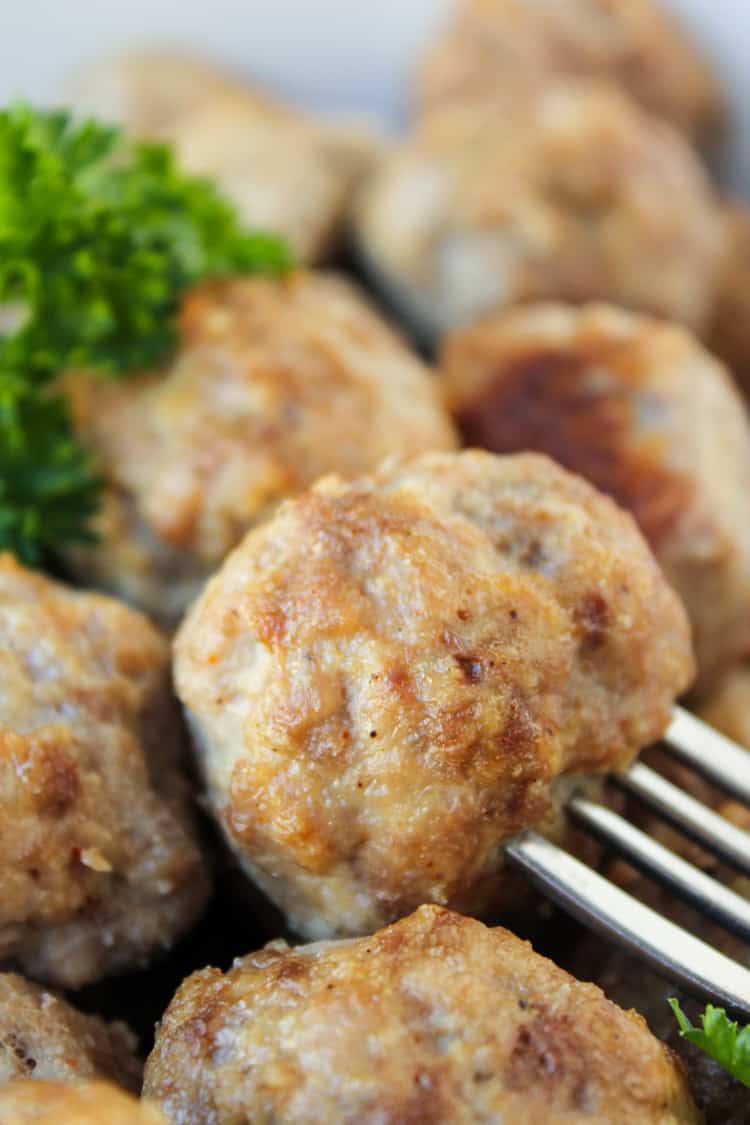 How to bake Meatballs in the oven
The other day I was at Costco looking for the frozen meatballs. I was going to throw them in the crockpot for dinner that night. Then I saw the 20 dollar price tag and decided to make my own.
Meatballs don't have to be hard. There are lots of delicious recipes out there that call for more elaborate ingredients (like these Chicken Tikka Masala Meatballs, for example) but I wanted something simple that could be used for most any recipe, and that didn't involve any chopping. No fresh onion or garlic here: embrace the powder. Sometimes you just gotta git er done.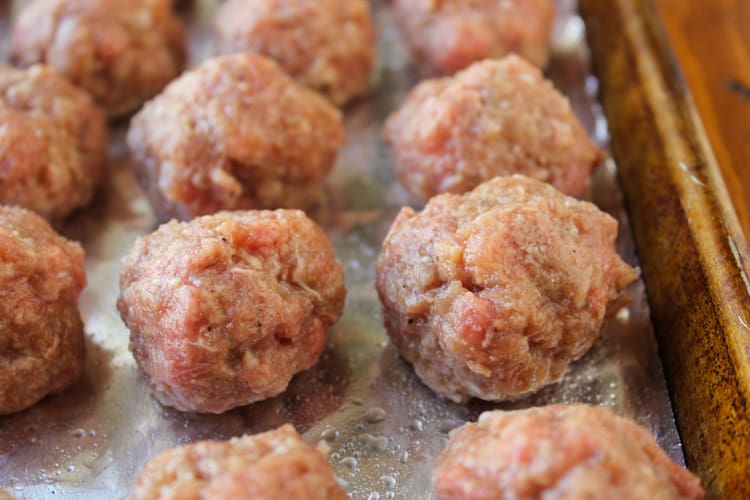 Even though this recipe is just meat and bunch of stuff you already have in your pantry, it's still really, really good. It calls for a full cup of milk, which makes them really moist.
You could adapt this recipe in so many ways. Just change up the spices, or add real onions instead of onion powder if you're feeling ambitious. It's really forgiving. The recipe is adapted from Eric's grandmother's famous Swedish Meatballs, which I get compliments on every time (it's a go-to for bringing meals to new moms) but it is SO easy to make.
How long to bake meatballs:
With the oven at 450 degrees, these meatballs bake for about 10 minutes. You want to watch for them to start to brown on the bottom. Once they're done throw them in whatever sauce, salad, or sandwich you are serving them and eat them hot!
Storing and Reheating Oven Baked Meatballs
Can I freeze baked meatballs?
Yes! This recipe is perfect for freezing. Make a double batch, that way you always have some on hand for last-minute dinners.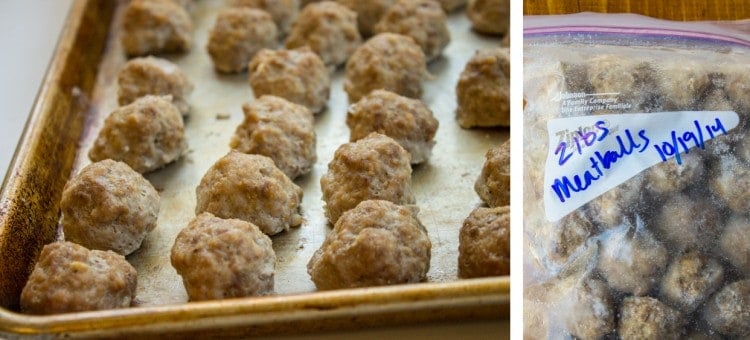 I like to put the baked meatballs separated on pan in the freezer to flash freeze them for an hour or so, so that they don't stick together in one lump when you throw them in a ziplock. Don't forget to write the date on the bag! You don't want to find them in there and wonder if they are a few months or a few years old.
More great meatball recipes!
Facebook | Pinterest | Instagram | Twitter

Easy Baked Meatballs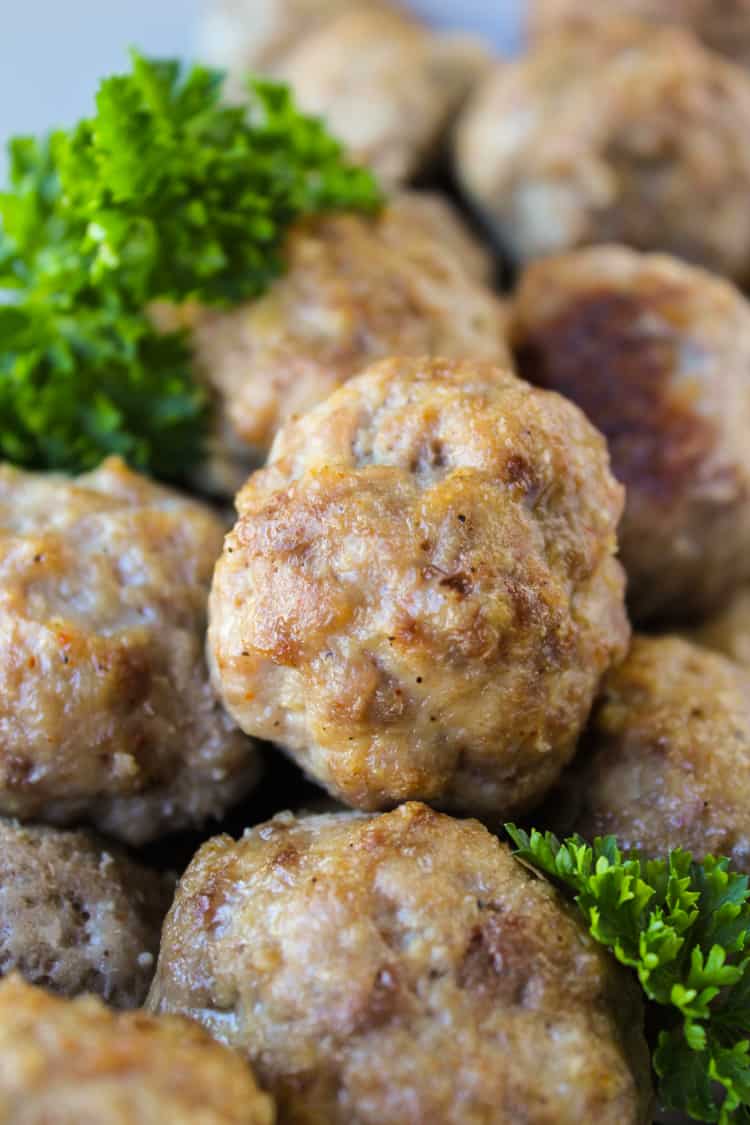 These easy baked meatballs are perfect for making ahead and freezing! They are no-chop, homemade, and very easy to adapt. Skip the overpriced frozen ones at the store! 
Ingredients
1

pound

ground beef

1

pound

ground pork

2

large

eggs

1

cup

milk

1/2

cup

panko breadcrumbs

,

or quick oats

1 & 1/2

teaspoons

salt

3/4

teaspoon

pepper

3/4

teaspoon

onion powder

3/4

teaspoon

garlic powder

1/2

teaspoon

paprika

1/8

teaspoon

cayenne pepper
Instructions
Preheat your oven to 450 degrees F. Line a large rimmed baking sheet with aluminum foil and spray with nonstick spray.

Add all ingredients to a large bowl. Use your hands to mix everything together. I know, I know, it's gross. Just do it. It works better than a spoon. Don't over mix; this will result in tough meatballs.

Shape the mixture into walnut-sized meatballs. (Or any size really, as long as they are uniform. Adjust baking times as necessary.)

Place the meatballs close together (but not touching) on the prepared baking sheet. Bake at 450 for about 10 minutes, or until browned on the bottom. Serve hot.

To freeze: Let the meatballs cool. Use a fork or spoon to scrape the fat away from the sides. Place the meatballs on the same pan that you just baked them on, without the tin foil. (Just fold it up as you go.) I didn't grease the pan and they came off fine. Place the pan in the freezer and set a timer for 45 minutes to an hour. Transfer the meatballs to a large ziplock bag, seal, and return to the freezer.
Nutrition
Serving:
2
meatballs
|
Calories:
231
kcal
|
Carbohydrates:
3
g
|
Protein:
15
g
|
Fat:
17
g
|
Saturated Fat:
7
g
|
Polyunsaturated Fat:
1
g
|
Monounsaturated Fat:
7
g
|
Trans Fat:
1
g
|
Cholesterol:
87
mg
|
Sodium:
376
mg
|
Potassium:
260
mg
|
Fiber:
1
g
|
Sugar:
1
g
|
Vitamin A:
96
IU
|
Vitamin C:
1
mg
|
Calcium:
46
mg
|
Iron:
1
mg