Strawberries: I think they're even God's favorite fruit. These are some of the best strawberry recipes I've ever tried! The perfect way to use up summer's fresh bounty. We've got dessert, we've got salad, you just can't go wrong!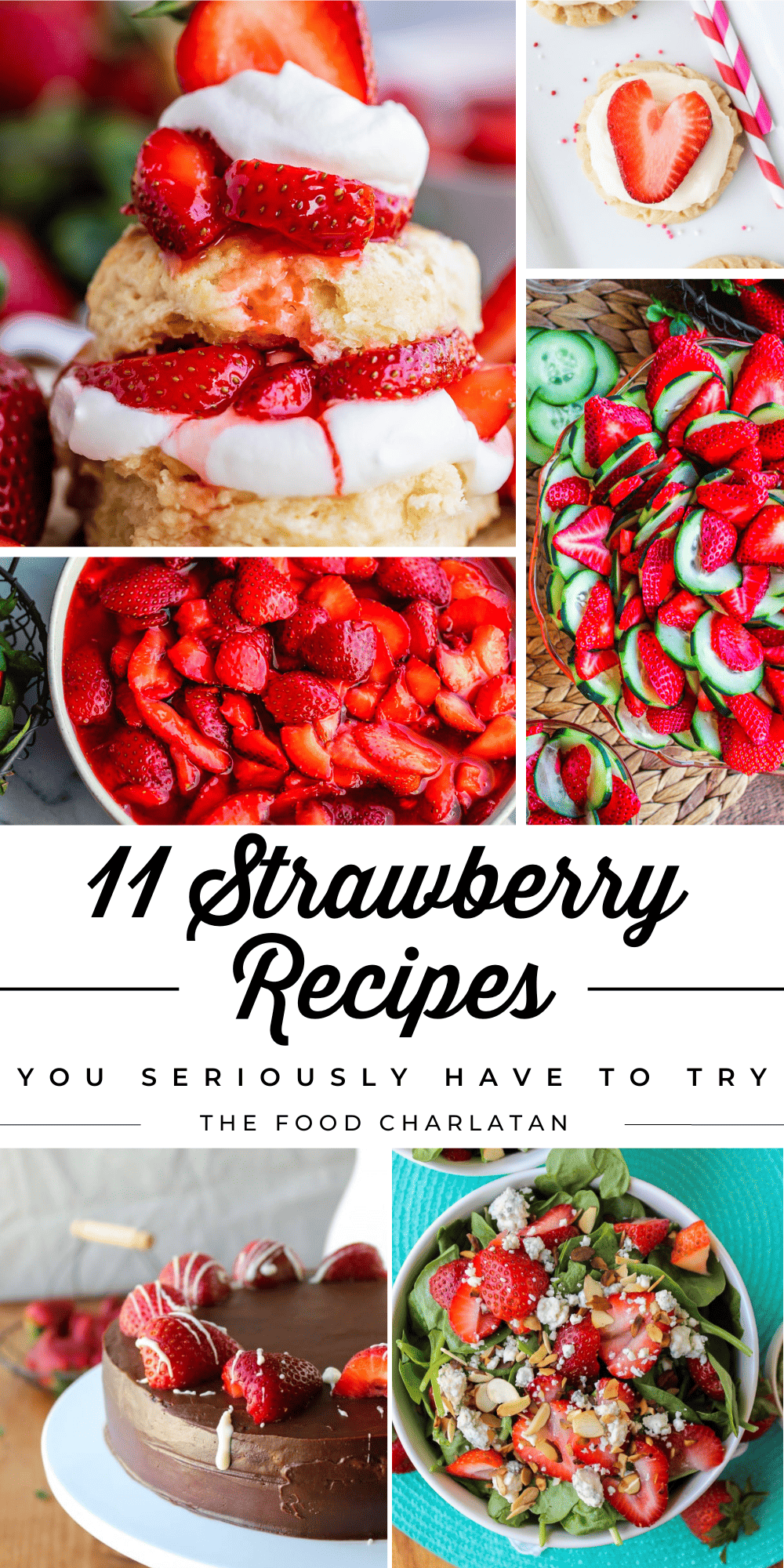 You might think that the best thing about living in California is the weather, but you would be dead wrong.
The best part about living in California starts in mid-May. The sun starts to heat a bit more. You see an umbrella pop up here, a table set out there. Cars veer off onto the side of the road, unexpectedly, I think even the drivers themselves are surprised sometimes. (I know I often am 😂)
It's the strawberry man. You can't help but pull over. I'm like a moth to the flame.
These aren't just any strawberries, people. These are CALIFORNIA strawberries. They are as big as your head. They are warm from sitting out in the sun because they were just picked hours ago. Eric commented yesterday as we ate our fruit salad, "This strawberry is so sweet it almost tastes like the candy strawberry flavor." He's not wrong.
How are you going to use up your strawberries?? Here are some fun ideas. This first one is absolutely hands down my favorite: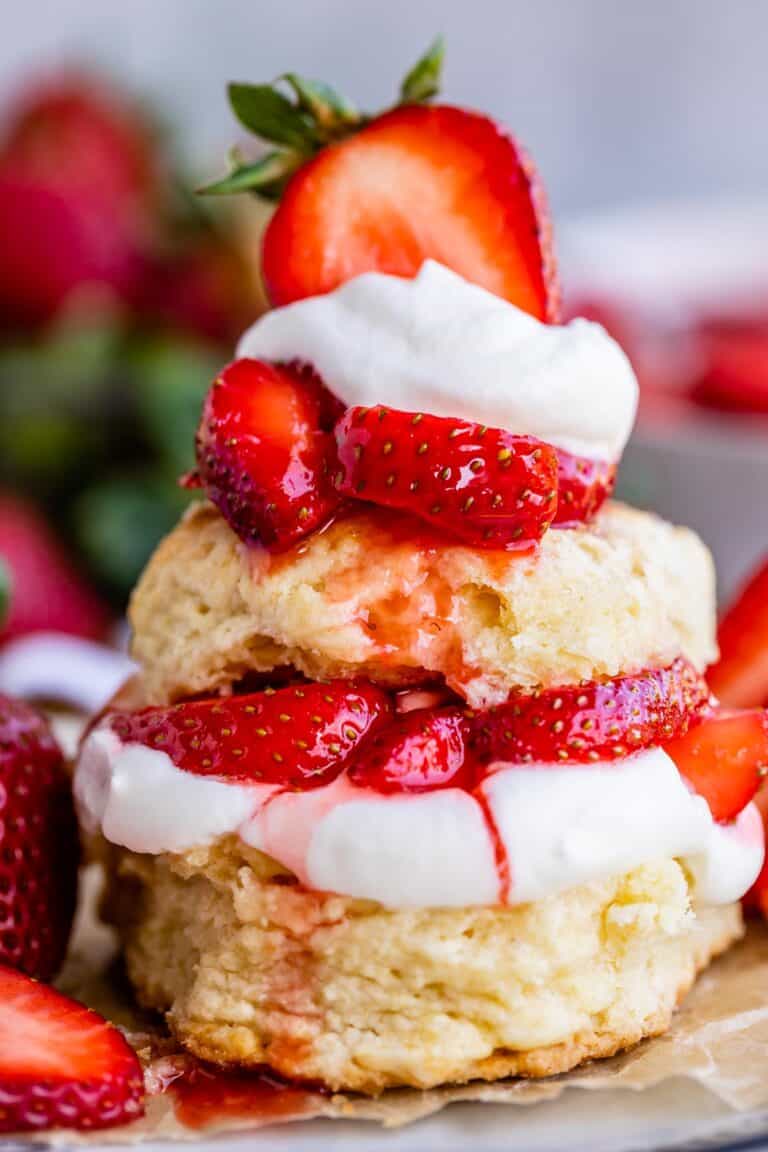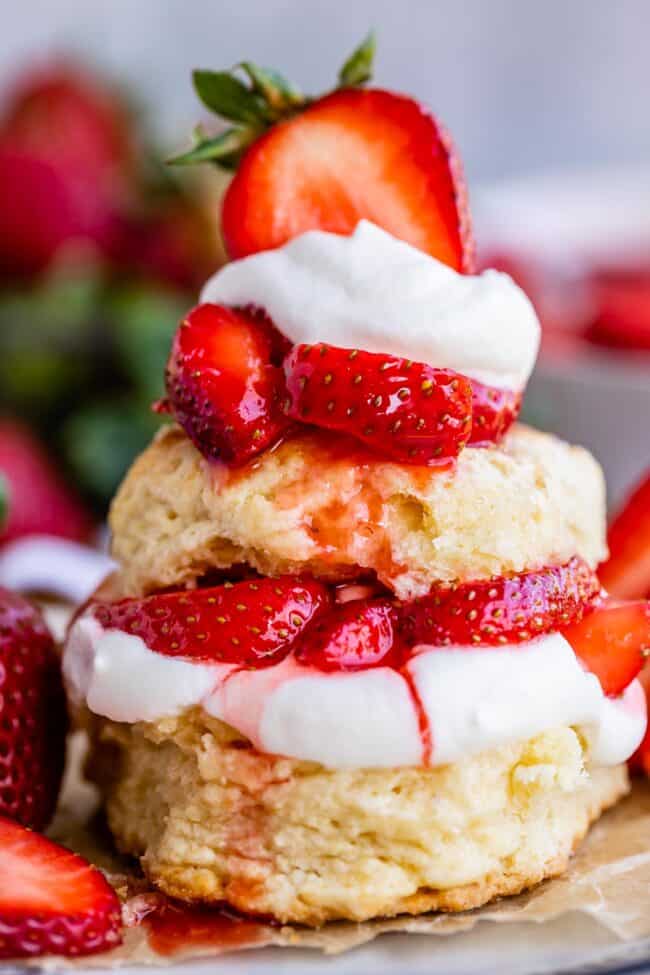 Throw those yellow spongie things that they call "shortcake" (always sold next to the strawberries in the produce section) straight into the TRASH. Nothing contends with real, actual, buttery shortcake.
Reader Jane says "After a seemingly endless winter we finally had a decent day so the craving for "summer" food kicked in. Did ribs for dinner and decided on strawberry shortcake for dessert. I made these shortcakes exactly as written and man they turned out so good! They doubled in height and were so fluffy and light. Can't wait for breakfast tomorrow, I'm thinking the leftovers are going to be great with a dab of jam on them lol. Think I found the perfect recipe, thanks!"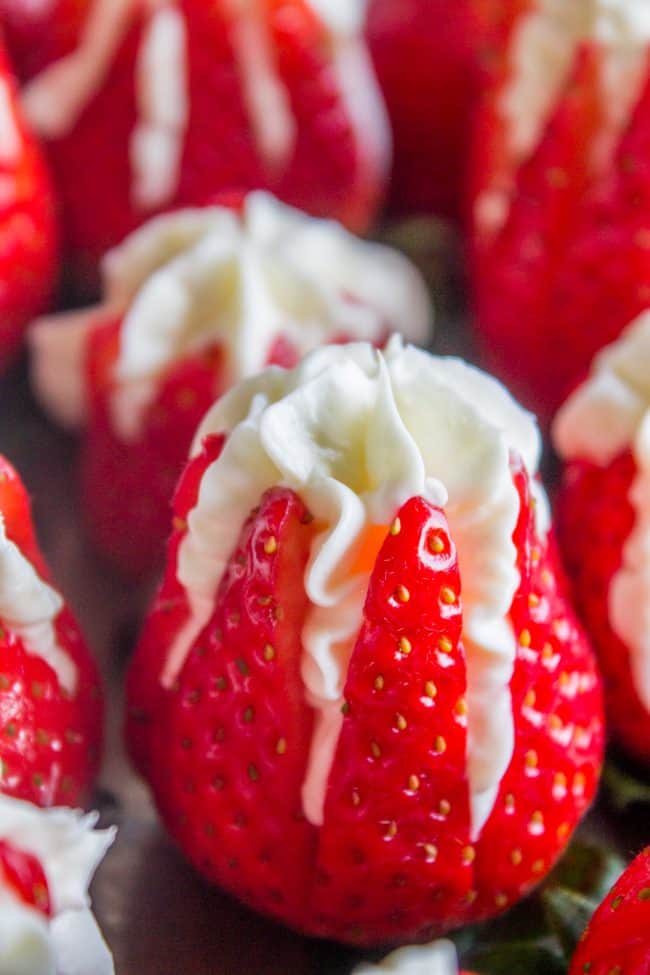 My Aunt Shirley was famous for making these for wedding receptions when I was growing up! They are so quick to put together, and yet they look so fancy! It's the perfect last minute treat to bring when it's too hot to even think about turning on the oven.
Watch out though. They are cute and adorably pop-able and before you know it you might realize you have single handedly eaten the entire tray that you brought for your event. Probably you should make some extra, just sayin. Also, bonus, these are naturally gluten free, always much appreciated at parties for that one friend! One of my favorite strawberry recipes!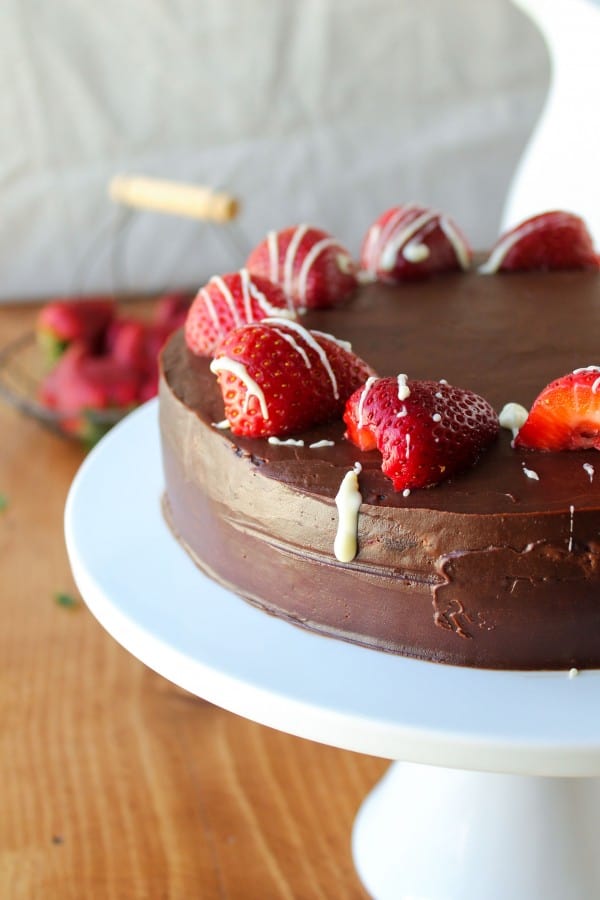 My sister Laura gave me this recipe years ago. It's so fun to make because you get to smash a cake!
Reader Shauna says "So, I made this. It was super easy! Also, the look of horror on my fiance's face when I smashed up the chocolate cake that he thought he was going to eat was priceless!!! He agrees that this cake is a much better final product than the plain box mix now. I would 10/10 recommend this recipe. ;) It is fudgy and delicious."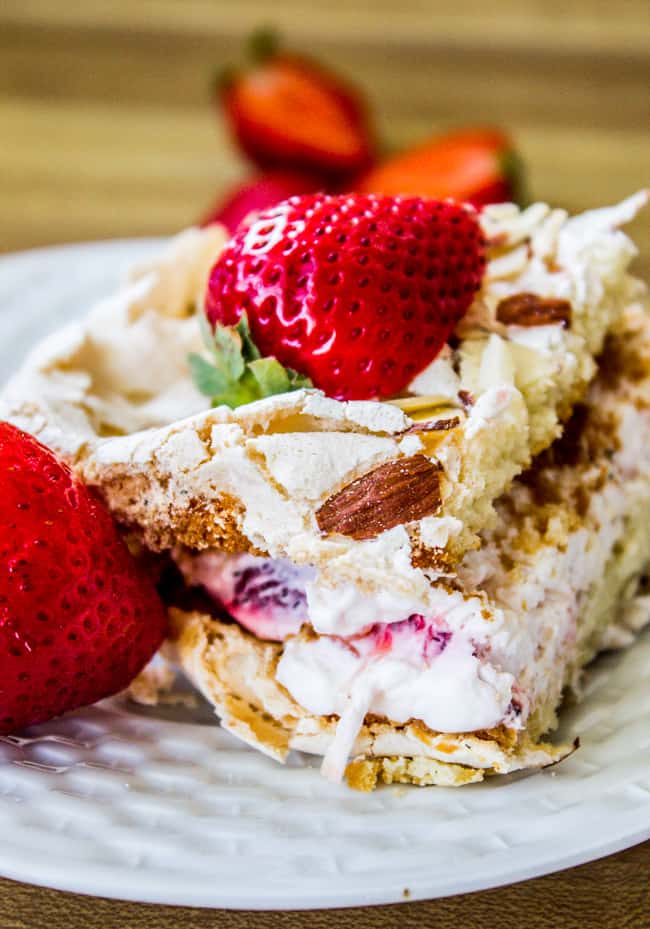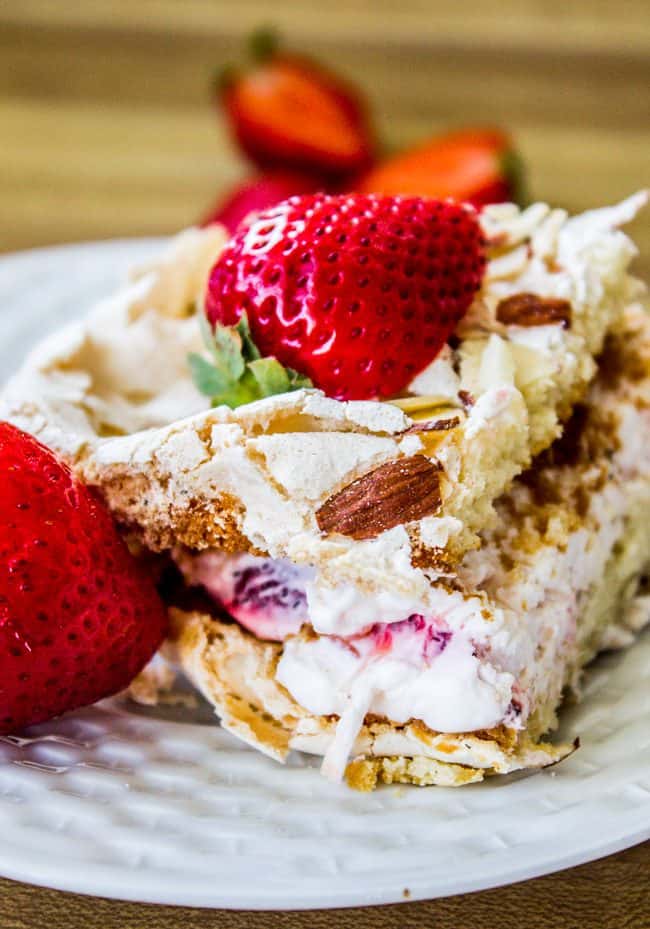 This is an oooold recipe that my mother-in-law Kris remembers her mother making in the springtime. She found the recipe a few years ago in a box somewhere and was so excited that we went to the kitchen and made it right away.
It's light, refreshing, and absolutely unique. I bet you've never seen a cake like this before! You bake it in a thin layer in a sheet pan, and top with meringue, then layer with pineapple spiked whipped cream. What? It's the perfect way to use up a bunch of fresh strawberries. The delicate layers make you feel like you're eating a cloud. I love how perfect it is for spring!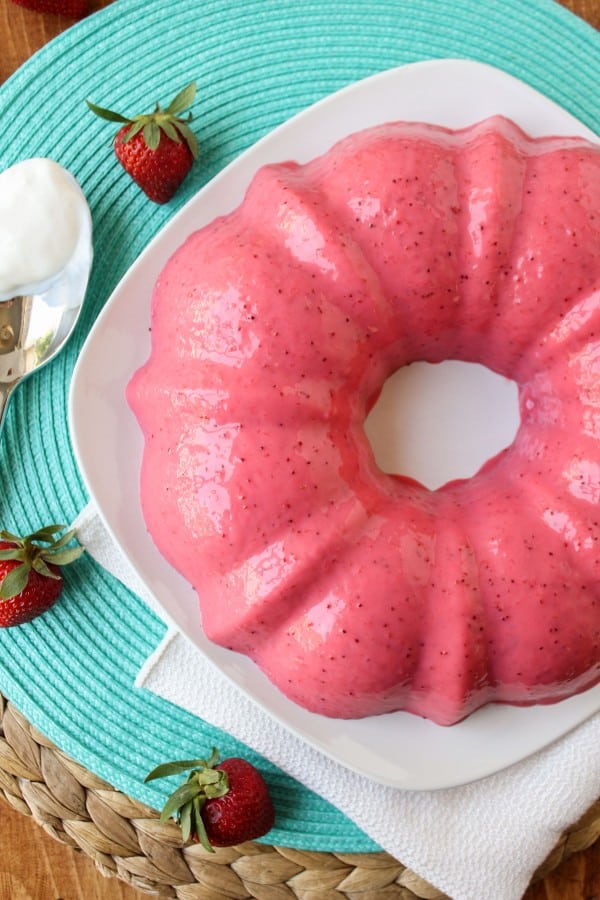 Who doesn't love a good jello? Reader Dee says "This stuff is fabulous and yields well to playing with the recipe. My husband asks for a large bowl to carry to work during the summer months. It's really hot working on machines when it's already close to 100 degrees! Hubby says it's very refreshing in such a hot work place. All his co-workers think I've made a great treat." As a bonus, you can make this with fresh OR frozen strawberries, in case strawberries are pricey or not in season.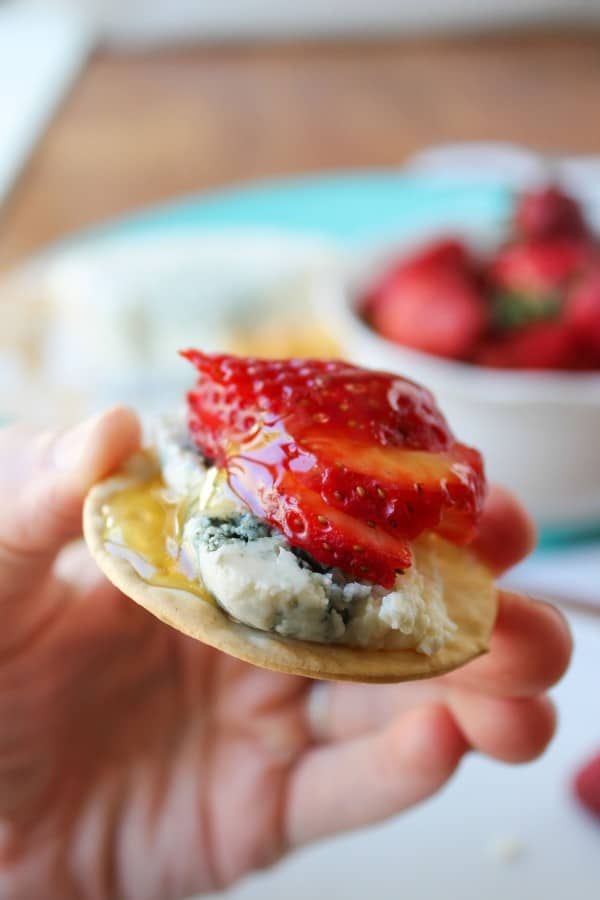 Can we just make charcuterie snacks dinner already?? Reader Natalie says "This is totally an appetizer I would LOVE at a party. Bleu cheese and strawberry is such a great combo, love them in salads together. But kind of loving them even more on this cracker together covered in honey!"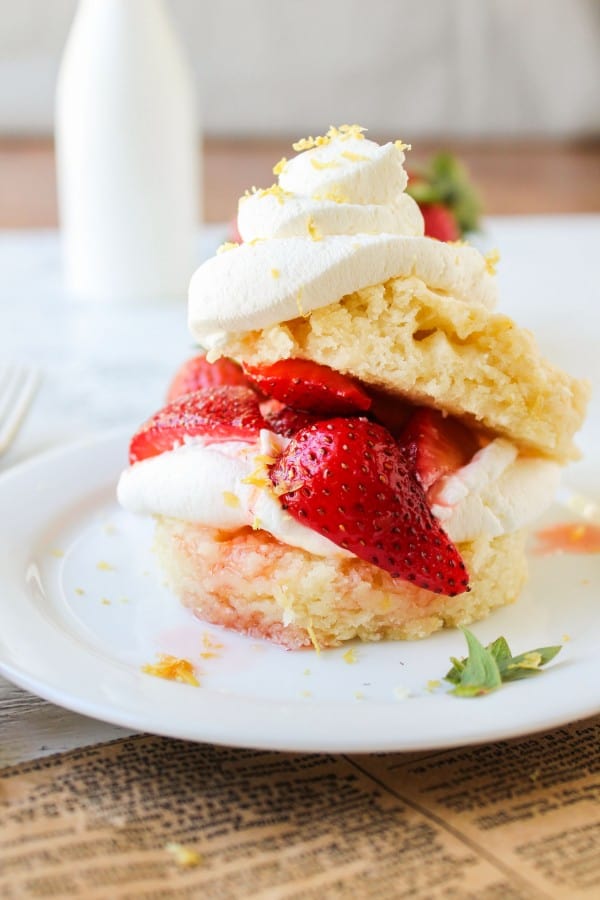 Reader Emily says "I usually only make chocolate desserts, and I never liked shortcake growing up (fruit for dessert?!), but these caught my eye and were delicious! They are a great summer dessert and my husband has been raving about them too. The directions were easy to follow and I will be making these again. Thanks for sharing!"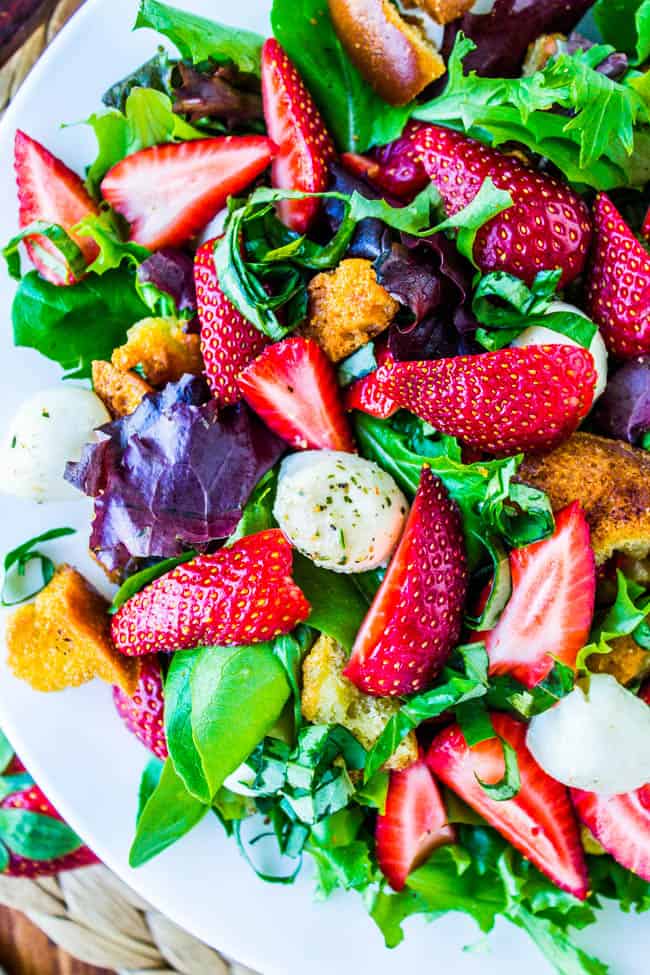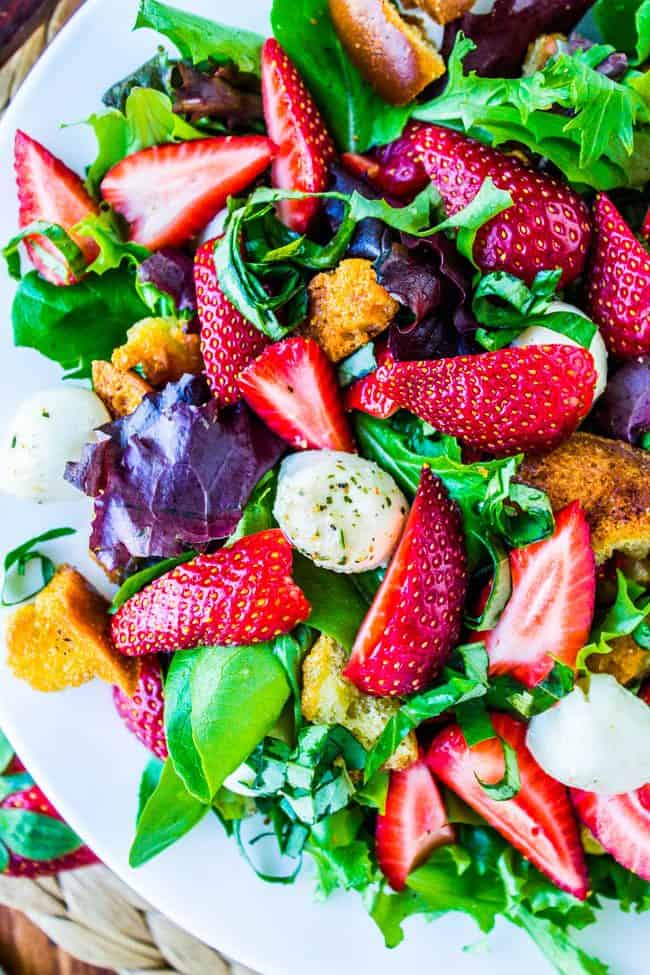 My friend Kate came home from a restaurant one time raving about this salad she had. "FRIED BREAD!" she exclaimed. I couldn't rest until I had tried it myself. Strawberries, greens, mozzarella, THE BREAD, oh my! It's truly a heavenly combination! One of the most unique strawberry recipes.
Reader Sarah says "I didn't even get the deliciously crispy fried bread and I STILL thought this salad was amaze-balls. Especially as leftovers!"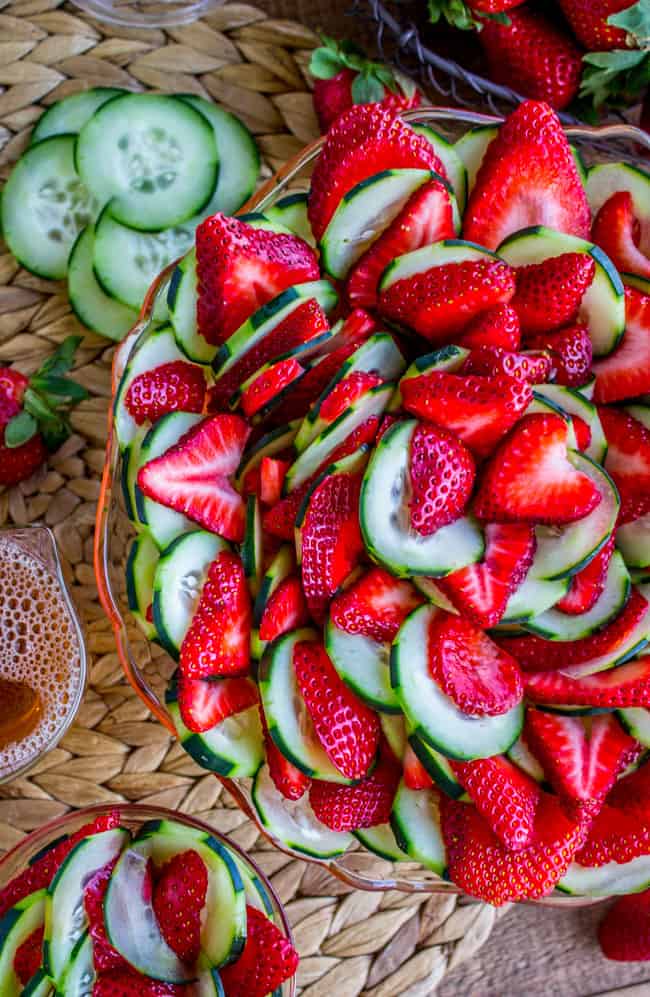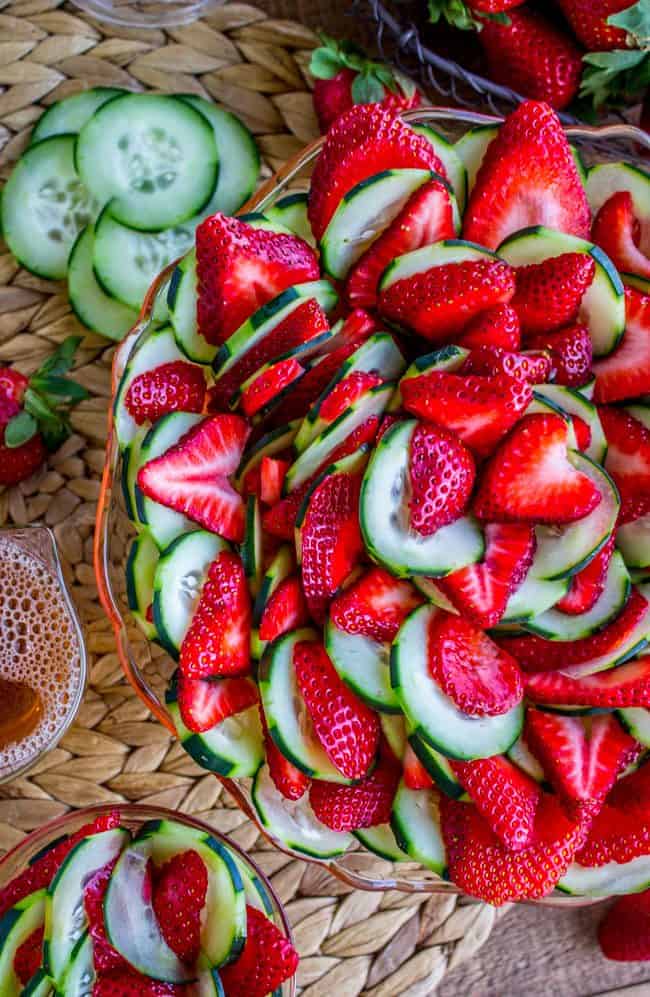 This is one of those food combinations I might never have tried on my own! But cucumbers and strawberries actually compliment each other really well, especially when drizzled with this 2-ingredient sauce.
Reader Caffa says "I had to admit…this is one of the most delicious strawberry recipes I've ever tried. The taste and aroma was good and everything went so perfect. Thanks for sharing this!"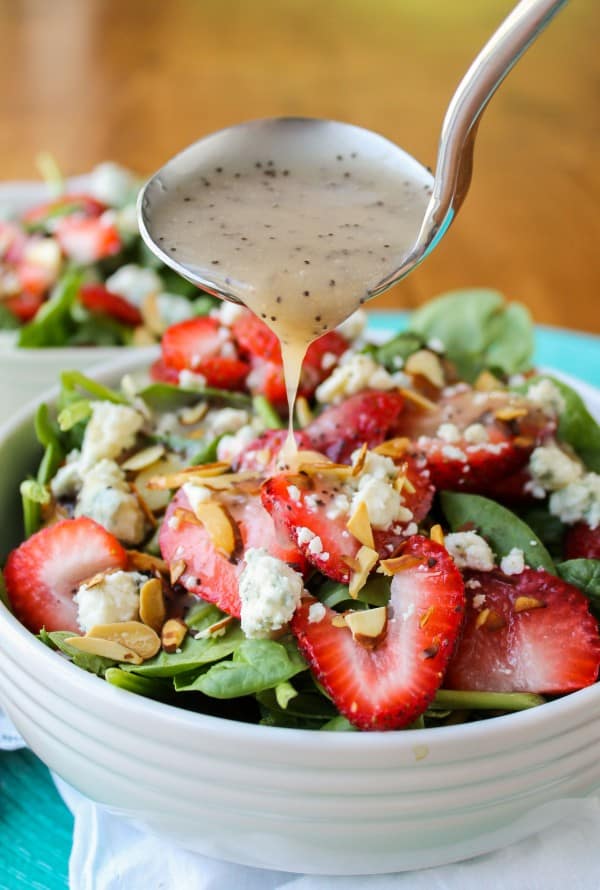 Do not underestimate strawberries in salad! I'm telling you, they are delicious with some tangy poppyseed, toasty almonds, and blue cheese.
Reader Lori says "I have to admit, for a long time I've sort of been freaked out by strawberries in otherwise savory salads. But this spring, I keep seeing recipes that include strawberries and I'm thinking they look sooo good. And I think this one just set me over the top!"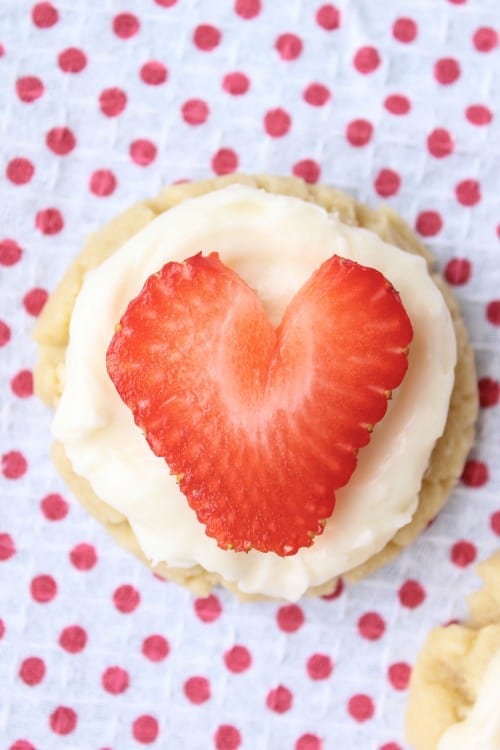 These are so fun to make and eat! Strawberries make the best desserts, I don't know why we don't jam them on top of cookies all the time. They make the perfect heart shape, too! These are copycat Swig cookies, serve them cold in the summertime and you will be in heaven!
Facebook | Pinterest | Instagram
I hope these strawberry recipes help you make something fun with your beautiful summer bounty!
If you liked these recipes, you might pop over and take a look at my Top Ten Recipes page. The ten most popular recipes on my blog, according to traffic over the years. Number one might surprise you!