This recipe for the best Baked Ziti is a huge favorite! Italian sausage marinara, cottage cheese, and fresh basil combine to make this decadent casserole. The best part is the mozzarella that is chopped into chunks instead of shredded. They melt into pools of cheesy glory. We've always called it "Postpartum Ziti" because it makes a TON and is perfect for bringing to new moms!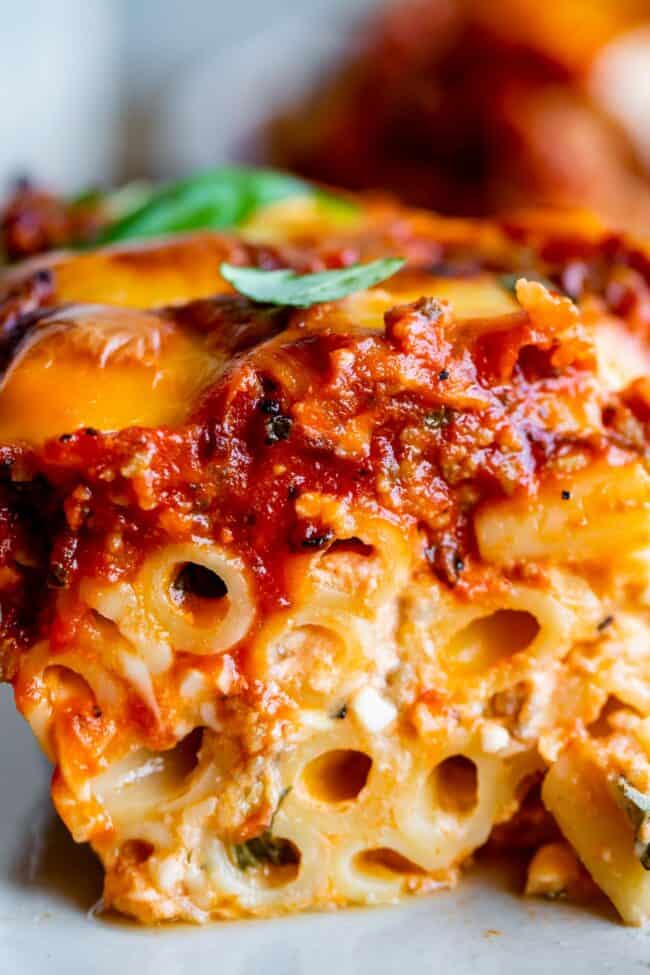 This post was originally published on January 18, 2012. Here's a flashback to 2012:
So do you ever have those days where you just cannot wake up, no matter what you do? Today was one of those days. I got up at 6:30, drove to the gym, ran for a half hour, drove back, and I still felt like I was sleep walking. (Which is perhaps why I nearly crashed on the way home. If you live in my town, consider yourself warned.)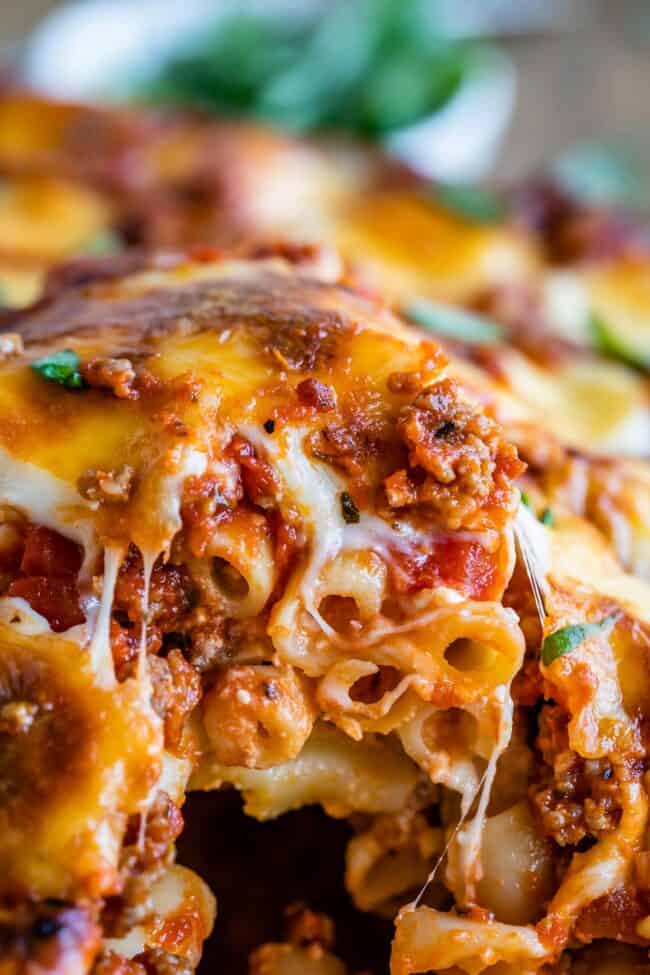 Now as I write this, Charlotte [11 months] is eating her extremely healthy blueberry yogurt multigrain pancake that I made for her. Actually she is methodically tearing it up into pieces and dropping them on the floor with relish, while looking me in the eye with a face that says Go ahead. Stop me. I can't really blame her. Eric had basically the same reaction. I thought they were delicious.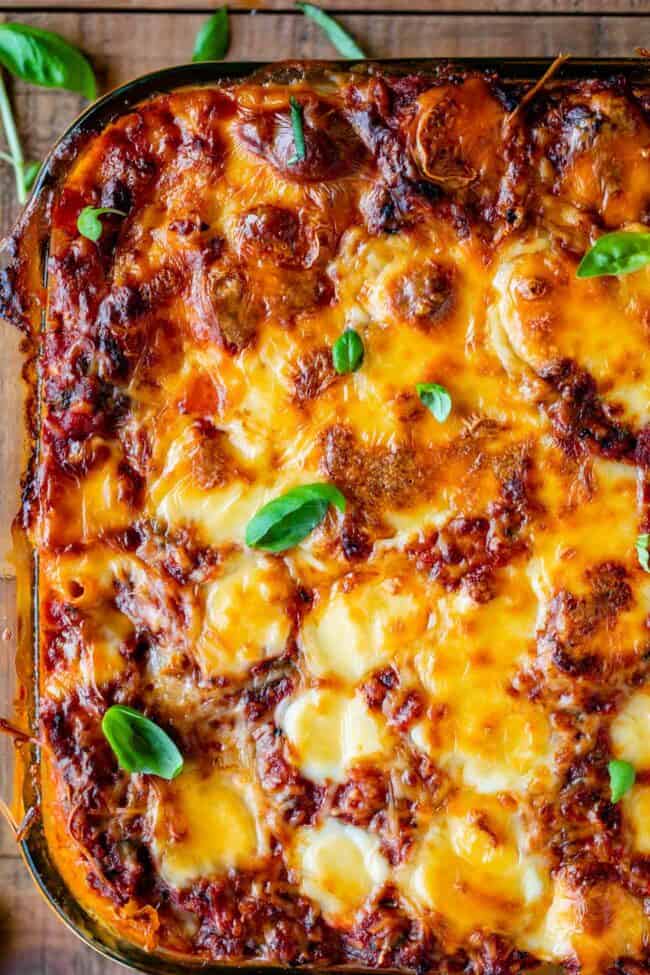 Things that I did today: drank rancid orange juice. Spilled yogurt on myself. Twice. (Did I mention I was tired?) Cleaned up a Charlotte mess. Twice. (because she has a diaper rash so I put her to bed without a diaper. Have I told you lately that I'm a genius?) Caught my hand on my iPod cord while running, causing said iPod to fly off the treadmill tray and trip me. Rearranged the bobby pin in my hair only to drop said pin and see it get shot 2 feet behind me after the ride of its life on the treadmill. People must look at me flailing around on the treadmill trying not to get killed and think to themselves, Wow. She must not come here very often. Which is true.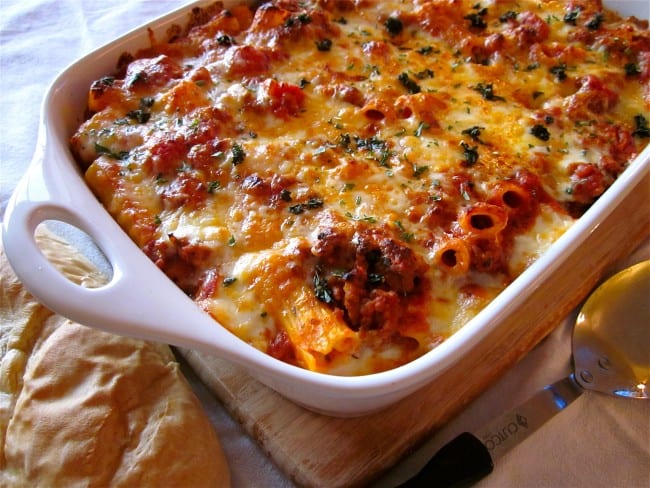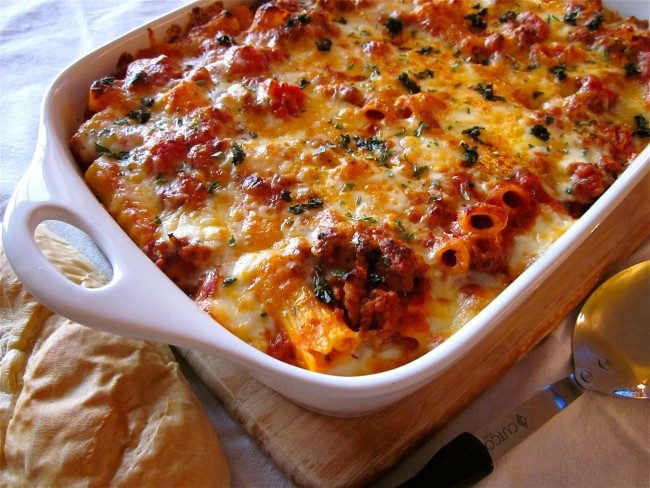 We had some friends back in Indiana who would bring this amazing ziti to new moms, hence the name Postpartum Ziti. It is amazingly delicious and makes a ton. [photo from 2012]
Back to the present
Hi it's me, Karen from 2019! It's been almost 8 years, and I still think this is the best baked Ziti recipe ever! Also I need to come clean about the fact that nothing has changed in the gym department since writing this post.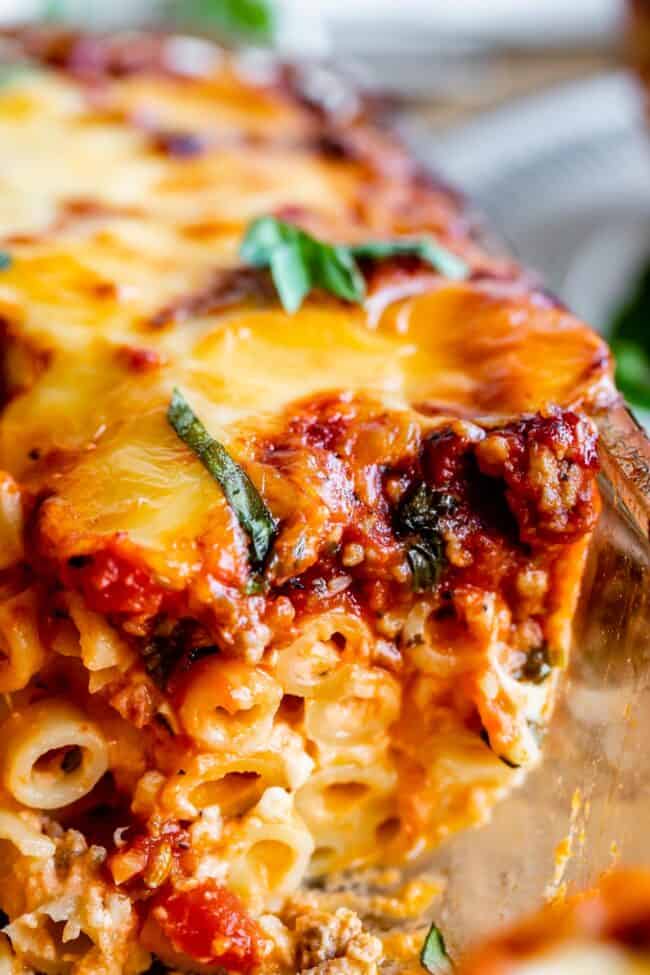 I don't even have a gym membership right now (pregnant people don't have to exercise, you know that right? Gosh I'm JOKING), but I did up until a few months ago, and I'm still just as much of an idiot when exercising in public. (Remember when I thought the other half of the gym was a wall of mirrors? Yeah.)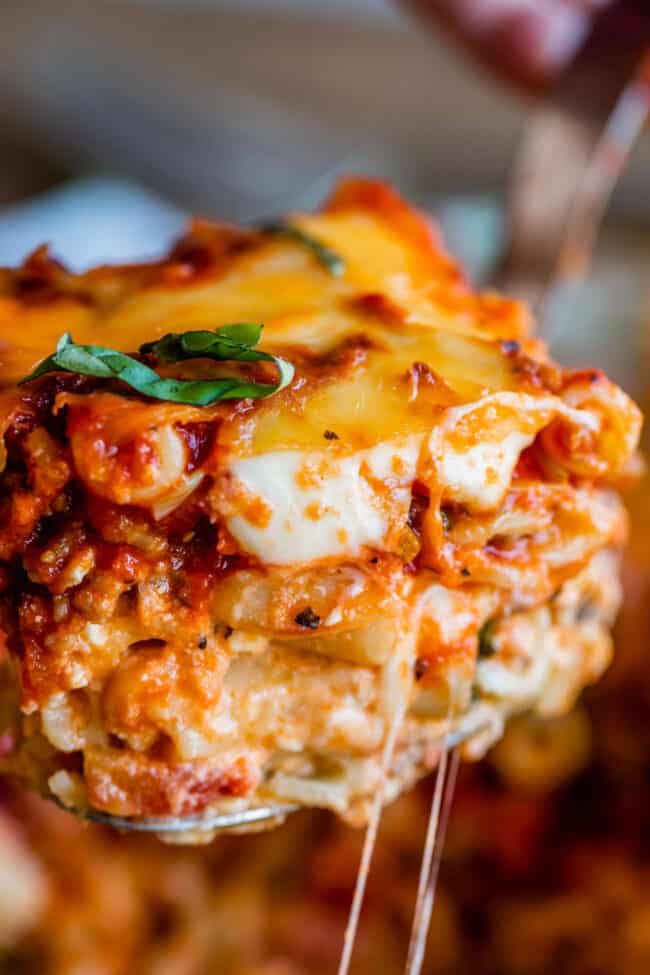 How to make the Best Baked Ziti
Here's how to take your Baked Ziti from ho-hum to Oh-my-gosh-this-is-amazing.

Boil up some ziti with plenty of salt. If you can't find ziti at the store (I feel like it's hard to find at some stores??) Use penne pasta, rigatoni, or anything else that looks like a tube. Beat a couple eggs and combine with cottage cheese and a good deal of Parmesan. If you would rather use ricotta instead of cottage cheese, I'm sure it would work great, but for this recipe I love cottage cheese. And that's coming from a serious ricotta lover.

Make your easy red sauce, starting out with Italian sausage and tons of garlic. I love that you don't have to chop an onion for this recipe. You won't miss it, I promise. Don't skip the fresh basil, if possible! It gives the sauce this unbeatable fresh flavor. Sub the 1/2 cup basil with 1 tablespoons dried basil, if you don't have any.
Chop up your mozzarella and set aside and stir some into the cottage cheese mixture. The chunks of cheese in this recipe are what set it apart! Put that cheese grater down!
Once you've thickened up your cream, add the cottage cheese mixture and stir in all that pasta. You are going to want to dive in with a fork at this point, but hold off, I promise it's even better once it's come out of the oven.

Top the pasta with the remaining red sauce and even more mozzarella and parmesan! Then bake to perfection!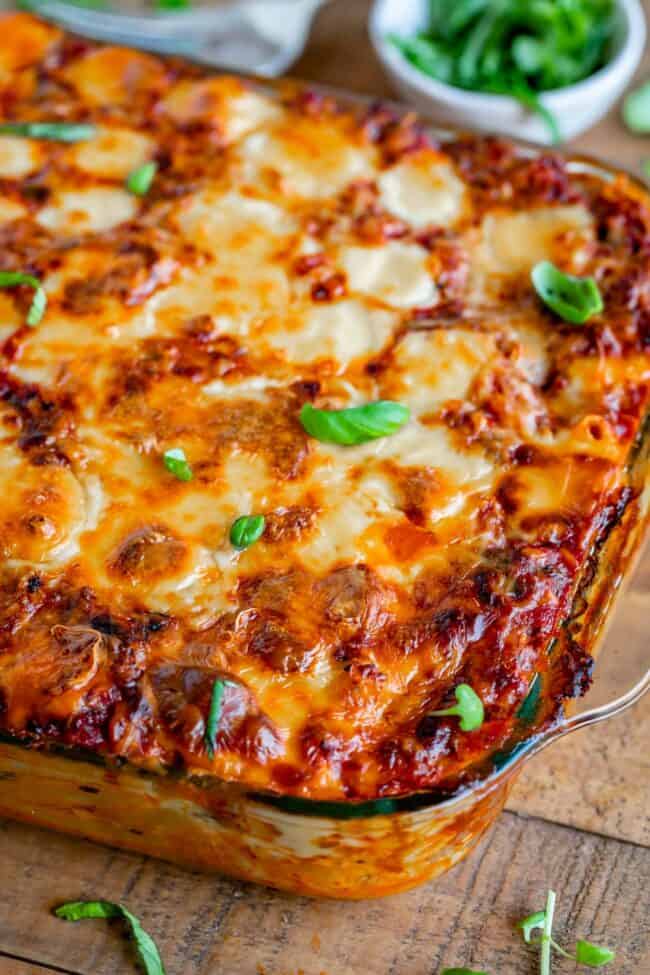 This is still one of my favorite meals to bring to new moms (it will always be called Postpartum Ziti at our house, haha), or to any family in need. It is tasty and very filling, feeds a ton of people, and freezes well! Plus who can say no to a baked ziti casserole?? It's irresistible!
Bring it with a salad kit from the produce section at the store and some French bread from the deli and call it good. The simpler I keep meals that I bring other families, the more likely I am to do it again next time (instead of categorizing it in my brain as "a ton of work" it's just "a casserole and some food from the store" which is much more approachable in my mind.) If you really want to go all out you can make The Best Garlic Bread of Your Life, which despite being the best ever is actually quite easy to make.
If you are bringing a meal to a smaller family, split the casserole between two 8 inch square pans and feed your family AND theirs. Yesss!!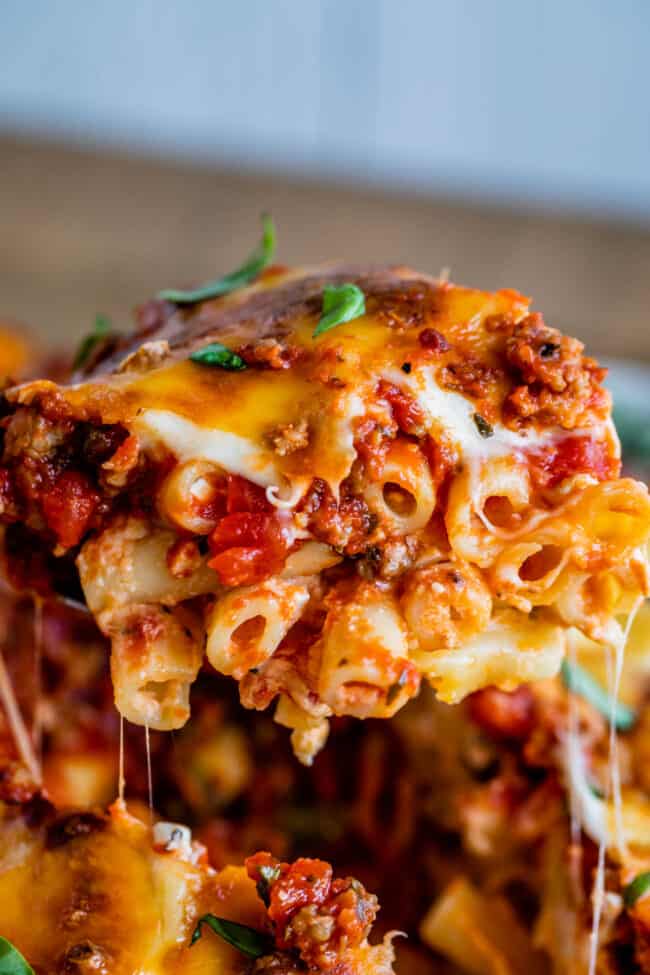 More casseroles that you are going to love!
Easy Ravioli Lasagna: << perfect for busy weeknights! It's way faster than today's ziti recipe.
Classic Shepherd's Pie Recipe with Crispy Cheddar Topping << this is another casserole that can feed an army. It's so good!
Easy Cheesy Asparagus Tortellini Bake << this takes about 15 minutes to throw together!
Chicken Crepes with Jalapeno Cheese << this is my mom's recipe. It's so decadent and delicious!
Old Fashioned Lasagna << can't beat the classic.
Aunt Shirley's Creamy Chicken Enchiladas << dreamy creamy Mexican food that is not really Mexican. Yum.
Chicken Pot Pie with Flaky Biscuit Topping << a casserole version of chicken pot pie, with biscuits on top! So good.
White Lasagna with Chicken and Pesto << pesto + lasagna?? yes please!!
Poblano, Corn, and Zucchini Lasagna << this is one of the best vegetarian meals I've ever had.
Spinach and Ravioli Lasagna from Lemons for Lulu
Penne Pasta Bake from Taste and Tell
Country Style Rigatoni from Honey and Birch
Facebook | Pinterest | Instagram

The Best Baked Ziti (Postpartum Ziti)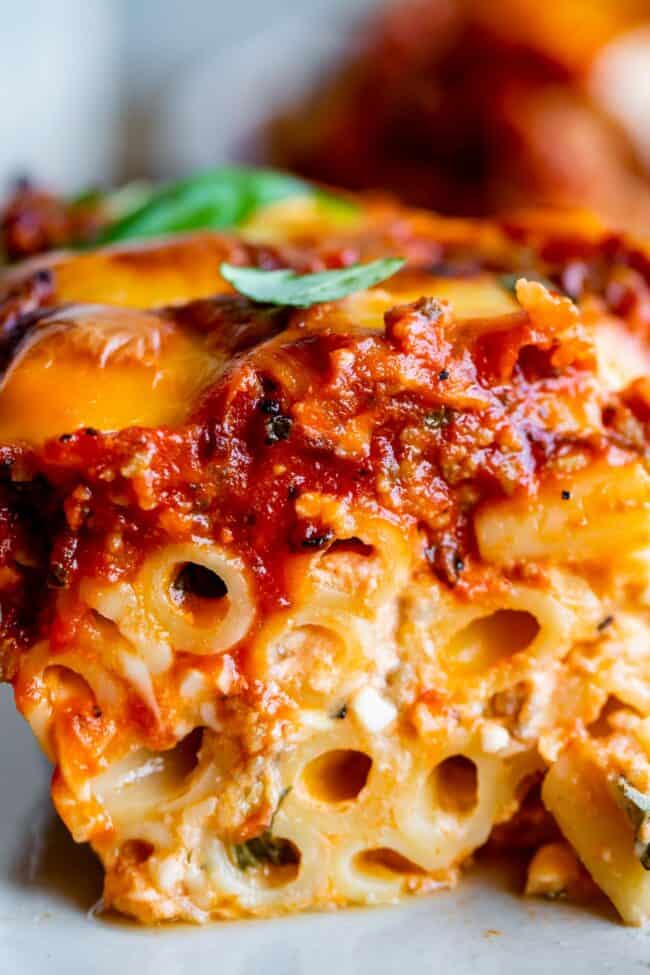 Italian sausage marinara, cottage cheese, and fresh basil combine to make this decadent casserole. We've always called it "Postpartum Ziti" because it makes a TON and is perfect for bringing to new moms!
Ingredients
1

pound

ziti

,

or penne/rigatoni if you can't find ziti

olive oil
For the red sauce
1

pound

mild Italian sausage

5

garlic cloves

,

smashed and minced

2

teaspoons

dried oregano

1

teaspoon

dried basil

1

teaspoon

kosher salt

1/2

teaspoon

black pepper

1

(28-ounce) can

tomato sauce

1

(14.5-ounce) can

diced tomatoes

1

teaspoon

sugar

1/2

cup

fresh basil

,

chopped
For the cream
1

cup

heavy cream

,

cold

1

teaspoon

cornstarch
For the cottage cheese mixture
2

large eggs

,

lightly beaten

1

pound

cottage cheese

1

cup

Parmesan cheese

,

grated

1

cup

mozzarella cheese

,

chopped into 1/4 inch cubes
To top casserole
1

cup

mozzarella cheese

,

chopped into 1/4 inch cubes

1/2

cup

Parmesan cheese

,

grated

more chopped basil

,

to garnish after baking
Instructions
Cook the pasta.

Fill

a 3 quart pot

with water and add 1 tablespoon kosher salt. Bring to a rolling boil over high heat. Add 1 pound ziti (or other tubular pasta, if you can't find ziti.) Cook until just shy of al dente, about 5 to 7 minutes. Drain pasta into a colander and drizzle with a little bit of olive oil so that it doesn't stick together. Stir to distribute oil. Set aside. Save the pot that you boiled the pasta in!

Meanwhile, make the red sauce. In a large skillet

, crumble and cook 1 pound Italian sausage over medium high heat until thoroughly cooked and no longer pink, it should take about 5 minutes. Drain and discard the fat. (I usually turn off the heat while draining the fat)

Once the fat is drained (turn the heat back to medium high and wait until the pan is hot again), add 5 cloves of minced garlic. It should be somewhere between 1 and 2 tablespoons, you can adjust this amount to taste.

Add the spices: 2 teaspoons dried oregano, 1 teaspoon dried basil, 1 teaspoon kosher salt, and 1/2 teaspoon black pepper. Saute the garlic and spices with the sausage for about 1 minute, until fragrant.

Add the can of tomato sauce and can of diced tomatoes. Lower the heat to medium and cook until the mixture bubbles, then turn to medium low and simmer for about 10 minutes to marry all those flavors a bit.

Take the skillet off the heat. Stir in 1 teaspoon sugar and 1/2 cup fresh chopped basil.

Thicken the cream: In the now-empty pot that you boiled the pasta in, add 1 cup cold heavy cream. Whisk in 1 teaspoon cornstarch until there are no lumps at all. Set the pot over medium heat and bring to a very low simmer, stirring frequently. The mixture should be thickened in about 3-4 minutes.

For the cottage cheese mixture: Meanwhile, in a medium bowl, beat 2 eggs well. Add 1 pound cottage cheese and combine well. Stir in 1 cup Parmesan cheese and 1 cup cubed mozzarella.

Once the cream has thickened, remove from heat and stir in the cottage cheese mixture. Add 1 cup of the red sauce and stir together.

Add the drained pasta to the pot with the cottage cheese and stir to combine.

Transfer all the pasta to the prepared deep 9×13 inch pan.

Spread the remaining red sauce evenly on top of the pasta.

Top the casserole with 1 cup chopped mozzarella cheese and sprinkle evenly with 1/2 cup Parmesan cheese.

Spray a sheet of foil with nonstick spray and cover the casserole. (If you don't grease the foil, it will stick to the cheese!)

If your casserole is very full, place on a baking sheet in case it bubbles over.

Bake the covered casserole at 375 for 25 minutes.

Remove the foil and bake for another 25 minutes.

If you would like to brown the cheese even more, move your oven rack to the highest position and broil for 1-2 minutes. Don't walk away!

Let the baked ziti sit for about 10 minutes before digging in.

Garnish with fresh chopped basil.
Notes
Freezer instructions: This casserole freezes great. Bake it in a disposable aluminum pan. When it is cooled, wrap well with foil. Freeze for up to 3 months. Thaw in the fridge for 24 hours and then bake as usual. Or you can bake (straight from the freezer) covered at 350 for about 45 to 75 minutes, until thaw. Remove the foil and bake for another 20-30 minutes until bubbly.
Source: adapted from my friends Ann & Bryn
Nutrition
Calories:
519
kcal
|
Carbohydrates:
37
g
|
Protein:
26
g
|
Fat:
30
g
|
Saturated Fat:
14
g
|
Polyunsaturated Fat:
2
g
|
Monounsaturated Fat:
10
g
|
Trans Fat:
1
g
|
Cholesterol:
113
mg
|
Sodium:
1341
mg
|
Potassium:
569
mg
|
Fiber:
3
g
|
Sugar:
6
g
|
Vitamin A:
994
IU
|
Vitamin C:
9
mg
|
Calcium:
336
mg
|
Iron:
3
mg