Postpartum Ziti
So do you ever have those days where you just cannot wake up, no matter what you do? Today was one of those days.  I got up at 6:30, drove to the rec center, ran for a half hour, drove back, and I still felt like I was sleep walking. (Which is perhaps why I nearly crashed on the way home. If you live in my town, consider yourself warned.)
Now as I write this Charlotte is eating her extremely healthy blueberry yogurt multigrain pancake that I made for her. Actually she is methodically tearing it up into pieces and dropping them on the floor with relish, while looking me in the eye with a face that says Go ahead. Stop me. I can't really blame her.  Eric had basically the same reaction. I thought they were delicious.

Things that I did today: drank rancid orange juice.  Spilled yogurt on myself. Twice. (Did I mention I was tired?) Cleaned up a Charlotte mess. Twice. (because she has a diaper rash so I put her to bed without a diaper. Have I told you lately that I'm a genius?)  Caught my hand on my ipod cord while running, causing said ipod to fly off the treadmill tray and trip me.  Rearranged the bobby pin in my hair only to drop said pin and see it get shot 2 feet behind me after the ride of its life on the treadmill.  People must look at me flailing around on the treadmill trying not to get killed and think to themselves, Wow.  She must not come here very often. Which is true.
We had some friends in Indiana who would bring this amazing ziti to new moms, hence the name Postpartum Ziti. It is amazingly delicious and makes a ton.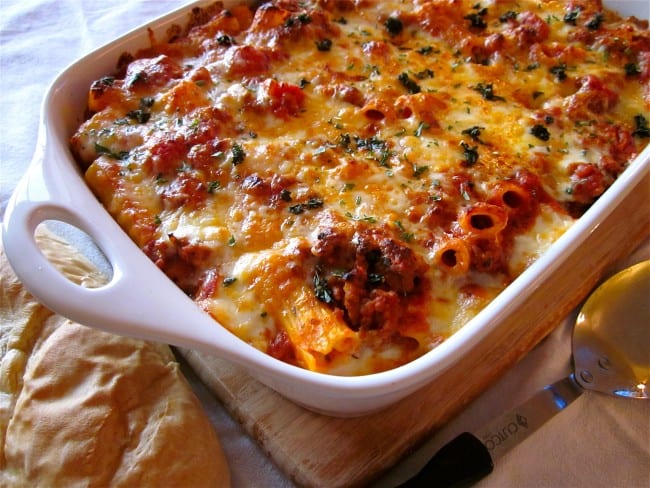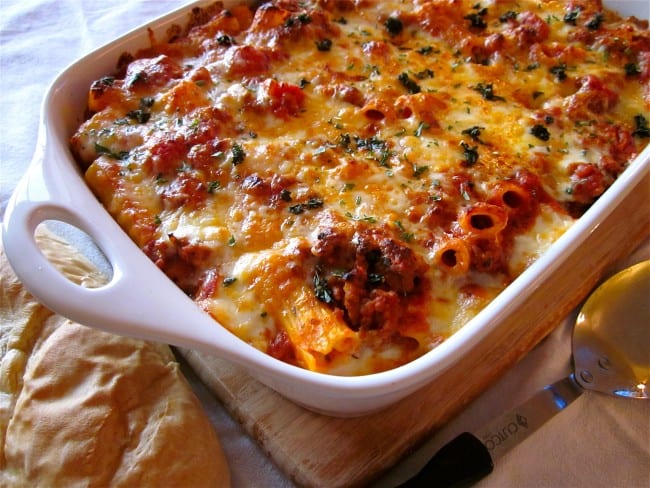 print
Did you make this recipe?
Leave a review »
Postpartum Ziti
Serves 9-12
adjust servings
Ingredients
1

pound cottage cheese

2

large eggs, lightly beaten

3

ounces parmesan cheese, grated (about 1 1/2 cups)

1

pound ziti or other short, tubular pasta

1

pound Italian sausage

5

garlic cloves, minced

1 28-ounce

can tomato sauce

1 14.5-ounce

can diced tomatoes

1

teaspoon dried oregano

1/2

cup chopped fresh basil, plus extra for garnish (dried works too)

1

teaspoon sugar

salt and pepper to taste

3/4

teaspoon cornstarch

1

cup heavy cream

8

ounces low-moisture mozzarella cheese, cut into 1/4-inch pieces (about 1 1/2 cups)
Instructions
Heat oven to 350 degrees.
Whisk cottage cheese, eggs, and 1 cup of parmesan together in a medium bowl and set aside.
Cook pasta until just shy of al-dente, about 5 to 7 minutes. Drain pasta, drizzle with a bit of olive oil, and leave in colander (do not wash pot).
Meanwhile, in a skillet over medium heat crumble sausage and cook until brown. Add garlic and stir for one minute. Stir in tomato sauce, diced tomatoes, and oregano and simmer until thickened (about 10 minutes). Off heat, stir in basil and the sugar, then salt and pepper to taste.
Combine cornstarch with heavy cream in the now-empty pot and set over medium heat. Bring to simmer and cook until thickened, 3 to 4 minutes. Remove from heat and add the cottage cheese mixture, 1 cup of the tomato sauce, and ¾ cup of the mozzarella cheese. Stir to combine. Add pasta and stir to coat thoroughly with sauce.
Transfer pasta mixture to 13 by 9-inch baking dish and spread remaining tomato sauce evenly over the pasta. Sprinkle remaining mozzarella and Parmesan over the top. Cover with foil and bake for 30 minutes.
Remove foil and bake another 30 minutes, or until cheese is golden brow. Let cool about 20 minutes before serving. Add basil garnish and serve.
by The Food Charlatan

If you make this recipe,
share it on Instagram
 using the hashtag
#TheFoodCharlatan
so I can see it!
Source: my friends Ann & Bryn
You will love these recipes too!
Easy Ravioli Lasagna: (perfect for busy weeknights)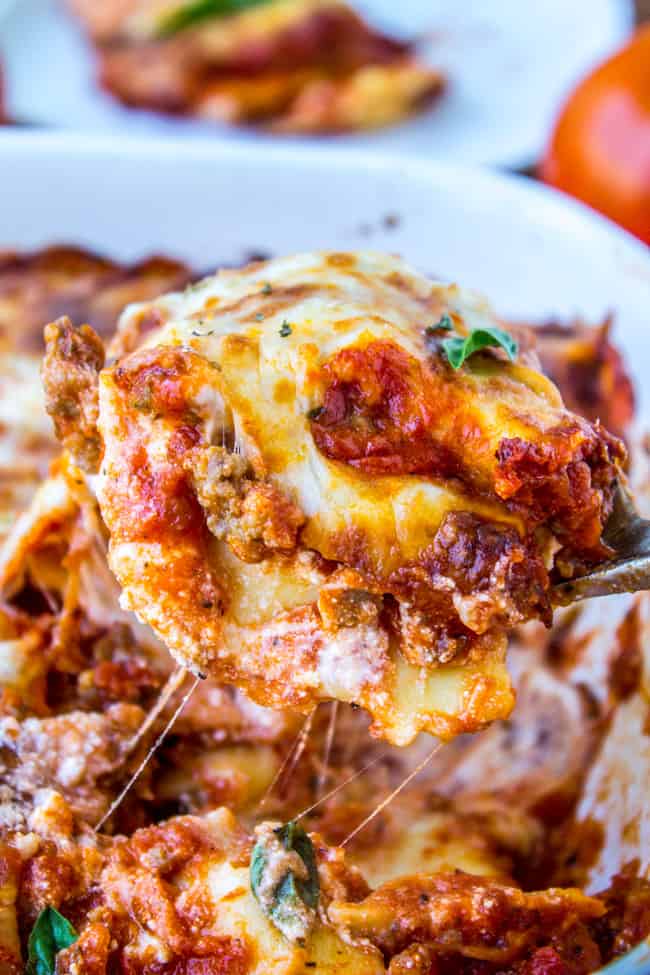 Easy Cheesy Asparagus Tortellini Bake: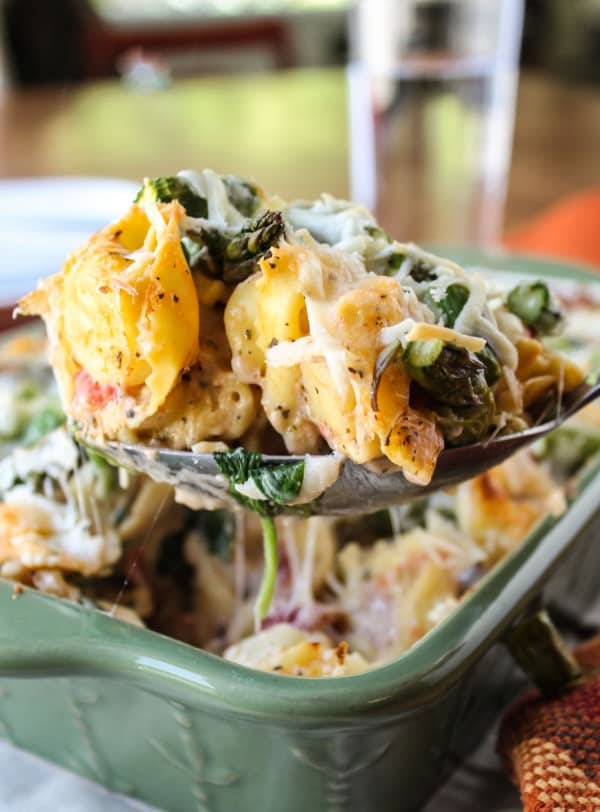 (One pot) Chicken Parmesan Pot Pie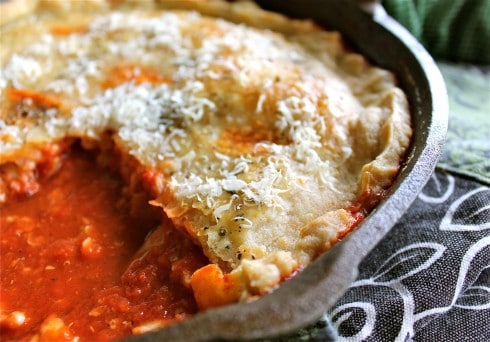 We are a participant in the Amazon Services LLC Associates Program, an affiliate advertising program designed to provide a means for us to earn fees by linking to Amazon.com and affiliated sites.