A classic Italian pasta salad, made with cheese-filled tortellini, tons of pepperoni, Parmesan, olives, cherry tomatoes, and more. A very simple balsamic dressing pulls it all together. 
We went camping last weekend. I always forget how much I love camping!
Alternate beginning to this post: We went camping last weekend. I always forget how much I hate camping!
It's true though right?? Who's with me? I have so many fond memories of camping with my family when I was a kid. I have mad respect for my parents and their willingness to cart all 5 of their children out in the wilderness every summer, sometimes more than once.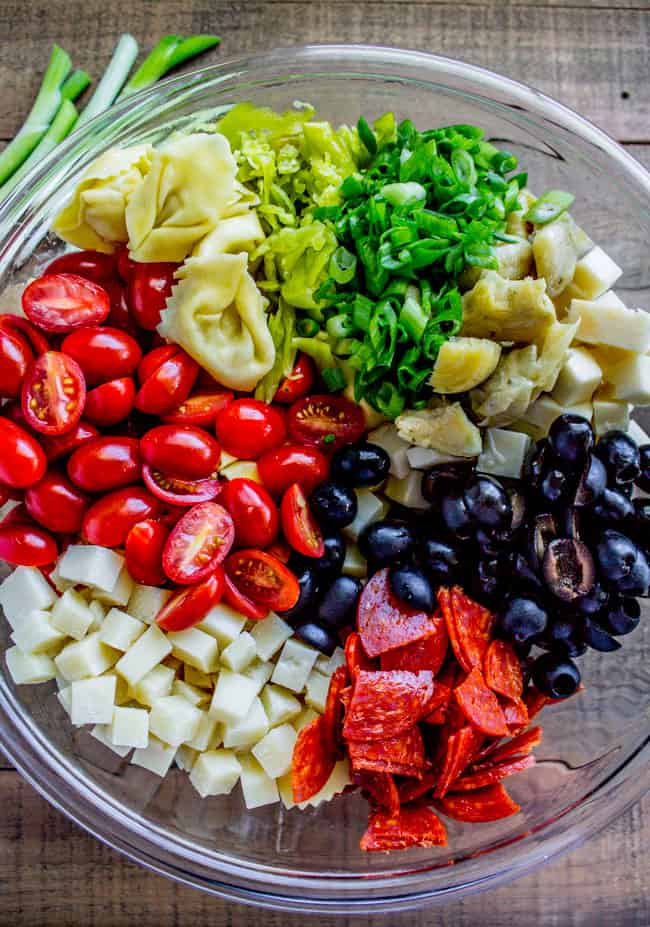 I thought mine would always be a "camping family" too. I mean, camping was the best thing EVER as a kid, right?? And then I turned into An Adult. And there was no one to make me hot chocolate and tuck me into my sleeping bag anymore. I had to make my own hot chocolate. And then wash the dang pot in the dark in the freezing cold, so that we didn't lure all the bears to our camp and get eaten.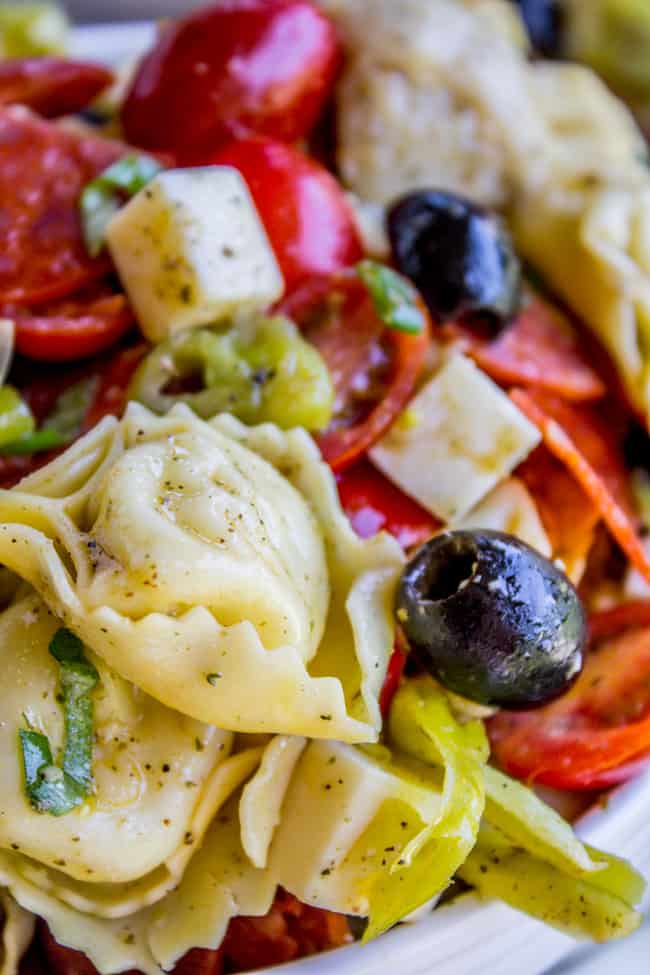 Not to mention the 100 years of camping prep. And the hours of cleanup and laundry when you get home. I became a jaded camper after mine and Eric's first solo camping trip to the Grand Canyon, when Charlotte was about a year old. She was too young to keep her blankets on her and just froze her tush off the whole night, meaning I was up to help her. I vowed to never camp again. Too much work.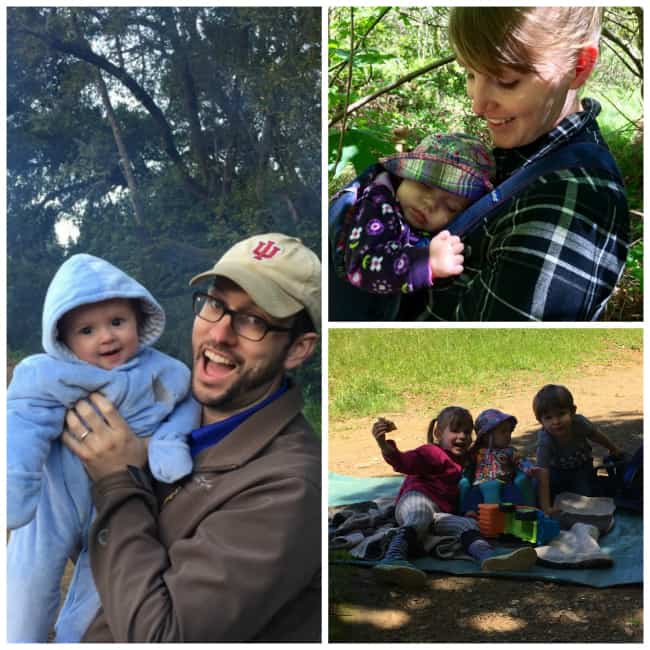 But I've come around. Just look at those faces! Bring on the happy camper memories. I'll wash all the hot chocolate pots in exchange for teddy bear children.  The trick is to go with another family. So much more fun, and you can share all the work. Just make sure you don't blast music from your car and let your car battery die at the same time that your friend's van also has a dead battery. Not that that would happen to us. We're way smarter than that.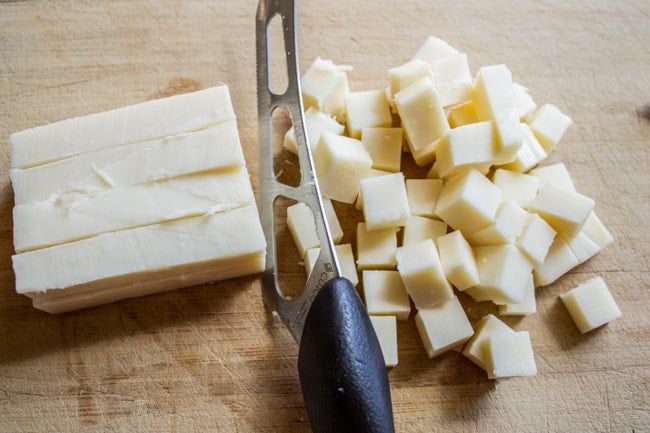 I love blocks of cheese instead of shredded. It makes a huge difference!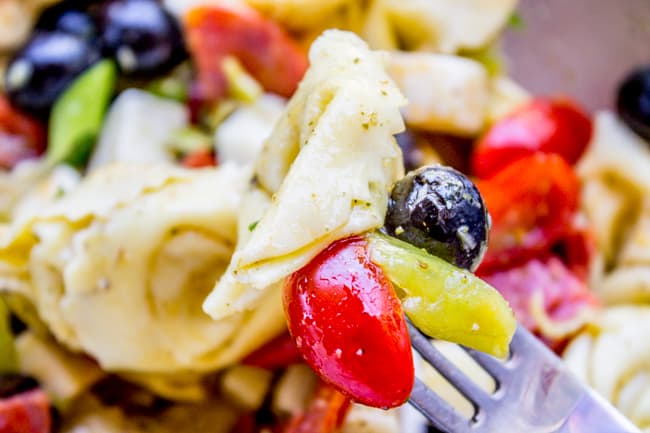 Who loves tortellini? Hard not to love cheesy pasta made into ornate shapes, right? They boil up so fast. I always tuck tortellini in my freezer for I-forgot-about-dinner-again dinners.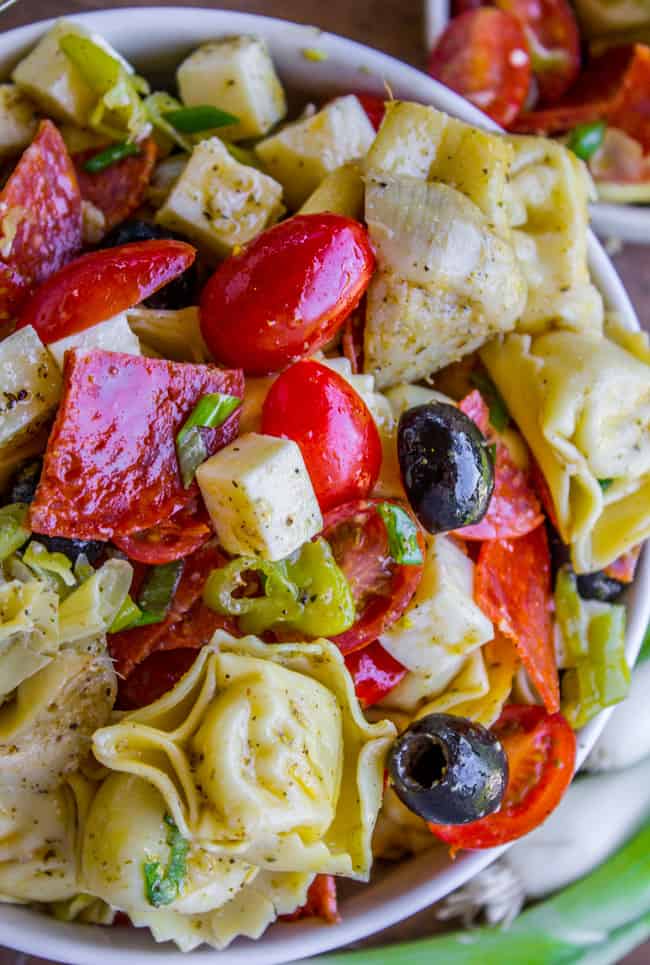 I threw together this salad last year for a family get together. It was a short notice thing and I didn't feel like going to the store. Turns out I have a lot of Italian Pasta Salad ingredients on hand all the time. I got lots of requests for the recipe and I've been meaning to share it ever since. It's so good and easy to put together! It would be perfect to bring to a BBQ.
If you make any of my recipes, share it on Instagram using the hashtag #TheFoodCharlatan so I can see it! I love that.
Facebook | Pinterest | Instagram | Twitter

Tortellini and Pepperoni Pasta Salad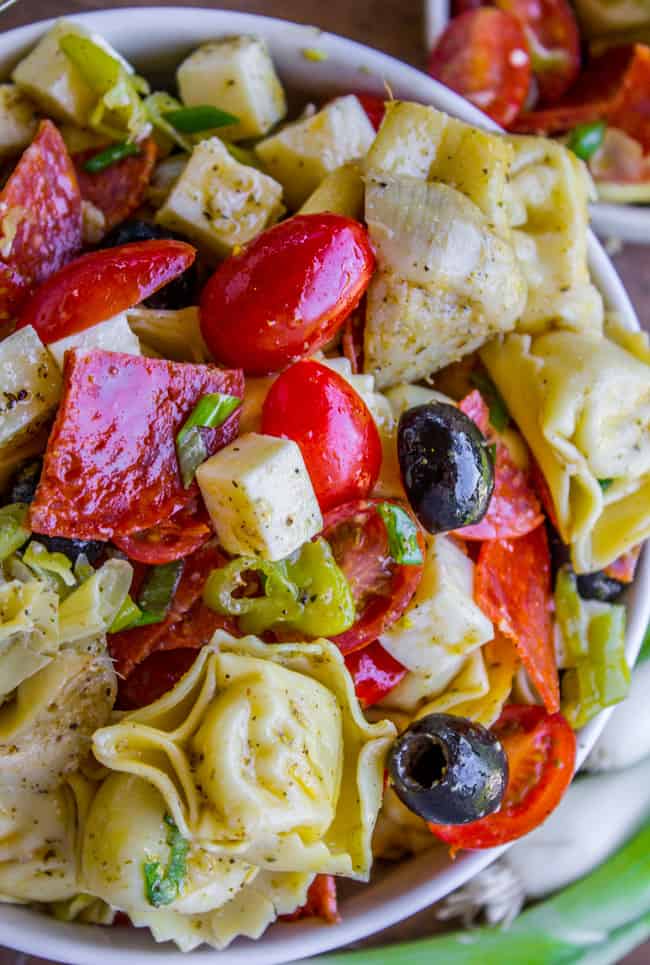 A classic Italian pasta salad, made with cheese-filled tortellini, tons of pepperoni, Parmesan, and olives. A simple balsamic dressing pulls it together.
Ingredients
1 & 1/2

pounds

refrigerated tortellini*

5-7

ounces

pepperoni slices

,

chopped

8

ounces

mozzarella

,

chopped into 1/2 inch pieces

4

ounces

Parmesan

,

chopped into 1/2 inch pieces

1/2

cup

green onions

,

chopped

1

dry pint cherry tomatoes

,

halved

1

can

medium black olives

1 (6-oz)

jar

marinated artichoke hearts

1/2

cup

deli-sliced pepperoncini's

1/4

cup

balsamic vinegar,

white or regular

1/3

cup

+ 1 tablespoon olive oil

1

tablespoon

Italian seasoning

2

cloves

garlic

,

smashed

1/2

teaspoon

salt

1/4

teaspoon

pepper
Instructions
Boil the tortellini according to package instructions. (They should only boil 2-3 minutes. I added salt to the boiling water for more flavor, but it's not necessary.) Drain the tortellini and add to a large bowl. Drizzle with a little olive oil so that they don't stick together.

Chop the pepperoni into quarters and add to the bowl.

Add the chopped mozzarella, chopped Parmesan, green onions, cherry tomatoes, black olives (halved if you want), artichoke hearts, and pepperoncinis to the bowl.

Add the balsamic vinegar, olive oil, Italian seasoning, garlic cloves, and salt and pepper to a blender and blend until smooth. Or use could add the ingredients to a bowl and use an

immersion blender.

Or you could mince the garlic finely and add it to a bowl, add the balsamic vinegar and Italian seasoning, then slowly drizzle the olive oil in while whisking (so that it emulsifies.)

Drizzle the dressing over the salad and toss to combine.

You can serve this right away, but it's even better if you refrigerate it for a few hours before serving. You can make this 24 hours in advance. Toss again before serving.
Notes
*You could also use a 20 ounce package and it would be fine. You might not need to use all the dressing.
**You can use white balsamic vinegar if you don't want the tortellini to be dark. The photos here show the recipe with white balsamic, because I had some leftover from making this Strawberry Cucumber Salad.
Nutrition
Serving:
1
g
|
Calories:
559
kcal
|
Carbohydrates:
35
g
|
Protein:
23
g
|
Fat:
36
g
|
Saturated Fat:
11
g
|
Polyunsaturated Fat:
2
g
|
Monounsaturated Fat:
16
g
|
Trans Fat:
1
g
|
Cholesterol:
66
mg
|
Sodium:
1660
mg
|
Potassium:
137
mg
|
Fiber:
5
g
|
Sugar:
4
g
|
Vitamin A:
647
IU
|
Vitamin C:
10
mg
|
Calcium:
388
mg
|
Iron:
3
mg
You will love these other salads and side dishes!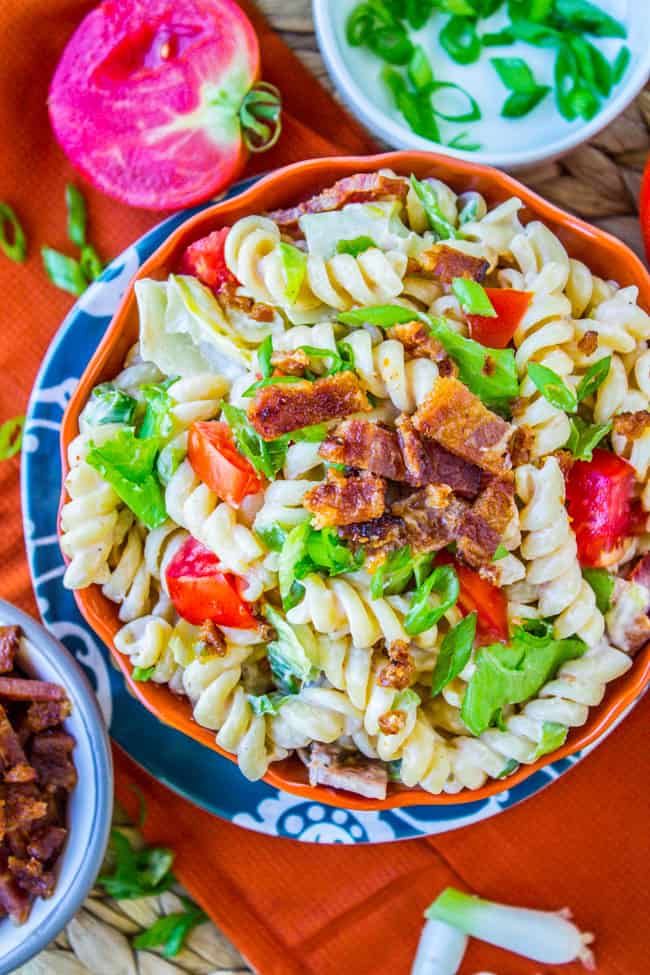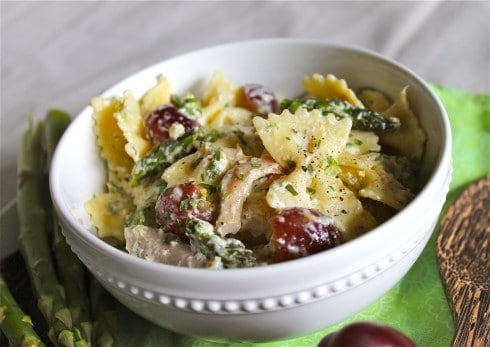 20 Minute Lemon Broccoli Pasta Skillet: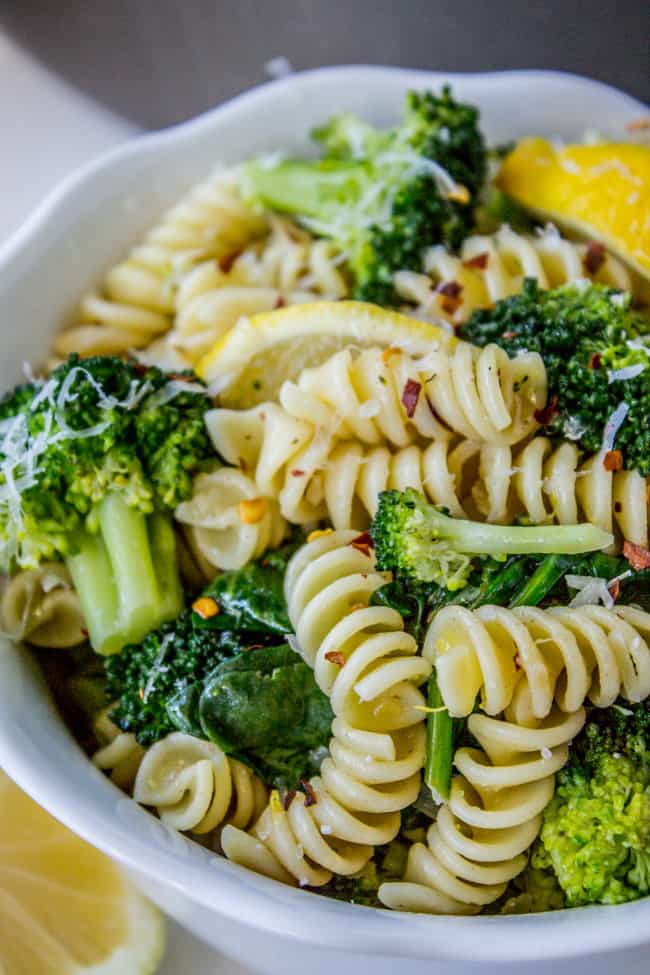 More pasta salads from friends!
Pizza Pasta Salad from Valerie's Kitchen
Caprese Pasta Salad from Wishes and Dishes
Broccoli and Salami Pasta Salad from Barefeet in the Kitchen
This post contains affiliate links. Thanks for your support!