Quiche is not a breakfast casserole baked in a pie shell, oh no. It is a creamy concoction that is more custard like, with plenty of cheese and add-ins. This is my favorite basic spinach quiche recipe because it is easy, incredibly flavorful, and hello, bacon. I will show you step-by-step how to make quiche for the perfect brunch or dinner! Originally published January 8, 2022.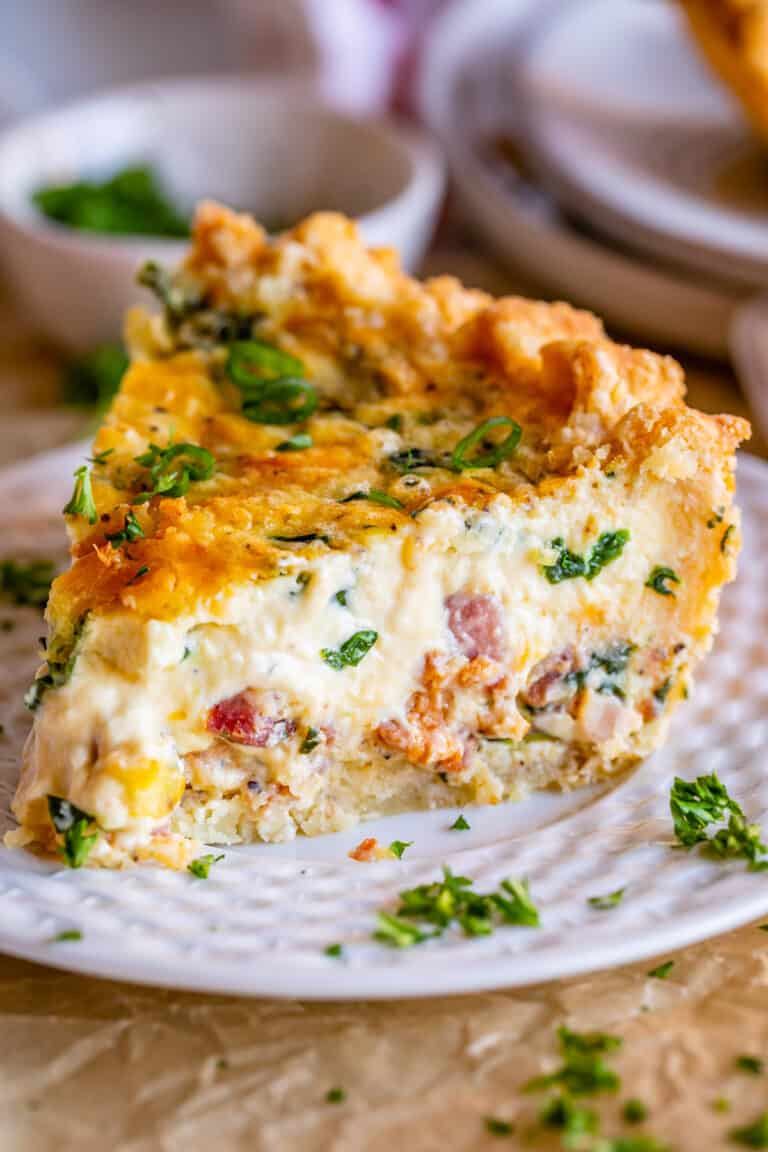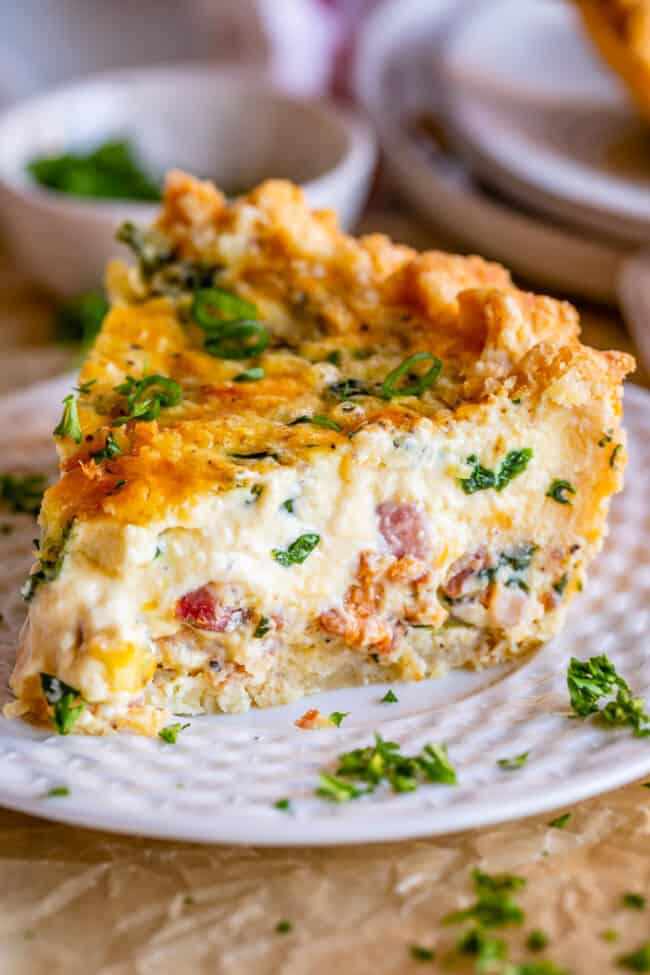 So, did your flight get cancelled over Christmas?? We had tickets to Montana to spend the holidays with Eric's family. It's a two-day drive and we have four kids, so if you do the math, it comes out to about 5,000 snack requests, 1,200 emergency bathroom stops, and at least 400 are-we-there-yets. I'm actively trying not to murder my children most days, so that's why we bought plane tickets.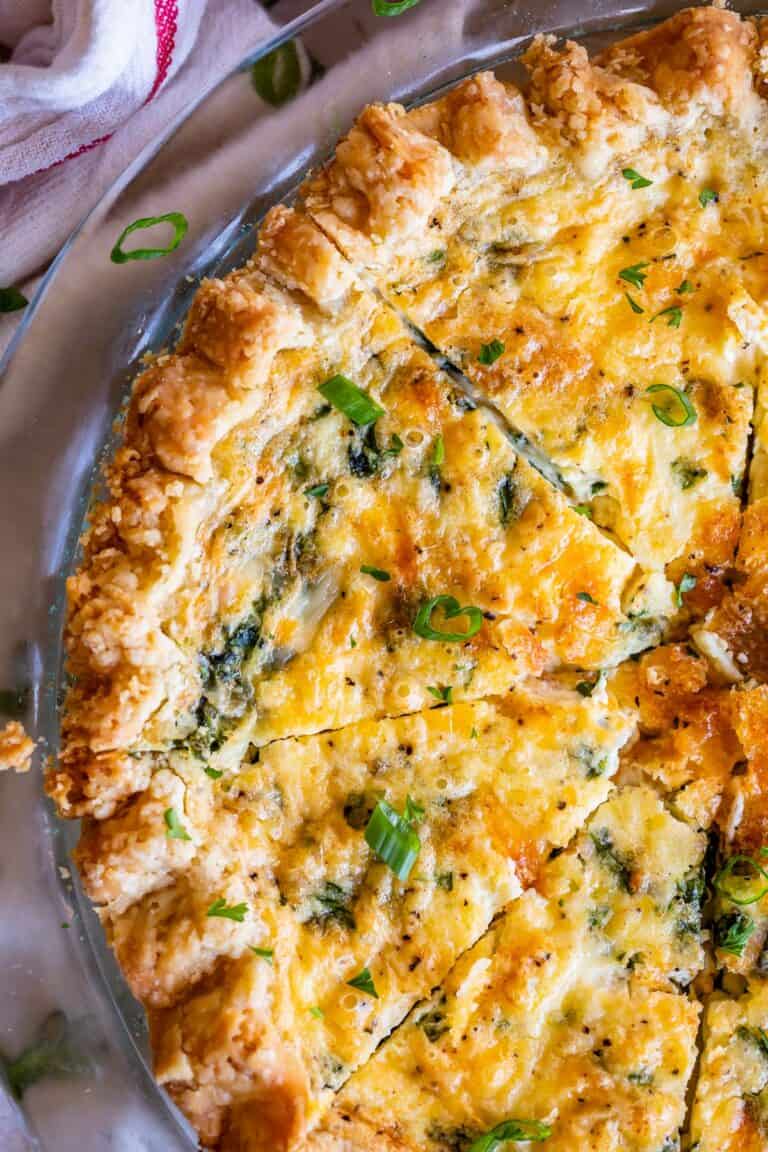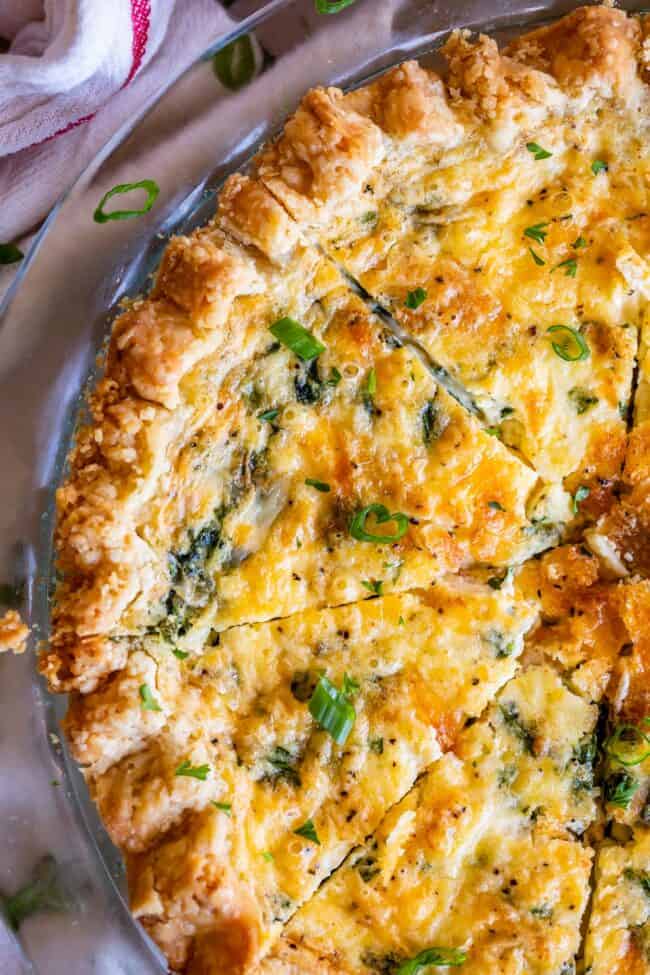 BUT THEN. On the morning of the flight, when we literally were packing into the car to leave for the airport, we get notified that the flight has been delayed so much that we would miss our connecting flight. Whaaat no!! The next flight would have us leaving our house at 2am, and since we are not insane, we just decided to jump in the car and start driving.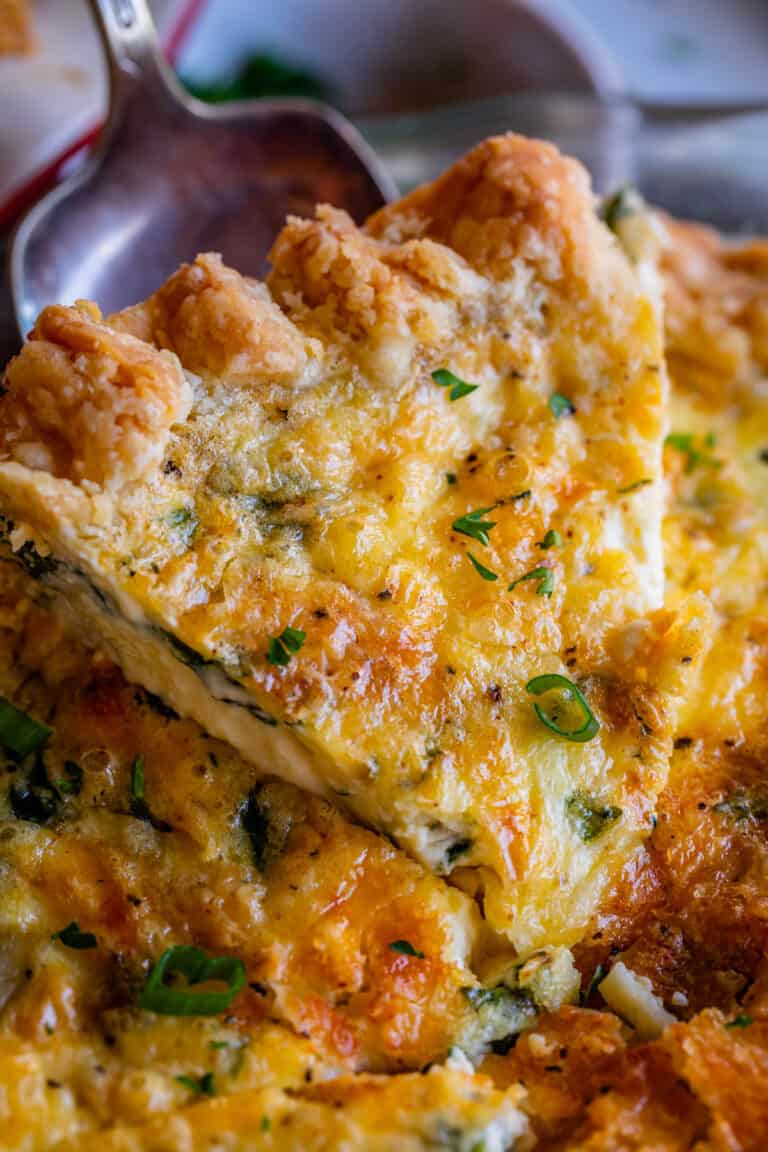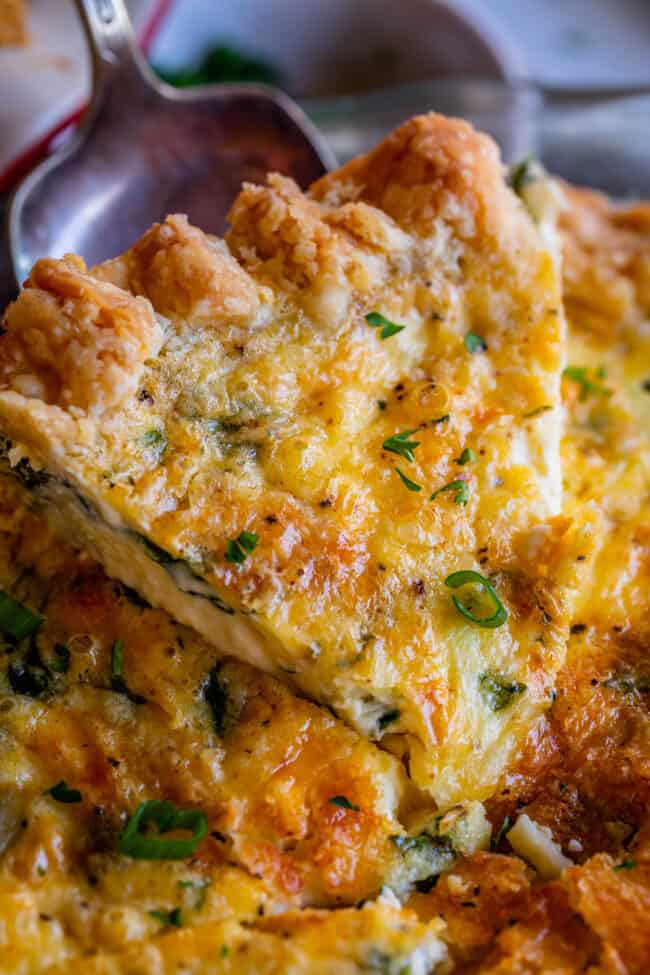 And we made it… eventually! Whew. Two days there, two days back, and all my children survived, so I'm calling it a win. It got down to -25 degrees up there in the frozen north. I went out of the house approximately 3 times. Montana, man. Not for the faint of heart.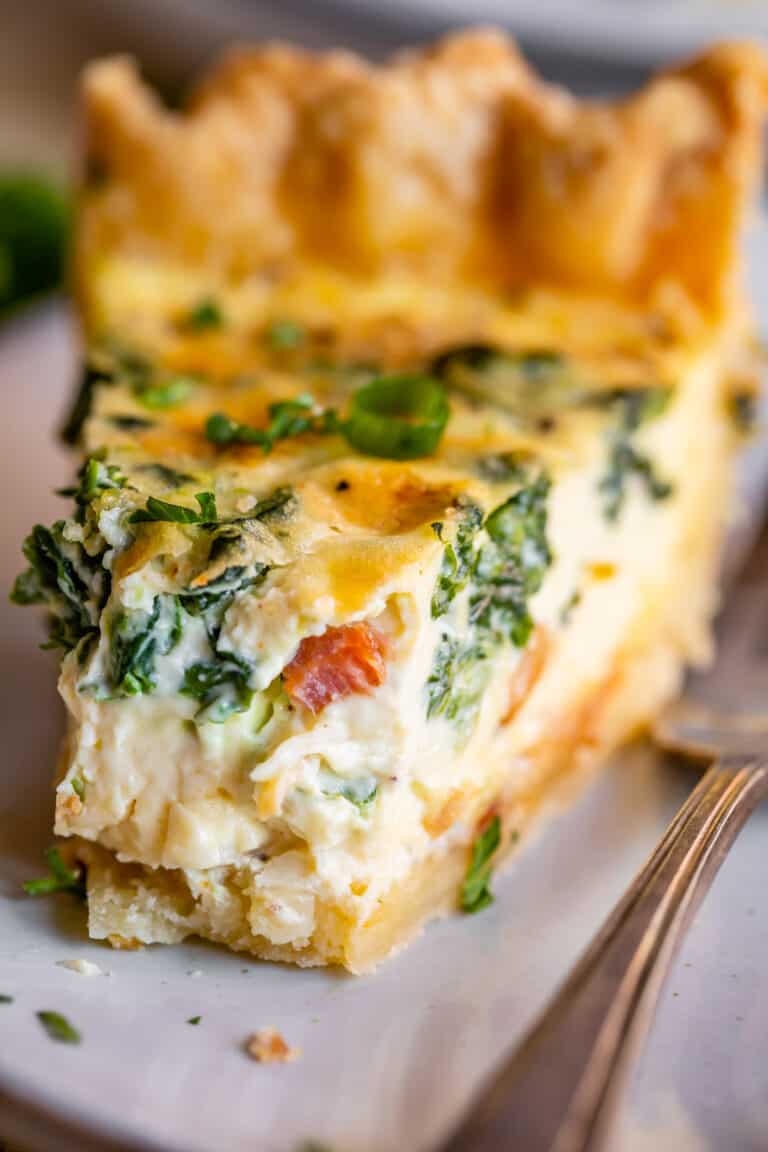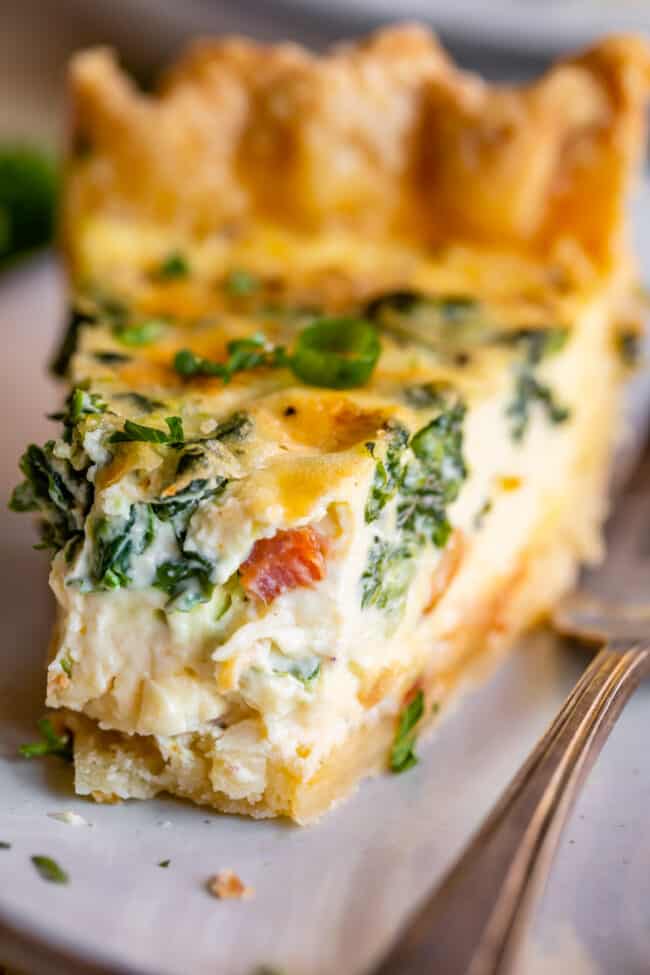 Quiche
We had such a nice time celebrating the holidays, I hope you did too! I intended to get this recipe out to you guys before Christmas so that you could make it for the big day, but alas, I was too busy making a thousand cookies and enjoying a much needed break.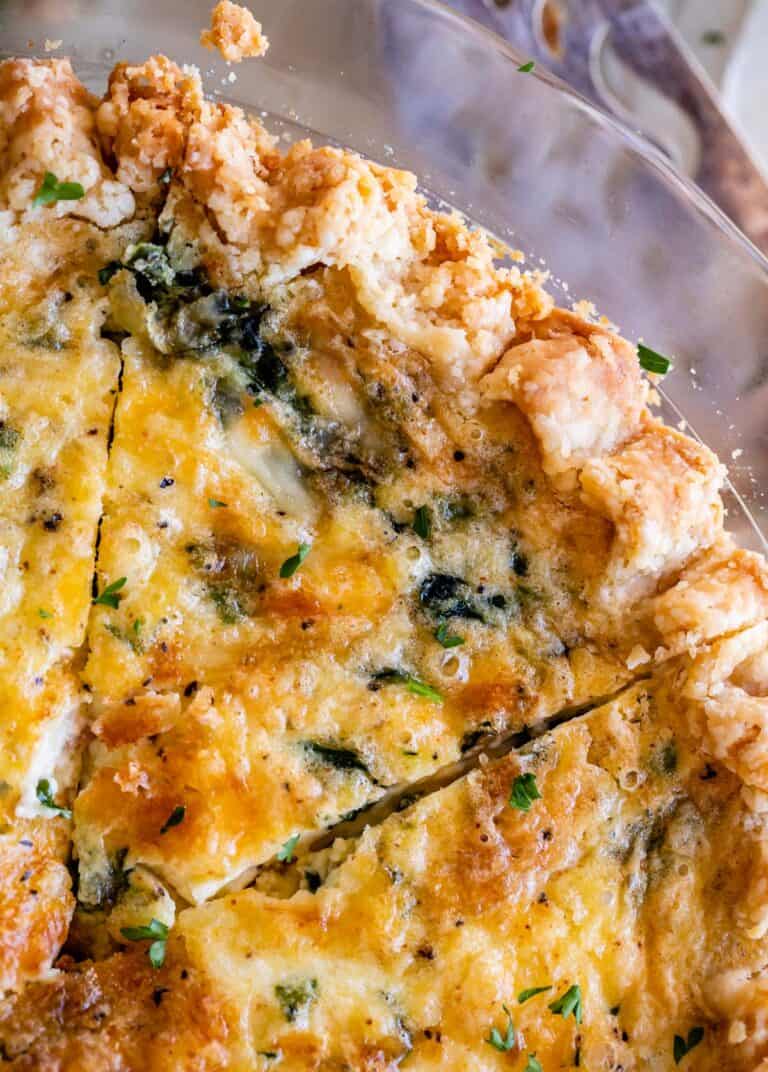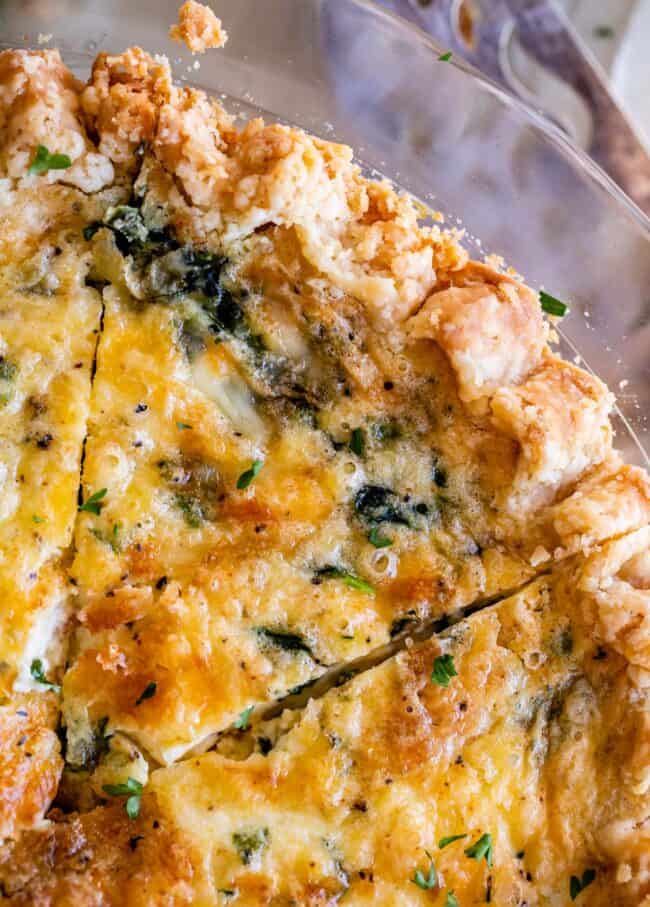 Spinach and Bacon Quiche Recipe
But you guys seriously need to start gathering the ingredients for this quiche RIGHT AWAY. No occasion necessary, you can make it for dinner tonight. I'm in love with this breakfast, or breakfast for dinner! A flaky, decadent homemade crust, plus three kinds of cheese (Cheddar! Swiss! Gruyere!), BACON of course, and spinach to make it healthy. Healthy I say! Okay maybe don't quote me on that, there is a lot of cream in this recipe. Necessary for quiche!! Read on!
What is Quiche?
At its most basic, quiche is a mixture of cream and eggs, poured into a pie crust, and baked until it is custardy and golden. It is NOT an egg casserole, which is much heavier on the eggs (more on that below). Quiche has almost double the amount of dairy (cream and/or milk) to eggs. A proper quiche should have 1/2 cup dairy for every large egg. A large egg has about 1/4 cup of liquid in is, so that is double. This results in an irresistibly smooth, custardy texture. GIMME ALL THE CREAM.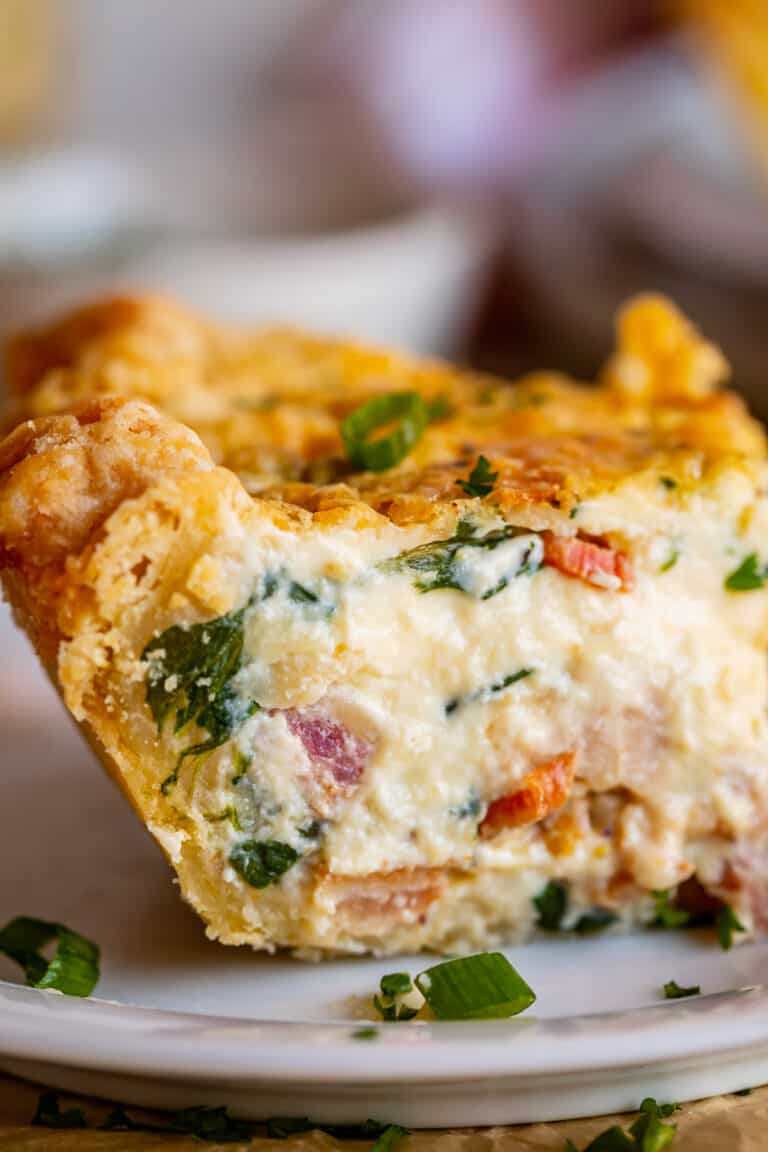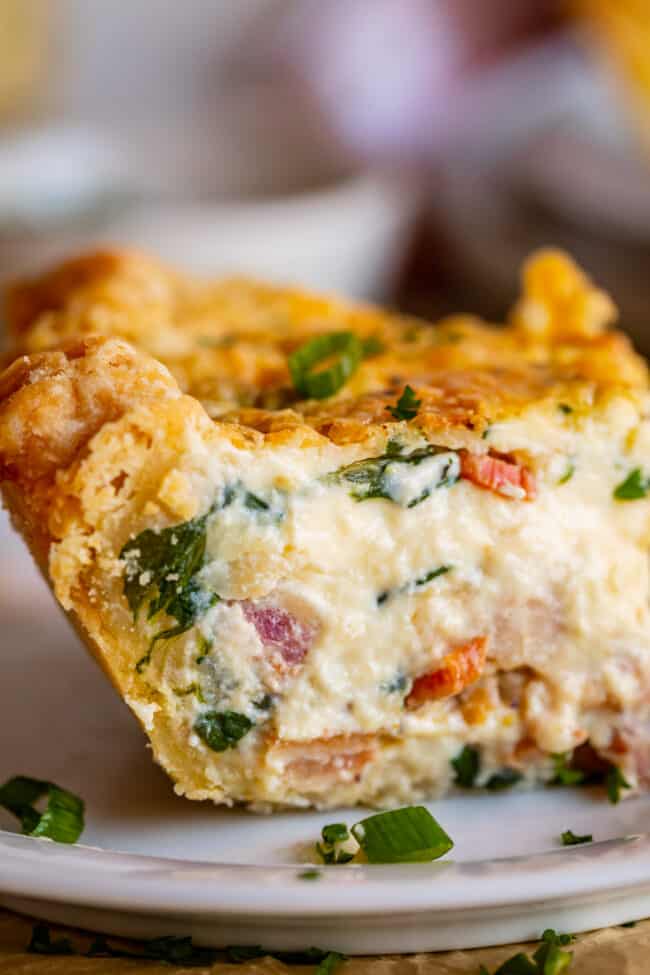 What to put in it? Basically anything you want! Quiche is just a set of ingredients of your choosing, mixed with more cream than eggs, and cooked in a pie crust. Pretty simple! I wanted to create a MASTER quiche recipe, that you can literally add any ingredients to, and that's what today's recipe is. Go wild!!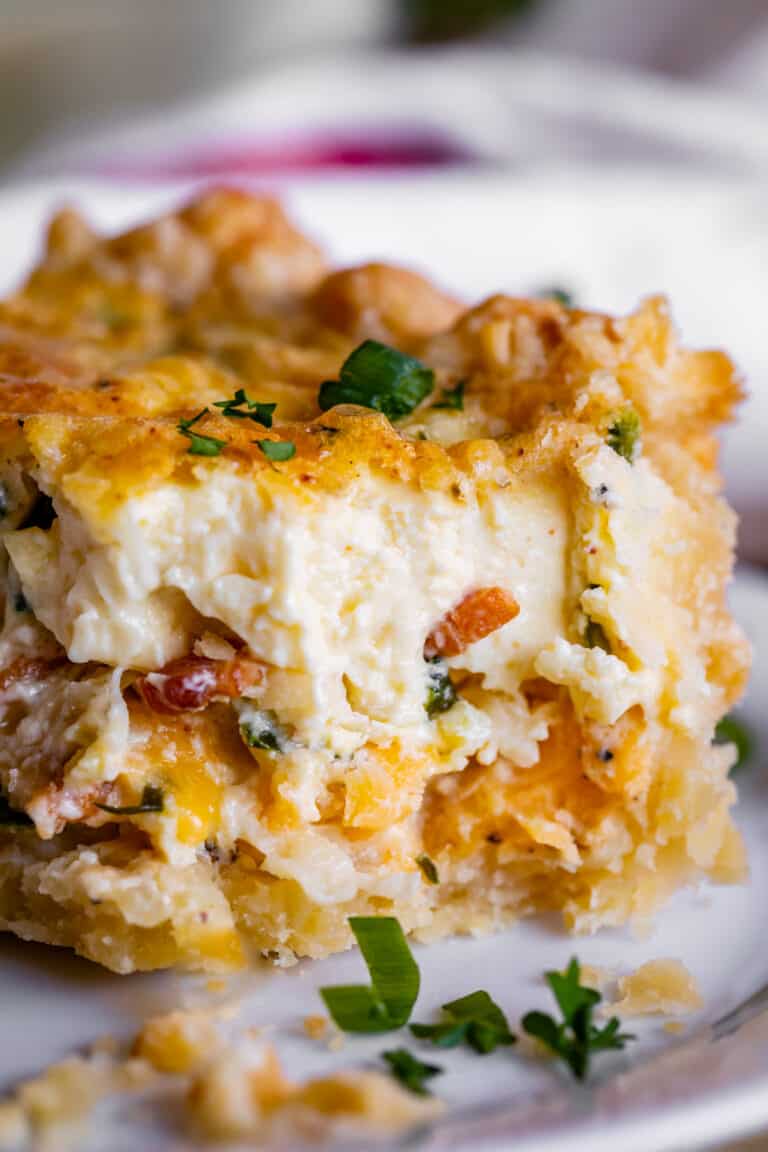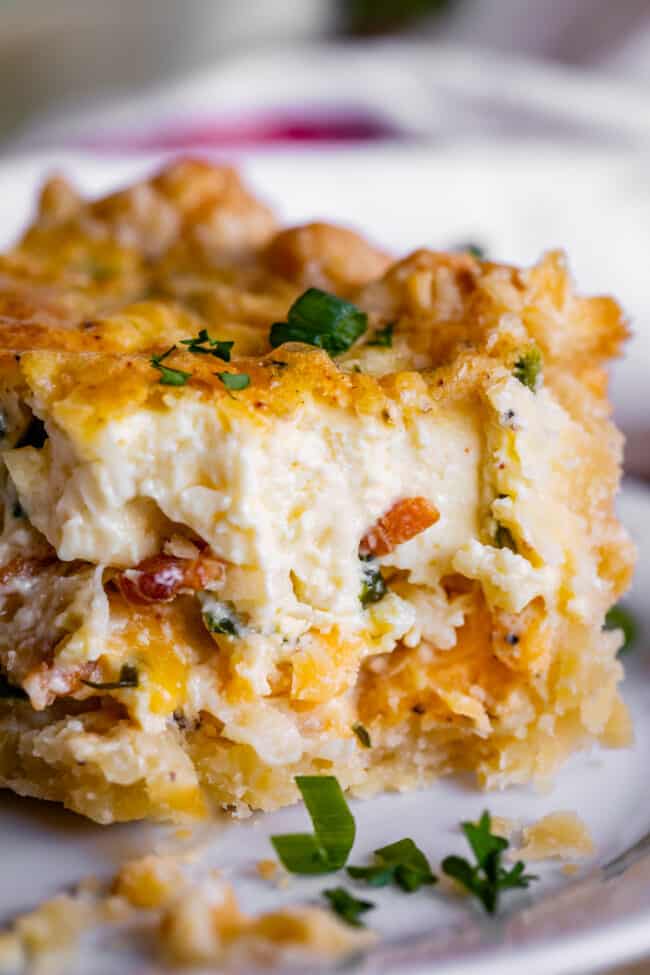 What is the secret to the Best Quiche Recipe?
Just as with any classic recipe, there are lots of ways to make a good quiche. But here are some basics to keep in mind:
Use a homemade pie crust
Use a blend of cheeses, not just one kind
Use the proper ratio of eggs to cream (or milk. But really you should use cream, because you're worth it. The ratio of your quiche should be about 1/2 cup of dairy for every large egg.)
Dry out your fillings (cook your veggies first)
Bake on the bottom rack to help brown the crust
Don't over bake!!! We want dreamy, creamy quiche! Not dried out eggs!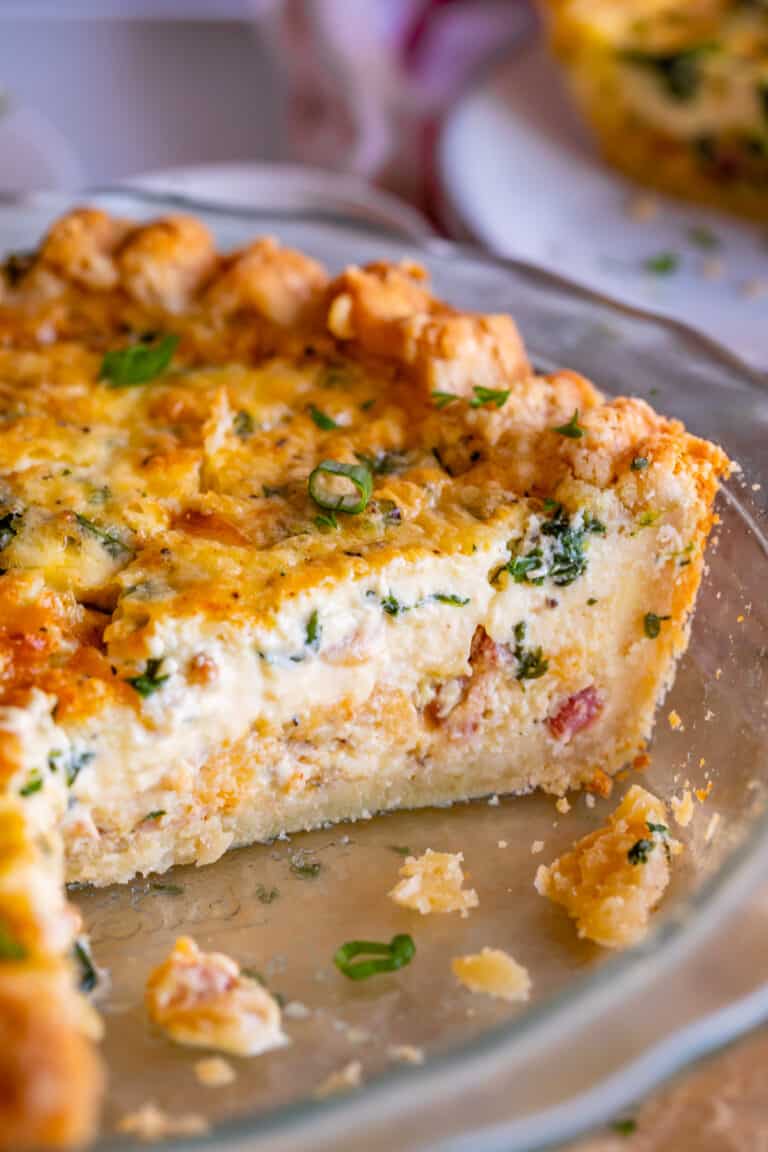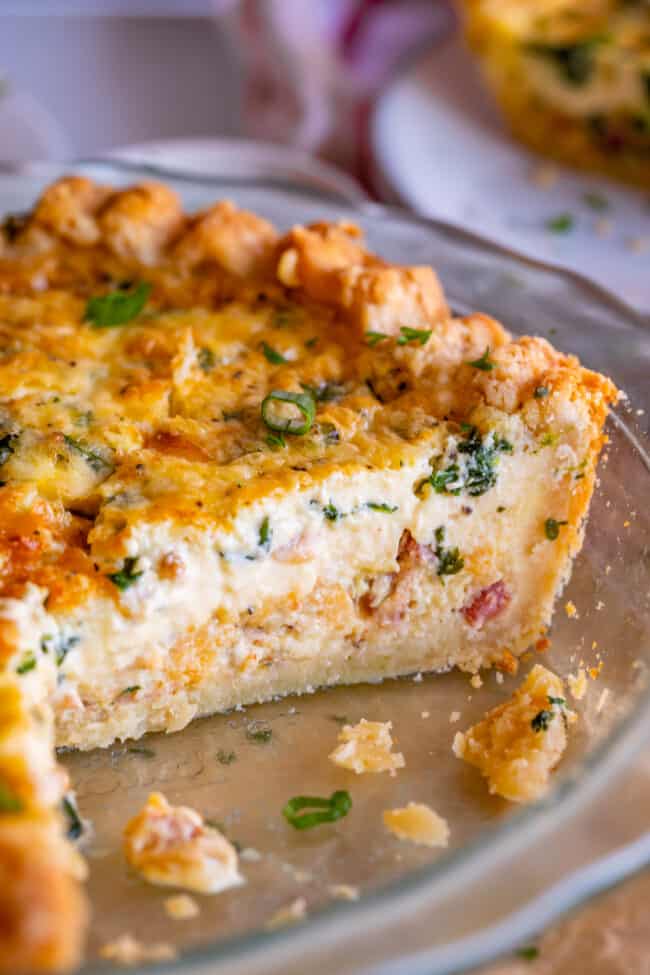 Easy Quiche Recipe ingredients
Here's everything you're going to need to make the best quiche ever! If you keep the egg, milk, and cream amounts the same, you can literally change out any other ingredient on this list. Change up the spices, add ham instead of bacon, use any cheese you fancy.
Quiche Recipe Easy filling ideas
Today's recipe is designed to be a basic master recipe that you can mix and match to your hearts content. I went with bacon, spinach, and cheese, but you can swap these however you like. Here are some other ideas for what to fill your quiche with! It's a great clean-out-the-fridge meal, you can use whatever veggies you have.
You need 1 and 1/2 to 2 cups total filling (veggies + proteins), in addition to about 1 and 1/2 cups cheese.
How to make Quiche
We're going to start by preparing the crust! If you're ready to go next level on this quiche, definitely make your own crust. If not, store bought will do ya. (I've heard the Trader Joe's crusts are pretty good!)


Make sure you tuck those edges under and mold the crust like play-dough to make sure they don't end up all crackly when you bake. Use your fingers to smooth it out before you start crimping. See my Flaky Pie Crust tutorial for a bazillion more photos.
Does crust for quiche need to be pre-baked?
I don't. Most of the recipes I researched required a blind bake before adding the egg filling (meaning you bake the crust by itself first.) They say the egg filling makes the crust soggy. I call BS. I tried it both ways and think it's totally unnecessary. I don't blind bake an Apple Pie, or even a Chicken Pot Pie, and those fillings are plenty liquidy.


My non-blind baked crust turned out crispy and golden just as it should. You need to do a few things:
Freeze your pie crust for 30-60 minutes to help it keep its shape and not slump down when you bake the quiche
Use a generous amount of filling to help keep the pie crust up (see notes for a scaled-down version of this recipe)
Bake on the bottom of the oven to help get the bottom of the crust nice and toasty
Use a pie shield so you don't burn the edges of your crust.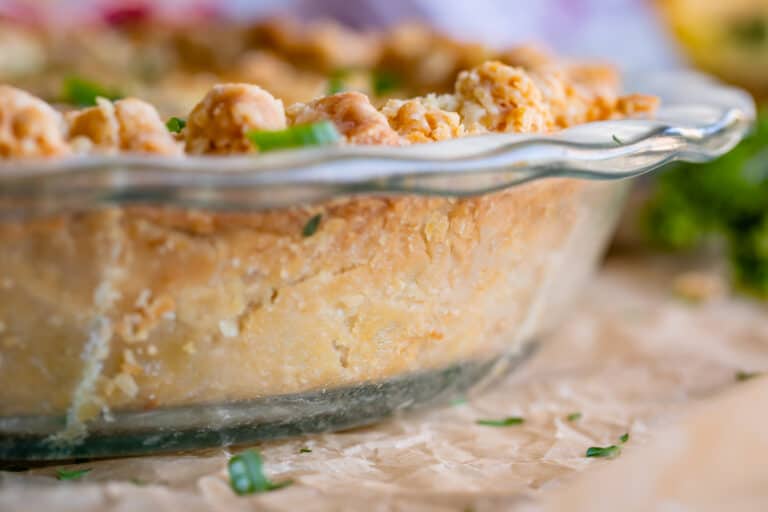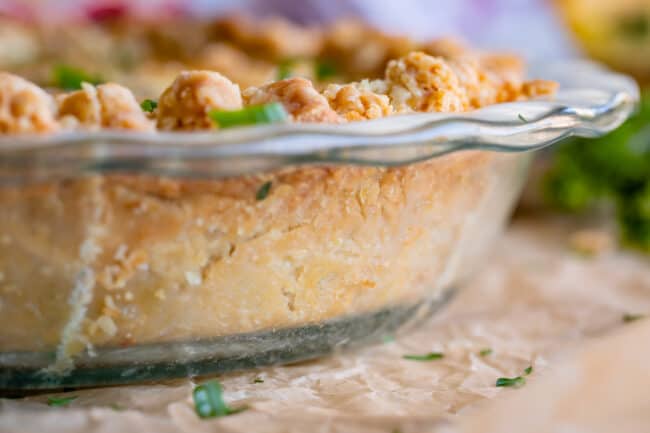 Once your pie crust is in the freezer chilling out, it's time to make the filling!


We're starting out with God's greatest gift to the breakfast kingdom, bacon. And why chop when you can snip? Does anyone else use scissors for this or am I just a freak? Set your bacon aside onto some paper towels, and drain off most of the bacon grease. Leave a little in the pan so that we can saute our spinach in it.


You're going to need about 2 cups of packed fresh spinach, make sure you punch it down in there! You need 2 cups because it's going to cook down a ton when you wilt it. Spinach is mostly water, and we need to cook some of it off before adding it to our quiche. Say yes to flavor and vitamins, say no to watery quiche.
Can you use frozen spinach?
Absolutely! Just make sure you thaw it out and drain it. This means you have to pick it up and squeeze the water out once it's thawed. I have vivid childhood memories of my mom squeezing vomitous masses of spinach into the sink for her quiches. Apparently, I haven't gotten over it?? You can decide what sounds easier: wilting fresh spinach in a bit of bacon grease, or squeezing out frozen spinach.
Once the spinach is wilted, set it aside and get to work on your cheese.


For today's quiche, I used shredded Gruyere, Cheddar, and Swiss. You can use literally any combination of cheese that you like. Sky is the limit here. Mozzarella, Colby, Monterey Jack, Pepper Jack, Gouda, Goat cheese, Fontina…pretty much anything that melts well is going to be a winner for your quiche.


Why am I making you separate 2 of the eggs? It's because I love you. Adding extra egg yolks and leaving out those whites makes the quiche extra creamy and custard like. See? If custard isn't love, I don't know what is.
The amount of eggs and dairy called for in this recipe is for a DEEP pie dish. I like having a thick and tall quiche. See notes for a scaled down recipe if you don't have a deep pie pan (2 inches deep). You can see from the photos that I shot two different quiches. In the deep crust version, the egg filling goes right to the top of the edge of the pie crust, and that's what most of the pictures show. Scroll down to the last quiche photo before the recipe, and you can see the scaled down version of this quiche, that has more crust exposed.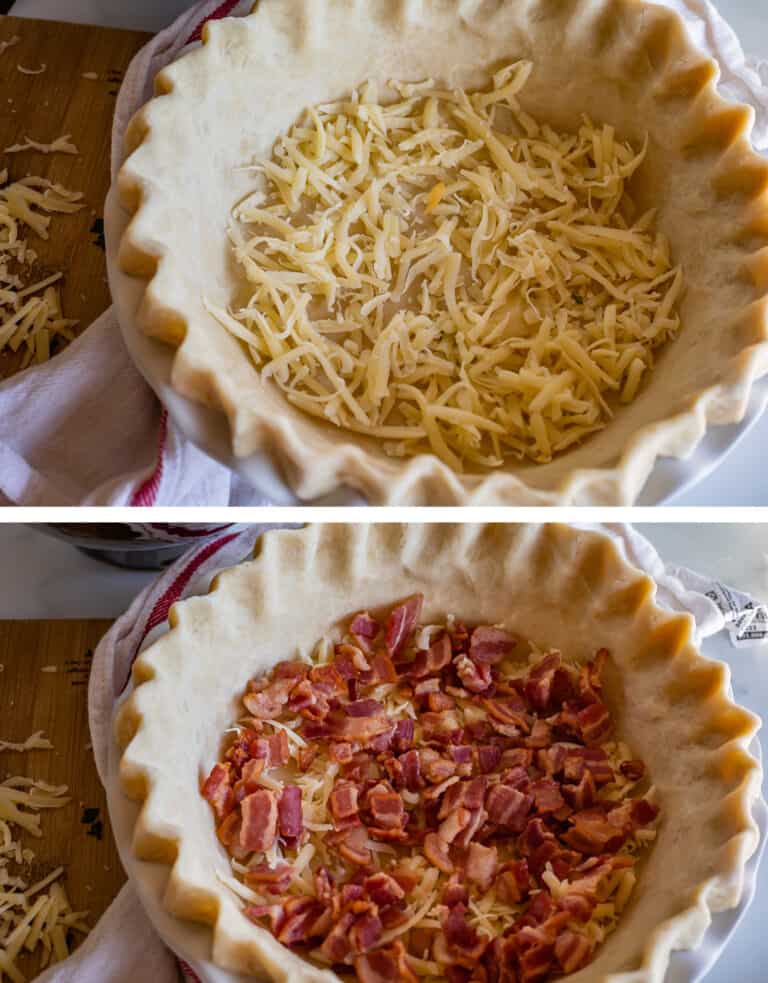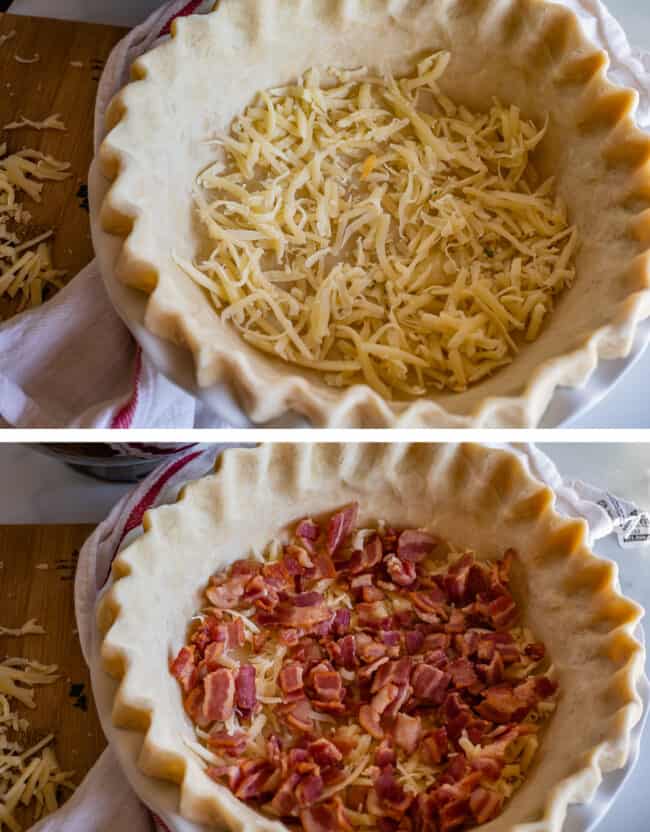 Okay now it's time to assemble! First up, a layer of cheese, I did Swiss first. Then pile on all your bacon.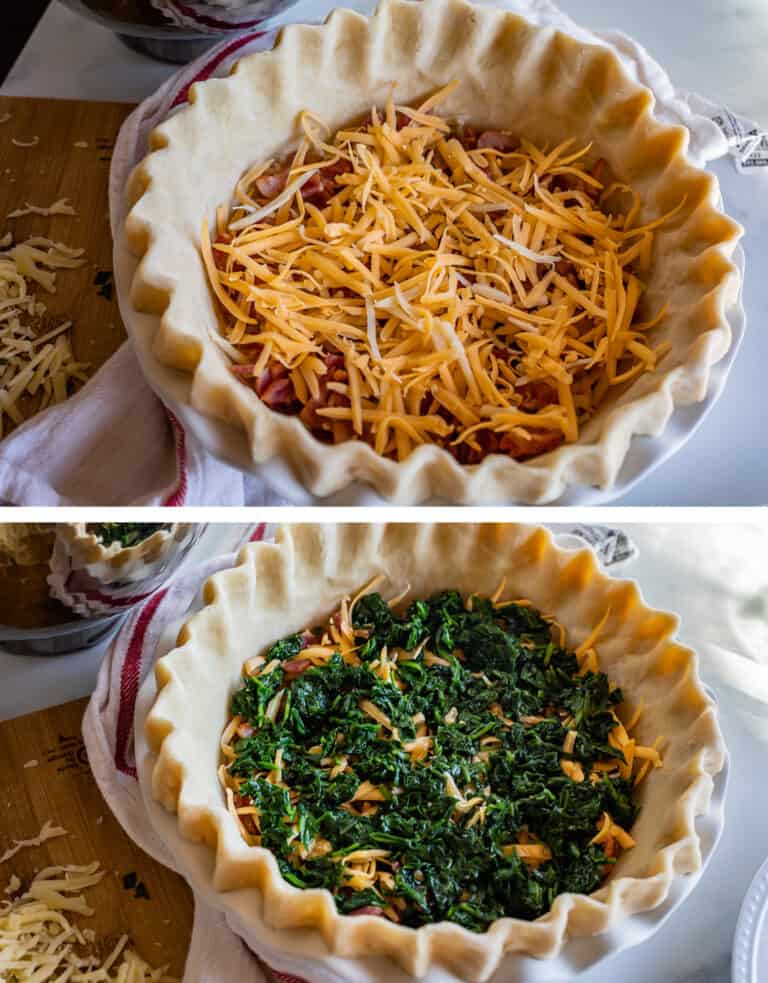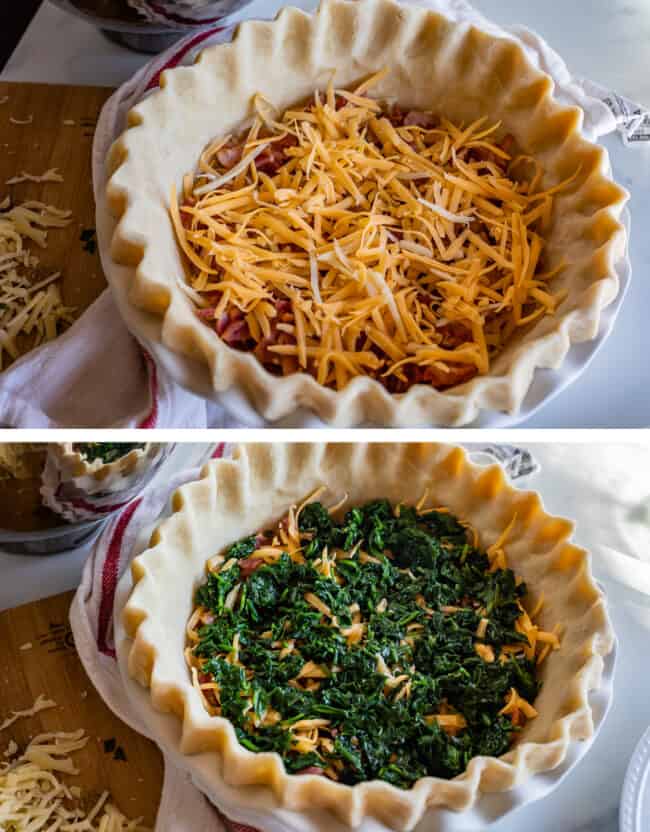 Top with a layer of cheddar and then all the spinach. Make sure you drain out any liquid that might have settled from the spinach. Say no to spinach juice.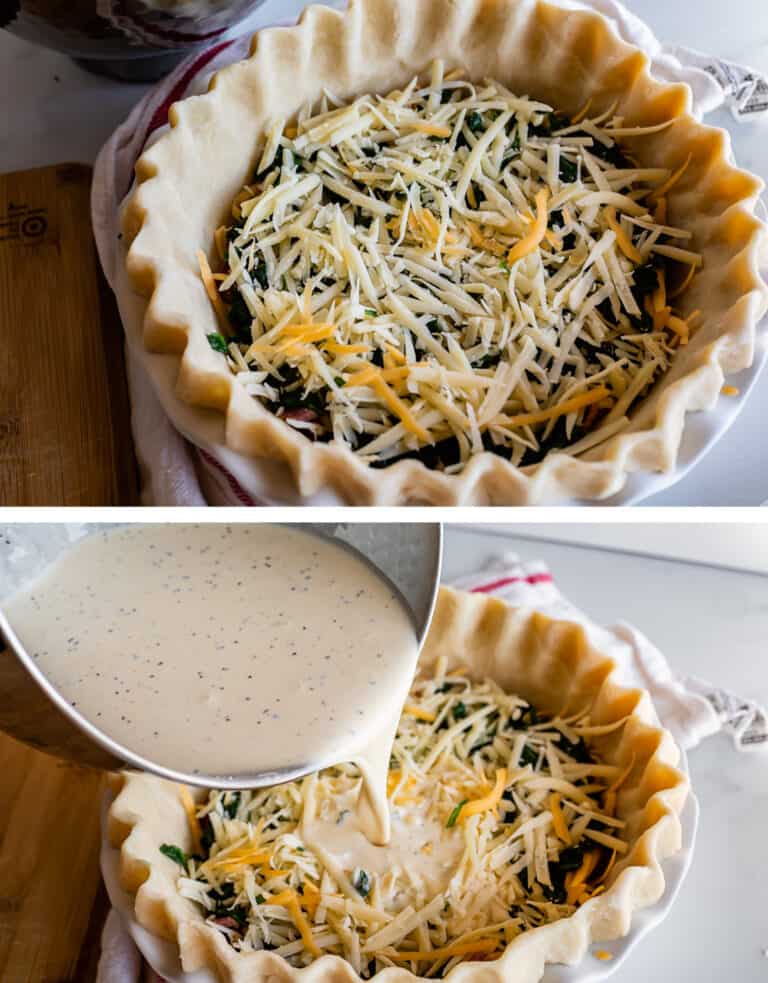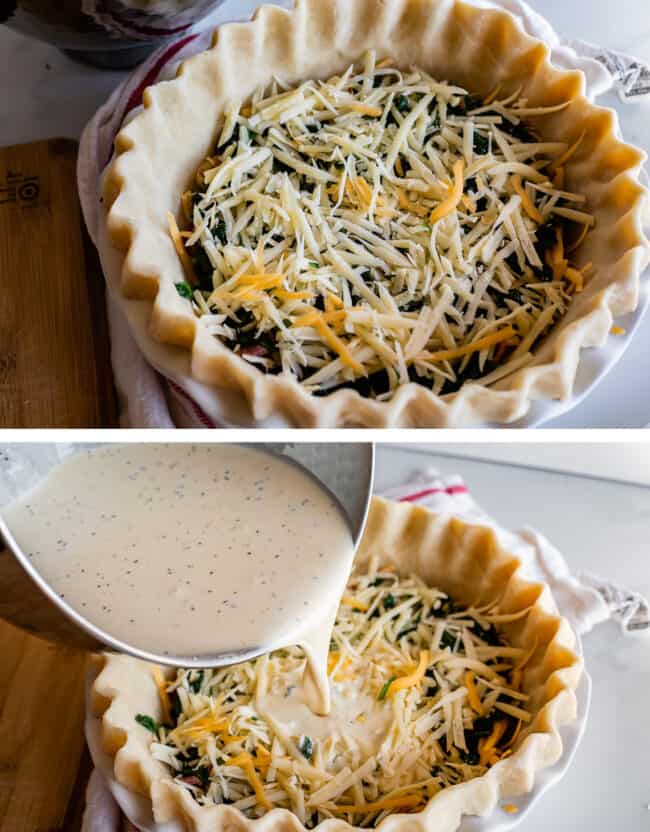 Once you've added all your desired fillings, top it off with your last bit of cheese (in this case Gruyere), and then the fun part, dump the cream and egg filling over the top. See how thick and creamy it is? YUM.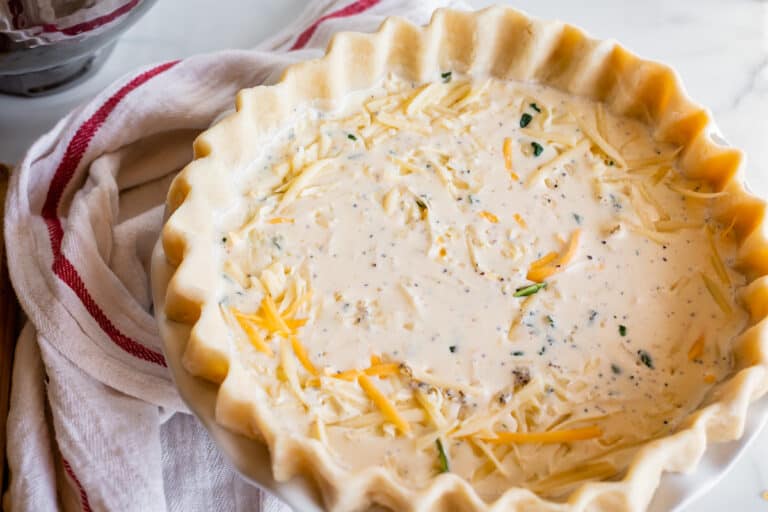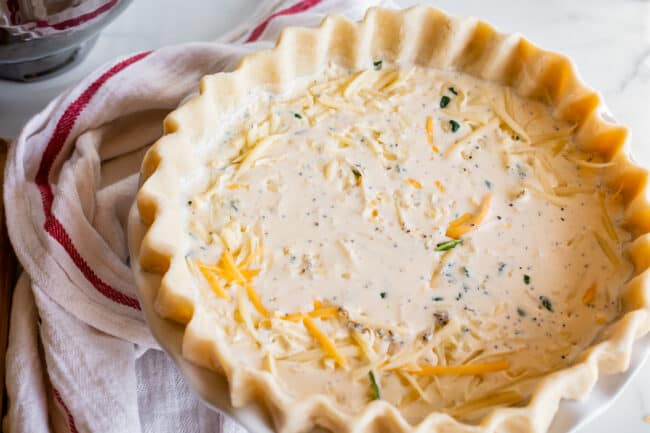 And there she is all ready for the oven!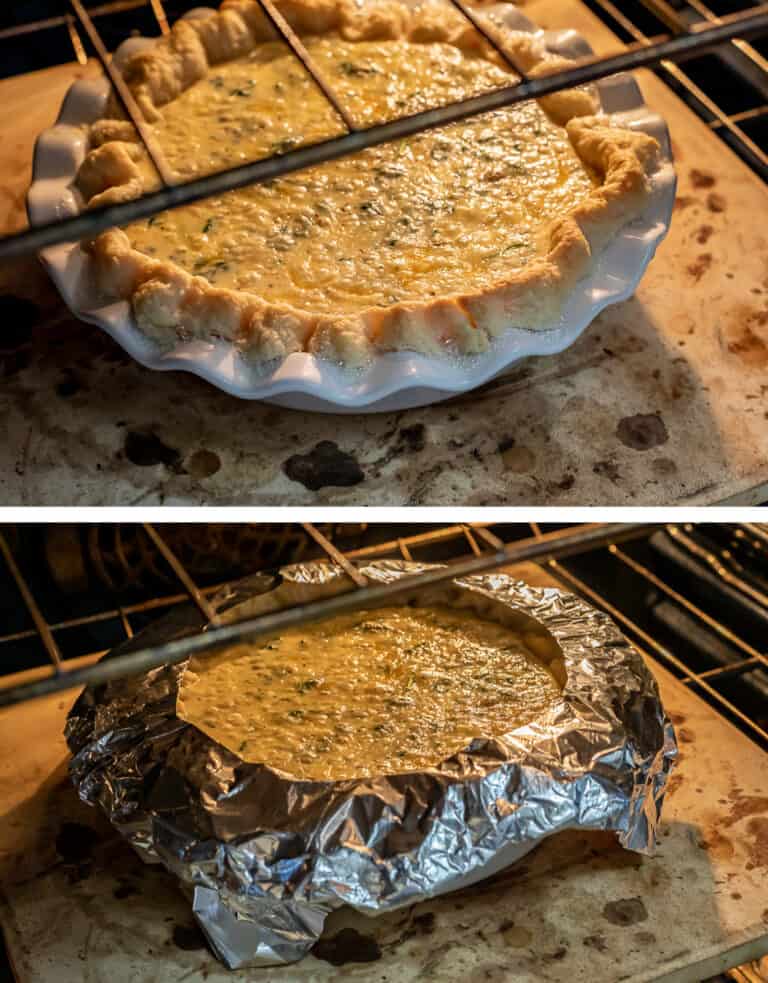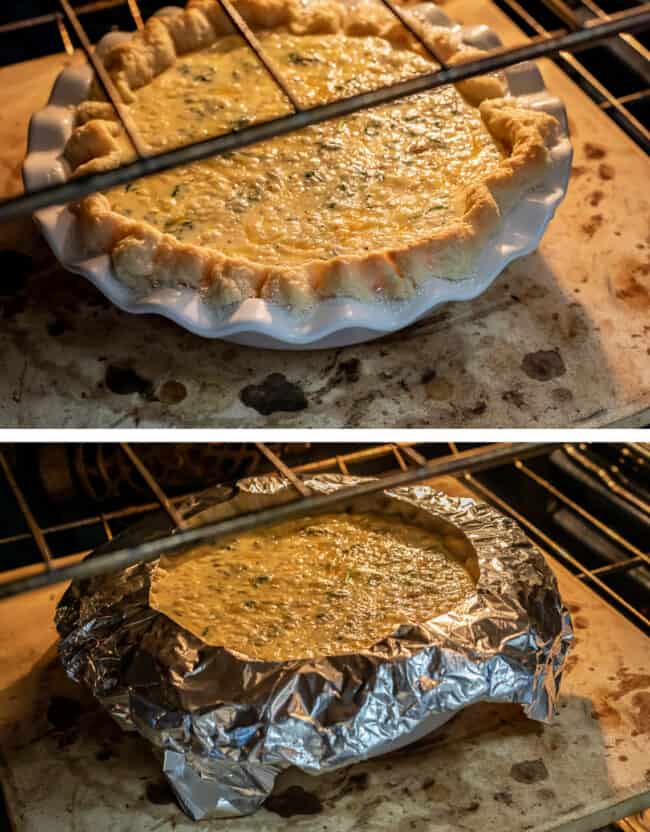 About 15 minutes into the bake time, you're going to want to cover the edges of the crust with foil. You can see in that first photo that the crust is lightly browned (and bubbling away, from all the butter). We still have a good 40 minutes to bake, and we don't want our crust to burn.
I've tried the fancy pie crust covers that you can buy, but I always go back to foil. It's light enough that it won't crush or push down on your crust, and it's cheap and easy to make. Plus it makes your pie look like it's going to outer space. I mean right??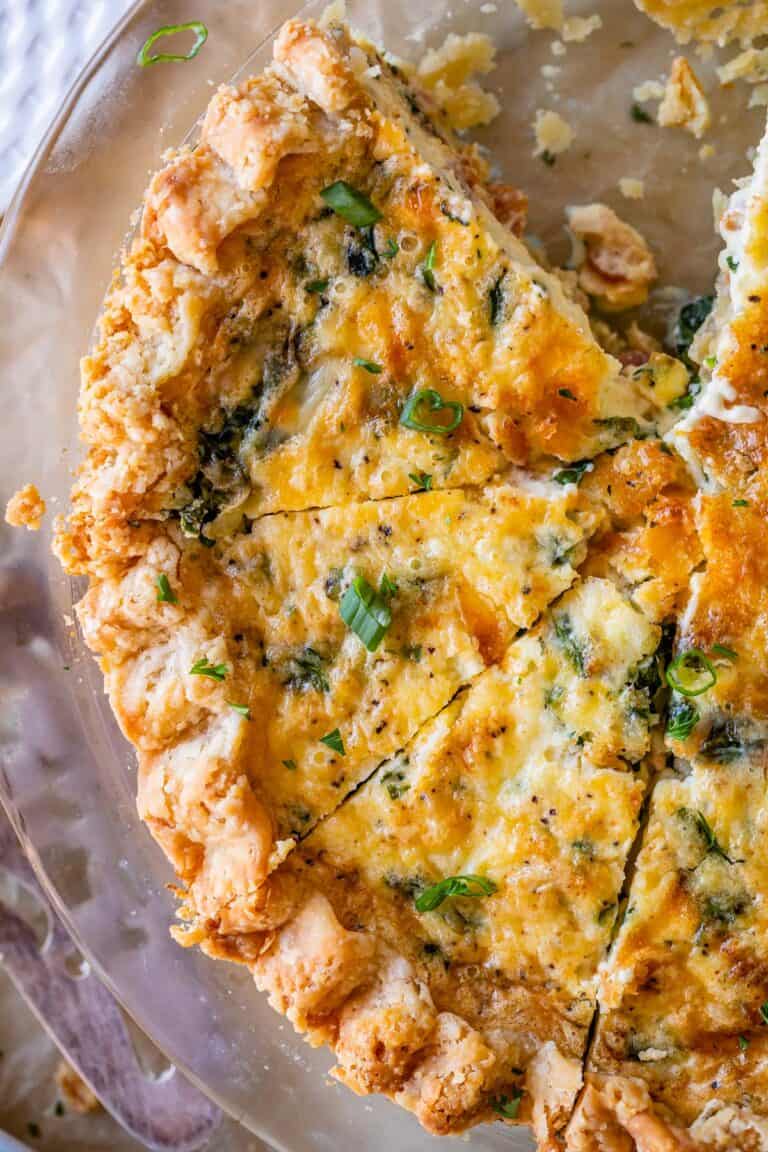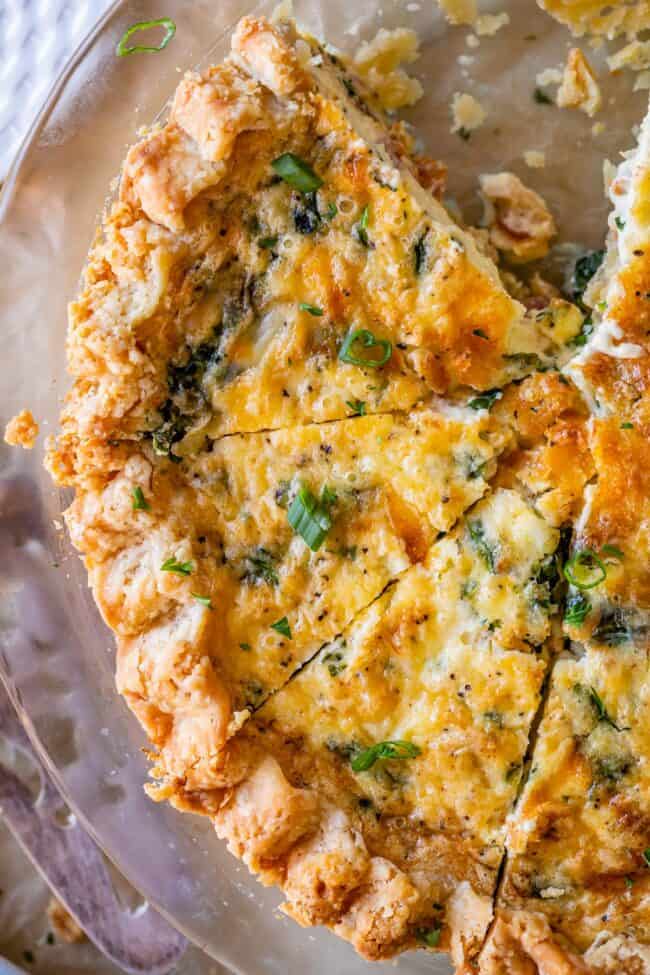 How long to cook quiche
It's important to bake at a higher temperature for the first few minutes to brown the crust and make it super flaky. But we don't want to burn the crust and overcook the filling (say no to rubbery eggs), so after a 15 minute blast at high heat, lower the temperature and cook for another 35-45 minutes until it's golden brown on top. The center should still be slightly wobbly. Not too sloshy, not too stiff. We're looking for that perfect soft-set custard to get the best creamy texture.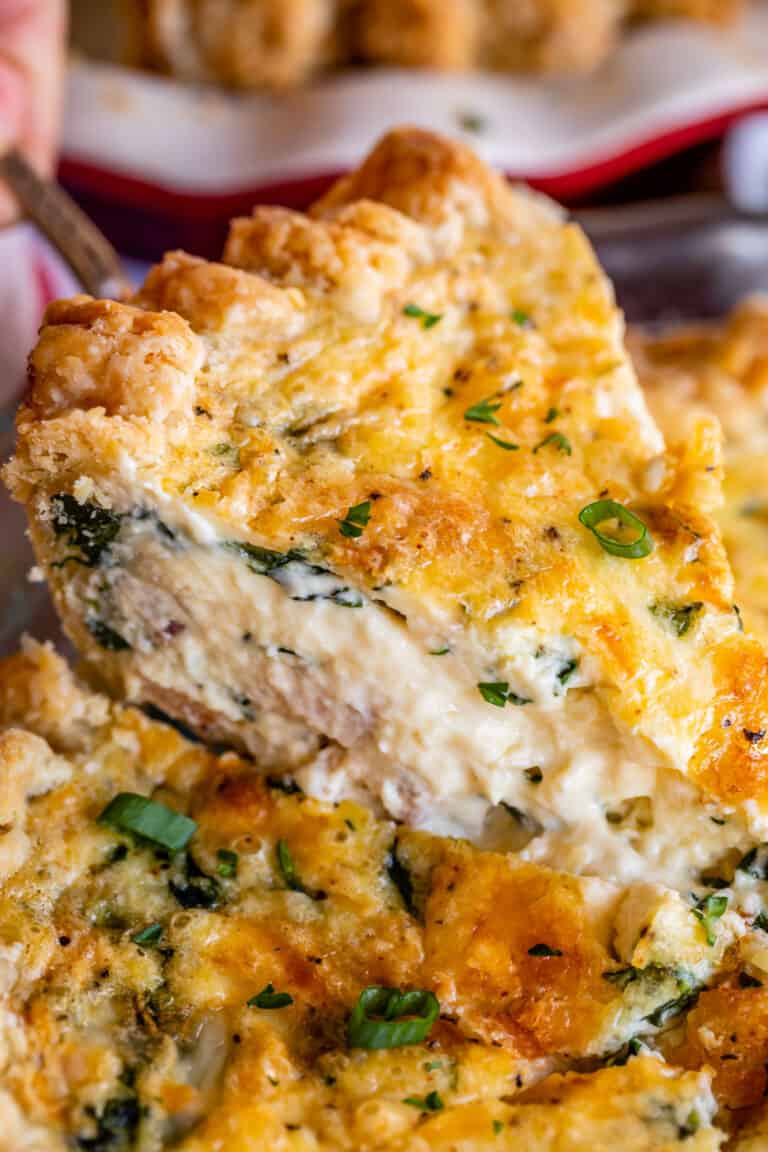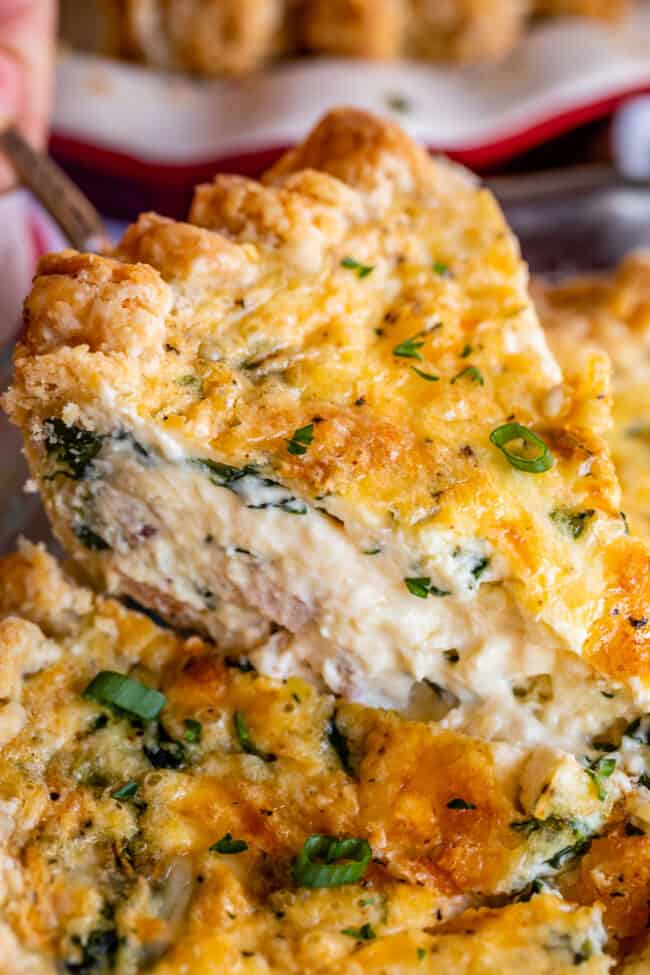 What to serve with this Spinach Quiche Recipe
Quiche is a very hearty and rich meal (okay fine, you can slash what I said up there about it being healthy ;)
Because of this, I like to serve it with lighter sides. A simple green salad with your favorite dressing is perfect. Try this Raspberry Avocado Salad or this Green Salad with Feta and Beets. If you're looking for a different kind of salad, Cilantro Lime Cucumber Salad or even Strawberry Cucumber Salad with Honey Balsamic Vinaigrette would be amazing! Pineapple Spinach Salad is a personal favorite that would be great as well. Doesn't this just make you want to have Easter breakfast right this second? Yum.
An assorted fruit tray or fruit salad would also make a nice, light side. For something a touch more fancy, you can never go wrong with Ambrosia Salad or Creamy Pear Jello!
If you're looking for something more hearty, you could make some quick and easy Tomato Soup, or try out some easy Roasted Red Potatoes. Check out all my Side Dishes for more veggie ideas!
How to store Breakfast Quiche
Can you freeze quiche?
Absolutely! Wait until the quiche is completely cooled, then wrap well in a few layers of plastic wrap and then foil. Even better if you can fit the entire dish into a 2 gallon freezer bag, I love those things.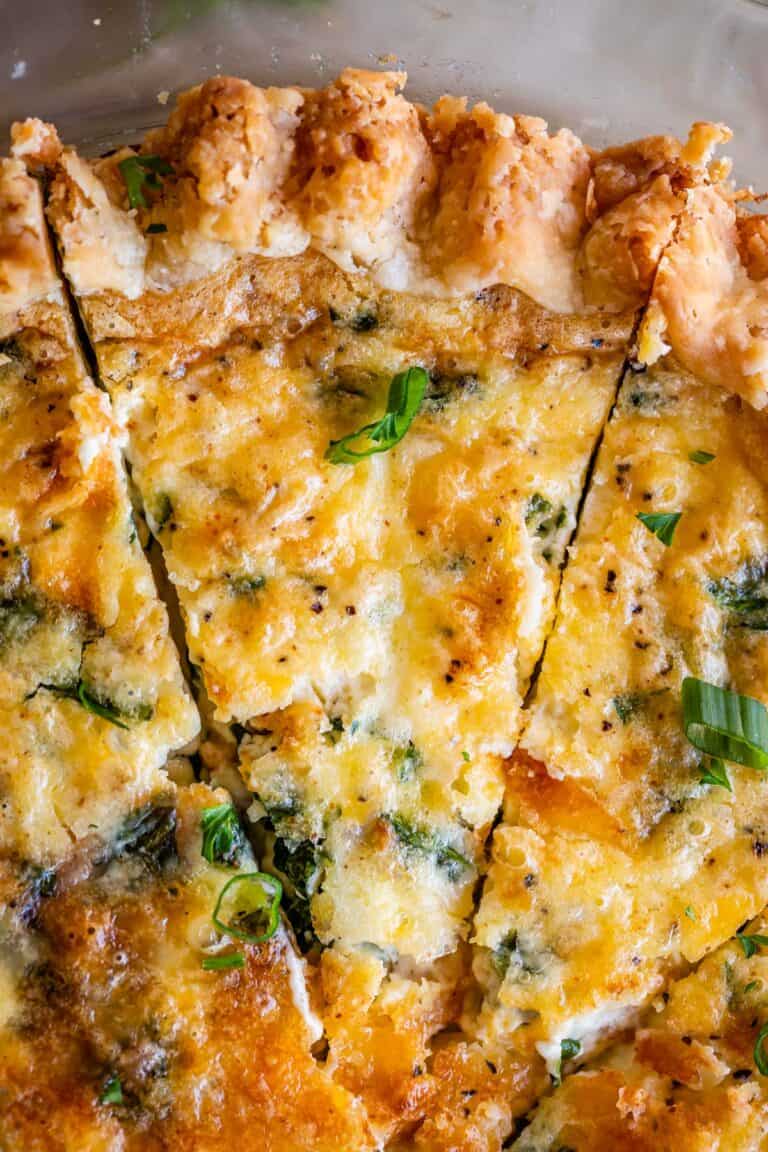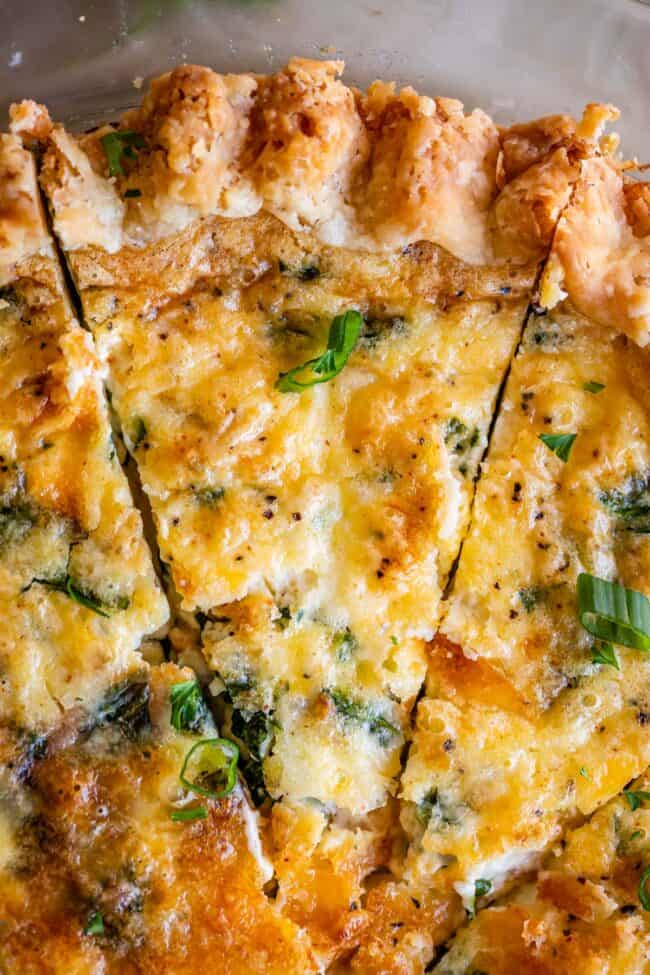 Quiche will last in the freezer for about 2-3 months. To reheat, take the dish out of the freezer, remove the foil, remove the plastic wrap, and then tightly put the foil back on to avoid moisture loss. Put in a 350 degree oven and bake for about 30-40 minutes until warmed through.
One thing to keep in mind with freezing quiche is the add-ins you used. The more vegetables you have, the more moisture content in your quiche, and it is possible that when you reheat the quiche it may get a bit watery. If you know ahead of time you plan to freeze, I suggest you avoid lots of vegetables and stick to the more basic cream, egg, and bacon quiche.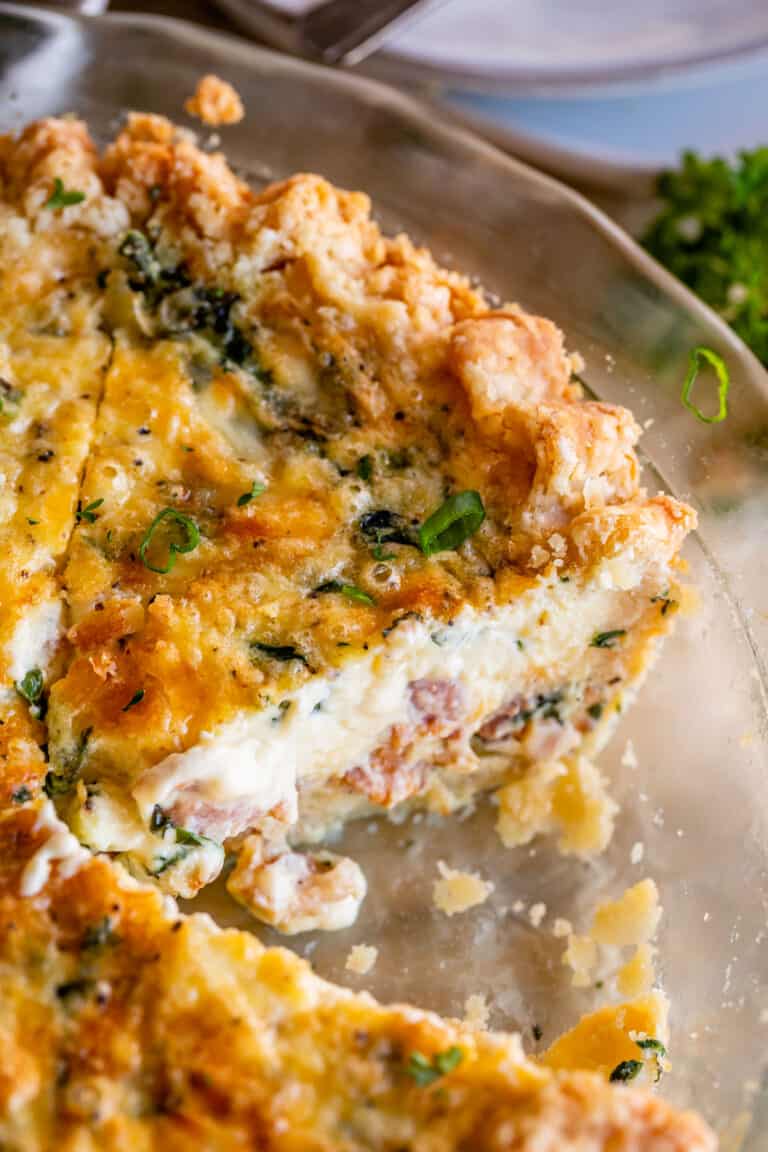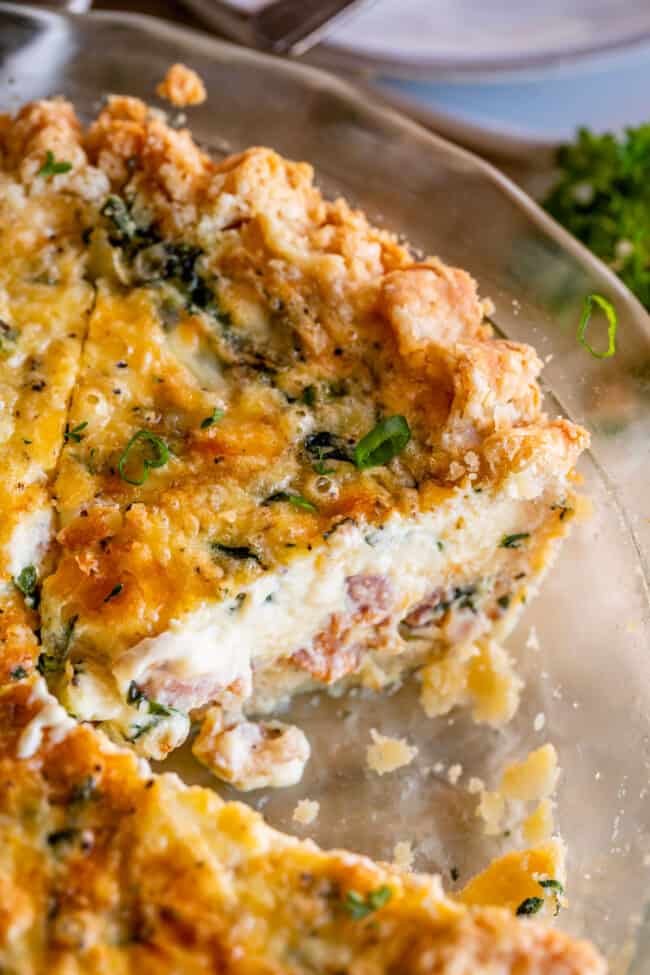 How to reheat this Bacon Quiche Recipe
The best way to reheat quiche is in the oven, especially if you're warming the entire dish. Simply pop the pan (covered tightly with foil) in the oven at 350 for 15-20 minutes or until heated through. If you want to reheat just one slice, a toaster oven works great. It should be done in about 5 minutes, but keep an eye on it so it doesn't burn.
You can reheat quiche in the microwave, but be careful not to overcook the eggs and make them rubbery. We want to keep that smooth, creamy texture. The safest bet is to start with one minute at 50% power, then keep adding 30-60 seconds at 50% power until it is warmed through to the temperature you like it.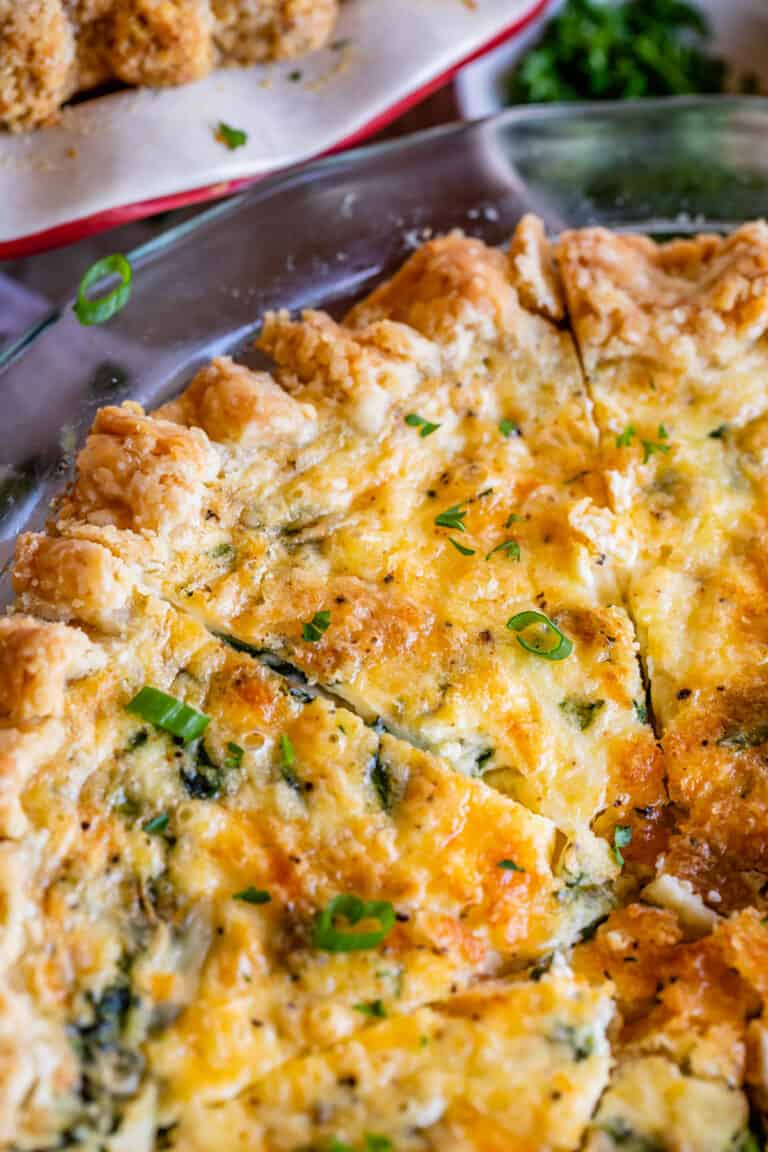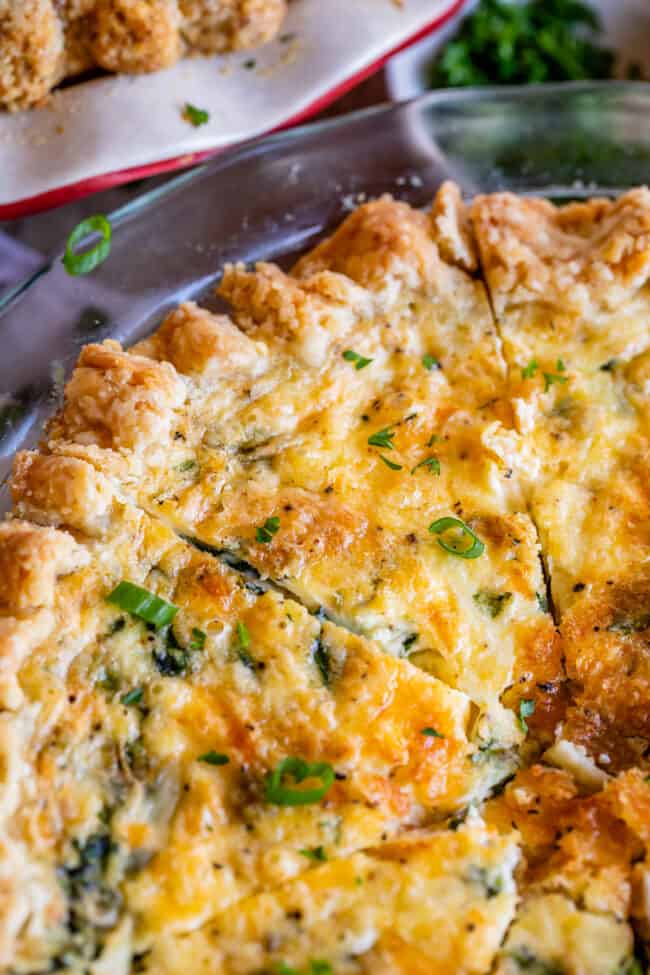 Quiche Recipe FAQs
And that's a wrap!! Happy 2022 everyone, I hope you see a dreamy creamy quiche in your near future!!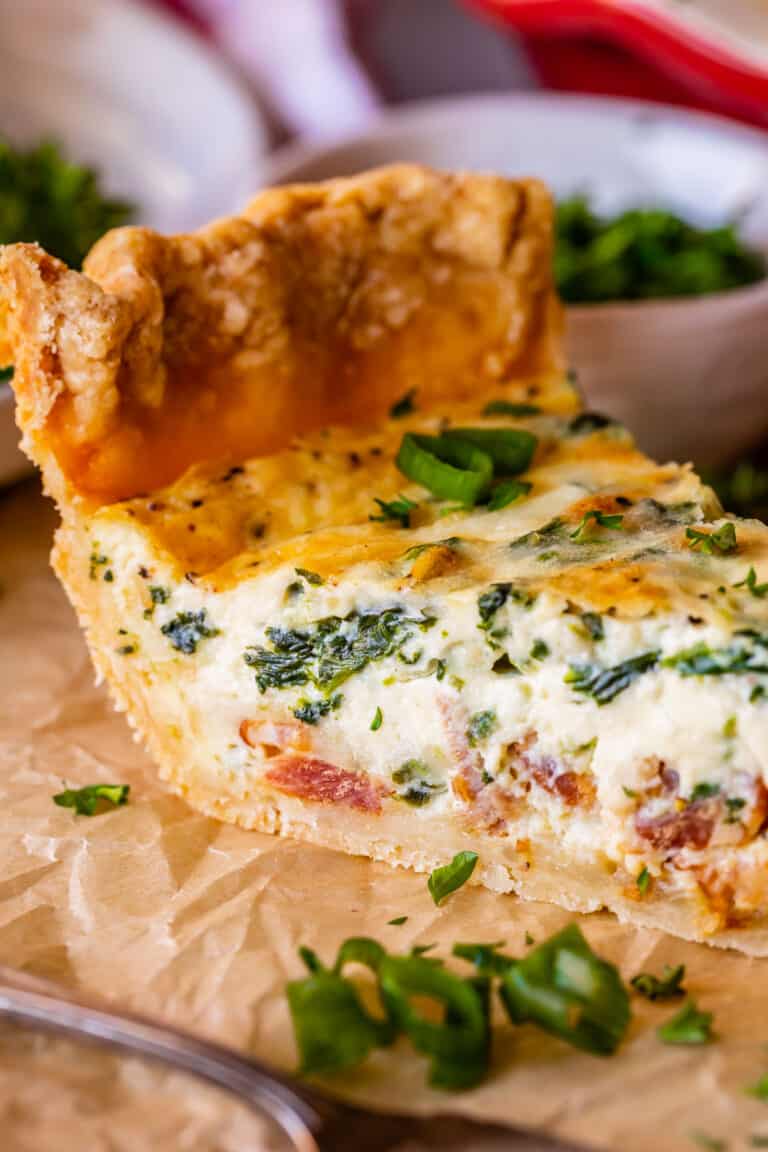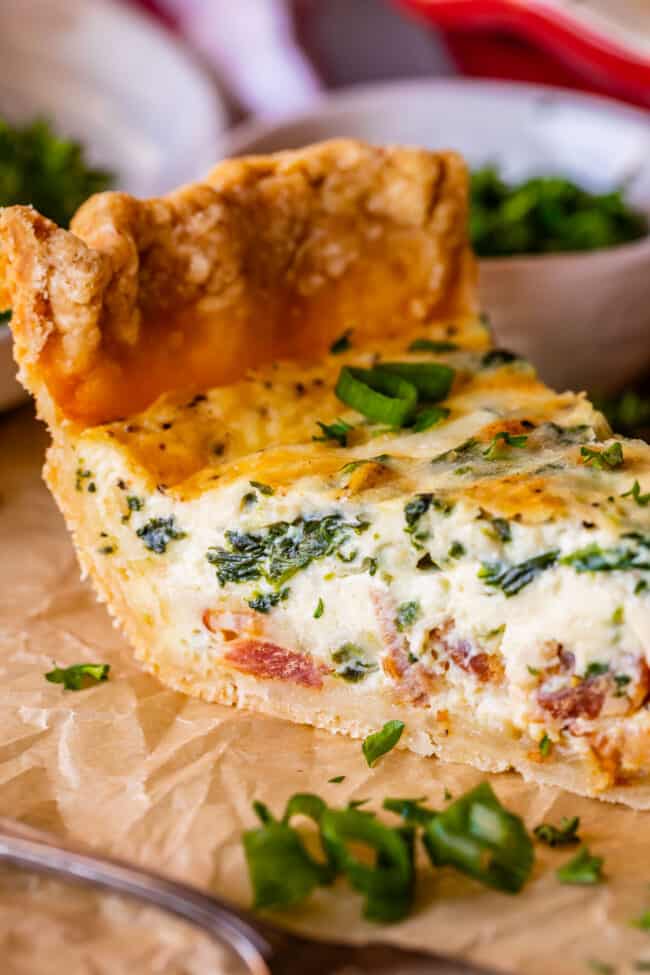 More amazing breakfast/brunch recipes to love!