These Sweet Potato and Black Bean Enchiladas are the perfect weeknight casserole for the changing fall weather! They are hearty yet vegetarian, and full of tons of flavor without being overly spicy. Your family will love it! Originally published September 25, 2017.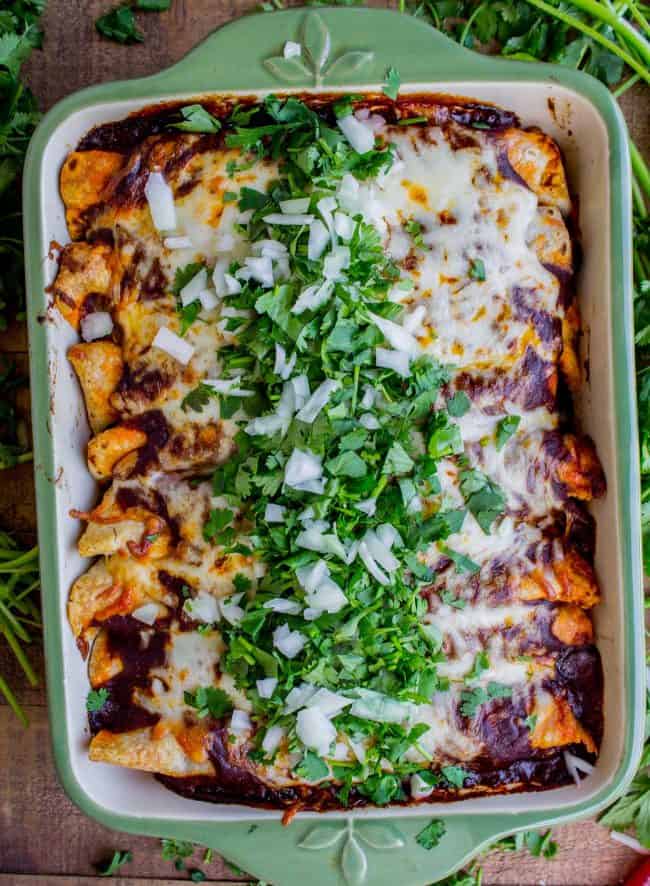 Table of Contents
Eric and I have this tradition where whenever one of us sees an incredible sunset, we text/call/holler to the other person, "Sunset alert!" That way we can both enjoy a pretty sunset, even if we're in different places. The other night we're sitting together in the living room and he calls out, Sunset alert! I'm a little confused because it's completely dark outside. Then I realize he's talking about the sunset that Link is viewing on Zelda (a video game). Are.you.kidding.me.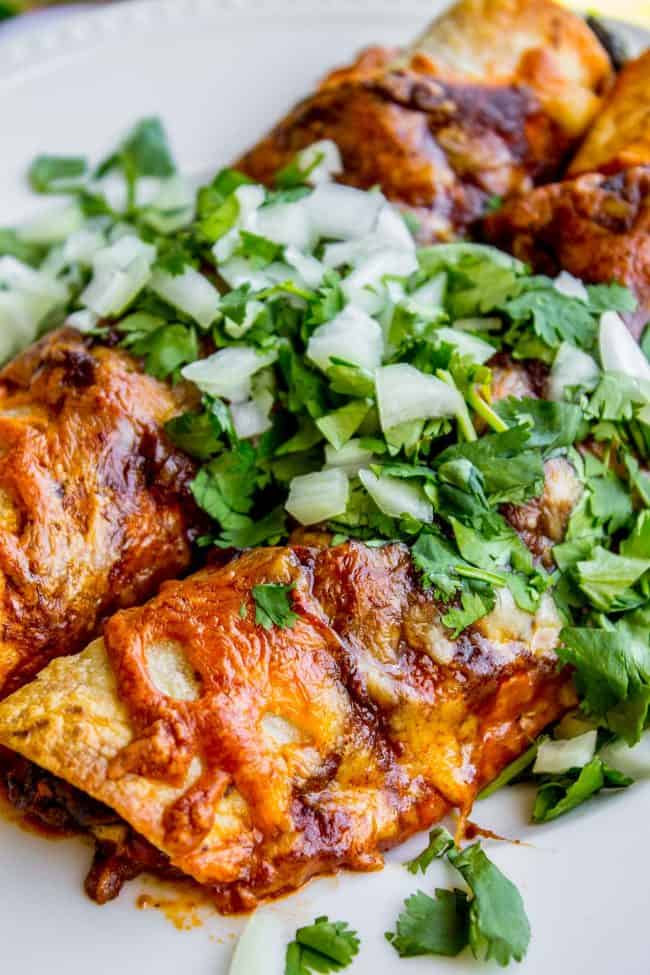 We are still in Richmond, Virginia this week visiting my brother Nathan. (The kids are at home with GG and Grandpa! Lucky kids! Lucky us!) Richmond is a SUPER cool city, have you been? Totally worth a trip.
Today we ate at this amazing restaurant called Mama J's. Best fried chicken in Richmond, according to Nathan and half the town apparently. (It was totally delicious.) Anyway they had a Candied Sweet Potatoes side dish that was supposed to be one of the best items on the menu, so we ordered it. It really was so good.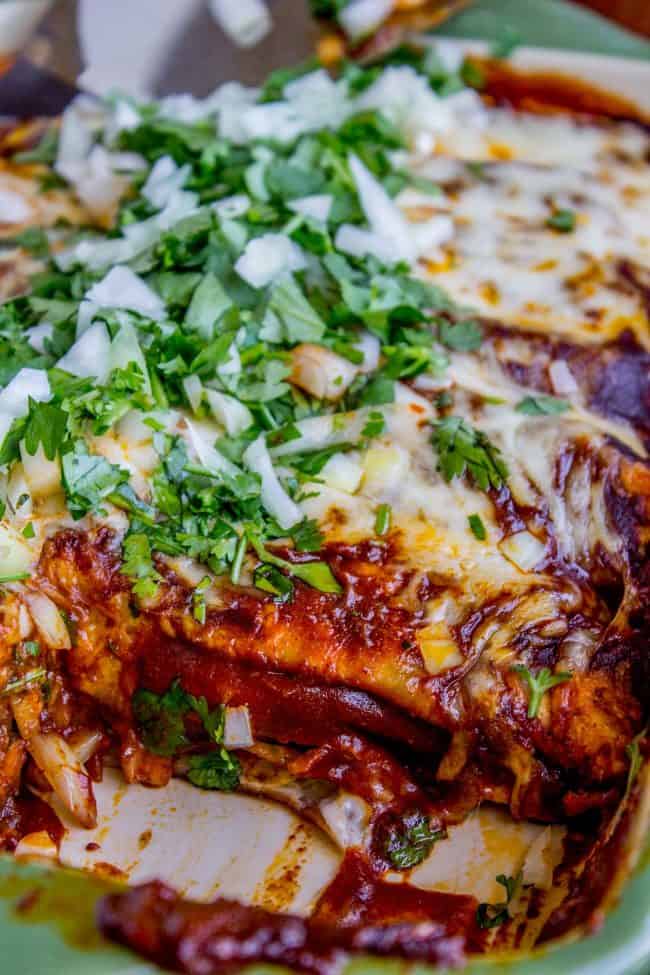 Sometimes I try to finagle recipes out of restaurant cooks. It rarely works for me. In fact, it never does. I hear about other people getting recipes from restaurants but I literally have had zero luck with it. Have you ever asked? I don't even mention the blog (I would if they gave me the recipe, just for full disclosure) but man! I guess I need to learn how to schmooze better.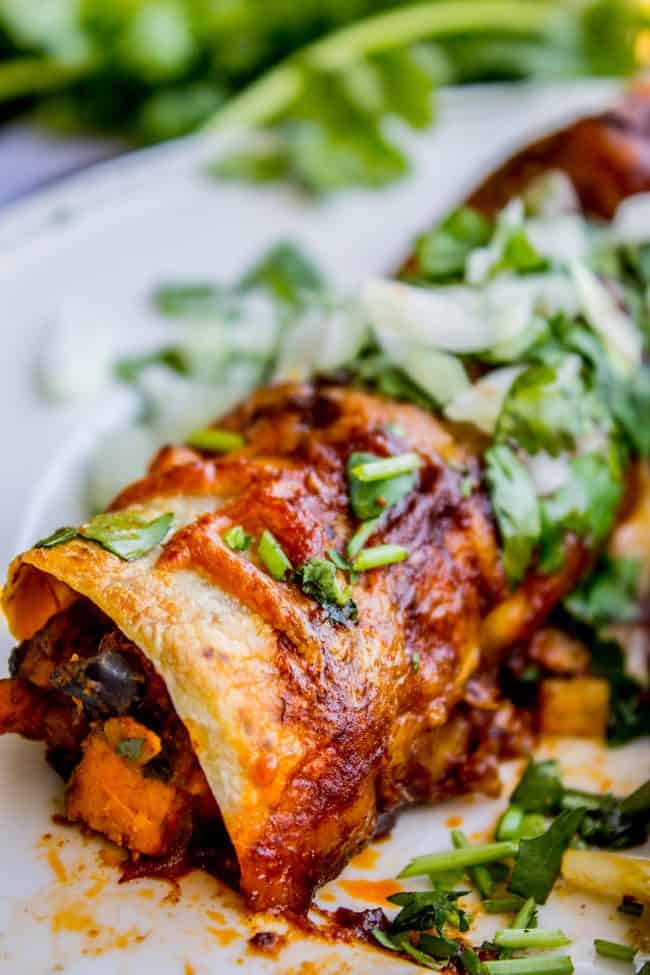 I asked the waitress about Mama J's Sweet Potatoes, and she told me that it's a secret recipe. But I took notes and am going to try to recreate it in time for Thanksgiving, because it was worth the hype. It was very simple, the sweet potatoes really had a chance to shine.
These Black Bean Enchiladas are so flavorful!
These sweet potato enchiladas are not from a restaurant, but guys they are amazing! Sweet potatoes and black beans go together like salt and pepper. I smothered them with the Killer Red Enchilada Sauce That's Done in 10 Minutes, which is a slightly smoky sauce with tons of flavor. If you are short on time, you can totally use a 28 ounce can. But if you have an extra 10 minutes, make your own sauce. It's worth it.
What's typically in an enchilada?
Enchiladas are not just one thing. There are super authentic enchilada recipes from Mexico, and there are back-of-the-McCormick-packet recipes your mom always made. Enchiladas can include fillings of meat, seafood, beans, cheese, salsa, creamy sauces, and more. Basically, when you think of an enchilada, you can think of food wrapped in a tortilla that also involves being doused in or drizzled with salsa or sauce, making it a fork food rather than an eat-with-your-hands food. That's what makes enchiladas different from tacos, burritos, and other popular Mexican, Tex-Mex, or Mexican-inspired foods.
I'm no vegetarian, but these enchiladas leave me feeling totally satisfied. I'm not going to lie, some vegetarian dishes I have (particularly in restaurants), I finish it and I'm like, okay where's the rest of my food. (Sorry, vegetarians :) But not these babies. These enchiladas are completely stuffed and hearty, and you won't miss the meat at all. It's a good option for Meatless Monday, I'm trying to do at least 1 or 2 meatless meals every week lately. It's cheaper and there are so many good options these days. (The access to produce we have is amazing, right??) Enjoy the enchiladas, let me know if you try them out!
Oh and here is the enchilada sauce that I used for this recipe! Killer Red Enchilada Sauce That's Done in 10 Minutes. 10 minutes guys. Promise.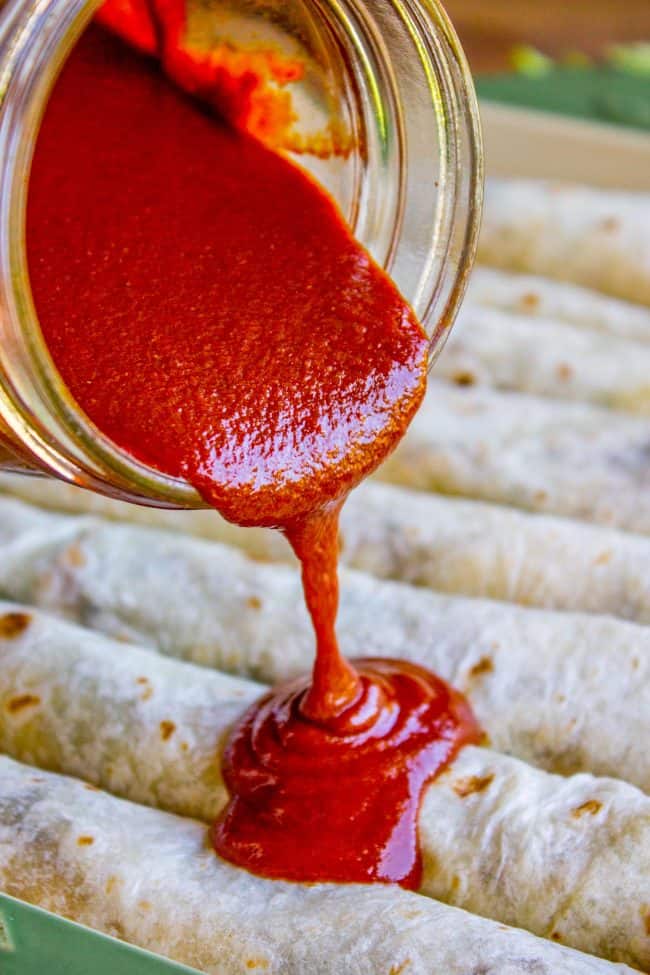 What you'll need for Sweet Potato Black Bean Enchiladas
Here's a quick shopping list to help you gather your ingredients. See the recipe card below for the full ingredients and instructions!
Olive oil
Sweet potatoes
Red bell pepper
Garlic
Onion powder
Cumin
Oregano
Black beans
Fresh spinach
Cilantro
Flour tortillas
Mozzarella cheese
White onions (to garnish)
Homemade red enchilada sauce OR 28 oz. can red enchilada sauce (the homemade sauce including butter, flour, New Mexican chili powder, chipotle chili powder, cumin, onion powder, garlic powder, cinnamon, chicken broth, and tomato sauce)
Are enchiladas better with corn or flour tortillas?
How can you choose just one?? I love both flour and corn tortillas, but in these enchiladas I like flour tortillas. If you try it with corn, come back and let us know in the comments!
What's the best cheese for enchiladas?
Again, how could you possibly choose just one favorite cheese?? (Cheese is a love language, at least for me.) I love the mild flavor and easy melt of mozzarella cheese in these sweet potato and black bean enchiladas, but you can substitute Monterey jack, pepper jack, Mexican blend, or even cheddar if you want.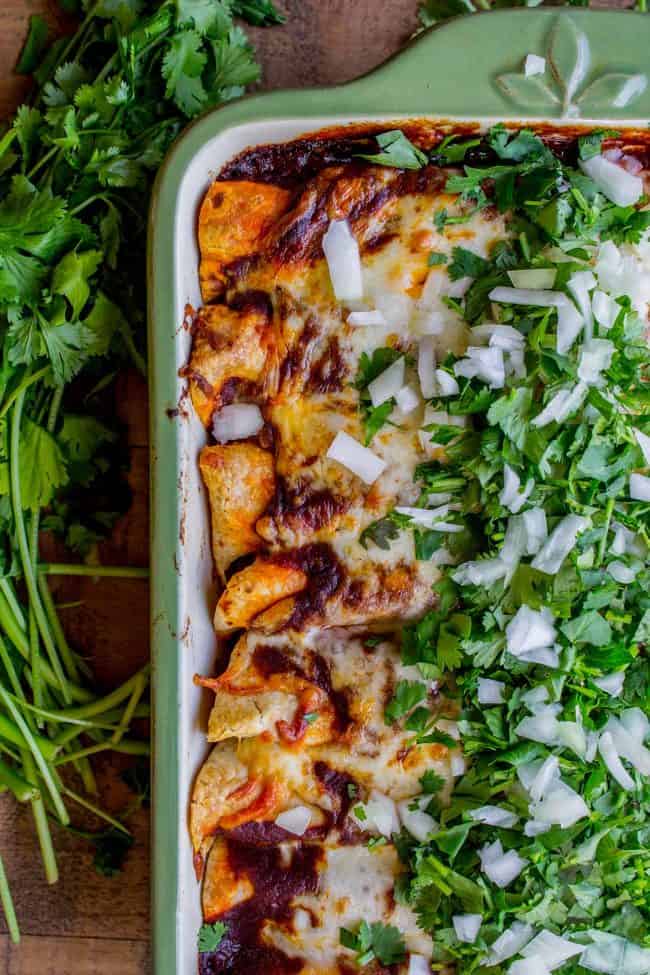 How to make this Black Bean Enchilada Recipe
Here's a quick overview of how to make these enchiladas. For complete instructions, scroll down to the recipe card below!
Heat olive oil and add chopped sweet potatoes. Cook for 10 minutes, season with salt.
Add chopped bell pepper, garlic, onion powder, cumin, and oregano and saute for another 10 minutes.
Add black beans and season with salt and pepper. Add spinach, cilantro, and 3 tablespoons of enchilada sauce.
Preheat the oven and grease your pan.
Add filling and cheese to tortillas; roll up and place in pan.
Top enchiladas with sauce and additional cheese.
Bake at 375 for 20-30 minutes; top with cilantro and onions after cooling for 5 minutes.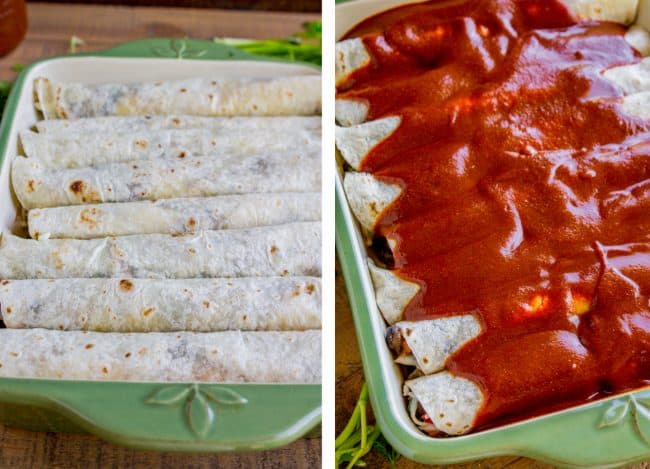 How to serve Black Bean Sweet Potato Enchiladas
These enchiladas make a great meal all by themselves! If you'd like to add a side or two, here are some of my favorites.
Tejano Beans << these tender slow cooked Tex-Mex beans are a family favorite.
Spanish Cauliflower Rice << no, it's not actual rice, but it is delicious and filling!
Mexican Cucumber Salad with Cilantro and Lime << the perfect light and fresh salad to go with hearty enchiladas.
Horchata << if you've never had this amazing sweetened rice drink you are missing out! And it's so easy to make at home.
Brazilian Limeade Recipe << are you citrus obsessed like me? This drink is frothy, tart, sweet, and kind of addictive.
How to store Sweet Potato and Black Bean Enchiladas
These enchiladas can be stored in the fridge for 2-3 days and warmed up individually whenever you want some. If you prefer, you can always cover them in foil and heat up the whole pan in oven.
If you'd like to freeze these, I recommend wrapping them tightly in plastic wrap, then tin foil, to avoid freezer burn. They'll last in the freezer for up to 3 months.
Black Bean and Sweet Potato Enchiladas FAQs
Do traditional enchiladas have beans?
Many traditional Mexican enchiladas are filled with meat, cheese, vegetables (or some combination of the above) and then served with rice and beans on the side. That's ok, we're not going for authentic Mexican food here–just an easy and healthy weeknight meal. Sweet potatoes and black beans are a great combination, I hope you love it as much as I do!
Is it OK to use flour tortillas for enchiladas?
Yes, you can use whatever tortillas you want for enchiladas. What, are the enchilada police going to stop you?? Use flour, use corn, use low-carb tortillas, make your tortillas out of cauliflower, you do you. As long as you like it, it's just great!
How do you make enchiladas not soggy on the bottom?
I like to add the enchilada sauce as a topping rather than a tortilla coating in this recipe, so your tortillas aren't soaked in sauce. This works pretty well for the non-traditional enchiladas we're making and the flour tortillas we're using. The edges can even get crispy if you add the sauce as shown in the photos above, leaving some parts of the tortillas uncovered.
Are enchiladas Spanish or Mexican?
Enchiladas are Mexican in origin, and are now enjoyed in many variations all over the world.
What is the secret to good enchiladas?
The secret to good enchiladas is delicious, fresh ingredients. Whether you're filling your enchiladas with meat, vegetables, or cheese, you need to choose high quality options. I also strongly recommend making your own homemade sauce. It only takes 10 minutes, and it's a huge improvement over canned sauce (though of course that's fine in a pinch).
Facebook | Pinterest | Instagram

Black Bean Sweet Potato Enchiladas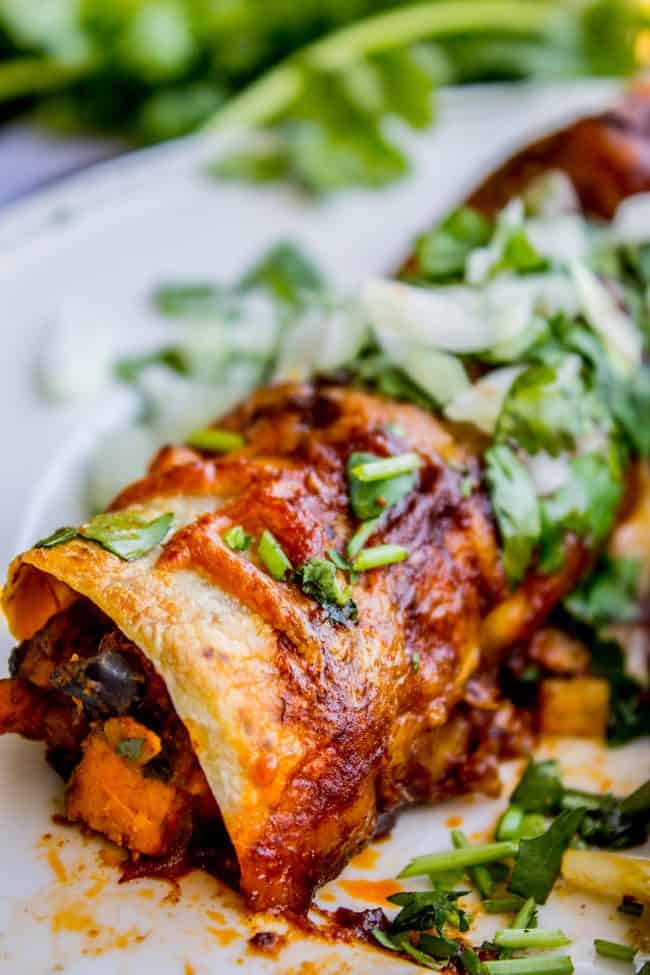 These Sweet Potato and Black Bean Enchiladas are the perfect weeknight casserole for the changing fall weather! They are hearty yet vegetarian, and full of tons of flavor without being overly spicy. Your family will love it!
Ingredients
1

tablespoon

olive oil

2

medium

sweet potatoes

,

peeled and chopped

1

teaspoon

salt

1

large

red bell pepper

2

cloves

garlic

,

minced

1/2

teaspoon

onion powder

1

teaspoon

cumin

1

teaspoon

oregano

1

can

black beans

,

don't drain it

1/2

teaspoon

pepper

1/2

teaspoon

salt

2

cups

spinach

,

chopped

1/4

cup

cilantro

,

chopped (optional)

10

flour tortillas

2-3

cups

shredded mozzarella

,

**

chopped cilantro

,

to garnish

chopped white onions

,

to garnish
Instructions
In a wide skillet, heat olive oil over medium heat.

Peel the sweet potatoes and chop them into 1/2 inch cubes. Try to make them somewhat uniform so that they cook evenly.

When the oil shimmers, add the sweet potatoes to the pan and cook for about 10 minutes, stirring occasionally. Season with 1 teaspoon salt.

Add the chopped bell pepper and garlic.

Add the onion powder, cumin, and oregano.

Saute for another 8-10 minutes, until the sweet potatoes and bell peppers are tender.

Add 1 can of black beans, undrained.

Season with 1/2 teaspoon pepper and 1/2 teaspoon salt.

Add chopped spinach. You don't have to chop it if you don't want to, I just don't like big gloops of spinach in my enchiladas.

Add 1/4 cup cilantro. Of course the cilantro is optional for all you haters out there.

Add about 3 tablespoons of the enchilada sauce. You don't have to measure it, just eyeball it. We want to keep the filling nice and moist and get some more flavor in there.

Preheat your oven to 375 degrees F. Grease a 9×13 inch pan with nonstick spray.

Add a few tablespoons of filling down the center of 1 tortilla. Top with 1-2 tablespoons shredded cheese. Roll it up tightly and place it snugly on the edge of the pan.

Continue with the rest of the tortillas. I misjudged and put 8 enchiladas in a 11×8 inch pan, so your arrangement might not look as tight as the photos. I used 10 tortillas total, (8 in 1 smaller pan). If you use a 9×13 they will fit just fine.

Top the enchiladas with the enchilada sauce. Move the tortillas around a little bit so the sauce gets in between the enchiladas. I like to leave the edges of the enchiladas sauce-free so that they get a little crispy in the oven. I'm sure that's not authentic at all, but neither are sweet potatoes and black beans in enchiladas, so I'm rolling with it.

Top the enchiladas with remaining cheese. How much you put on is really up to you!

Bake the enchiladas at 375 for about 20-30 minutes. Take them out when the cheese is melted and the sauce looks a little bubbly. The edges of the tortillas will crisp up if you leave them in closer to 30 minutes. Keep an eye on it and take it out when it looks good to you!

Let the enchiladas cool down for about 5 minutes, then sprinkle a copious amount of cilantro (copious! Copious I say!) and white onions down the middle. Don't skip this step unless you are a true cilantro hater! That fresh garnish really does make a huge difference.
Notes
*The recipe that I just posted for homemade red enchilada sauce makes about 2 and 3/4 cup sauce, which is 22 ounces. A large can of enchilada sauce is usually about 28 ounces. So 1 (28 ounce) can will work great. You can leave out some of the canned sauce if it looks excessive. NOTE for vegetarians: swap out the chicken broth called for in the sauce for vegetable broth!
**You can also use Monterey Jack or a Mexican blend.
Nutrition
Serving:
1
enchilada
|
Calories:
417
kcal
|
Carbohydrates:
60
g
|
Protein:
17
g
|
Fat:
12
g
|
Saturated Fat:
5
g
|
Polyunsaturated Fat:
1
g
|
Monounsaturated Fat:
5
g
|
Cholesterol:
22
mg
|
Sodium:
1914
mg
|
Potassium:
514
mg
|
Fiber:
8
g
|
Sugar:
13
g
|
Vitamin A:
10256
IU
|
Vitamin C:
32
mg
|
Calcium:
247
mg
|
Iron:
4
mg