Old Fashioned Lasagna
I went rock climbing with my brother Nathan a few days ago. This is the same guy who recently completed an Ironman, so needless to say he was not impressed with my upper body strength (or lack thereof). It was really fun, although I am still suffering the consequences. When I got home that night I picked up Charlotte to say hello and nearly dropped her. This after a strenuous hour or two in which I could not even climb the routes marked at a level "zero" for intensity.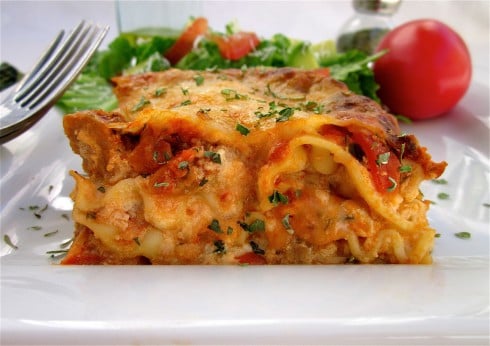 Perhaps the worst part of rock climbing is when you get to the top and finally look down. I'm really good at not looking down before then, mostly because I think it would be embarrassing to wet my pants 30 feet in the air, raining down on my unsuspecting belayer.
Whoever was in charge of playing the background music that night at the quarry must have been feeling particularly vindictive toward all the newbies who were afraid of falling. At the beginning of one of my first climbs I heard in the background "Let the bodies hit the floor! Let the bodies hit the floor!" Yes, that horrid horrid song that we all wish we didn't know. It didn't exactly inspire confidence in my ability to not fall to my death.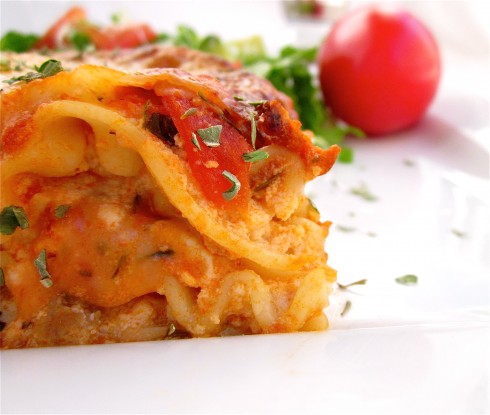 Lasagna! Yum. You can't beat the homemade version. My mom was a fan of Stouffer's growing up, so I felt pretty neutral about lasagna until recently. My sister married into an Italian family, and her husband was always talking about the lasagna his family makes. Everyone was so excited to try it when they came to visit. But they happened to make it on the same day that I had braces put on my teeth, so I could eat any. (although they did offer to blend some for me. Sick.) I was so mad! I don't know if this lasagna recipe is anything like theirs, but I think it's delicious. Nothing out of the ordinary, just regular old fashioned lasagna.
Old Fashioned Lasagna

Source: Better Home and Gardens Cookbook
12 ounces bulk Italian sausage*
1 cup chopped onion (1 large)
2 cloves garlic, minced
1 14.5-ounce can diced tomatoes, undrained
1 8-ounce can tomato sauce
1 tablespoon dried Italian seasoning, crushed
1 teaspoon fennel seeds, crushed (optional)
1/4 teaspoon black pepper
6 dried lasagna noodles
1 egg, beaten
1 15-ounce container ricotta cheese
1/4 cup grated Parmesan cheese
1 1/2 cups (6 ounces) shredded mozzarella cheese
more grated Parmesan (for the top)
For sauce, in a large saucepan cook sausage and onion until meat is browned; drain off fat. Add garlic and cook for 30 seconds. Stir undrained tomatoes, tomato sauce, Italian seasoning, fennel seeds (if desired), and 1/4 teaspoon black pepper into meat mixture. Bring to a boil; reduce heat. Simmer, covered, for 15 minutes, stirring occasionally.
Meanwhile, cook lasagna noodles according to package directions. You will need a wide or deep pot for this. Drain noodles; rinse with cold water to stop them from cooking more. Drain well and set aside.
For filling, combine egg, ricotta, and the 1/4 cup Parmesan; set aside.
Spread about 1/2 cup of sauce over the bottom of a 2-quart rectangular baking dish. Layer half of the cooked noodles in the dish, trimming or overlapping as necessary to fit. Spread with half of the ricotta filling. Top with half of the remaining sauce and half of the mozzarella cheese. Repeat layers (noodles, filling, sauce, cheese). Sprinkle additional Parmesan cheese over the top.
Place baking dish on a baking sheet if you think it is full enough that it might overflow. Bake at 375˚ for 30 to 35 minutes or until heated through. Let stand for 10 minutes before serving.
This is a good make-ahead dish. Just refrigerate after assembly. When you want it, bake covered for 40 minutes. Uncover and bake another 20 minutes.
*I usually use 16 ounces. If you do this, increase the tomato sauce to about 12 ounces (1 1/2 8-ounce cans).
We are a participant in the Amazon Services LLC Associates Program, an affiliate advertising program designed to provide a means for us to earn fees by linking to Amazon.com and affiliated sites.