The Best Cobb Salad Recipe will never let you down! This salad is absolutely LOADED with treasure ingredients (you know, the ones you're always hunting for) like chicken, bacon, hard boiled eggs, and cheese. Plus 2 dressing recipes to try! Originally published June 2, 2021.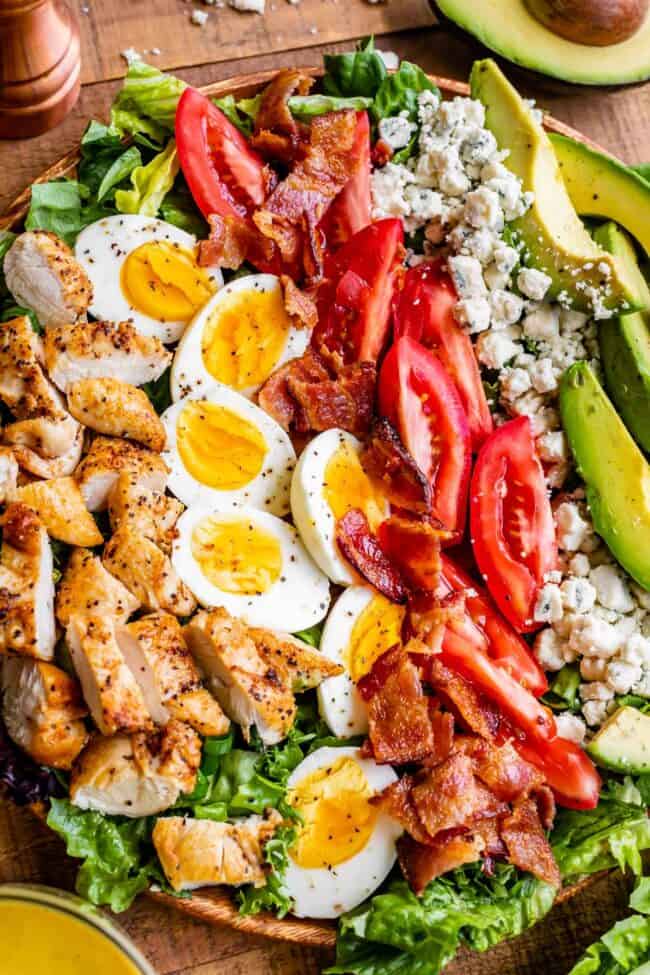 Table of Contents
I have been eating salad nonstop lately! I don't know if it's just summertime or what. Maybe it's the inevitable entrance into my mid-30s. My body is trying to help me out by making me crave healthier things, so that I don't die young. Thanks, body. Way to self-preserve. You knew I ate way too much Peach Cobbler last week.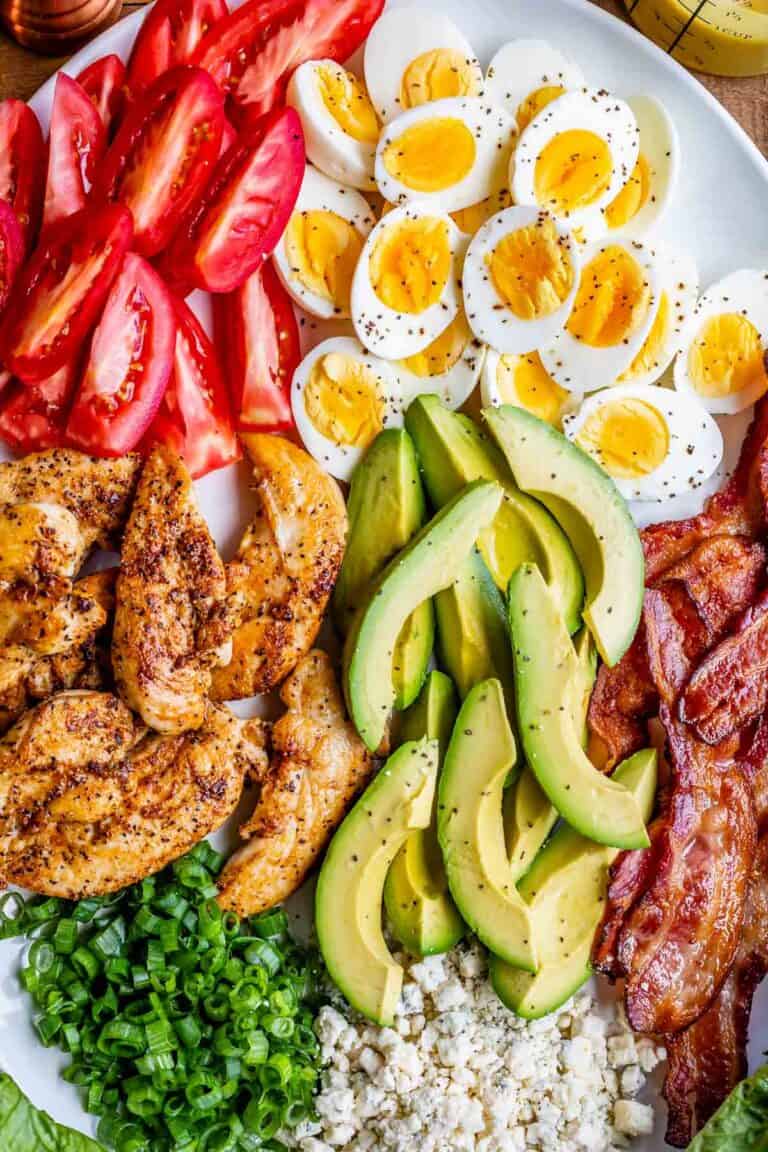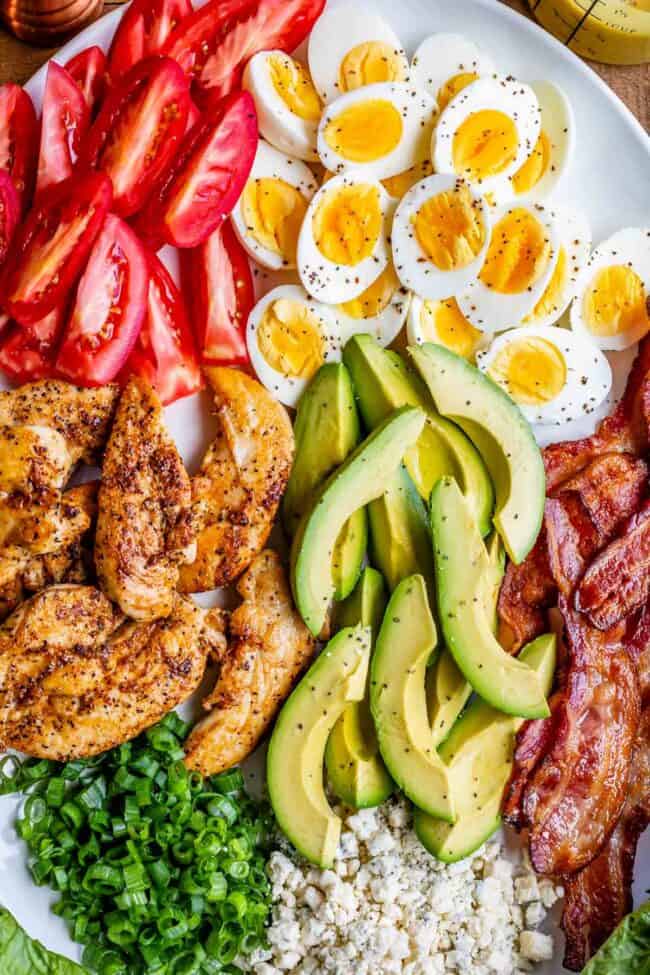 How about that summertime comin' at us though, right? Are you feeling it? We're feelin' it. 106 degrees on Memorial Day, feelin' it. Gah! Give us a break, Sacramento! My parents just got back from a trip to Minnesota, where they canoed the boundary waters (which is now on my bucket list btw, have you done it? Pictures look gorgeous!) Anyway they said it was still pretty chilly there. Sometimes I forget that the rest of the country has actual, like, seasons. I've been wearing shorts for months. Don't hate me.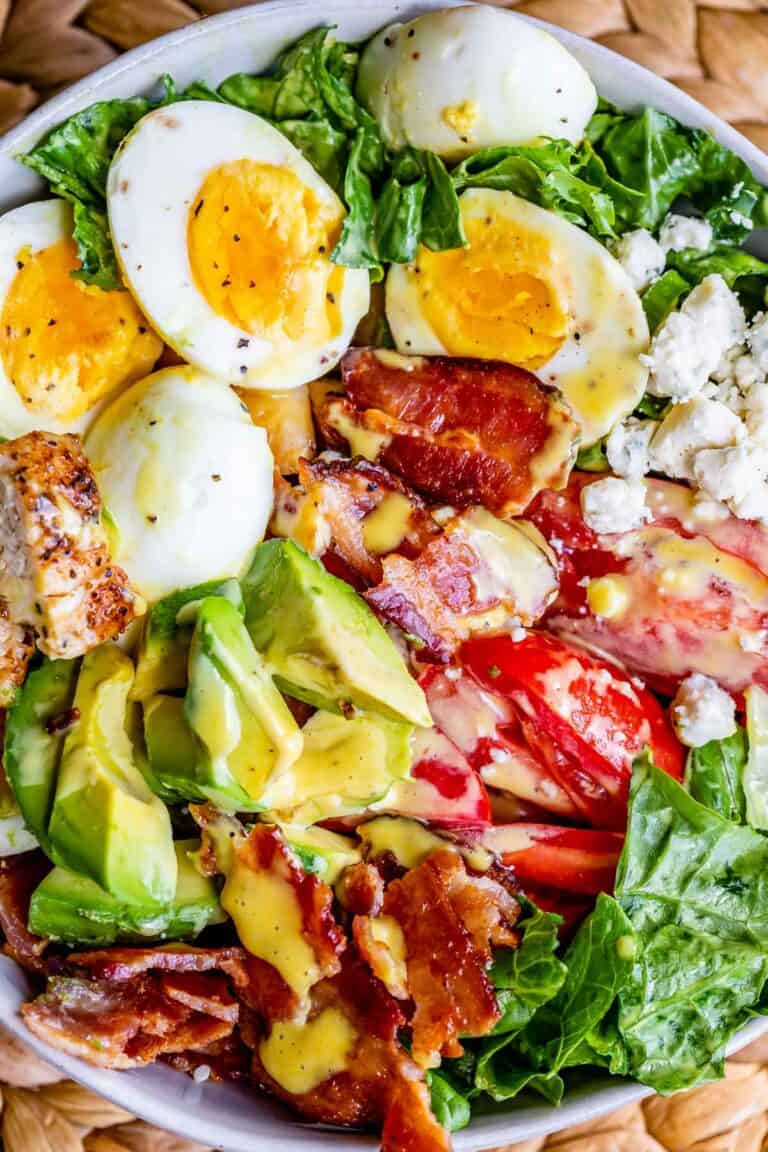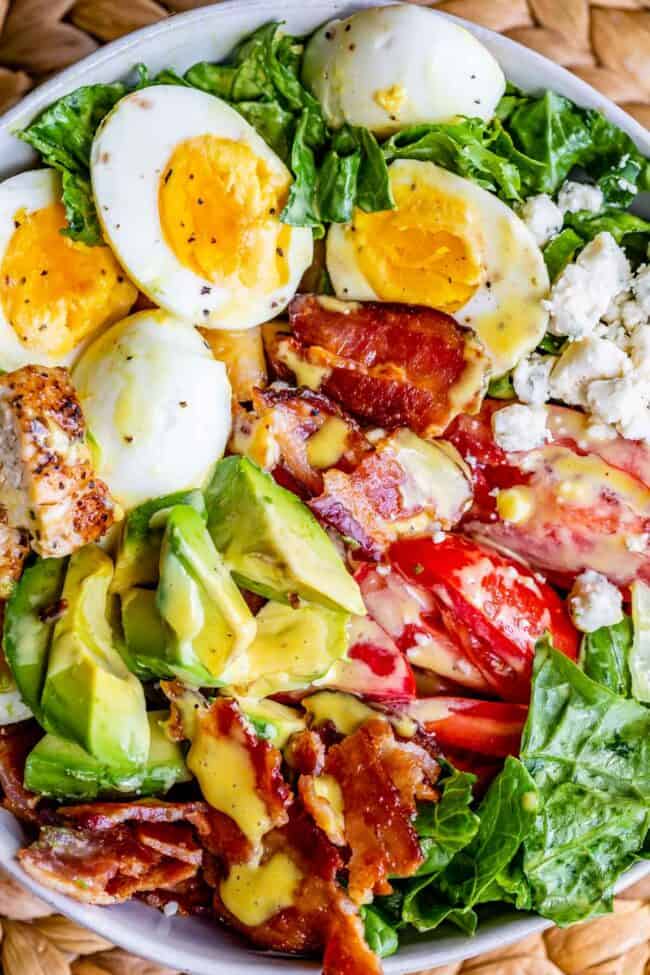 I hope everyone had a lovely Memorial Day! I learned that Memorial Day is meant specifically to honor fallen soldiers, while Veteran's Day is meant to celebrate all those who have served in the military. Did you know? I'm embarrassed that I didn't know that!
We had a little lesson with the kids to teach them about why it's important to serve your country, and sang patriotic songs at the piano. It was fun! I love American holidays. It's always nice to sit back and appreciate how dramatically our lives have been impacted by the profound principles of freedom of religion, freedom of speech, freedom of press. 'Merica!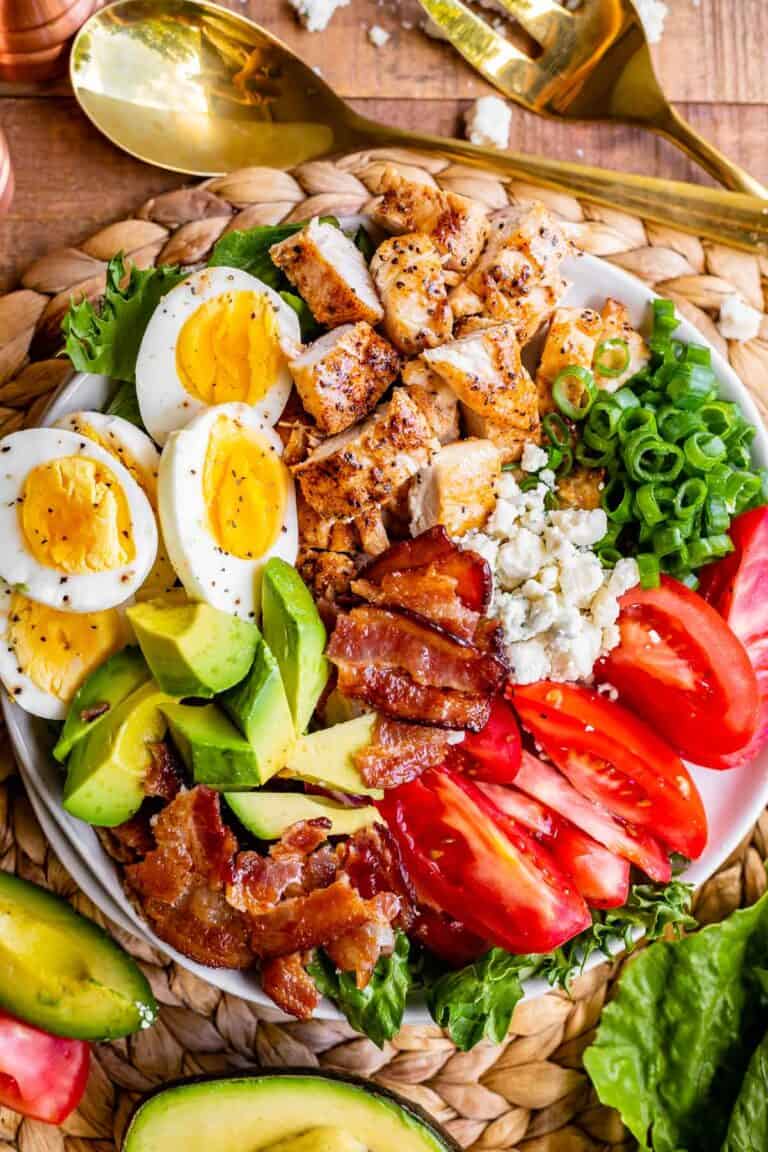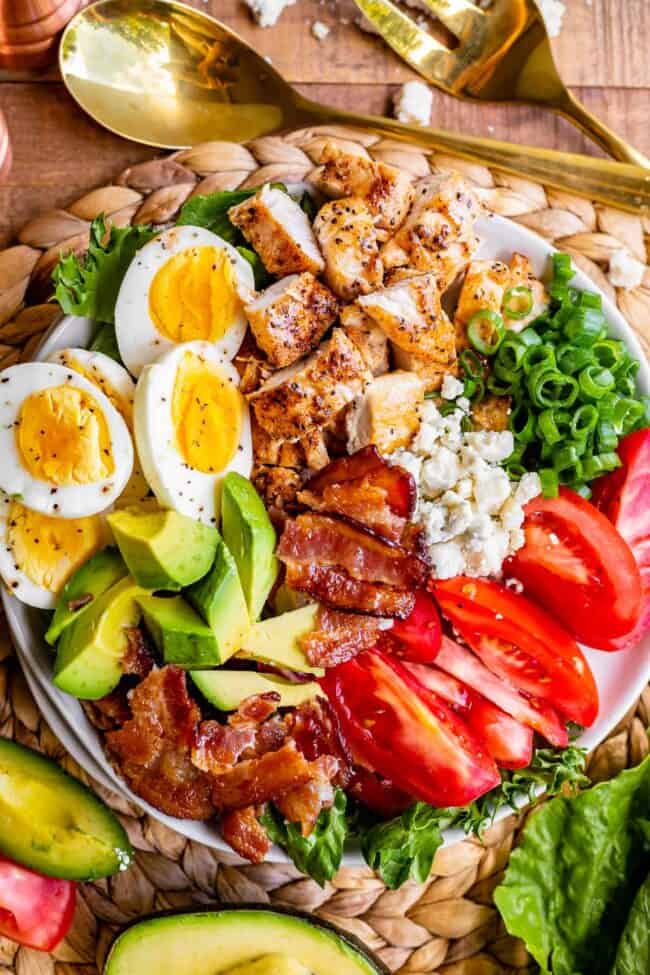 This is the Best Cobb Salad Recipe…loaded with all the good stuff!
Well if you are hoping for a detox salad to recover from your weekend of indulging, you are out of luck. Today's recipe is LOADED. Cobb Salad delivers, man. If you have any people in your life who don't think salad can be a meal, make them this Cobb Salad and prove them wrong. This is the salad that is literally made of all the ingredients that you are hunting for in a regular salad. Bring on the bacon and eggs.
What's in a Cobb Salad?
What makes a Cobb salad a Cobb salad, anyway?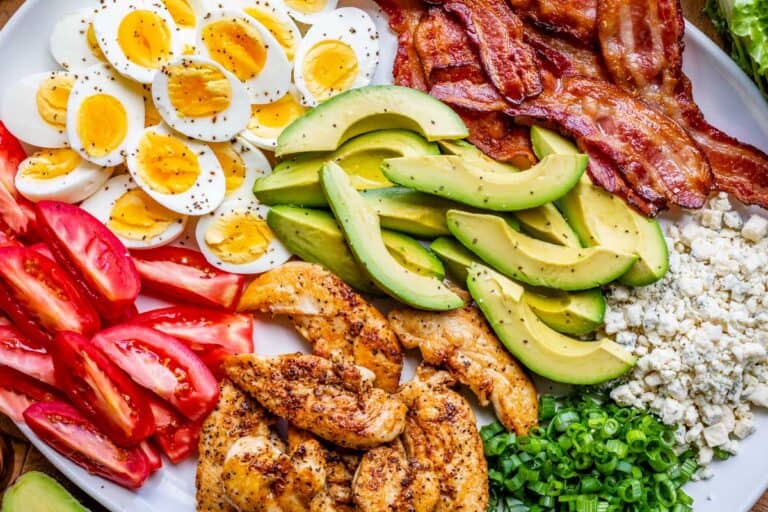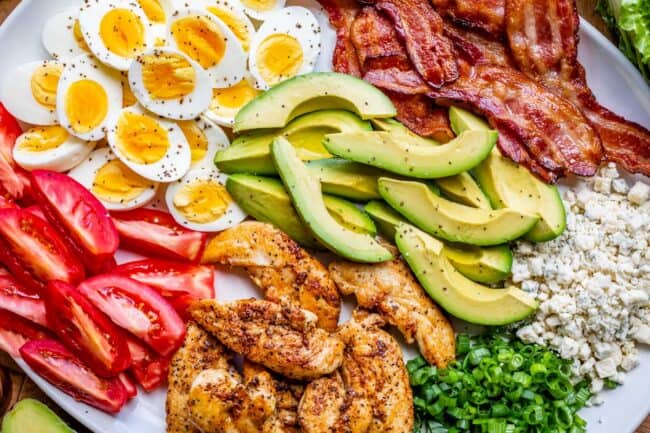 Here are all the things you need to make sure your salad has all the classic ingredients! You need them all. No, really.
Greens: Romaine lettuce, iceberg lettuce, watercress, or a combination. I usually toss in some spring mix, too.
Chicken: should be grilled or pan-seared
Bacon: make it crispy, please.
Hard Boiled Eggs: perfectly cooked with a tender (but not soft) yolk
Tomato: garden fresh is best. Or so I hear. Can someone please come teach me how to garden, I kill everything.
Avocado: lots and lots.
Green onions or chives.
Roquefort Cheese: I can never find this at my regular grocery store. Gorgonzola or Blue Cheese are great substitutes.
Dressing: a red wine vinaigrette is traditional. See more about dressing options below!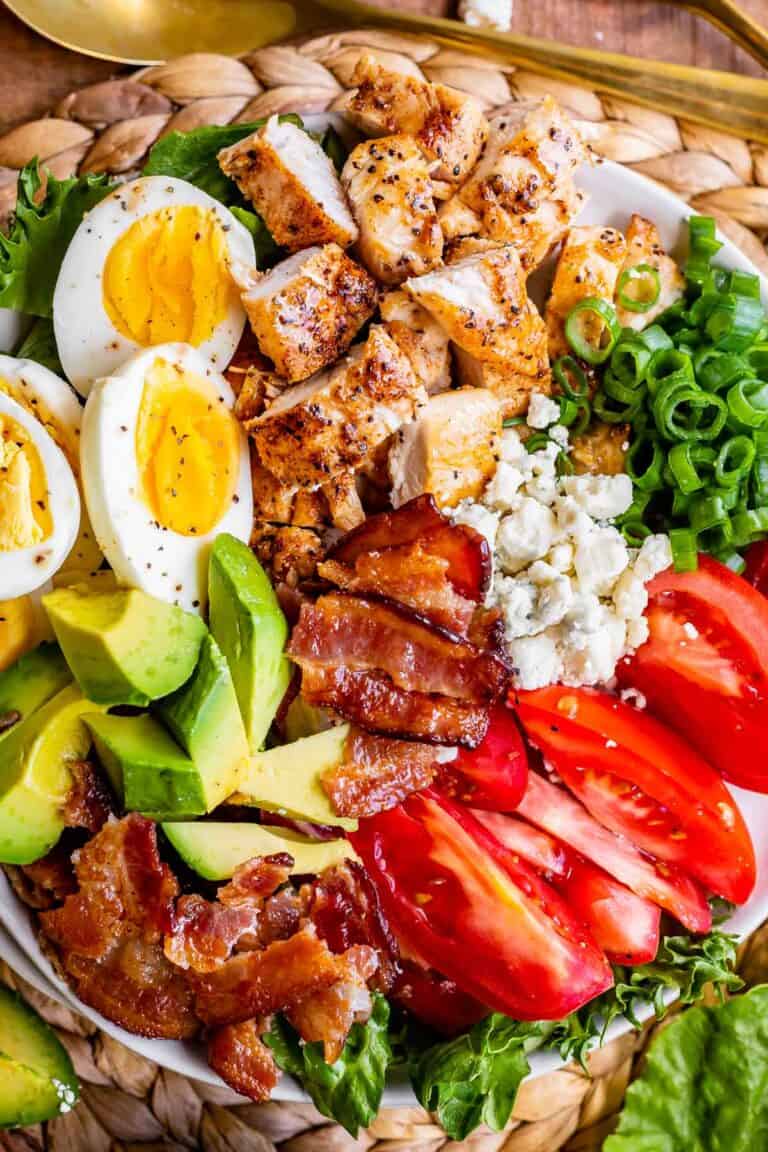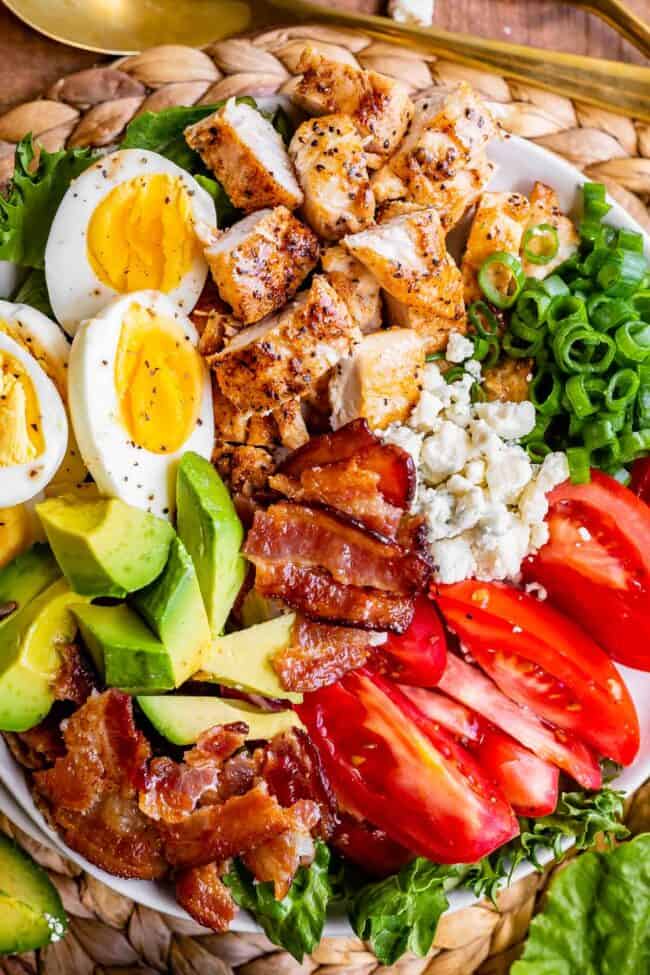 How to make a Cobb Salad
Cobb salad has so many ingredients it can be a little overwhelming to know which ones to tackle first! But, as with every dish, there is nothing to worry about as long as you prep everything in advance.
Here is the order I like to start prepping ingredients for Cobb salad:
Boil eggs so they have time to cool. While that's cooking/cooling,
Make the dressing and let it marinate in the fridge a while.
Meanwhile, prep the veggies: chop all the lettuce. Chop or slice tomato. Chop the green onions. Hold off on the avocado. Crumble the cheese at this point, if it's in a block.
Cook the bacon. You can bake it in the oven or cook it on the stove.
Pan sear the chicken. If you are short on time, chopped rotisserie chicken is a great option!
Slice the avocado. You want to do this right before serving so it doesn't get brown.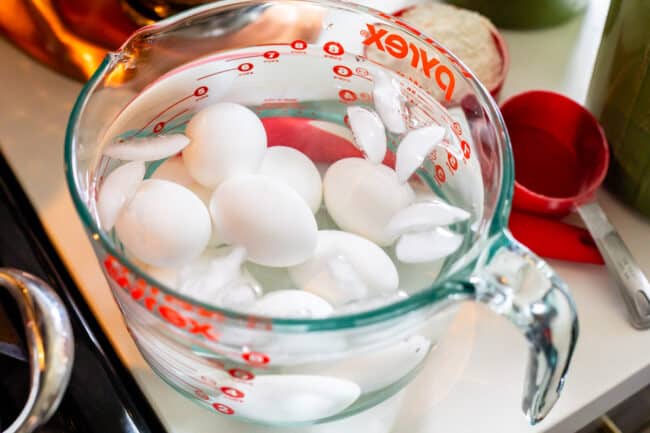 If you are baking your bacon, get it in the oven before prepping your veggies.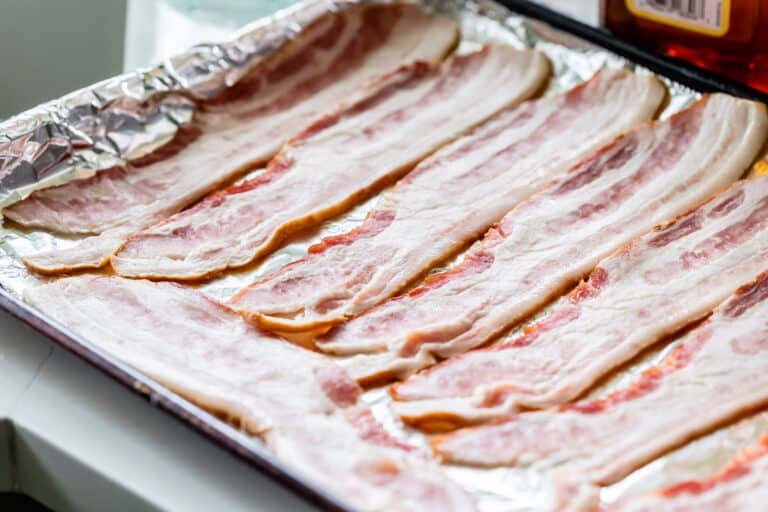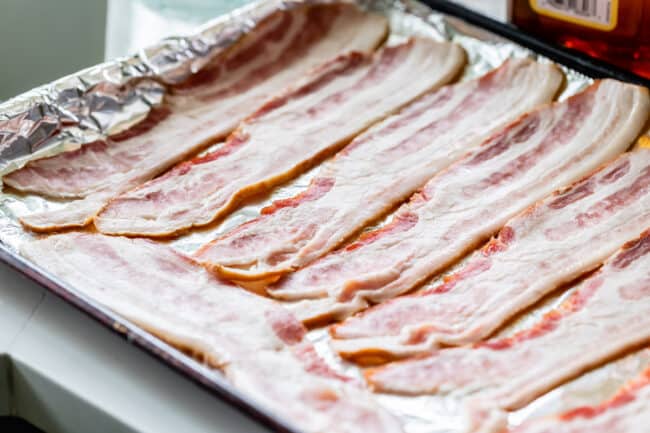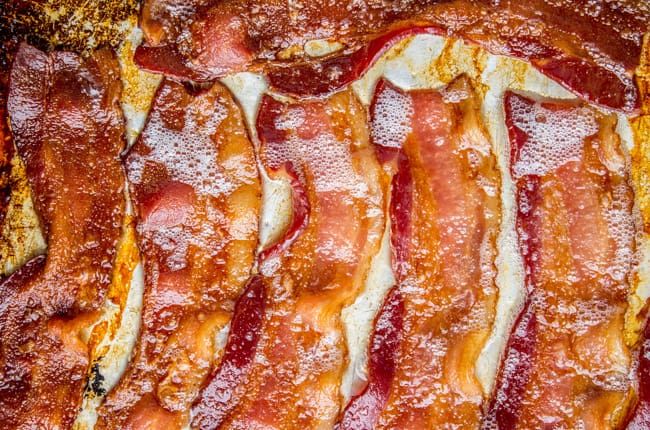 One of my favorite hacks for a super flavorful salad is to add your onions and herbs to your lettuce, BEFORE adding other toppings. It gets much better distributed that way, making every bite of your salad perfect. There are no herbs called for in BobCobb Salad, but you could certainly toss in some chopped basil or parsley and it would be delicious.
How do you cut lettuce for Cobb salad?
You'll notice I just tell you to chop the lettuce for this salad. That's because I'm making salad, not doing heart surgery. Personally I prefer smaller bites of lettuce–like maybe one inch squares–because I'm not trying to unhinge my jaw every time I take a bite. Your personal preference may suggest you cut larger piece. Basically, I like to slice the leaves of romaine in thirds vertically, from top to bottom, then cut across the other way with multiple horizontal cuts. This gets me those approximately one-inch pieces. I also like washing the leaves before I do the chopping, but you could definitely cut first and wash second. A salad spinner is your friend.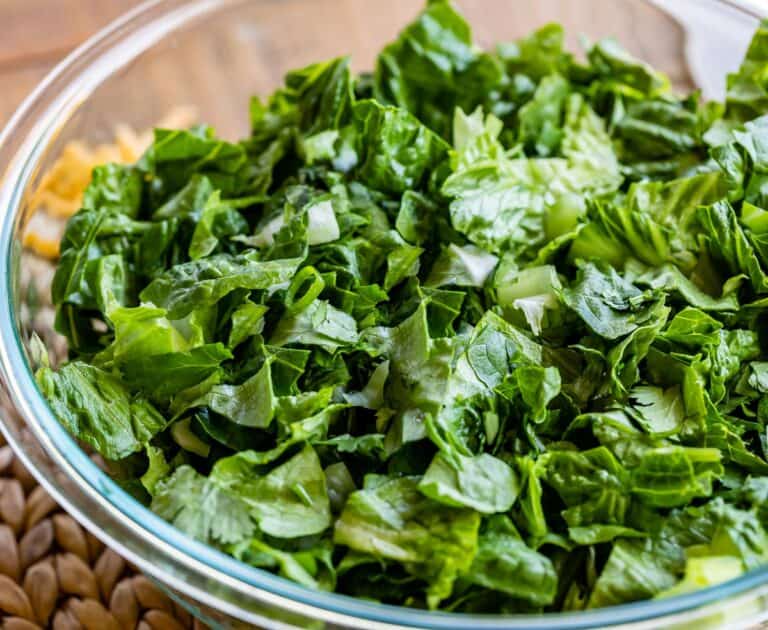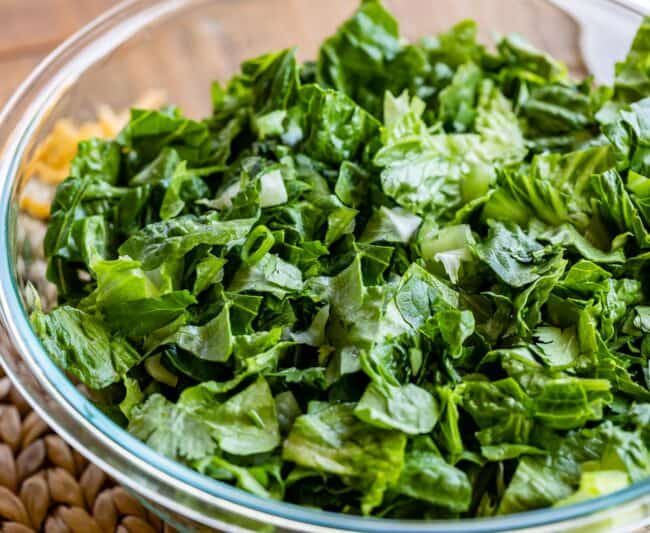 Be sure to dry your chicken well before cooking, and make sure to space it out in the pan to get good browning.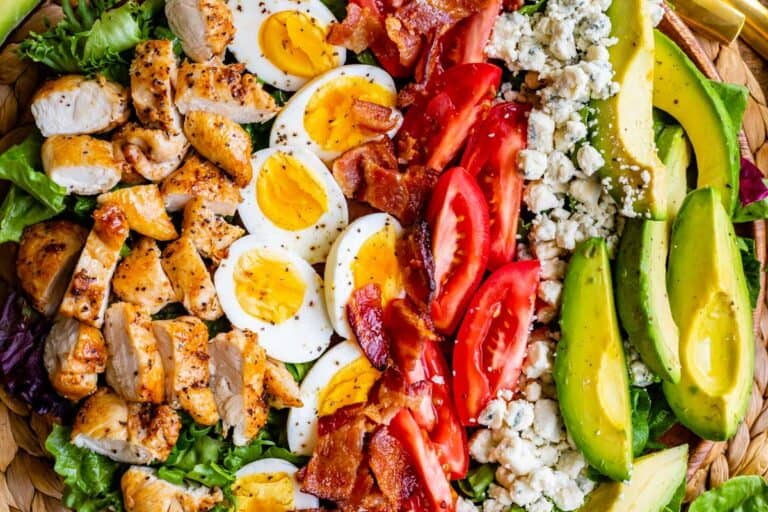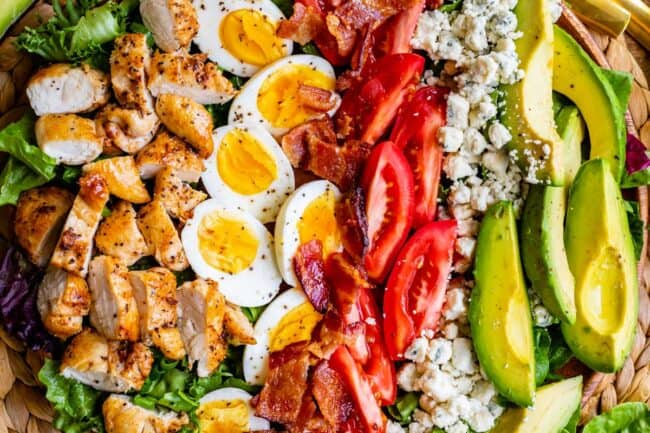 And for goodness sake, don't forget the avocado.
How to serve the Best Cobb Salad
Cobb Salad Dressing
Cobb Salad is traditionally served with a red wine vinaigrette. A vinaigrette is a great option for Cobb Salad because it's super easy to make and has lots of tangy flavor to balance all the rich ingredients in the salad. But we don't have to limit ourselves here, try out these other dressing ideas!
When I told Eric I was making a Cobb Salad recipe, I asked him what dressing he would choose to go with it. Without hesitating he answered "Honey Mustard." Who am I to deny such confidence? So that's why I've included a quick Honey Mustard Dressing in the recipe below. I've also included the Red Wine Vinaigrette recipe in the notes.
Homemade dressings make a big impact, but if you're short on time a store bought salad dressing is going to do you just fine. Don't let some food blogger tell you what to do.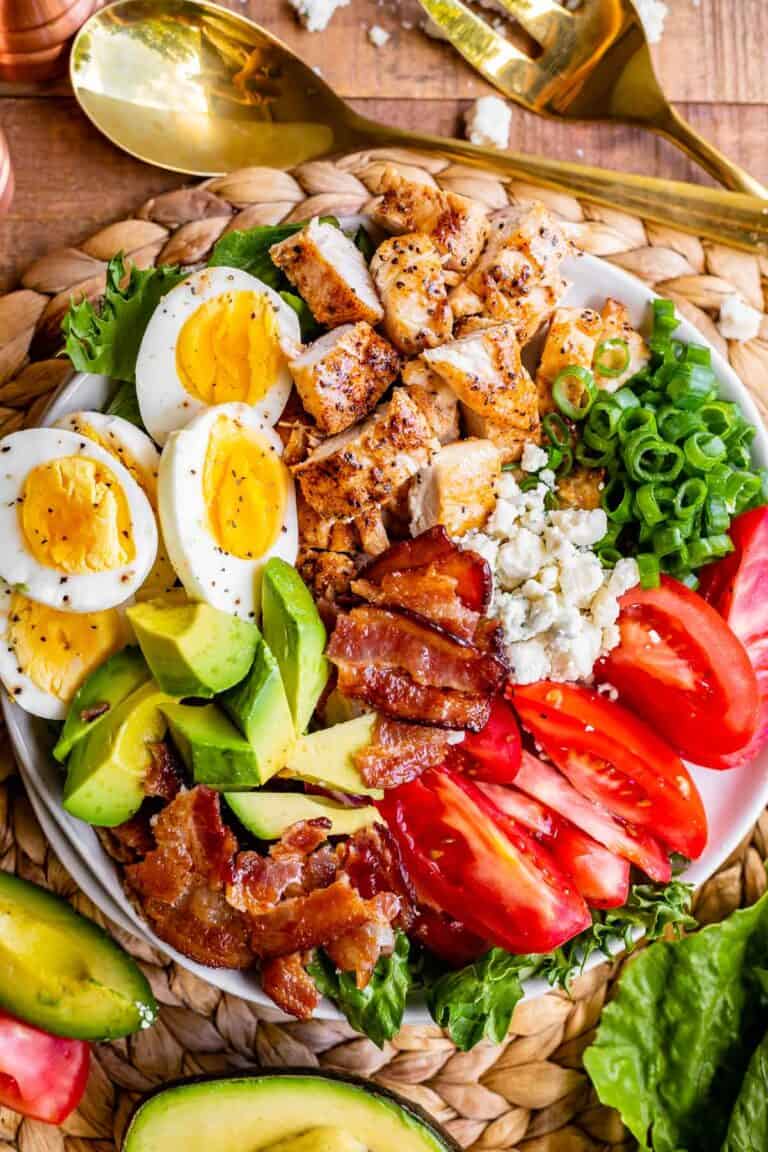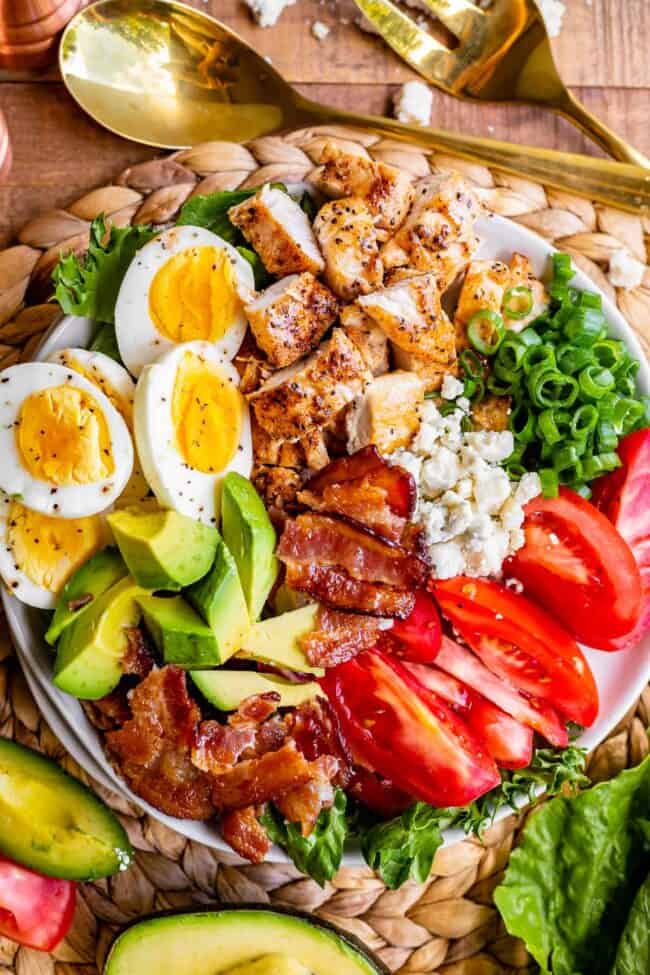 Honestly, this salad is so hearty it doesn't really need side dishes. It stands on it's own! But a side of bread isn't going to hurt. (It never does, right? Unless you're entering your mid-30s and your body is trying to send you salad messages. Eat more saladdd. Less carbs pleeeease. We just want to live)
ok sorry. Try these bread ideas: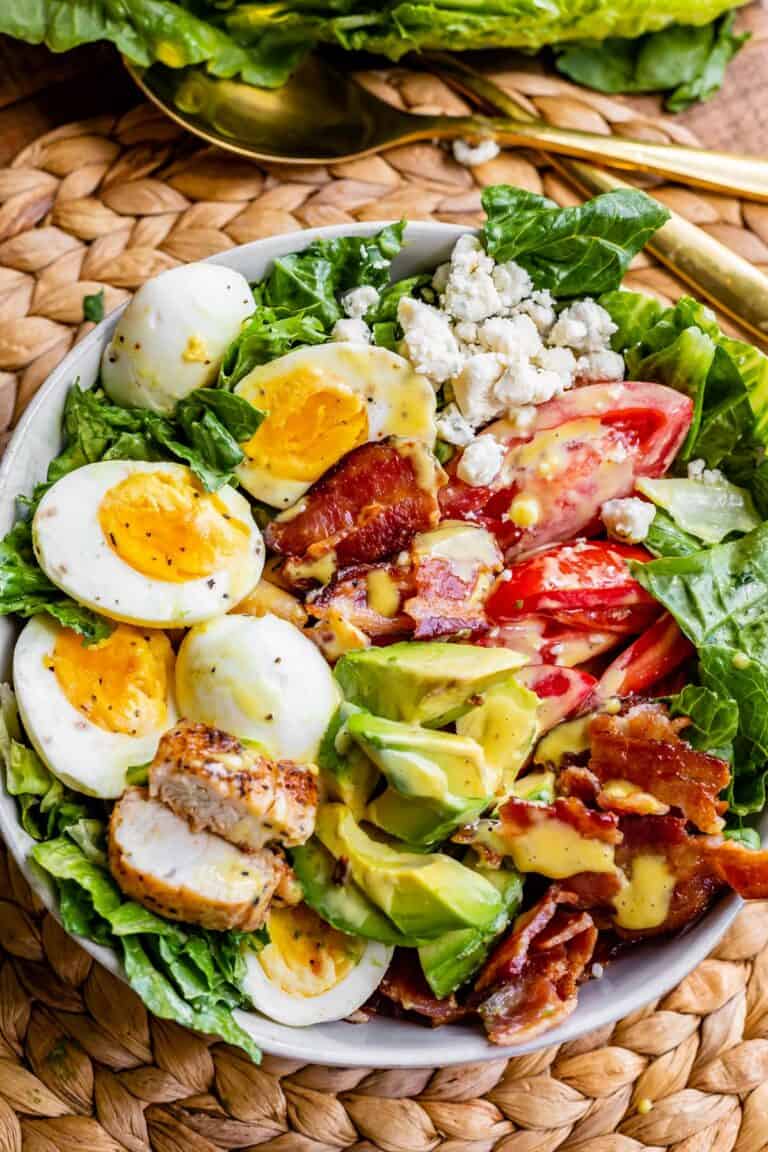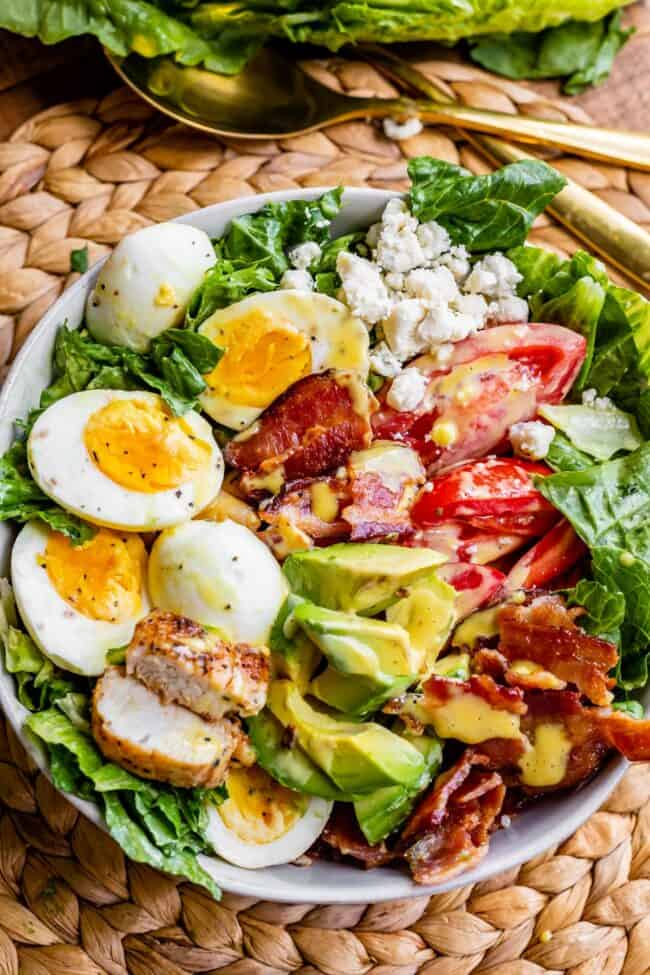 If you are feeding kids (or close-minded adults who don't think salad counts as a meal ;) you could serve some buttered noodles on the side. Or, if you have a lot of people to serve, you could round out the meal with a pureed soup such as Asparagus Soup or Creamy Zucchini Soup.
Also for kids, it's helpful to serve the salad in parts. Chicken on this side of the plate, eggs over here, bacon over there, then a side salad with dressing. Sometimes kids have a hard time with a big salad all mixed together, at least my kids do! Not me though, I'm like a monster eating this salad. I get out the biggest bowl I can find and mix it all together, tornado style. It's HEAVEN.
Chicken Cobb Salad FAQs
Why is it called a Cobb Salad?
There are a few origin stories about where the Cobb salad recipe came from, but most of them start at the Brown Derby restaurant in Hollywood, CA. The story goes that the owner of the restaurant, Bob Cobb, was prowling around the kitchen one night, hadn't eaten all day. He took some leftovers from the kitchen (chicken, lettuce, tomato, Roquefort, etc.), stole some bacon from a line cook, and tossed it all together. He loved it so much he added it to the menu. Another version of the story states that the head chef, Robert Kreis, created the salad in honor of the restaurant owner, Bob Cobb.

I just love that this guy's name rhymes. I mean, Bob Cobb?? How have we as a society missed this opportunity? I'm calling it a Bob Cobb Salad from now on. You want a Cobb Salad? No, I want a Bob Cobb Salad. BobCobbBobCobbBob

Okay, sorry Bob Cobb. Let's make your amazingly delicious salad.
What's the difference between a chef's salad and a Cobb salad?
Cobb salads and chef salads are heartier entree-type salads, but that's pretty much where the similarities end. A Cobb salad has grilled chicken (and bacon if it knows what's good for it). A chef salad usually includes ham and turkey as the protein. The ham and turkey come in varying qualities and quantities depending on whether you're grabbing a premade salad from the airport or eating at a nice restaurant. A Cobb salad is all about the fancy bleu cheese, and a chef salad normally involves cheddar. A Cobb salad has tomatoes, green onions, avocado, and hard boiled egg, whereas a chef salad has tomatoes, cucumbers, and carrots. Both can be phenomenal or ho-hum depending on who's making them.

More Salad for Dinner ideas!
Facebook | Pinterest | Instagram

Best Cobb Salad Recipe with Chicken and Bacon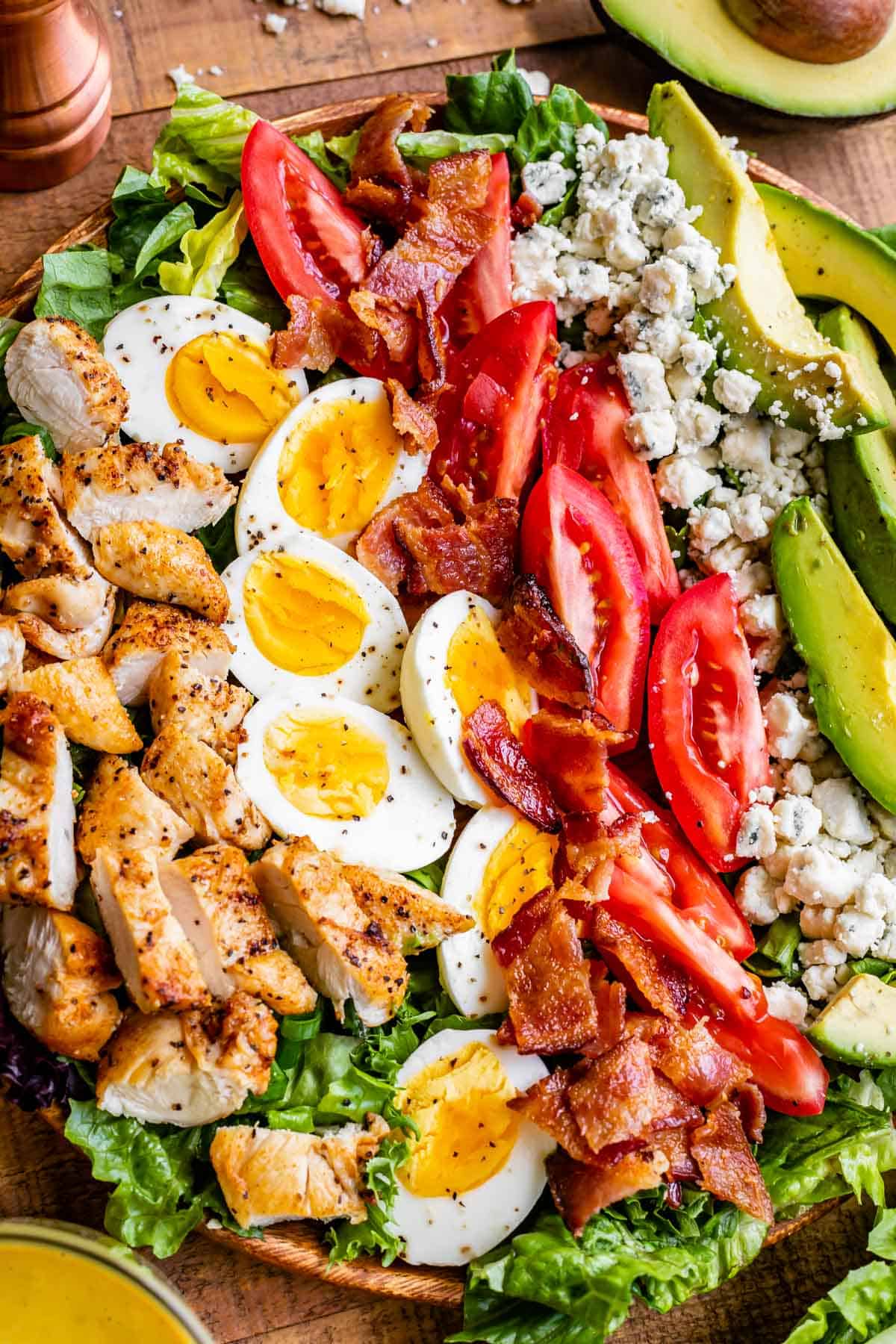 The Best Cobb Salad Recipe will never let you down! This salad is absolutely LOADED with treasure ingredients (you know, the ones you're always hunting for) like chicken, bacon, hard boiled eggs, and cheese. Plus 2 dressing recipes to try!
Ingredients
For the salad
9

eggs

,

older eggs are best

2

heads

romaine or iceberg lettuce

,

cleaned, dried, and chopped

1

bunch

watercress

,

or Spring Mix salad

1

bunch

green onions

,

chopped

6

tomatoes

,

sliced or chopped

6

ounces

Roquefort cheese

,

or gorgonzola or blue cheese

1

pound

bacon

,

cooked until crisp

1

pound

chicken breast*

,

or chicken tenders

1

teaspoon

kosher salt,

for seasoning chicken

1/2

teaspoon

pepper

,

for seasoning chicken

1/4

teaspoon

smoked paprika

1

tablespoon

olive oil

,

for searing chicken

1

tablespoon

butter

,

for searing chicken

3

avocados

,

sliced or chopped
Honey Mustard Dressing Recipe
1/3

cup

mayonnaise

1/3

cup

Dijon mustard

,

or yellow mustard, or a combo of both

1/4

cup

honey

1/4

cup

lemon juice

,

from 1 large lemon

1

teaspoon

kosher salt

1/2

teaspoon

pepper

1

clove

garlic
Instructions
Start by boiling the eggs. Fresh eggs are harder to peel than older eggs, so use the ones at the back of the fridge. I actually like to steam my eggs rather than boil them (it makes them even easier to peel). Bring water to a boil in a saucepan, then steam the eggs in a basket over the boiling water for 11 minutes, covered with a lid the whole time. Prepare an ice bath (water and ice in a bowl). Add eggs to the ice bath immediately. If you don't have a steam basket: Place eggs in an empty pot, cover with water, bring to boil over high heat. Once it boils, remove the pot from heat, cover with lid, and set a timer for 8 minutes. Immediately remove to an ice bath so that they stop cooking. Once cool, peel the eggs and halve or slice them. Sprinkle with salt and pepper.

Make the dressing. Skip this step if you are use store bought dressing! The Red Wine Vinaigrette recipe is in the notes.

For the Honey Mustard Dressing: Add all ingredients to a blender and pulse until smooth. I squirted Dijon mustard into my 1/3 measuring cup until it was about halfway full, then filled the rest with yellow mustard. You can use just one kind or both! This makes 1 cup of dressing.

If you are baking your bacon (which I highly recommend), start that process now before prepping your veggies. See this post for How to Bake Bacon for all the details. Chop the bacon into bite sized pieces once it's cooked. Set aside and keep warm.

Prep your veggies and cheese. Rinse and dry all the lettuce. Do you have a salad spinner? I love mine, it makes salad-making way easier! I like to add in some spring mix if I don't have watercress (it's kind of hard to find??) Add all your greens to a large serving bowl.

Chop the green onions and add to the bowl with the lettuce. You can chop the whole bunch of green onions or just the green parts if you want your onion flavor more mild. Mix the green onions into the lettuce so it is evenly distributed. Adding onions and herbs to the lettuce and mixing (before adding other toppings) is one of my favorite tips for a super flavorful salad.

Slice or chop 6 tomatoes and set aside.

Crumble 6 ounces Roquefort cheese in a bowl and set aside.

If you are frying your bacon, chop the raw bacon into 1 inch pieces. Fry in a large 12 inch skillet over medium heat for 5-10 minutes until it is as crisp as you like. Remove to a paper-towel lined plate and set aside. Remove all but 1 tablespoon bacon grease (save that liquid gold and use it to make the Best Pancakes if you know what's good for you!)

Prepare the chicken. Use a sharp knife to slice each chicken breast or tender in half horizontally, to create a thin cutlet. Start at the thick edge of the chicken breast. See photos. You should end up with pieces of chicken that are the same shape as a chicken breast, just thinner.

In a small bowl, combine 1 teaspoon kosher salt, 1/2 teaspoon pepper, and 1/4 teaspoon smoked paprika. Pat the chicken with paper towels on both sides until it is very dry. Sprinkle the spice mixture all over the chicken on both sides, and rub in.

Heat a 12-inch skillet over medium high heat for at least 3 minutes. When it is hot, add 1 tablespoon oil. Swirl to coat. The oil should shimmer right away. (If you are using leftover bacon grease, just heat the pan on medium high until it's very hot, probably more like 1-2 minutes. Bacon grease smokes faster than olive oil, so be careful. Get your chicken in the pan before any fat smokes.)

Sear the chicken. Carefully place the chicken in the pan. Once it touches the pan you can't move it, so arrange accordingly. Do not crowd the chicken. If your pan isn't big enough, do it in batches. Do not touch, poke, or move the chicken at all. It needs to stay put to get a nice sear.

Use tongs to flip each piece of chicken, swirling the pan as necessary to coat with fat. Immediately add 1 tablespoon butter to the pan and swirl the pan as it melts. (The butter helps the chicken to brown, and brings flavor.) Cook the chicken on the second side for about 2 minutes, until the other side is a deep golden brown and a meat thermometer registers 160 degrees F. Remove the chicken to a plate and cover to keep warm. After 5-10 minutes of resting, slice or chop the chicken.

Chop or slice your avocados just before serving.

Assemble your salad. Arrange all the ingredients (except the lettuce) on a large platter, or serve each ingredient in a separate bowl. Allow guests to build their own salad, adding the lettuce to their plate first and then the toppings: eggs, tomatoes, cheese, bacon, chicken, avocado (and green onions if they aren't with the lettuce). Drizzle with Honey Mustard Dressing or Red Wine Vinaigrette < recipe in notes.
Notes
*If you are short on time, pick up a rotisserie chicken from the store and use that instead!
Red Wine Vinaigrette:
1/4 cup red wine vinegar
1/3 cup + 1 tablespoon olive oil
2 teaspoon oregano
1-2 cloves garlic
1 teaspoon dijon mustard
3/4 teaspoon kosher salt
1/4 teaspoon pepper
Add all ingredients to a blender and blend until smooth. Alternatively, you could mix all ingredients except the oil in a bowl, then slowly drizzle in the oil while whisking constantly (so the oil emulsifies). This is a fairly tart dressing because that's how I roll. Add in another couple tablespoons oil if you want to take it down a notch!
Nutrition
Serving:
1
serving
|
Calories:
1362
kcal
|
Carbohydrates:
35
g
|
Protein:
37
g
|
Fat:
122
g
|
Saturated Fat:
43
g
|
Trans Fat:
1
g
|
Cholesterol:
401
mg
|
Sodium:
1869
mg
|
Potassium:
1764
mg
|
Fiber:
13
g
|
Sugar:
19
g
|
Vitamin A:
20315
IU
|
Vitamin C:
43
mg
|
Calcium:
344
mg
|
Iron:
5
mg