Sweet and Moist Honey Corn Bread
This is my favorite homemade cornbread recipe! It is very moist thanks to a little oil added to the batter, and extra sweet thanks to some sugar and honey. No more dry cornbread! This skillet cornbread is baked in a hot cast iron skillet for that extra crispy edge, perfect for dunking in a bowlful of chili.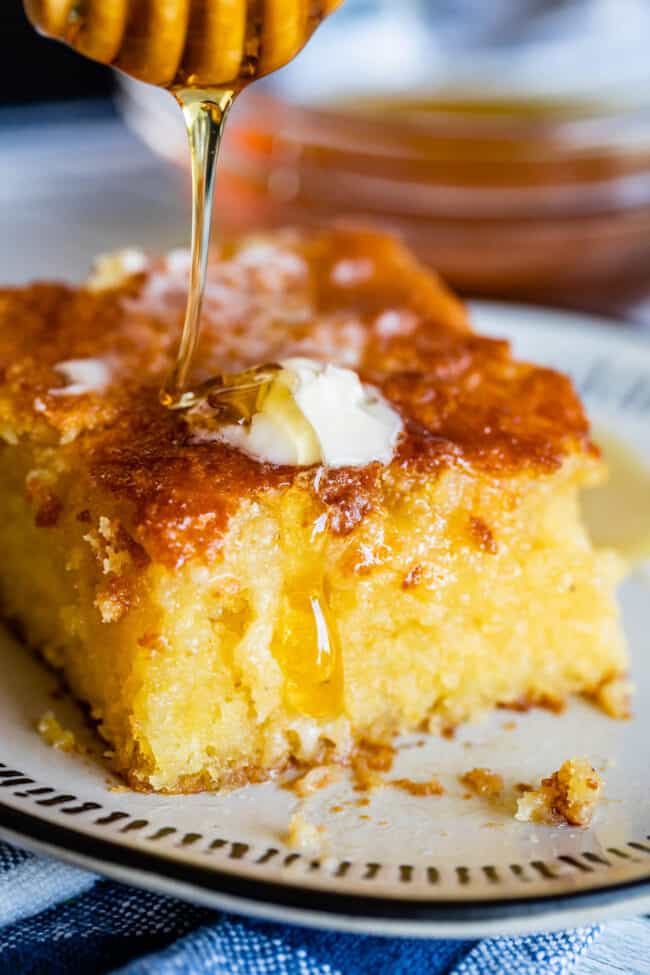 Eric has hidden all the Halloween candy from me. I really can't find it anywhere. I made the mistake of buying it too early and have been snacking on it a bit too much while the kids are at school.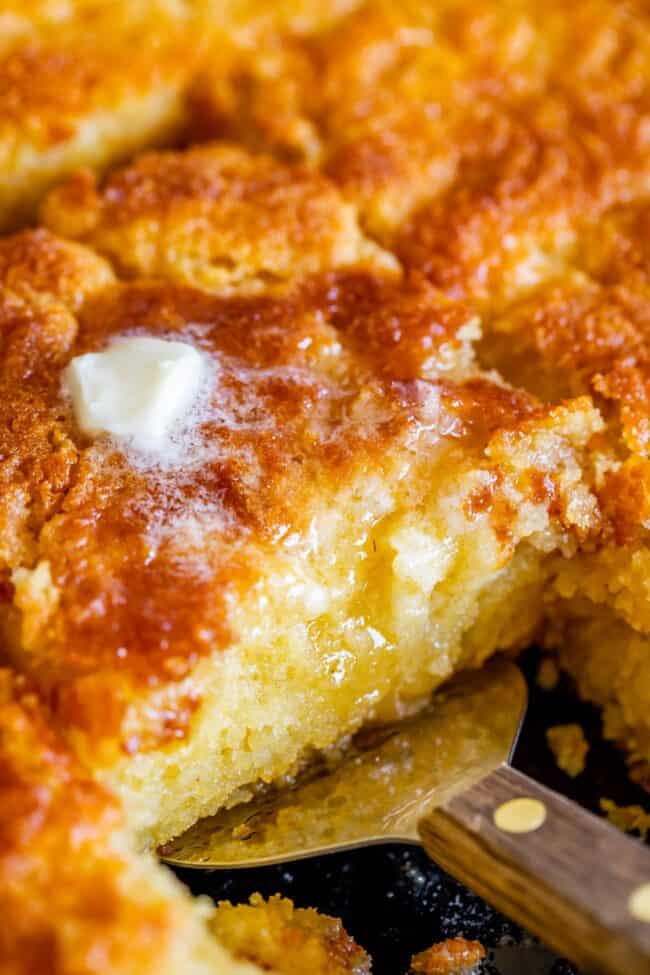 Truman came in from the kitchen the other day and was like, "Mom, did you start eating the Halloween candy already??"
"How did you know??"
"I saw all the wrappers in the trash!!"
The days of putting one over on my kids are long gone you guys.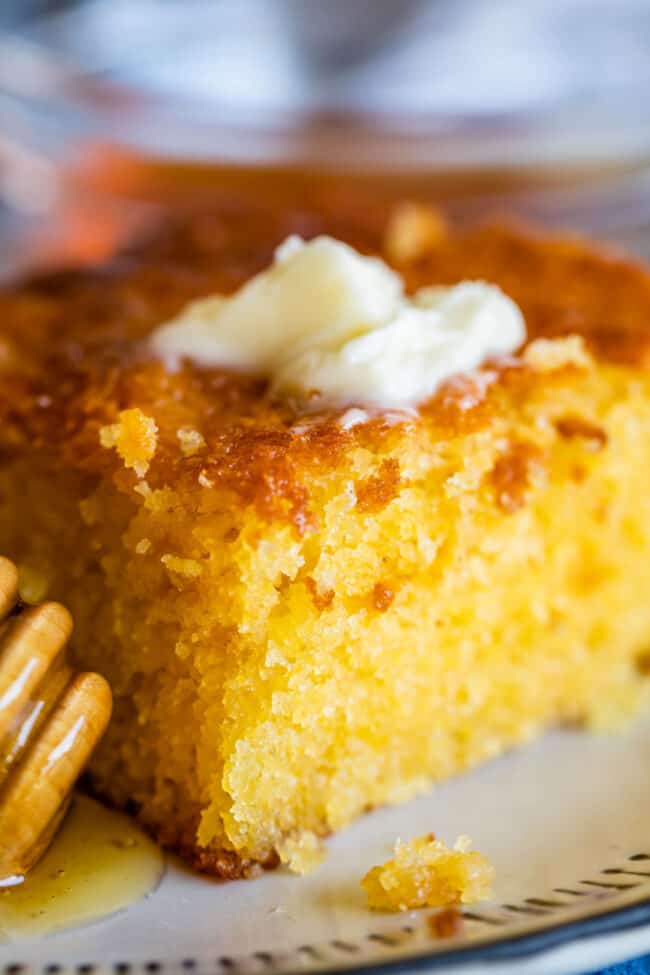 The same EXACT conversation happened not even an hour later when Charlotte found all the Reese's wrappers in the trash. "Mom, stop eating all the Halloween candy!"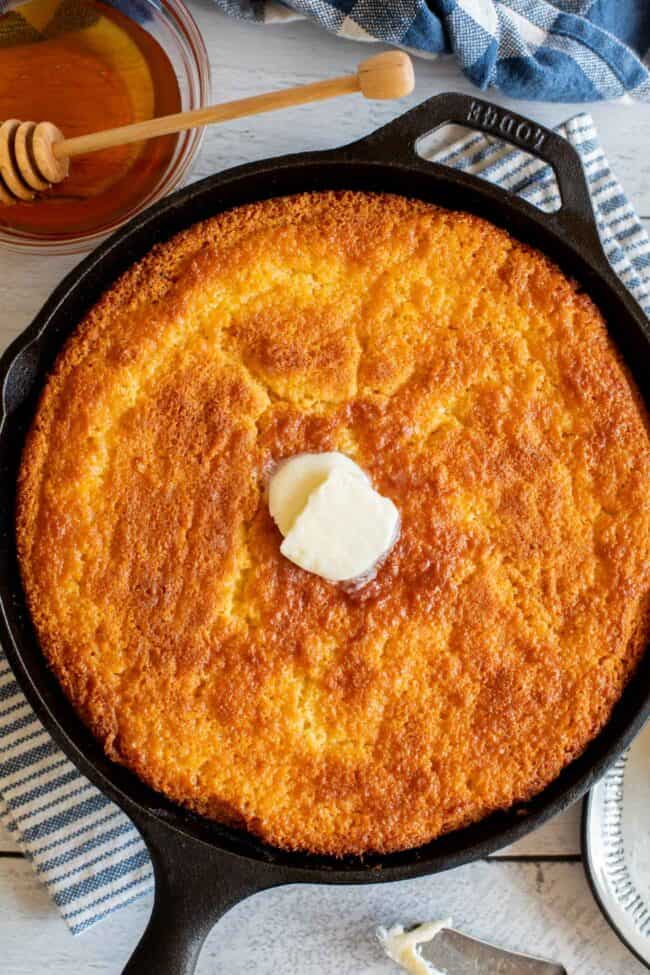 I remember a few years ago when my kids were much smaller and easier to deceive, I was over at my friend Amy's house. Her husband came into the kitchen and asked where their daughter's Halloween stash was. Amy told him that their daughter COUNTS it, so don't even try sneaking some when she's not around. I knew right then that this is what my children would have to resort to in the future. I either need to stop candy thieving or get better at hiding the evidence. (I'm thinking the latter is going to win out.)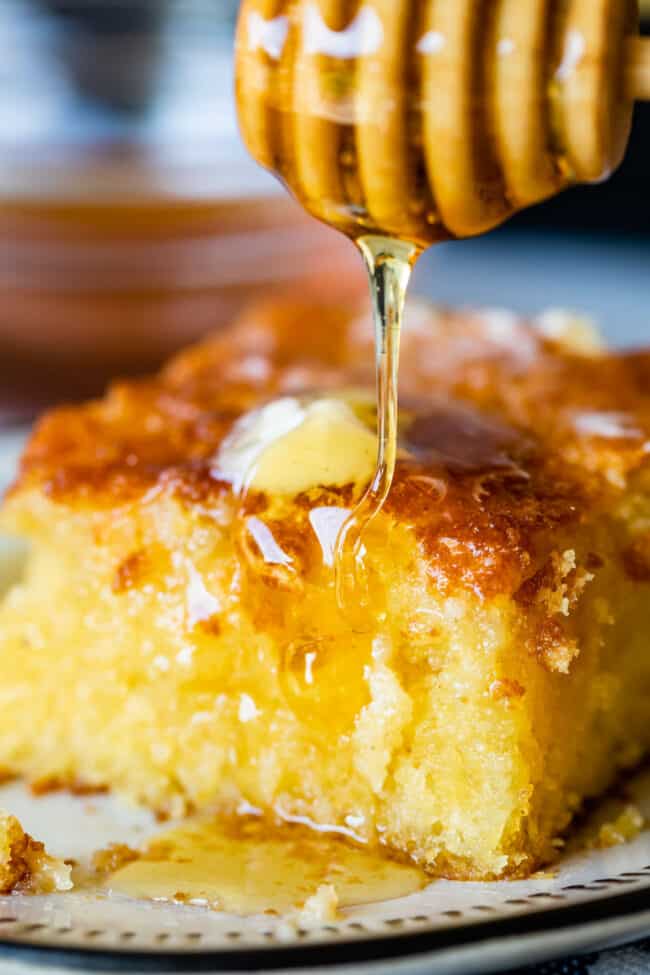 The Best Cornbread Recipe
Who's heading to a chili cook-off this weekend? Did you sign up to bring a side of cornbread? Tis the season for this classic chili side dish.
I have always been extremely ho-hum about cornbread. Offer me dinner rolls or cornbread, and I will take the dinner rolls every time. Most of the time sweet cornbread is dry and sad and not worth the carbs.
So I set out to create a recipe that would be worth it!
There is a lot of debate surrounding cornbread. Southern cornbread? Northern cornbread? Sugar, no sugar? Skillet or cake pan? I'm from California. I claim no grandmotherly secrets. I did't know the first thing about cornbread or why people have strong opinions about it. But I wanted to get the dirt on all the controversy, so the answer?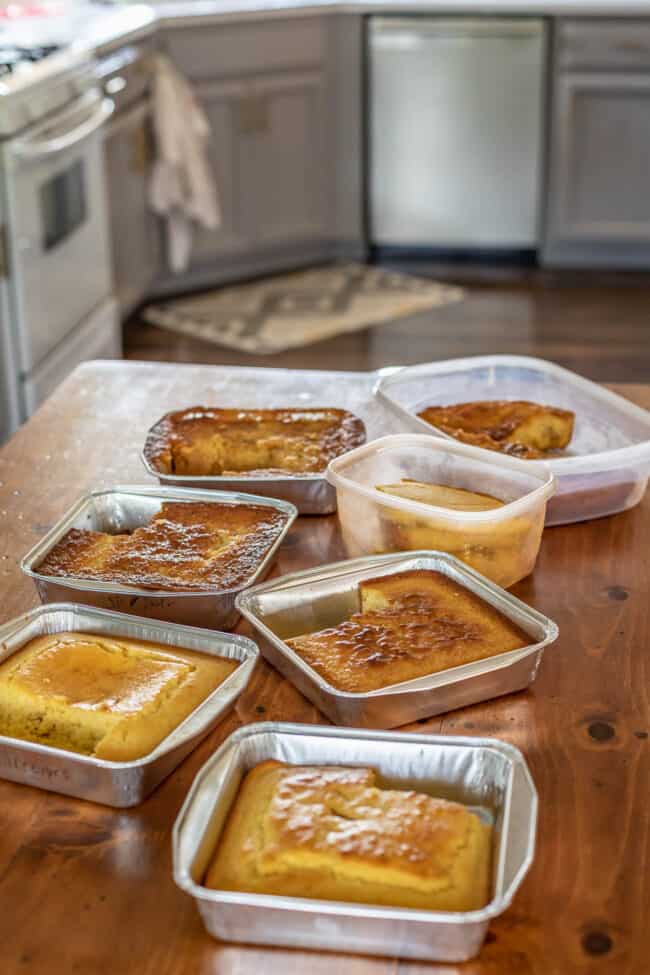 Make a million batches of cornbread (or 8. The last one was in the oven.) I tried Southern cornbread, Northern cornbread, and a bunch of in between cornbreads. My final recipe is my personal favorite, but it's clear that there are lots of opinions about this! My recipe is fluffy and sweet, with crispy edges.
What is Southern cornbread?
Southern cornbread is not sweet. The recipe I tried had only 2 teaspoons of sugar in the whole pan, and I thought it was awful. I made everyone who passed through my house try it, and my friend Jen literally took it out of her mouth and threw it in the garbage. (Right next to all the Reese's wrappers). Stuff was dry as a bone.
Southern cornbread is baked in a preheated skillet with hot bacon grease, so that the edges get super crispy. It's also thin: only about 1 inch tall. If you are from the South and you love this type of cornbread, please tell me what I am missing.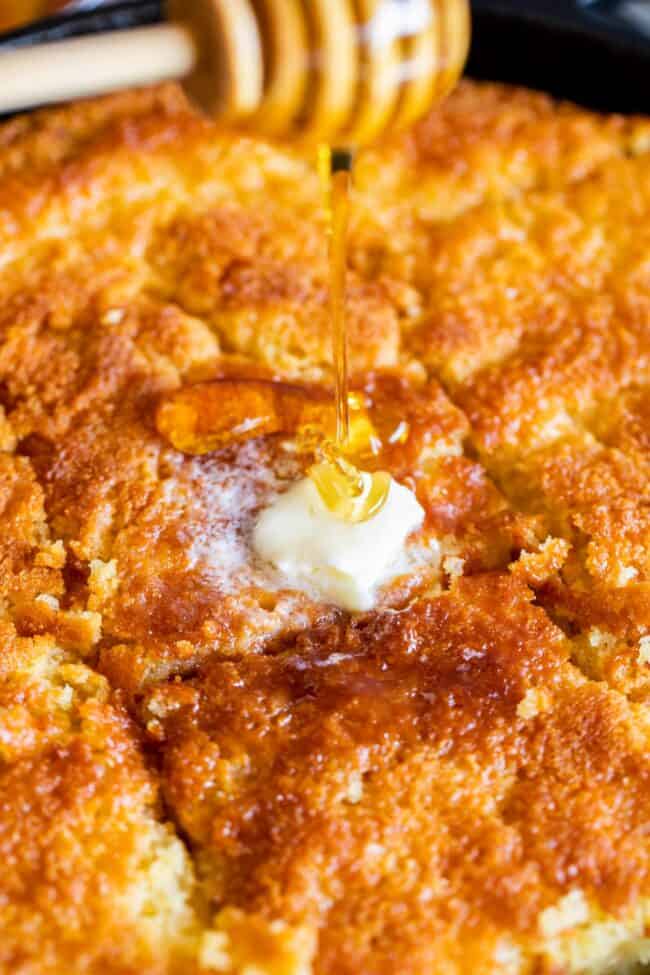 (photo: better than southern cornbread ;)
What is Northern Cornbread?
Northern cornbread looks just like the cornbread most of us are used to, but the recipe I tried (Cook's Illustrated for Northern and Southern) only had 4 teaspoons of sugar for the whole pan. It is taller and fluffier, but in my opinion still dry and bland. It is baked in a normal 8×8 inch pan (as opposed to the skillet). It does not have crispy edges.
Why Sweet Cornbread should be made in a skillet
There is a reason that seasoned cooks swear by cast iron skillets. They give you the BEST crispy edges for baked goods like homemade cornbread. You will never get the crispy edges if you bake in a square or 9×13 pan, and that might be totally okay with you. (See notes for the changes you will have to make, one of them is significant!) But I love the combination of a super moist and tender center, right next to a crispy crackly edge that you can dunk in your chili.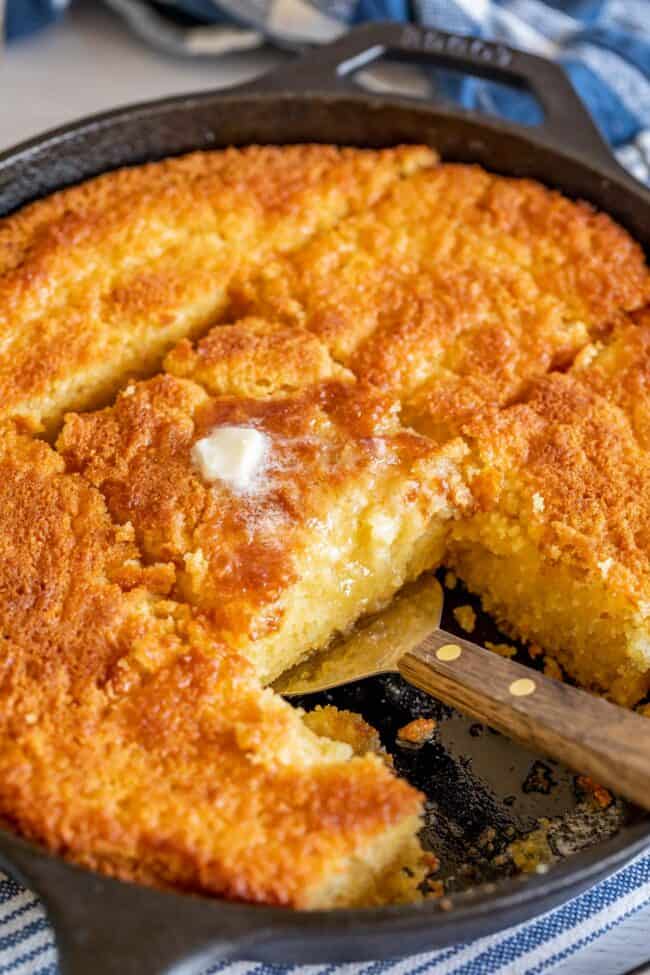 (embrace the crispy edggge)
I took the crispy edges from Southern cornbread and the fluffy texture of Northern cornbread to make my own hybrid version of the best homemade sweet cornbread. Plus a whole lot more sugar. Because, guys, let's be real, we are topping it with butter and honey, let's just accept the fact that it is basically a cake with some cornmeal in it. And it is DELICIOUS. This is not an apology.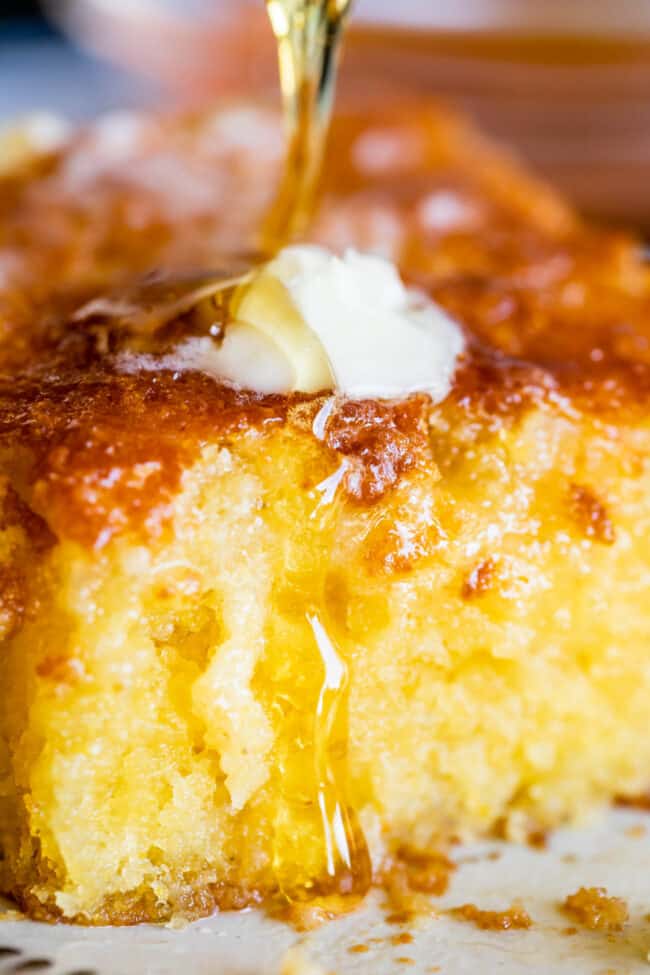 (why would I apologize for this)
How to make Cornbread that is moist
Oil is the answer to all of your dry cornbread woes. It is also the ingredient that makes for a supremely moist cake, so you know it's going to help out a humble cornbread! We are also using plenty of butter to get that perfect honey butter flavor. Oh and don't forget the buttermilk. It adds that perfect tang. (You can use cheater buttermilk if you want. See notes)

You need two bowls for this recipe, and one of them only has dry ingredients, so when you are done you can wipe it clean and put it away. (Can you tell I hate dishes?) The batter is slightly lumpy, and that's okay.

Preheat your cast iron skillet in the oven, then grease with a bit of butter. The cornbread batter going into a hot skillet is part of what makes the edges crispy.
You can see it bubbling and cooking on the edges of the pan before you even put it in the oven! Yesssss
And that's it! Cornbread is one of the easiest side dishes ever. It doesn't take more than a few minutes to mix up the ingredients and get it in the oven.
Try this cornbread with The Best Chili Recipe I've Ever Made! It's a match made in heaven! Happy Halloween everyone!
More recipes you are going to love!
Facebook | Pinterest | Instagram
Honey Homemade Cornbread Recipe
This is my favorite homemade cornbread recipe! It is very moist thanks to a little oil added to the batter, and extra sweet thanks to some sugar and honey. No more dry cornbread! This skillet cornbread is baked in a hot cast iron skillet for that extra crispy edge, perfect for dunking in a bowlful of chili.
Ingredients
1

cup

flour

,

spooned and leveled

3/4

cup

yellow cornmeal

1/2

teaspoon

kosher salt

1/2

teaspoon

baking soda

2

teaspoons

baking powder

,

1 teaspoon for 8x8 pan, SEE NOTE

1/2

cup

butter

,

1 stick

1/4

cup

vegetable oil

1

cup

granulated sugar

1/3

cup

honey

2

large

eggs

1 & 1/4

cups

buttermilk

,

*
Instructions
Preheat your oven to 375 degrees. Place your 9-inch cast iron skillet in the oven while the oven preheats. (If you are baking this in an 8x8 or 9x9 inch square pan, see note.)

In a small mixing bowl, combine 1 cup flour, 3/4 cup yellow cornmeal, 1/2 teaspoon kosher salt, 1/2 teaspoon baking soda, and 2 teaspoons baking powder. (Use 1 teaspoon baking powder if using a square pan.)

Slice off about 1/2 tablespoon from your 1/2 cup (1 stick) of butter and set aside (you will grease the pan with it soon).

Melt the remaining butter in a large bowl in the microwave.

Add 1/4 cup oil, 1 cup of sugar, and 1/3 cup honey to the large bowl with the melted butter. Stir well until combined.

Add 2 eggs and 1 and 1/4 cups buttermilk. Whisk until fully incorporated.

Use a wooden spoon or spatula to stir the dry ingredients into the wet ingredients (then wipe out the dry bowl and put it back in your cupboard!) DO NOT over mix! Make sure the dry ingredients are fully incorporated but don't worry if there are a few lumps.

Remove the cast iron skillet from the oven and shut the door. Grease the bottom and sides (all the way to the top) with the remaining half tablespoon butter. I use a butter knife. If it melts too fast, use a pastry brush to spread it around.

Pour the batter into the hot pan and smooth out the top.

Use hot pads to place the skillet back in the oven. Bake at 375 for 28-32 minutes. The cornbread is done when a toothpick inserted in the center comes out with no wet batter on it. You can also shake the skillet a little, and if is at all wobbly, leave it in a couple more minutes. The top should be golden brown and the edges should pull away from the edges of the pan.

Remove from the oven and let cool for 5-10 minutes before slicing and serving. This is best served right away so the edges are nice and crispy! Top with butter and honey, and/or serve with

The Best Chili Recipe I've Ever Made!

Store the cornbread tightly covered on the counter for up to 3 days. If you made it in a cast iron pan, remove the cornbread from the cast iron once cool, and store in a sealed container (otherwise it will start to taste all iron-y. no thanks.)
Notes
IMPORTANT! If you plan to make this recipe in an 8x8 or 9x9 inch square pan:
Only use 1 teaspoon baking powder. (Your cake will overflow the pan if you use 2 teaspoons.)
Do not put the pan in the oven while it is preheating. Spray the pan with nonstick spray. There is no need to set aside the 1/2 tablespoon of butter from the stick of butter called for in the recipe.
If you want to make this in a 9x13 inch pan, grease the pan and do not put it in the oven while preheating. Double all the ingredients (as follows) and use roughly the same bake time:
2 cups flour, spooned and leveled
1 and 1/2 cups yellow cornmeal
1 teaspoon kosher salt
1 teaspoon baking soda
2 teaspoons baking powder
1 cup (2 sticks) butter
1/2 cup vegetable oil
2 cups granulated sugar
2/3 cup honey
4 large eggs
2 and 1/2 cups buttermilk*
*You can use cheater buttermilk for this recipe. For 1 cup of cheater buttermilk, add 1 tablespoon white vinegar or lemon juice to a liquid measuring cup, then add milk until you reach 1 cup. Stir and let sit 5 minutes before using. (For the 1 and 1/4 cups that the recipe calls for, use 4 teaspoons vinegar and fill to the 1 and 1/4 cup mark.)
Nutrition
Serving:
1
g
,
Calories:
456
kcal
,
Carbohydrates:
62
g
,
Protein:
6
g
,
Fat:
22
g
,
Saturated Fat:
14
g
,
Polyunsaturated Fat:
1
g
,
Monounsaturated Fat:
5
g
,
Trans Fat:
1
g
,
Cholesterol:
81
mg
,
Sodium:
480
mg
,
Potassium:
144
mg
,
Fiber:
2
g
,
Sugar:
39
g
,
Vitamin A:
484
IU
,
Vitamin C:
1
mg
,
Calcium:
117
mg
,
Iron:
2
mg
We are a participant in the Amazon Services LLC Associates Program, an affiliate advertising program designed to provide a means for us to earn fees by linking to Amazon.com and affiliated sites.