Grandma Georgia's Slow Cooker Chicken and Dumplings
This Crockpot Chicken and Dumplings has rich dark meat, lots of tender carrots, big ol' dumplings, and tons of gravy to pour on top. Heaven! I adapted it from my Grandma's Georgia's famous recipe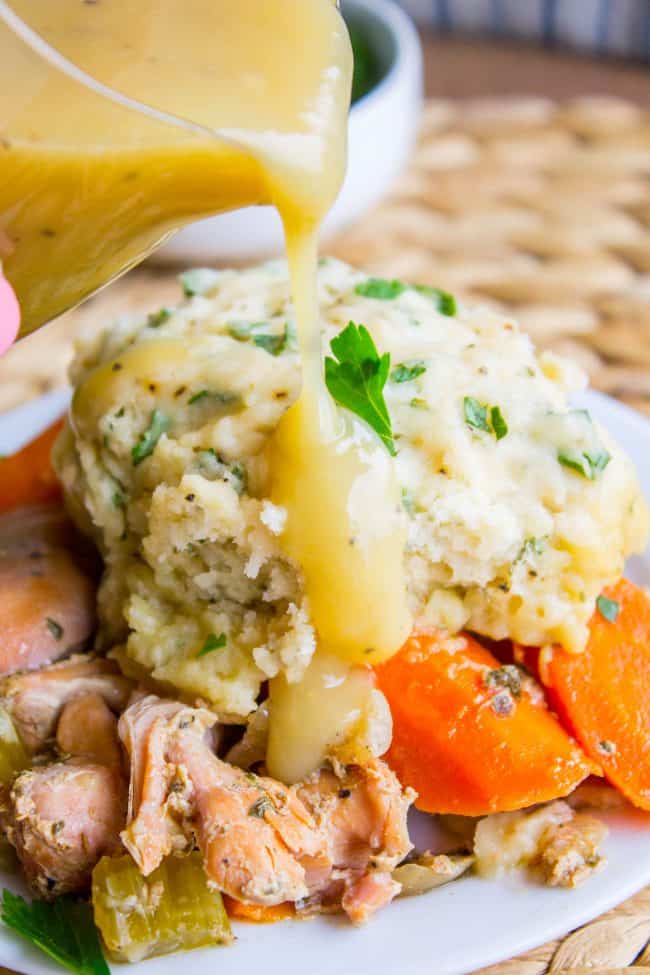 Originally published March 22, 2018
I just managed to pull off the biggest con in the history of motherhood: I introduced a chores system that my kids are so excited about, they're asking to do EXTRA chores.
Can you high five yourself?? I guess that's just called clapping. Well whatever. I pretty much deserve a round of applause over here anyway.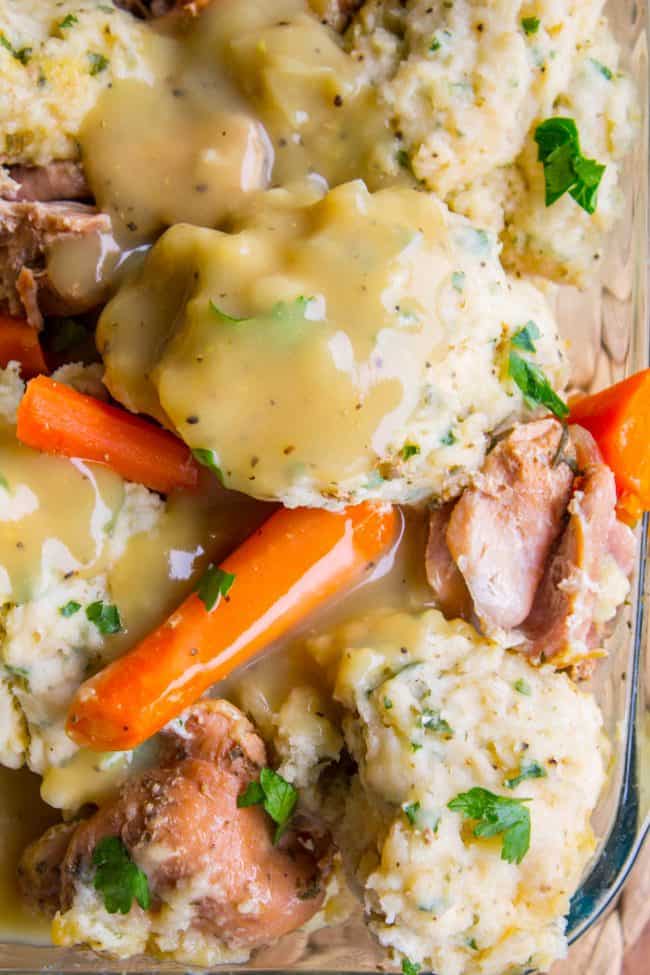 My friend Tawna has 5 siblings, and her mom had a chore jar all growing up. Pull out a slip of paper with a chore on it, get it done. Then put it back in the jar. Thaaaat's it. I know, really ground breaking stuff going on here.
When I tell people the system they ask two things: what if you pull the same chore 2 days in a row? The answer: who cares! It's almost like a free day because it will be so easy to get done. That's actually my favorite way to clean (cleaning clean things). You know what's gross? Scrubbing a dirty shower. You know what's not gross? Wiping down a clean shower every day. (I actually do this. I've come a really long way from this post. Don't judge me if you read that!!)
The second thing everyone asks about is rewards. No rewards! No one puts a sticker on a chart when I do the dishes, darnit! (Although sometimes I give myself ice cream afterward…)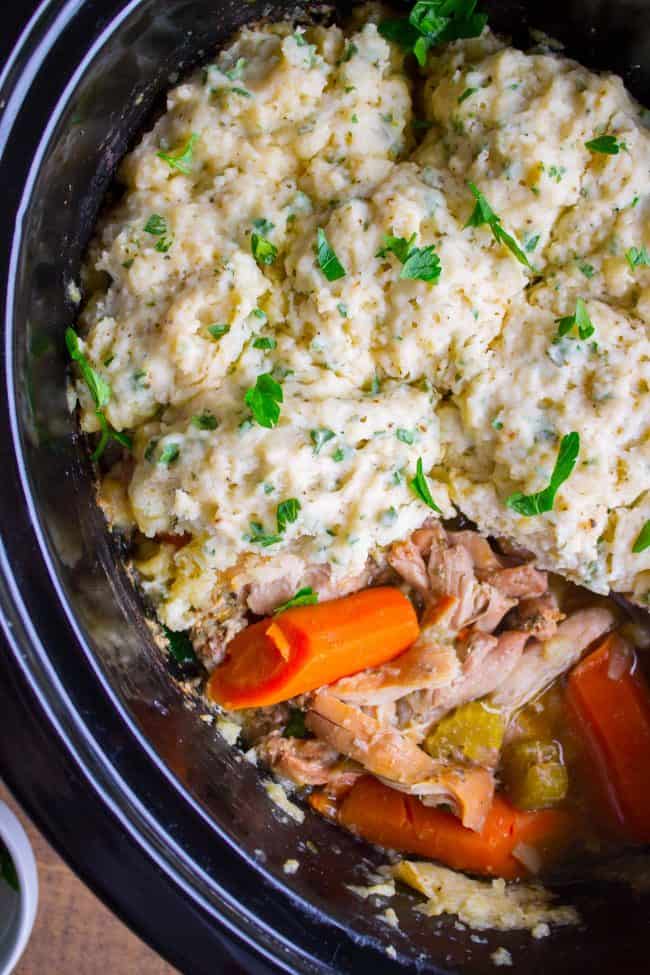 Today was only our third day, but I have high hopes. Another friend of ours started the chore jar 3 weeks ago and her son is still super excited about it. Out of the 20 slips of paper I put in the jar, 16 have chores and 4 have fun things, like, Free Day, read a book, or bake cookies with Mom. The kids are really excited about that one!
How to make Chicken and Dumplings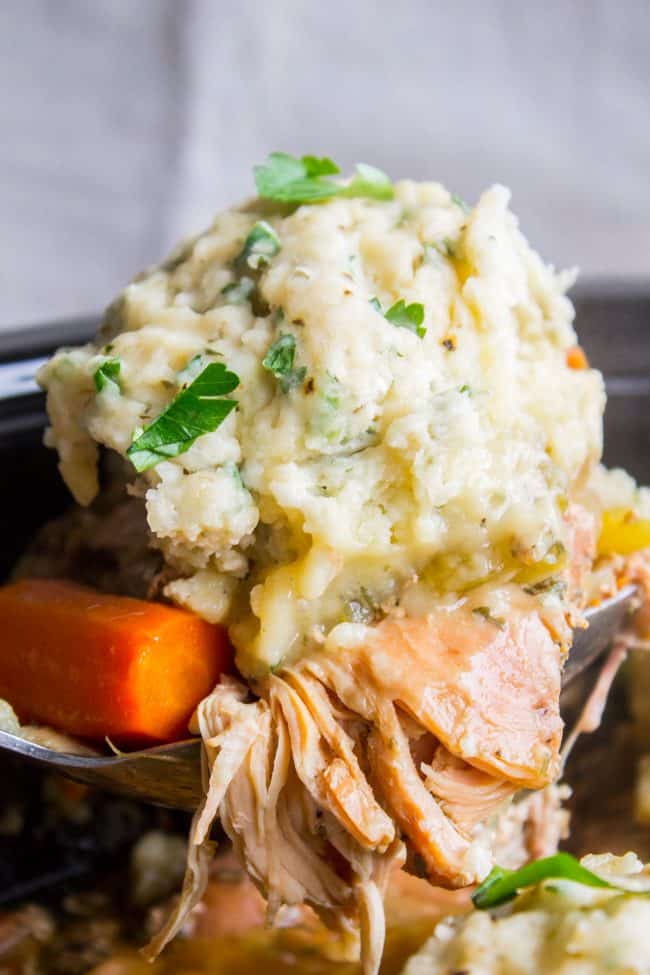 Have you ever had Chicken and Dumplings? My Grandma Georgia made this for our family when I was growing up, and it is pure comfort food to me. In fact, the stovetop version is the 4th recipe I posted on the blog, back in 2011. When you start a food blog, you start with all your favorites.
I feel like Chicken and Dumplings is one of those forgotten recipes. Have you ever seen it on a restaurant menu? Maybe you can find it in the south, but I've never seen it in California (where both Grandma Georgia and I were born and raised). It's such a shame because everyone loves this meal. It's so satisfying.
Crockpot Chicken and Dumplings
I couldn't find the recipe my Grandma made anywhere online, which is odd because it's based on the classic Better Homes and Gardens recipe. All the recipes I found on Google searches and Pinterest were basically chicken soup with some dumplings tossed in at the end. Chicken and Dumplings is not soup! Oh, and a ton of them used cream of chicken soup (even Paula Dean's recipe! Come on Paula!!)
Some recipes I found had dumplings that were more like homemade noodles, rolled out and cut, like the ones in this Chicken Noodle Soup with Homemade Noodles. I think that might be a southern thing. My grandma always just mixed up the batter in a bowl and spooned it on top of the chicken to cook. Sounds a lot faster than rolling it out! I just did this right in the slow cooker.


Adapting Chicken and Dumplings for the Slow Cooker
Here are some things that this recipe does NOT have:
Cream of chicken soup (I'm no hater. But that's not what Grandma Georgia used.)
Frozen carrots and peas
Canned biscuits (There is a time and place for canned biscuits…but dumplings are not biscuits.)
It is not brothy chicken soup with biscuits floating in it. It's CHICKEN with DUMPLINGS. Not chicken soup. Get that broth outta here. (In fact, turn it into gravy!)
Here are some things this recipes DOES have:
Gravy. LOTS OF GRAVY.
Carrots. Fresh ones. The more the better!
Chicken thighs. My Grandma used a whole fresh chicken of course, but I had to draw the line somewhere. (The line: cooking a whole chicken kinda scares me. Eep! did I just say that out loud??) Honestly I feel like chicken thighs get the job done just fine. You are welcome to use some breast meat in lieu of a couple thighs, but to get authentic flavor you need at least SOME dark meat.
Fresh homemade buttermilk dumplings that take literally 5 minutes to throw together. They are worth it.
If you have never had Crockpot Chicken and Dumplings, I hope you get to try this recipe out soon! I know you will love it as much as we do! I tested this a number of times and got to serve it to my dad, who I knew would be honest. He said it really tastes just like Grandma Georgia's. Success! Hooray!
Facebook | Pinterest | Instagram | Twitter
One year ago: Beer-Battered-Fish Burrito Bowl with Orange Avocado Salsa
Two years ago: Classic Deviled Eggs Recipe << perfect for Easter!
Six years ago: Lentil and Black Bean Soup
Grandma Georgia's Slow Cooker Chicken and Dumplings
I took my Grandma Georgia's famous Chicken and Dumplings recipe and made it in the slow cooker! It worked beautifully! This recipe has rich dark meat, lots of tender carrots, big ol' dumplings, and tons of gravy to pour on top. Heaven!
Ingredients
For the chicken
3

pounds

boneless skinless chicken thighs

4

cups

water*

4

teaspoons

Better Than Bouillon Chicken Base*

5-10

carrots

,

peeled and cut into large chunks

2

cups

celery

,

chopped into 1/2 inch chunks

1

large

onion

,

chopped

2

bay leaves

1

teaspoon

poultry seasoning

1 & 1/2

teaspoons

dried parsley

1

teaspoon

sage

1

teaspoon

salt

1/2

teaspoon

pepper
For the dumplings
3

cups

flour

,

spooned and leveled

1 & 1/2

teaspoons

salt

1

tablespoon

baking powder

2

teaspoons

dried parsley

,

OR 2 tablespoons fresh parsley

1/2

teaspoon

pepper

3

tablespoons

cold butter**

3

tablespoons

shortening**

1 & 1/2

cups

buttermilk

,

cheat version is ok***
Instructions
Notes
*The water and Better Than Bouillon Chicken Base can be replaced with 4 cups high quality chicken stock.
**You can use all butter or all shortening if you want! Or any ratio. You need 6 tablespoons total fat.
***Cheat buttermilk: add 1 tablespoon lemon juice or vinegar to a glass measuring cup. Fill it to the 1 and 1/2 cup mark with milk, the higher fat content the better. Stir and let sit 5 minutes, then use like regular buttermilk.
Nutrition
Serving:
1
g
,
Calories:
581
kcal
,
Carbohydrates:
67
g
,
Protein:
32
g
,
Fat:
20
g
,
Saturated Fat:
8
g
,
Polyunsaturated Fat:
4
g
,
Monounsaturated Fat:
6
g
,
Trans Fat:
1
g
,
Cholesterol:
130
mg
,
Sodium:
2187
mg
,
Potassium:
739
mg
,
Fiber:
5
g
,
Sugar:
8
g
,
Vitamin A:
9144
IU
,
Vitamin C:
6
mg
,
Calcium:
265
mg
,
Iron:
5
mg
More Grandma-style comfort food that you will love!
Classic Double Crust Chicken Pot Pie: << I spent years on this recipe!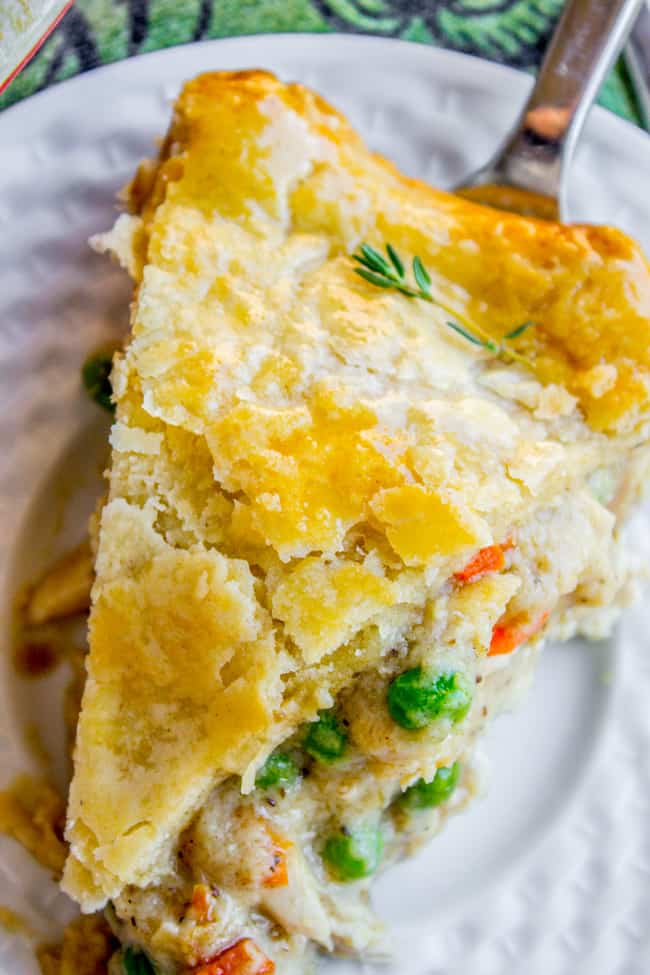 Chicken Pot Pie with Flaky Biscuit Topping <<basically the same as above, but with flaky biscuits on top instead of pie crust.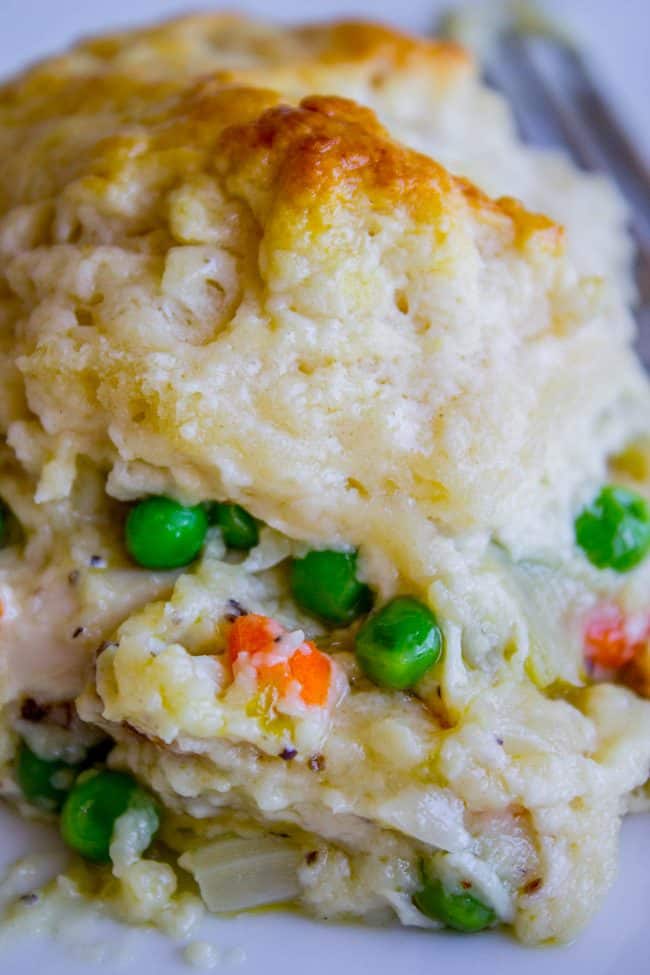 Mini Chicken Pot Pies (Quick and Easy!) < Now this recipe DOES make use of canned biscuits. Sometimes you just gotta get er done!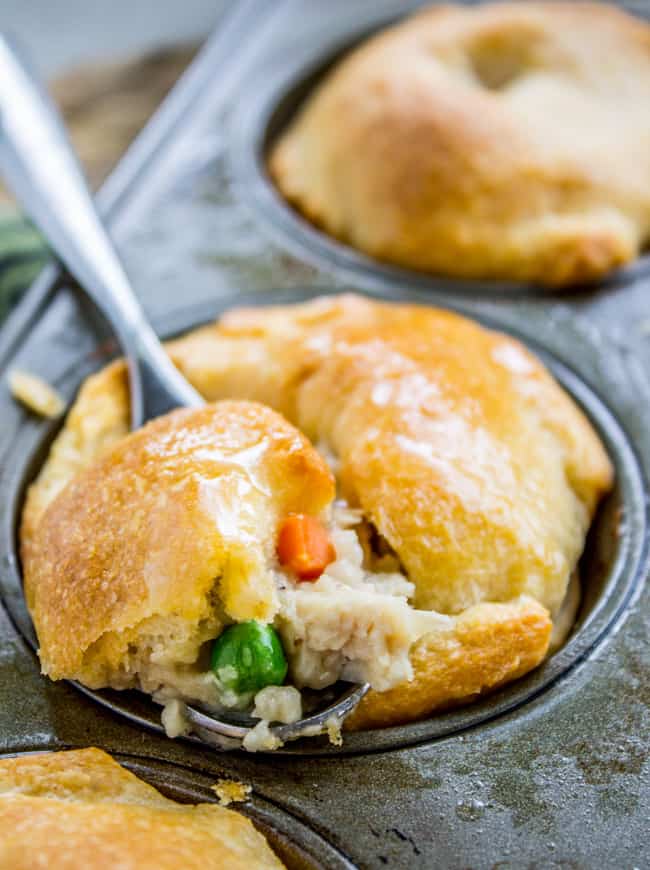 Chicken Noodle Soup with Homemade Noodles: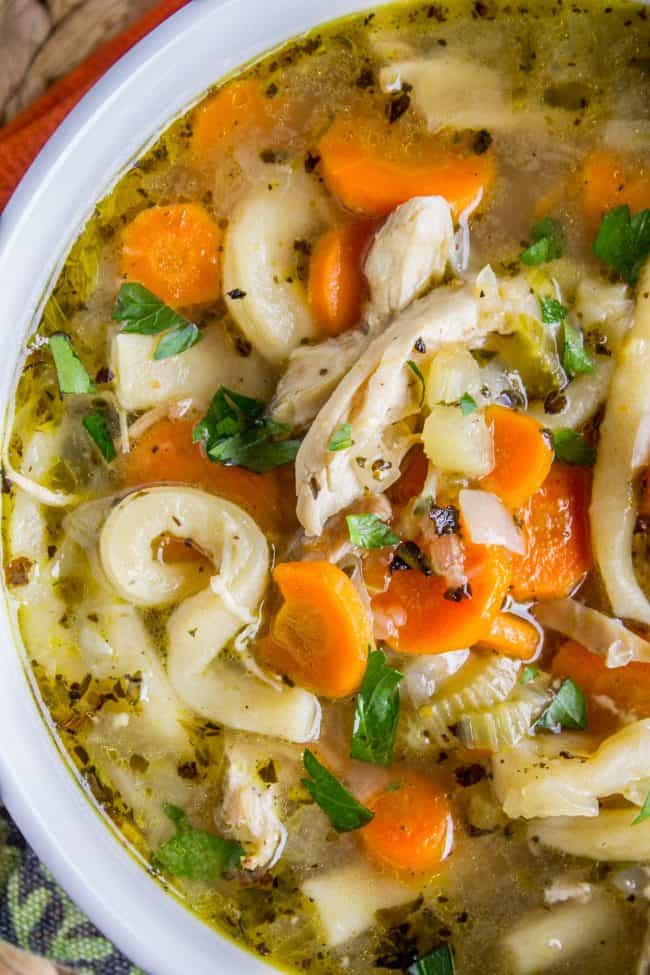 I found some other really interesting looking Chicken and Dumplings recipes! Can't believe how many variations there are on this old classic:
Tex Mex Chicken and Dumplings from Taste and Tell
Lemon Chicken and Dumplings from The Noshery
Homestyle Chicken and Dumplings from The BakerMama
Italian Chicken and Dumplings from Taste and Tell
Slow Cooker Chicken and Dumplings from Your Home Based Mom
We are a participant in the Amazon Services LLC Associates Program, an affiliate advertising program designed to provide a means for us to earn fees by linking to Amazon.com and affiliated sites.