Chicken, White Bean, and Kale Soup (Slow Cooker)
Slow cook your way to a steamy bowl of comfort with this chicken & kale soup! White beans, carrots, and Parmesan shavings round out this easy dinner, which is healthy to boot. Serve with some crusty bread and extra cheese for extra yum.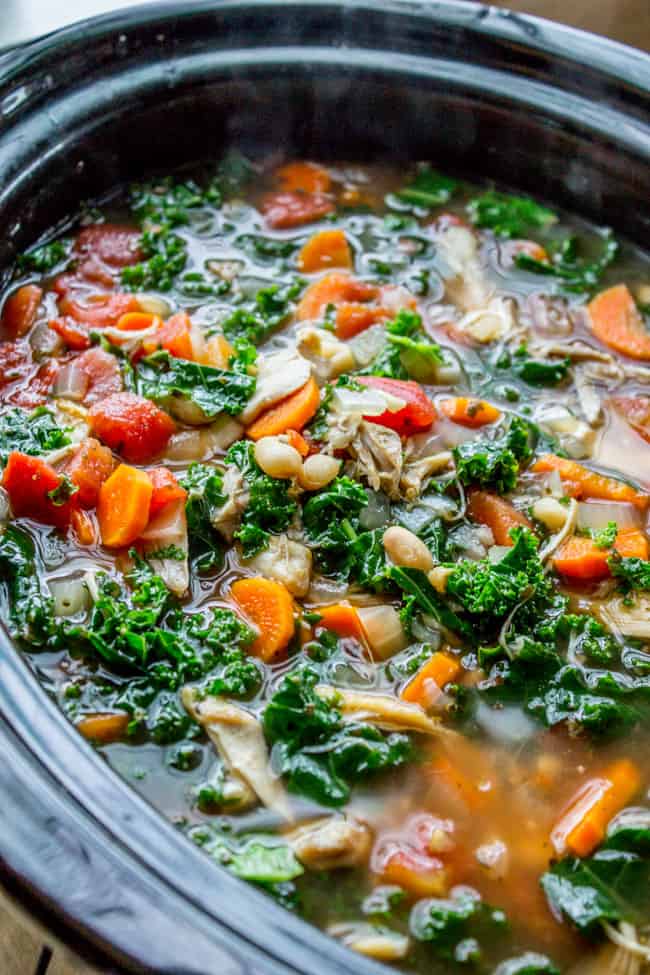 Originally posted January 10, 2017
Eric has started to make a small "ding!" sound every time I close the sliding door of my closet. I think he figures that if I hear a pleasant "ding!" as a reward for shutting the closet door, I will do it more often. You know, kind of like Pavlov's dog. (Ring a bell, give food. Eventually the dog salivates at the bell, without the food.)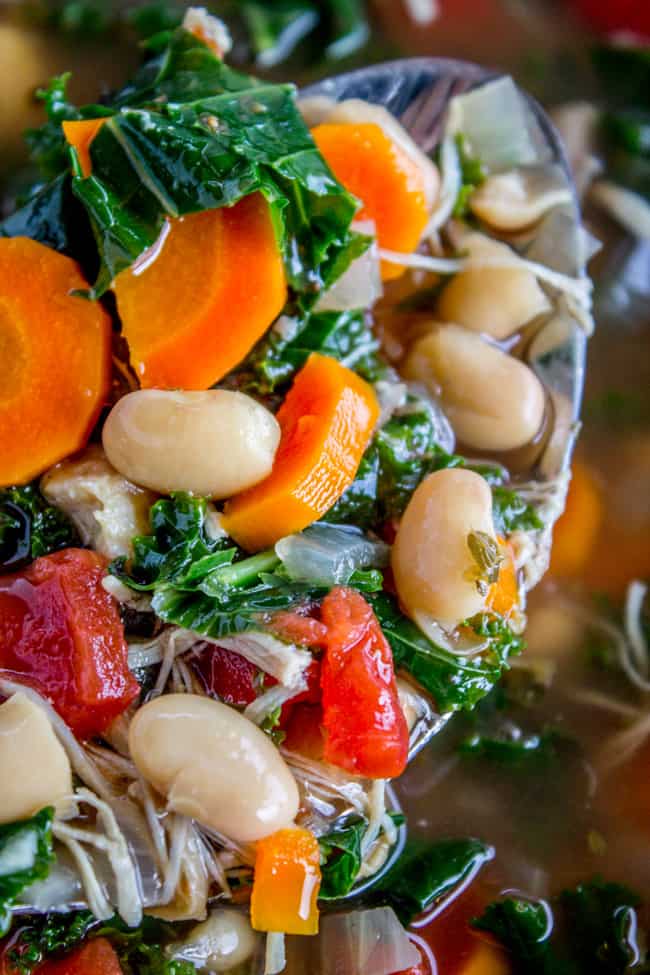 I'm slightly offended to be a mere subject in his psychological experiment, but at the same time have caught myself silently "dinging" myself for all sorts of things now as a mini reward. Who knew I was so easy to please? Maybe I'm part canine? A little worried that I'm going to start requesting belly rubs and ear scratches soon.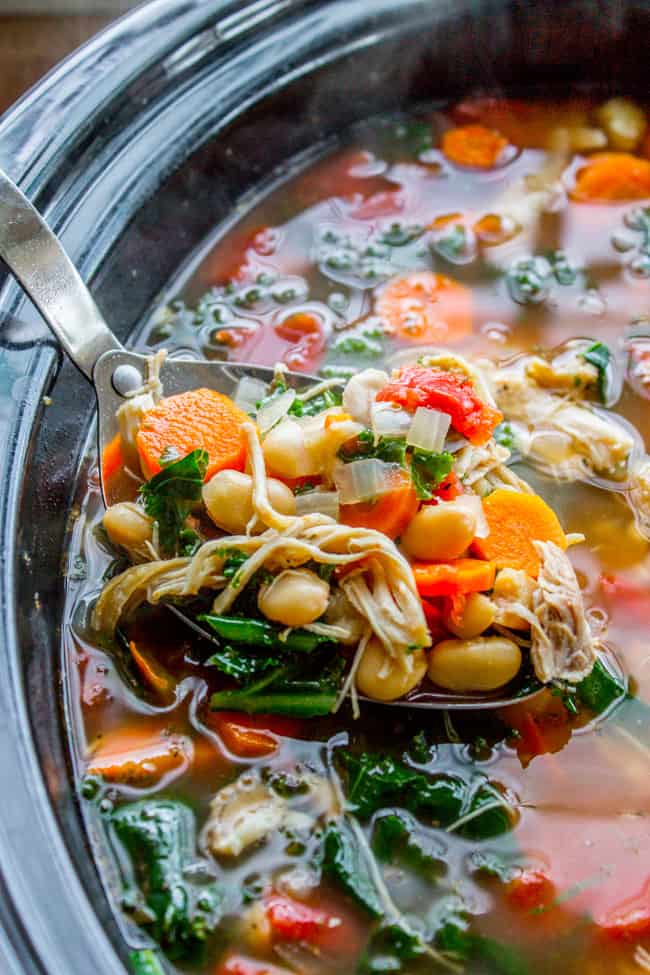 How to make White Bean, Chicken & Kale Soup
Have you jumped on the kale bandwagon? I heard this interview of a restaurant critic on the radio the other day where she totally slams kale. At least, kale as it is often prepared in these trendy times. (Kale salad, kale chips, kale pizza.) She said that years ago grocery stores would leave it on the stands outside during winter, so that it would partially freeze, which made it more tender. And even then it was usually tossed into a soup or stew.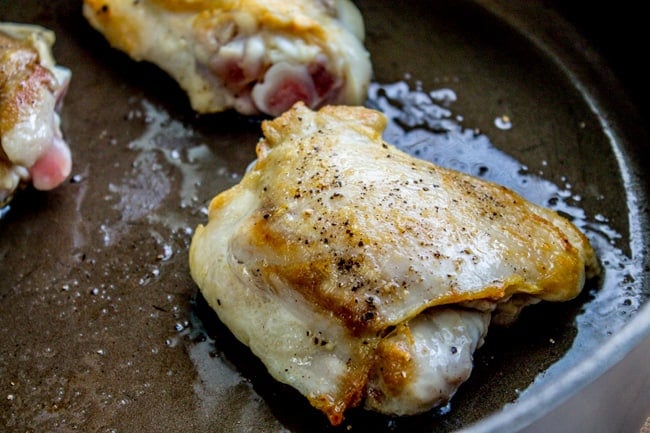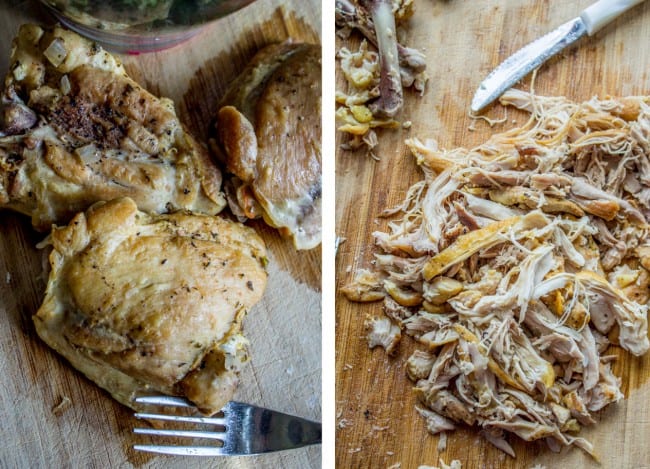 I was cheering the whole interview. I mean, have you ever had kale chips? They're gross. If you think otherwise, I think you've drunk the Kool aid. (It was probably kale-flavored.)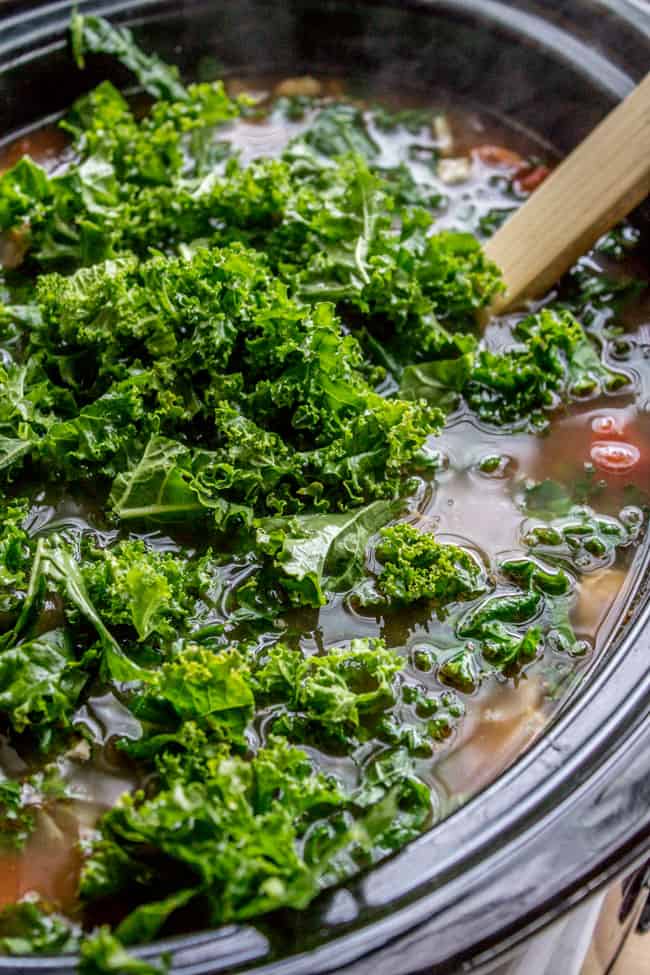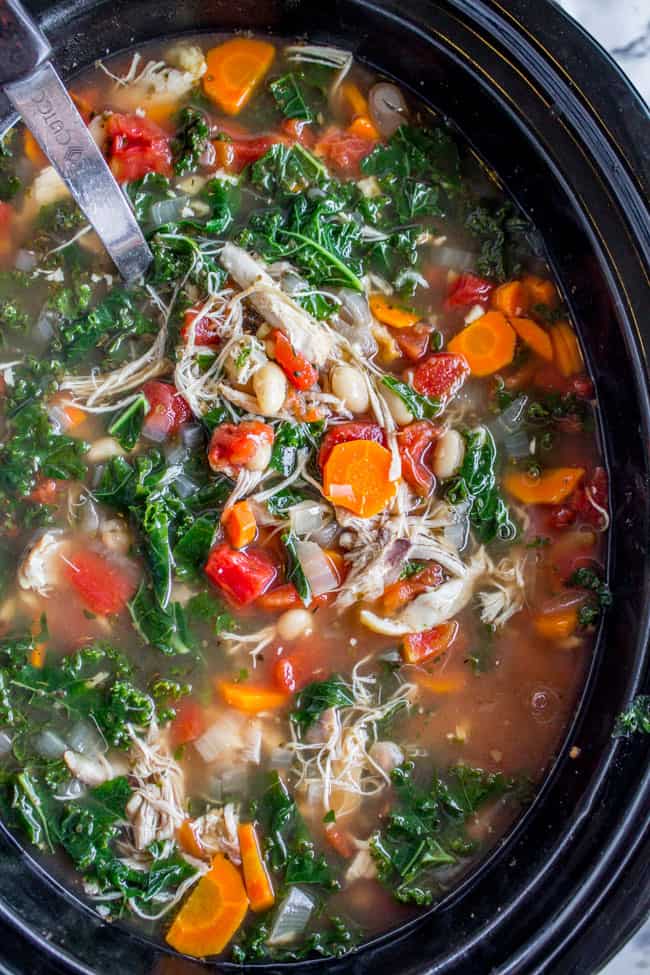 Kale in soup, however, is a completely different story. It becomes tender and absorbs the flavors around it.
What makes this chicken soup healthy?
This soup is so hearty and healthy, yet completely satisfying. It's the perfect meal for when you aren't feeling well! The chicken and beans have tons of protein to support the immune system. The chicken broth is hydrating and salty, perfect for your dulled taste buds. The carrots and tomatoes and onions have vitamins and mineral to help fight off a cold, and of course the kale that I've been trashing this whole post comes through for you with tons of minerals and fiber. WIN.
I also love how versatile this soup is. Swap out the vegetables, swap out the bean type, etc. I just talked to my friend Shannon the other day, she's the one who gave me the recipe, and she said she was going to try it with sausage, which I think would be awesome! Whatever you do, don't leave out the Parmesan rind. It totally takes this soup above and beyond!
More soups you will love!
Facebook | Pinterest | Instagram
Slow Cooker Chicken, White Bean, and Kale Soup with Parmesan Shavings
Slow cook your way to a steamy bowl of comfort with this chicken & kale soup! White beans, carrots, and Parmesan shavings round out this easy dinner, which is healthy to boot. Serve with some crusty bread and extra cheese for extra yum.
Ingredients
3

bone-in chicken thighs

,

skin removed*

salt and pepper

1

tablespoon

olive oil

1

medium

onion

,

chopped

4

medium

carrots

,

chopped (about 2 cups)

5

cloves

garlic

,

minced

1 (28-oz)

can

diced tomatoes

,

undrained

2 (15-oz)

cans

great northern beans

,

drained and rinsed

1

teaspoon

salt

1/2

teaspoon

pepper

2

teaspoons

Italian seasoning

8

cups

chicken broth

1

rind

Parmigiano Reggiano cheese

6-8

cups

kale

,

chopped into bite-size pieces

Parmigiano Reggiano shavings
Instructions
Heat a large skillet over medium high heat.

Remove the skin from the chicken and salt and pepper well.

Add the olive oil to the hot skillet. When it starts to shimmer, add the chicken. Sear well for 1-3 minutes, then flip and sear the other side until brown.

Add the onion, carrots, garlic, diced tomatoes, white beans, salt, pepper, Italian seasoning, chicken broth, and Parmesan rind to a 6-7 quart crock pot.

Cook on low for 7-8 hours, or on high for 3-4 hours.

Remove the chicken and shred, discarding bones. Return to the crock pot.

Add 6-8 cups of chopped kale, cover, and cook for another 10-20 minutes.

Serve with lots of Parmesan shavings and crusty bread!
Notes
*You can use chicken breasts if you like. Or, to make this even easier, omit the raw chicken and add about 2 cups of shredded rotisserie chicken.
Nutrition
Serving:
1
g
,
Calories:
365
kcal
,
Carbohydrates:
37
g
,
Protein:
25
g
,
Fat:
14
g
,
Saturated Fat:
4
g
,
Polyunsaturated Fat:
3
g
,
Monounsaturated Fat:
6
g
,
Trans Fat:
1
g
,
Cholesterol:
58
mg
,
Sodium:
1503
mg
,
Potassium:
1288
mg
,
Fiber:
10
g
,
Sugar:
4
g
,
Vitamin A:
10348
IU
,
Vitamin C:
91
mg
,
Calcium:
311
mg
,
Iron:
5
mg
We are a participant in the Amazon Services LLC Associates Program, an affiliate advertising program designed to provide a means for us to earn fees by linking to Amazon.com and affiliated sites.