Maple Pecan Granola with Cherries
Granola is the best make-ahead breakfast. It's full of nuts and whole grains and healthy stuff, with a hint of maple and cinnamon. Pair it with some plain yogurt, milk, or a smoothie. It's so easy to make!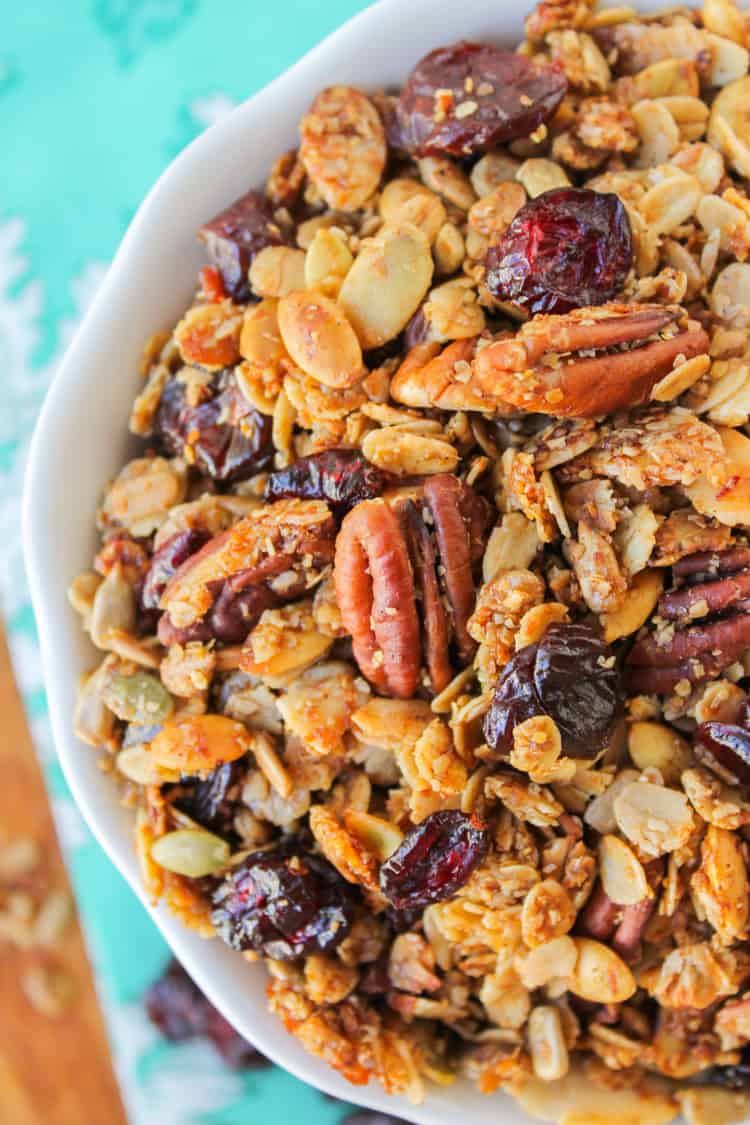 Last week we decorated the house for Halloween with Charlotte for our family night. We finally took down the Valentine's Day hearts.
Waaaaait! Come back!!
Try not to hate me. Can't we all just give me a pat on the back for decorating for Valentine's Day 8 months ago? Every time I see those hearts (pink and red construction paper ones, by the way, hole-punched onto twine), I think to myself, huh, I should probably take those down. But honestly, they are kind of out of sight unless you are looking up, and I just forgot.
That is, until the realtor had to take pictures of our house. Oh, did I forget to tell you that the house we rent was on the market? That's because I was too depressed to talk about it. We love our house. But, it's not for sale anymore, so woohoo!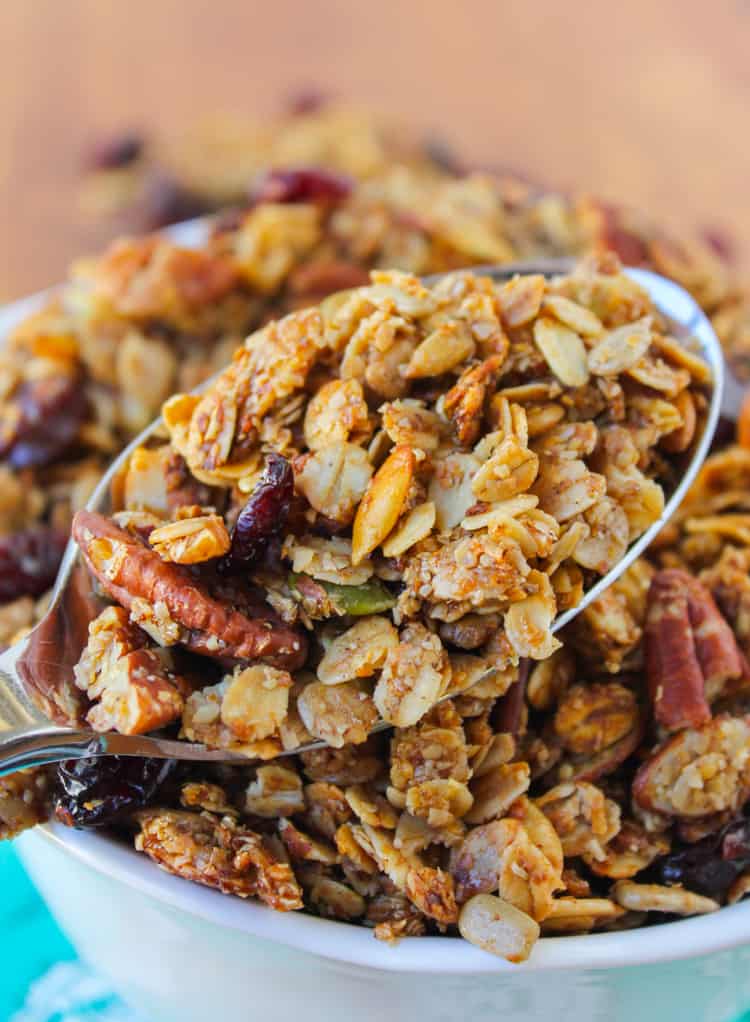 So the realtor comes over a few weeks ago to take pictures, right? I totally whipped our house into shape, if I do say so myself. There were only a few awkward moments, like when the realtor tried to make my dishtowels more presentable (they are old flour sacks that my grandmother embroidered when she was in isolation for tuberculosis when she was 11…they're sentimental, okay? And kind of ugly, if we're being honest.)
I didn't even think about our heart-garland until I saw the photos up online. Turns out when you stand back and take a photo of the whole living room, the hearts are the focal point. "Here, buy this house! It will fill you with love! And maybe even some Valentine confetti!"
Maybe it was enough to deter potential buyers? Hallelujah. Here's hoping I take our window monsters down before Christmas: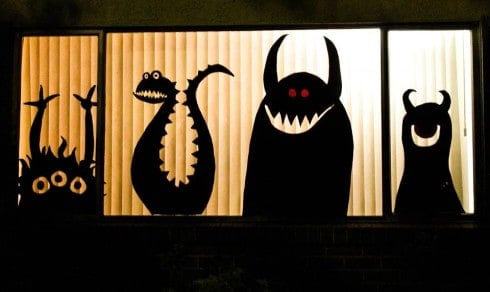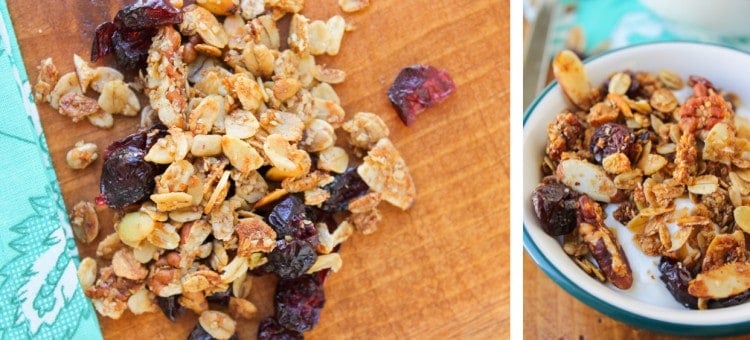 Granola is so adaptable it's ridiculous. You could literally replace almost any ingredient that you wanted. Except maybe the oats…but prove me wrong! Use any combination of nuts that you like. Hazelnuts or cashews would be delicious. If you can't find oat bran, add a few more shakes of wheat germ, or vice versa. (I found both of those products in the grocery store right by the oats, btw.) You can use pretty much any ratio of maple and honey. Use melted coconut oil instead of olive oil. The possibilities are endless.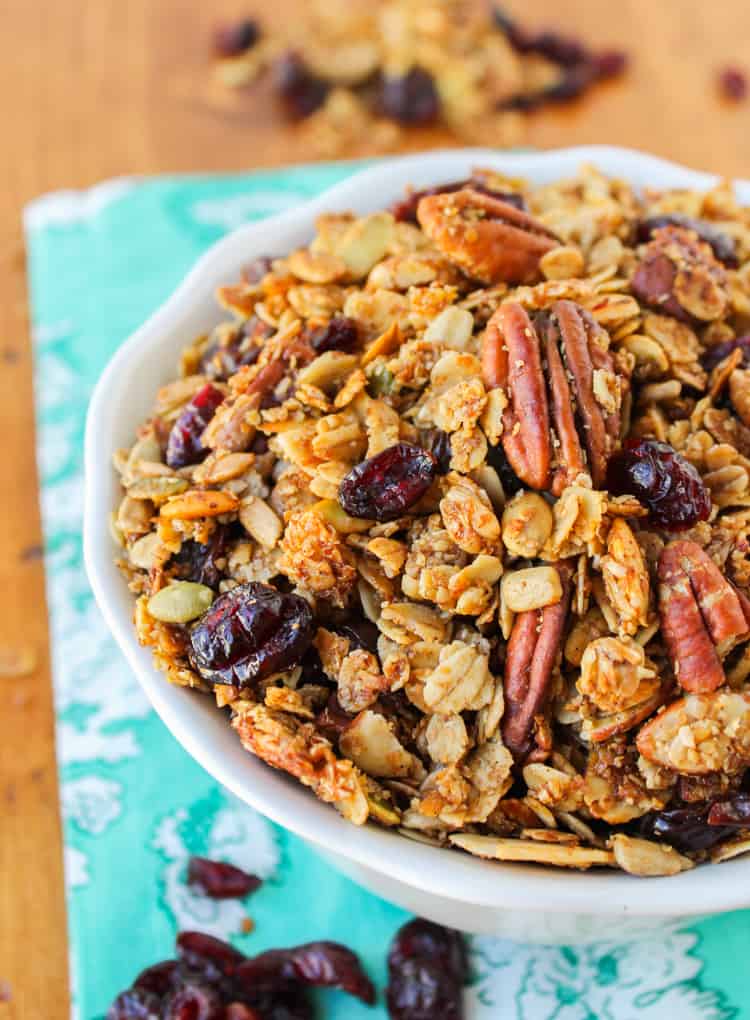 Just make sure you use a rimmed baking sheet or you will end up with burned granola all over the bottom of your oven from stirring. Not that I would know.
Do you guys give up? Or are you thirsty for more?
Facebook | Pinterest | Instagram | Twitter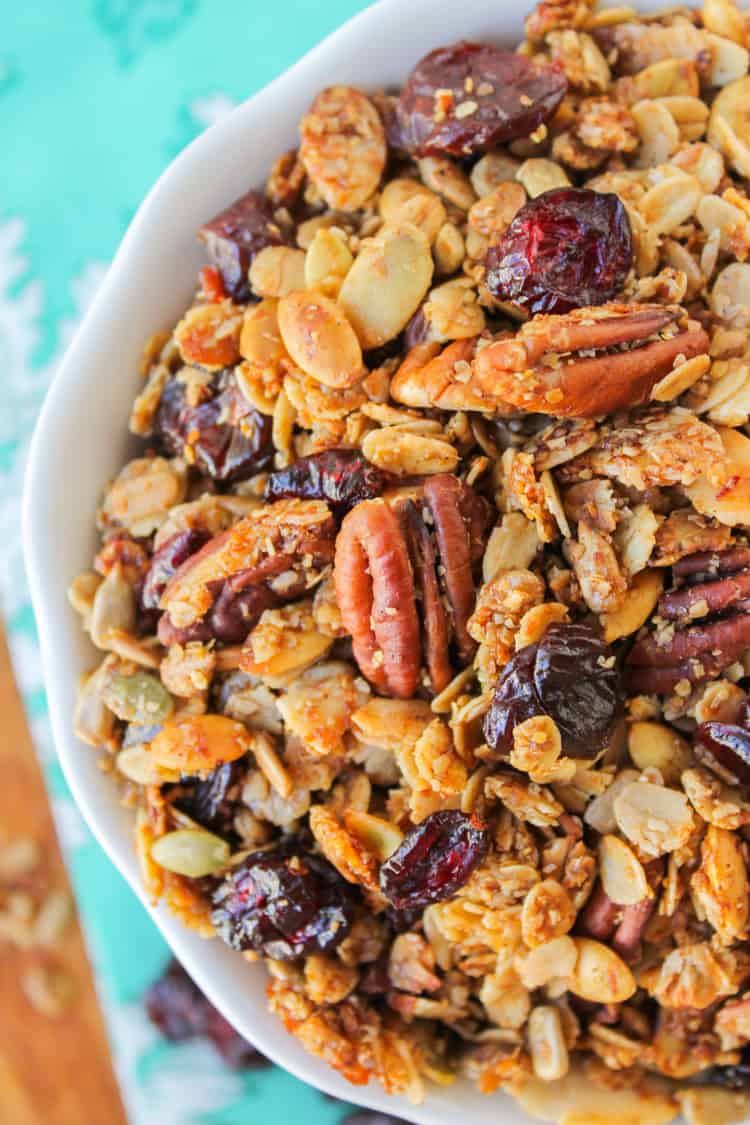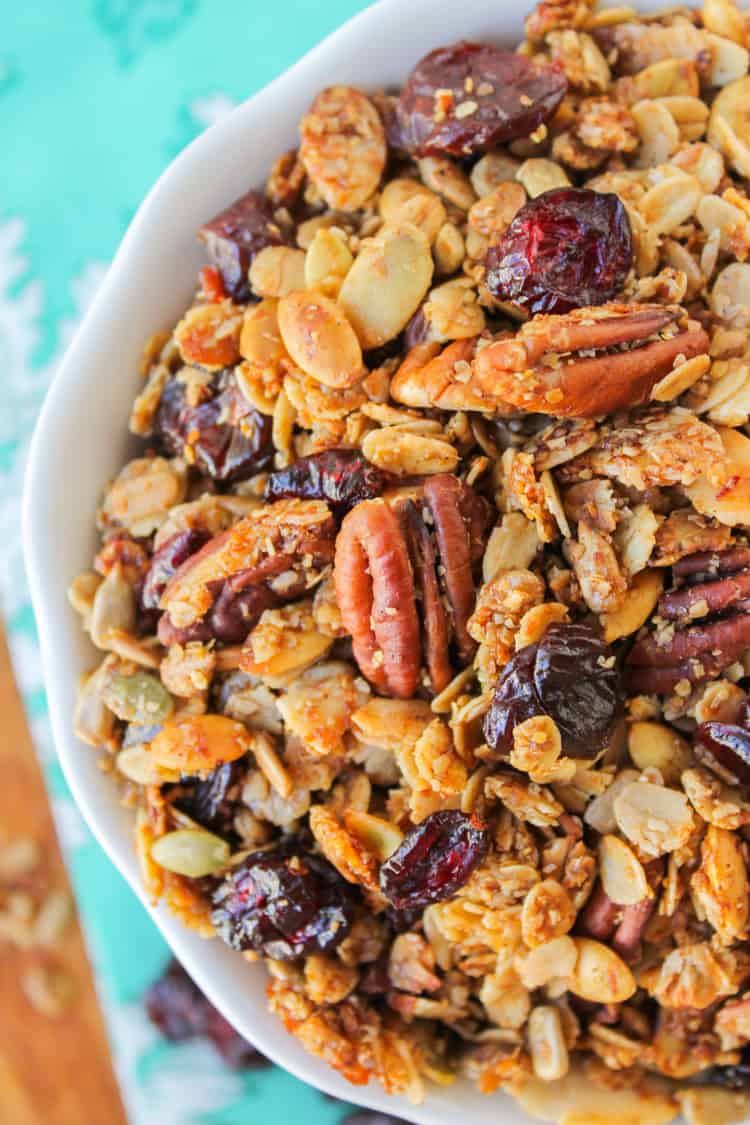 print
Did you make this recipe?
Leave a review »
Maple Pecan Granola with Cherries
Makes enough to fill 1 and 1/2 average cereal boxes
adjust servings
Ingredients
Dry
8

cups rolled oats

1

and 1/2 cups wheat germ

1

and 1/2 cups oat bran

1

cup salted sunflower seeds

1

cup sliced almonds

1

cup salted pepitas (pumkin seeds)

1

cup pecans, roughly chopped
Wet
1

cup olive oil

3/4

cup maple syrup

1/4

cup honey

1

tablespoon cinnamon

1/2

teaspoon cardamom

1/4

teaspoon cloves

1/4

teaspoon nutmeg

1

teaspoon salt

1

tablespoon vanilla (or vanilla bean paste)

1

and 1/2 cups dried cherries

1

and 1/2 cups dried cranberries
Instructions
Preheat the oven to 350 degrees F.
In the largest bowl you have, combine the oats, wheat germ, oat bran, sunflower seeds, almonds, pepitas, and pecans.
In a saucepan, combine oil, maple syrup, honey, cinnamon, cardamom, cloves, nutmeg, and salt. Bring to a boil, then remove from heat. Wait about a minute and then stir in the vanilla (If you do it right away some of it will burn off).
Slowly pour some of the liquid over the oat mixture and stir. Add the rest in a few increments until it is all incorporated.
Line 2 large rimmed baking sheets with foil or parchment paper. Divide the granola between the pans and spread evenly.
Bake at 350 for about 12 minutes, then stir the pans and bake for another 10-12 minutes, until it's just starting to brown. (If you are baking both pans at once, rotate the top and bottom pans when you stir.)
Let the granola cool. Sprinkle the cherries and cranberries over the granola and mix in.
Store in an airtight container.
by The Food Charlatan

If you make this recipe,
share it on Instagram
 using the hashtag
#TheFoodCharlatan
so I can see it!
Source: adapted from Allrecipes.com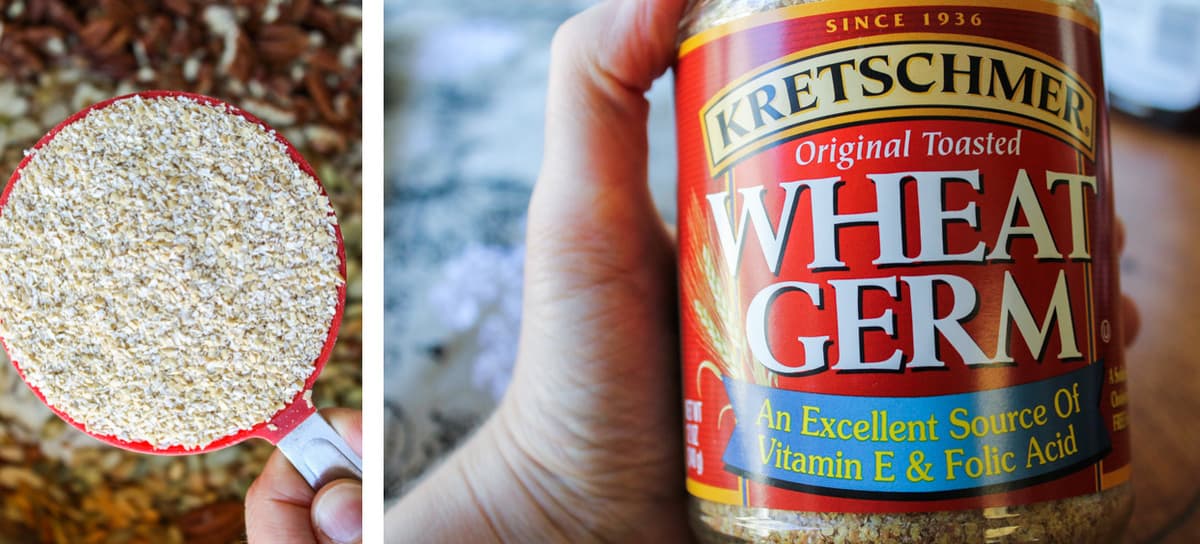 Oat bran is on the left. I found both of these by the oats on the cereal aisle of the grocery store.
Other breakfast ideas!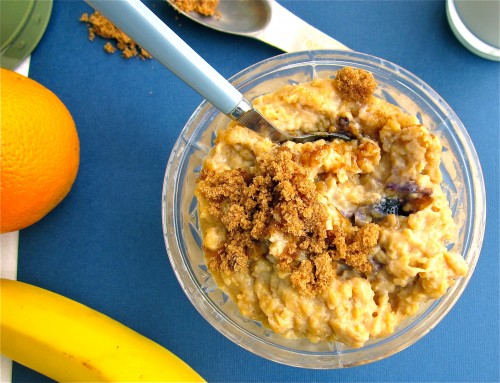 Blueberry Lime Oatmeal Muffins: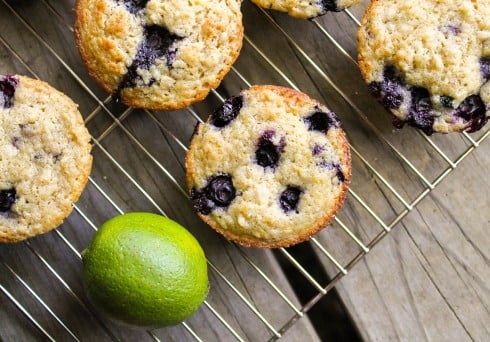 Lemon Raspberry Baked Oatmeal: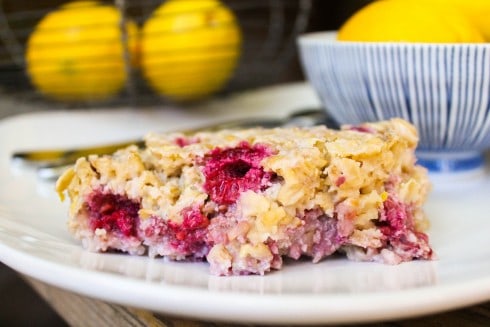 More breakfasts you might like:
Peaches and Cream Yogurt Parfaits from The Weary Chef
To Go Baked Oatmeal from Wholesome Dish
Breakfast Cookies from Gimme Some Oven
We are a participant in the Amazon Services LLC Associates Program, an affiliate advertising program designed to provide a means for us to earn fees by linking to Amazon.com and affiliated sites.