There is no better way to welcome fall than with these Pumpkin Cream Cheese Muffins! A moist, tender, ultra pumpkin-y muffin, filled with sweetened cream cheese, and topped with cinnamon sugar crunch topping! They are irresistible! If it's too hot where you are, these muffins are guaranteed to make the leaves start falling off your trees. Originally published on November 10, 2011.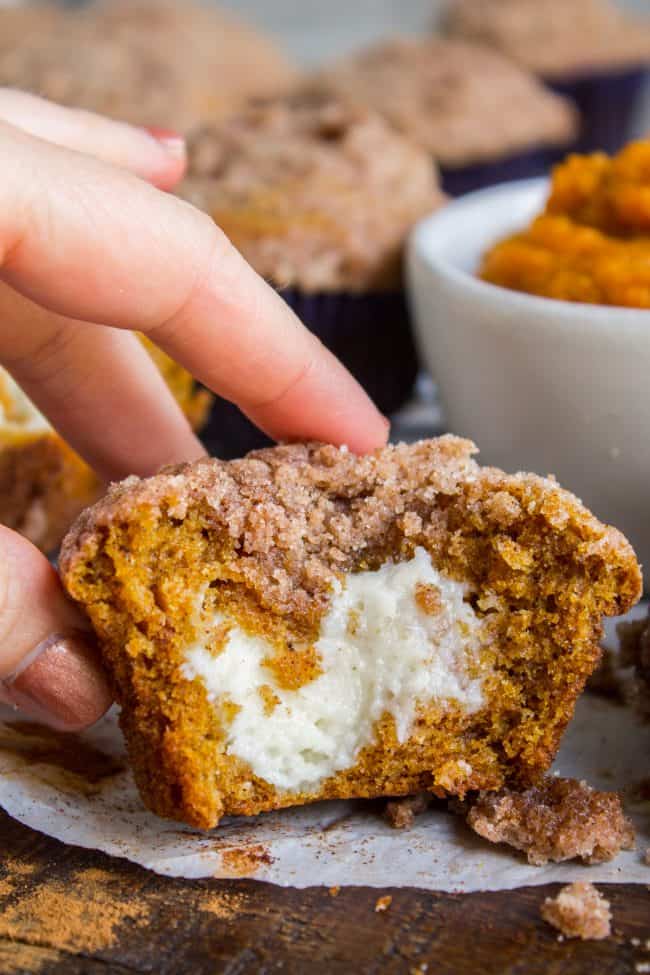 If you ever get the chance, I highly recommend watching foreigners watch classic movies. Eric and I made a reference to Darth Vader once in front of Huy, a friend of ours from Vietnam. It slowly dawned on us that Huy had no knowledge whatsoever of Star Wars, a realization most shocking to Eric, who is possibly the biggest Star Wars geek ever. (Actually probably not. There are some real Star Wars freaks out there.)
And so a Star Wars marathon ensued. Every week or so we would get a bunch of food and people together and watch the movies, starting with the classics of course. I've seen those movies a dozen times at least, but I can't tell you how awesome it was to watch someone else watch it for the first time.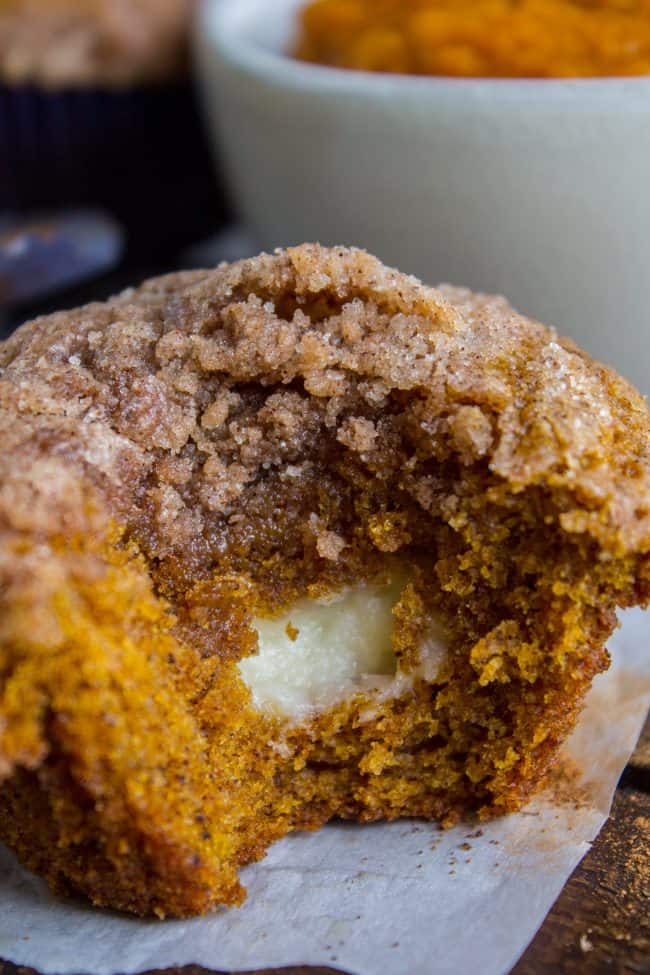 You should have seen Huy's face when Vader tells Luke that he is his father. Huy turned to us, complete disbelief on his face, and said, "You're joking. He's joking right? This is not real?"
A few weeks ago we introduced Huy to The Princess Bride. I guess he didn't know it was supposed to be funny, because while I was cracking up and quoting lines (Anybody want a peanut?) he was just watching, stony faced, waiting for the story to pick up.
Maybe if I didn't have so many memories attached to movies from my childhood I wouldn't think they were so great. Once we were having a family party for someone's birthday. My brother Nathan was about 4 or 5 I think, and he was sword fighting with my cousin. Nathan was Inigo, Tony was Count Rugen. There must have been a lull in the conversation, because everyone in the room heard Nate deliver his final line: I want my father back, you son of a–!
Except he really said it, as he slashed Tony through the armpit. Try explaining to a 4 year old that even though 25 people just erupted in laughter, it is not appropriate to use that kind of language.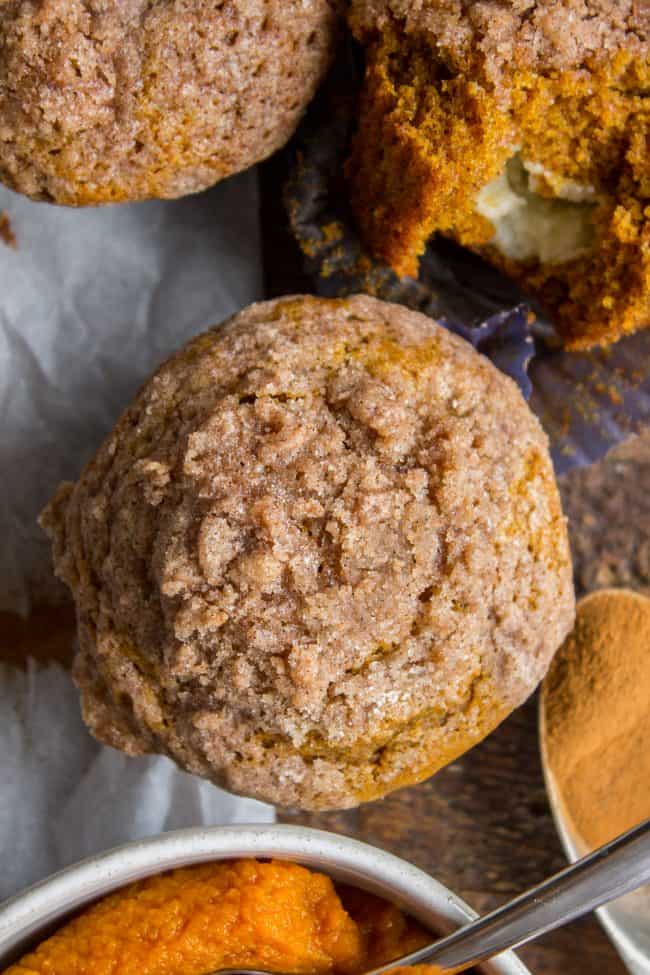 You'll LOVE this Recipe for Pumpkin Cream Cheese Muffins
I digress. Back to the food. I think pretty much any dessert could be made 10 times better by adding a cream cheese filling or layer. Chocolate cupcakes? Check. Pecan Pie? Check. French Toast Casserole? Check. These pumpkin cream cheese muffins? Double check. Tender, super tall muffin, with sweetened cream cheese in the middle means there is never a boring bite. And of COURSE there's streusel on top. Seriously what is the point of a muffin without streusel?
Ingredients for Cream Cheese Pumpkin Muffins
These pumpkin muffins with cream cheese filling take just 10 minutes to prep. See the recipe card at the bottom of the page for the full instructions.
Cream cheese (softened)
Powdered sugar
Eggs
Granulated sugar
Pumpkin puree (make sure you're using pumpkin puree; NOT pumpkin pie filling)
Vegetable oil
All-purpose flour
Spices (ground cinnamon, nutmeg, cloves, pumpkin pie spice, and salt to spice up your muffins)
Baking soda
Crumb topping (granulated sugar, flour, cinnamon, and cold butter)
How to make Pumpkin Cream Cheese Muffins
First start out by mixing up your cream cheese filling. Spread it out on some plastic wrap, roll it up, and stick it in the freezer while you make the muffins. Cold filling in the middle of baking muffins means the filling stays put in the middle of the muffin!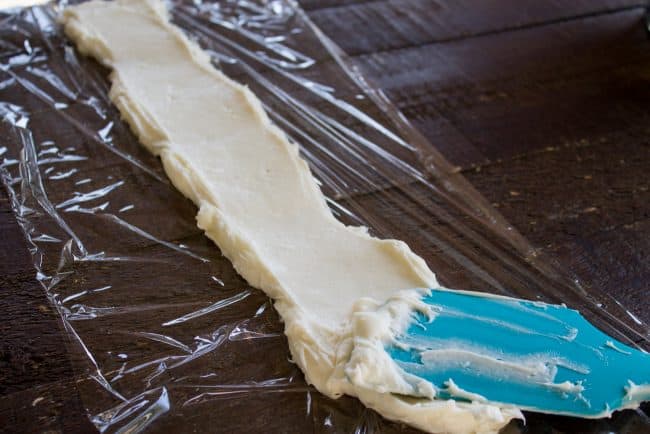 2. Next stir up your muffin batter. It's really simple.Mix in those dry ingredients. I like to stir the dry ingredients together with the teaspoon I used, doing it right on top of the wet batter. Saves an extra bowl for the dry ingredients!

3. Add about a tablespoon of muffin batter to a muffin liner. Top with a section of the chilled cream cheese mixture.

4. Meanwhile, cut together your streusel using a pastry cutter.
5. Top with more batter, almost right to the top of the liner. Then top with a bit of streusel and pop it in the oven!

Tips for making the BEST muffins of your life
I've learned a lot about muffin baking in the 7 years since I published this post! Here are my best muffin tips for the TALLEST, domiest (that's a word right?), dreamiest bakery style muffins of your life. You can make incredible muffins at home, I promise! These tips can be applied to any muffin recipe. Here are the secrets:
Spray the top of your muffin pan with nonstick spray so the muffin top will pop out easily.
Use paper liners, always
Fill the muffin batter almost to the top of the muffin liner. Yes, really. Trust me!
Bake at a super high temperature (425 F) for 5-6 minutes until the muffins have risen over the top of the pan. Then lower the temperature to 350 without opening the oven door and finish baking.
Pop the muffins out of the pan 1-2 minutes after removing from the oven (yes, when they are burning hot) so that the bottoms don't get soggy. Use a butter knife to help you. Place them on a cooling rack.
That's it! You can use these rules with any muffin batter. The high temperature to start is the key to tall fluffy muffins.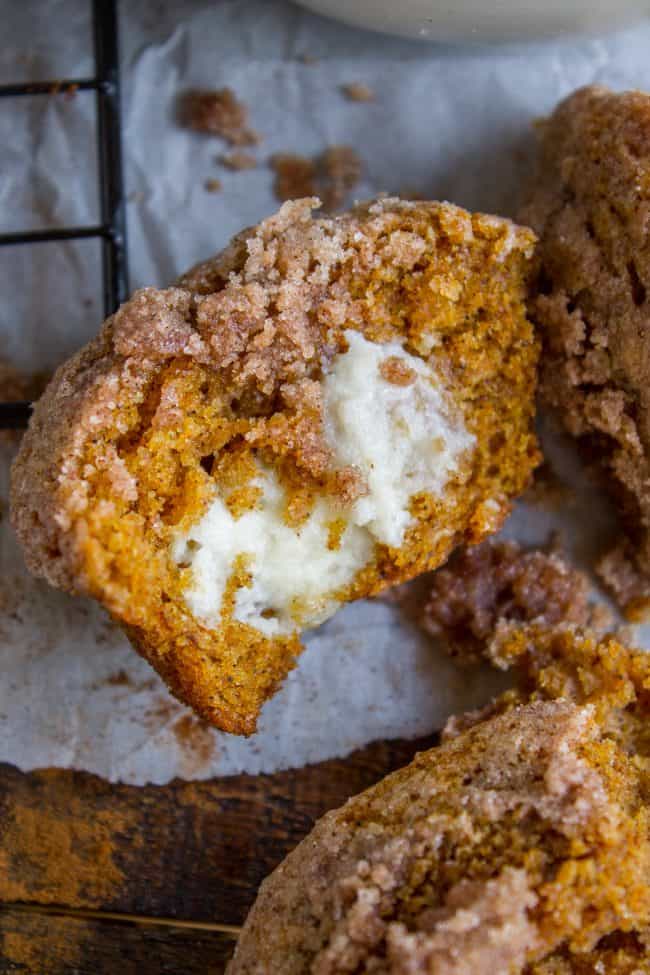 Below is my original photo of these muffins, taken back in November 2011. This was one of the first recipes I posted on my blog! It's a winner guys!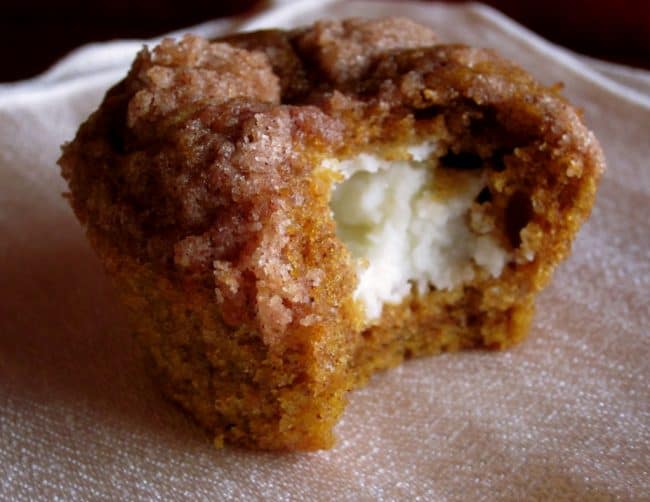 Pumpkin Cream Cheese Muffin Storage
Can I freeze muffins with cream cheese filling?
Yes! You can freeze these muffins for up to 3 months.
When you're ready to serve them again, just thaw them in the fridge or on the counter and they're ready to go.
Can cream cheese muffins sit out?
I store these muffins on the counter for a first day or two. After that I would store them in the fridge. If you know you won't be able to eat them all in a day or two, I recommend storing them in the freezer, it keeps them super fresh! If you like a warm muffin (and who doesn't), you can always grab one from the fridge/freezer and pop it in the microwave for 15 seconds.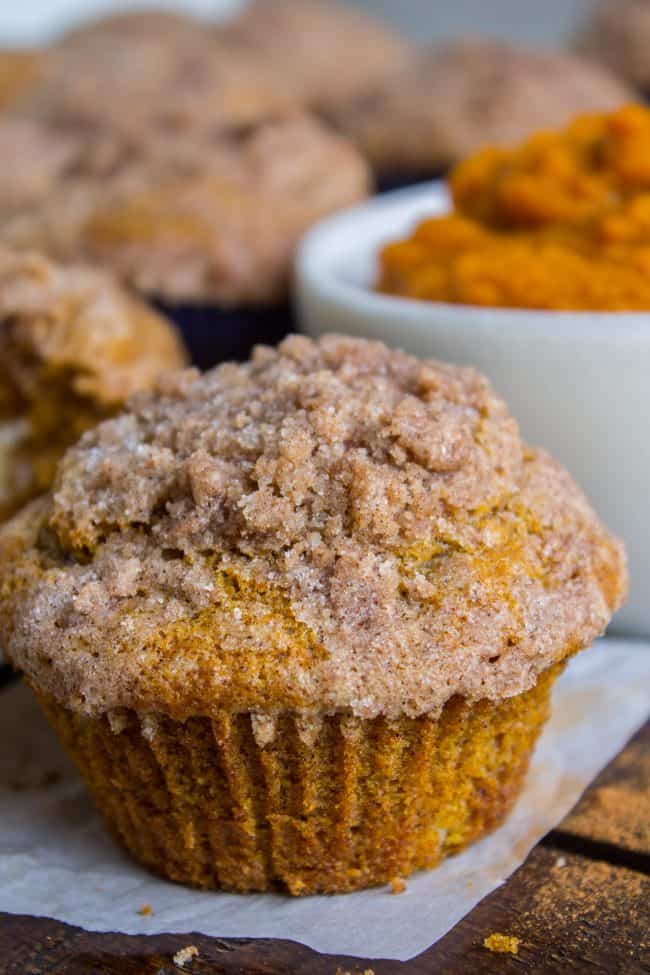 Here are some other pumpkin recipes you will love!
More pumpkin desserts with cream cheese:
Facebook | Pinterest | Instagram

Cream Cheese Pumpkin Muffins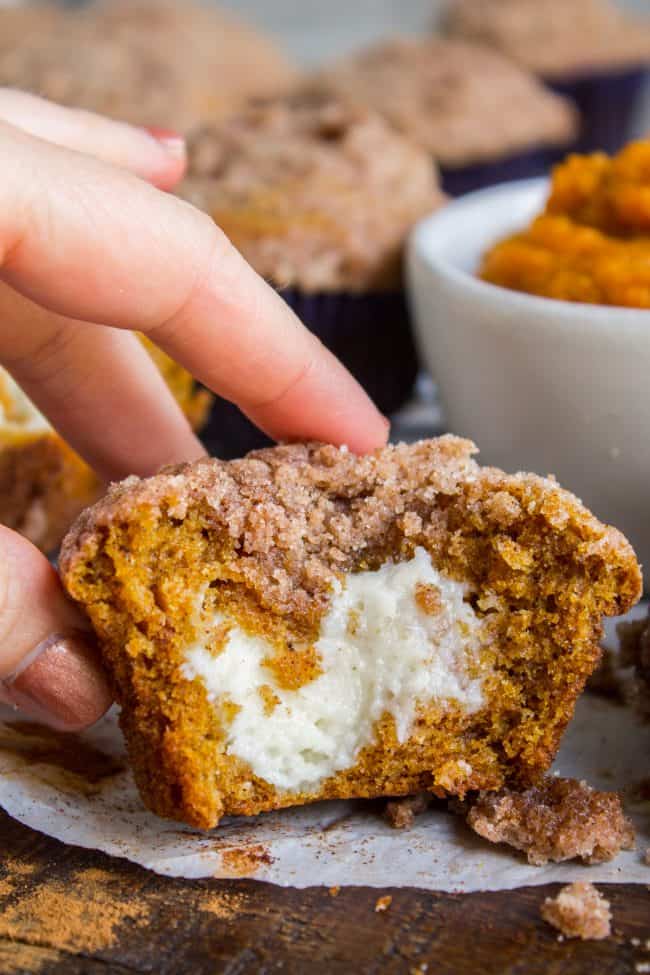 There is no better way to welcome fall than with these Pumpkin Cream Cheese Muffins! A moist, tender, ultra pumpkin-y muffin, filled with sweetened cream cheese, and topped with cinnamon sugar crunch topping! They are irresistible!
Ingredients
For the filling
1

(8 ounce) package cream cheese

,

softened

1

cup

powdered sugar
For the muffins
4

large eggs

2

cups

granulated sugar

2

cups

pumpkin puree (or 15 oz can)

1 & 1/3

cups

vegetable oil

3

cups

all-purpose flour

,

spooned and leveled

1

teaspoon

ground cinnamon

1

teaspoon

ground nutmeg

1

teaspoon

ground cloves

4

teaspoon

pumpkin pie spice

1

teaspoon

salt

1 & 1/2

teaspoon

baking soda
For the crumb topping
1/2

cup

+ 2 tablespoons granulated sugar

1/3

cup

all purpose flour

2

teaspoons

ground cinnamon

6

tablespoons

cold butter

,

cut into pieces
Instructions
In a large bowl or stand mixer, beat together the cream cheese and powdered sugar on medium speed until blended and smooth. Make sure to scrape the sides and bottom.

Lay out a large piece of plastic wrap. Use a spatula to transfer the cream cheese mixture onto the plastic wrap in a log shape, about 1 and 1/2 inches in diameter.

Smooth the plastic wrap tightly around the log, sealing the ends well. You can reinforce with more plastic wrap or foil if you want. Transfer to the freezer and chill at least 2 hours, or overnight. You want the cream cheese log to be firm enough to slice.

To make the muffins, spray the tops of 2

muffin pans

with nonstick spray. (Don't focus on spraying the inside of the muffin wells, just grease the top so that the muffin tops will come off the pan nicely.)

Fill each tin with paper cupcake liners.

In a large bowl or stand mixer, beat the eggs until blended. Add 2 cups sugar, the pumpkin puree and the oil. Mix on medium-low speed until blended, scraping the sides and bottom if necessary.

Add 3 cups of spooned and leveled flour, but do not mix it in yet. Make a small well in the flour, and add the cinnamon, nutmeg, cloves, pumpkin pie spice, salt and baking soda. Use a small spoon to stir it into a flour a bit.

Use a large spatula to mix the wet and dry ingredients together. You can use the mixer if you want, just be very careful not to over mix. Only stir until the flour has barely been incorporated. Make sure there are no liquid-y parts, and remember to scrape the sides and bottom well.

Cover and put the muffin batter into the fridge to rest for about 20 minutes.

Preheat your oven to 425 degrees F.

Time to make the crumb topping. In a medium bowl, combine 1/2 cup plus 2 tablespoons white sugar, 1/3 cup flour and 2 teaspoons cinnamon; whisk to blend. Add in the cold butter pieces and cut into the dry ingredients with

a pastry blender

or a fork until the mixture is coarse and crumbly. You could also use your hands to incorporate the butter. The mixture should look like coarse sand with pea-size chunks of butter throughout.

To assemble the muffins, fill each muffin well with a tablespoon of chilled batter, just enough to cover the bottom of the liner.

Slice the log of frozen cream cheese filling into 24 equal pieces. Place a slice of the cream cheese mixture into each muffin well.

Divide the remaining batter among the muffin cups. Fill the batter nearly to the top of the liner; there should only be between 1/4 and 1/8 inch of space at the top.

Sprinkle about a tablespoon of the crumb topping over each muffin. Chill the assembled muffins if there is any time lapse before you bake.

Bake for 6 minutes at 425 degrees.

After 6 minutes, without opening the oven door, turn on your oven light and look at the muffins. They should have risen about 1/4 inch above the edge of pan by now. If not, leave them in 1 minute longer at 425.

Once the muffins have puffed over the edge of the pan, lower the temperature to 350 degrees F. DO NOT OPEN THE OVEN DOOR! Seriously.

Once you have lowered the heat to 350, bake for another 13-15 minutes. The muffins should not be shiny in the center, and a toothpick inserted should come out with no wet batter on it.

Remove from the oven and place on a wire rack to cool for 2 minutes.

Use a butter knife to help loosen the edges of the muffins, and remove to a wire rack to cool. I know they are still very hot after 2 minutes, but taking them out of the pan right away will keep the muffins from getting soggy.

Eat one muffin as soon as humanly possible considering how hot they are, then let the rest cool completely on the wire rack.

Store covered on the counter for 1-2 days, after that refrigerate them. 

These muffins (and all muffins!) freeze very well. Once cool, place in a ziplock bag and freeze for up to 2-3 months. Let thaw in the closed bag on the counter. Warm up in the microwave for 10-20 seconds to live your best life.
Nutrition
Calories:
331
kcal
|
Carbohydrates:
43
g
|
Protein:
5
g
|
Fat:
16
g
|
Saturated Fat:
4
g
|
Polyunsaturated Fat:
7
g
|
Monounsaturated Fat:
4
g
|
Trans Fat:
1
g
|
Cholesterol:
40
mg
|
Sodium:
271
mg
|
Potassium:
104
mg
|
Fiber:
1
g
|
Sugar:
28
g
|
Vitamin A:
3317
IU
|
Vitamin C:
1
mg
|
Calcium:
52
mg
|
Iron:
1
mg