Pumpkin Cream Cheese Muffins
If you ever get the chance, I highly recommend watching foreigners watch classic movies.  Eric and I made a reference to Darth Vader once in front of Huy, a friend of ours from Vietnam.  It slowly dawned on us that Huy had no knowledge whatsoever of Star Wars, a realization most shocking to Eric, who is possibly the biggest Star Wars geek ever.  (Actually probably not.  There are some real Star Wars freaks out there.)
And so a Star Wars marathon ensued.  It was pretty awesome.  Every week or so we would get a bunch of food and people together and watch the movies, starting with the classics of course.  I've seen those movies a dozen times at least, but I can't tell you how awesome it was to watch someone else watch it for the first time.  You should have seen Huy's face when Vader tells Luke that he is his father.  Huy turned to us, complete disbelief on his face, and said, You're joking.  He's joking right?  This is not real? 
A few weeks ago we introduced Huy to The Princess Bride.  I guess he didn't know it was supposed to be funny, because while I was cracking up and quoting lines (Anybody want a peanut?) he was just watching, stony faced, waiting for the movie to pick up.
Maybe if I didn't have so many memories attached to movies from my childhood I wouldn't think they were so great.  Once we were having a family get together for someone's birthday.  My brother Nathan was about  4 or 5 I think, and he was sword fighting with my cousin.  Nathan was Inigo, Tony was Count Rugen.  There must have been a lull in the conversation, because everyone in the room heard Nate deliver his final line: I want my father back, you son of a–!  Except he really said it, as he slashed Tony through his armpit.  Try explaining to a 4 year old that even though 25 people just erupted in laughter because of what you said, it is not appropriate to use that kind of language.
I digress.  Back to the food.  I think pretty much any dessert could be ameliorated by adding a cream cheese filling or layer.  Okay, maybe not every single one, but probably a lot.  Cupcakes?  Check.  Pie? Check. These pumpkin muffins?  Double check.  This recipe makes 24 muffins, and since it is just me, Eric, and wee little Charlotte (who has yet to taste any dessert) I decided to leave a few out and put the rest in the freezer for later.  Apparently that was a mistake because they were gone within 3 days.

print

Did you make this recipe?

Leave a review »

Pumpkin Cream Cheese Muffins

Ingredients For the filling

8

oz. cream cheese, softened

1

cup powdered sugar

For the muffins

3

cups all-purpose flour

1

teaspoon ground cinnamon

1

teaspoon ground nutmeg

1

teaspoon ground cloves

1

tablespoon plus 1 teaspoon pumpkin pie spice

1

teaspoon salt

1

teaspoon baking soda

4

large eggs

2

cups sugar

2

cups pumpkin puree (or a 15 oz can will work fine)

1 1/4

cups vegetable oil

For the topping

1/2

cup granulated sugar

5

tablespoons flour

1 1/2

teaspoons ground cinnamon

4

tablespoons cold unsalted butter, cut into pieces

Instructions

To prepare the filling, combine the cream cheese and powdered sugar in a medium bowl and mix well until blended and smooth. Transfer the mixture to a piece of plastic wrap and shape into a log about 1½-inches in diameter.
Smooth the plastic wrap tightly around the log, and reinforce with a piece of foil. Transfer to the freezer and chill until at least slightly firm, at least 2 hours. The mixture will still be somewhat soft but firmer.
To make the muffins, preheat the oven to 350 degrees F. Line muffin pans with paper liners.
In a medium bowl, combine the flour, cinnamon, nutmeg, cloves, pumpkin pie spice, salt and baking soda; whisk to blend.
In the bowl of an electric mixer combine the eggs, sugar, pumpkin puree and oil. Mix on medium-low speed until blended. With the mixer on low speed, add in the dry ingredients, mixing just until incorporated.
To make the topping, combine the sugar, flour and cinnamon in a small bowl; whisk to blend. Add in the butter pieces and cut into the dry ingredients with a pastry blender or two forks until the mixture is coarse and crumbly.
To assemble the muffins, fill each muffin well with a small amount of batter, just enough to cover the bottom of the liner (1-2 tablespoons). Slice the log of cream cheese filling into 24 equal pieces. (My batch made 28 muffins for some reason.) Place a slice of the cream cheese mixture into each muffin well.
You want to put the cream cheese lower than you think because it will rise a lot during the baking process. Divide the remaining batter among the muffin cups, placing on top of the cream cheese to cover completely. Sprinkle a small amount of the topping mixture over each of the muffin wells.
Bake for 20-25 minutes. Transfer to a wire rack and let cool completely before serving.

by The Food Charlatan

If you make this recipe,

share it on Instagram

 using the hashtag

#TheFoodCharlatan

so I can see it!
Source: from one of my all time favorite bloggers, The Girl Who Ate Everything!
Here are some other pumpkin recipes you will love!
Easy Pumpkin Pie Cake << It's like all the best parts about pumpkin pie…in cake form. Plus it's EASY to boot.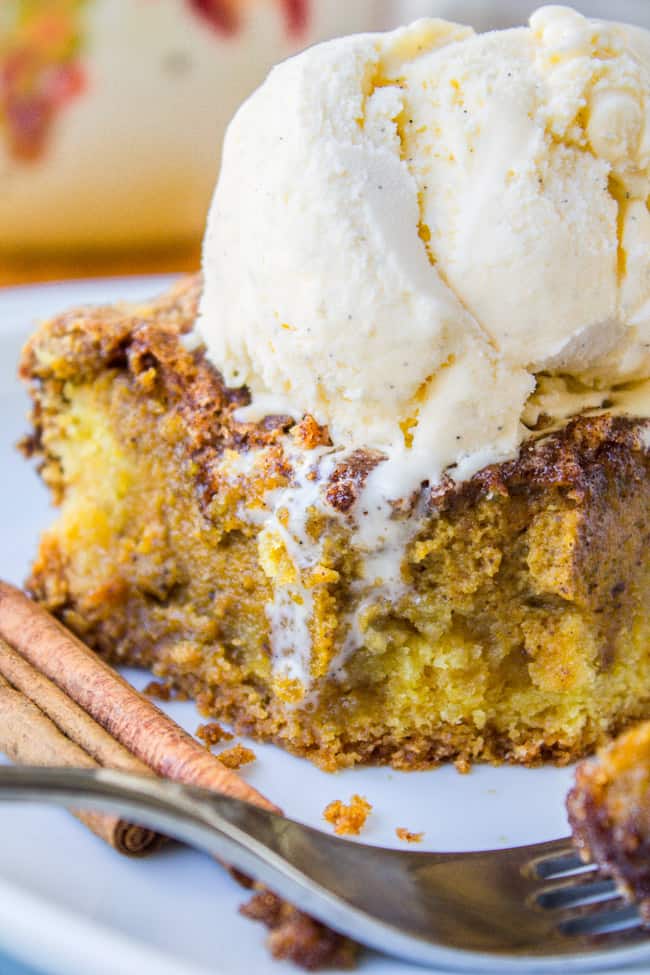 Butterscotch Pumpkin Cake << I call this a cake, but it barely qualifies. It's got more of a brownie texture. IT'S SO GOOD. Personal fav.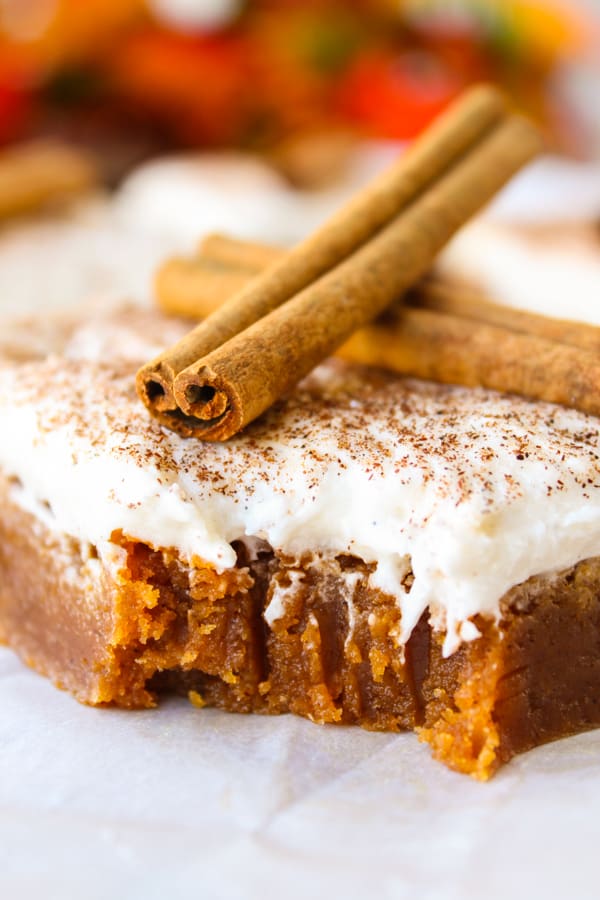 Pumpkin Oatmeal White Chocolate Chip Cookies << this is my first blog post ever! Good times. GOOD COOKIES. oh yeah.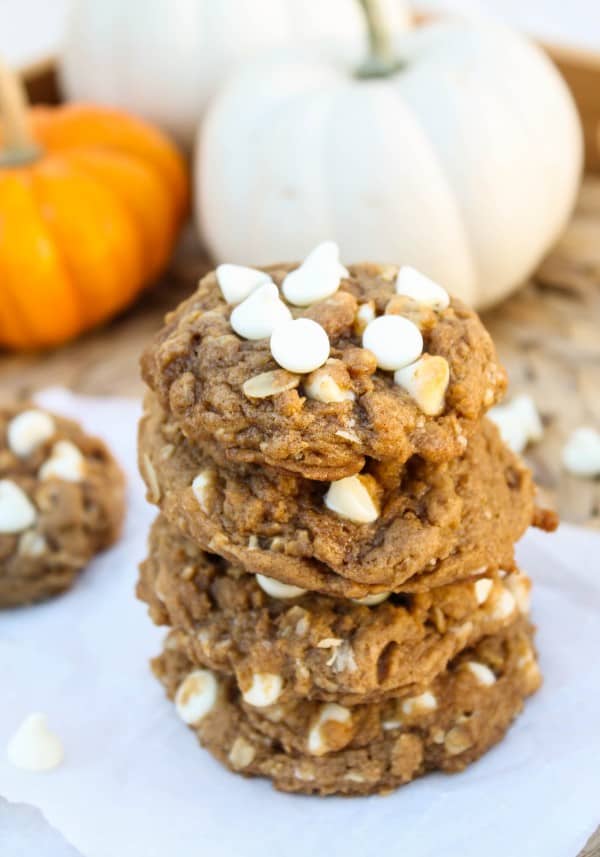 We are a participant in the Amazon Services LLC Associates Program, an affiliate advertising program designed to provide a means for us to earn fees by linking to Amazon.com and affiliated sites.