Asian Pork Tenderloin with Ginger Glaze (Slow Cooker)
An easy and healthy slow cooker pork tenderloin recipe with Asian vibes and a ginger glaze that gets caramelized under the broiler. Bring on the crusty topping.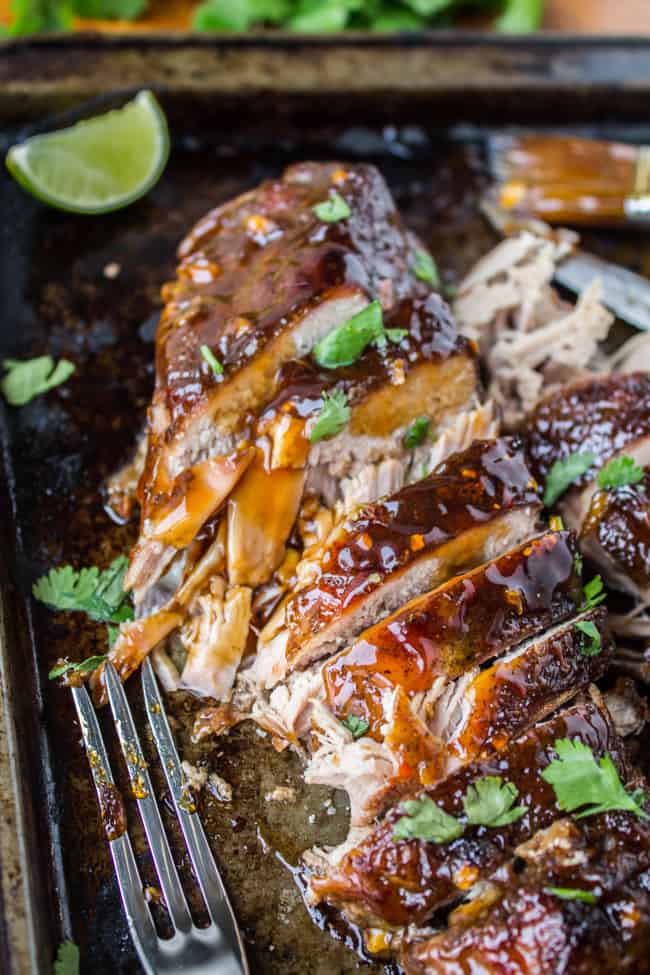 Today Charlotte was dropped off at home from a playdate at a friend's, and as we're eating lunch she says, "Mom, you never got dressed!"
"What! Yes I did!"
"No, you didn't."
"I took a shower! I put on makeup!"
"Well you look the same."
THANKS A LOT CHARLOTTE. Sometimes living with a 3-year-old is all you need to keep your ego in check. Although to be fair, I probably needed an ego check after The Autograph Incident.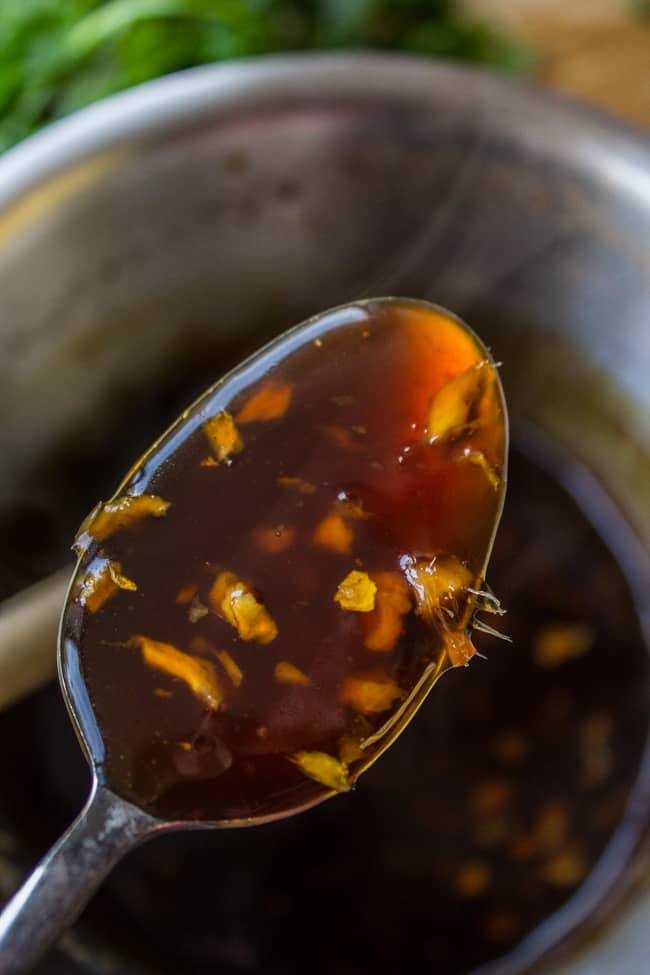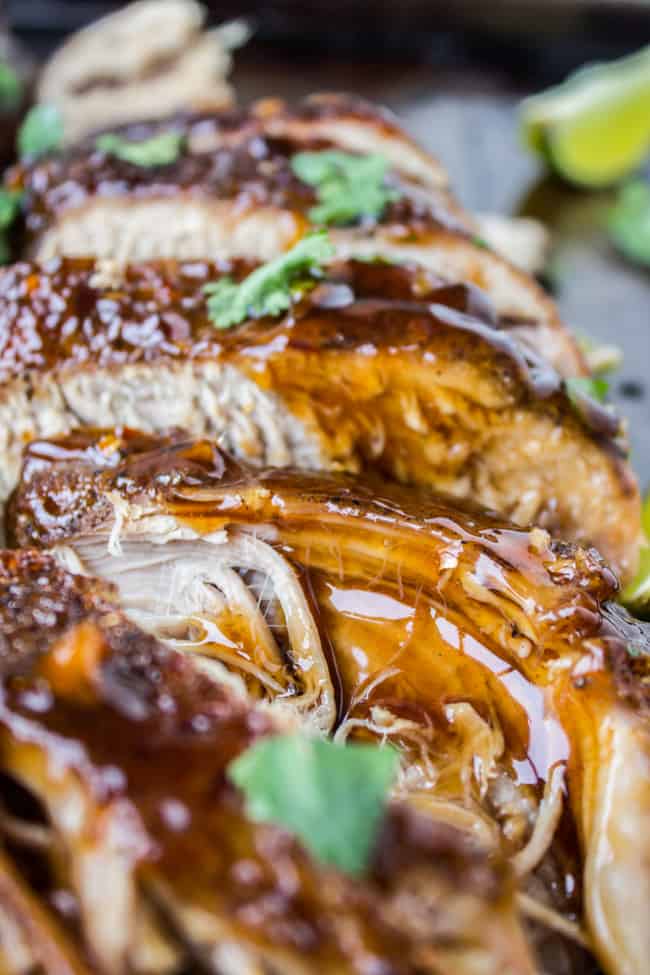 Also, to be even more fair, I'm sick right now, so when I say "I got dressed" I mean that I got out of the shower and put on a whole different pair of yoga pants. Here I come, world.
One time my sister-in-law Sandi didn't have her usual glasses on, and one of her kids asked why she had to wear them all the time. She explained that she has an astigmatism that makes it impossible to wear contacts. Her son replied, "Well that's too bad. You look better without them."  ZING. For the record, Sandi, I like your glasses.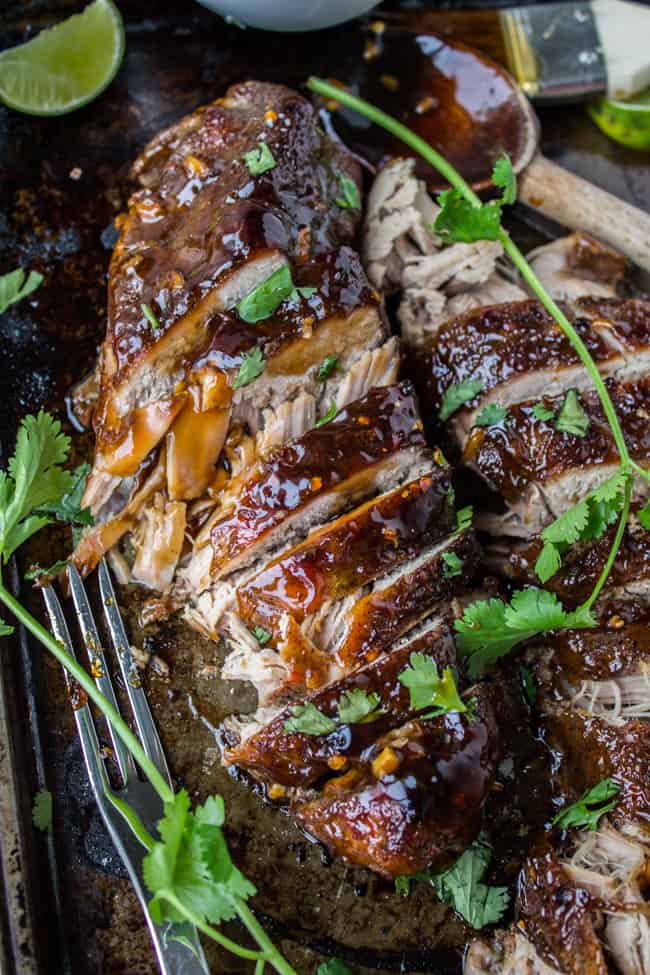 Have you guys tried out my Brown Sugar Balsamic Pork Tenderloin? It's a reader favorite here on the blog. It's a slow cooker, no-fail kind of recipe. I make it all the time, especially when we are having company for dinner. It's so easy yet seems impressive.
I wanted to change it up, so I made this version to go with the Asian Cauliflower "Rice" I posted on Wednesday. I'm really loving the addition of ginger to the glaze. It's just as easy as the original recipe, only a few more spices called for in the rub.  A healthy entree for all us healthy people in healthy January!
 Do you guys give up? Or are you thirsty for more?
Facebook | Pinterest | Instagram | Twitter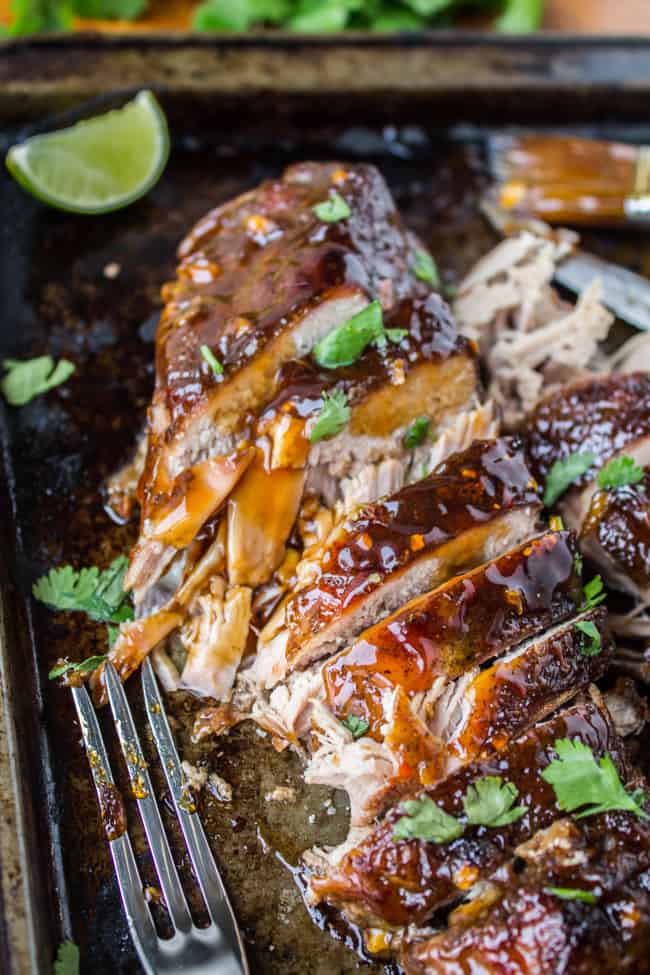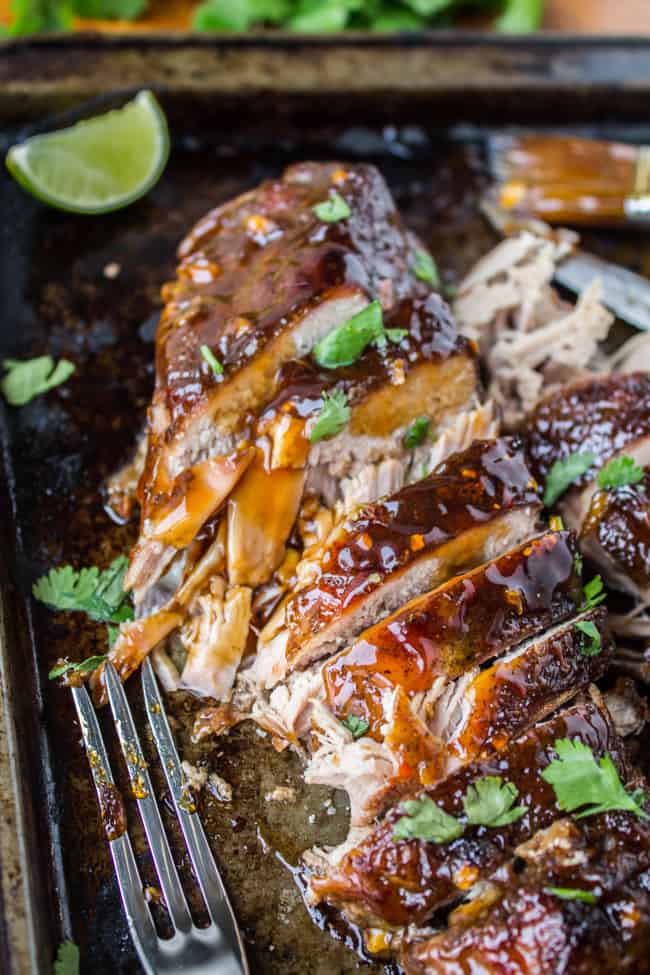 print
Did you make this recipe?
Leave a review »
Asian Pork Tenderloin with Ginger Glaze (Slow Cooker)
Serves 6
adjust servings
Ingredients
For the rub
1

tablespoon brown sugar

2

teaspoons salt

1

teaspoon powdered ginger

1/2

teaspoon cinnamon

1

teaspoon garlic powder

1/2

teaspoon powdered cloves

1/4

teaspoon black pepper

1/2

teaspoon crushed red pepper

2

pounds pork tenderloin
For the glaze
1/2

cup brown sugar

1

tablespoon cornstarch

1/4

cup rice vinegar (or white)

1/2

cup cold water

2

tablespoons soy sauce

2

teaspoons fresh ginger, minced

fresh cilantro, to garnish

lime wedges, to garnish
Instructions
In a small bowl, combine the brown sugar, salt, powdered ginger, cinnamon, garlic, cloves, black pepper, and crushed red pepper.
Place the tenderloins in the slow cooker. Rub the seasonings over the pork, including the bottom.
Pour ½ cup water in the slow cooker, on the edge or in the middle so that you don't wash off all the spices you just rubbed on.
Cook on low for 6-8 hours, then preheat your broiler.
While the pork is finishing up in the slow cooker and your broiler heats up, combine 1/2 cup brown sugar, cornstarch, rice vinegar, COLD water, and soy sauce in a small saucepan.
Set over medium heat and stir until mixture thickens, about 4 minutes.
Remove from heat and stir in minced ginger.
Line a baking sheet with aluminum foil and spray with nonstick spray.
Remove the pork from the crock pot (discard the liquid) and place on the lined baking sheet. Brush a generous amount of the glaze on the pork.
Put your oven rack as high as it will go, and broil the pork for 1 or 2 minutes, until bubbly and caramelized. Don't walk away! Repeat 2 to 3 more times until it is as crusty as you want it. I wouldn't go many more times than this though, or your pork will dry out.
Serve with remaining glaze on the side, and garnish with lime and cilantro. I love to serve this pork with Asian Cauliflower "Rice."
by The Food Charlatan

If you make this recipe,
share it on Instagram
 using the hashtag
#TheFoodCharlatan
so I can see it!

Before broiling, after broiling. Gingery crust. It's a happy thing.
This pork is great served with rice or potatoes, but I particularly love eating it with this Asian Cauliflower "Rice":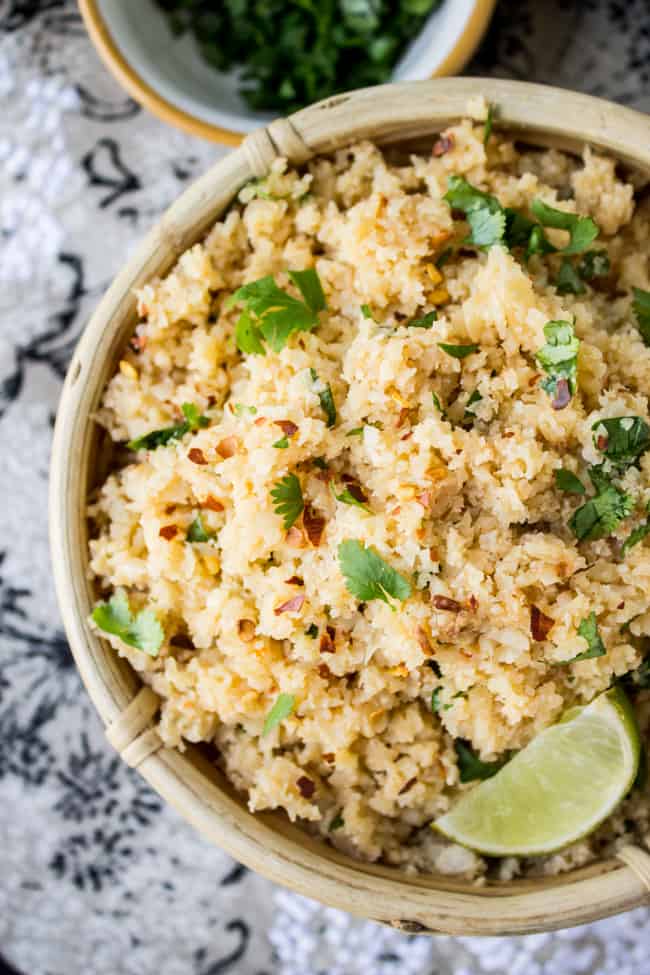 Today's recipe is adapted from this AMAZING Brown Sugar Balsamic Pork Tenderloin: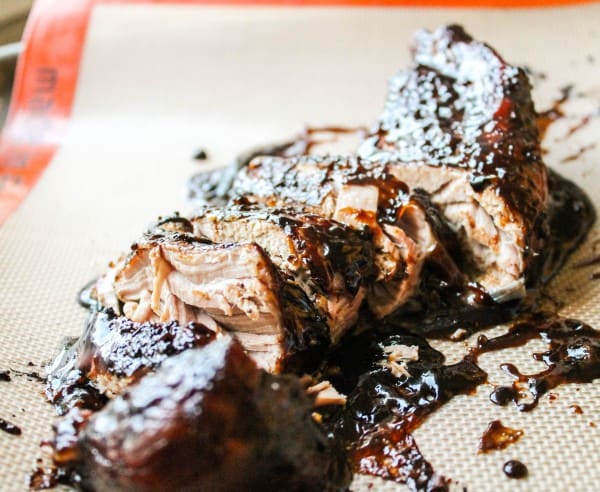 Cuban Mojo-Marinated Pork: << have you seen the movie Chef? This is the recipe for the meat in the Cubanos.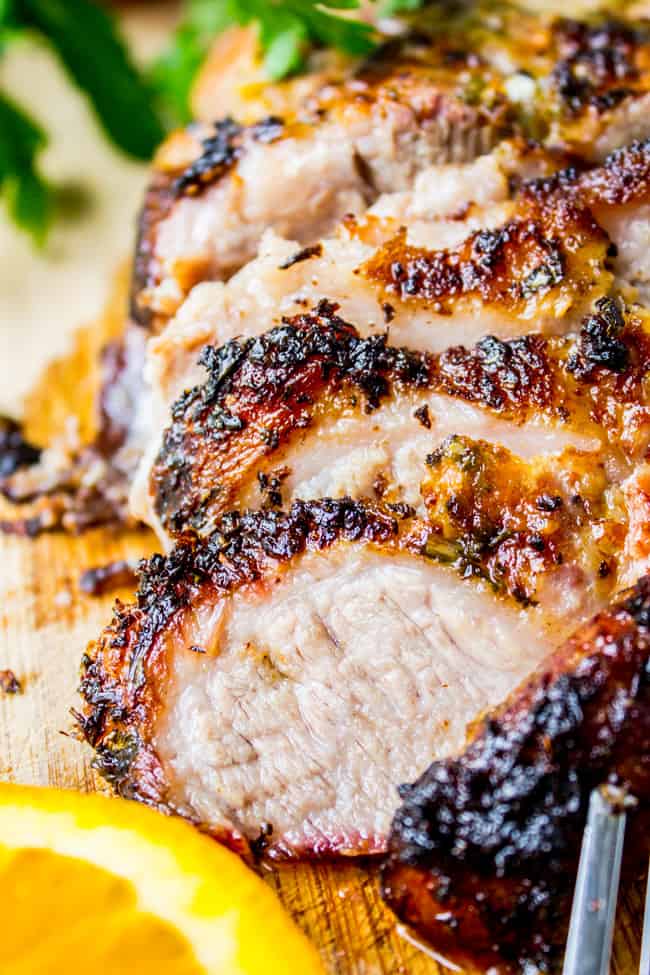 Here's another Asian-inspired recipe I posted last summer– you can bake it in the oven if your grill isn't out. Grilled Pork Tenderloin with Peanut Lime Sauce: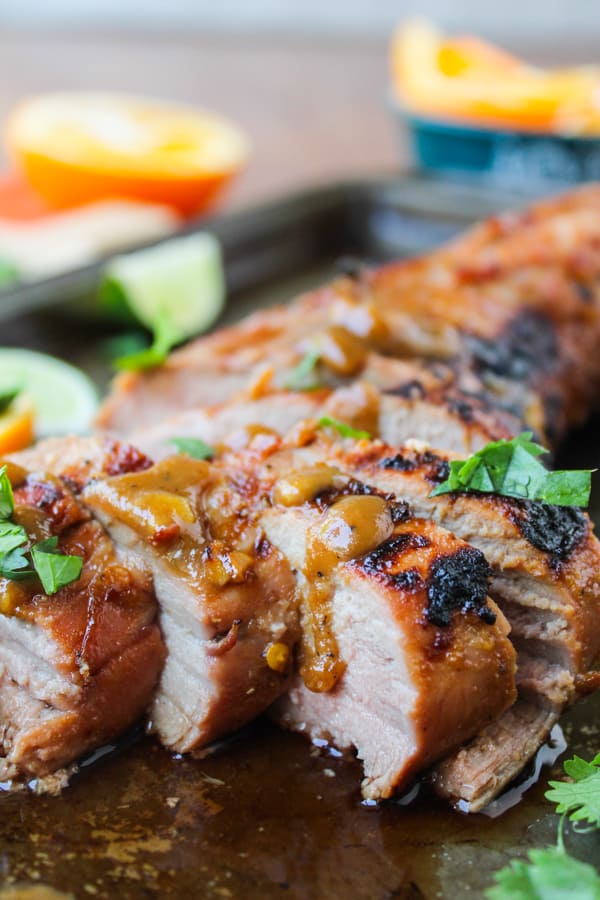 BBQ Pork Tenderloin Wraps: (this is a fabulous 45 minute meal)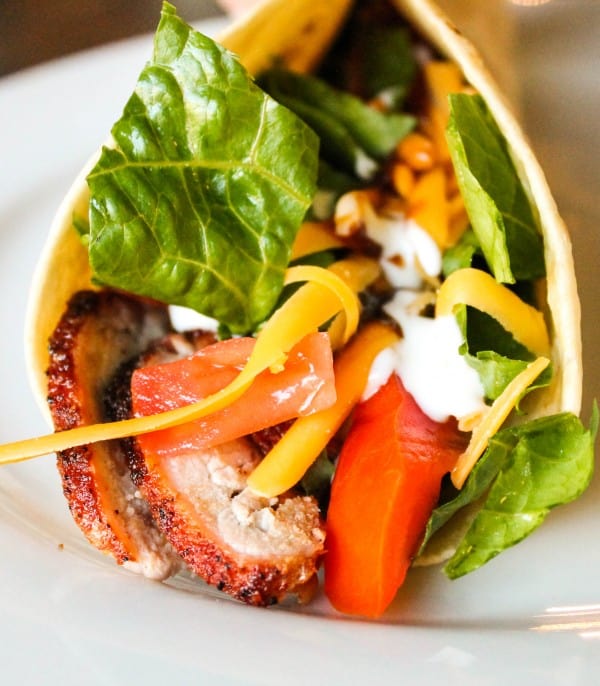 Pork tenderloins from around the world:
Sweet and Spicy Pork Tenderloin from Mel's Kitchen Cafe
Garlic Balsamic Crusted Pork Tenderloin from Lauren Kelly Nutrition
Roasted Chili Maple Pork Tenderloin from Aggie's Kitchen
We are a participant in the Amazon Services LLC Associates Program, an affiliate advertising program designed to provide a means for us to earn fees by linking to Amazon.com and affiliated sites.