My Favorite Recipes from 2013
Happy New Year everybody!
I posted my top 20 viewed recipes of 2013 last Friday and wanted to follow up with my own personal top posts of the year. I don't put anything on the blog that I don't love enough to make over and over, but there are some recipes that just stand out, you know?
Fun fact: I took about 12,000 pictures this year. Most of them were of food. This is impressive? This is disturbing? I'm not really sure.
This list is in no particular order, but I did save my absolute-all-time-favorite-recipe-of-ever for the very end.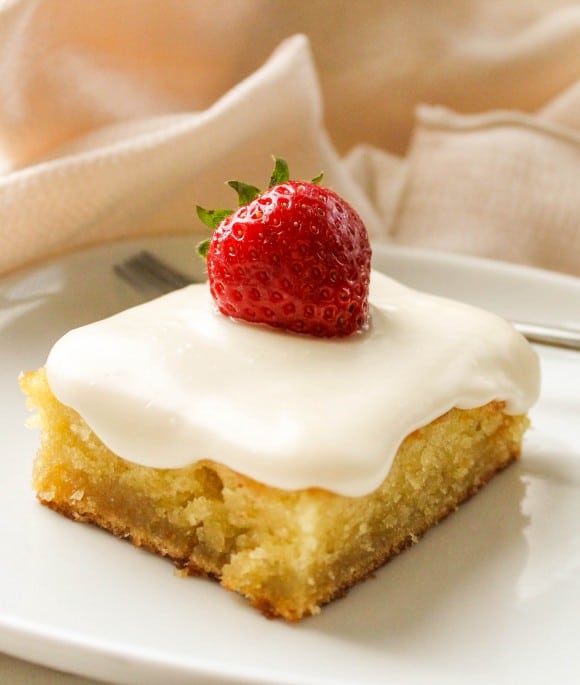 This cake is beyond almond-y. It's addictive and I'm not going to tell you how much of one batch I can eat. Unlike traditional sheet cakes, it is baked in a 9×13 inch pan, so it's extra thick. Plus it is super easy to throw together. You don't even have to let the cake cool completely before frosting. My brother, a proclaimed almond-extract-hater, loved it.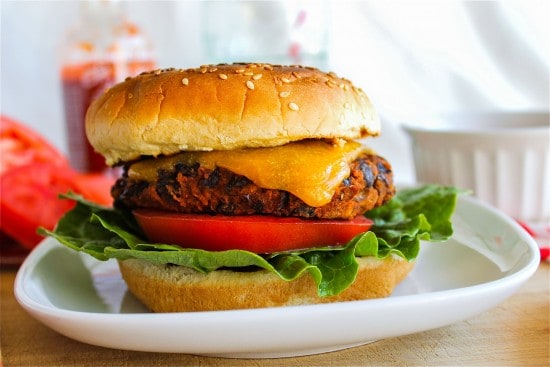 Black Bean Burgers with Sriracha Mayonnaise
I make these all the time. They are a good option when you are craving something different. Read: NOT when you are craving a hamburger. They are meatless for heaven's sake. What would Ron Swanson say? But that doesn't mean they're not dang good. The Sriracha Mayo puts them over the top.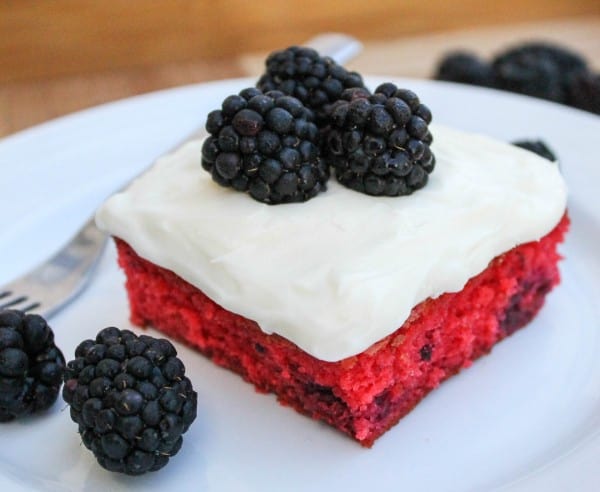 Blackberry Cake with Coconut Cream Cheese Frosting
I made this cake 4 times (or was it 5?) in a 2-month period over the summer while we were living with my brother's family (house-hunting after our big move). It's the kind of cake that you eat smidgen after smidgen of, hunched over your sink for just one more little bite. Each batch never lasted more than 24 hours, and it was usually more like 12. Or 2. You may not trust a cake that is bubblegum-pink, but please, trust me. It is the real deal. My brother just made it again a couple weeks ago. He doubled the blackberries and said it was incredible.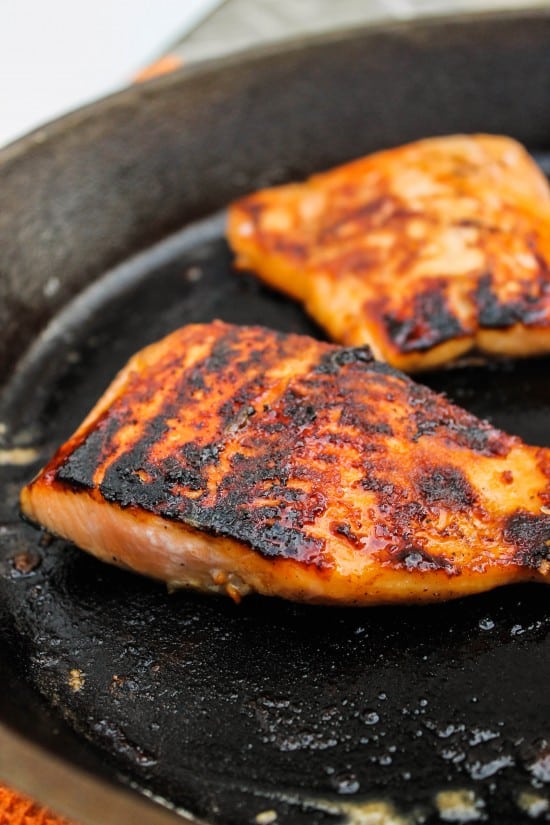 Honey Salmon with Browned Butter Lime Sauce
If you don't like salmon, try this recipe. I mean, it has browned butter in it. PLUS lime. If there's anything that's going to convert you, it's going to be this. Did I mention it's done in 30 minutes?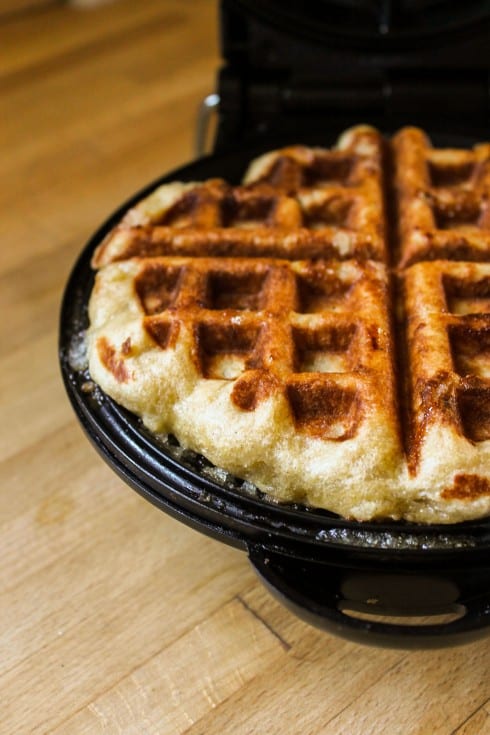 Liege Waffles with Pearl Sugar
What happens when you put giant chunks of sugar in a yeasty waffle? MAGIC, that's what. They sell these waffles on the streets in Belgium. I've never been, but I've heard this recipe is the real deal. Even if it's not, it's still waffle perfection. The delicious crunchiness that the sugar adds makes every other waffle cry himself to sleep.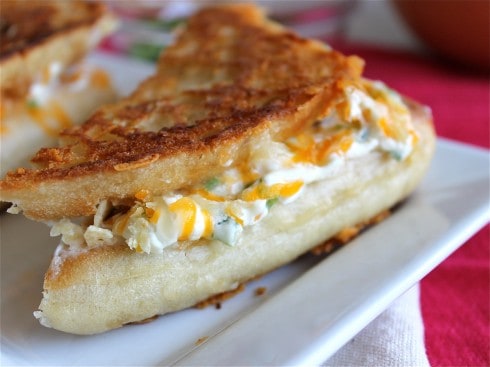 Jalapeño Popper Grilled Cheese Sandwich
There are tortilla chips crunched up in this sandwich. Yeah that's right. Also, why don't we make every grilled cheese sandwich ever on artisan bread? It's awesome.
Okay actually, maybe these should be in my all-time favorite spot. These blondies are SO GOOD. Here's why: Browned butter. Chocolate. One pan. 30 minutes. Did I mention the browned butter? I've made these more times than I can count.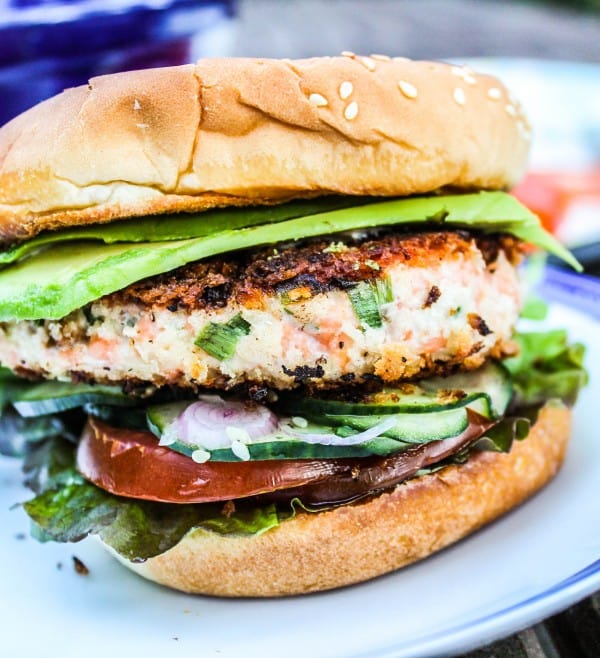 Asian Salmon Burgers with Wasabi Mayonnaise
This was the first salmon burger I had ever had, and I don't know if I will ever try another recipe. They are so flavorful. Also, I'm probably adding wasabi to all mayonnaise ever. (also, DON'T skip the Asian Marinated Cucumber Salad–it makes it.)
Do I need to go over the browed butter thing again? This tart kind of speaks for itself. It's so good.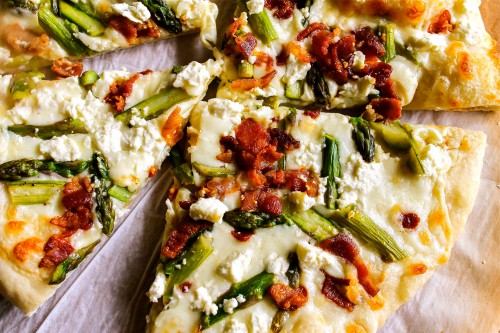 Asparagus, Bacon, and Feta Pizza
This recipe didn't get much attention when I posted it, but oh man. We loved it. Asparagus and bacon go together like R2D2 and C3PO.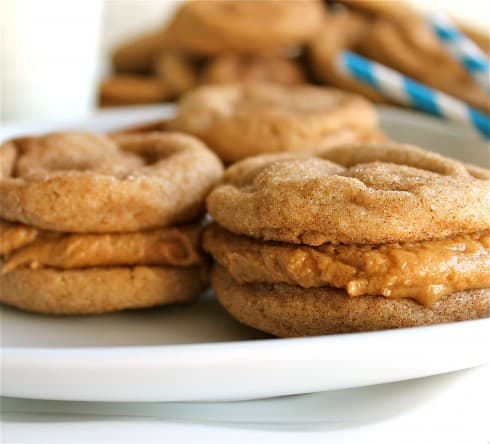 Snickerdoodle Biscoff Sandwiches
I spent forever getting the dough right for these cookies. They are my version of a perfect Snickerdoodle. Then I smashed some Biscoff frosting in between them. Oh yeah. (Also I made a version with strawberries; a little unorthodox but so good.)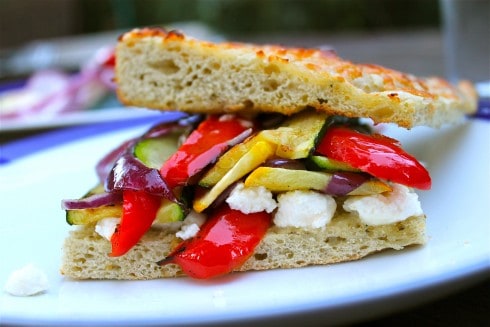 Grilled Squash, Red pepper, and Feta Sandwich
We've been making these sandwiches for years and I finally got around to putting them up on the blog this summer. If you are a meat-lover like me, don't let these scare you off. You won't miss it. All hail feta.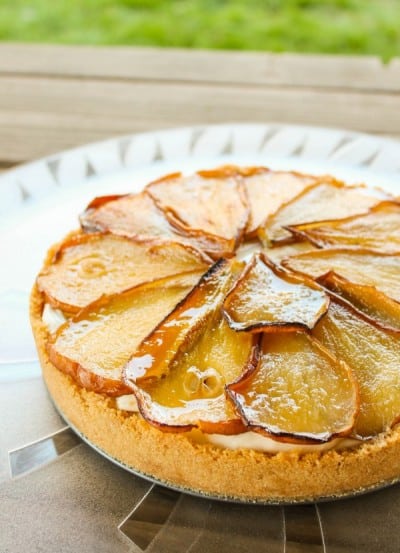 Maple Cheesecake with Roasted Pears
My favorite cheesecake. Ever. It's a no-bake, which I'm usually not into, but apparently when you add maple and top it with maple-soaked roasted pears, I'm all in.
This recipe is from my friend Wendy. After I posted it, she put this on my Facebook page:
Wendy: Bakes pie for family.
Wendy's husband Brandon: walks in and says, "I love you!"
Wendy: Looks up at Brandon with stars and rainbows in her eyes.
Brandon: Stop looking at me. I am talking to the pie.
I will never bother with any other peach pie recipe.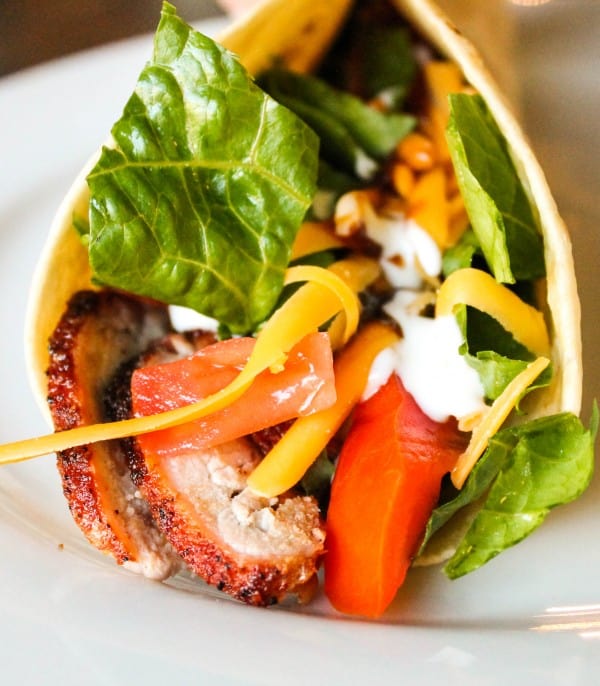 Barbeque Pork Tenderloin Wraps
Okay, ranch and barbeque? It sounds over the top right? Just you wait people! When paired with this perfectly spiced pork tenderloin, it is awesome. This is a super easy meal too, the tenderloin bakes in just 30 minutes.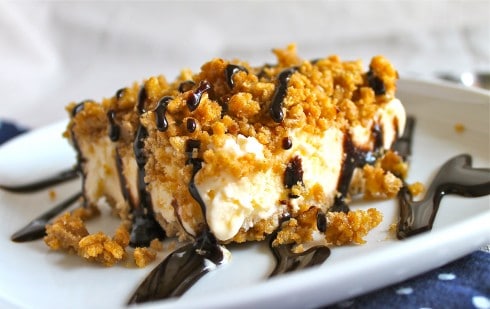 I mean, why NOT add brown sugar and butter to your ice cream? The Rice Krispies give it the perfect crunch. It reminds me of Fried Ice Cream.
Crunchy on the outside, chewy on the inside, and ridiculously over the top chocolatey. Oh, and they melt in your mouth because they are a meringue, duh. These are so, so good. Easy too.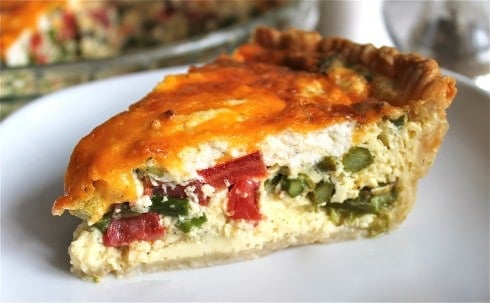 Asparagus, Tomato, and Goat Cheese Quiche
Another forgotten recipe. I just made this again for my Dad's birthday a few weeks ago. You just can't go wrong with goat cheese, what can I say. I used to think the best part about a quiche was the bacon/ham, but I was wrong. It's the asparagus/goat cheese.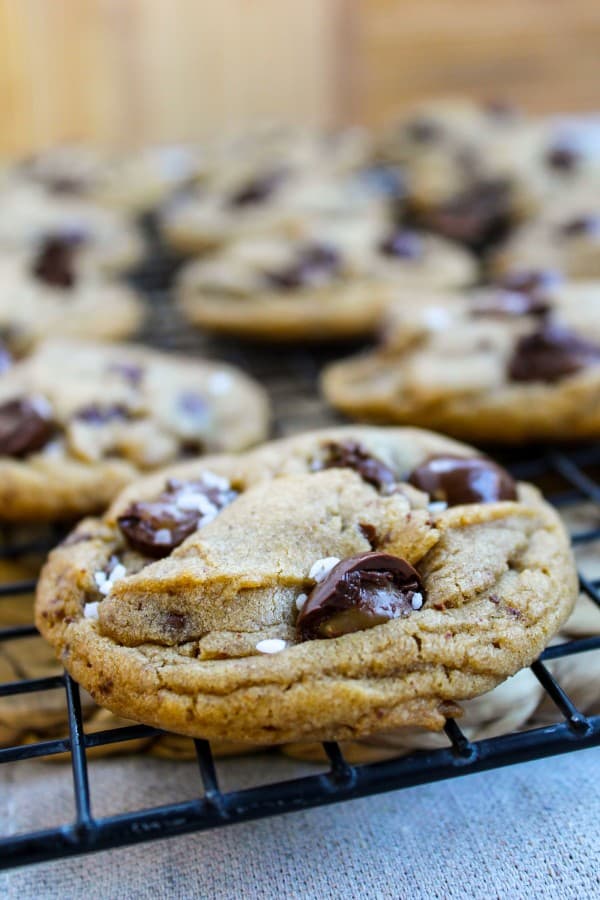 Brown Butter Sea Salt Butterscotch Cookies
I loooooooove these cookies. They have chopped up Chocolate Covered Sea Salt Butterscotch Caramels in them. And again with the browned butter, of course. I think I'm obsessed. Maybe? Whatever.
Do you guys give up? Or are you thirsty for more?
Facebook | Pinterest | Instagram | Twitter
We are a participant in the Amazon Services LLC Associates Program, an affiliate advertising program designed to provide a means for us to earn fees by linking to Amazon.com and affiliated sites.