Black Bean burgers are a great way to get some protein in for meatless Monday! Carrots, onions, and black beans come together to make a delicious savory vegetarian meal.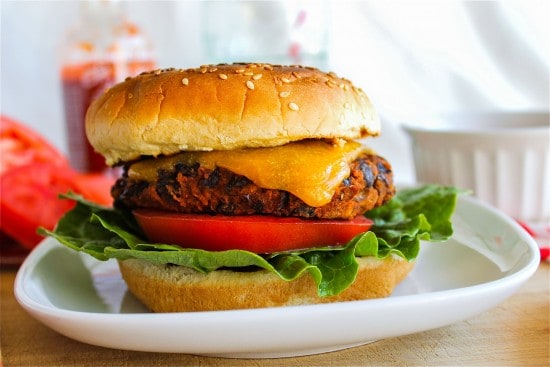 I told Eric that I was going to make black bean burgers. He said, "Black bean burgers? I'm trying to be more manly, Karen! What would Ron Swanson say?"
My brother Nathan told me I should call these "Black Bean Sandwiches" so that people aren't expecting a hamburger substitute. I suppose he's right. Hear this, my people! These are NOT hamburgers! There is no substitute for hamburgers!
This is illustrated perfectly in an episode of Parks and Rec where they have a hamburger contest. Chris makes a "Turkey Asian-Fusion Burger" with really expensive ingredients. Then Ron Swanson slaps down some cheap ground beef and says, "It's a hamburger made out of meat on a bun with nothing. Add ketchup if you want, I couldn't care less." The real hamburger wins. Of course. Because nothing beats a hamburger. Ever.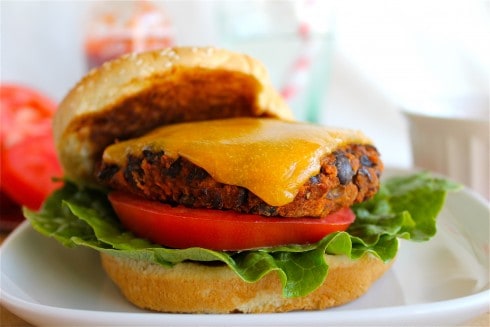 BUT…if you want an awesome black bean patty that tastes incredible and kind of looks like a hamburger, then try this recipe. I'm telling you, it's amazing. I realize I've done a terrible job selling this to you with all the hamburger talk, but I just didn't want any of you to be confused. We've already made them twice in the last couple weeks, and I've had several people ask me for the recipe. They are spicy and full of flavor, not to mention healthy (hello, carrots!) and filling. I like mine best smothered in Sriracha Mayonnaise, but if you are trying to cut calories try spreading some hummus on it. That's how Nathan eats them. I need to try it.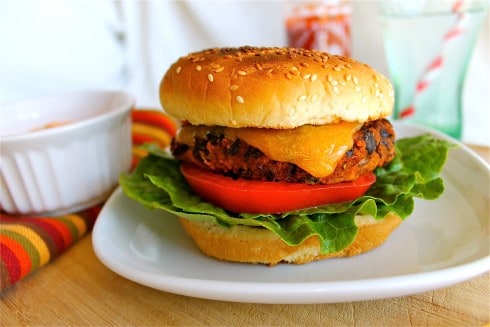 I seriously don't know why they're not selling these at McDonald's. They would make bank. No, they're not the same as a hamburgers, but how much money do you think McDonald's nets every year on salad sales? Sometimes people really do want healthy food that is convenient.
But until McDonald's starts taking marketing advice from me, you will have to make these at home. It's a nice recipe to change things up. Enjoy!

Spicy Black Bean Burgers with Sriracha Mayonnaise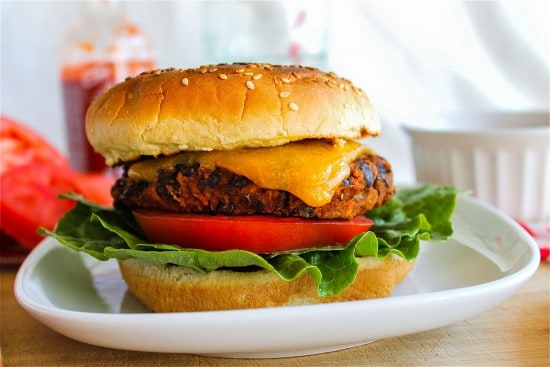 Black Bean burgers are a great way to get some protein in for meatless Monday! Carrots, onions, and black beans come together to make a delicious savory vegetarian meal.
Ingredients
2

carrots

,

peeled

1/4

cup

onion

,

diced

1

teaspoon

olive oil

1

clove

garlic

,

minced

1 & 1/2

teaspoons

paprika

1 & 1/2

teaspoons

ground cumin

1

teaspoon

cinnamon

1

teaspoon

dried oregano

3/4

teaspoon

sea salt

1/2

teaspoon

cayenne pepper

1/4

teaspoon

black pepper

30

ounce

black beans

,

2 15-oz cans, drained and rinsed

3

tablespoons

ketchup

1

teaspoon

soy sauce

1-2

teaspoons

Sriracha sauce

,

or your favorite hot sauce to taste

1

cup

panko breadcrumbs

1

egg

1

tbsp

olive oil

,

for frying

6

burger buns
Sriracha Mayonnaise (optional):
1/2

cup

mayonnaise

1-2

teaspoons

sriracha sauce

,

or your favorite hot sauce to taste
Topping ideas:
lettuce

tomato

avocado

cheese

ketchup

mustard

barbeque sauce
Instructions
Chop the peeled carrots into 2-inch pieces. Place in a food processor and pulse until finely diced. (If you don't have a food processor, just mince it up real tiny like.) You can throw your onion into the food processor too, or dice it. (Remove the carrots first, you don't want to puree them.)

Heat up your olive oil in a small skillet. Add the carrot and onion and saute until tender, about 8 minutes. When it is almost done, add the garlic and sauté until fragrant, about 1 minute.

While the vegetables cook, mix the paprika, cumin, cinnamon, oregano, sea salt, cayenne pepper and black pepper in a large bowl.

Pour the rinsed black beans into the large bowl. Add the cooked carrots, onion, and garlic. Using a pastry blender or two forks, mash the mixture to break down the black beans. Don't mash them completely; just until the mixture is cohesive.

Add the ketchup, soy sauce, and Sriracha and stir well. Add 1/2 cup panko crumbs and the egg and mix to combine. If needed, add the remaining panko. The mixture should easily hold together when formed into a patty. If it doesn't, add more panko, little bits at a time. (I never had to add more) Form the mixture into patties, 1/2-cup each. Refrigerate the patties for a minimum of 20 minutes, or up to two days before cooking.

Heat about 2 teaspoons of olive oil in a large skillet. Place the patties in the skillet and allow them to cook until browned and crispy, about 4 minutes per side. Add more olive oil as needed.
Nutrition
Serving:
1
burger
|
Calories:
460
kcal
|
Carbohydrates:
59
g
|
Protein:
17
g
|
Fat:
18
g
|
Saturated Fat:
3
g
|
Polyunsaturated Fat:
9
g
|
Monounsaturated Fat:
5
g
|
Trans Fat:
1
g
|
Cholesterol:
30
mg
|
Sodium:
758
mg
|
Potassium:
623
mg
|
Fiber:
13
g
|
Sugar:
6
g
|
Vitamin A:
3281
IU
|
Vitamin C:
3
mg
|
Calcium:
139
mg
|
Iron:
5
mg