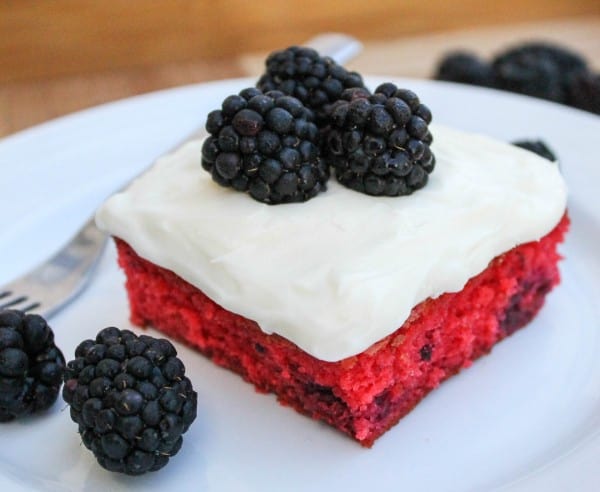 One time I heard a comedian joke that at the rate our lives are speeding up, everything will be ultra fast in the future. Like, it will only take 3 seconds to eat breakfast. 2 seconds to walk the dog. But the DMV is still going to take a whole freaking 9 seconds.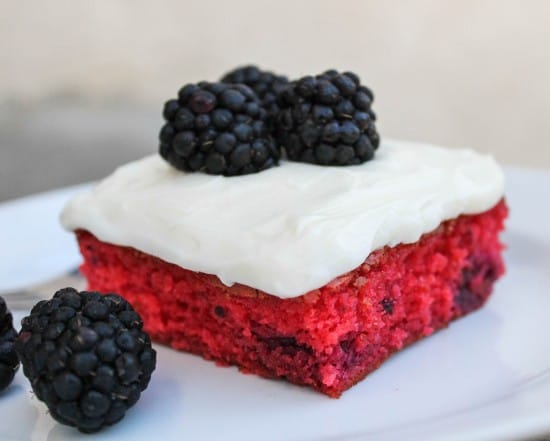 It's true. No matter how prepared you are, no matter how prim and organized your paperclipped bundle of paperwork is, you are still forgetting something and in the wrong line and wasting their time. After dealing with several grumpy employees, I was lucky enough to be helped by Ray for the final part of my transaction. He had a rainbow Hawaii license plate pinned up at his desk and a demeanor to match. He called me "Miss Karen." Polynesians always make me feel better. Thanks Ray.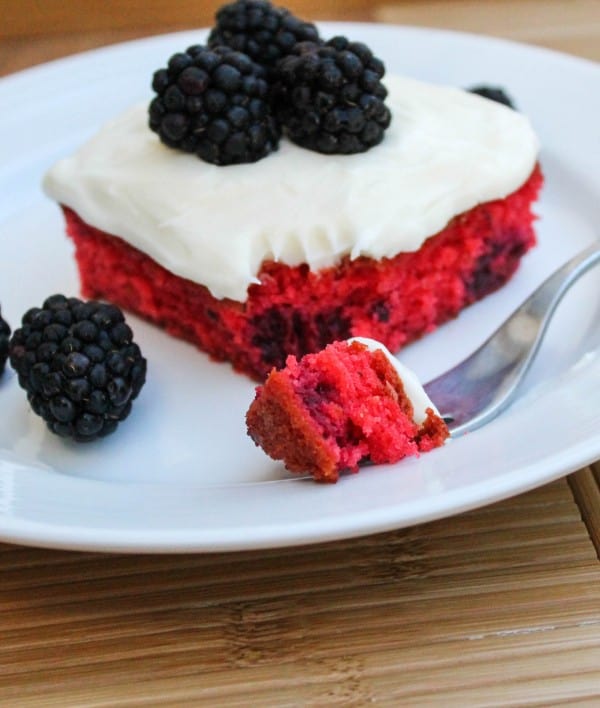 A better title for this recipe might be "The Pinkest Cake You Have Ever Seen." I swear these photos are not lying. This cake is unbelievably bright. It's so fun! I love it. The batter seriously looks like bubblegum.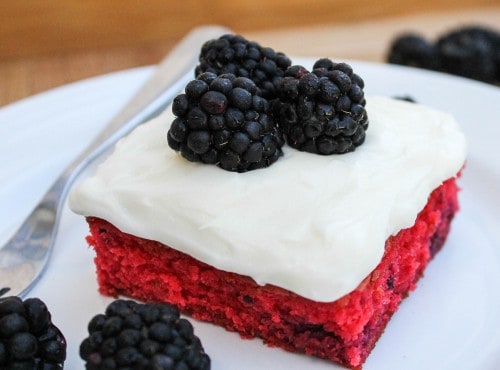 I've made this cake 3 times in the last month. That's a lot of freaking cake. I've gotten compliments on it from people that I don't even know. (I gave some to a friend who gave some to a friend). If you love blackberries, or cake, or frosting, or even just the color pink, I think this is the cake for you. And the best part? It literally takes 5 minutes to throw it together. Unless you are not a very confident egg cracker like me, in which case it might take you 6 minutes. Seriously it is so easy. Just dump and stir, pour and bake. The hardest part is waiting for it to cool so that you can frost it. Be strong! You can do it!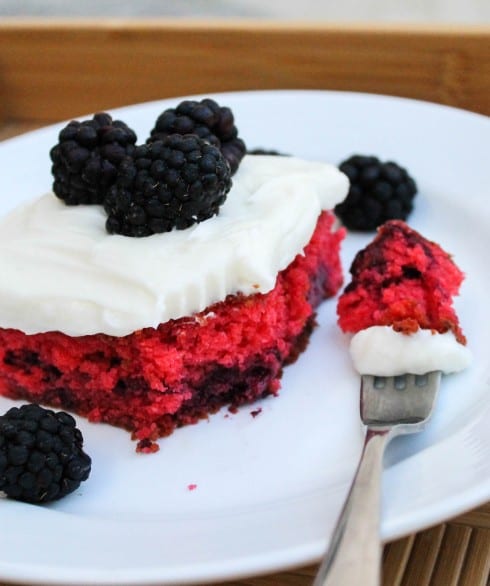 Oh and PS, the coconut extract is totally optional but TOTALLY amazing! Start with 1/4 teaspoon and go from there.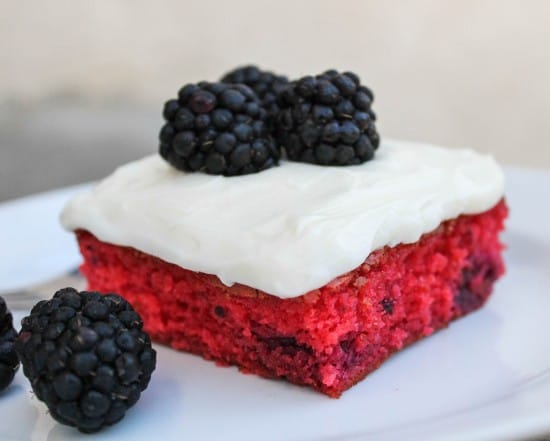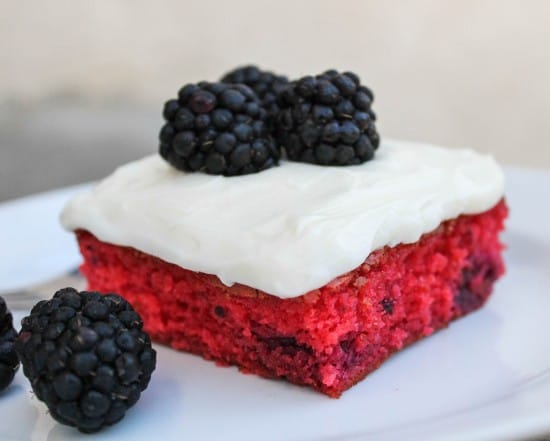 print
Did you make this recipe?
Leave a review »
Blackberry Cake with Coconut Cream Cheese Frosting
Makes one 9x13 inch cake, serves about 12
adjust servings
Ingredients
1

(18 ounce) box yellow cake mix

4

eggs

1

cup oil

1

(6 ounce) box of raspberry Jell-O gelatin

1

(16 ounce) bag frozen blackberries, unthawed (fresh berries work great too)

1/2

cup butter, softened

1

(8 ounce) package cream cheese, softened

1

pound (about 4 cups) powdered sugar

1-2

tablespoons milk

large pinch salt, optional

1/4

or 1/2 teaspoon coconut extract, optional
Instructions
Grease and flour a 9x13 inch cake pan. Set aside. In large bowl combine cake mix, eggs, oil and Jello on high speed with electric mixer for about 2 minutes.
Fold in the berries. Pour into the prepared 9x13-inch pan. Use a very sturdy spatula to scrape it all in. You might think you are working with an enormous wad of chewed bubblegum at this point, but don't worry, it turns into a delicious cake, I promise.
Bake at 350 until fork inserted in center comes out clean, about 40 minutes. Allow cake to cool completely.
In a large bowl, make frosting by beating cream cheese and butter together until smooth. Gradually add powdered sugar. Add milk and salt. Add in the coconut extract if you are using it.
Frost cake, chill, and serve.
by The Food Charlatan

If you make this recipe,
share it on Instagram
 using the hashtag
#TheFoodCharlatan
so I can see it!
Source: slightly adapted from my mom, who got it from Food.com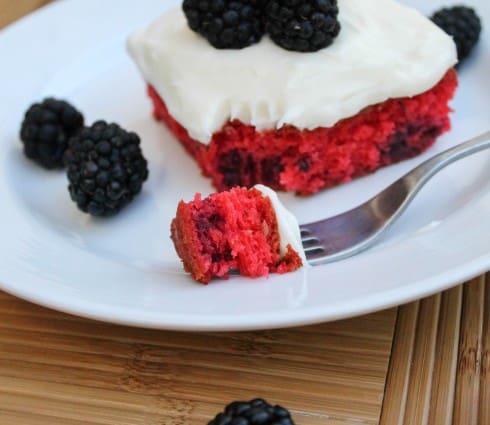 Comments
comments