This vibrant Blackberry Cake uses a yellow cake mix and a box of raspberry jello to make an incredibly moist and flavorful cake! We fold in frozen blackberries before baking, meaning this cake is full of bright summer flavor. And it is so easy you can't mess it up!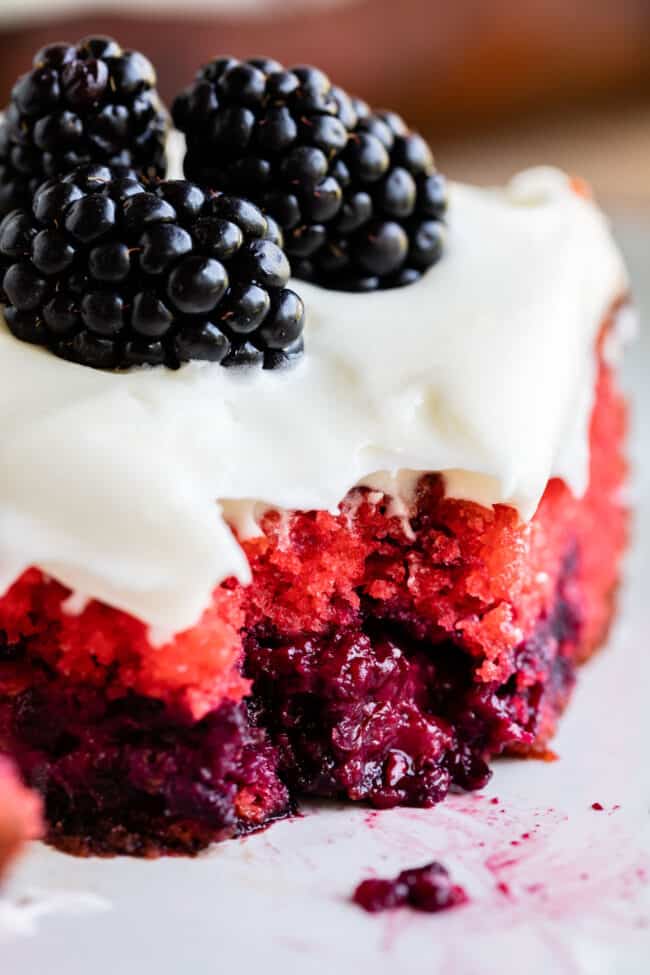 This post was originally published on September 20, 2013. 
Every time I type out the word "Jello" I always type "jellow." Face palm. Sometimes I do this when writing hellow too. Oh English!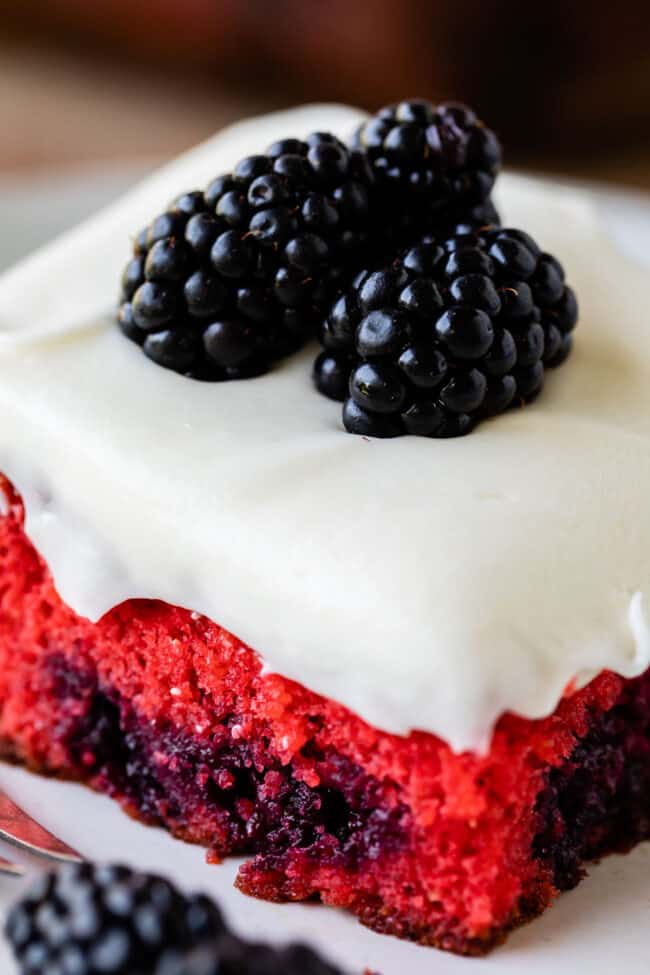 You never realize just how dumb it is until you're teaching your kids to read. Truman called from the other room yesterday, "what sound does "g-h" make, Mom?" I said, "g-, like in 'ghost.'" Then I thought about it for a minute and called out, "Unless it's in the middle of the word, like thought! Then it's absolutely silent! …Or at the end of a word, like cough, then it sounds like an F. That is so dumb!!" Seriously how did we get to this point.
Blackberry Cake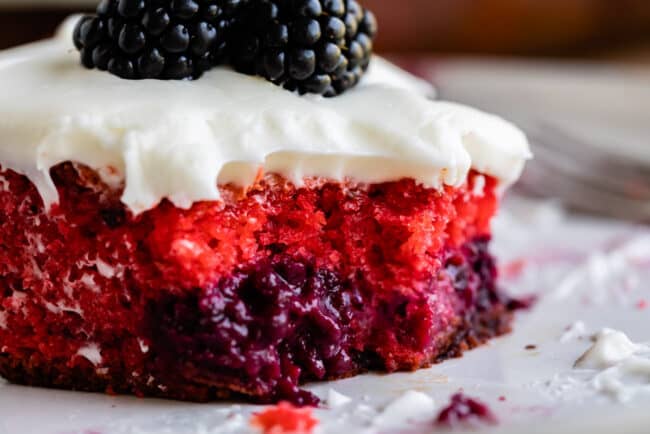 I'm so excited to share today's recipe with you!! I've been making this cake since 2013 and it's a family favorite. My brother gave me the recipe (who got it from my mom) and I remember him telling me, "We need to make this cake a family thing." Mission accomplished!
The photos needed updating but I haven't changed the recipe much. I decreased the amount of oil called for, because the original recipe called for an 18 ounce cake mix, and we all know cake companies have decreased cake mix sizes to 15 ounces. So, less oil necessary.
A better title for this Blackberry Cake might be "The Pinkest Cake You Have Ever Seen." I swear these photos are not lying. This cake is unbelievably bright. It's so fun! I love it. The batter seriously looks like bubblegum.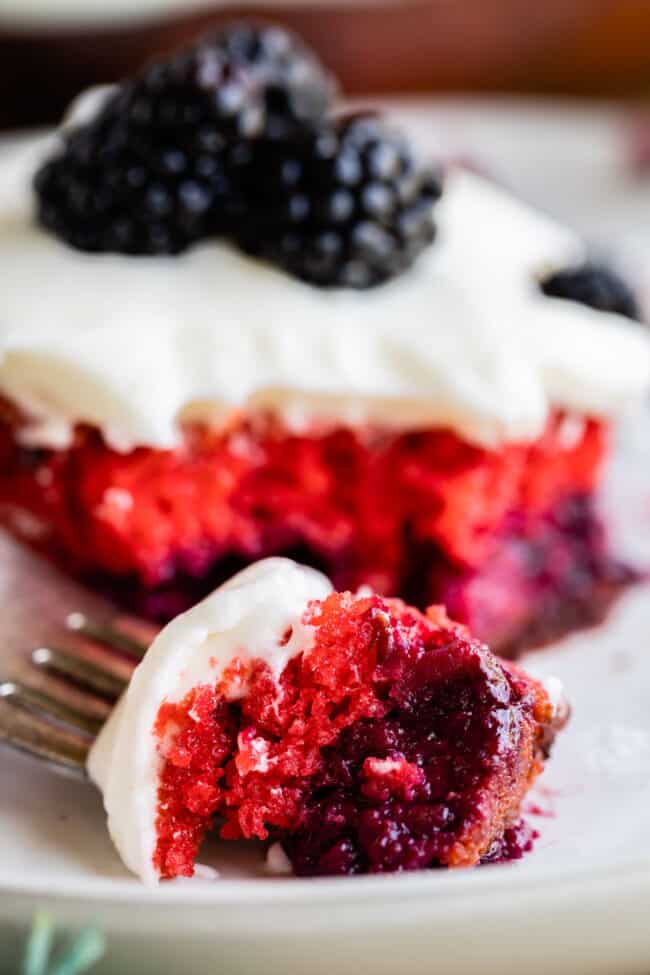 And it's unbelievably easy. It only has 5 ingredients in the cake part. It's just cake mix, raspberry jellow, eggs, oil, and blackberries. The result is this incredibly tender and moist cake that is packed with tons of flavor!
If you love blackberries, or cake, or frosting, or even just the color pink, I think this is the cake for you.
How to make Blackberry Cake

Here's what the batter looks like. It is so thick and delicious, definitely snag a fingerful.
The best part about this blackberry cake is that it takes about 5 minutes to throw it together. Unless you are not a very confident egg cracker like me, in which case it might take you 6 minutes. Seriously it is so easy. Just dump and stir, pour and bake. The hardest part is waiting for it to cool so that you can frost it. Be strong! You can do it!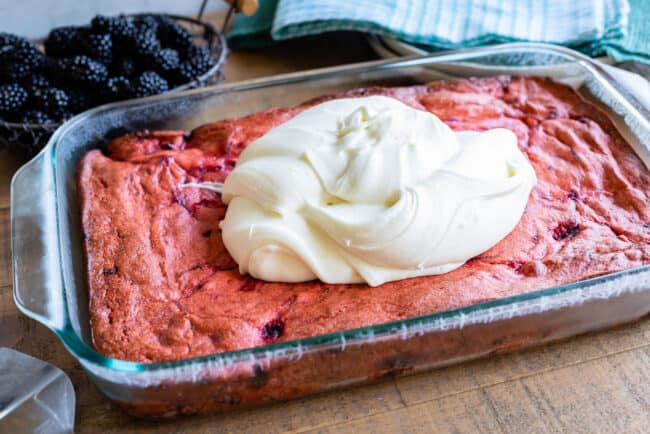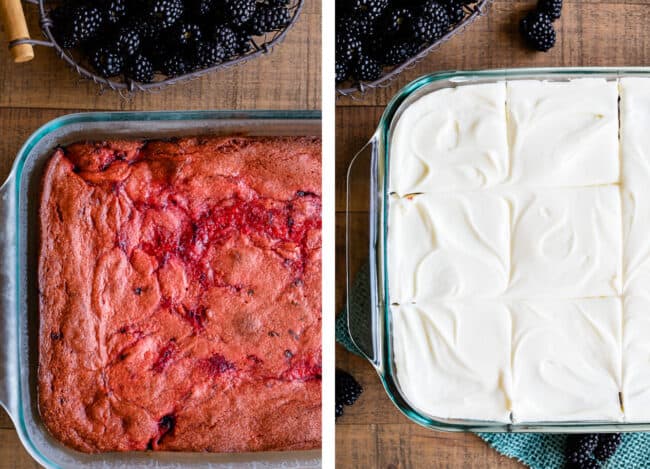 (The cake is so pink it almost looks red. It reminds me of the armadillo cake from Steel Magnolias, anyone else?? Ha!! I love that movie.)
The coconut extract is optional in the frosting but TOTALLY amazing! Start with 1/4 teaspoon and go from there. I add coconut extract to most of my frostings now, just a smidge. It just adds this really great dimension to frosting. See my recipe for The Best Buttercream Frosting for Sugar Cookies, which also uses coconut extract.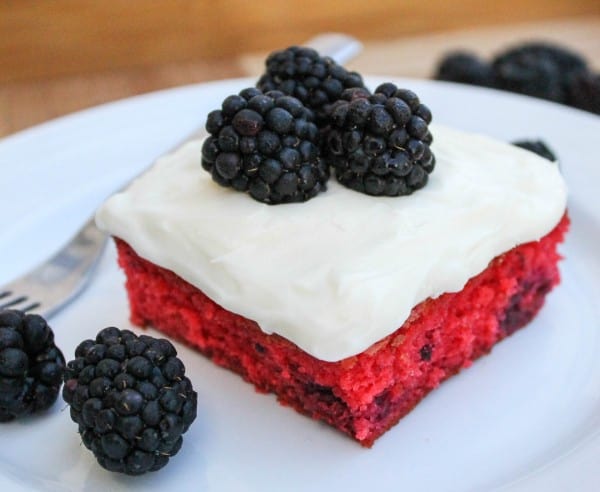 Here is my original photo of this cake! Not too bad for a point and shoot camera from 2013. As I was shooting this cake again yesterday, I was actually feeling quite dubious that the new photos would turn out any better than the original ones. The cake is such a violent shade of pink that it makes it kind of difficult to edit!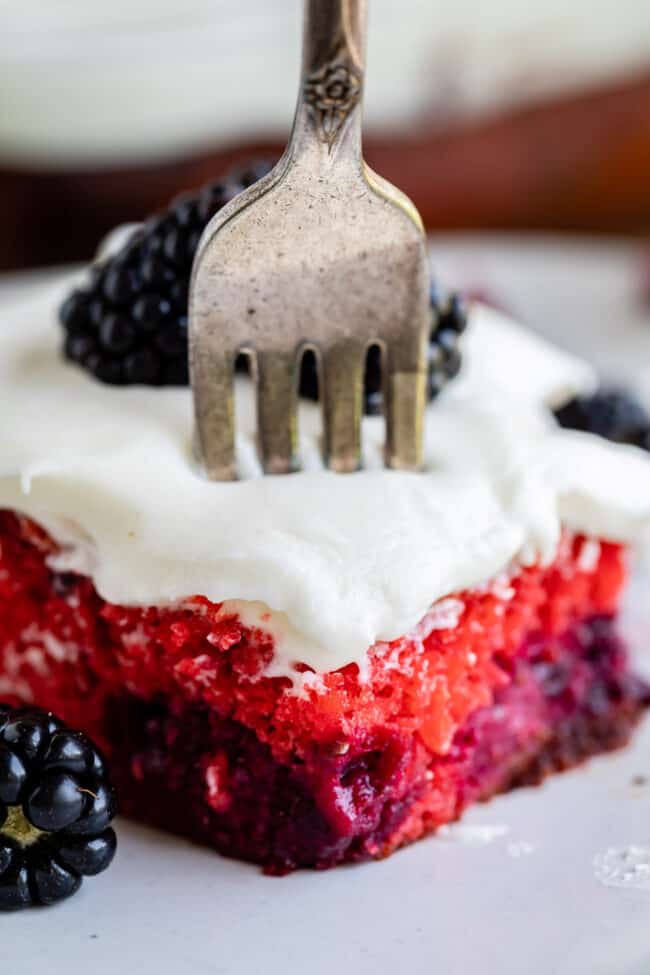 Not that I'm complaining about said violent pink. I love it! This would be a great cake to bring to any BBQs or Memorial Day festivities you may be attending. It's a huge crowd pleaser! I've put together some links to a few of my other favorite cakes here:
More easy cake recipes you will love!
Peach Cake with Brown Sugar Frosting << this is the same concept as today's recipe: box cake mixed with Jello. But with peach flavors! It's so good.
Patriotic Flag Cake with Blueberries and Cherries << Same recipe! Except for this one we use cherry jello and mix in cherries. I love this one, and the flag design would be so fun for Memorial Day coming up!
The Best Chocolate Cake I've Ever Had << it's still true to this day!
The Best Homemade White Cake Recipe of Your Life! << Everyone needs this classic!
More recipes using blackberries!
Fresh Blackberry Glace Pie << perfect for summer! Just like the strawberry version.
Blackberry Pie << this is my mom's famous recipe
Easy Blackberry Cobbler Recipe with Crunchy Oat Topping << So easy!
Chamomile Blackberry Ice Cream from Snixy Kitchen
Blackberry Almond Rolls from Tutti Dolci
Blackberry Upside Down Almond Skillet Cake from Five Heart Home
Facebook | Pinterest | Instagram

Blackberry Cake with Coconut Cream Cheese Frosting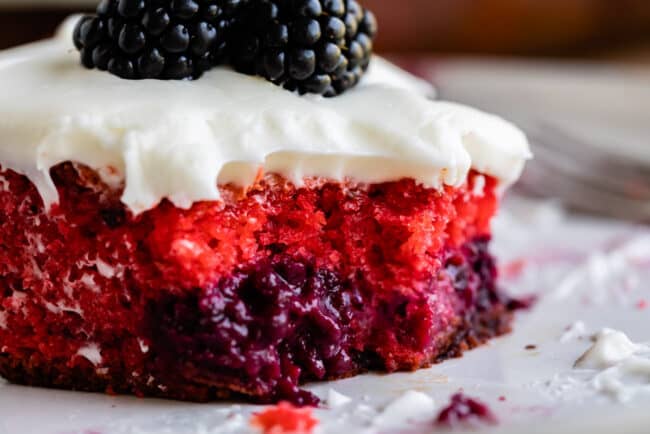 This vibrant Blackberry Cake uses cake mix, raspberry jello, and frozen berries to make an incredibly moist and flavorful cake! It's super easy and quick.
Ingredients
1

18-oz box

yellow cake mix

4

eggs

1

cup

oil

1

6-oz. box

raspberry Jell-O gelatin

1

16-oz bag

frozen blackberries

,

frozen, unthawed or use fresh

1/2

cup

butter

,

softened

1

8-oz. package

cream cheese

,

softened

4

cups

powdered sugar

,

1 pound

1-2

tablespoons

milk

1

pinch

salt

,

optional

1/4

coconut extract

,

optional
Instructions
Grease and flour a 9x13 inch cake pan. Set aside. In large bowl combine cake mix, eggs, oil and Jello on high speed with electric mixer for about 2 minutes.

Fold in the berries. Pour into the prepared 9x13-inch pan. Use a very sturdy spatula to scrape it all in. You might think you are working with an enormous wad of chewed bubblegum at this point, but don't worry, it turns into a delicious cake, I promise.

Bake at 350 until fork inserted in center comes out clean, about 40 minutes. Allow cake to cool completely.

In a large bowl, make frosting by beating cream cheese and butter together until smooth. Gradually add powdered sugar. Add milk and salt. Add in the coconut extract if you are using it.

Frost cake, chill, and serve.
Nutrition
Serving:
1
slice
|
Calories:
411
kcal
|
Carbohydrates:
40
g
|
Protein:
2
g
|
Fat:
28
g
|
Saturated Fat:
7
g
|
Polyunsaturated Fat:
6
g
|
Monounsaturated Fat:
14
g
|
Trans Fat:
1
g
|
Cholesterol:
75
mg
|
Sodium:
94
mg
|
Potassium:
25
mg
|
Fiber:
1
g
|
Sugar:
39
g
|
Vitamin A:
319
IU
|
Vitamin C:
1
mg
|
Calcium:
13
mg
|
Iron:
1
mg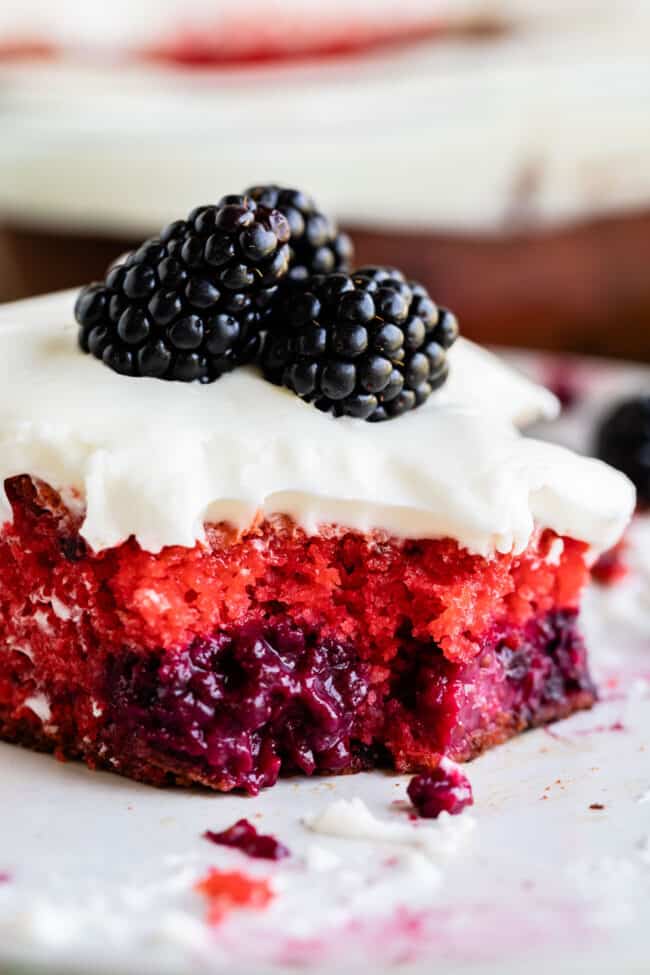 The following is for my own records; this was the original story that I wrote on this post back in 2013, and deleting it would kind of be like ripping pages out of my journal, so I'm keeping it here:
One time I heard a comedian joke that at the rate our lives are speeding up, everything will be ultra fast in the future. Like, it will only take 3 seconds to eat breakfast. 2 seconds to walk the dog. But the DMV is still going to take a whole freaking 9 seconds.
It's true. No matter how prepared you are, no matter how prim and organized your paper clipped bundle of paperwork is, you are still forgetting something and in the wrong line and wasting their time. After dealing with several grumpy employees, I was lucky enough to be helped by Ray for the final part of my transaction. He had a rainbow Hawaii license plate pinned up at his desk and a demeanor to match. He called me "Miss Karen." Thanks Ray. We need more people like you!