Brown Butter Sea Salt Butterscotch Cookies
Brown butter makes cookies taste amazing! And just wait til you get your hands on these Sea Salt Butterscotch Caramels! Chop them up, mix them in, die and go to heaven.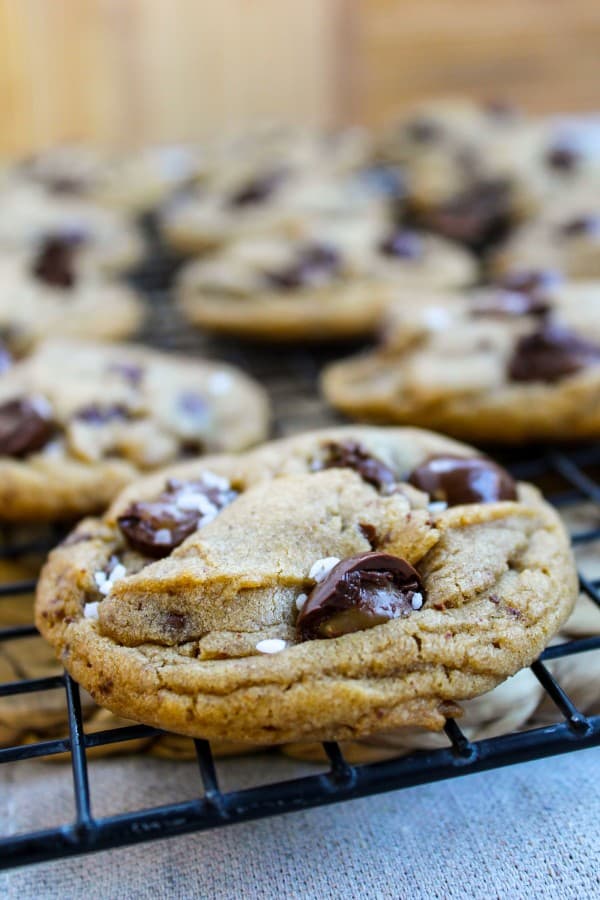 Sometimes when I mess up my mascara and end up with a giant black smudge on my face, I glare at myself in the mirror. Then I get even madder when I realize that the very act of glaring has made 3 more smudges.
While we're talking about makeup and stuff, I just want you all to know that I was so insecure about my thumb-shots while photographing this post that I stopped to groom my left thumb. I trimmed. I filed. I even considered painting, but decided not to because I didn't want to get pink nail polish on my perfect cookies. Somehow my thumb still looks like Shrek's.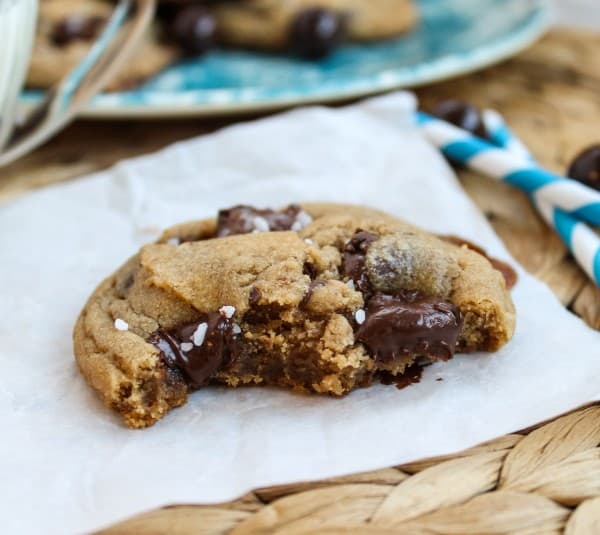 Although just to redeem my non-fashionable self a little bit, the outfit I wore today scored me 3 separate make-out sessions with my husband before noon. Now that's what I call a winner.
TMI? Sorrynotsorry.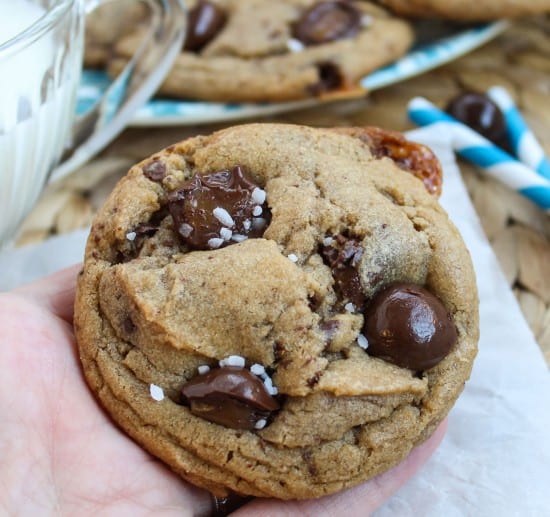 So, here's the thing. I run a food blog, and sometimes I feel lame going way over the top gushing about every single recipe. Sure, the food I post is pretty amazing, and always worthy of making again, but it gets boring to read food descriptions over and over, and I'm not gonna lie, it's boring to write them.
But I'm throwing all that out the window for this post.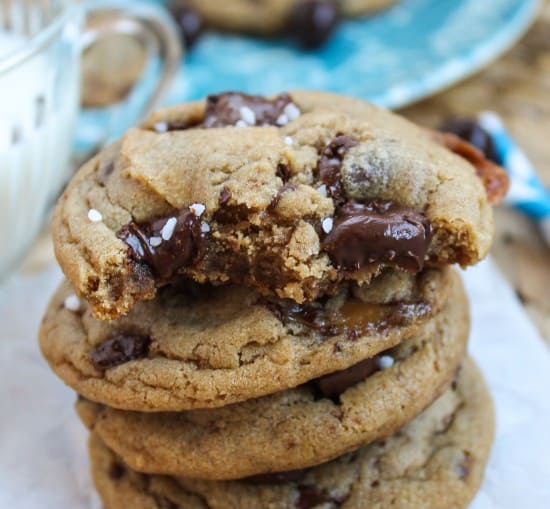 BECAUSE THESE ARE THE BEST COOKIES I HAVE EVER PUT IN MY MOUTH.
They are my baby. I've been working on them for weeks, and my freezer is still full of reject dough. (Too flat. Too crispy. Not enough caramel. And on and on.) But finally, FINALLY, I got them just right.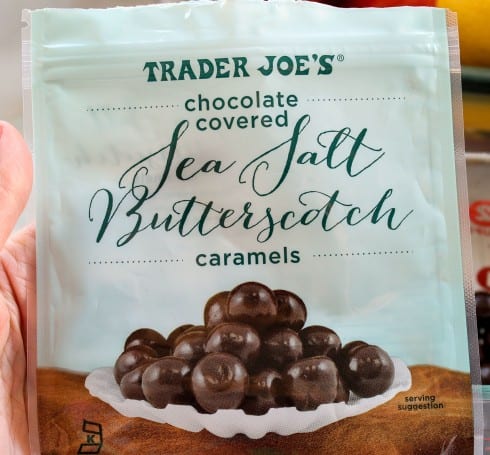 They sell these Chocolate-Covered Sea Salt Butterscotch Caramels at Traders Joe's. I am obsessed with them. I will go to the store for the sole purpose of buying 3 bags, just to eat. And I'm not even a huge candy/chocolate person (I would take a brownie over a box of chocolates any day). But these caramels. My undoing. They are deeper than normal caramels, just on the line between caramel and butterscotch. They are covered in bitter chocolate and infused with sea salt to perfectly balance out the sweetness. I have been known to eat most of a 7-ounce package in one sitting.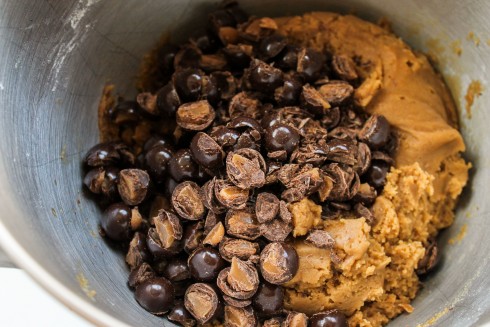 I chopped them and put them in a tender brown butter cookie. If butter is God's gift to man, (this is completely arguable), then browned butter is like the secret awesome ninja twist that makes it way cooler. Aaaaand that's where this analogy ends.
(Seriously though. If you've never taken 4 minutes to brown butter before, there is a gaping hole in your life. That means you've never made Brown Butter Brownies. Or Brown Butter Blondies. Or Balsamic-Brown Butter Asparagus. You are missing out my friend.)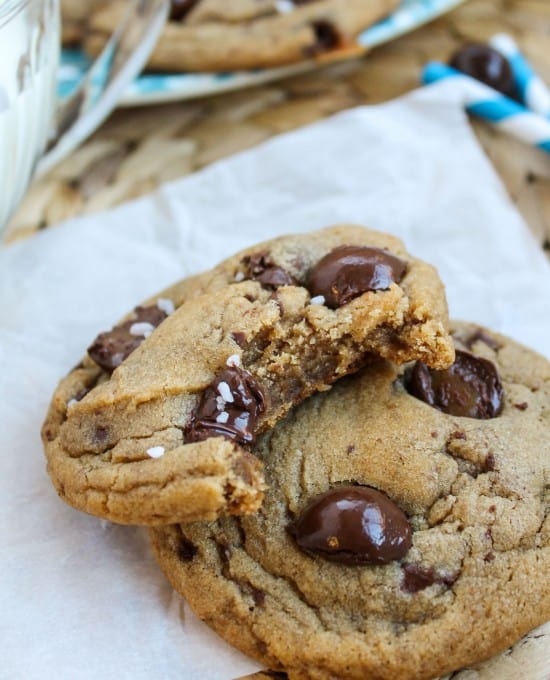 It is essential to chill the dough completely, or your cookies will bake flat. They will still taste great, but the texture will be off. Chilling also gives the flavors time to meld. Sometimes perfection can't be delivered in 20 minutes. Chilling means you get a soft, gooey, tender cookie that shudders at the mention of "crispy." Scroll down past the recipe to see some tutorial photos.
I am anti plead-with-my-readers-to-make-my-recipes, but that rule is also being thrown out today. I love these cookies like I love my own children (how's that for an obsession) and if you make them without telling me, I will never know, but if I DID know that you didn't tell me, I would cry.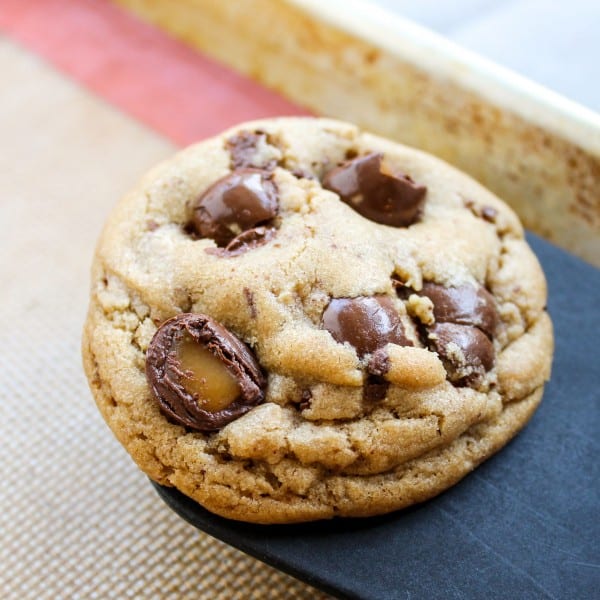 Make these cookies, then die happy.
P.S. I asked my readers on Facebook yesterday what cookie they would choose if they could only have one kind for the rest of their lives. Chocolate chip won, of course. And several weeks ago, that would have been my choice too…but now it's these Brown Butter Sea Salt Butterscotch Beauties. HANDS DOWN. I mean these hands are so down.
Brown Butter Sea Salt Butterscotch Cookies
Brown butter makes cookies taste amazing! And just wait til you get your hands on these Sea Salt Butterscotch Caramels! Chop them up, mix them in, die and go to heaven. 
Ingredients
3/4

cup

unsalted butter

,

1 and 1/2 sticks

1/4

cup

Crisco

,

butter-flavored

1 & 1/2

cups

dark brown sugar

1/4

cup

granulated sugar

1

large

egg

1

large

egg yolk

1

tablespoon

vanilla

1

tablespoon

sour cream

2 & 3/4

cups

all-purpose flour

,

spooned and leveled*

1 & 1/2

teaspoons

baking soda

1/2

teaspoon

salt

2

7-oz packages

Chocolate-Covered Sea Salt Butterscotch Caramels

,

divided (from Trader Joe's, or you can buy them online )

coarse sea salt

,

or other coarse salt
Instructions
In a small heavy-bottom saucepan, add 3/4 cup unsalted butter. Turn the heat to medium. Let the butter melt, stirring the pan occasionally. After a few minutes the butter will start to foam. Keep stirring every now and then. When the foam starts to subside, watch carefully to see the milk solids start to brown. The butter will stop smelling like plain butter and will smell nutty. Once browned, pour the butter immediately into a large bowl or stand mixer. Go

here

if you have never browned butter.

Meanwhile, add the 1/4 cup Crisco to a mixing bowl or stand mixer. Add the brown sugar and granulated sugar. Beat well, scraping the sides and bottom.

When the butter has browned, immediately add it to the sugar mixture. (The butter might burn if you leave it in the pan. If you sugar mixture isn't ready, pour it into a bowl.) Beat the butter into the sugar.

Let the butter cool for a few minutes, then add the egg and egg yolk, mixing well. (Or don't wait, but add them while you have the mixer on so they don't curdle.)

Add the vanilla and sour cream and beat.

In a separate bowl, whisk together the flour (spooned and leveled!), baking soda, and salt. Add to the wet ingredients and stir until just barely combined.

Dump the caramels into a separate small bowl. Use scissors to split the caramels in half.

Add 3/4 of the chopped caramels to the dough, and stir them in gently. If your dough still feels hot enough that it will melt the caramels, refrigerate it for a few minutes, then stir in the caramels.

Chill the dough for at least 2 hours, or up to 5 days. (Or do the freezer trick if you are feeling really impatient: Form the cookies and place them carefully in a large ziplock bag, then freeze for at least 30 minutes. Bake as usual. You can freeze leftover dough-balls for up to 3 months, and have these cookies in your mouth in 10 minutes flat.)

Use a 2-inch cookie scoop (or your hands) to form the cookies. If there is a chunk of caramel on the bottom, "patch" it with more dough (See photos below). Space them about 2 inches apart on a silpat or parchment-paper lined cookie sheet.

Bake at 350 degrees for about 8-10 minutes, or until they are no longer shiny on top. Err on the side of underbaking.

Remove from the oven and immediately top the cookies with 2 or 3 of the remaining caramel halves. Sprinkle with sea salt or other coarse salt. Let the cookies set up on the pan for about 5 minutes, then transfer to a cooling rack.
Notes
You can sub Greek yogurt for the sour cream if you want.
You must chill the dough for this recipe, or your cookies will bake flat. Put the dough back in the fridge in between batches when you bake them. Do not put cookie dough onto a hot pan; stick the cookie sheet in the fridge or freezer for a couple minutes to allow it to cool down.
*You must spoon and level the flour for this recipe. That means use a scoop to dump flour into your measuring cup, then scrape the top of the measuring cup with a knife to get rid of any excess.
Nutrition
Serving:
1
cookie
,
Calories:
217
kcal
,
Carbohydrates:
34
g
,
Protein:
2
g
,
Fat:
8
g
,
Saturated Fat:
4
g
,
Polyunsaturated Fat:
1
g
,
Monounsaturated Fat:
2
g
,
Trans Fat:
1
g
,
Cholesterol:
28
mg
,
Sodium:
142
mg
,
Potassium:
65
mg
,
Fiber:
1
g
,
Sugar:
23
g
,
Vitamin A:
179
IU
,
Vitamin C:
1
mg
,
Calcium:
35
mg
,
Iron:
1
mg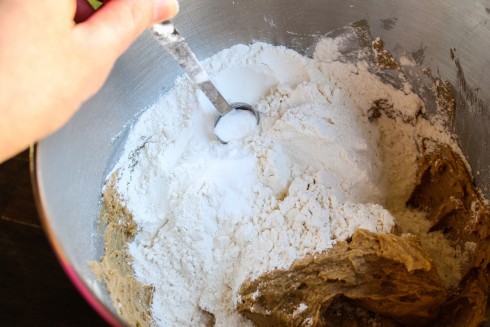 I'll tell you my secret…Often when a recipe says to combine the flour, salt, and leavening in a separate bowl, I just pour the flour into the wet ingredients without stirring, then use a small spoon to stir the salt and baking soda into the flour before mixing it all together. Works every time.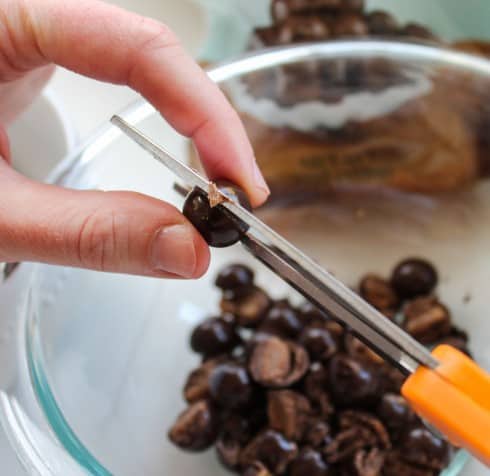 Cut the caramels in half. It's easiest to hold onto both sides and gently crush the chocolate with the scissors.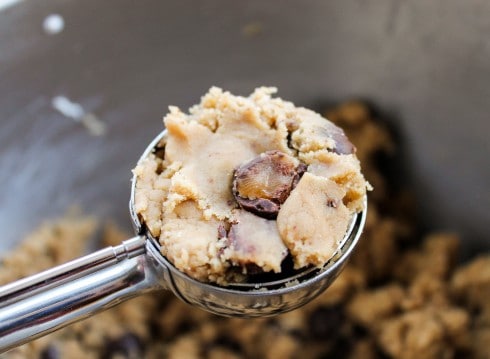 If you get a chunk of caramel on what is going to be the bottom or edge of your cookie, patch it up with some dough…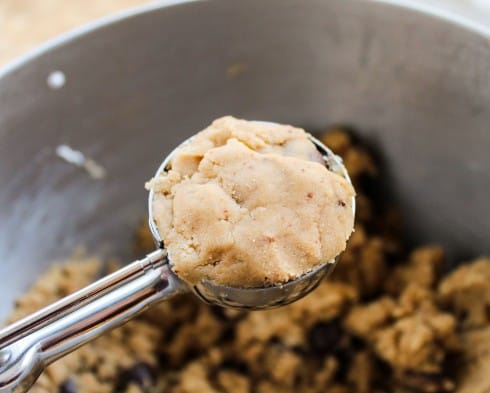 Like this. Otherwise you will get crunchy caramel oozing out the side of your cookies.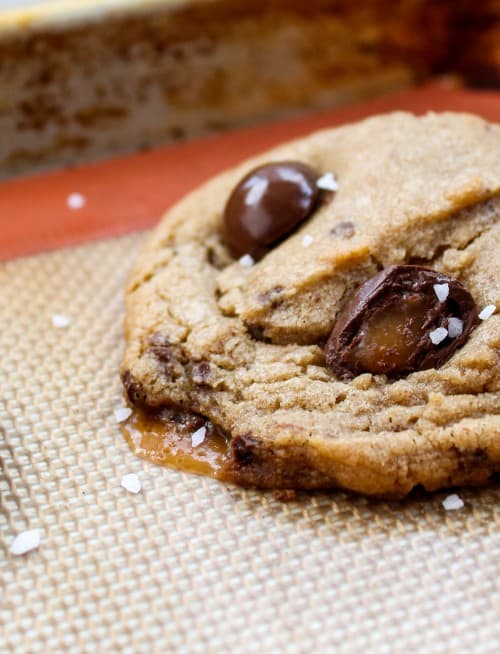 Like this. Of course, if that's your thing, then don't bother patching. (Be aware that this is a mild case of oozing.)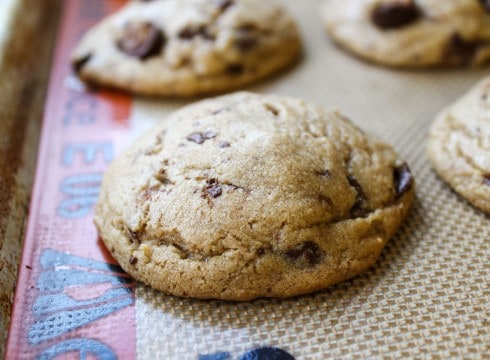 Here's what they look like straight out of the oven with no caramels pushed into the top.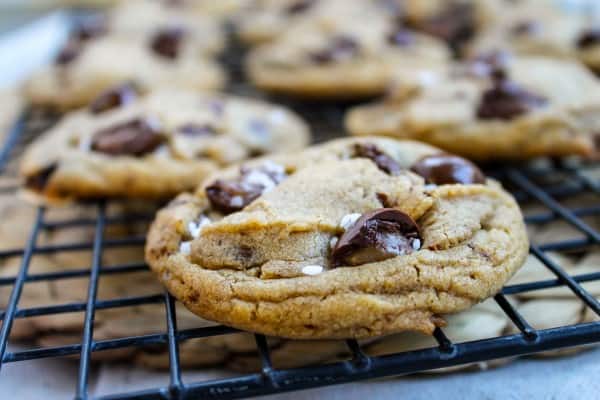 And there you have it. My favorite cookie.

We are a participant in the Amazon Services LLC Associates Program, an affiliate advertising program designed to provide a means for us to earn fees by linking to Amazon.com and affiliated sites.