Browned Butter Blondies
Blondies are good, but add browned butter? It's a game changer my friends! Believe me the extra 5 minutes is worth it.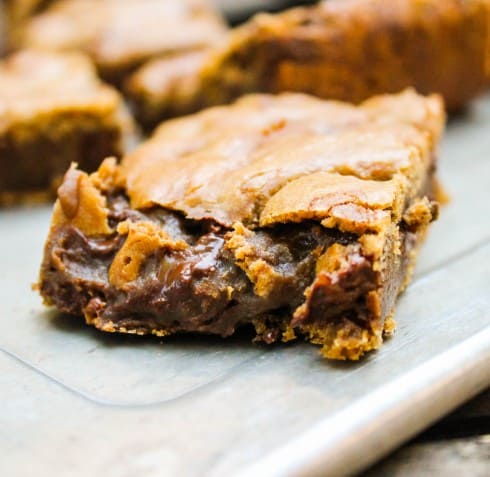 Holy freaking crap these blondies are so good. I feel like the name blondie doesn't even do them justice. Usually when I think blondie I just think "not-as-good-of-a-cookie." But these are better than most cookies I've had. For real. Browned butter. Don't tell me it's just a fad. It's the stuff dreams are made of.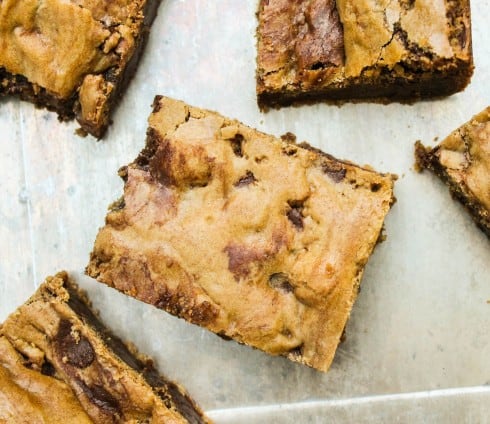 These are good, reeeeally good. But try eating them after a sugar fast. No, of course this story isn't about me, I haven't lost my mind. My cousin Lani came over the day after I made these. This girl only eats 40 grams of carbs a day. 40. Do you know how much that isn't? One banana has 27 grams. Twenty-seven. You are a rock star, Lani. A 13-pounds-lighter rock star. I bow to your self-control. Excuse me while I go take a bath in browned butter.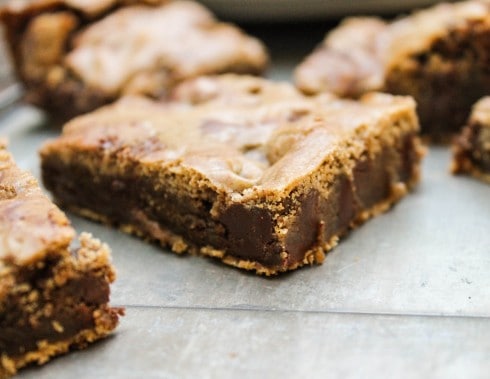 Anyway. You should have seen her freak out over the tiny bite of these blondies she had. She took the rest of the bite that was in her hand and shoved it in Sandi's mouth. "I can't eat this! I can't eat this!" Although I'm guessing it could have been cardboard with sugar sprinkled on it and she still would have flipped.
In other news, 5-month-old Truman just owned my brother Eric in a staring contest. Nothing like the will-power of a being whose main pastime is staring to beat you down.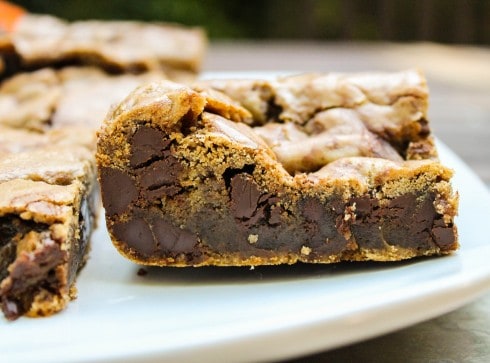 Also, Sandi's mom and dad just arrived from out of state for a visit. Sandi's mom had only been here for about 2 hours before the house was cleaner than it has been the entire summer we've been here. And there are two stay at home mom's living here. Is this a skill you pick up once you become a mother-in-law? Maybe there is hope for me. Probably not.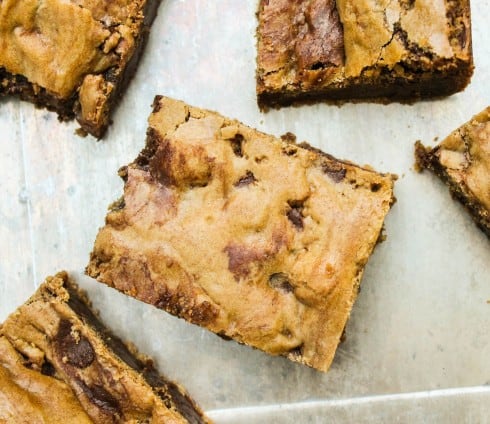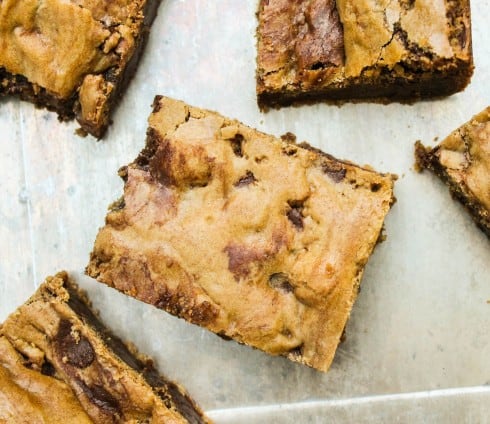 print
Did you make this recipe?
Leave a review »
Browned Butter Blondies
Makes one 9x13 pan
adjust servings
Ingredients
1

cup butter

2

cups packed brown sugar

2

large eggs

2

teaspoons vanilla

2

cups all-purpose flour

1

teaspoon baking soda

1/2

teaspoon salt

2

cups semisweet chocolate chips
Instructions
Preheat the oven to 350F. In a small saucepan, melt the butter over medium heat. Keep it on the heat, stirring occasionally, until the foam starts turning golden and the mixture smells nutty. If you've never browned butter, go here. Remove from heat and pour immediately into a mixing bowl. (Hurry, otherwise the heat from the pot could burn this precious stuff.)
Stir in the brown sugar, then the vanilla, then the eggs. Add the flour, baking soda and salt and stir until almost combined; add the chocolate and stir just until there are no more streaks of flour.
Spread into an 9×13-inch pan and bake for 23-27 minutes, until golden and set. (Or until golden and gooey...aka not quite set.) Serve warm or cool in the pan on a wire rack.
by The Food Charlatan

If you make this recipe,
share it on Instagram
 using the hashtag
#TheFoodCharlatan
so I can see it!
Source: Dinner with Julie

We are a participant in the Amazon Services LLC Associates Program, an affiliate advertising program designed to provide a means for us to earn fees by linking to Amazon.com and affiliated sites.