Jalapeño Popper Grilled Cheese Sandwiches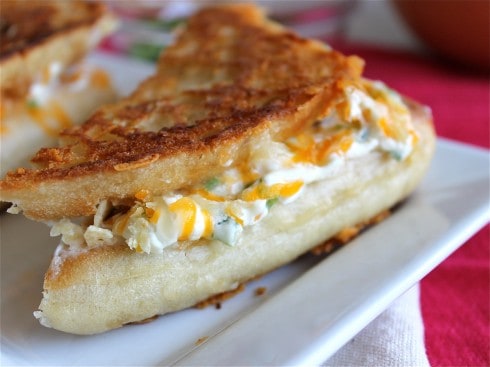 One of the first things that made me really like Eric when we started dating was when I found out that he was in an exclusive sandwich club. I wasn't even that serious about cooking when we met in college, but I've always been serious about food, so a guy in a sandwich club held definite appeal. He and his roommate, another sandwich club member (okay…so they were the only members) used to always make 3 sandwiches between them, because one wasn't enough but two was too much, so they went halfsies.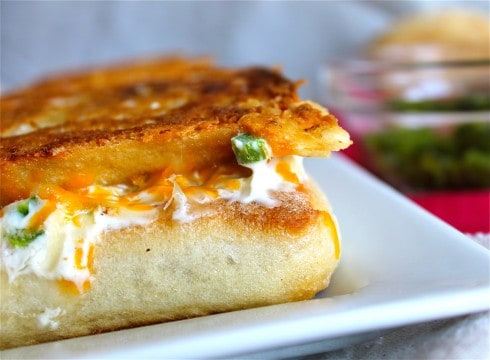 I remember the first time Eric made me a sandwich. I can't remember what kind it was, but I do know he brought it over to my apartment pre-assembled on a little plate, cut in a perfect diagonal. I thought it was the cutest thing ever.
As sandwich aficionados, we both agree that sometimes it's hard to beat a classic grilled cheese sandwich. They're just so simple and full of fat. You can't argue with it.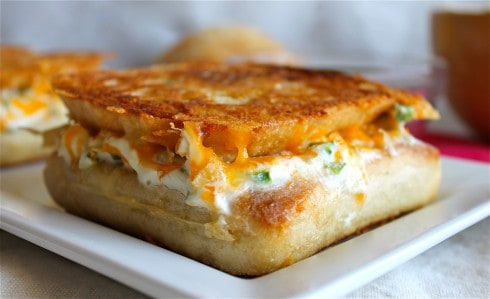 But let me introduce you to this Jalapeño Popper Grilled Cheese Sandwich. It's a regular grilled cheese except it uses artisan bread and has cream cheese jalapeño smear on it. Oh, and crushed tortilla chips to get that extra crunch. (Don't scoff, I know you put potato chips on your sandwiches when you were a kid). It is surprisingly not that spicy. Removing the seeds from the jalapeños does the trick. If you let the cream cheese mixture sit for a few hours or overnight, then it will definitely be more spicy. I always make it and eat it right away. Make this sandwich for someone. Deliver it on a little plate, cut diagonally. They will love you.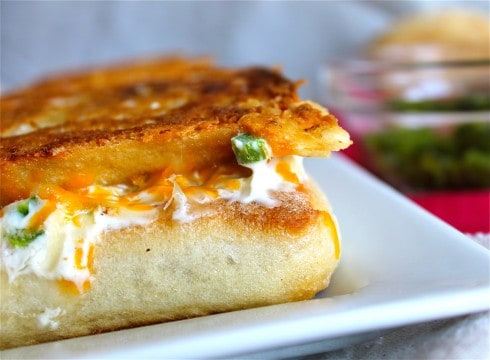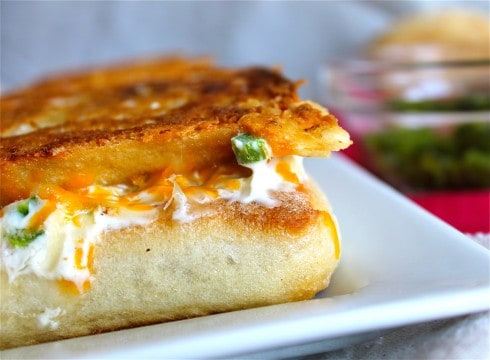 print
Did you make this recipe?
Leave a review »
Jalapeño Popper Grilled Cheese Sandwiches
Makes 4 sandwiches
adjust servings
Ingredients
4

ounces cream cheese, softened

2

tablespoons sour cream

4

tablespoons seeded and chopped jalapeños (about 2 small jalapeños), or to taste

4

ciabatta sandwich rolls

8

teaspoons butter, softened

16

tortilla chips, crushed

1

cup shredded Colby-Monterey Jack cheese, divided
Instructions
Combine the cream cheese, sour cream, and chopped jalapeños in a small bowl. Set aside. Preheat skillet over medium heat.
Slice each roll in half horizontally, then slice the rounded tops off the ciabatta rolls to make a flat top half. Spread 1 teaspoon butter on the doughy cut side of the bottom bun and 1 teaspoon butter on the now flattened top bun. Place 1/4 of the cream cheese mixture, 1/4 of the crushed chips, and 1/4 of the shredded cheese on the non-buttered side of the bottom bun. Place the top half of the bun on the sandwich and place the sandwich on the hot skillet. Repeat with the other sandwiches.
Grill until lightly browned and flip over, about 3 to 5 minutes; continue grilling until cheese is melted and the second side is golden brown.
by The Food Charlatan

If you make this recipe,
share it on Instagram
 using the hashtag
#TheFoodCharlatan
so I can see it!
Source: slightly adapted from
Allrecipes.com
We are a participant in the Amazon Services LLC Associates Program, an affiliate advertising program designed to provide a means for us to earn fees by linking to Amazon.com and affiliated sites.