Krispie Ice Cream Squares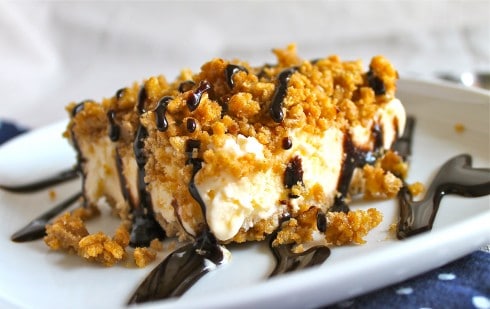 Today Charlotte took the dish towel hanging from the oven door and started washing the kitchen floor. "It's dirty," she said, scrubbing vigorously. I was about to scold her for making me get out a new dish towel, but I stopped myself when I took a look at my kitchen floor and realized that she had a really good point. And now I have to accept the fact that even my 2-year-old thinks I should maybe make a bigger effort in the house work department.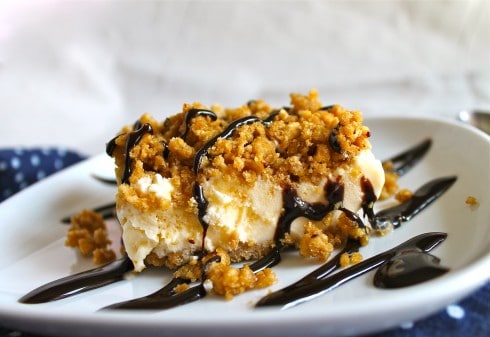 This incident occurred right after she decided to "help me cook" while I was out of the room by getting a spatula out of the dirty dishwasher and stirring the contents of my stand mixer. Fabulous. I guess she still has some hygiene to learn. Fortunately her idea of stirring is more like flicking bits of the top layer onto the counter and walls, so there wasn't too much damage done. I'm sure this admission makes you just want to hop right over for dinner at my place, right?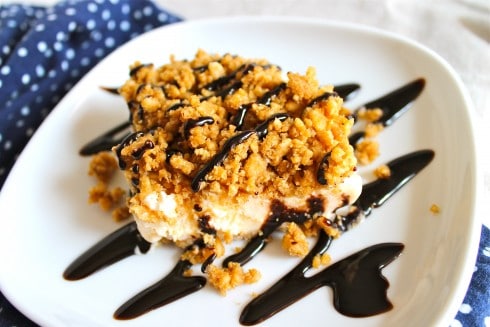 Say hello to this dreamy character. I call him Brown Shuga. (Yes I personify my food, you don't?) Just kidding. This here is four-ingredient bliss. What's not to like about adding butter to your ice cream? My mom told me the other day that when she was little she used to add straight up brown sugar to her ice cream, and that now she thinks that's kind of ridiculous, adding sugar to ice cream. I said heck no, what do you think chocolate syrup is made of, hello?? Well this one not only has brown sugar, but also butter, and then toppings. Bring it on. I love this dessert because instead of getting little tiny bits of the mix-in (chocolate chips, nuts, fudge swirl, I'm just talking regular ice cream from the store) you get 2 entire layers of crunchy goodness, instead of a chunk here or there. De-lish.
Krispie Ice Cream Squares
Kristpie Ice Cream Squares combine regular ice cream from the store with brown sugar, butter, chocolate chips, nuts, fudge, and amazing!
Ingredients
3/4

cup

butter

,

softened

1 & 1/2

cups

brown sugar

3 & 3/4

cups

Rice Krispies cereal

1/2

gallon

vanilla ice cream

,

softened (10 or 20 minutes should do it)

favorite ice cream toppings

,

optional
Instructions
In a large bowl or stand mixer, combine softened butter, brown sugar, and Rice Krispies cereal together. I like to use the mixer because it crunches up the Rice Krispies a bit and gives it a better texture.

Spread half of the Rice Krispies mixture evenly on the bottom of an ungreased 9x13 pan. Press it in with your fingers, getting them wet if you need to. (If you are halving this, use an 8x8 pan.)

Smash a layer of vanilla ice cream over the top of the Rice Krispie layer until evenly distributed and as flat as possible.

Sprinkle remaining half of the Rice Krispies mixture over the top of ice cream layer.

Cover and freeze for at least 2 or 3 hours.

When ready to serve, remove from freezer and cut into squares. You can add your favorite ice cream toppers or just eat it by itself.
Nutrition
Serving:
1
square
,
Calories:
425
kcal
,
Carbohydrates:
54
g
,
Protein:
5
g
,
Fat:
22
g
,
Saturated Fat:
14
g
,
Polyunsaturated Fat:
1
g
,
Monounsaturated Fat:
6
g
,
Trans Fat:
1
g
,
Cholesterol:
75
mg
,
Sodium:
211
mg
,
Potassium:
274
mg
,
Fiber:
1
g
,
Sugar:
46
g
,
Vitamin A:
1200
IU
,
Vitamin C:
5
mg
,
Calcium:
171
mg
,
Iron:
2
mg
We are a participant in the Amazon Services LLC Associates Program, an affiliate advertising program designed to provide a means for us to earn fees by linking to Amazon.com and affiliated sites.